I can't believe that it's already August!  Have you said that too?  It feels like summer is slipping away, but the hot weather we have been having is making me wish it was maybe just a tad bit cooler around here.  Let me try and quickly recap what happened this past month, and also share our plans for August 2016.
– Note: This post contains affiliate links. See more information about affiliates here –
First, I will ask what the heck kind of caterpillar (butterfly/moth) this is:
We had a BUNCH of them all over our front porch at the start of July.  They aren't around anymore so I am assuming they are cocooned up somewhere, ready to emerge?  Seriously, there were at least a dozen and they were taking over for a while there.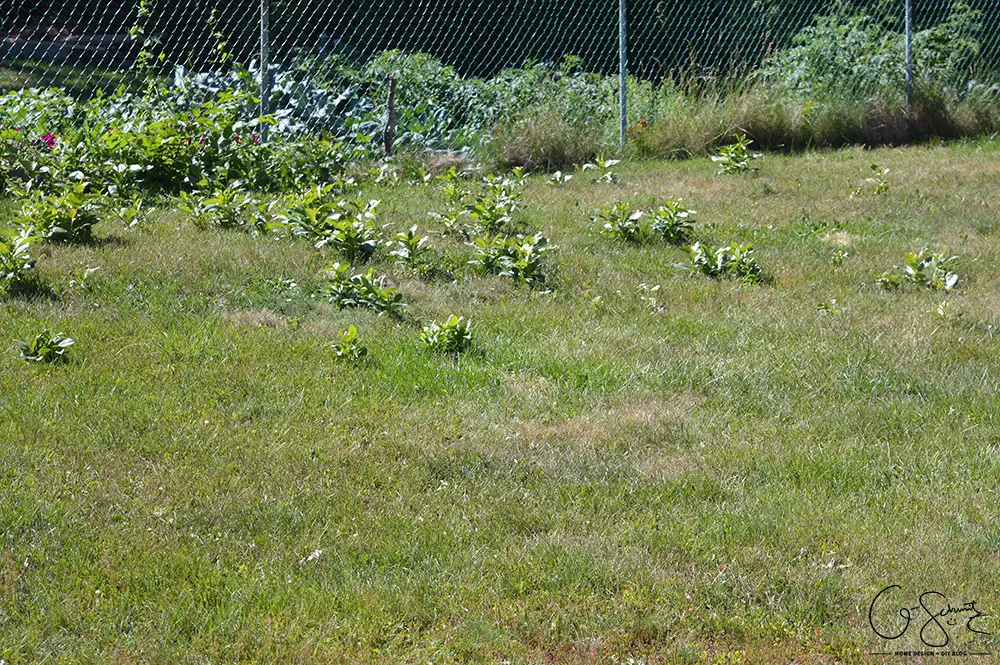 The tree that our neighbours cut down in April, has been making "tree babies" and I have to go pull them up every now and then.  They are easy to pull up, but they keep coming back :(  I don't want to spray any weed killer in the backyard because Tootsie has a tendency to eat the grass/weeds back there!  Anyone know how to get rid of these too?
What Happened in July?
This past month I shared what we planted in our veggie garden (we will have full-sized tomatoes this year!), our sideyard paver installation, and how the sideyard looks now that it's complete.  Moving to the front walkway, we also planted some flowers in a rock garden, and I added some trellis mini-fences too.
I received my custom t-shirt baby quilt, shared some delicious smoothie recipes, sanded chips out of glassware, and we even brought a new shag rug in the nursery!
Speaking of which, when I was taking photos of baby on the rug, I noticed that his hair looked a little redder in the light.  I thought it would be fun to do a side by side comparison of baby versus me and the Husband when we were little (not sure of our exact ages in these photos).
Turns out that baby looks almost exactly like me!  So much so that the Husband thought the photo of me with the blanky on my head was our Little Man!  And no, his hair didn't lighten (it's still dark), but it was just the sun shining.
Also, look at the cute scene I snapped when I was coming up from the basement the other day!
Tootsie and baby taking a nap together (normally Momma is napping on the couch too, and Tootsie is on her ledge).
Minimalist Goals
At the start of the month my Mother thought it would be a good idea to buy some large baby items.  It was very generous of course, but most of them he can't even play with for another few months!  Other than disposable things that I use regularly (and don't mention in my minimalist list), I did buy some used dresses this month.  I plan on going through all my clothes again in the next couple of weeks (and updating this post from last year), but for now I realized that over half of my shorts no longer fit – so out they went!  (Hence why I bought the dresses).
Items Added
4 Large baby playthings
4 New-to-me dresses
Items Removed
3 Gallons of Paint
6 Pairs of shorts
1 Pair of pants
3 Dresses
Old magazines
I gave away those gallons of paint to someone who wanted them… because I do have a paint hoarding problem, so I will take any excuse to donate some!
One of the dresses I bought fit me perfectly, but I wasn't too convinced on the colour (nude tones don't really go with my super fair skin).  I've always wanted a dark green dress, so I decided to dye it myself (like I did here to change these clothes).  Similar to the burgundy dress, this one had a polyester liner, which doesn't take the normal Rit Dye.  They do have a "Dye More" for polyester and other synthetics, and maybe I'll order some and see how that works.
Plans for August
I want to declutter the movie/video game zone in our basement living room, and I'm hoping to remove about half our stuff.  I've decided to part with the PS2, and I think the Husband will also be letting his (broken) Xbox 360 go too.  We did have one last Guitar Hero hurrah the other day, but to be honest, we mostly use the Wii.
We're slowly plugging away on our outdoor to-do list, and I'm thinking that my initial goal to get 75% done was a bit over-estimated.  My parents did do a large chunk of the work in our front yard (including moving our extra pavers off of the front porch), so I'll be happy with getting just over 50% of it finished.
I reallllyyyy want to clean and organize the shed this summer, but last time I was in there getting some lumber (for these mini-fences), there was a nasty spider and let's just say I don't like working in those kinds of conditions haha!  Think I can convince the Husband to clean it out all by himself?  Ooooh that would be the day :)
Is the weather hot where you are as well?  We had some heat warnings this week, which seems to be the norm this year.  I'm still waiting on central A/C… maybe by the time we actually get it installed it will be on some sort of discount since the summer season will be over?
I hope you've enjoyed my plans for August (and my recap of July too).  Let me know what you're up to this month :)
Shop this Post