I knew I had wanted to build some raised garden beds for a while, and I was/am planning on using them for veggies.  They would be going to the left and right of our shed, and I figured that maybe in the future we could do some planters along the fence as well?  Either way, I hope my instructions on how to build a raised garden bed along the shed will also apply to any other structure you might want to build your garden beds against!

– Note: This post contains affiliate links. See more information about affiliates here –
Materials Used:
2″ x 6″ x 8′ Pressure Treated Lumber, x 4 lengths (cut in half)
2″ x 6″ x 12′ Pressure Treated Lumber, x 11 lengths
4″ x 4″ x 12′ Pressure Treated Lumber, x 1 length
Deck Screws (I think 2-1/2″ long?), lots
Measuring Tape
Mitre Saw (this is the mitre saw we have)
Drill (this is the drill we have)
This is what is needed for 1 box that measures 4′ x 12′ long, so if you are making a smaller box, make sure to use the material in lengths required for your measurements.  Also note that we did use pressure treated lumber for our veggie garden (gasp!), so if you're worried about any chemicals seeping out, you can substitute cedar instead.  We just happened to have a lot of leftover 2x6x8s, and are not that worried about any contamination.
Update: You can read about how we filled the raised garden beds
Step 1: Install Corner Posts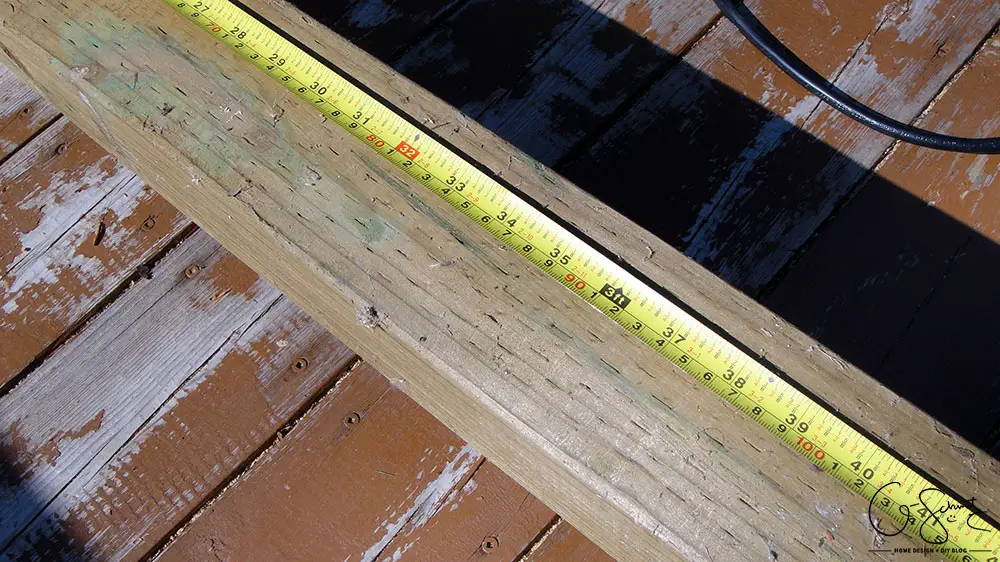 We had a 12′ length of 4×4 pressure treated wood sitting in our garage, so we cut it into four even sections.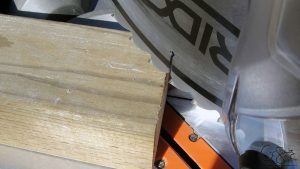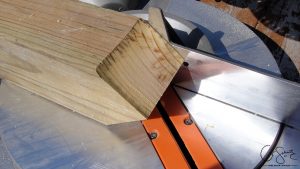 To help the wood go into the ground better, we angled our mitre saw to 45 and cut an edge on each side.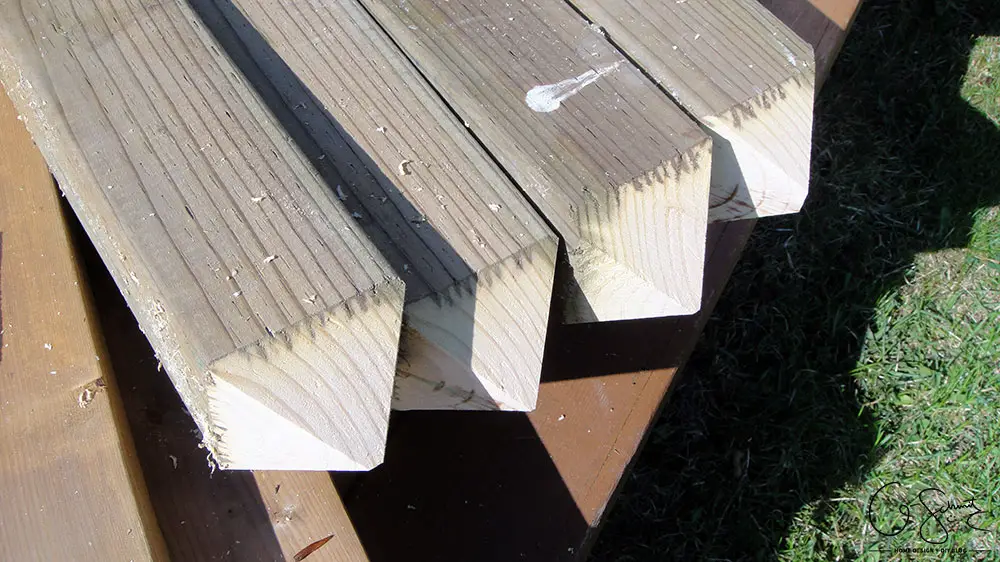 This created a stake that helped drive the posts into the ground (vampires beware!).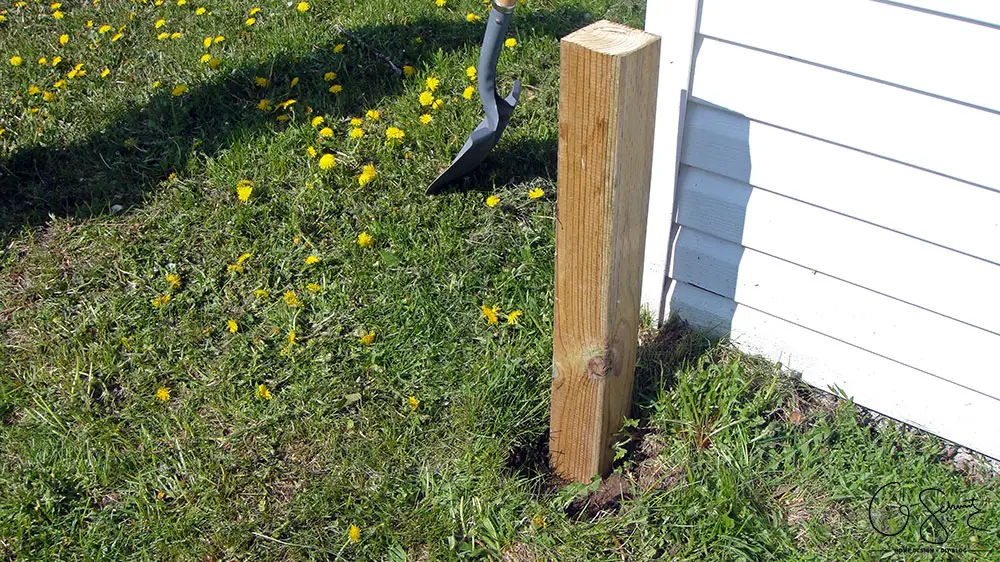 We dug out a little hole for the first pole about 1′ away from our shed and hammered in the post about 6″ deep to start.  The hole actually did NOT help, it was much easier just to hammer the posts into the grass (with a sledgehammer).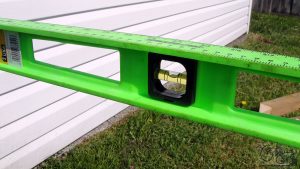 The second post was placed 4′ from the shed (about 3′ from the first pole) – because I had wanted my planters to be 4′ x 12′.  Anything wider than 4′ would not have been easy to reach across (when you're gardening).  We took our long level and placed it across the tops of the two posts to make sure they were even; and hammered the post(s) down until they were level.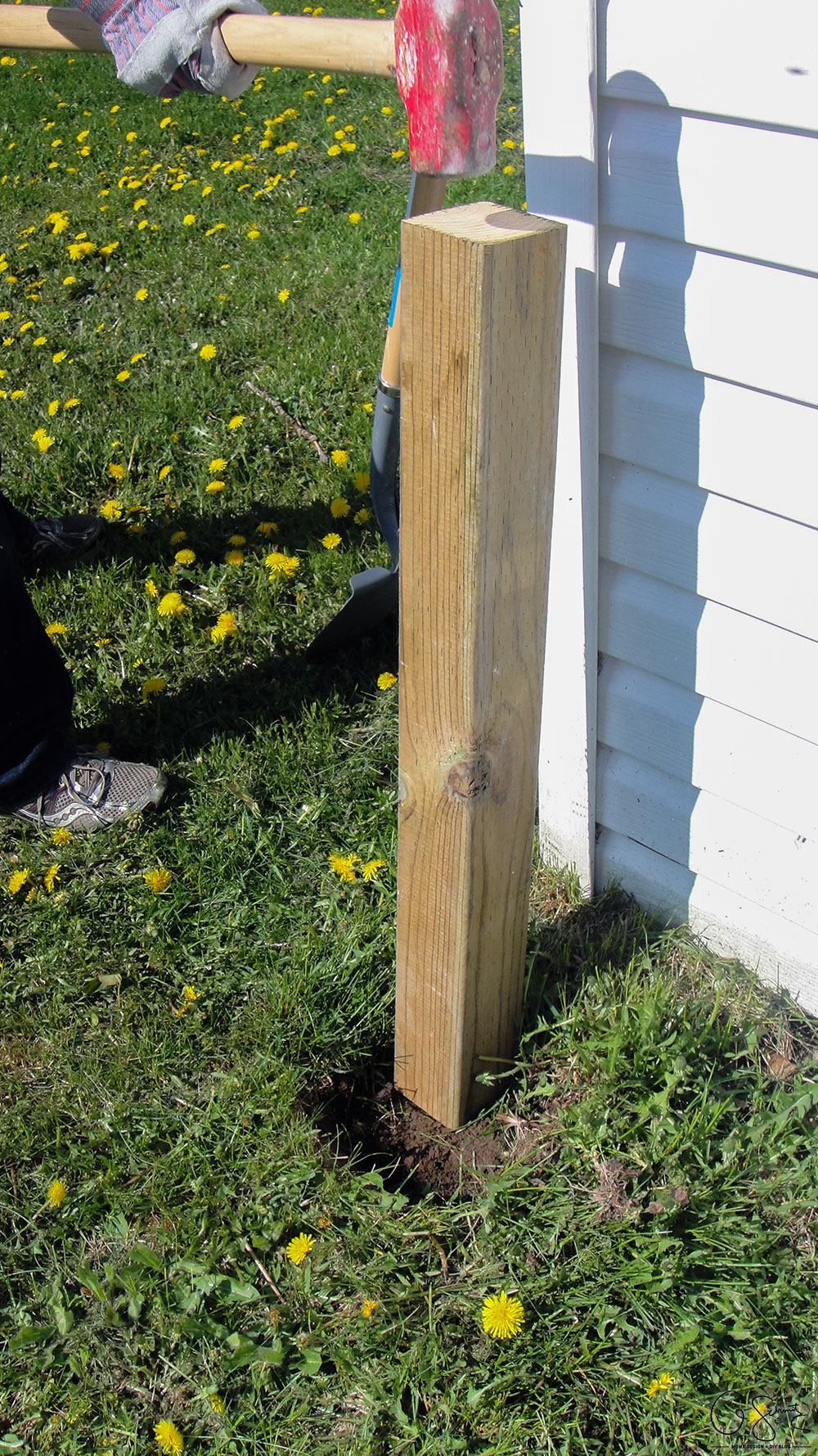 Tip: You'll also want to make sure your posts are level on all angles (ie: upwards from the front and side – aka Y and Z axis).
Step 2: Adding Boards Across the Top
At this point you should only have three posts in.  The two closest to the shed (or whichever structure you're building against), and only one of your outside corners.  We left the last one out at this time so we could make sure they were all even and squared.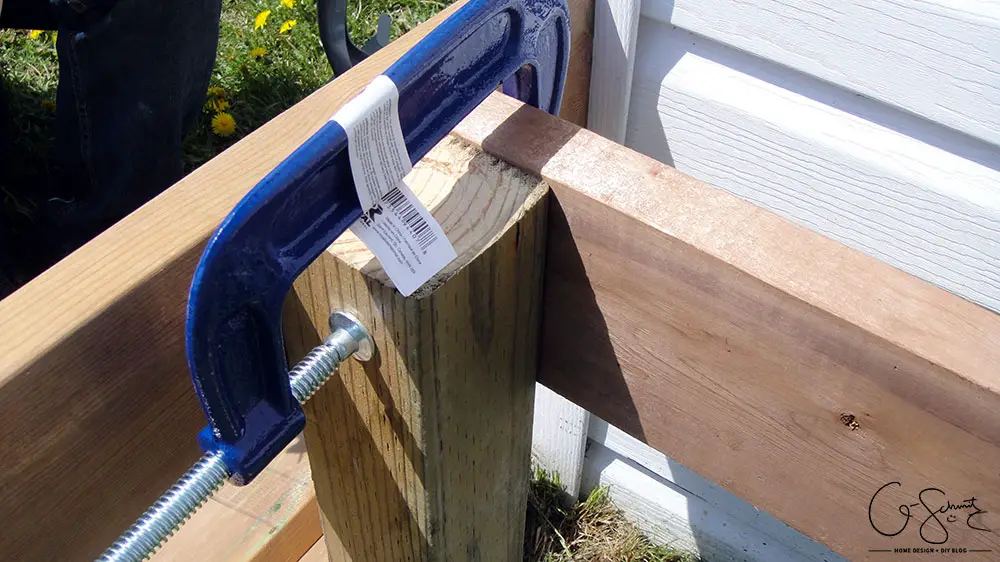 We butted up one of our cut 2x6x4 boards to the shed, lined up to the top of the post.  After screwing that piece in, we clamped the long piece along the other side.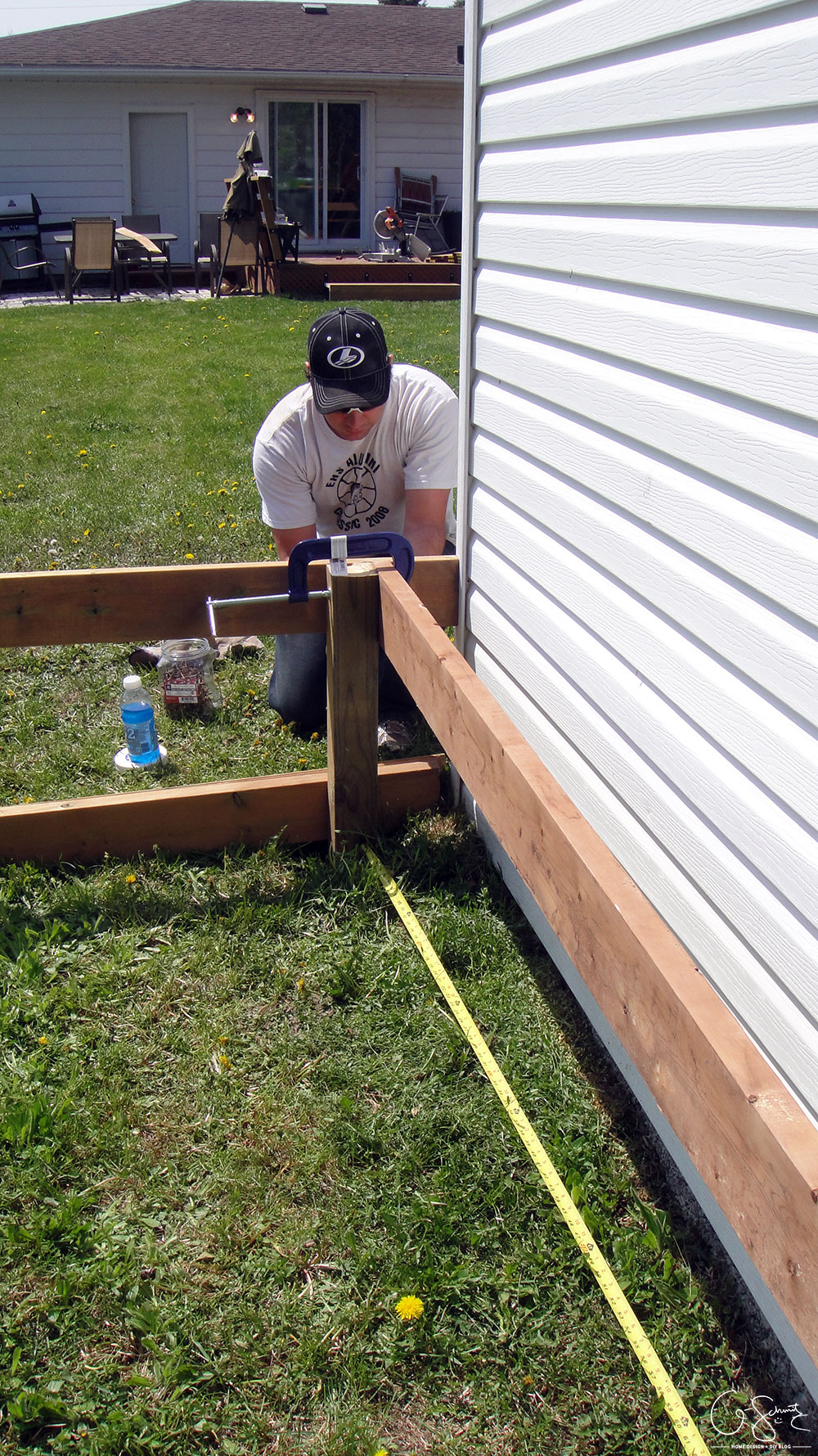 The photo above shows a better angle of what I mean (for the short piece lined up against the shed).  Never mind the wood on the bottom for now, they are just sitting there for later!
Make sure your board is level before you screw it into the post.  You may need to hammer the posts in again, depending on your yard.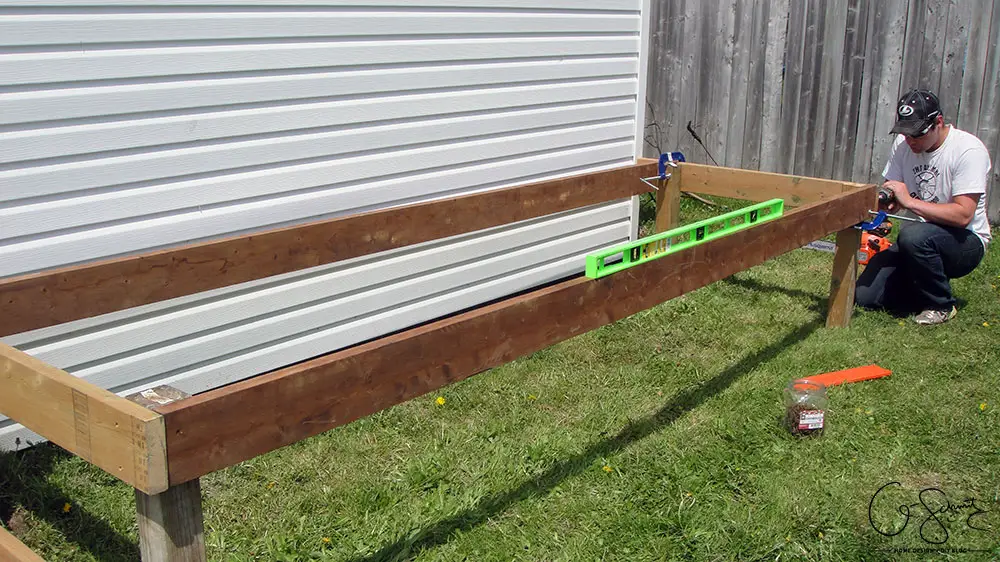 Once your three posts are all in and set, it's time to put in the last one.  Again, make sure the boards are level from the top before you screw them into place.
From there, you can put in the rest of your 4′ boards on the short ends.  DIY/Pro Tip: we always use two screws as a spacer, and if they get stuck after, you can just drill them out!
3. Build a Ledge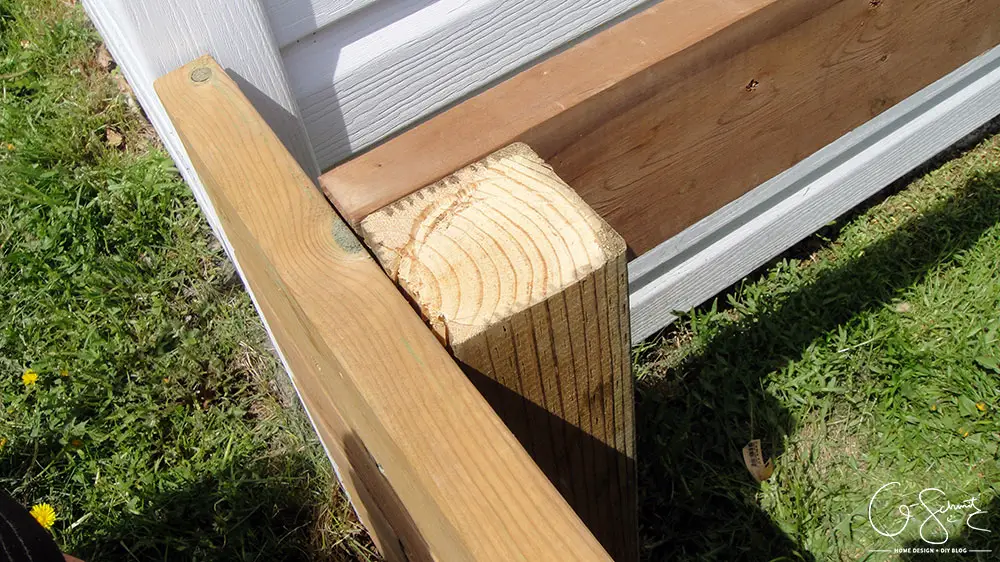 Remember how we put our first board a foot away from the shed which left a gap between the planter and the wall?  We could have continued putting the long boards on the same side, but it would have been too hard to screw into.  And we would still have that gap!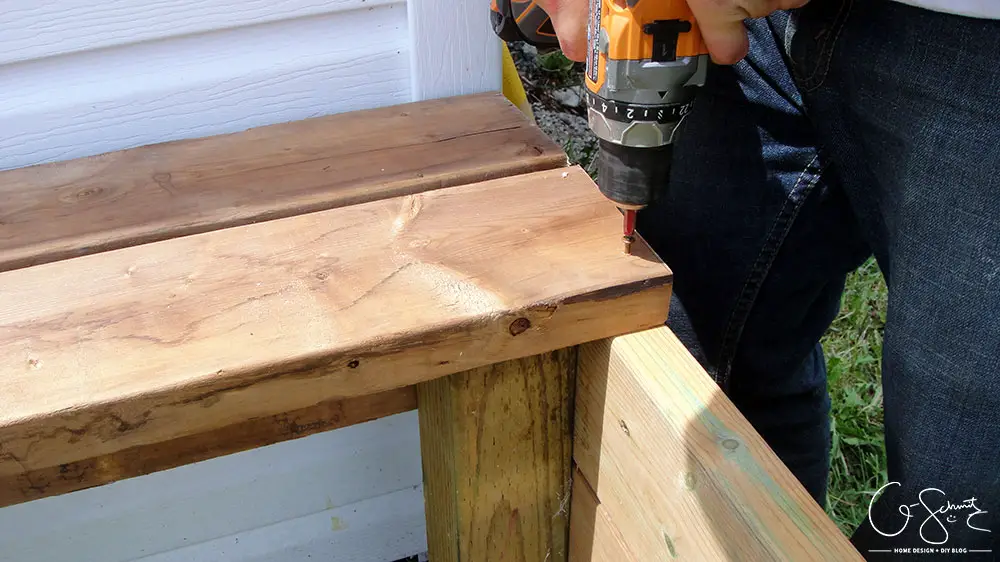 To solve this problem, we installed another two pieces of 2×6 across the top of the planter, along the wall.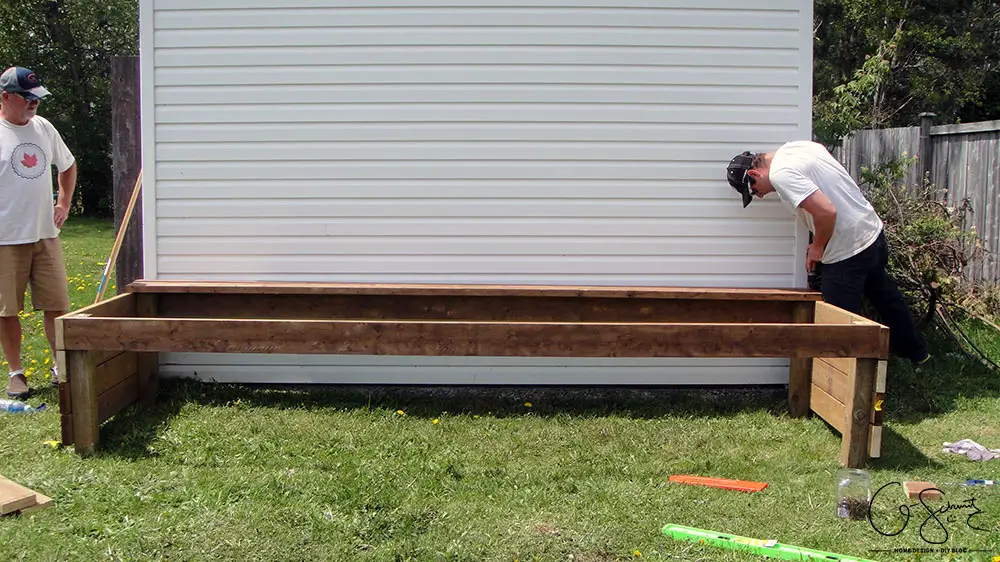 This photo above shows my planter idea "doubters": my Papa on the left, and the Husband on the right.  My Papa especially thought these planters were excessive, and wanted us to build some that were only a foot high… bah!
Anyways, back to the box building!  The shelf adds a nice feature on our raised garden beds; I was even thinking that you could put some flower boxes across the top to add some nice colours to the space.
Update: The gardens are still going strong and the ledge works too!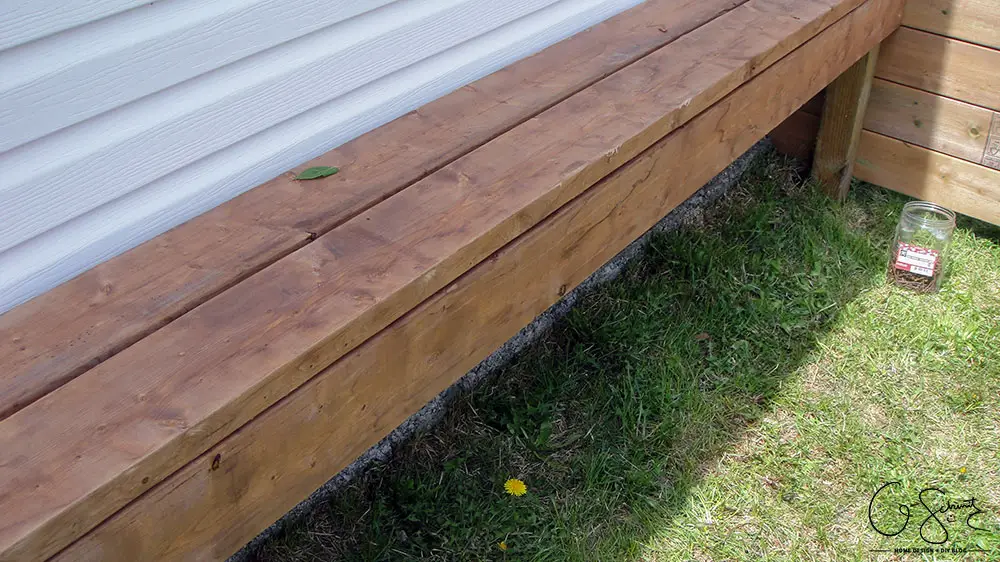 We continued the walls on the inside of the box, and it butted up nicely against the top ledge.
From there, we just had to add the rest of the 2×6 boards across the long sections in the back and front.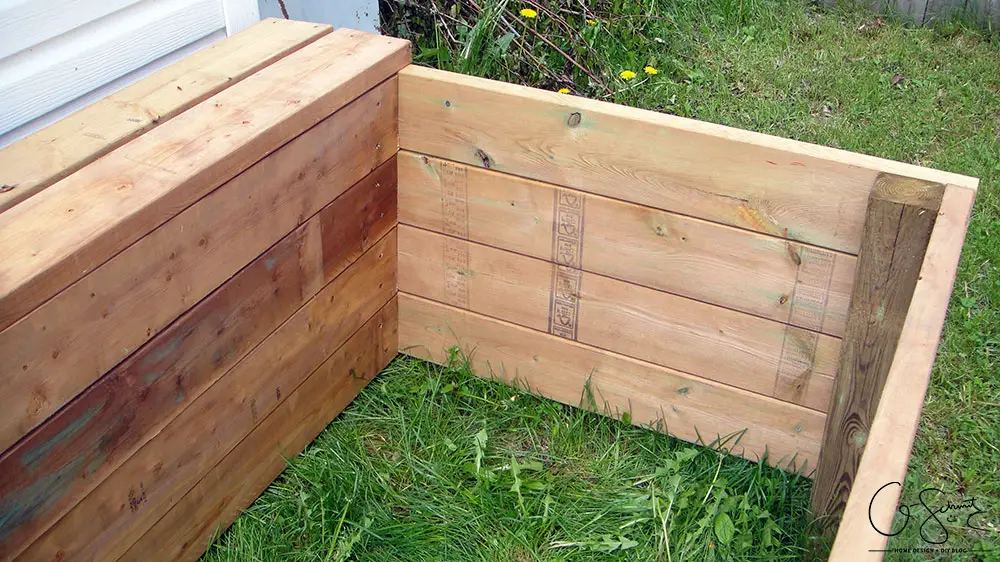 And there you have it – some large (and in charge!) raised garden beds.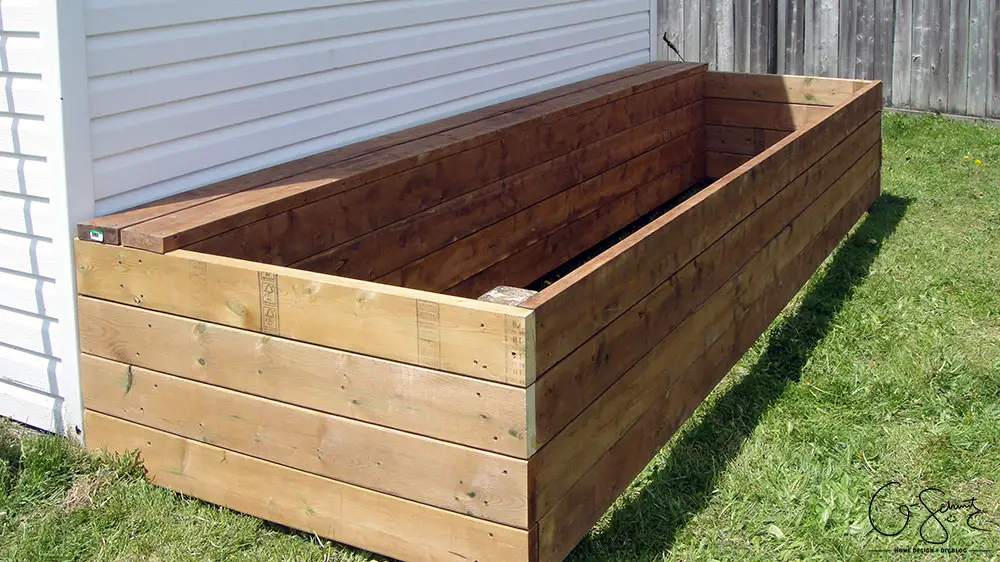 There is a bit of a gap along the ground at the center of the raised beds, but we'll be able to fill that in with dirt when we get it delivered.  Speaking of dirt… filling these things took almost as long as it did to build them!  But that's a story for next week…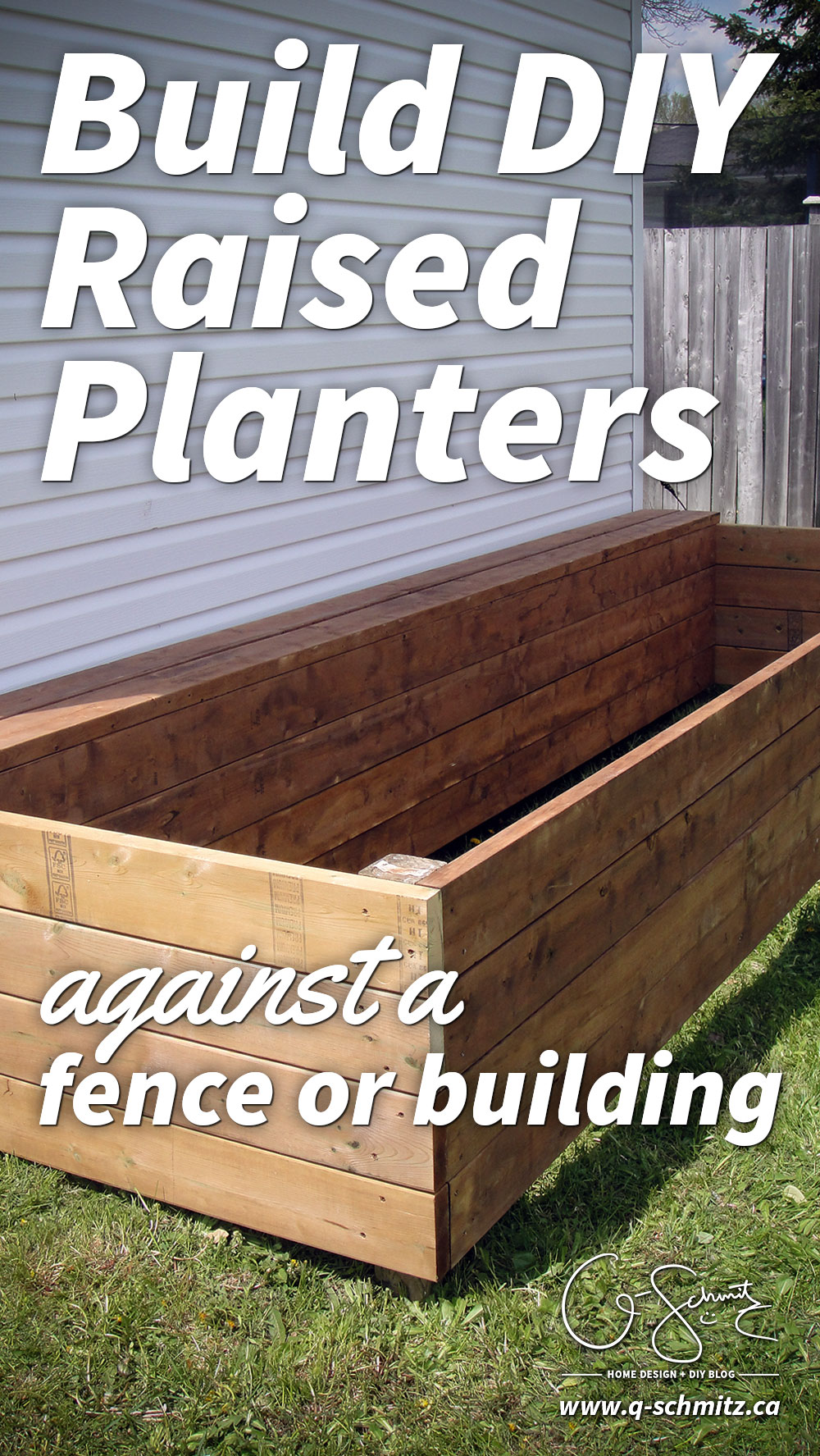 In the end, it took approximately 5 hours for 2.5 people to build two of these in an afternoon (I say 2.5 because we didn't always have three people working, not that we had a child help us or anything!).
So what do you think?  Have you planted yet this year; and if not, how about building a raised garden bed for your veggies?  I'd love to hear your thoughts in the comments, and remember to check back in next week for tips on how to fill your beds!