December is here, and the end of the year is near!  Can you believe it?  For the first half of the month of November I kept thinking it was July or something (not that it's warm around here), but I guess I forgot about all those months in between.  Let me update you with all the goings-on around here!
– Note: This post contains affiliate links. See more information about affiliates here –
What Happened in November?
Weather-wise we had a big dumping of snow that brought maybe 4 inches.  After about a week, it got warm and rained and all the snow disappeared.  Then another inch, then it disappeared, and now we have just a light dusting (but it was mostly gone this morning).  Which is quite odd for Northern Ontario, but I can just imagine we'll be up to our knees in snow soon, and I'll be shoveling the driveway like a crazy person… so I'll just keep quiet for now :)
I started sharing the rooms in our house with you, including the Pink Room, the Blue Room and the living/dining rooms.  All of these can be found in the new top tab "Current Home".  Before I could take pictures of the living room, I had to clean out the front closet (can't be showing how we really live around here can we?).
I tackled the entrance closet cleaning and organizing at the start of the month; I like to change it up twice a year depending on the season (obviously we don't need flip flops in the winter!).  The Husband's shoes were getting a little out of hand, but he kept assuring me he wears them all. Well, after taking everything out and laying them to view, he was able to get rid of 3 pairs! We put the out-of-season shoes and coats in the Blue Room when not in use.  (And no, the "before" picture was not me taking everything out and showing him, that's how he honestly puts things away!).
Remember in the living room tour when I mentioned we had lots of rackets lying about?  Well I got around to getting some new hooks and installed one in the back of the closet (and replaced the broken one on our entrance shelf).
Now everything is out of my view and guests have space to hang their coats again :)
(DIY Tip: If you buy the small hook kits from the hardware store, just get rid of the screws that come with them and substitute a similar one.  The screws in the kit are really cheap and will definitely strip when you install them, even if you try really hard not to).
Hahahaha I almost forgot the funniest thing ever!
Okay, so remember in September we finished the side yard landscaping?  Well, because we had broken a patio stone when we opened the skid, there was still one missing from our path to the backyard. I FINALLY got around to buying another one the weekend before we were supposed to get a lot of snow, and had the Husband put it in place.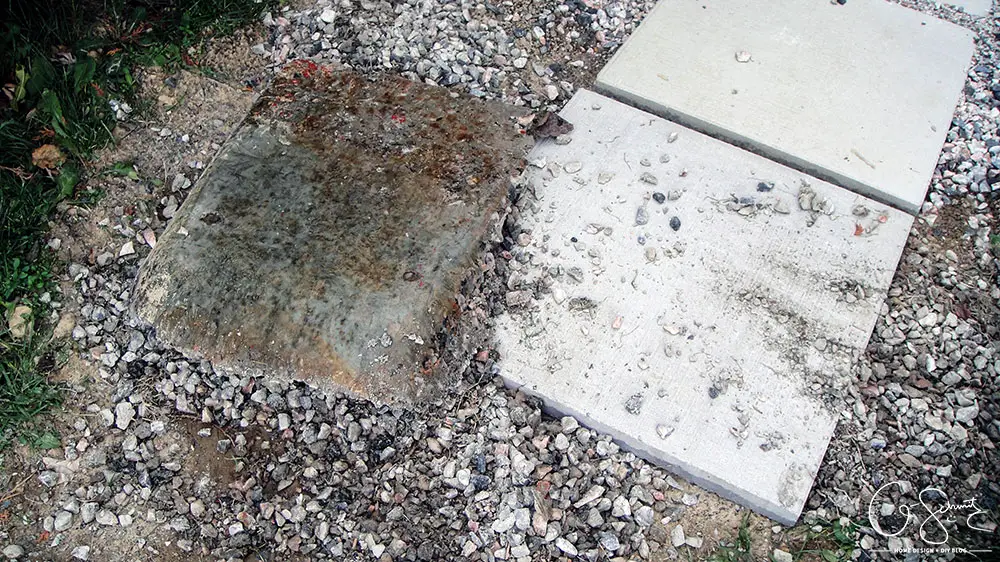 The next day, I went to scoop the rocks out of the wheelbarrow to go around the patio stone… but they were frozen in the wheelbarrow! Um, obviously we had left the wheelbarrow uncovered and it had rained and then froze, so it was one big pile of ice. It took me a really long time to stab the frozen rocks out, and then eventually one big clump of icy rock fell… so I guess it will stay like this until the spring :)
Plans for December
Christmas!  As of right now I still haven't done any shopping yet, but will get to that soon…  Stuck looking for gift ideas?  I came up with a handy list of some gifts that keep on giving, and I will definitely be using some of those ideas this year :)
Now, you also may be wondering WHAT THE HECK IS HAPPENING WITH THE CLOSET IN THE MASTER BEDROOM!?  (I imagine you guys who follow along with me regularly are eagerly awaiting an update.)  Well don't worry your pretty little selves too much; I will be sharing the closet updates in January.
JANUARY YOU SAY?  I WANT UPDATES NOW!
Yes guys, calm your horses!  I figured everyone was busy preparing for the holidays and would rather see some "meatier" projects in the New Year.  (If you're looking for some eye-candy in the meantime, check out all the linked posts at the bottom of my Happy Holiday Living Room).
Minimalist Goals
Items Removed in November
Hangers
5+ Pairs of Shoes
Misc. Clothing Items
Wedding Dress
Random Renovation stuff (pieces of floor, drywall, etc.)
Broken DVD player
Old food
Items Added in November
Pair of Boots
DVD Player
Winter Tires
Photobook
Tootsie toys, pillows + misc.
Odour absorbers
A door
Hooks
Trim Pieces
(Forgot to Add) Crèpe paper + 2 copper plates
So I did really well at the start of the month with purging my stuff (I even sold my wedding dress!) but as time went on I accumulated a few more things.  Some boring things like winter tires (like why do I have to live somewhere cold and snowy right?) which take up sooo much storage space.  I also wrote that I got rid of food, (I've mentioned before that I don't mark these items) but I did have to throw some stuff out because it had gone bad (which doesn't happen too often around here).  This is also the reason why I needed some odour absorbers (because our fridge was smelly!).
Too much information?  Haha, just keeping it real around here!
Books Read in November: Getting Things Done, by David Allen
Okay, I didn't get the chance to finish it because someone at the library put a hold on it so I had to bring it back… but I did get to page 138, which is at least 1/3 of the way in (if I remember).  I'll just wait until they bring it back and get it again :)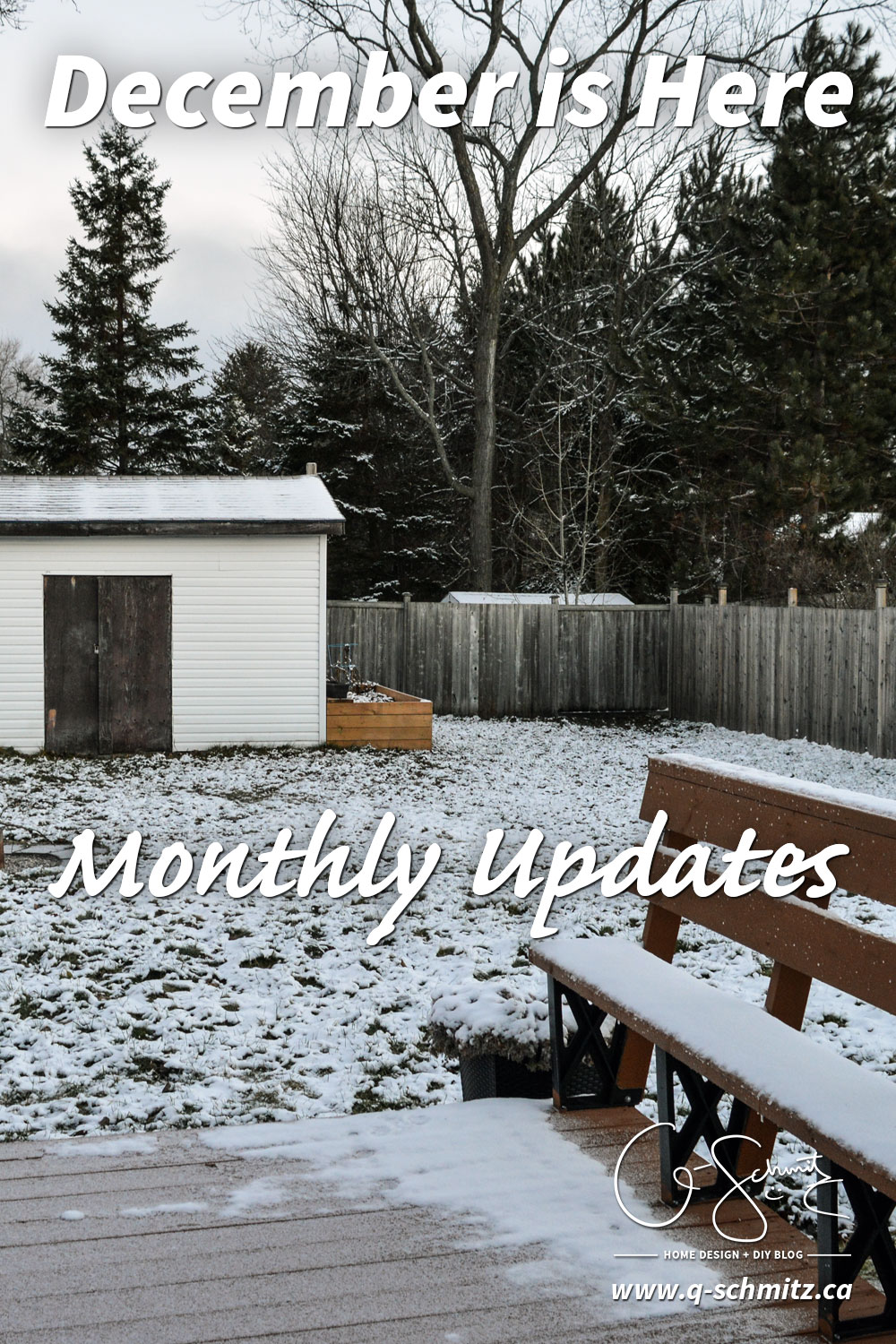 So, although right now we hardly have any snow on the ground, we did get enough in November to remind us that winter could happen at any time.  I've stocked up my freezer and we should be good for a while!  Just trying to finish up some small last minute projects before the holidays.  Do you have any projects you're finishing up before 2016?
It's been almost one full year since I've started this design + DIY blog, and I'm really glad you've all taken the time to follow along in my adventures (and mis-adventures!).
See you next time :)