You know when you see a picture online, and you're immediately drawn to it?  I've always had a difficult time trying to explain what design style I like, and sometimes I feel that I'm a mishmash of different things.  So today I thought that it would be much easier to SHOW you, with a quick list of my favourite bright and bold home blogs.  Because if there is one thing I've always known, I love colour, and I love things that are bright and bold!
I was originally thinking of this post as an "homage to home blogging homies" – a way to celebrate different DIY bloggers and spread some Valentine's Day love.  (I also really like alliteration, but figured a normal-er title would make sense to everyone).  Without further ado, and in no particular order – here are three of my favourite home blogs:
(Please visit the other blogs and pin any images from there!)
Amanda is actually a DIY blogger in the same Facebook Group I'm in (Insider Secret: FB Groups are where lots of bloggers "meet" and hangout!) and I remember the very first post I read from her site.  It was a "Hustle" sign made from Haven Conference swag… and I remember loving the bright blue colour, the message and her office setup.  (And of course the blog name too…)
Pretty soon I got addicted to her writing style, and I had to subscribe to her blog so I wouldn't miss a post.  I love that she embraces bright and bold colour (although the master bedroom will be getting painted soon).
She also recently completed a master bathroom renovation and I really liked the bold coral hue of the vanity – such a fun idea :)
I had actually found out about Chris Loves Julia from a link on House*tweaking, and I fell in love with their modern, homey style.  My favourite room has to be the front study, and I just know my future office will replicate that look!
Their (Ikea) kitchen renovation has probably been one of their most popular projects, and there are lots of great things it's convinced me: you don't need upper cabinets, a big oven (or two regular ones) is the way to go, and black and white packs a lot of punch.
What else am I convinced?  Wood-look tile is the best flooring choice (they also love carpet!), and I need more artwork in my life.
I actually met/heard Jenna speak when I went to Haven, and checked out her blog when I was back home.  I definitely got stuck down the rabbit hole of fun DIYs but I wasn't really following a lot of blogs back then, so I didn't subscribe right away.  And then I came across a picture of her bathroom remodel, and it was exactly like our basement bathroom addition!  (Only a bigger version of course).  Who would have thought that someone else wanted to paint a bathroom vanity purple!?
I feel like Jenna's style is go bold or go home, and I love it!  It definitely reminds me that I can totally add MORE colour to a space, and when in doubt, a cool paint pattern will always make everything better.
She also proves that once again, black is always the best choice for a dining room (or anywhere really!).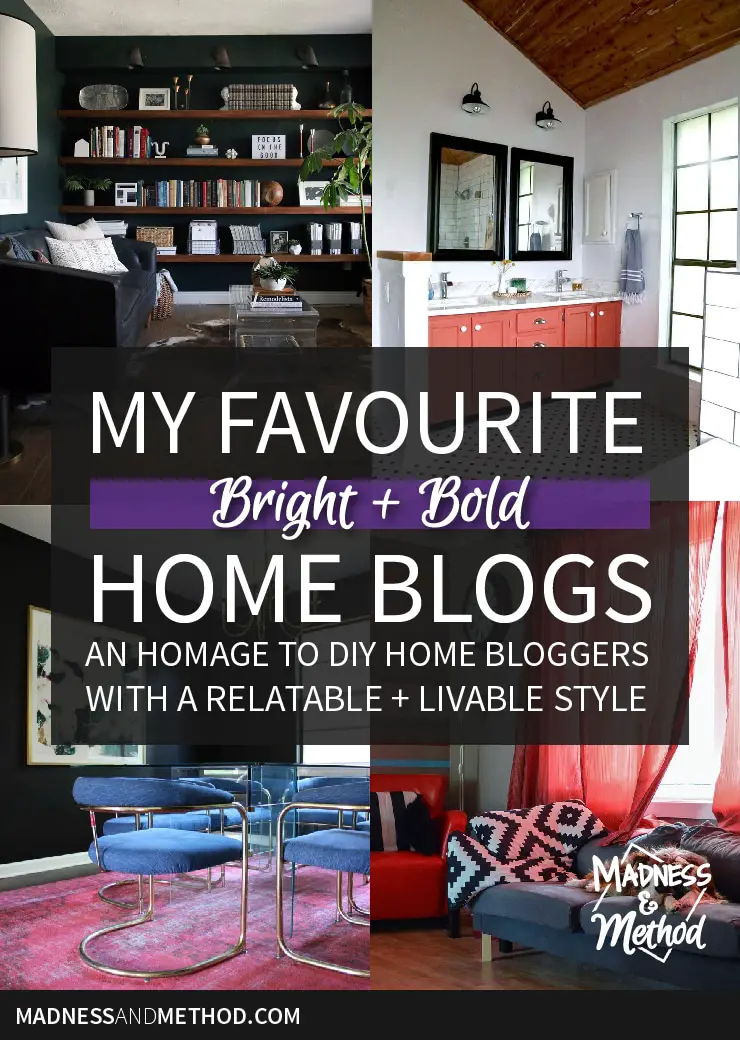 You know what I like most about these bloggers?  Even though they embrace bolder, colourful designs, they all have a relatable and livable style – and seem super down to earth.
I was hoping that each blogger that I featured would in turn write about their own 3 favourite design bloggers – and we could make a cool chain mail sort of thing.  (But obviously I can't force people to do that… so for now it's just me!).
What are some of your favourite home blogs?  Do they embrace the same design style as you, or do you keep coming back for the bloggers themselves?
(I'm figuring you guys read this blog because you like me haha!).