As mentioned at the start of the month, I would be attending the Haven Conference in Atlanta, Georgia; and it just so happened to be last week.  Because I live in the middle of nowhere Ontario Canada (aka the "northern part"), I was super excited that I got to travel and actually meet other home and DIY bloggers!  (Yes, Husband – look there are other DIY bloggers in the world… it's not just me that's crazy!).  Here is a quick-ish recap of my time :)
Okay, I should first start by saying that I took literally NO photos at the event (me = the worst).  And yes, there were lots of sparkly décor things (remember how I love sparkles?) and great opportunities for photos… but I just forgot… sorry!
Day 1:
We flew into Atlanta from Detroit and took the MARTA train to Buckhead (where the conference was being held).  I quickly registered (even though I technically arrived after they had closed, but thanks for letting me in anyways!) and then went up to drop my stuff in the room.
I went down to the cocktail hour for maybe 15-20 minutes max?  And I did NOT talk to anyone (yes – I was that awkward person chasing the hors d'oeuvres tray and trying to look for people to talk to.  But no – I did not get any appetizers because that server was just too sneaky and quick!).  Why didn't I talk to anyone you ask?  Because I honestly hate talking to people!  Okay, that might not be the right way to say it… but just know that I am really introverted and much prefer for people to start up a conversation first.  I guess you can say that I hate initiating conversations.  But trust me, I'll talk lots if you let me :)
Day 2 + 3:
The second and third days were filled with attending different talks/workshops AND actually getting to meet and talk to other cool bloggers.  I was happy to find out that breakfast and lunch were provided on both days – and for anyone that knows me personally knows that I MUST eat breakfast as soon as I wake up.  (But don't worry, I did make sure to get dressed first – pjs probably wouldn't have been the most professional).
I learned SO much in just two short days, and honestly wish that I could have stayed in the happy Haven bubble forever.  All of the speakers were really knowledgeable, down-to-earth, and sometimes funny too.  I had heard about and visited a few of their blogs (some of which I subscribe to) so it was really neat actually meeting people that I've only known online (the accents/voices were not always the same as I imagined them to be!).  I'll definitely check out a few more presenters' sites, and probably follow some of their social media accounts too.
The best part about attending the Haven Conference?  Actually meeting other like-minded individuals!  I only started this blog in January, and I was happy to meet some other blogging newbies too.  (Apparently there was a Facebook group for first-timers, but I was not part of it).  I made sure to collect as many business cards that I could, and I also wrote down a few sites from those that didn't have cards on hand.  My plan is to add all these blogs to my Feedly account so that I can continue reading about their projects.  Which brings the total number of blogs I follow to 78 (holy tamoly that's a lot!).  And again I'll be following some social media accounts – you can never be too connected in the blogging world!
In alphabetical order, here are all the blogs of the people I met!
First off, I hope all those sites are spelled correctly and all the links work!
If you're a reader of this blog, why not take a look at some of these sites to see what kind of projects other people have done?  If you're one of those blogs mentioned (aka someone I met at Haven), thanks for talking to me :)  I promise I'll creepily read your blog posts and pop in to comment every now and then!
Other Haven Notes
I didn't really talk to any sponsors (partly because I just started blogging, partly because I live in Canada and they are mostly US based – but mostly because again, I hate initiating conversations).  But I did get a cool nail polish from Modern Masters (thanks!) and apparently I'll be getting some door paint delivered too.
One thing I wish the organizers could do better next year?  Better programs!  No, not the overall programming and schedule, those were great.  I'm talking about the physical program booklets that are used to see the schedule, read about the sponsors, etc.  The schedule in the program was not very accurate (thankfully I had printed a copy ahead of time to bring with me) because some times in the booklet were off, and some sessions weren't even mentioned.  Actually, the schedule in the program had a block for "visiting sponsors" on the last day, so when I went to do that, most of the sponsors had already taken down their booths or were in the process of leaving… darn!  Don't even get me started on the typos and mash up of typefaces / design elements used… But there was a map, and that was super helpful!  (I personally know how hard it is to make a program for an event and balance the printing timelines, sponsor logo additions, changes of schedule and more, but for a design focused conference, it could have been a lot better).
Around Atlanta
As mentioned above, I brought the Husband to Atlanta, so he had to entertain himself while I was busy.  I think he did a bunch of touristy things like visit the aquarium, Coca-Cola factory, CNN building, who knows?  I forgot to book some buffer time to actually see the sites around the city, but I actually wasn't that upset because it was SUPER hot and I did not want to walk around and sweat all day.
But we did have time to visit a DINE-IN Movie Theater!  That's right, "Dine-in" as in you can eat and watch a movie at the same time!  On tables.  With real cutlery!  And I don't just mean normal movie theatre food like popcorn and hotdogs; I mean a regular restaurant-style three course dinner, that you order on a menu with a server!  Ha, we were both stuffed after the appetizers, and ended up getting the main meals to go (but yes, I did enjoy a delicious s'mores pizza dessert).  That was probably the coolest touristy thing I did, and I wish they had dine-in theatres here (or at least one screen).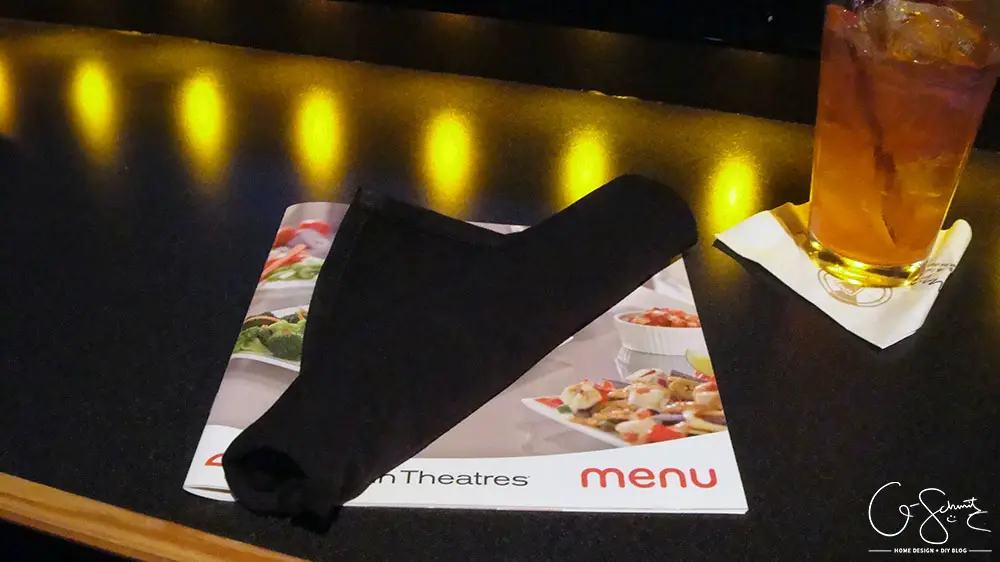 Conclusion
Although this blog post doesn't really have anything to do with home design and DIY per say, it does give a better glance into my time at the Haven Conference – and a bit more info about me in general.  So if you're a regular reader (aka family and friends), I hope I've given a bit more of a glance into why I started this website and decided to become a "blogger", and maybe shared some insight into what other bloggers do too.  If you're new here and maybe met me at the conference, or found this link on the Haven Link Up page, feel free to peruse the rest of my posts, and maybe we can be friends now too?