What a whirlwind June has been, and July is going to be no different – in fact, it will be even crazier!  I think I'll only be home for two weeks this month, and the rest of the time I'll be traveling.  Before we get into all the new things, let's look back at the last few weeks, shall we?
Accomplished in June:
I had heard/seen/read somewhere (probably Pinterest) that you could replant your lettuce butts and new lettuce would grow.  Something is actually growing, so I'll keep you updated if it works or not :)
Plans for July:
We started our kitchen renovations exactly one year ago this weekend, have you checked out the reveal photos and read all the posts on the progress?  As you can tell from the photo above (taken this morning) our phone jack has yet to be properly installed.  I finally gave in and hooked up the phone and it's just sitting on the counter for now.
In keeping up with my minimalist ideals, I'll be trying to record a log of all the items I bring into my home, and things that I donate/sell/get rid of.  They say people accumulate too much stuff, without getting rid of their old stuff, so hopefully I can try to let go of more than I bring in!
This will also (hopefully) help me with my spending, as I will be trying to implement a budget/spending plan.  Basically, after all my bills are paid I have 100$ per week to spend.  Does that sound like a lot of money, or not enough money to you?  (Obviously everyone is different).  I should also note that this 100$ includes the money I need to spend on gas and groceries.  And for someone who's literally spent over 100$ on one trip to the grocery store before, this will be tough amount to follow.
Items Removed:
All my unworn dress pants
Miscellaneous décor items
Some items of clothing
(We also had a garage sale in late May so there were a bunch of items removed then as well)
Some weights/dumbbells that we didn't use
Items Added:
A photo book of our Honeymoon in Rome (for the Husband's anniversary gift)
3 dresses
A new-to-me cardigan
A new-to-me rotary sander (which we will be using to sand the deck)
3 boxes of tiles
All those items I bought cost less than 125$ together, so they were definitely good deals!  The Husband wasn't too happy with the tile purchase (okay, I admit that I am a bit of a tile hoarder, but after the kitchen floor fiasco I am really scared that we won't be able to match the tiles perfectly, so am buying ones that are similar in hopes that they will match).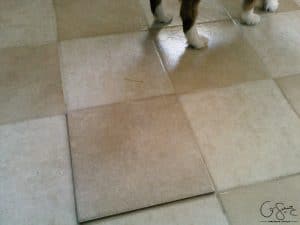 So close, especially in these badly lit cellphone photos; but they weren't the exact same, so it would probably be noticeable.  At least I have a great project that I'll be using these tiles for; you'll just have to stay tuned to find out! (Update: it was a custom patio table)
Is July a crazy-busy month for you too?  I'm not sure August will be any better, but it seems like this summer is just flying by, even though it just barely started!  I'd love to hear your summer plans in the comments, and don't forget to donate or sell the items you no longer need :)