Happy Canada Day + Fourth of July Weekend!  We can probably all agree that we went through one of the biggest changes here in June right?  Adding a little bundle to our family has certainly changed things, but definitely for the better (although I may not agree with that in the middle of the night haha!).  Nevertheless, we're all business as normal here on the blog, so let's do the usual recap of the past month and go over the July 2016 plans!
– Note: This post contains affiliate links. See more information about affiliates here –
I'll try not to bore everyone with all the baby details all the time; but I did want to mention that we got around to using our handprint mould.  The instructions said to let it set 3-5 minutes, then if it was still damp, another 2-3.  Well, maybe we tried to do it when it was too hot and humid in the house, but it took closer to 20 minutes for the water to evaporate enough that we could get a good print that stuck.  And that was with me wicking some of it away with a paper towel.
Let's just say that by now baby was awake… and he decided to grab the plaster with his hand instead of keeping it nice and open!  Haha I thought it was too funny, so we kept it like that and then wrestled with him the next few minutes trying to open his hand to clean out the mess.  I'm happy I decided to do a footprint too, and I think I may do some handprints with paint on all his monthaversaries for the first year.
What Happened in June?
On the blog, I showed off the nursery reveal photos, our new guest bedroom, and even shared some great wall transformation ideas from my blogging friends.  I also gave a quick update on our new board and batten hallway (even though it's not 100% complete yet) and a mini-tutorial on how I was able to add some custom artwork to the space too.
This past Tuesday I participated in a fun summer home tour with some more blogging friends and revealed our new master bedroom paint colour.  Our "real life" tour included pictures of how we "decorate" for summer, which basically means setting up the rolling A/C unit.  We've gotten random bouts of heat here in June, and I'm super grateful that our basement is cool, because that's where I've been holed up most of the time haha!  I'm hoping this will be the year we bite the bullet and get central air installed… but of course that's a large expense that we hadn't really planned for.
But when momma's hot… momma's not happy!
Books Read in June: none – womp womp!  But I've been pretty busy on baby duty, and have been spending my spare leisure time taking much needed naps…
Exciting news – yesterday Remodelaholic shared my patio table top tutorial :)  So go check it out now!
Minimalist Goals
Each month I like to track what items I bring in to my house, but also as important: which items I remove.  The goal is to slowly purge stuff that I no longer need, while also being conscious of the things that I bring in – all in the hopes of owning less stuff.
Items Added:
Nursing Clothing
Baby Stuff
2 Kitchen Strainers/Steamers
Crossword Book
Items Removed:
Winter Jacket
Surround Sound Wires in Basement
Bag of Shoes (5+ pairs)
My parents have been over a few times this month to help around the house while I take care of baby.  They "need" veggie steamers all the time apparently and bought me a couple (so they could use while they are here).  Umm… thanks… My Papa just recently brought a big book of crosswords though, so at least I can exercise my brain seeing how I haven't been reading any books lately!
Oh and that jacket?  It was super broken, dirty and a button popped off when my belly expanded from the pregnancy; so although I loved it – it had to go!  (And probably should have been gone last winter!).
I've kind of been living in pyjamas lately; so I will probably have a big clothes dump to do once I get around to trying everything on.  I think my butt got bigger from the pregnancy and most of my shorts won't fit anymore!  (Is that too much information!?).
July 2016 Plans
So remember when I said that my parents had been visiting?  They're actually here this week and will be my little slaves helpers around the yard to get a lot of my outdoor to-do list done.  Unfortunately it rained yesterday (which has been one of the only rains here in a month I think) and we had to stay inside.  My Papa did fix our BBQ, but turns out it wasn't actually broken and he spent all afternoon tinkering away.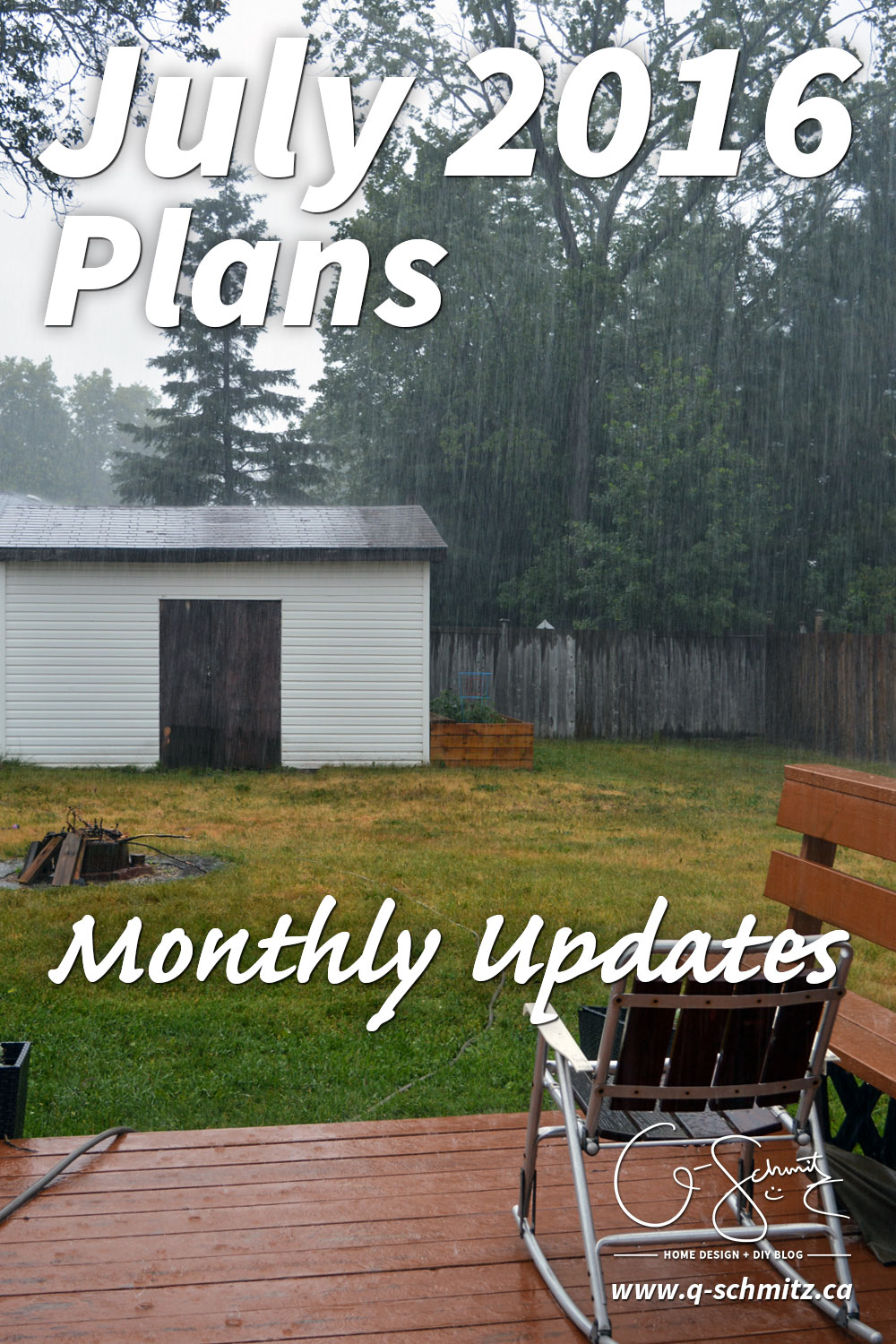 I'll be sharing a bunch of outdoor projects (once the parents get to doing them) for the rest of the summer, so hopefully they get a lot done because I have lots of weeks to fill up on the blog haha!  (Oh, and just in case you're new around here – I'm not actually always a lazy person, but I had a C-section when I had the baby and I have a lot of restrictions on what I can do).
Thanks for stopping in and reading all about my updates and July 2016 plans – don't forget to visit again soon :)