As mentioned last month, I am continuing the trend of discussing my upcoming plans for the month.  In February, I wrote about some baking I did on Valentine's Day; our broken (and now fixed) garage door and my visit to the Sudbury Home Show.  Ha, I also mentioned that it was wintery in February, and surprise surprise, nothing has changed a month later – in fact; it was colder than -20°C a few days last week, and it is currently snowing outside right now.  Will I start planning my garden and landscaping projects this month?  Nope, the weather still has a bit of warming up to do before that; so what will I be doing in March?
– Note: This post contains affiliate links. See more information about affiliates here –
March is actually my birthday month, yay!  It's also the half-birthday/six-monthiversary of our little Tootsie Roll, the cute Mini Australian Shepherd in the photos on this post.  Yes, our little Tootsie girl is growing up so big; and she just passed the 20 pound mark (cue tears from me, her momma).  She's the first dog I've ever owned, so it's been a bit of a learning curve, to say the least.  Anyways, she loves running around outside in the snow, and as long as it isn't too cold, she'd stay outside for hours if she could.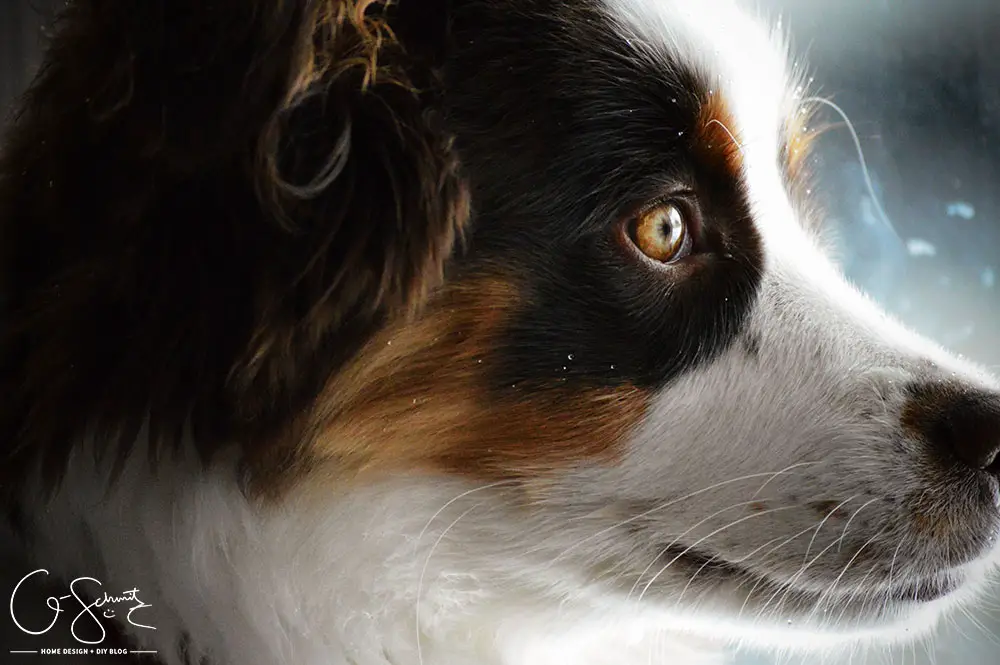 Don't worry, just because it's my birthday month, doesn't mean I'll be taking a break from blogging!  Surprisingly, the flowers that my husband got me for Valentine's Day are still (almost) as fresh as ever, so I'll be writing about how to arrange and maintain a bouquet.  I also have a few small décor projects that I would like to talk about the next few weekends as well.  February was a bit of a turning point for me, design-wise, as I've realized that I want to adopt more of a minimalist aesthetic.
I stumbled across an article via Pinterest entitled "Expert Advice: 10 Ways to Live with Less from Zero Waste Home" sometime in January.  I didn't think I could accomplish something like that, but then I started reading the book "The Happiness Project" by Gretchen Ruben (given to me as a Christmas gift) and I started re-evaluating all the stuff I have (the first chapter is about de-cluttering your life; but I haven't finished the book yet!).  While I've always hated having "knick-knacks" and useless décor items, I've seemed to manage to still accumulate a bunch of stuff, including toiletries, clothing, accessories, whatever; and although most of the time my rooms seemed clean and empty, the closets and drawers would be hiding stuff, basically overfilled with "junk".
In February, I wanted to accomplish these tasks:
February Goals:
Continue working on the last details of the kitchen (worked on this a bit, but still not done)
Fix garage door
Attend the Sudbury Home Show
Go through all my clothes and donate what I no longer wear (started, but not completed)
Further to the last point, and to re-iterate my whole new minimalist ideals, I'm trying to think of a way to get rid of the bulk of my stuff in the easiest/best way possible.  I'm convinced that I could easily have 50% less stuff, and it wouldn't phase me (easier said than done of course, but it's a work in progress).  I'm thinking I might organize a garage sale in the spring/summer and try and get my neighbours involved, and maybe the whole community (go big or go home!)
What about you, could you give up half of your stuff and not miss it?  Of course, it might be easy to get rid of half the stuff you don't use; but it may be harder to get rid of say half of your shirts, or half of each type of thing that you have.  Either way, I'd love to hear your thoughts!