I think I'm done trying to come up with clever names for these monthly update posts haha!  If you're new here, once a month I go over what happened in the past month, and share a bit about what I'm planning on doing in the next.  I'd say that the theme for the past month was: Spring's coming early this year, it's been so warm.  Wait, just kidding winter is back with full force.  Let me tell you what I mean and I'll share my March plans too :)
– Note: This post contains affiliate links. See more information about affiliates here. –
February 2017 Recap
At one point in the month of February this year, I kid you not, the snow was at the 24″ line on my DIY snow scale.  I really should have taken a picture, because (after visiting my family down south) the weather heated up, and we lost about a foot!  AND since I was "down south" (same province), I was able to enjoy the extra heat (which was close to 20°C that weekend!).
For a comparison, now that winter's back in full force, it was about -25°C this morning when I woke up.  If you're in the States, that's almost an 80 degree F temperature difference – although, if I had stayed in Northern Ontario, it wouldn't have been that drastic of a change.  But still, it was above freezing for a large part of February.
A couple of days ago we were blessed with a full day of snow.  I mentioned that my snow scale wasn't showing a difference in height (even though it had been snowing all day) and surprise (!) there was a crazy drift in front of our garage, pretty much covering our front walkway.  (Some parts had no snow coverage – aka the black spots on the photo to the right) and some parts had over 3 feet.
Project Updates
Our basement is coming along nicely, and I'm actually hoping to get a lot of work done this week.  In February, I wrote about our custom game shelf build, which primer you need to use for panelling, I filled the cold gaps, and finished painting about half of the panelling.
I also shared which bloggers' home styles I like, a list of great home basics from Wayfair, and some ways to declutter for Lent.
Book(s) Read:
This past month I read The Debt-Free Lifestyle by Christine Conway, and I'm in the middle of reading Execution: The Art of Getting Things Done by Larry Bossidy and Ram Charan.  The first one was an "impulse" read because I was waiting for my other books to come in at the Library, but it was a good read!
Minimalist Goals
I feel like maybe I bought a bit more this month in anticipation for my Lent Challenge (hoping not to buy anything except food)… So yes, technically I did cheat a bit by pre-buying things I thought I might need, but I had some DIY projects to plan out for that time.
Items Added
Storage baskets
Paint/Primers
Stool (fun project coming your way soon!)
Craft/hardware supplies
Items Removed
Coasters
Plugin home phone
Husband textbooks
Random cables
A couple games
(Super old!) school notes, tests, etc.
I did a mini walk-through of the crawlspace (or should I say a crawl-through hahahah) and realized there were some old things I had that I could get rid of.  There are still a few boxes that I need to take a hard look at, but I'm happy that I was able to recycle a few boxes anyways.
March Plans
The Husband and I are actually going on vacation later this month (with some friends, sans-baby), so it will be interesting to see if I'm able to keep up my non-spending while I'm out.  It's also the reason why I decided ahead of time that going out to restaurants would still be "allowed" on my spending freeze.
I don't really like traditional souvenirs, and seem to always regret buying a random tchotchke when I'm back home. I do however take a BUNCH of pictures (much to the Husband's chagrin) and I'll make sure to share them here when I'm back :)  One thing I will miss is going shopping (for clothes) while on vacation.  Probably sounds like a weird tradition, but I actually like to buy a few pieces of clothing that I like, and I don't mean shirts that have the name of the city/country haha!
Sometimes I even buy from "normal" chain stores, and I think it's just because I'm in a "holiday" mindset and am a bit looser with my wallet.  For example, I have a big winter coat I bought in Italy on our honeymoon.
It's super warm and I only wear it when it's colder than -20°C.  And that comes in very handy on days like today!
Plans for Spring
I'm starting to see ads for spring sales – and although it seems to be getting colder and snowier here, I know that spring is coming (please, hopefully) soon.
With the melting around here, I was able to get a good look at the patched walkway crack – and womp womp – it's back in full force.  The different areas are different heights in the winter, so I don't think it will ever be permanently fixed :(
Oh, and I'm pretty sure the front porch concrete pad is sinking even more too.  We'll definitely need to address that this summer, because it's not good if water leaks down in between the foundation of the house.  Most of the time the rain doesn't reach the porch, so we don't have to worry; but when there's crazy snow, we have to make sure to clear it off as best as possible.
I think that's pretty much it for me and my March plans!
See you back here on Tuesday for some more basement updates :)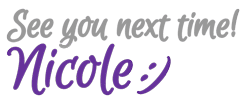 Shop This Post