After getting frost at the end of August, we went through a crazy heat wave for 2 weeks in September.  I'm guessing/hoping the weather for the month of October will be more seasonal, because I'm ready to wear sweaters, drink hot chocolate and snuggle in the blankies!  Oh, and if could stay warmer for November… I won't complain much either :)
– Note: This post contains affiliate links. See more information about affiliates here. –
September Recap
I attended Blog Podium again this year, and really enjoyed chatting with some "old" blogging friends (and meeting new ones too!).  I ended up having to bring the Mister AND Tootsie with me to Toronto, and thankfully my Mom was able to watch them both while I was busy.
I've also been slowly finishing some smaller projects around the house, like installing our panel curtains, building bamboo blinds in the basement (they're all done now!), trimming the trees outside and finally making a frame for our canvas.
I made a fun list of gifts for first-time homeowners, made some yummy Halloween haystack treats, wrote about how I blog AND shared our first video house tour.
Book(s) Read:
I finished Give and Take by Adam M. Grant, Good to Great by Jim Collins, Lean In by Sheryl Sandberg; and just started Man's Search for Meaning by Viktor E. Frankl.  I was super productive this month in reading books, so I'm surprised I got other stuff done, ha!
Minimalist Goals
| Items Added | Items Removed |
| --- | --- |
| Blog Podium Swag! | 2 Baby bottles |
After a big month of going through our stuff in August, we've taken it kind of slow and haven't purged too much.  We're planning a garage makeover for the Fall One Room Challenge, so I'm hoping we can go through some unused stuff in there!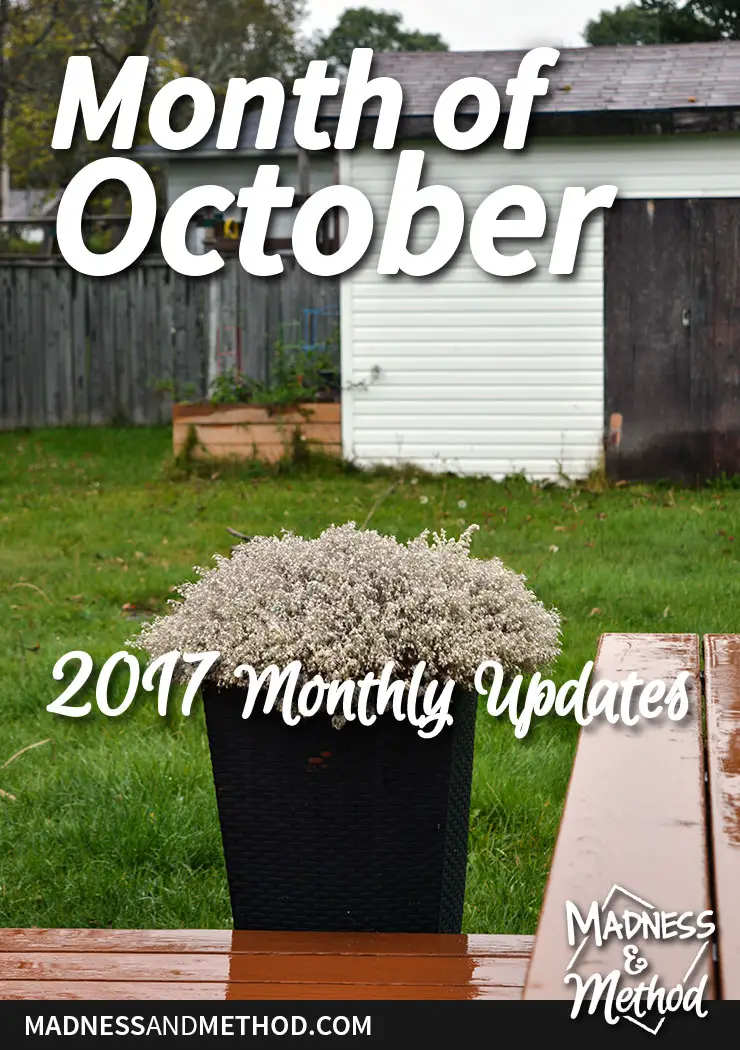 Plans for the Month of October
Like I mentioned, we'll be focusing most of our attention on the garage – so we'll be busy out there (and I still don't have a set plan yet!). I just have a bit of Halloween décor to make (and still have to put up all the stuff from last year!).  Oh, and hopefully I can share our family costumes soon too!