It's the month of June already, and for us it's a big one since the little mister turns 1 next week!  We'll be celebrating with cake of course, but other than that we don't have any crazy plans for the day.  It's also our wedding anniversary next week – so lots to celebrate in the month of June :)
– Note: This post contains affiliate links. See more information about affiliates here. –
May Recap
We showed off the reveal photos my brother's new bathroom, explained how we made the mirror frame and painted the accent wall.
I talked about my first official Mother's Day, built a saloon style baby gate, wrote about how we get rid of stuff (we went to the dump yesterday) and we planted our veggie garden.
Book(s) Read:
I read Find a Way by Diana Nyad – and I that I hope I never encounter a jellyfish!  I also took out Emotional Intelligence by Daniel Goleman from the library, because I didn't finish it the first time.
Minimalist Goals
Items Added
Items Removed
Wireless Camera Remote
Rolling Air Conditioner (sold)
Steak Knives (given to family members)
I'm hoping we can start a new tradition where we take family photos on our anniversary each year. But the Husband HATED when we took the Halloween photos, because it took so much time between each shot. I used the built-in camera timer, so I would hobble to the tripod, set it for 10 seconds, run back and pose. Then do that times 5 or 10 times in a row – and the Husband was tired!  I'm hoping the remote makes everything run smoother :)
Plans for the Month of June
I'd like to start/keep working in the yard, but we don't have as many super big projects as the past years.  We just have a big to-do list and hopefully we can scratch a bunch of things off :)  I am hoping to get our front porch concrete slab fixed (we'll probably get this done by the pros, since it's super structural work) and maybe get the chimney concrete fixed too?
We still have to fix the shingles on the shed, and the door is now super broken, so that's the other big project I'm hoping we get done (we want to also clear out the back and put siding up).  Other than that, we'll be maintaining the landscaping we have now, and maybe planning some more projects for next summer?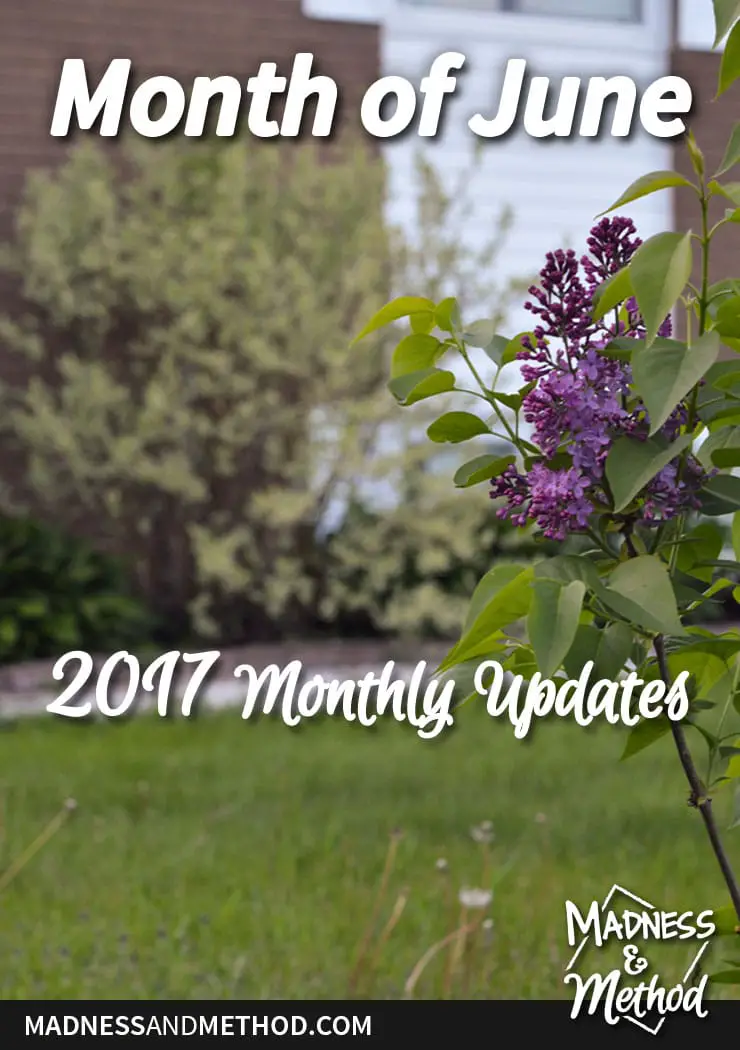 I'm super okay with just getting the deck setup nicely this year (which does involve re-staining it) and just relaxing :) That sounds like the best plan for the month of June, and I'm hoping to get that done before the mister's birthday next week – so wish me luck!
Do you have any big plans for this month, or just taking things slow? Let me know!