Starting the month of September means that summer break is officially over :(  On the one hand, we're getting closer to my favourite season and holiday (aka Halloween!), but on the other, it means that it's going to start getting colder around here…  We've actually already had our first frost!
– Note: This post contains affiliate links. See more information about affiliates here. –
August Recap
On the blog, I talked about my brother's kitchen renovation including the plans and before pictures, renovation issues, custom trim above the cabinets, faux coffered ceiling, and the much anticipated after pictures!  I also shared awesome black dining rooms, had a faux fur pillow mishap, and introduced you to a new business we started.
Book(s) Read:
I finished reading Getting to Yes by William Ury and I just started Give and Take by Adam M. Grant.
Minimalist Goals
Items Added
Items Removed
Baby chair
Bamboo blinds
Just under 500 items (x2)!
In case you missed my Facebook Live Videos this past month, the Husband and I participated in "The Minimalism Game" and we had to get rid of a BUNCH of stuff.  Each day you had to remove the amount of items equal to that date (so, 15 things on the 15th; etc.) and I actually made it to the end of the month!
Some of the items I got rid of included old computer CDs, hair accessories, makeup/nail polish, art supplies, gift bags, clothing, jewelry/pins, hangers, wedding stuff, and some dinnerware.  We actually upgraded to a new set of dishes, so were able to get rid of all the old stuff without replacing some items (like mugs and saucers).  The Husband even visited his parent's house and got rid of over 100 old childhood items!
I'll do an official recap this week on Facebook, so stay tuned!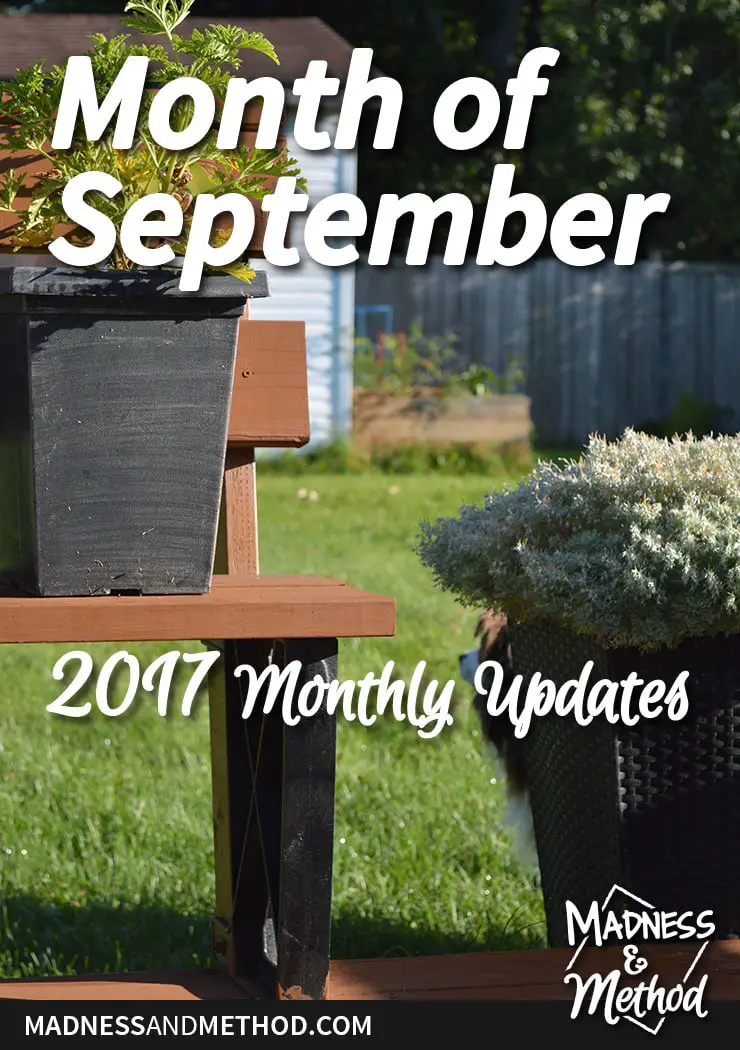 Plans for the Month of September
This month we'll be planning a weekend trip to Ottawa to visit some friends – we're bringing the mister so it will be our first "real" vacation with him (not including visiting my parents).  Actually, last year he came with me to BlogPodium/Toronto, but I didn't really hang out with him… so it doesn't count haha!  We're hoping to visit some touristy things and just catch up on our old city (the Husband and I met in Ottawa when we were in school).
Other than that, I have a couple of small house projects to catch up on, and I'm hoping I'll get an updated home tour out before winter hits.  I'd really like to participate in the fall One Room Challenge (starts in October)… but I still don't have a room to update!
Anyone have any suggestions?