You guys, I need to be honest – I am far behind on my seasons in the blogging world.  While people have been talking about fall décor and pumpkins and all things orange for the past month, I've been grasping on to the last bits of summer and wishing the weather would stay nice for just a bit longer.  (And trying to finish all my landscaping projects too).  Let's take a look at what I've done the last few weeks and I'll explain where I'm headed.
– Note: This post contains affiliate links. See more information about affiliates here –
What Happened in September?
We finally finished the front walkway as much as it will be done this year.  I had wanted to finish the side yard, but will be working on that this weekend actually.  We had our first frost the first weekend in September, which was less than ideal.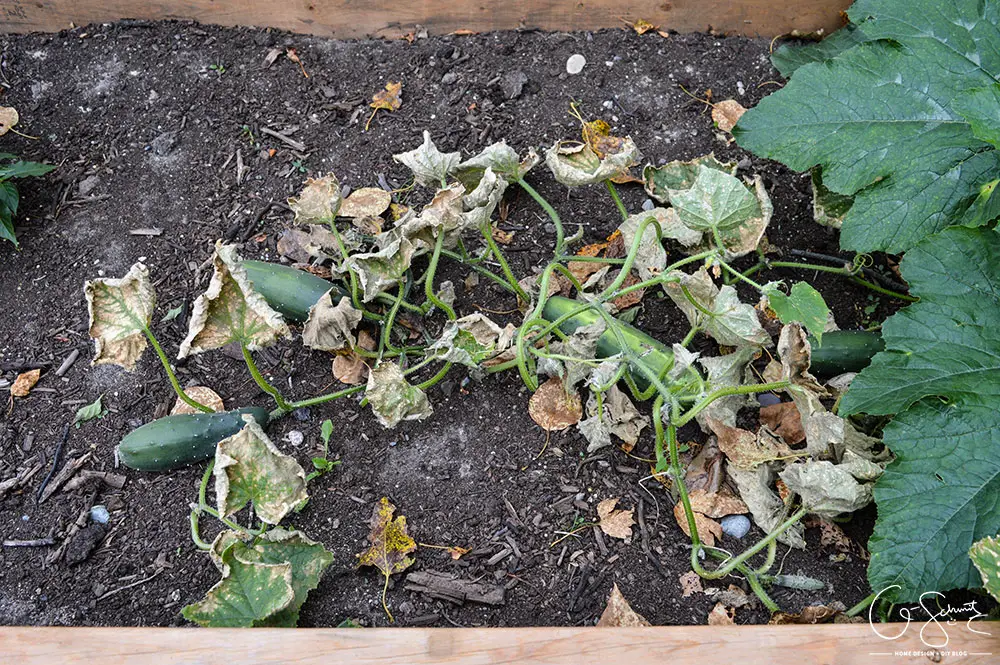 For some reason though, that was the only cold weekend, and then it got surprisingly mild and warm for the rest of the month.  We did lose our cucumber plant after the first frost, but all the other veggies were still kicking.
Actually, our zucchini plant started producing more zucchinis (we had only had two before), and our eggplant-plant actually grew twice in size… but still no signs of an eggplant.  Our cherry tomato plants grew so big this year they were literally overflowing out of our DIY raised garden beds.
Too bad that on the morning of September 30th (the last day of the month) we got a big cold front and have had frost almost every day this week since then.  Goodbye zucchini plant :(  But those tomatoes just keep going!
To-Do List
I finally got around to fixing the gate hardware in the middle of September.  It was super hard to hold the door up by myself and un-screw and re-attach the hinges… until I remembered that we owned clamps and it went by much quicker!  (Although now I did realize that our fence needs to be stained… add that to the list for next summer)
The Husband also made a trip out to the dump and got rid of a bunch of our old renovation materials, so now our yard is a bit cleaner.  I have a few more things from the pre-winter checklist I want to do, so we'll see when those get done…
Update on September Sample Sundays
(Just a reminder that for the month of September I planned on going through all the products I had under the medicine cabinet in our bathroom).
I had a whopping 68 bottles of product underneath the cabinet at the start of the month!  Yikes!  And, add on another 19 different sample packs, this was looking like a lot of stuff.  I mean, a lot of them were sunscreens (I do go through a few bottles a year!); but some things that didn't make sense were 3 different bottles of rubbing alcohol… like who needs that much!?
By the end of the month I had managed to get rid of about 1/3 or my bottles and almost all my samples (I saved 3 packs of nail polish remover wipes, which I added to my travel pouch for any upcoming trips).
20 things I used / emptied
3 things I mixed with others (be careful mixing products!)
4 things I sold / got rid of
Okay, I ran out of time to empty some of the bottles, but I've put them aside so once they are done I can recycle them for good (and not replace them).  I had a few products that I had bought to make a DIY tend skin from this recipe online; so I finally got around to doing that – and have half of each of those bottles left.
About Tootsie
You know what I forgot to mention in my September post?  That it was Tootsie's first birthday!  She was born on September 30th 2014, so it's kind of the start of October, right?  She's such a little cutie, although she does have a devilish streak… and can be sassy at times too!  But we love her :)  Her full name is Tootsie Cordelia Roll (our breeders named her Tootsie Roll and I added the middle name).
I made her a custom hat from directions I found on Rain on a Tin Roof.  I didn't want to go too crazy and just wrote "1" on it instead… super fancy… She was very excited when I was making it, but once I put it on her, she was not as happy (I think she thought it was a toy for her).  I used a rubber band to secure it to her head, and took a picture for Instagram.  There were some more pictures, but it's basically of her running around trying to get it off her head…
A Visit to the Valley
The weekend after Labour Day was the annual Valley East Days event happening in Greater Sudbury, and there was also a Valley Home Show that same weekend!  I was planning on dedicating a whole post to that weekend, but I forgot to take images so it would have been quite boring…
The Valley Home Show was definitely not as big as the Sudbury Home Show, but I was still happy I made a trek out.  I found a super awesome company from Ontario called Everything Nice that sells ready-to-make food options and I ended up buying a few different recipes.
A week or so ago I made the Mexican rice and beans, but I added some ground beef to make it a meal rather than a side (although it would be a great meal if you are vegetarian or don't need meat in your life.  I need meat in my life!).  It made a large portion and was super delicious, so I'm excited to try out the other packs.
Plans for October:
As the title suggests… October is for ALL THINGS ORANGE!
So get ready to be crammed with orange things for this month from me okay?  I'll be finishing the side yard (okay, not orange-themed) but then I'll be writing about our Halloween/fall outdoor décor, some DIY gravestones I made, thanksgiving stuff (the Canadian one is next week!), a pumpkin dessert, and finally I will talk about our DIY bathroom renovation – which is the first project we tackled in our house (and is also orange btw!).  So please come back and check those projects out :)
Minimalist Goals
Items Removed in September:
Box of unused school supplies + toys
Old renovation materials
Sweater *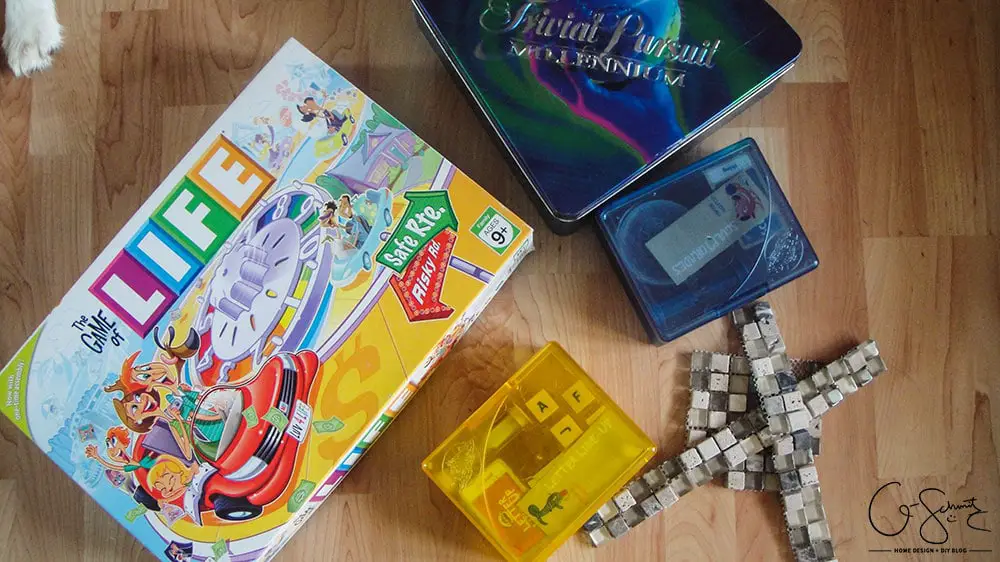 Items Added in September:
Some games and tiles bought at a yard sale
Landscaping stuff (patio stones, mulch, round-up)
A new rake
A dresser (there will be a story about this soon)
Trim + renovation supplies (again, I will explain soon)
* I read this great article about saving time doing laundry on Organization Junkie and I thought… my goodness it's so simple!  Now that I have a bit less clothes, I don't need to let my laundry pile up as much, so I figured I'd give the whole not separating clothes a try (okay, I did take all the whites out).  Anyways, I had forgotten that I hadn't washed the shirt I dyed red yet, and it was literally stuffed inside a blue/white sweater (I took the whole not separating thing too far maybe?).  Long story short, the white parts on the sweater now had patches of pinkish red, and they didn't come out after a second rinse.  Poop.
Well, rather than try and salvage my sweater and keep the good fabric to use as a pillow (which I seriously considered) I figured I might as well cut my losses and toss it out now.  Rather than keeping it and avoid wearing it because it was all splotchy.
I still think the laundry trick works (that's what the Husband does with his clothes and I thought he was crazy all these years), but I'll just be extra vigilant when I dye things now…
Book(s) Read in September: How to Get People to do Stuff, by Susan Weinschenk (which is the same author from the book I read last month)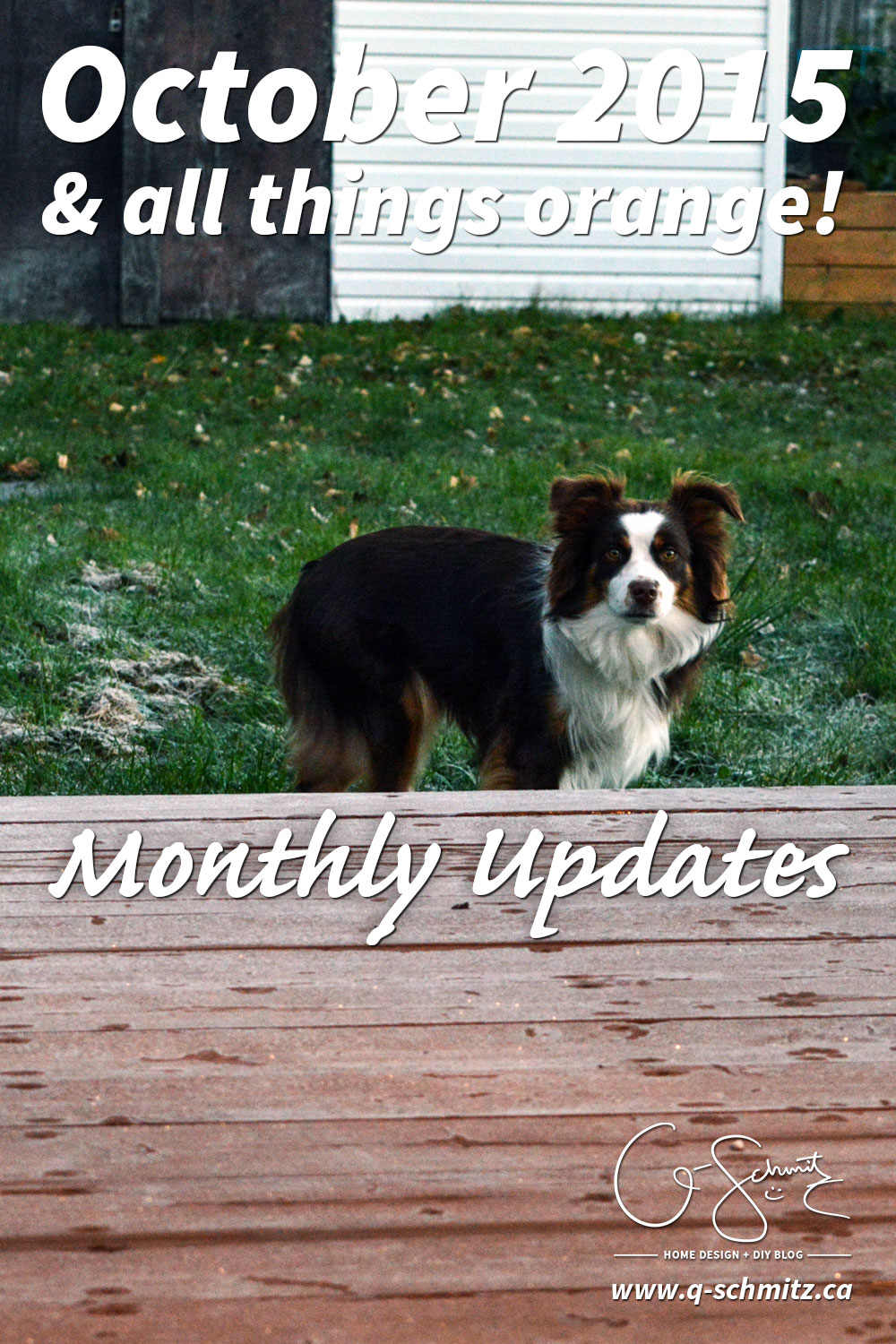 Whew!
I think that's all I have to talk about in this monthly update?  I realize I tend to talk/write a lot… so hopefully I didn't drag anything on too long, and maybe one day I'll learn to be more concise…
But until then, what are your plans for October?  If you're in Canada, are you looking forward to Thanksgiving food?  Is everyone looking forward to Halloween!?  I'd have to say that it's my favourite holiday… and I cannot wait to decorate, dress up and give out candy!
See you next time :)