We're heading into the final (and perhaps busiest) month of the year: December!  With all the different holidays and people getting time off school and work, all the fun activities seem to be jam-packed right?  This month, when I talk about my plans for December, I'll also be touching a bit on my plans for the New Year (and what's going to be different around here).
– Note: This post contains affiliate links. See more information about affiliates here. –
November Recap
Well, the weather was certainly all over the place!  We got our first snow on November 1st, and it would warm up (almost enough to make everything melt) then snow again!  The most we got at one time was probably a good 6 inches, but then it mostly melted again…
Anyways!  We finally managed to complete the garage makeover (thank goodness the One Room Challenge was extended beyond 6 weeks this time) and I even shared how it looked a week after we were done.  The boat is supposed to be gone this Monday, so fingers crossed I get my parking space back!
We also built a metal and wood coffee table, brought it to our first show as vendors (along with some other stuff), then I chopped off a bunch of my hair and donated it to make a wig!
I'm hoping we can slow down a bit this month, then really amp everything up again in 2018!
Oh, I was FINALLY able to clean out our gutters (thanks to a 24 hour stretch above freezing!) so now I can knock that to-do off our list, and return our friend's ladder.  And the outdoor rug?  Totally was able to scrape it off of the deck and bring it into the shed :)
And, if you caught my last Facebook Live Video, I talked about taking some time to clean out your fridge before the holidays.  I mentioned that our pantry was another messy area, so I focused on getting the two bottom shelves (breakfast items, and junk food) organized as well.  We used to keep our potatoes in the fridge crisper, but I'm trying out a new thing where they go in a bin in the pantry!
Book(s) Read:
In November, I finished How to Win Friends and Influence People by Dale Carnegie and Predictably Irrational by Dan Ariely.  I'm sort of at the start/middle of Quiet by Susan Cain, and I'm hoping I can get to reading a few more books this month… we'll see!
Minimalist Goals
Items Added
Items Removed
Clear Bins
Misc. Décor Items
This New Mug
Cutting Boards
This New Agenda
5 old mugs
Organization/sorter
Electric Timer
30+ Christmas Ornaments
Our house has remained pretty clutter-free since we did our big purge a few months ago – but someone (ahem Husband) still has a few problem areas.  I'm not a picky lady for Christmas, and would definitely appreciate some cleaning and purging rather than new gifts :)
I got the clear mug as a fun/impulsive gift when I was ordering my yearly planner, and decided it was time to start going through the mugs we had.  Even though we got rid of the ones in the old dishware set (about 10), we still had some that weren't our favourites and/or were too small.
Even though I've passed on the message to share fewer gifts this year, I'm anticipating we'll still be getting a few things and will need to find a place for them.
PS: I'll be sharing what gifts we gave this year (after Christmas – no spoilers!), so stay tuned for that.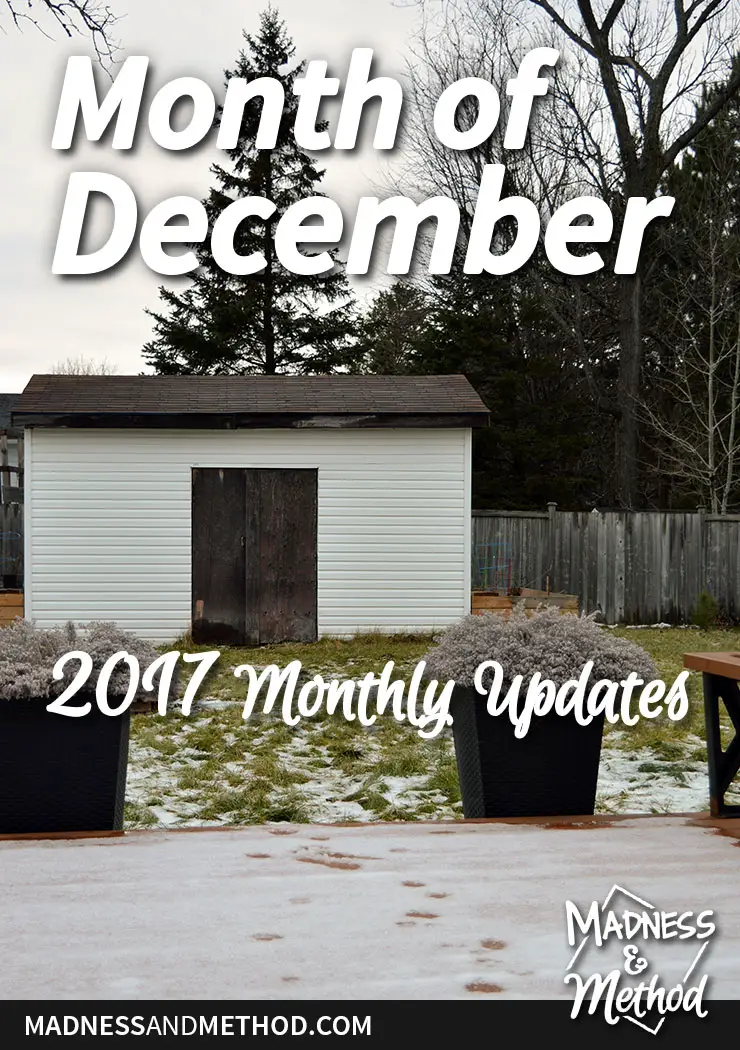 Plans for the Month of December (and Beyond!)
If you missed the big news when we revealed our completed garage makeover: we're expecting baby #2!  Because of this (and because we're running out of rooms to renovate in our own home), I'm going to adjust my blogging schedule to posting only once a week.  I think it will give me some time to work on projects, plan for the baby, but still maintain some regular sharing around here!
We'll be turning the guest bedroom/pink room into the new nursery, and I CANNOT WAIT to start that project and share all my ideas with you.  I'm literally just finalizing a few details with the design, and I think it will be the perfect gender-neutral space for our new bundle :)
This will probably also be my last scheduled "Monthly Update", but I may pop in once in a while to give a life update when I need to.  Of course, you can still follow me on Facebook, Pinterest and/or on Instagram if you need more!
Oh, and don't forget about signing up for the email newsletter, because that's where I share all my life updates way before anywhere else.