Here's a great, easy little project we did a year or so ago to add light (and a mini-storage area) to our main entry.  Okay, it did involve some electrical and drywalling, but if you're starting with a blank wall, an entrance mirror and shelf is a very easy mostly-DIY project!
When we originally moved into the house, there was no light in our entrance way.  There was a switch at the door that controlled an outlet in our living room, but that didn't really help to brighten the area when you would come home at night.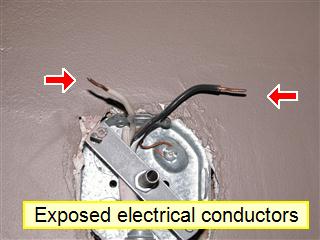 There was also an exposed electrical box (photo above taken from our home inspection), and the wires were actually live for a few months before we even realized it!  Once we setup a light, we still had to go down into the basement to turn on the breaker, because there was no designated switch for it.  Another hassle!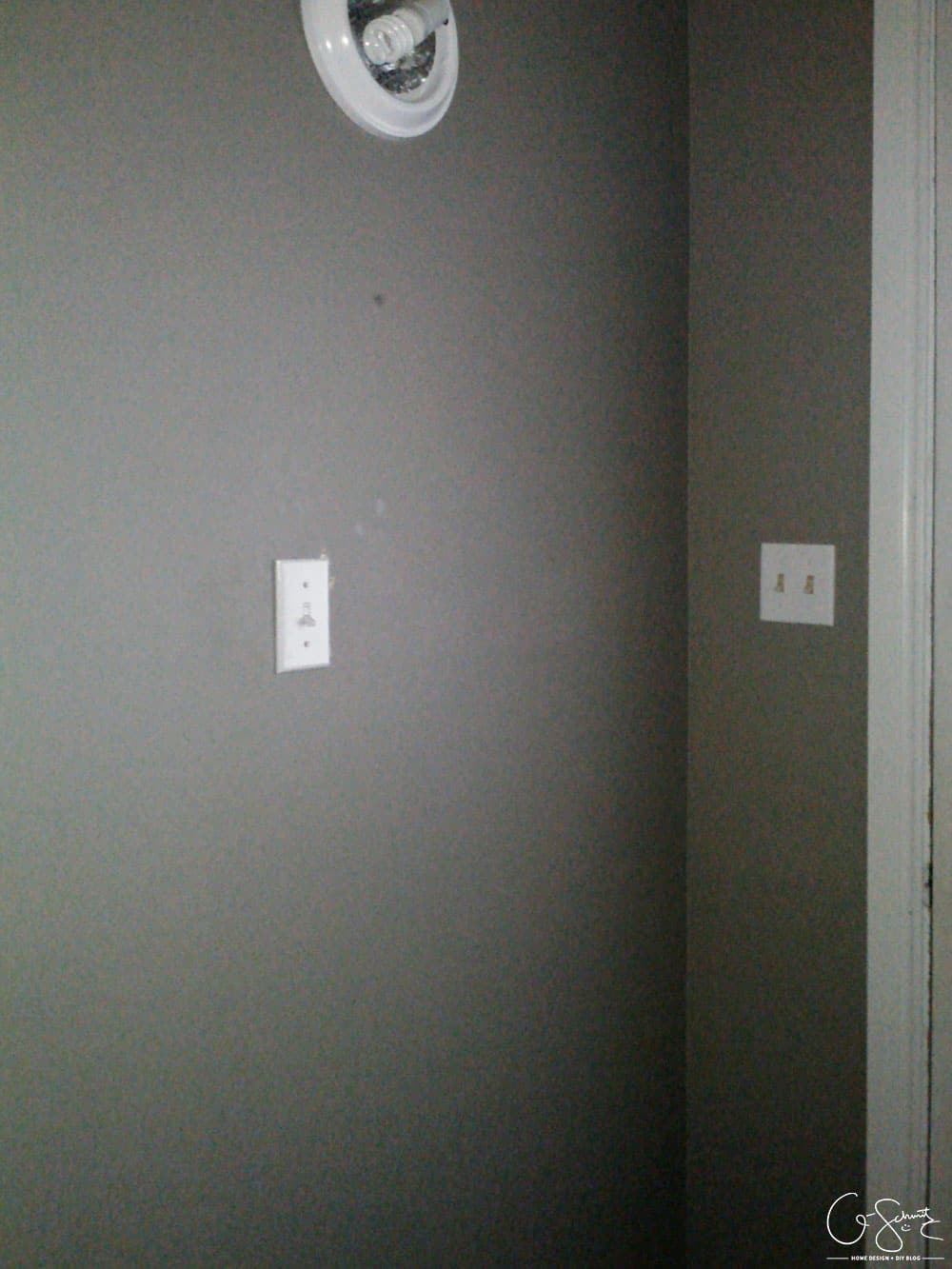 One day I came home, and the Husband and his electrician friend were soooo excited to show me that they had added a switch to the wall.  My response: uh, why is it in the middle of the wall?  They wanted to put the switch in with as little drywall damage as possible; but obviously it would have made much more sense to have it with the other switch near the door.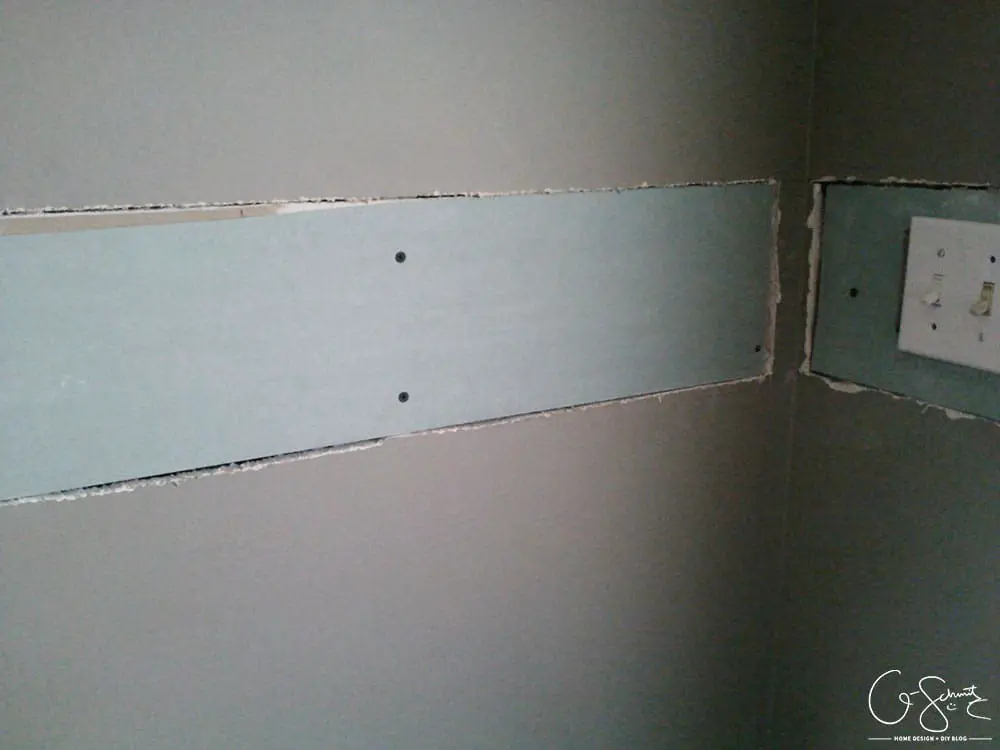 Thankfully, it was an easy move that did require some drywall work (but we had leftover pieces in the basement from our bathroom reno).  We also "turned off" the switch (ie: re-routed the wire) from the living room outlet, so that way it would stay on all the time.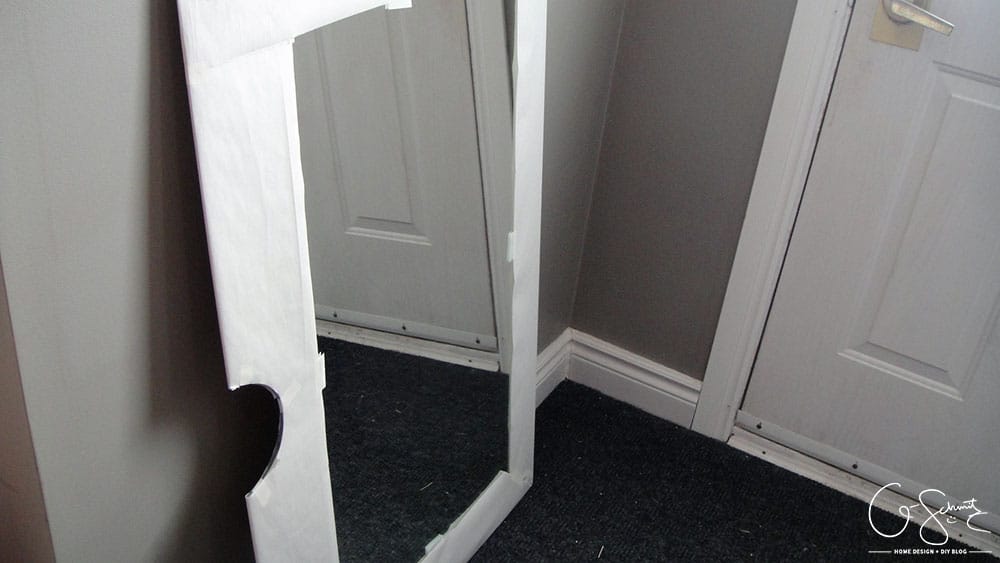 We had a leftover mirror from the bathroom renovation, so I decided we would put it to good use in our entrance!  The reflection would help bounce the light from the door around, and you could give yourself a quick look before you left the house :)  I was inspired by this image from Pinterest:
The main goal was to add a small shelf and some hooks to this area, and the mirror would be placed right above it.  After holding the mirror up to the wall, I knew that it would be a bit too tall above the shelf, so I did a quick sketch and had a piece cut off lengthwise and a small hole cut out to fit our light fixture.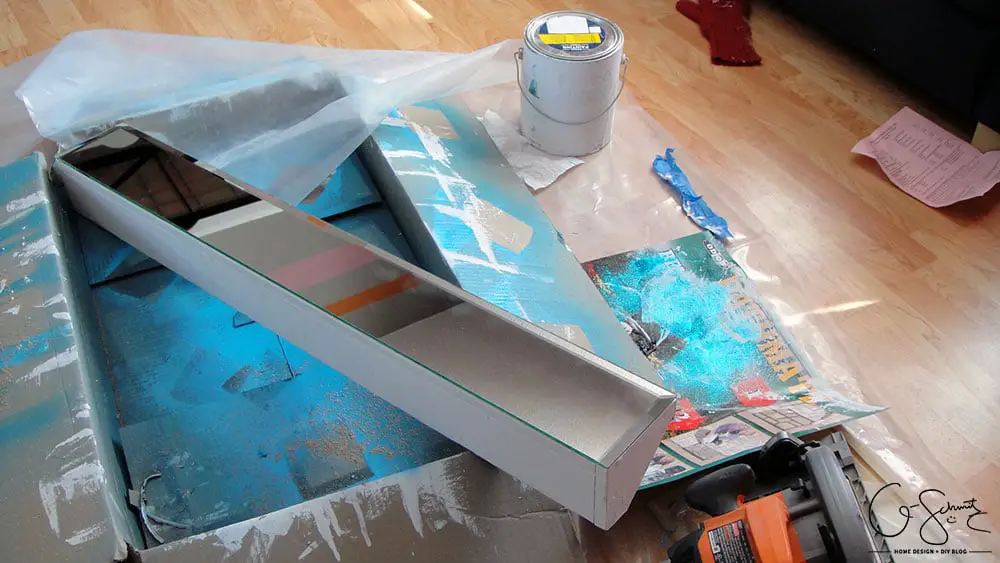 The Husband built a shelf to suit using a 2×4 we had in the garage, and a piece of deck/fence board (I think it was a 1×6).  I knew we would be using that fence piece, which is the exact width I had the mirror cut.  We then primed the shelf, and glued the piece of mirror down once the paint was dry.  Looking back, I would have put the mirror side down while it was drying, that way gravity would have helped it stay down a bit (rather than having a small gap where it pulled away).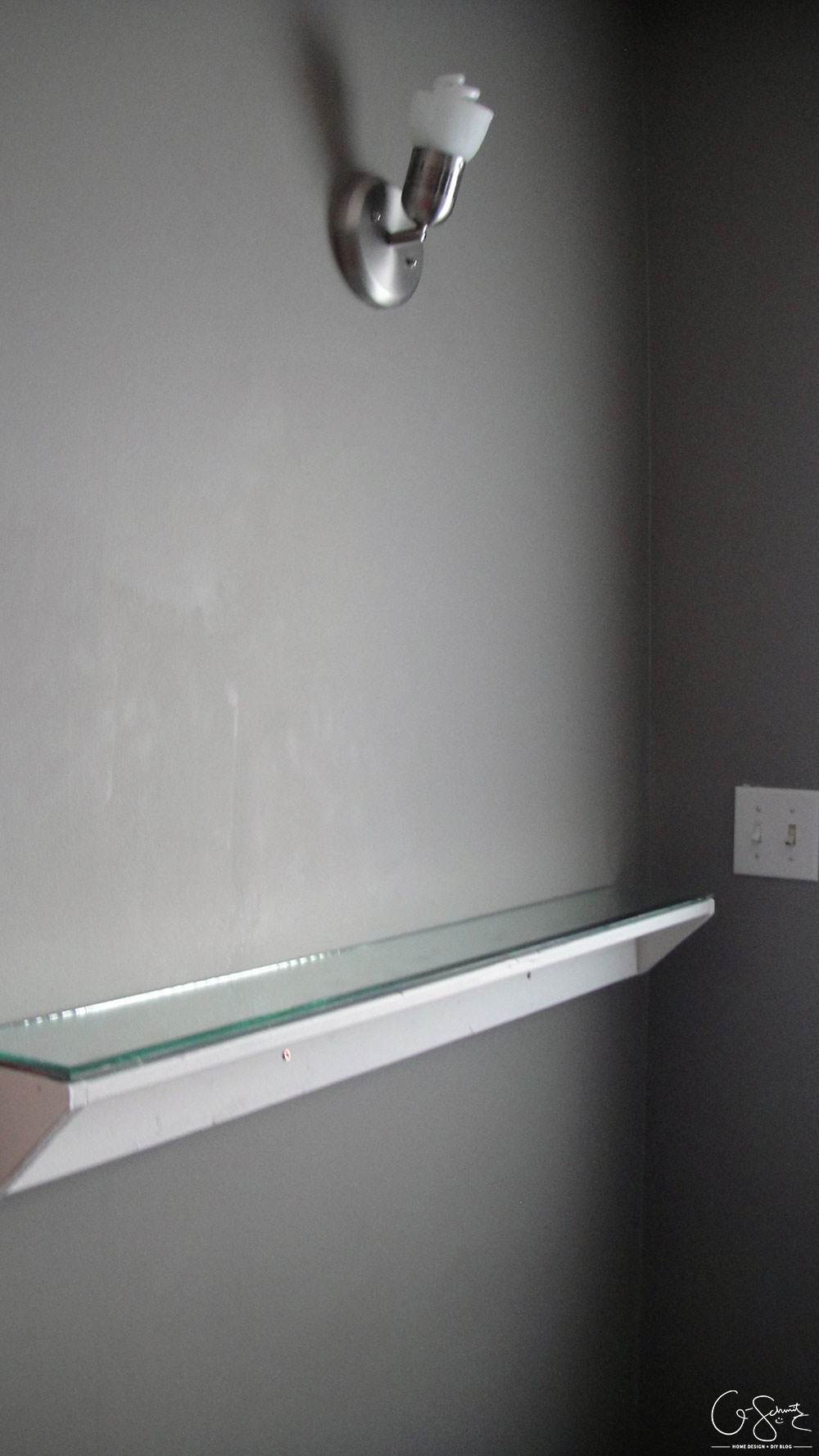 When the glue was dry, we screwed the 2×4 part into the studs in the wall – and yes, I did patch, prime and paint that section, even though I knew it would be getting covered.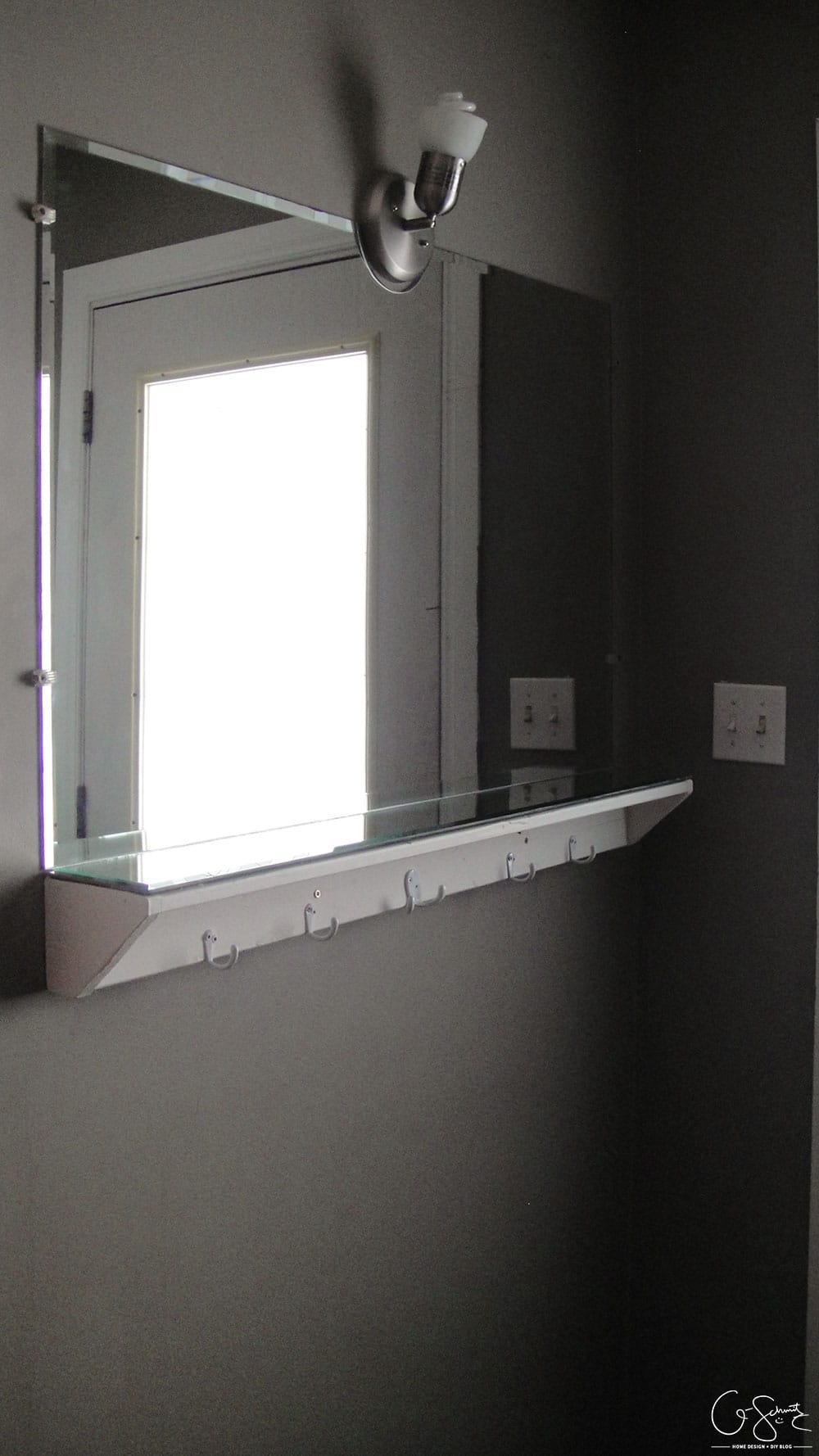 We then attached the large section of mirror to the wall, using the leftover brackets we had from the bathroom.  You could also glue your mirror to the wall to add some strength, but most of the weight is resting on the shelf, so it won't be falling anytime soon.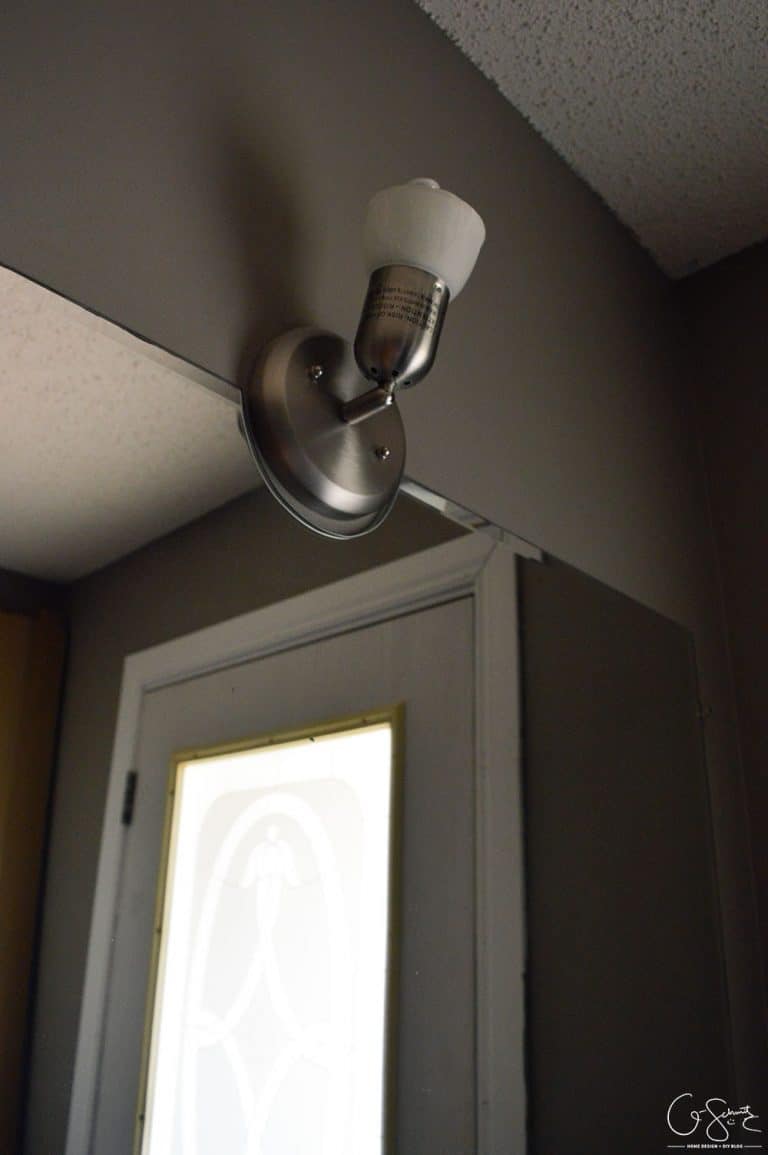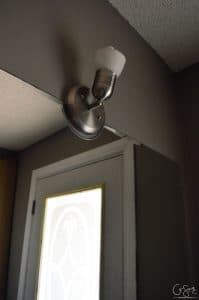 Notice how we also changed out the light fixture?  It's not anything fancy, but it gets the job done – when you hit the switch, the light turns on!
We hang most of our stuff in the closet on the opposite side of this entrance, and use the hooks mostly for guests or small items (ie: Tootsie's leash).
DIY/PRO Tip: When hanging/purchasing your hooks, make sure to account for the shelf above, and that you can easily put things on and take them off.  I had originally purchased larger, stronger hooks, but they were too tall for the 2×4.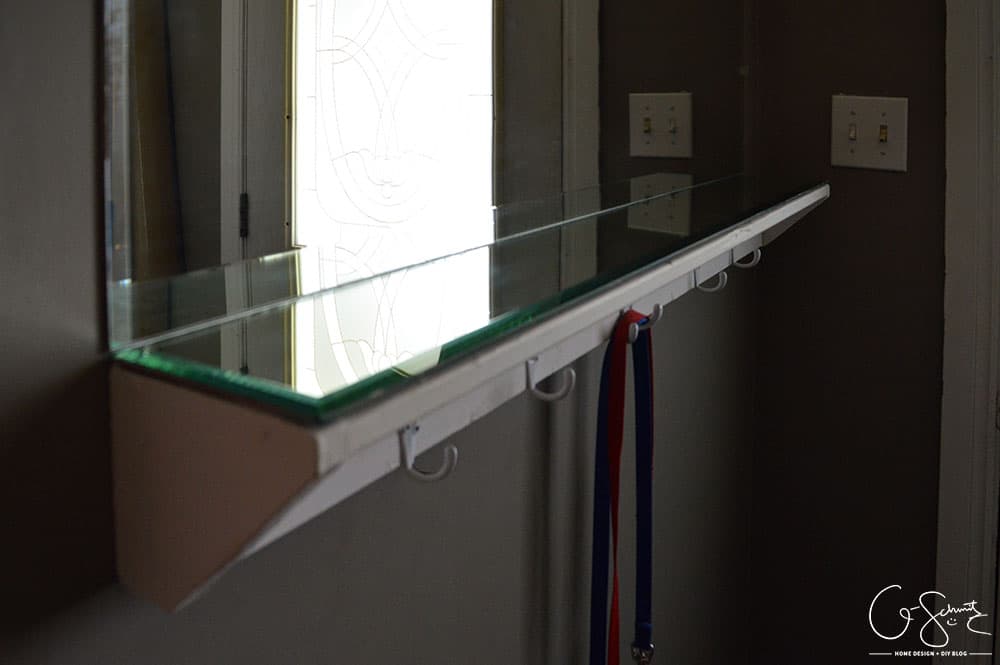 I really like the mirror on mirror look, although it does make it a bit hard to photograph!  I think it helps "fool" people to thinking that you can't lean on the shelf or put on anything too heavy (which helps make sure it doesn't break too!).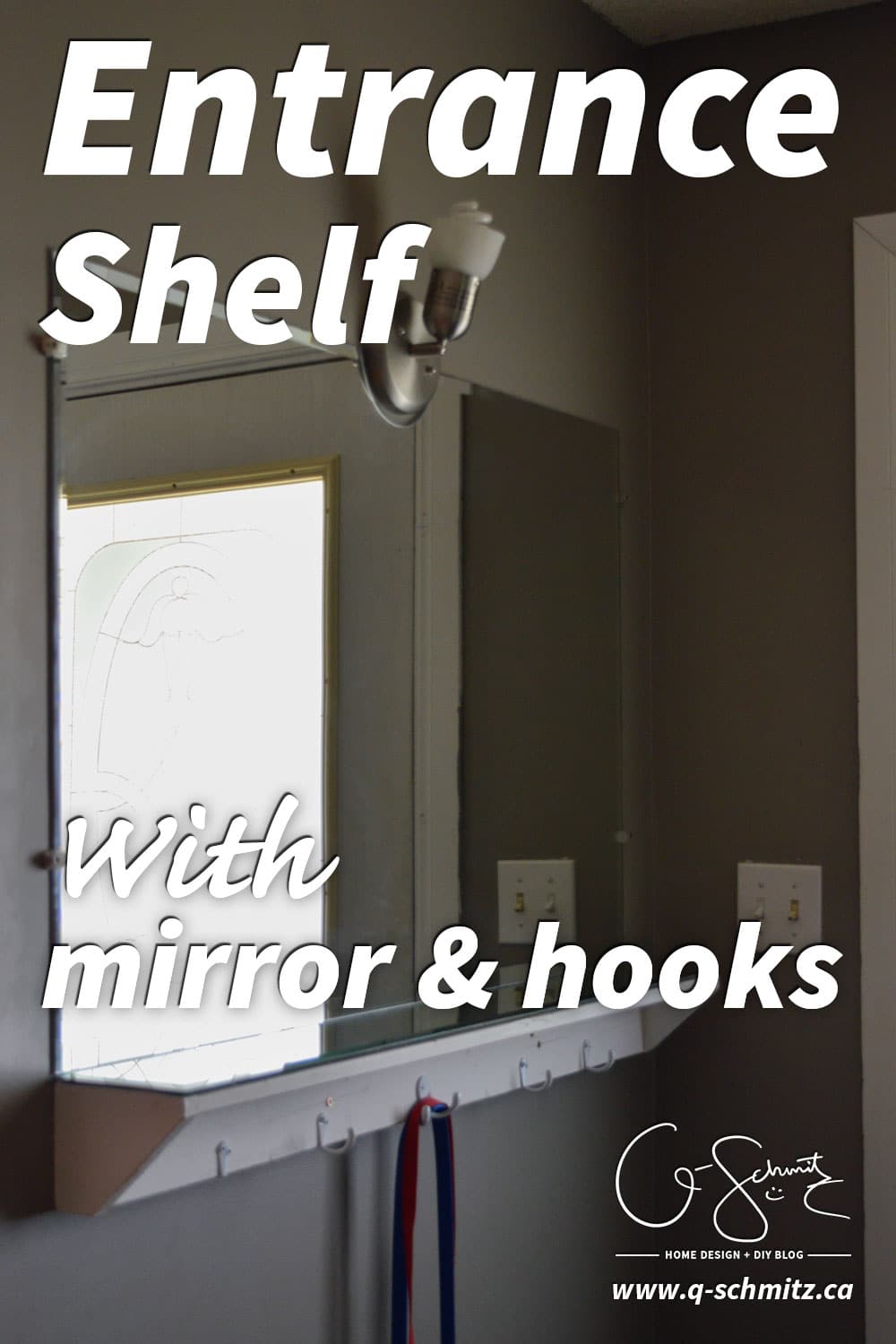 All in all, I think it cost less than 10$ to have the mirror cut, and we used all other materials from around the house, so it was definitely a good deal for a custom shelf!  The hooks were our only purchase, and they cost somewhere between 10-20$ for all 5 (we got 4 single hooks, and one double "octopus" hook for the center).
Are you going to build yourself an entrance shelf now?  If you have any leftover wood laying around, it is super cost effective; and you can definitely add a flat mirror too to get the same look!  Actually, if your mirror is smaller (or your wall area is larger), you can probably get away without having to get your mirror cut at all.  I'd love to find out other ways to achieve this same look, let me know in the comments!