It's one of those days for experimenting; a little project planning and thinking about our various options.  A bit ago, I shared with you how our basement living room looks now AND also how I envisioned this space for the future.  Today I'll be sharing pictures of some paint options I was thinking about going with, and maybe you can help decide on painting vs. whitewashing panelling?  Let's get started!
– Note: This post contains affiliate links. See more information about affiliates here –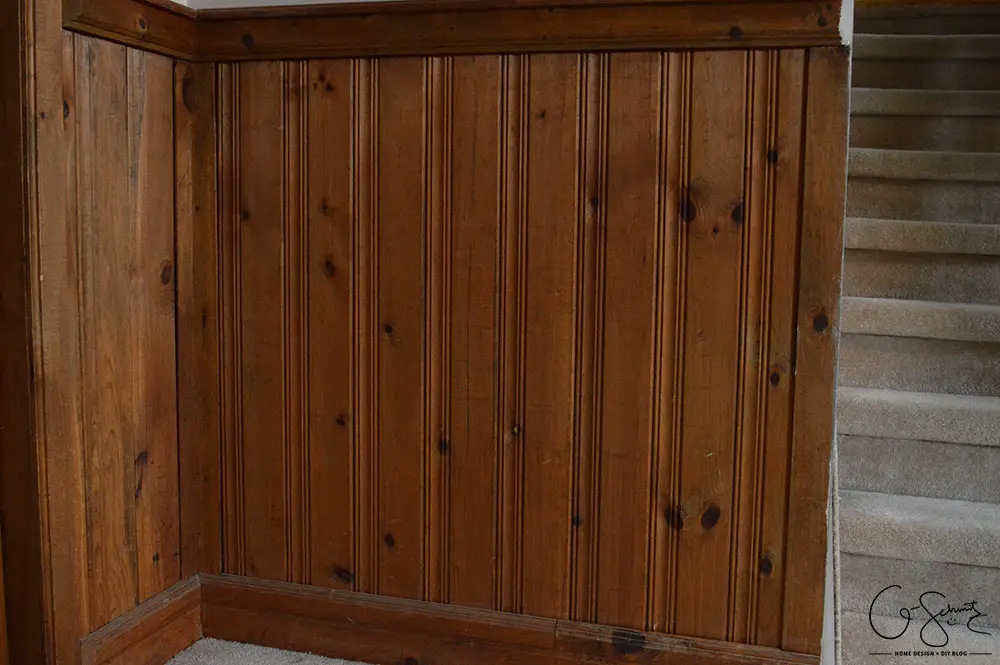 First things first, we're starting with the wooden panelling that we have all around our country basement.  The Husband is cool with the look… me not so much.  Actually, I think he just says he likes it so we don't have to do anything to it… typical!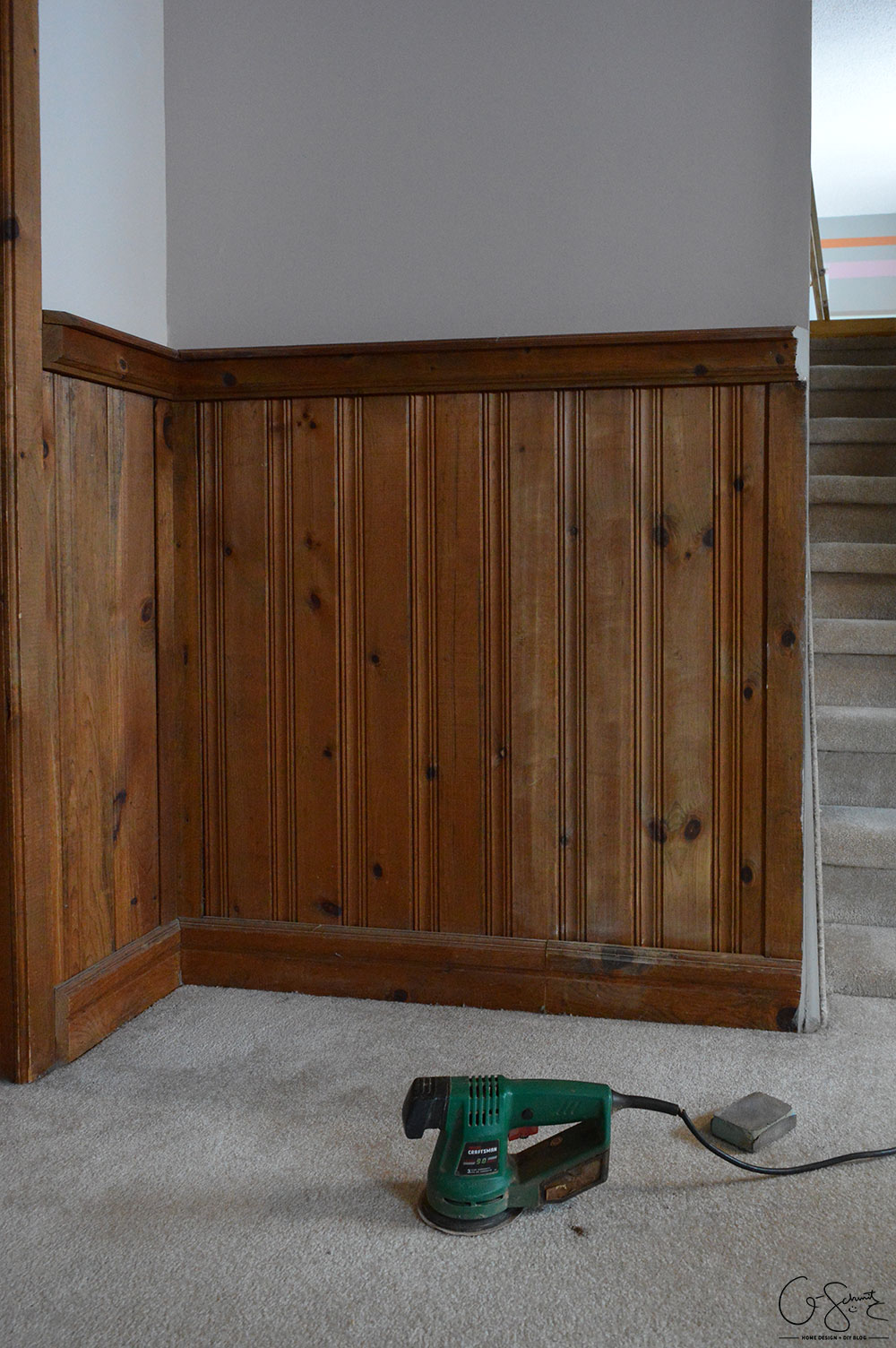 Now, because this is the wall we will be breaking open to make the door for our upcoming powder room addition; I knew that I could do whatever I wanted to the panelling here.  I first started by sanding three panels with my orbital sander, and using a little sanding block to get in the cracks and crevices.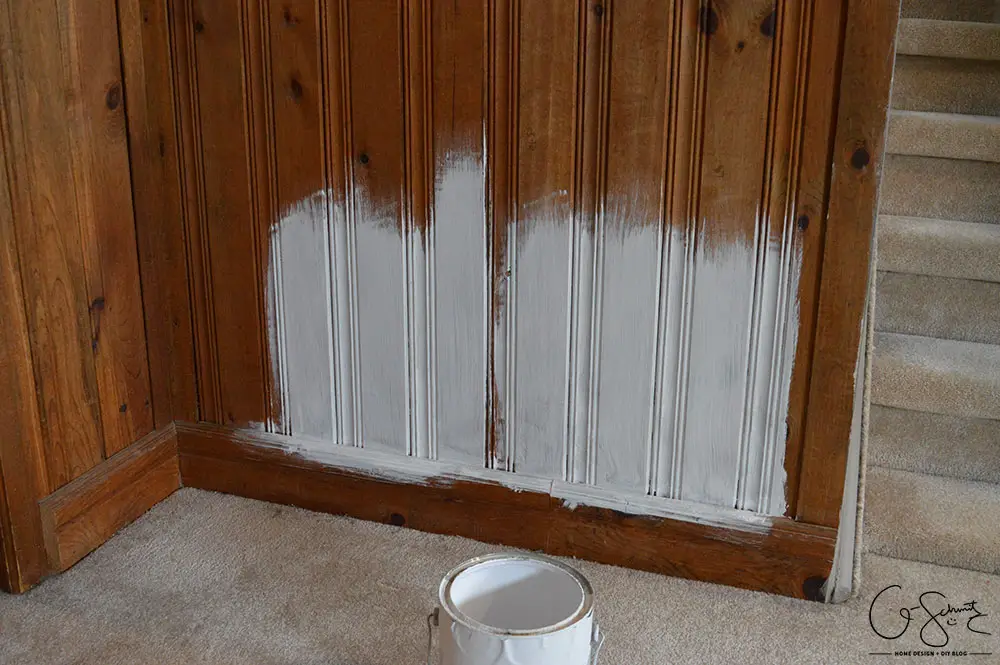 As I continue along, just remember that the right side is sanded, and the left side is regular/as is (minus a little vacuuming/dusting).
The first option is to paint the panelling white, so I did a quick coat of primer.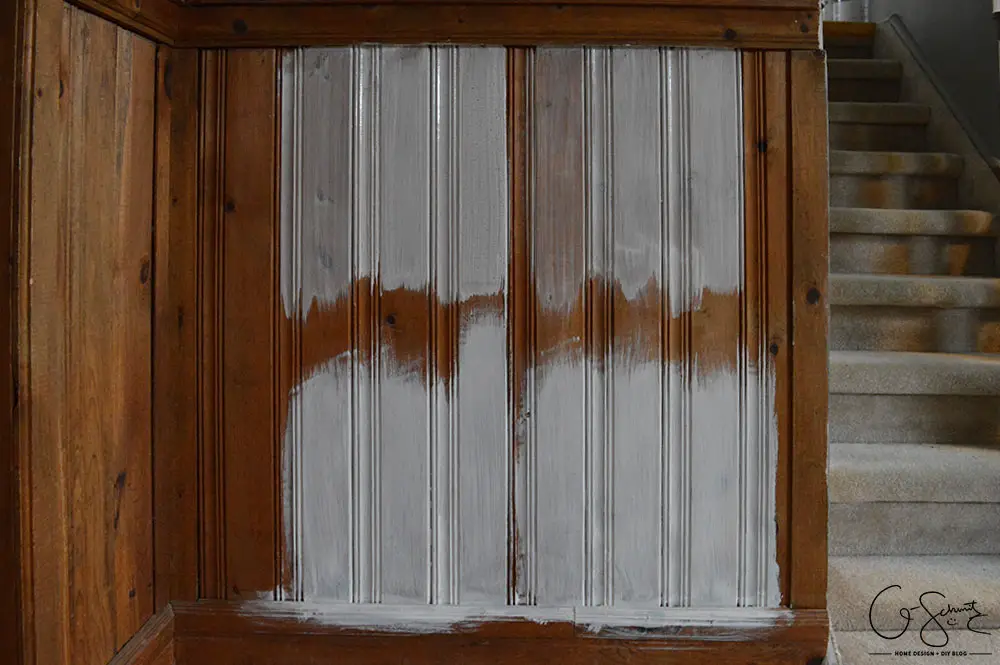 The other option I was thinking of going with is whitewashing the panelling.  Basically, you dilute your paint with water (I did a 50/50 mix) and slop it on.  You can then let it soak in, or wipe it up.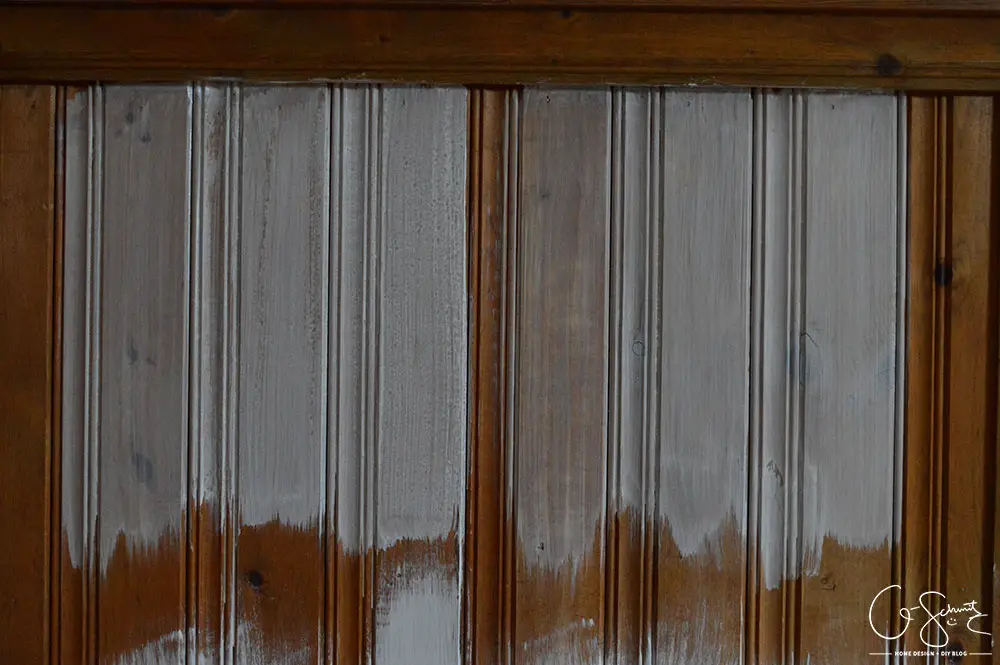 The first panels on the top left (both the sanded and non-sanded parts) are what it looks like when you wipe it up with a rag after letting it sit for a minute or two.  Whitewashing is a good idea if you want the wood grain to show through (again, I am still undecided).
Update: We ended up fully painting the panelling!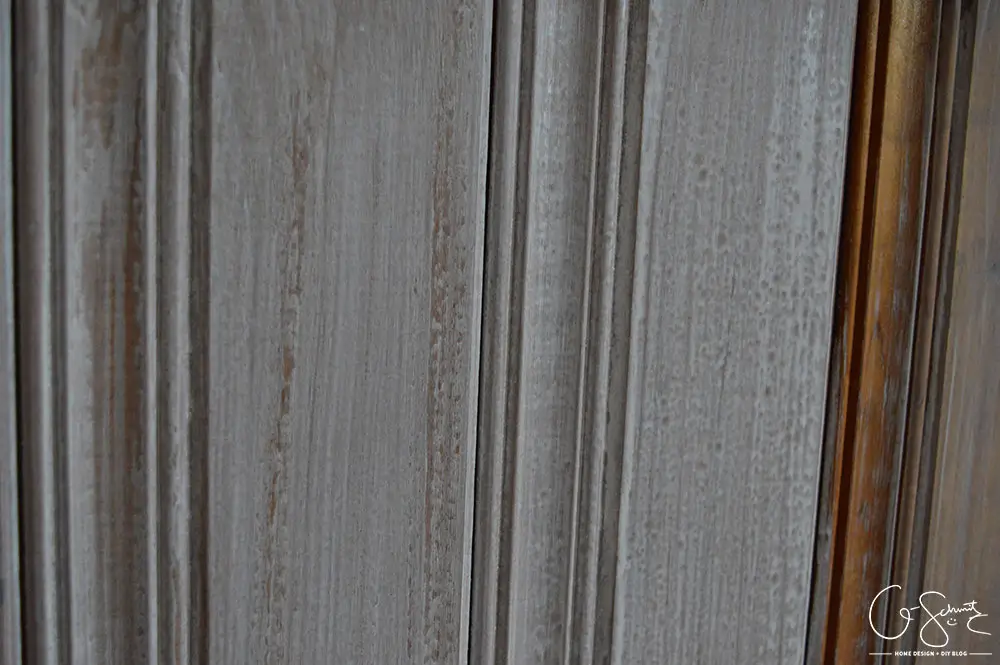 DIY-Q-TIP:  What I did find out during my testing process is that the un-sanded whitewashed part was not sticking as nicely to the boards.  There were some bubbly areas coming up; SO if we go with the whitewashing, I will definitely want to sand everything beforehand.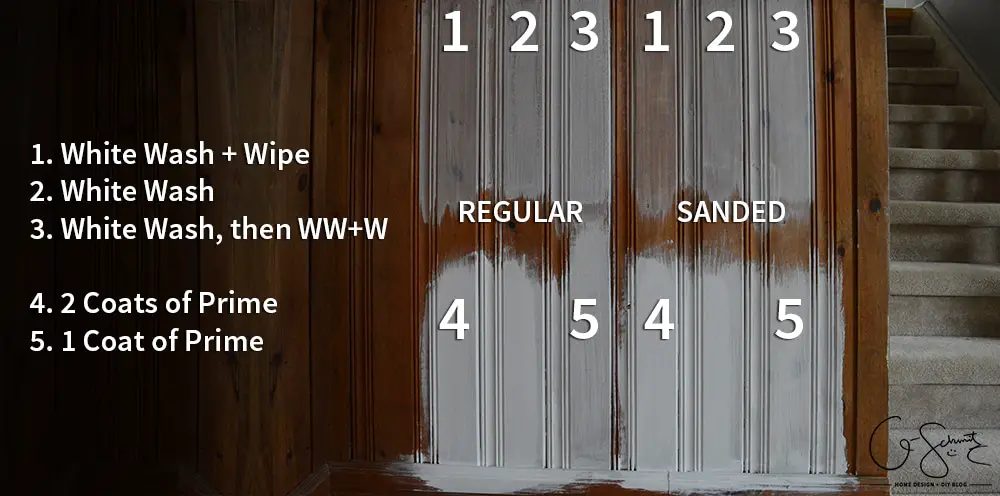 I then did another coat of the whitewashing once the first one was dry; and I made a handy chart to show the difference between all the options.  Now, if I do paint the panelling, I will probably do the topcoat in a plain white high-gloss paint (rather than primer… but it's all I had on hand at the time!).
Update: We had to use a special primer to fully cover the bleed-through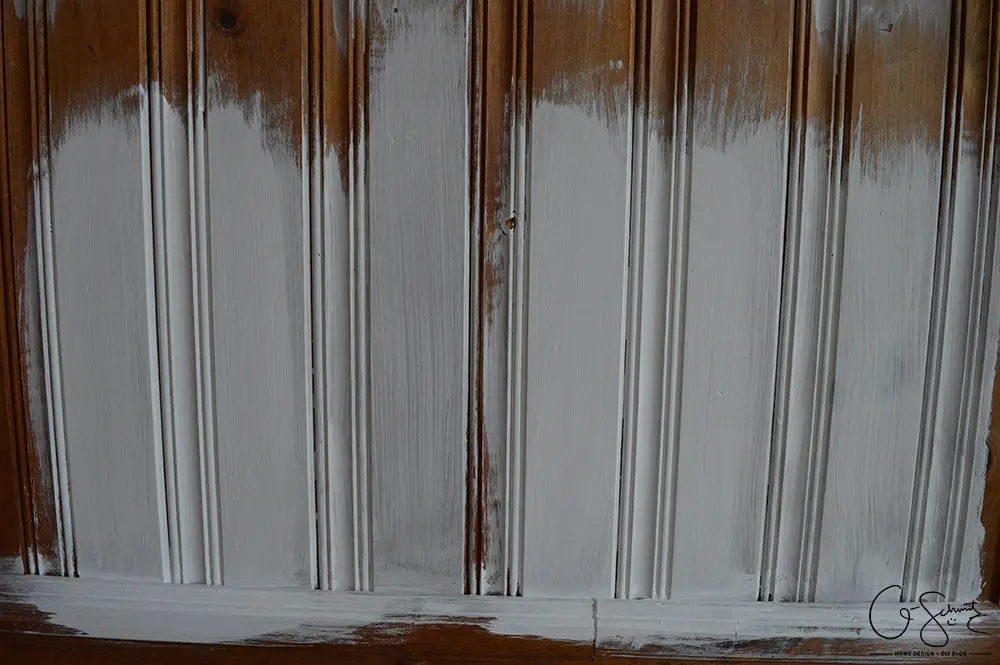 Here's the bottom section again showing the one and two coats of paint (if we paint, we will most likely be doing 2 or 3 coats, and I may also add some caulking along the baseboards to seal the gaps).
Update: There was a LOT of caulking involved to fill the gaps!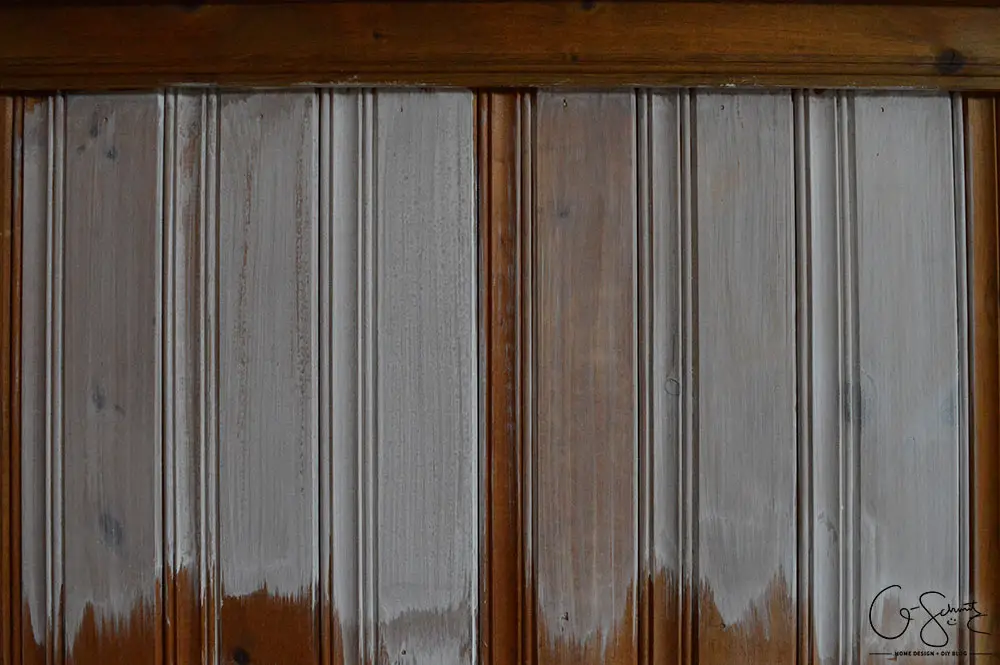 And here's the top portion showing the 3 levels of whitewashing; and again the un-sanded (left side) vs. sanded (right side).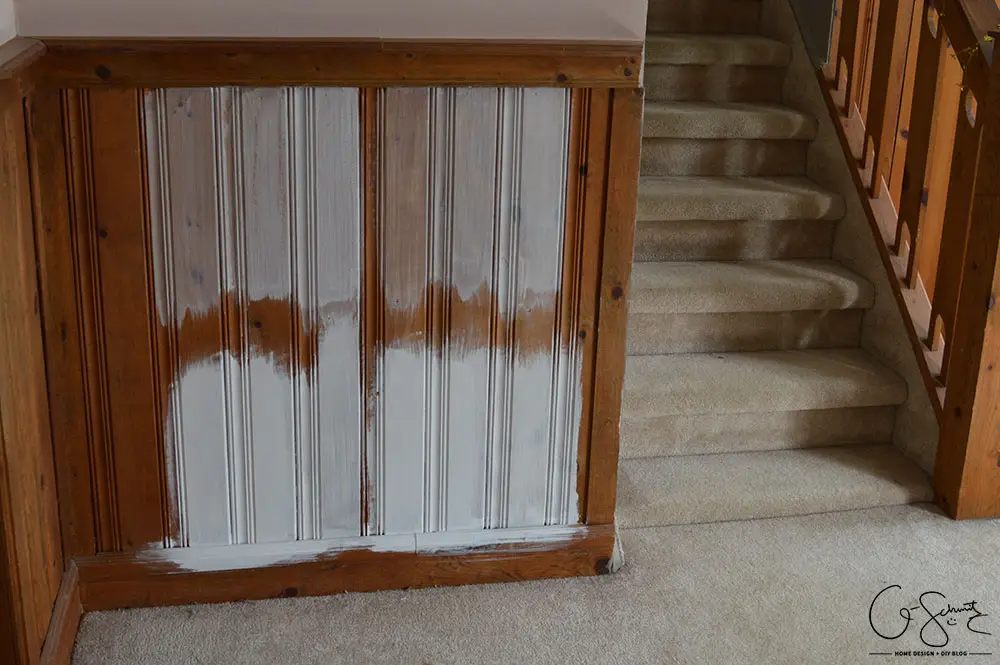 Do you prefer any of these looks yet?  We'll also be doing the railings/closet doors in whichever option we choose, so essentially everywhere you see wood in the basement will be bright and white!  The top portion of the walls will be a light gray (similar to what I showed in my mockups here).

Painting vs. Whitewashing Brick
Since I just happened to have a little cup of whitewashing mix still prepared, I figured I might as well test out the bricks too!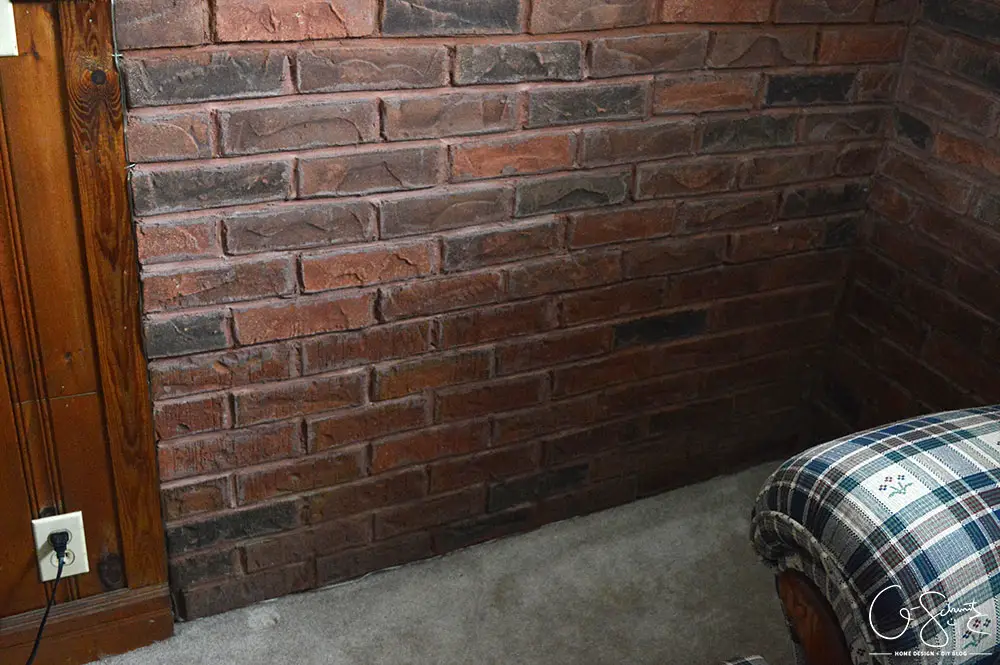 I moved the coffee table and couches out of the way, and vacuumed whatever dust was on the bricks.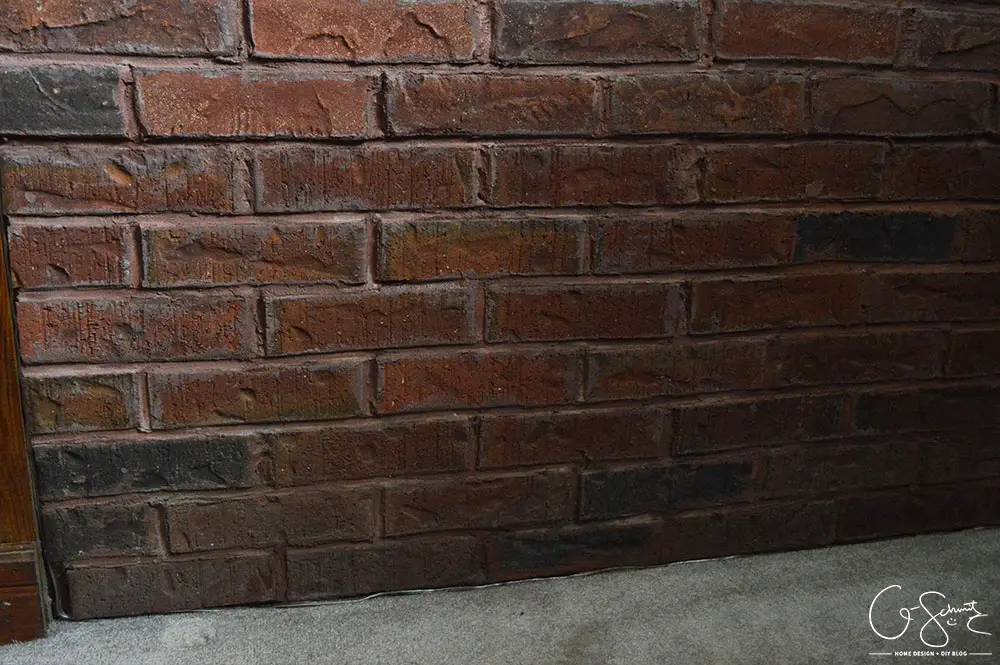 This is the corner in between the couches by the way, and not the brick fireplace.  We'll probably be painting this brick area plain white; and will be doing either a painting or whitewashing on the fireplace itself.
Update: We ended up painting and dry-brushing our main brick fireplace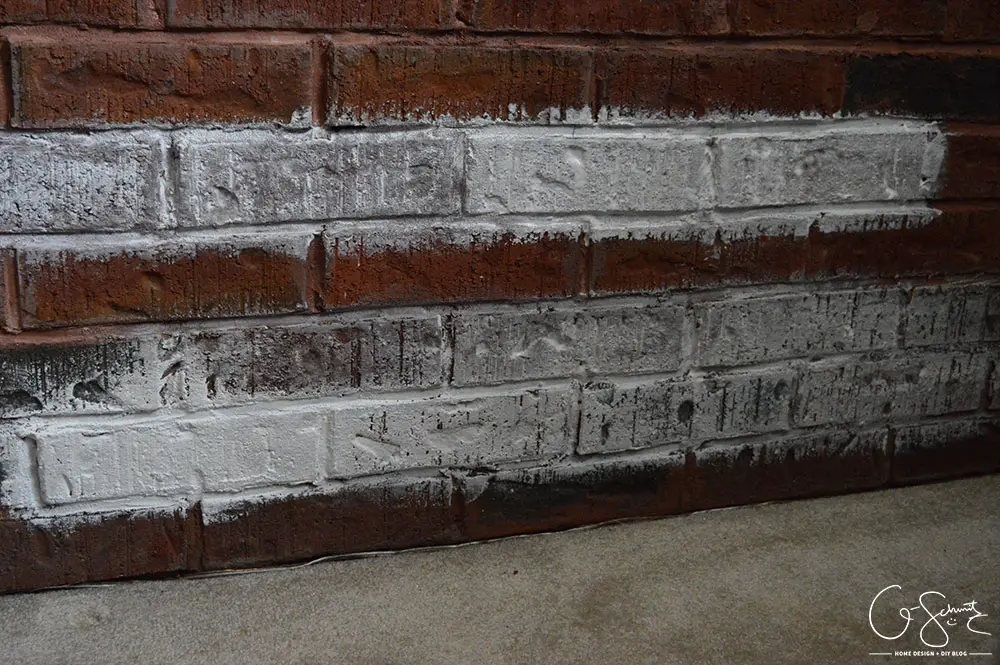 The bottom rows are plain paint (the whitest brick is fully painted, and the rest are dry-brushed… which I kind of like!).  Then the top row is whitewashed, with the two left bricks being wiped right after, and the two on the right leaving the paint to dry.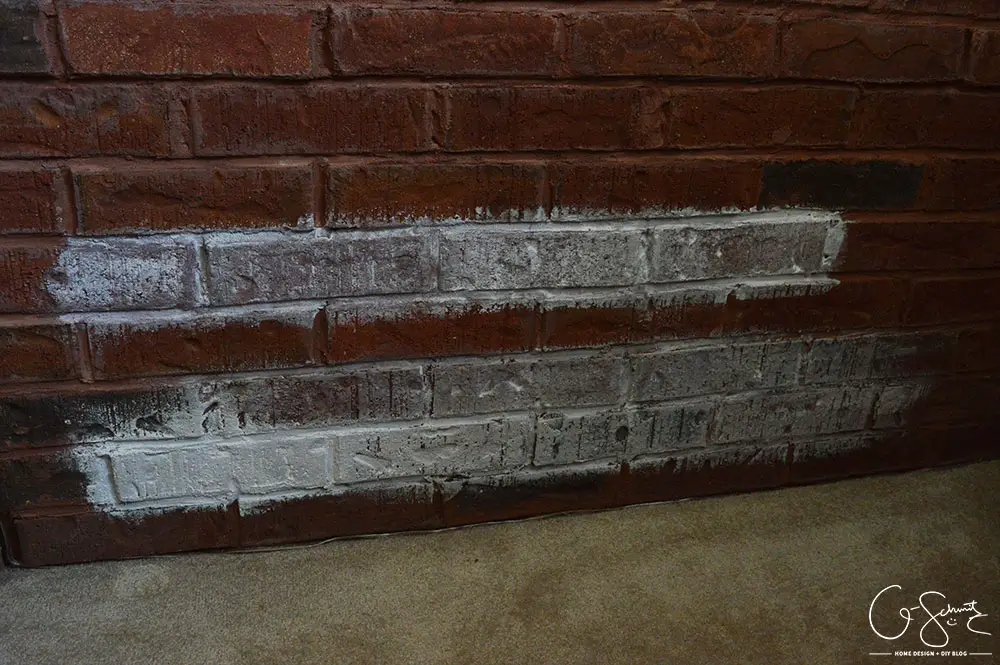 Once the whitewash fully dried, it became a bit more transparent.  I'm kind of torn on this look, because I think I prefer the dry-brushing technique on the bottom (you lightly paint your surface when your paintbrush is just barely covered in paint); but I know it would probably be the hardest to achieve (and easiest to mess up).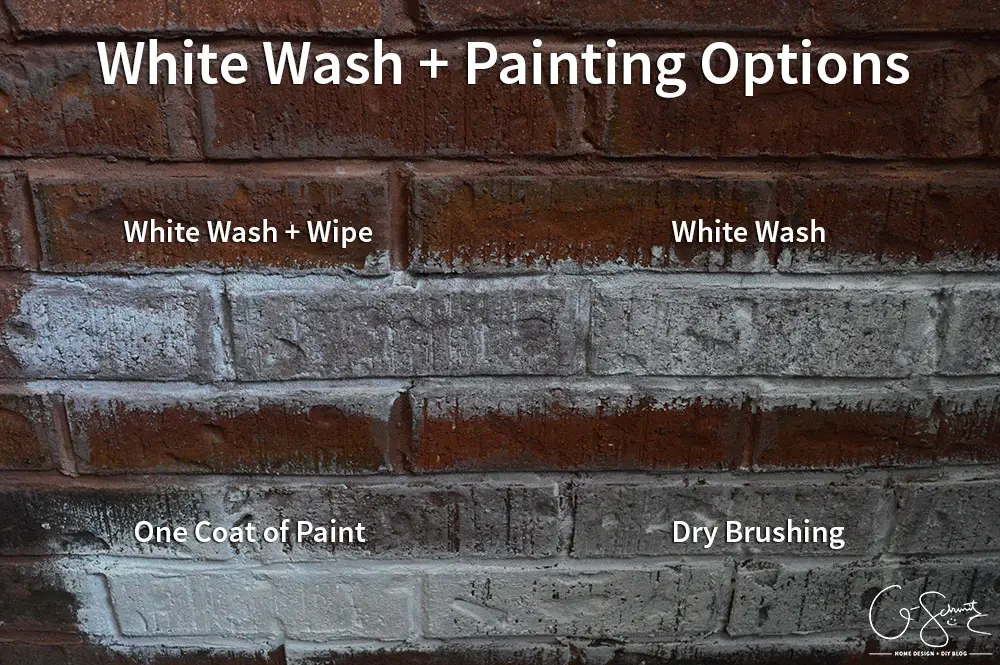 Again, here is a handy little diagram to show the different techniques I used on this brick area.  Wanna know the funny part?  I just moved the coffee table back and the Husband didn't even know this area had been painted at all hahahahaha!
Update: We tore out the bricks and added tongue and groove panelling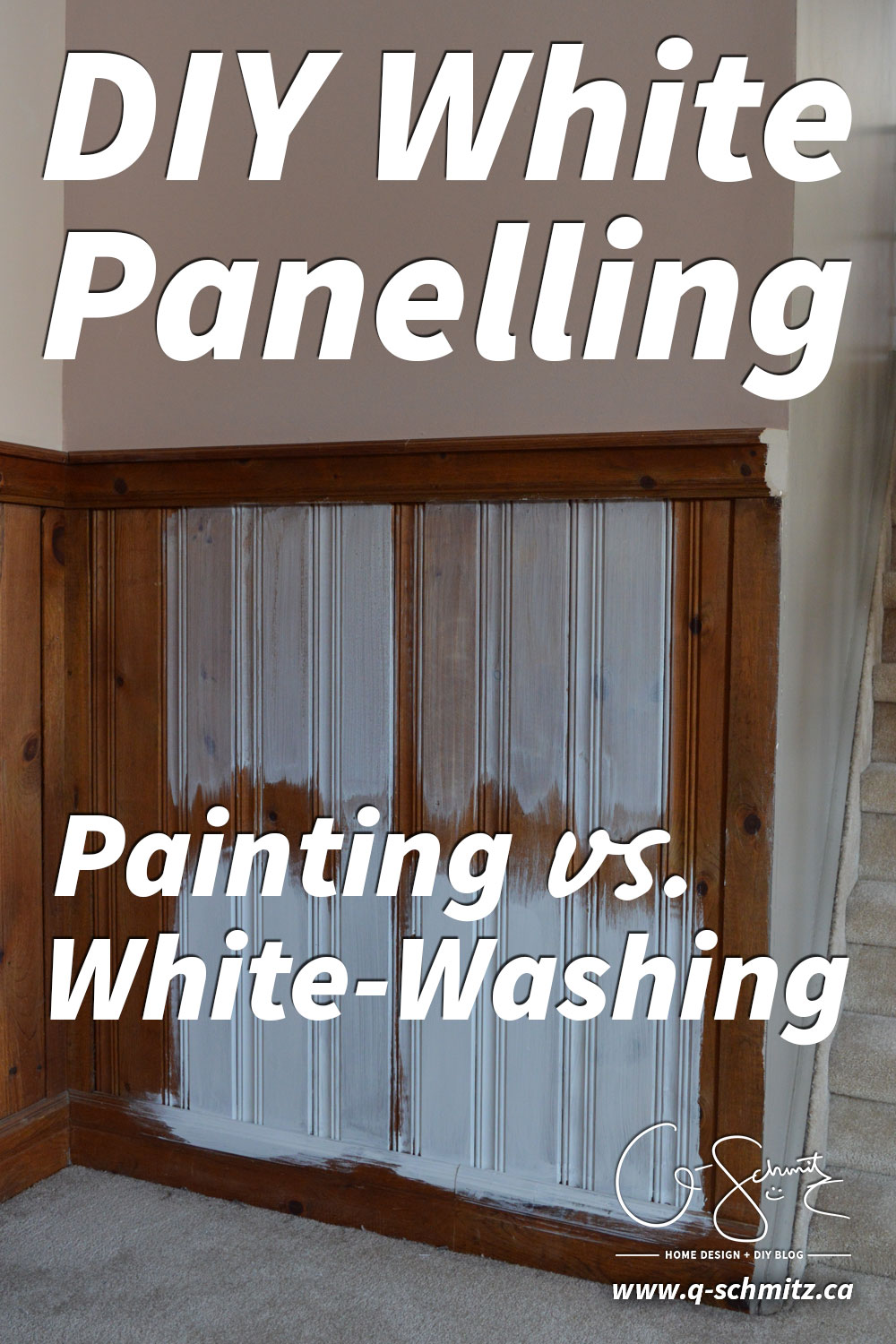 Have you ever contemplated painting vs. whitewashing panelling or brick?  Maybe you've done it before and you have a few handy tips to share?  As of right now, I don't think one option would be faster than another.  If I whitewash, I will have to sand everything, and if I paint, I will want to caulk everything.  Once we start, it will probably be a project that will go on forever, because I don't think I'll have time to do the entire basement all in one go.
And, just in case you were interested in more whitewashing and brick painting – here are a bunch of handy references I've pinned:
Brick Fireplace Whitewashed Gray glazed brick fireplace Whitewashed Brick White painted fireplace Whitewashed Brick Review Painting a Brick Fireplace Whitewashing a Brick Fireplace
Feel free to check those out, and follow me on Pinterest if you want to see some more great pins :)
You'll just have to stay tuned to see what we go with!