We bought a second property named "the rental renovation" in April 2018 with the goal of creating two separate rental units.  At the time, the Husband worked about 2 hours away from where we lived, and this house was near his work.  We commuted during the week to this house, stayed in the upstairs while we renovated the basement.  Once the basement renovation was complete, we moved down there part-time until we bought our raised ranch.
Watch a video tour of the upstairs before here, and of the basement before here.
The whole house design scheme can be found in this post, and we basically just cleaned up the upstairs in order to make it nice and livable.
Rental Renovation Upstairs
The upstairs is rented to long-term tenants, and has a 3 bedrooms, a bathroom, kitchen, and living/dining.
Main Entrance
More Photos: Entryway Transformation
Living/Dining Room
More Photos: Living/Dining Room Makeover
Hallway
More Photos: Easy Hallway Transformation
Bedrooms
More Photos: Neutral Bedroom Refresh
Bathroom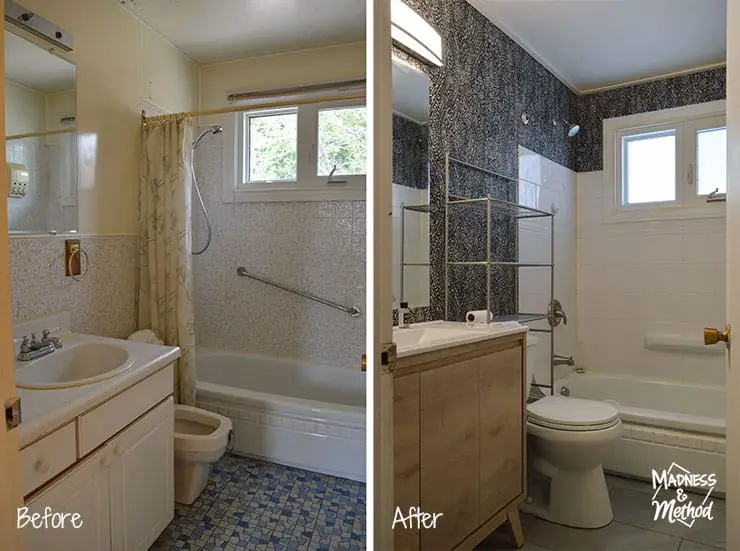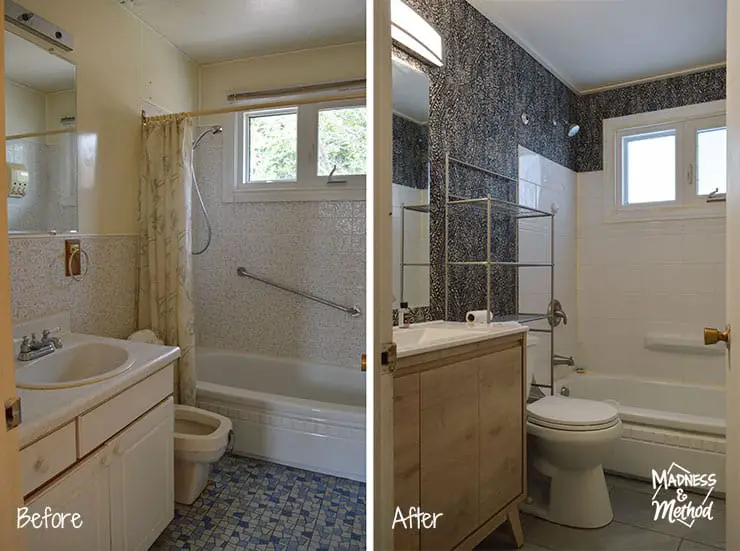 The bathroom is one of the bigger recent changes, out of necessity since the tiles were damaged and leaking into the basement.  See the whole transformation here.  For the first few years, we just smoothed the grout lines and painted the floors.
---
Rental Renovation Basement
This was the largest renovation we ever took on, and we pretty much demoed the entire basement and started from scratch.  Here is the basic layout of the 2-bedroom apartment.  This space is now rented out on Airbnb.
Staircase/Shared Hallway
More Photos: DIY Mudroom Organization
Living Room & Dining Area
More Photos: Rental Basement Living Room Progress
Kitchen
More Photos: Basement Kitchen Reveal
Baby Bedroom
More Photos: Other Rooms at the Rental Renovation (note: the little window in the before photo was removed and replaced with the big one in the after photo)
Master Bedroom
More Photos: Basement Bedroom Reveal
Bathroom
More Photos: Glam Black and Gold Basement Bathroom
I tried to include images with the same vantage point/area – even though some spaces were sort of relocated (ie: the bathroom).  Check out the before video tour here to see the full details.
---
Rental Renovation Exterior
We haven't done too much to the exterior yet (or at least, that I've shared on the blog before) so stay tuned for more!
Back Entrance (goes to both Apartments)
More Photos: Back Door Entrance Makeover