I'm here today to share an update on our front walkway… and you guessed it – I finally got around to planting in that area!  Last year we left the project half-completed and I wasn't quite sure how I wanted to finish the space (mulch, rocks, etc?).  We decided to match the look of the sideyard, so let's get to the pictures and the rock garden planting instructions!
Because I assume you guys aren't super remembering geniuses – here is a picture of the area we are dealing with, complete with half-installed landscaping fabric, open dirt, soon-to-be overgrown weeds, and some patio stones thrown in:
We did clean up the renovation materials when the basement bathroom was completed in May, but the rest of the unfinished front section stayed liked that until a few weeks ago.

And yes, that meant that a lot of weeds had a chance to move in.  So first thing I did was to try and pull them all up.  We only half-covered the ground with landscaping fabric; and one time I cleverly hid everything with leaves for fall décor!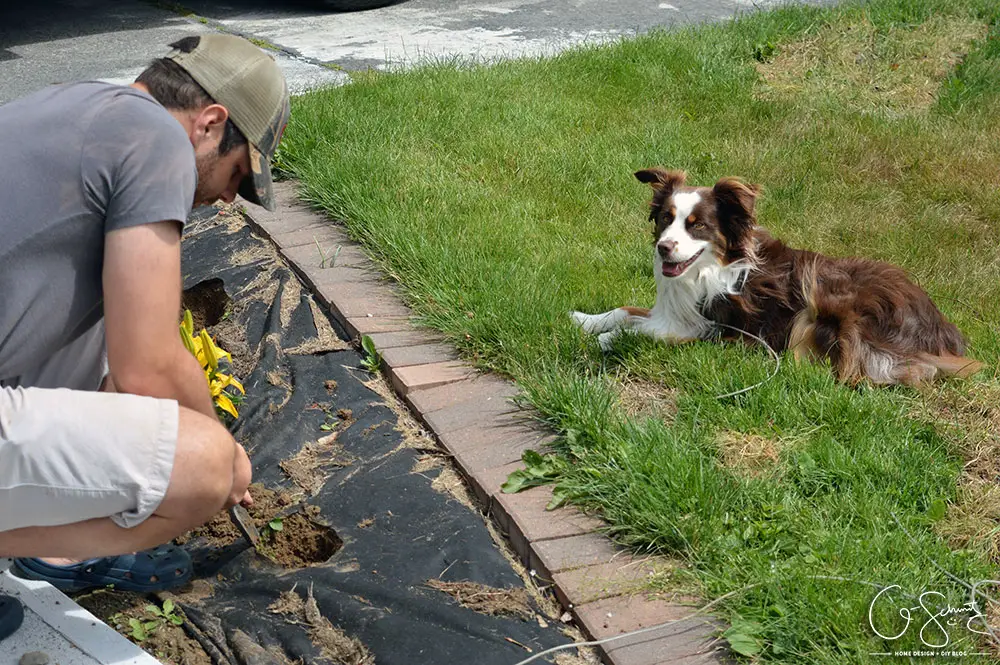 We then bought a few plants; and I was going for a bright yellow theme in this area.  I marked where I wanted them to go, and the Husband and his friend got to digging some holes and planting them (under the watchful eye of Tootsie of course!).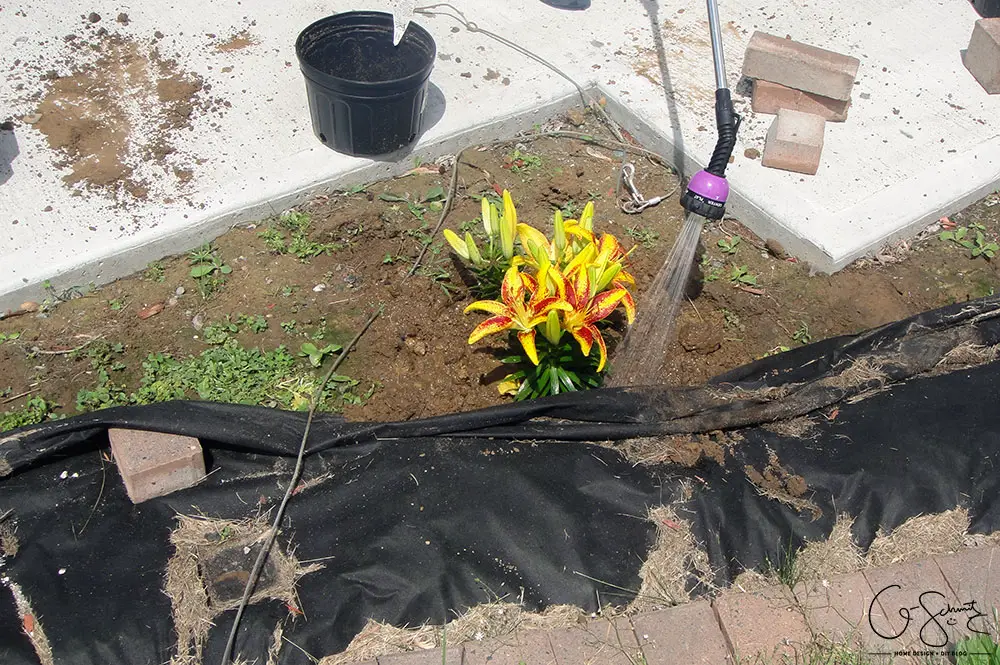 The store didn't have 4 full yellow plants, so I got two yellow ones and two yellow/red ones.  They are called Asiatic Lilies and should grow to about twice the size as they are now.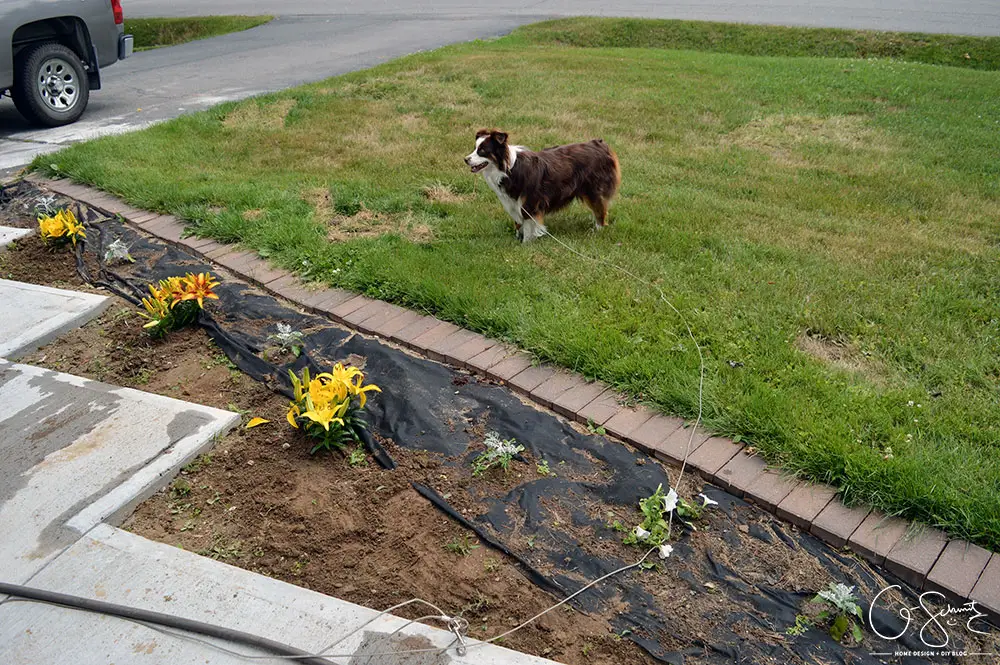 We also planted Dusty Millers and a couple of white petunias in the longer section.  See Tootsie's leash rubbing all over my new flowers?  I did warn her "don't ruin Momma's flowers", but I don't think she understood :)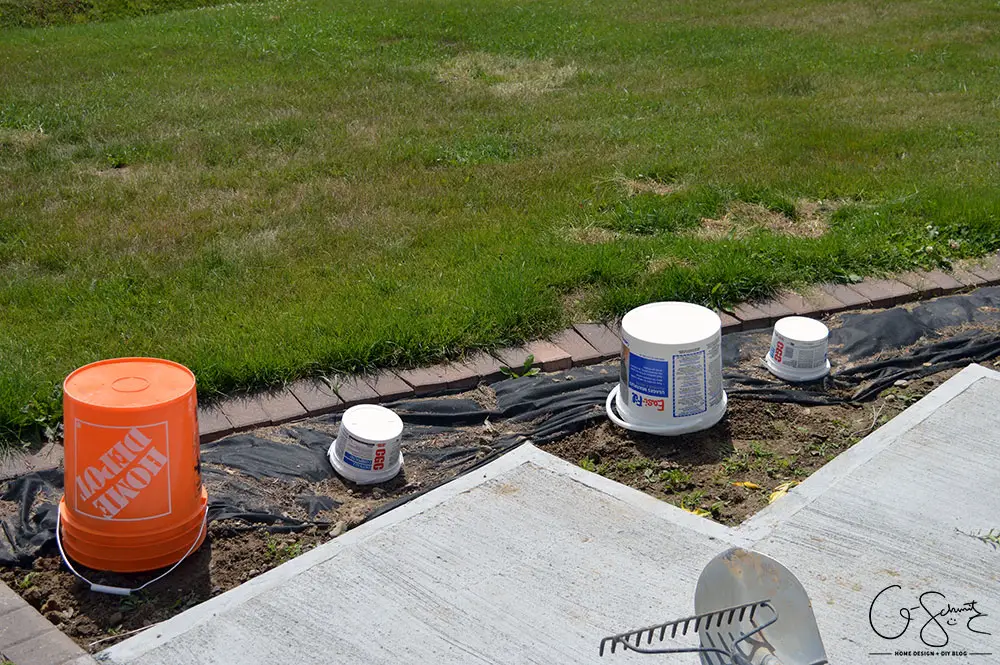 Here is the secret to making a rock garden without damaging your plants!  Now, you could always attempt to plant your flowers after you have spread the rocks.  But I thought that it would be too difficult to 1) move the rocks that just went down, 2) cut through the buried landscape fabric… and 3) not get any dirt all over your rocks.
You're going to get some buckets and cover up your plants; then all you have to do is scoop/place your rocks around the buckets.   (We added more landscape fabric to the bare areas if you were wondering).
The buckets ensure that the plants don't get damaged when you are flinging the rocks around.  The Husband was on rock duty, and I didn't really trust him to nicely place the stones around the plants.  (I didn't have enough buckets for ALL the plants at once, so I moved them as we went).

Then, it was my turn to work.  I just went in afterwards and nicely moved the rocks around the plants, and levelled everything off by hand.  We did have a couple of extra buckets of rocks leftover, and I'm not sure where we will place them yet.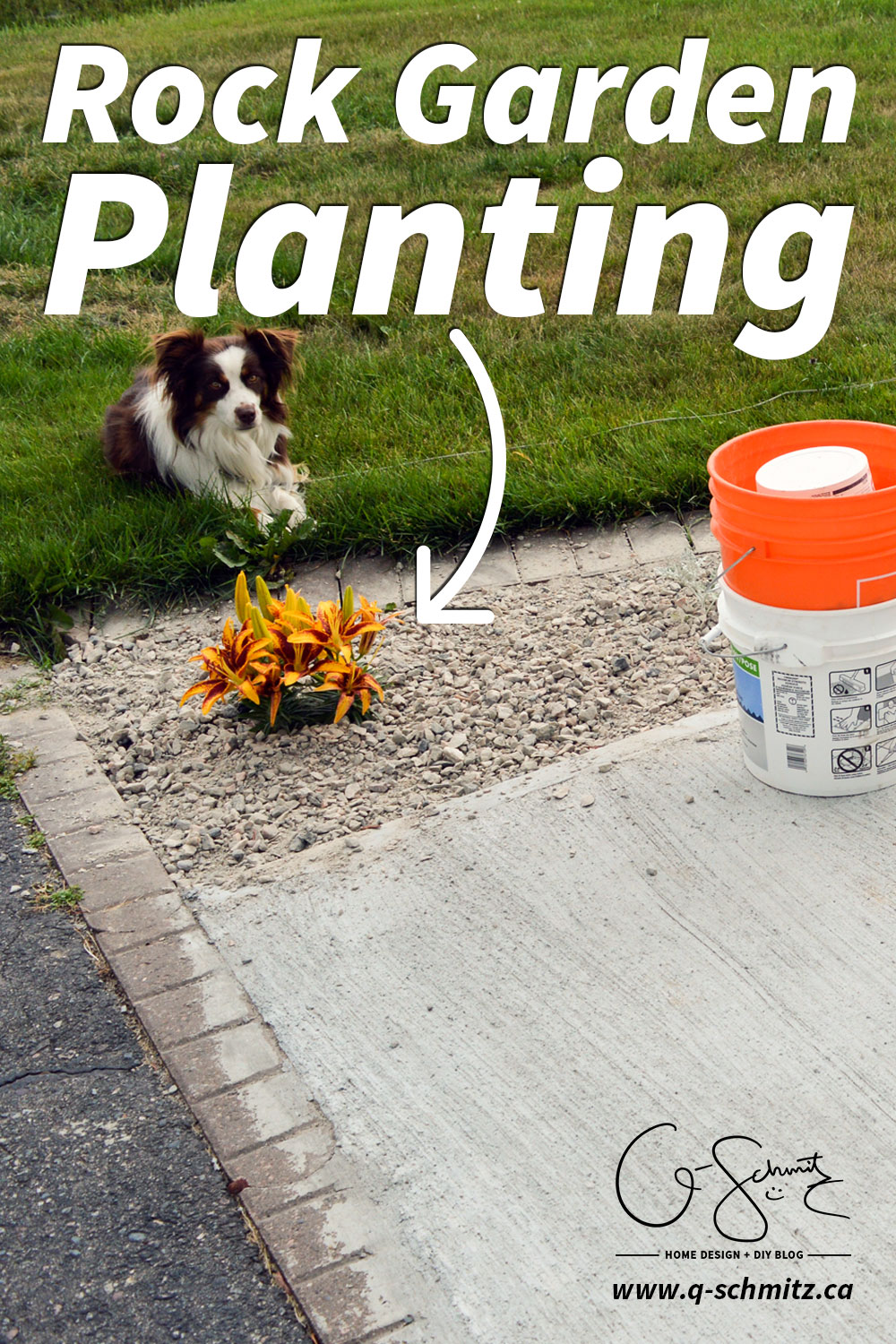 Finally, like the rocks along the sideyard (these are the same ones), you'll want to water them to clean off the dirt.  For this section, I just let the rain do that, and everything actually looks good now!
Have you ever done any rock garden planting?  Did you plant after the rocks were in, or before?  I'm not sure if I like the Dusty Millers here (they blend in too much with the colour of the rocks) and I will need to replace the petunias next year because they are annuals.  I will have to let you know what I decide :)
Sadly, like I shared on Instagram yesterday – the flowers have lost their petals already :(
But anyways, come back next week for my last little project for this area – it's a cute one :)
See you then!