Are you hosting your first Halloween this year?  Or, dipping your toes back into candy-giving after two seasons of COVID-related regulations?  Whatever the case, prepping for trick-or-treaters doesn't have to be hard – just follow these quick and easy tips!
You may be thinking: should I prep for trick-or-treaters?  Or, don't I just need to get some candy?!  If you're only thinking about having candy for Halloween, you may be missing a step or two.
(Also, most photos are from our old house – I really should take some more photos of our set-up here!).  
This post was originally written October 31, 2015. It has been refreshed and republished October 15, 2022.
Want to get ready for trick-or-treaters!?
Prepping for Trick-Or-Treaters
Clear The Path 
Whether you have a driveway, a long walkway, a porch, or even an apartment door – you want to clear the path!  This may involve moving vehicles out of the way, cleaning up any rocks/loose debris on your sidewalk, and doing a general walk-through of the path kids might take to get to the front door. 
Highlight Your Front Door 
As a kid, I hated walking up to a house 1) not knowing if they had candy, and 2) not knowing what door to use (a big pet peeve of mine!).  Two front doors (or a front door and a side door) can get really confusing – especially if they are not properly marked/lit.  In our neighbourhood, most people use their side doors as their main entrance.  But do you want your trick-or-treaters using that door, or your front door? 
Whatever the case, make sure it's obvious which door you want people knocking at!
Have Candy Easily Accessible 
Do you give out candy individually, or in prepared bags?  I wrote a whole post about Halloween candy (and alternative ideas) so check that out if you need tips.  On Halloween night, have your candy in a bowl, or have the little bags nearby for easy grabbing.  If you prefer to provide candy without greeting people, you can set up a table outside with a message. 
Turn on the Lights
Having a properly lit entry/path is key to letting trick-or-treaters know they can visit your house.  Most people turn off their lights after a certain time, which is the universal sign of "I'm closed".  You can use your regular lights, or incorporate some orange/Halloween-themed lights if you want.  I have a strand of orange lights I like to plug in, but we also have our regular lights turned on too. 
Bonus: Dress Up! 
It's Halloween, might as well enjoy it :)  The costumes are 90% of the fun on Halloween night, and there's no need to leave it only to the kids.  Just be aware that you may scare some littles if you're something spooky.  Personally, I'd advise against anything that covers your face too much (like a full mask).  Or something that may hinder your candy-giving, like a claw arm, ha.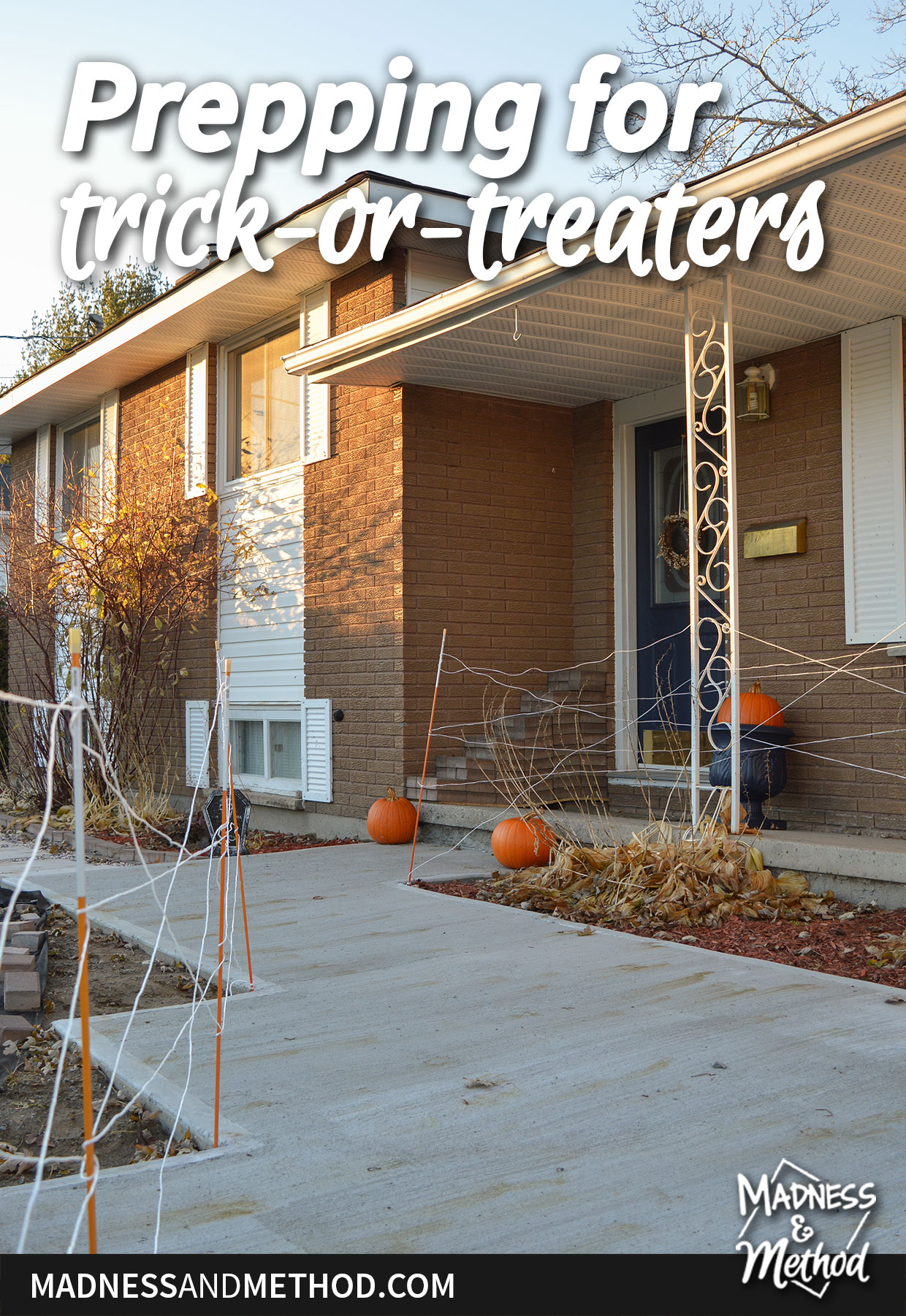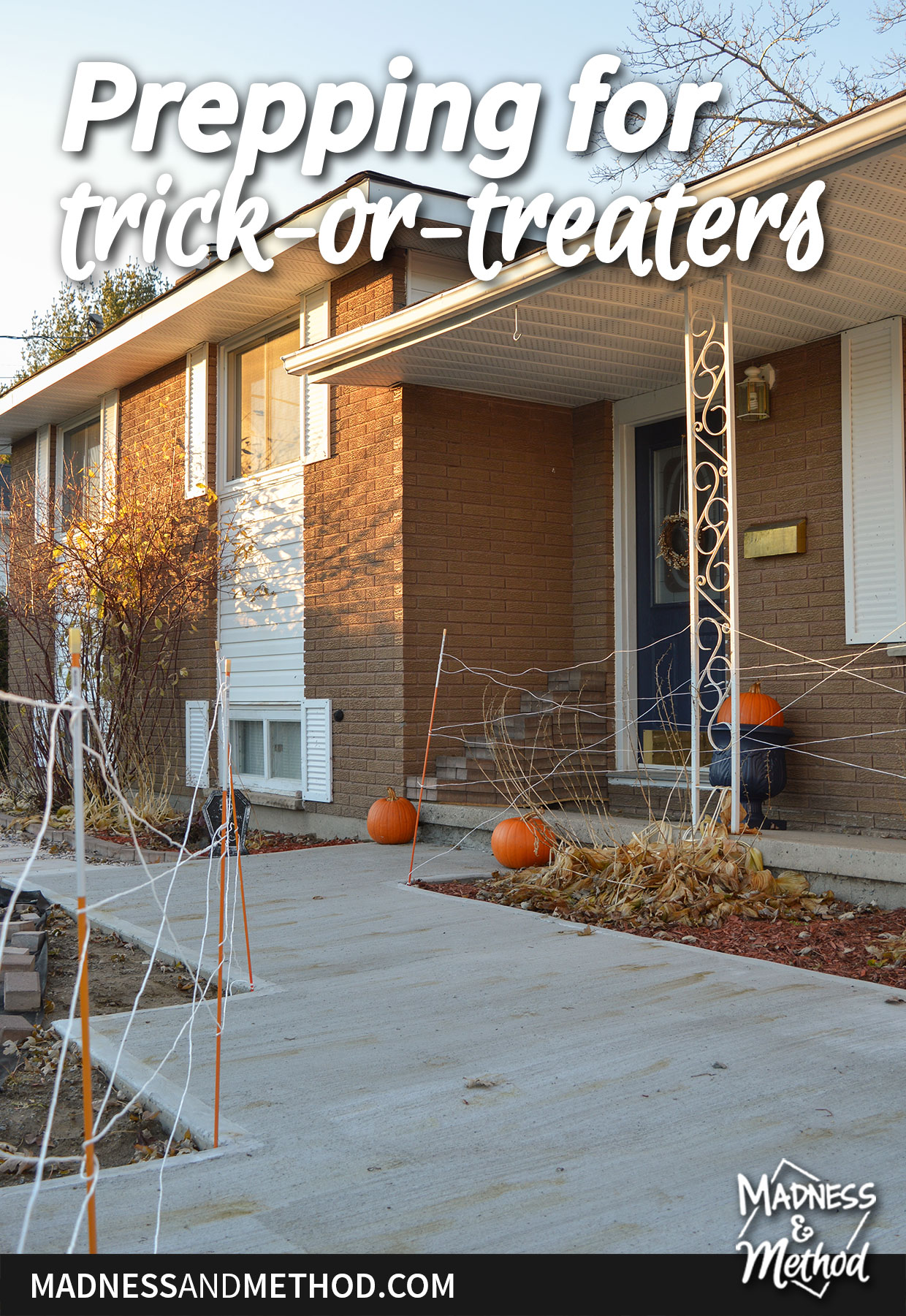 When I took these photos at our old house, we had recently completed a walkway makeover.  I didn't want children traipsing around our unfinished section from when we finished the concrete.  I added some driveway markers (that show where your driveway is when there is lots of snow) and intertwined some white string around them to create a cobweb effect.
While I do most prepping for trick-or-treaters on Halloween day, I put out décor including the DIY gravestones, for a bit longer.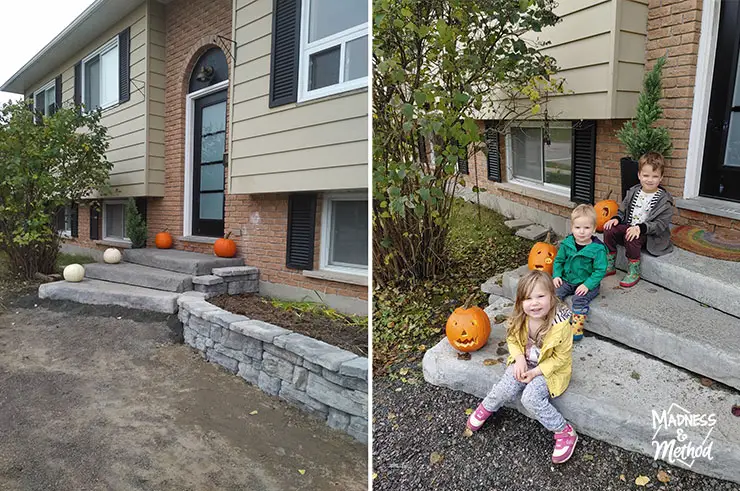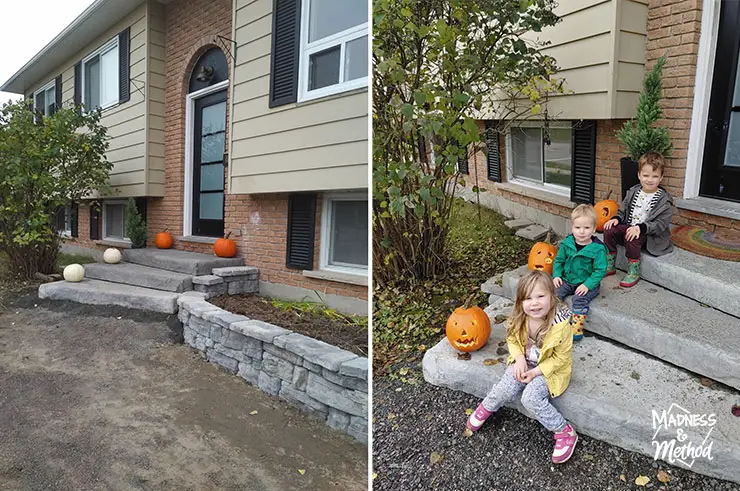 (The two photos above are from the Halloweens at this house.  We managed to get our driveway/walkway done just in time the first year, on the left). 
Do you do any other things to get ready for trick-or-treaters!?  Let me know!