Have you built some raised garden beds and want to get them ready for veggies? Check out these tips for prepping and planting raised gardens, including where to start if you've never had veggies planted before!
I'm on a garden kick lately, and it's probably because we finally have some nice weather around here! Literally, I was busting out the hot chocolate last week because some mornings were still chilly, but I've moved on to smoothies now and I'm hoping the warmth will last for a long time :)
Anyways! Let's continue chatting about raised gardens, and this week I'm going to go over how I prep my gardens for planting AND I'll share photos of our veggie garden placement for 2019.
How to Start with Raised Gardens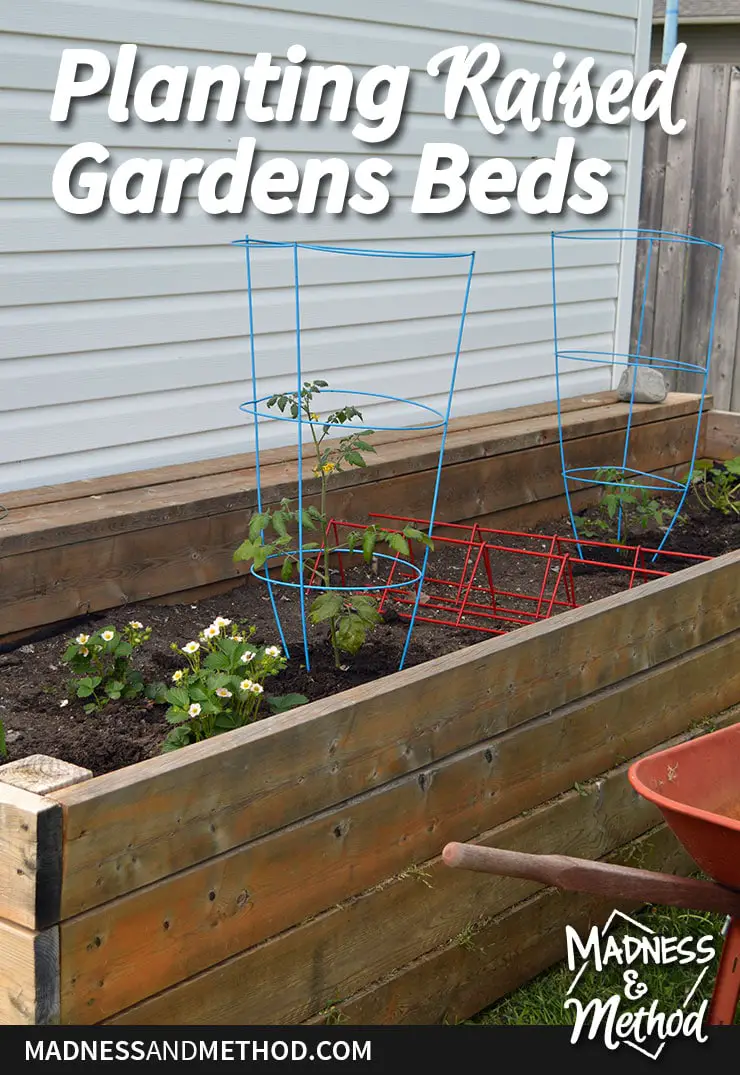 I'm going to guess that you have either a) built your raised gardens newly this year, or b) need to clean out your gardens from last year.
Prepping Raised Gardens for Veggies
Our regular/main house gardens have been used heavily the last few years, so prepping them is as simple as taking out the dead plants (I leave them in all winter) and sweeping out the leaves from the fall.
There are just a few weeds to pull (and if you compare the photos of our gardens from last week, you'll notice I pulled the weeds along the sides AND we cut the grass, ha!).
But the raised gardens at our rental renovation were a whole different story…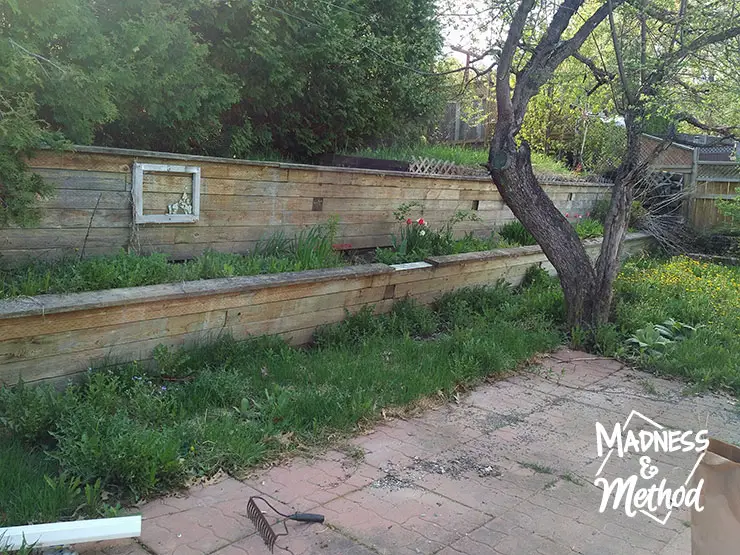 Okay, technically the whole yard is pretty much a giant weed pit – and I'm not even joking when I say that I can easily fill a full yard bag with weeds in less than an hour. We have big plans for the backyard, but we'll get to them as time (and money) allows.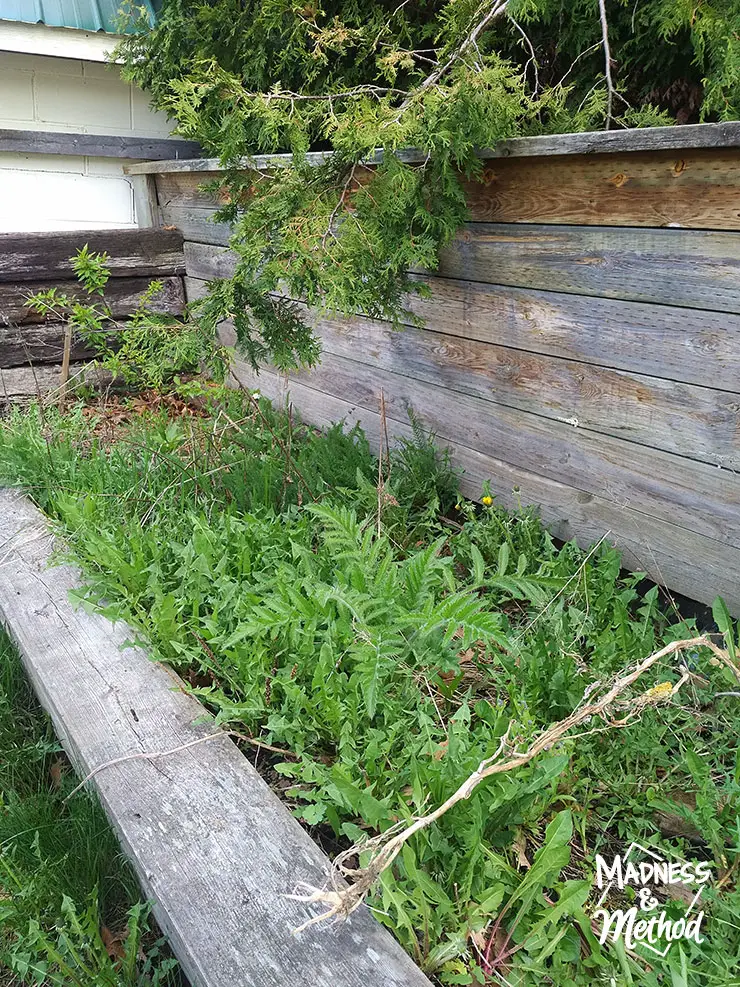 Essentially, there is a retaining wall structure along the back of the property and while there are some perennials that were planted a few years ago, most of the garden beds were overrun by weeds. While I would like to have the full raised garden dedicated to veggies, we're not able to manage two large gardens properly this year.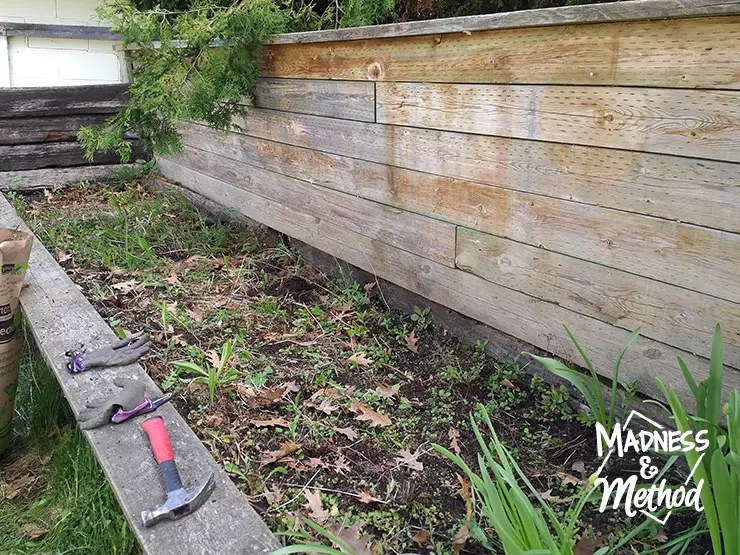 I went through and pulled as many as the large weeds as I could, then I took out a handy hard rake and scraped through the dirt, getting all the leaves, roots and stubborn small weeds loosened up.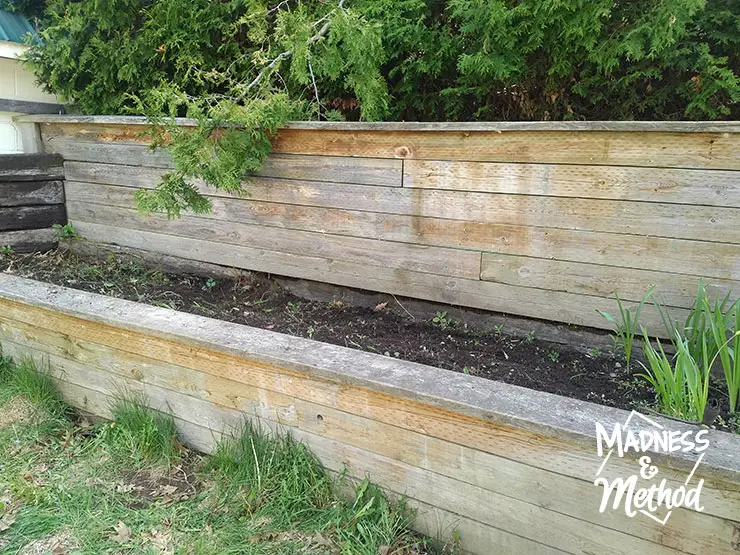 There were still a lot of small (read: hard to grab) weeds, but my plan is to let them grow another week or two, then pull them again THEN plant my garden.
What I'm saying is, I hope your raised gardens weren't in the same messy shape that these were!
So, let's just go ahead and say that you have your gardens fully de-weeded and cleaned out, and you're ready to plant some veggies!
(You may need to add some topsoil and/or compost to freshen up the dirt – make sure you have enough space, or you could dig some of the old dirt out to make room).
Planting Veggies in Raised Gardens
Once again, my Mom brought up a bunch of plants for us and setup our gardens – so other than the 2 rows of beets that I started from seed a few weeks ago, everything was planted as a plant.
We have a short growing season here, so any jump start I can get on our gardens is always good!
However, it's more cost effective to plant from seed rather than buy the already started plants, so here are some resources if you wanted to go that route:
Starting Seeds Indoors
For our right/East garden bed, we have a red pepper, then our perennial strawberries that came back, then a cherry tomato plant. I have my two rows of beets (I used a cucumber stand to cover them from toddler fingers), then a Heinz 1350 tomato plant, a zucchini plant, and 3 yellow bean plants in the front.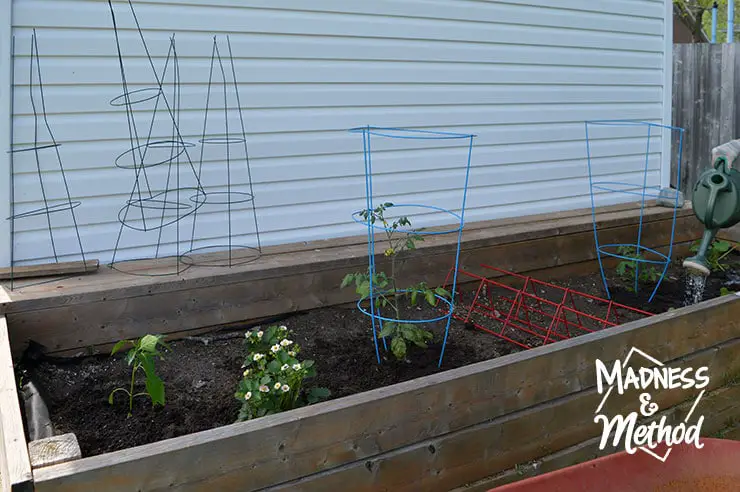 My mom plants them separated enough so that they'll properly grow (the tag or seed bags will give you lots of info about this) and then she gives them a bit of fertilizer with their water.
I'm looking forward to all the flowers on our strawberry plants! We don't usually get a lot of fruit (think 1 strawberry per week, if the birds don't get to them first) so fingers crossed :)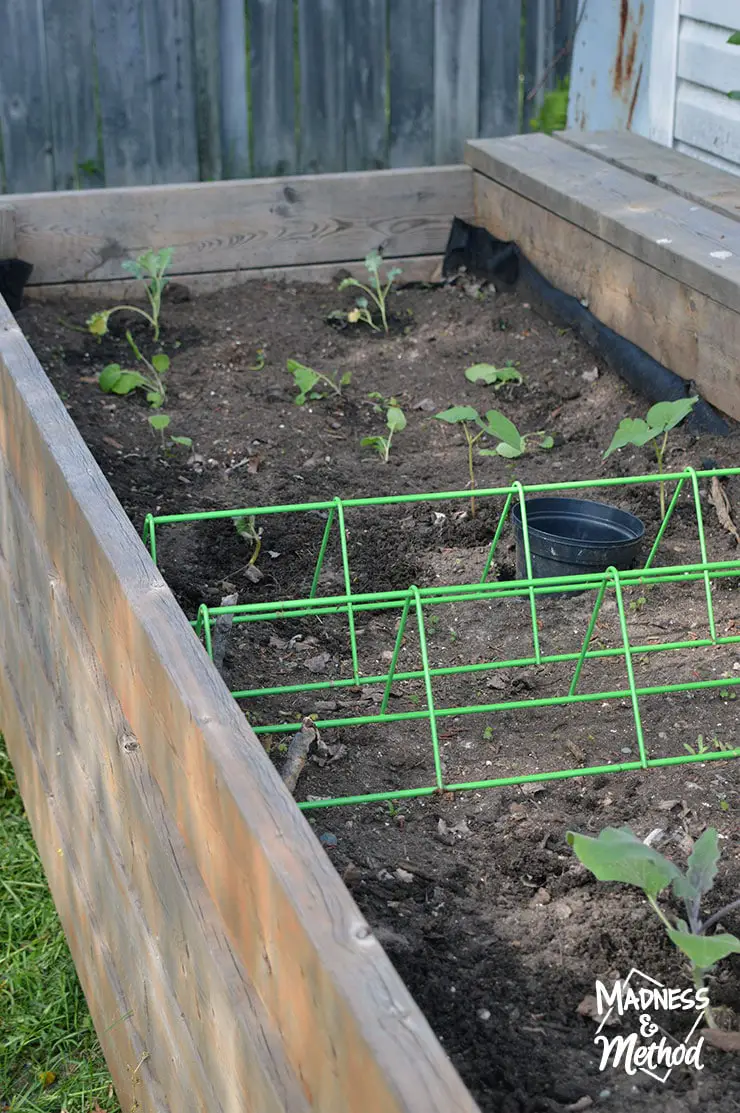 Our left/west side garden gets a bit more shade because of the tree in our backyard, but there are similar plants here as well (including the two rows of beets I planted).
Starting on the left, we have 2 kale plants (our kale lasted crazy long last year!), 2 rows of rutabagas, then a row of yellow beans. Past my two beet rows there is one more rutabaga, then eggplant and finally a cucumber plant.
This year, we're trying rutabagas and yellow beans (I think) for the first time, and we have fewer tomatoes and cucumbers than we've had in the past. (Remember you can check out my past veggie layouts from 2016, 2017 and 2018 if you want to compare and/or get different ideas).
We still have to plant the veggies at the rental renovation, and there are a few more tomato plants, a pepper… something else… we'll see!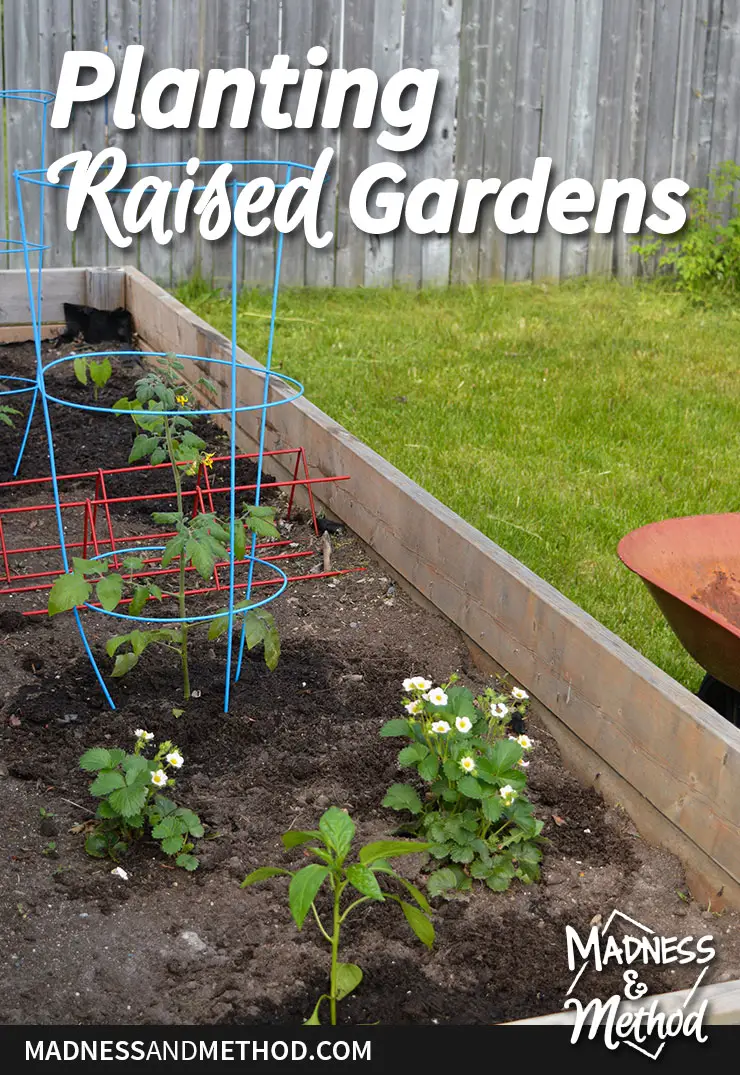 Once you have your garden beds built and filled with dirt, prepping and planting raised gardens will seem like two easy tasks! Just don't let your gardens get filled with as many weeds (ie: neglect them for several years) like the ones at our rental renovation, and the prep part will take just a few minutes.
Let me know if you have any additional questions about raised gardens, and I'll be sure to share how our veggies (and strawberries!) did this year :)
I also mentioned last week that I have not refilled my gardens yet, but you can always get some nice compost, fresh topsoil or a combination of both to freshen up the top layer of your gardens. (If you're worried about the added weight, I'm sure you could shovel out some of the old dirt to use elsewhere too).