It's a boy!  (Anyone remember "wehadababyitsaboy" from the collect calling commercials back in the day?).  Anyways, the first Q-Schmitz baby is finally here!  Before all the cute photos, let me regale you with some background information and then I'll talk about the labour (hopefully not with too many details).  Let's begin :)
Because I like to make animation graphics for various things around here, I figured a little time-lapse of my belly pics would be appropriate:
Week Before Baby
About a week before I was due, we started getting daily phone calls from various family members. Each one would tell us, "oh don't worry I won't bother you and call everyday"… but I think that my family members were in cahoots together and on some sort of pre-organized calling schedule. I'm assuming they would then call each other up and say that I was still not in labour, and they didn't think I was on to them.
It was all very suspicious…
So my due date was June 10th – and for some reason the Husband thought that baby was going to be here for sure on June 2nd. The ultrasound person at the 18-ish week checkup said our baby was looking larger than normal, and may be born June 3rd instead… BUT that this ultrasound was less accurate than the first (dating) one. How the Husband came up with the 2nd was beyond me…
Just to prove how much he thought he was right (stubborn is more like it), he even took the day off of work in anticipation of baby. Well, baby did not come June 2nd… or the 3rd, or 4th (etc.).
Now, as you may not be aware, the Husband actually works about 2 hours away from where we live. Because of this, he spends the week at his parent's house (who live near his office) and only comes home on weekends (or randomly for one night during the week if he has a sporting commitment). Thankfully he only works 4 days a week, so I am with him Friday, Saturday and Sunday. (If he isn't fishing of course…).
Anyways, I was really worried about having the baby when he was gone to work. Apparently you're not supposed to drive yourself to the hospital, and I would never want to have to call someone (other than the Husband) in the middle of the night if I was in labour. At least 2 hours is still pretty close, because from what I heard about starting labour, you had a bit of a warning period before you absolutely hadddd to go to the hospital.
Day Before Baby
I had a regular checkup on Wednesday morning, and I was told that nothing had started labour-wise and that if I did go over my due date, I may need to be induced.  But not to worry, because baby could still come any day.  I told everyone that baby was still far off, and the Husband was expecting baby to come late.  That night I was up tossing and turning with weird pains but there was nothing in the morning and the Husband went off to work as normal.
Around 2:30pm on Thursday (June 9th) I had my first contraction.  Ooohh I think this is it!  And sure enough, half an hour later, another one came (and another, etc.).  They were getting a bit more frequent, so I texted the Husband at 4pm asking if he wanted to leave work early.  I didn't want to tell him I was having contractions (don't want him rushing or anything) and just said that I missed him or something.  Ya, he left work at his normal time and got home after 8pm.  By then I think I was somewhere around 10-15 minutes.
We tried staying up until the contractions were more frequent, and watched some TV.  By around 11 or 12 I knew that I was already exhausted so we tried to get some sleep.  (I don't think it worked).  We left for the hospital around 1:30am if I remember correctly.
Baby Day
(This is as accurate as I remember everything – but I was in pain so who knows what was happening!).
When they first checked me, I was 2cm dilated (sorry if these details are too much!) and they had me wait for 2 hours to check again.  I was 4cm at that point, and they could now admit me and I was moved to a delivery room.  I had been up for a while at this point (and I lovveee sleeping) so I agreed to some morphine and Gravol to try and get some rest (and less pain of course).
The Husband went down to get some breakfast for us, and the doctor came in to check on my progress.  I was 9cm dilated by now and they couldn't really believe it since I had pretty much slept/half-slept through most of it and was a really quiet pregnant person apparently.  They broke my water and told me I should be in labour soon.  The Husband got back and was really surprised, and unfortunately I couldn't eat my breakfast anymore!
That last centimeter seemed like it was taking forever, and I even went in the shower to try and progress things.  They had me on the drip to dilate me more, but the baby didn't like it.  Eventually I had the urge to push and tried that a few times.  After checking me again (we thought I was fully dilated by this point), turns out I was still around 8-9cm and had to wait longer.  I was given laughing gas to ease the pain (not sure if it helped) and I think hours went by and I was still not ready.  Again, people kept telling me I was really quiet and the nurses couldn't believe I was actually in labour.
I kept getting the urge to push, even though I wasn't ready and the laughing gas was not helping.  I was finally given an epidural (I think they had to wait for the morphine to run out – and they thought it was going to be much quicker so they figured I didn't need it at all).  I was all numb and they tried the drip once more.  Baby didn't like it again and the heart rate started dropping so they wheeled me in for a C-section because he was clearly not coming out normally.
I shook a lot during the C-section and they showed me the little baby boy.  Not going to lie, laying sideways with him all squinshed up I didn't think he was cute at all!  Isn't he cute?  Umm ya…
Thankfully he was perfectly healthy (minus his cone head from trying to get out) and they finished my surgery.  I was still shaking like a crazy person for what seemed like hours afterwards, and I couldn't feel anything below my chin for a while.  I stayed in recovery until my blood pressure was fine (they couldn't easily measure it from all my shaking) and we were eventually moved to an overnight room.  There were 3 other babies/families that night and our little one stayed in a little crib next to me (although I couldn't move to get him at all).
About the Baby
Welcome Zachary Schmitz.  I just realized that his name both starts and ends with a Z, so that is a bit different!  He was born on his due date at 4:09pm and weighed exactly 8lbs.  The Husband and I don't really call him by his name, we just refer to him as the "baby" and it will probably stay that way until any more babies come around I guess.
In my naïve youth, I used to think that having a C-section was a good idea – you get a baby and don't have to go through the pains of actual labour.  Now that I've gone through it, I would never recommend one to anyone, because the recovery afterwards is awful.  The natural birth mothers at the hospital could easily move around, pick up their babies, wear normal clothes and got to leave earlier.  I still have over a month of restrictions and recovery ahead of me :(
The Week After
By the second night, I could more easily grab the baby and there were only 2 of us in the room.  (Natural birthed babies stay in the hospital for half as long as C-section babies).  He was the loud baby in the room this time although the Husband slept through most of the crying again.  We were released and I was told I couldn't lift anything heavier than baby, so doing tasks at home has been a bit more difficult.  I'm finally able to get out of bed quicker and can even sit up with the baby in my arms (before I had to put the baby down, then get up, then pick up the baby).
I'm breastfeeding, and if I had to write a book about it'd be called "Blood, Sweat, Tears and Milk".  I won't share any details; you've had enough personal info for one day!
He was wearing an "I love Mommy" shirt before the Husband came home, then he was suspiciously changed into this outfit…
Tootsie was scared of the baby when we brought him home, and she would even cry/whine whenever he did.  It was very annoying, so thank goodness she got rid of that habit!  She still tries to lick him, but we don't let her and he gives her funny looks when she tries (he can't see anything yet – so he just grimaces in her direction).
My schedule is all over the place and I'm wondering if I'll ever get to doing projects around the house again!  That long summer to-do list is looking like it will be harder to finish this year, so we will see how that goes.  Baby and I sort of have our nighttime routine set, but every time I think we're doing good, the next night is completely different!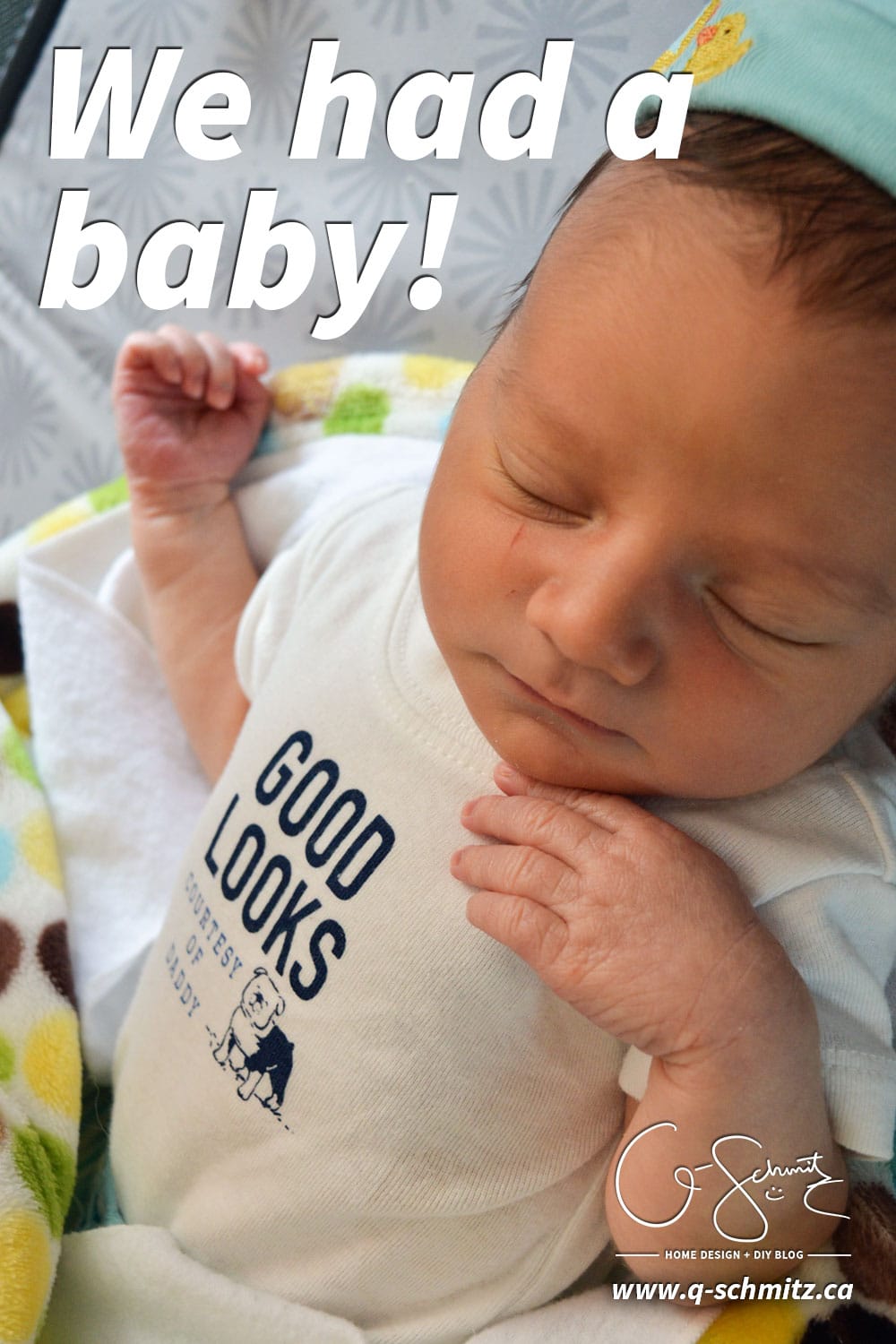 Well, I think I've rambled on too long and shared enough personal details to last a while – so thanks for reading along through all the details.
Even if you just skimmed and scrolled to see the baby pictures, I'll forgive you!
See you next time :)