Over the last few months I was itching to add some pizzazz to our upstairs hallway.  You can blame the pregnancy hormones… but let's be honest – it's the DIY "hormones" that made me do it haha!  I was inspired by many different types of wall DIYs, and even shared a bunch of wall transformations ideas too.  Here's an overview of how I was able to add board and batten style millwork to our hallway.
– Note: This post contains affiliate links. See more information about affiliates here–
I worked on and off of this project before, during and after we were adding a bathroom in our basement for the One Room Challenge.  I wish I could tell you that it is 100% complete, but unfortunately I need to add a coat of paint and finish installing the handrail.  Baby is now here, so not sure how I feel about painting when the little one is around.

First thing I did was to remove all the baseboards that were in the hallway.  They were loose anyways, and there were some gaps where the angles met.  I thought about also removing the door trim, but figured it would be a waste of time (and money) to replace all those as well.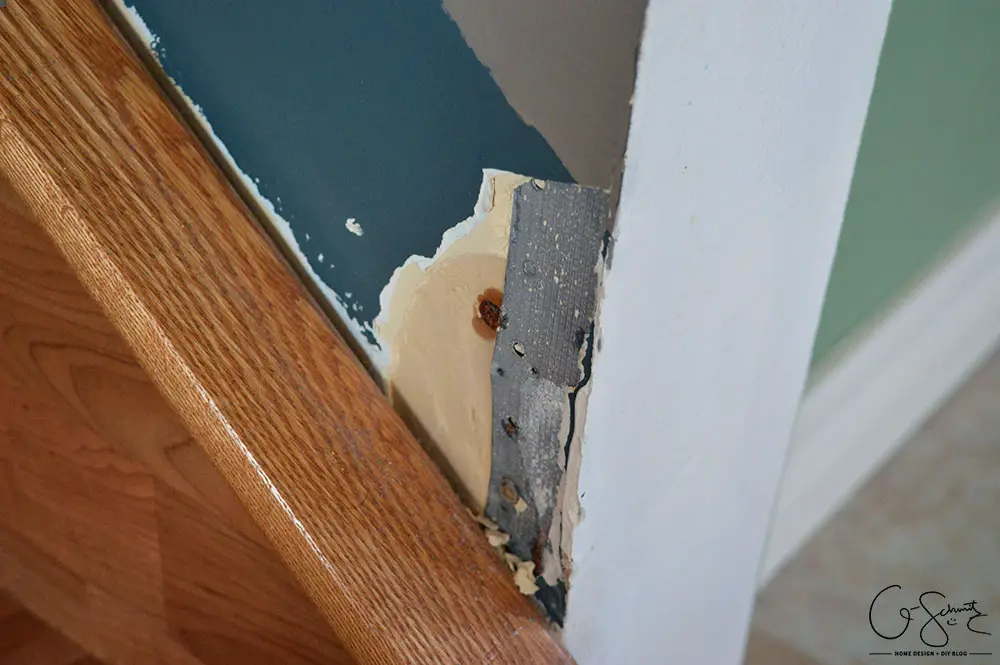 There was a bit of damage in the one spot, and since I hadn't chosen my trim size yet, I decided to patch any areas just in case the new baseboards would be shorter.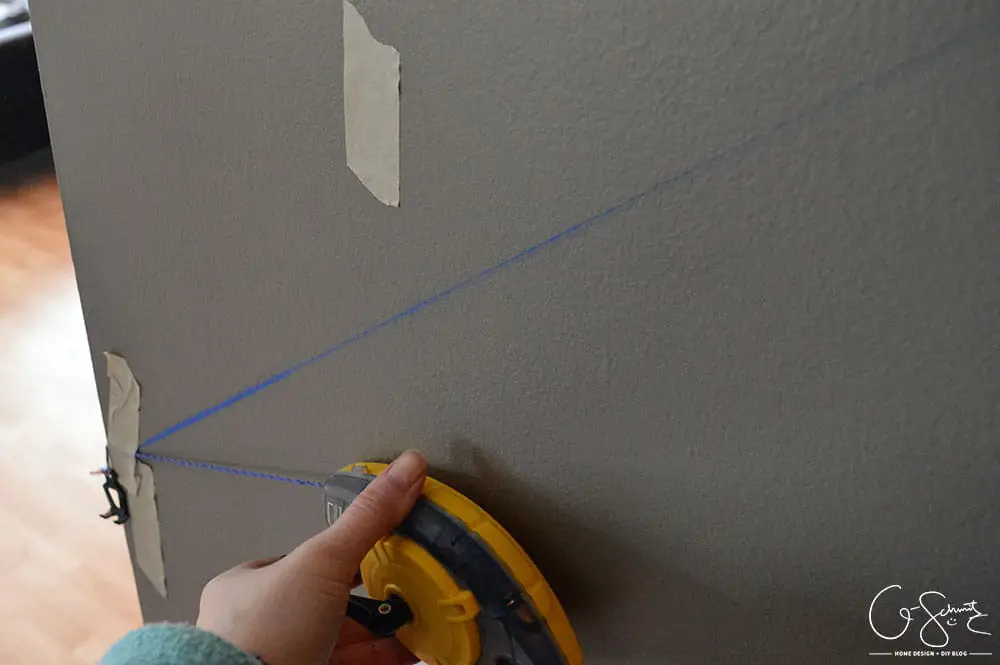 I then measured from the ground and marked a line where the tops of the board and batten would (approximately) go.  I used the height of our basement panelling as a guideline, in case we ever decide to go down the staircase and match them up.  It's hard to hold a chalk line by yourself haha!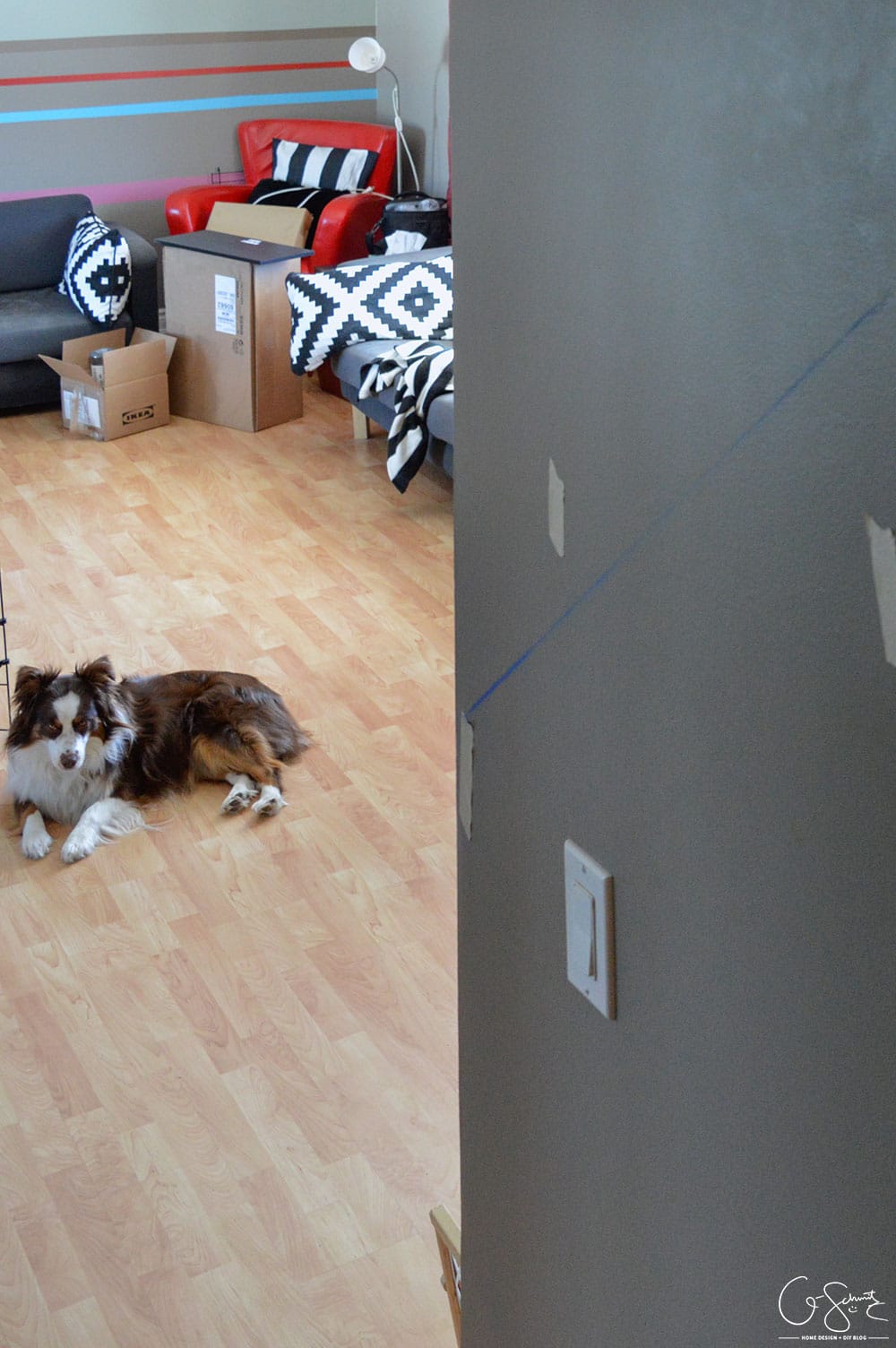 And clearly Tootsie did not want to help!  If you look closely at her face, you can just feel her thinking sarcastically "Oh great Momma, another project…".  In the background I also have the boxes from my Ikea vanity cabinet delivery.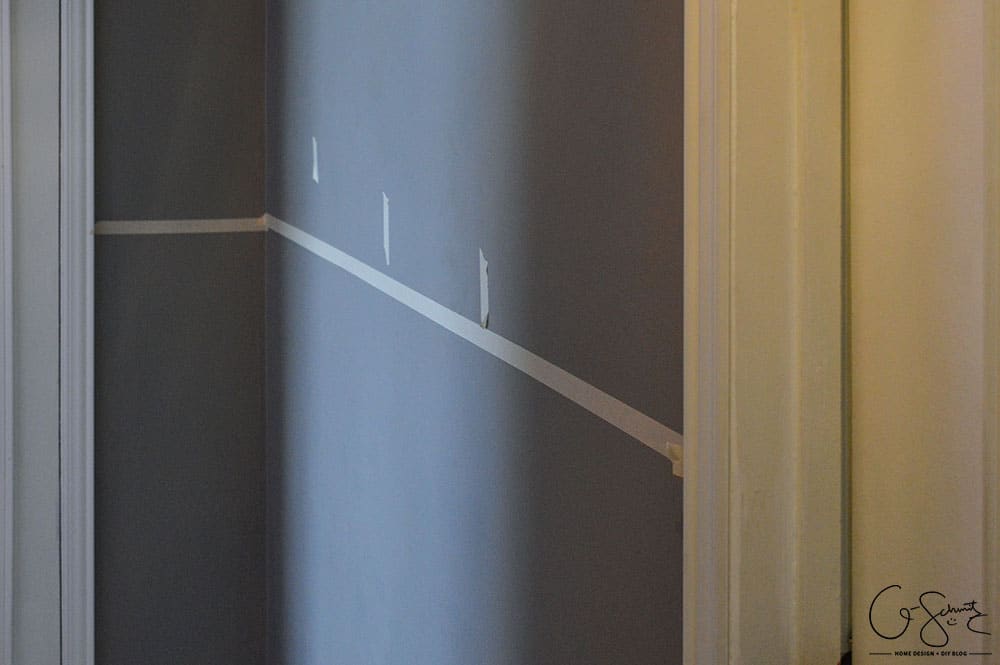 I used plain masking tape to mark the horizontal lines, and put little strips where all the studs were.  I originally wanted to place the vertical pieces in every two feet, but decided it was better and more secure to nail into the studs.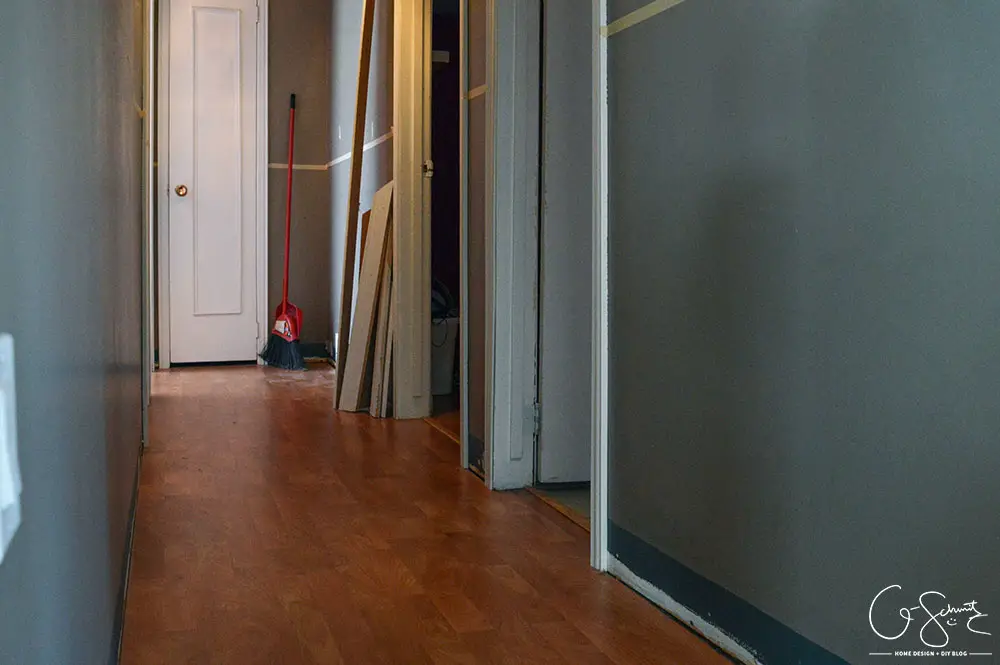 Once all my tape was up and the old baseboards were removed, I then added a coat of prime to the walls.  I knew my board and batten would be white, and thought that it would be way easier to prime the walls before I started adding trim.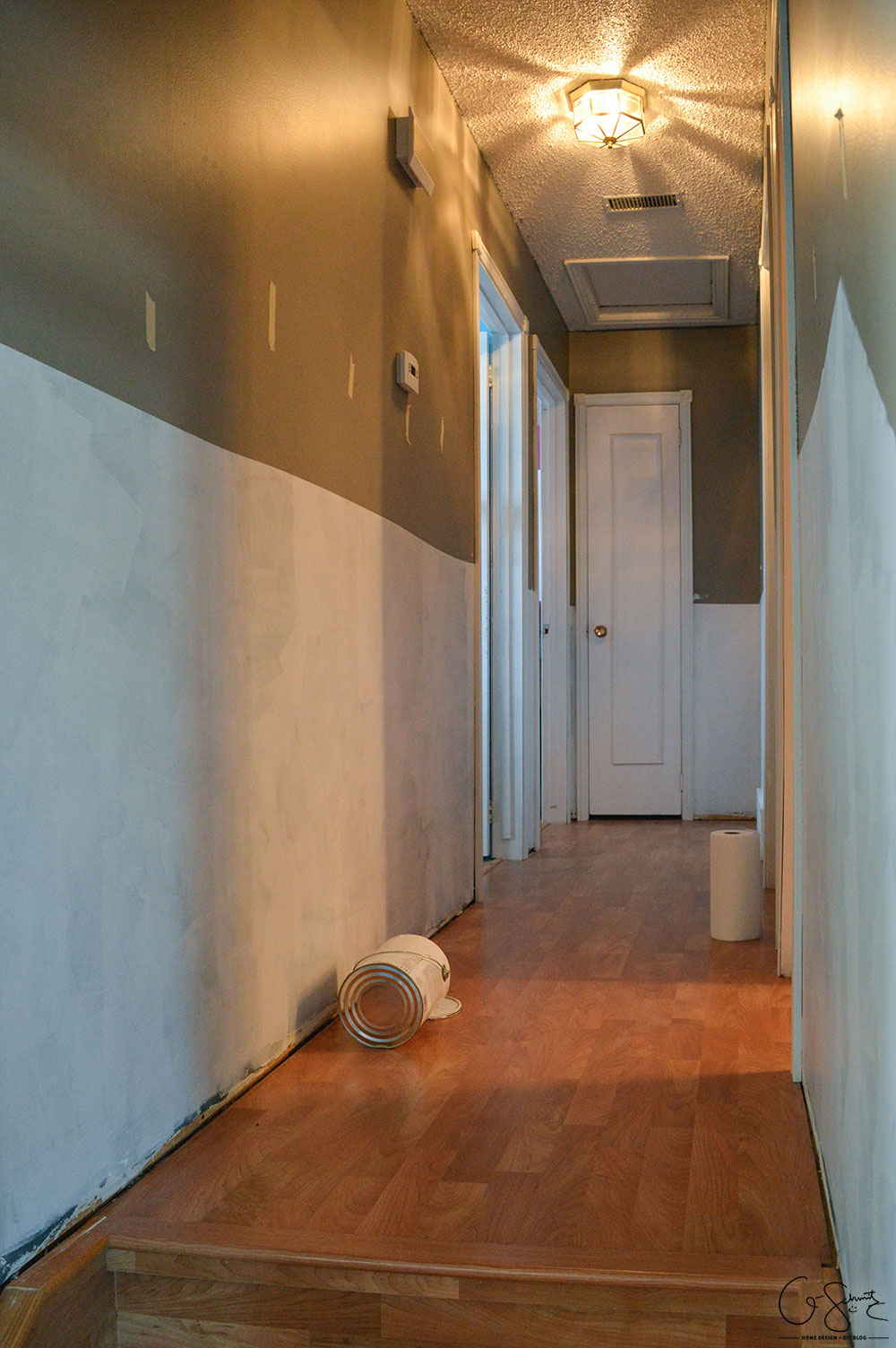 It was just a quick coat, which is why I wasn't too worried about using the masking tape vs. real painters tape.  Once that was dry – I could then focus on measuring, cutting and installing the wood.  But remember – this project went on for a few weeks/months, so this all didn't happen very quickly!
I purchased the economical 10-pack of 3-1/2″ plain trim for the horizontal base and top boards, and the 10-pack of 2-1/2″ plain trim for the vertical pieces.  The 3 measly pieces of trim for our basement bathroom ended up costing SO MUCH money because I needed them to be a custom size.  For this hallway, I wasn't picky on the size of my trim and was able to buy the combo packs, and this project cost just over 100$ (I did have all the other materials on hand).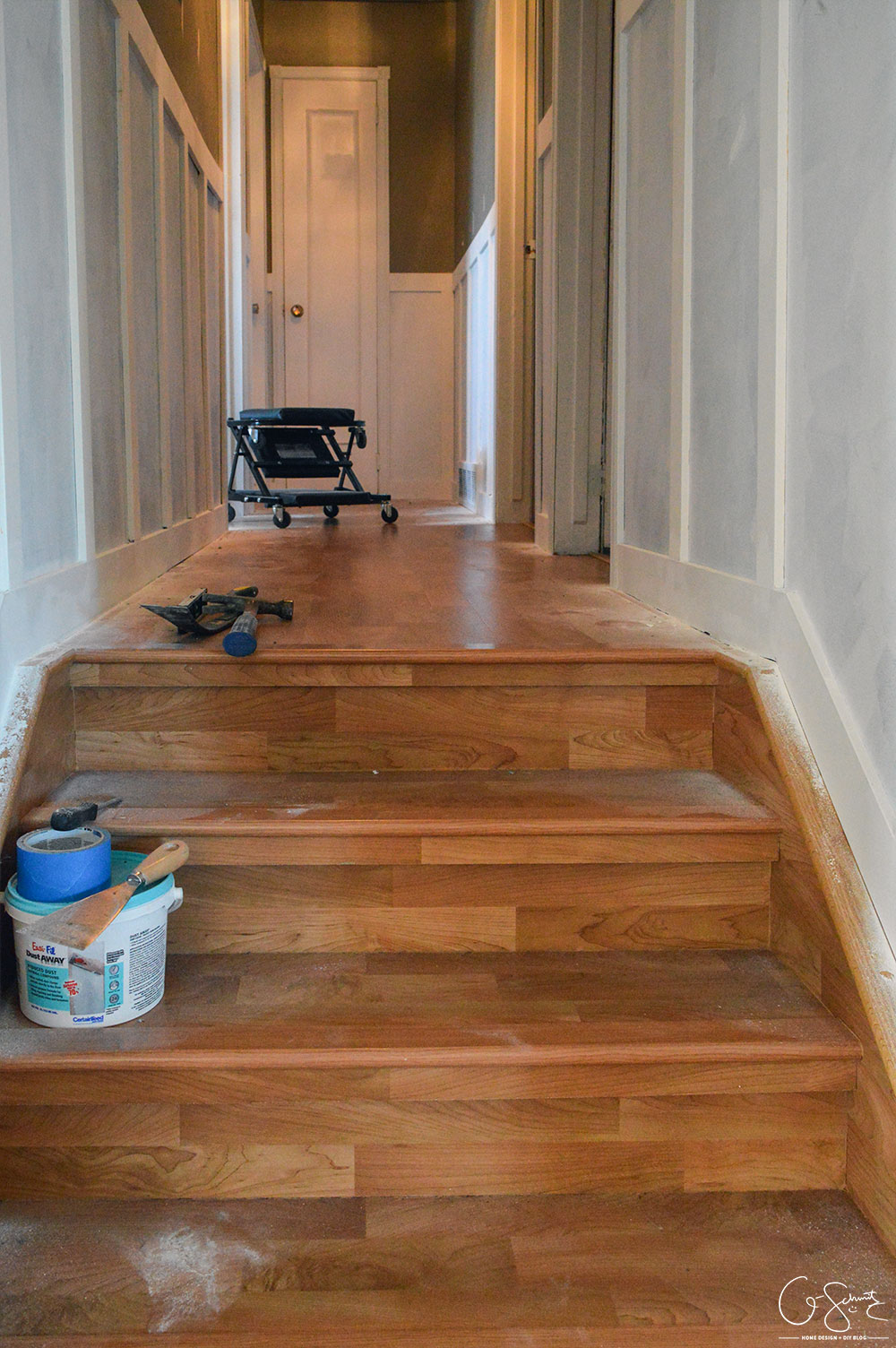 Thankfully, my wonderful Mother-in-Law came over one afternoon and we were able to add all the trim.  Along the longest wall, the studs were only about 12″ apart, so we used those as the main guide for the spacing on the small back wall (near the closet).  I've mentioned it before, but those rolling crawlers are handy for working!
Here's me and my pregnant self working away!  I did a couple of coats (+sanding) of joint compound along all the seams.  We tried to keep the larger gaps (if there were any) along the bottom so that they wouldn't be as noticeable, but after all the patching I did everything was pretty seamless.

Then, once all the gaps were patched, sanded and dried, I caulked along all the inside seams.  I did use tape along the wall edge and against the floor, because I haven't fully mastered caulking yet.  Once the caulk was dry, I gave all the trim a quick brush of prime, and all I had left to do was paint.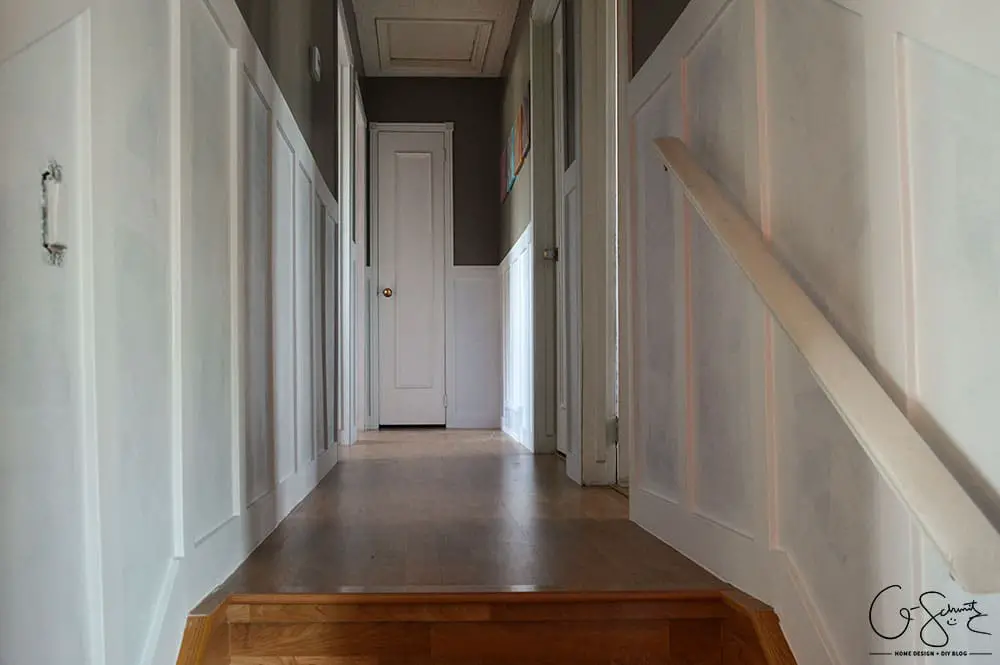 But clearly that hasn't happened yet :(  I was going to just do a plain semi-gloss white (which I have here) but the Husband borrowed my paint roller for work and kept forgetting to bring it back.  Then wouldn't you know it, baby came on time and who knows when this hallway will be done completely!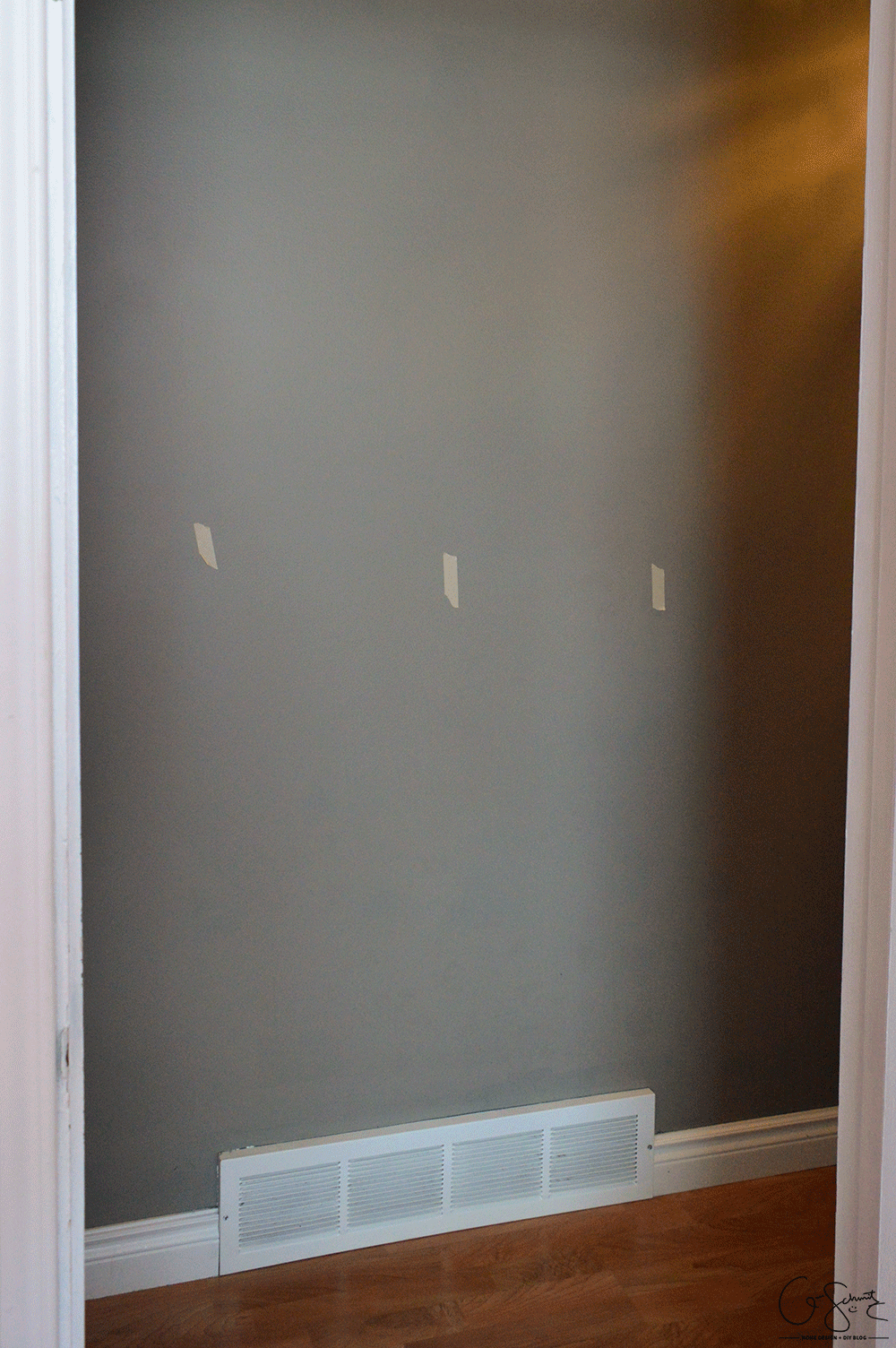 Here's a quick time-lapse animation of this DIY hallway, and I'll be sharing the tutorial for those paintings this weekend!  This is the only part of the wall where we couldn't use the studs to attach the pieces, but they're still holding up!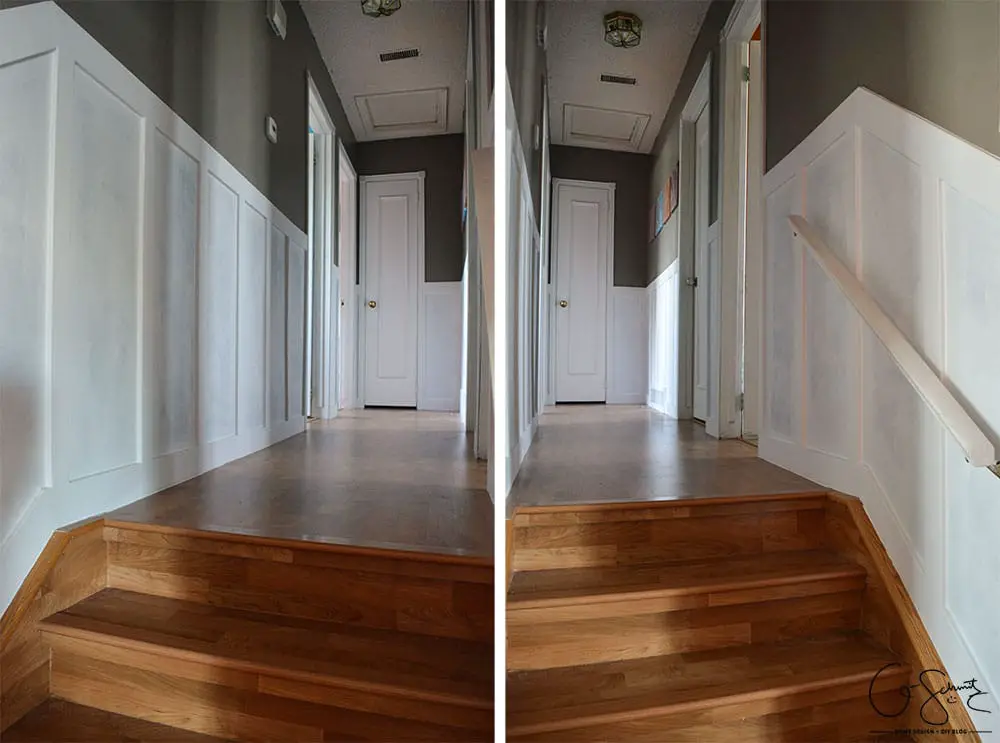 I also quickly added that handrail (it came with the house and was supposed to be installed here anyways) but it will probably need to be secured better (and painted) too.  Looking back at the pictures of our plain hallway before, I can't believe what a transformation this board and batten has made!
Not only is everything brighter, but it just looks more polished and fancy too :)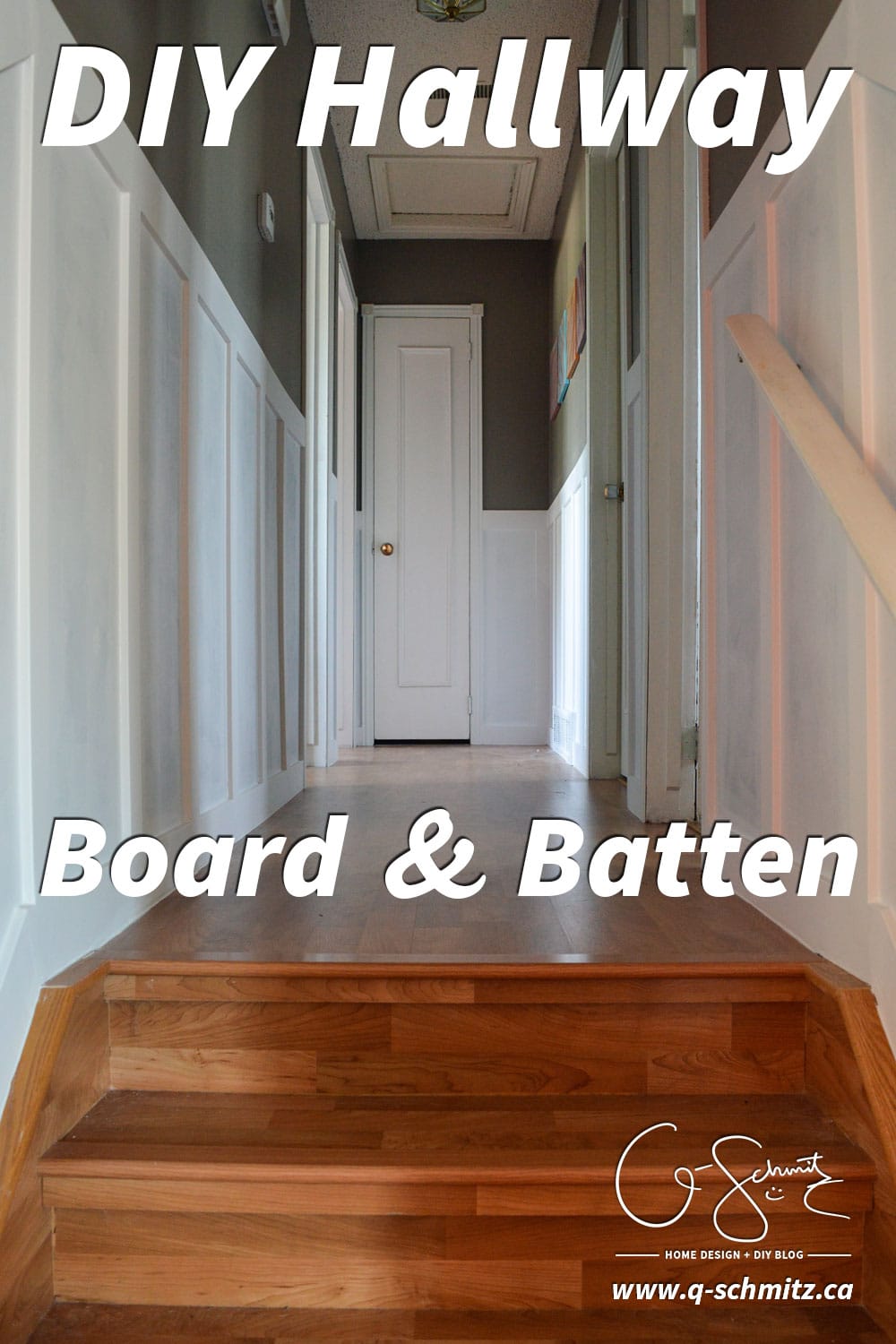 While this isn't an in-depth tutorial on how to add board and batten, I hope I have given you enough tips and tricks to tackle this project in your house!  Adding millwork to a hallway always seems like a good idea, because it's a relatively small space, and it really adds extra oomph to these areas which are usually (and literally) walk-throughs in your house.
Do you have any board and batten in your house, or another type of millwork/panelling?  There are so many different styles, and almost no limits to what can be achieved with a few coats of paint and some trim!