It's that time of year again… the Spring One Room Challenge is back, and I'll be transforming my brother's boring/beige half-bathroom!  Exactly one year ago we tackled our basement bathroom addition for the challenge, and I'm really excited to see what everyone else will be up to :)  Let's check out some pictures of the space and I'll go over my plans!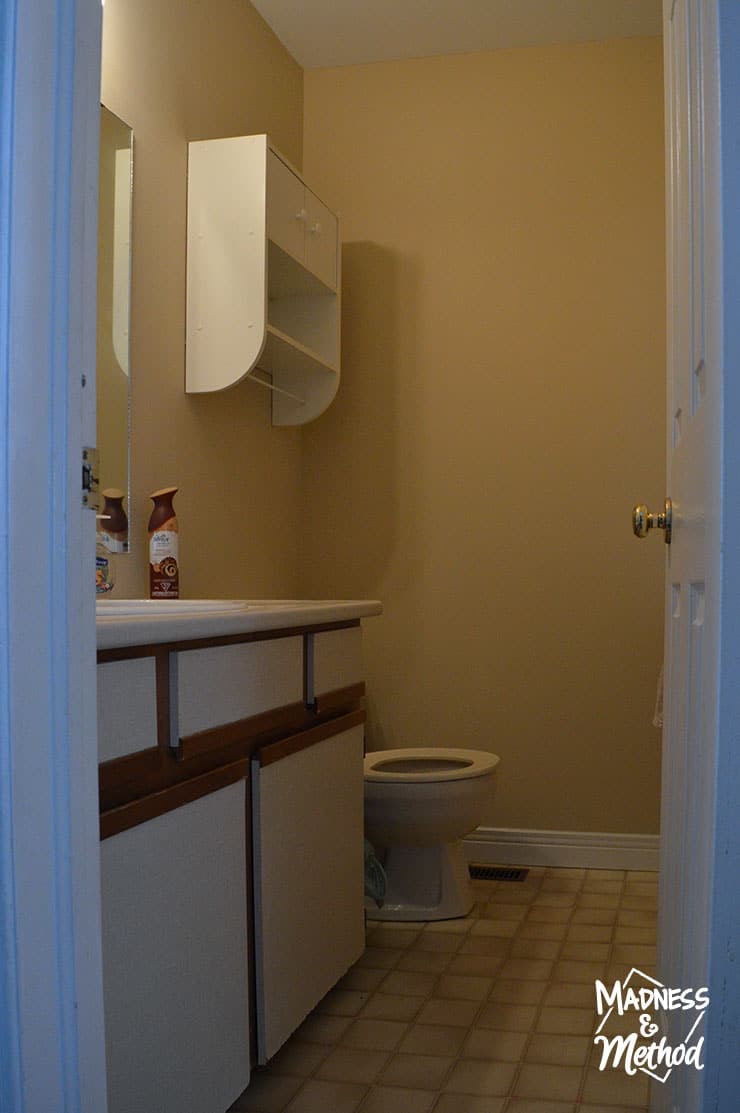 This is a powder room / half-bathroom located on the main floor of my brother's house.  I think the whole house was painted beige, and for the bathrooms they decided to go beige on beige on beige.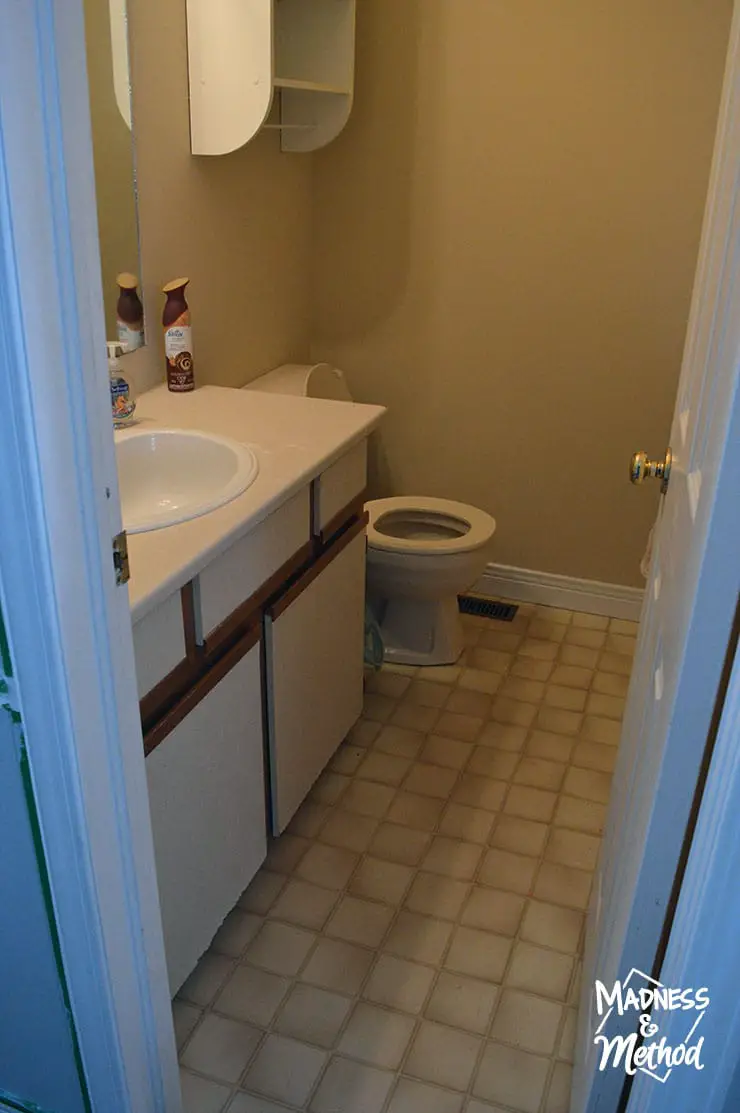 I'm planning on updating every single surface of this room, and we're going towards the grayscale instead.  To keep costs to a minimum, almost all the main elements will be staying in the room, but they will be getting updated with paint.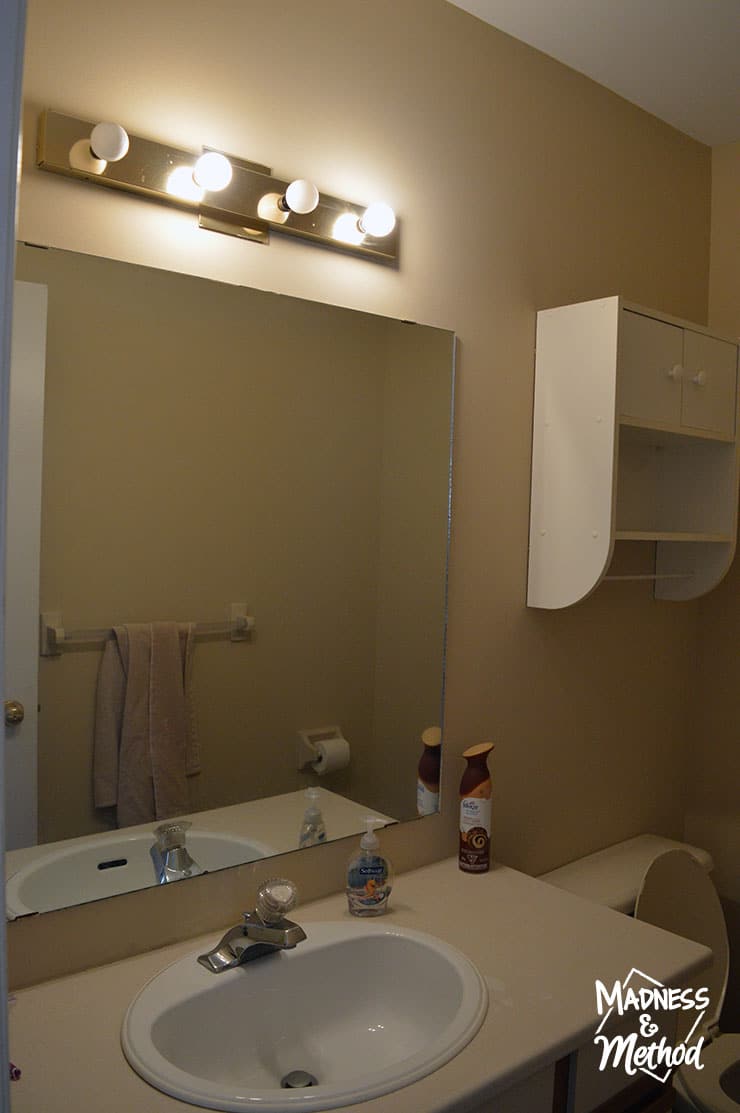 I actually have NO idea how I'll be updating that light fixture, since I kinda forgot about it in my planning stages…  We will be getting a new faucet though (hurray!) and that unused cabinet above the toilet is coming out…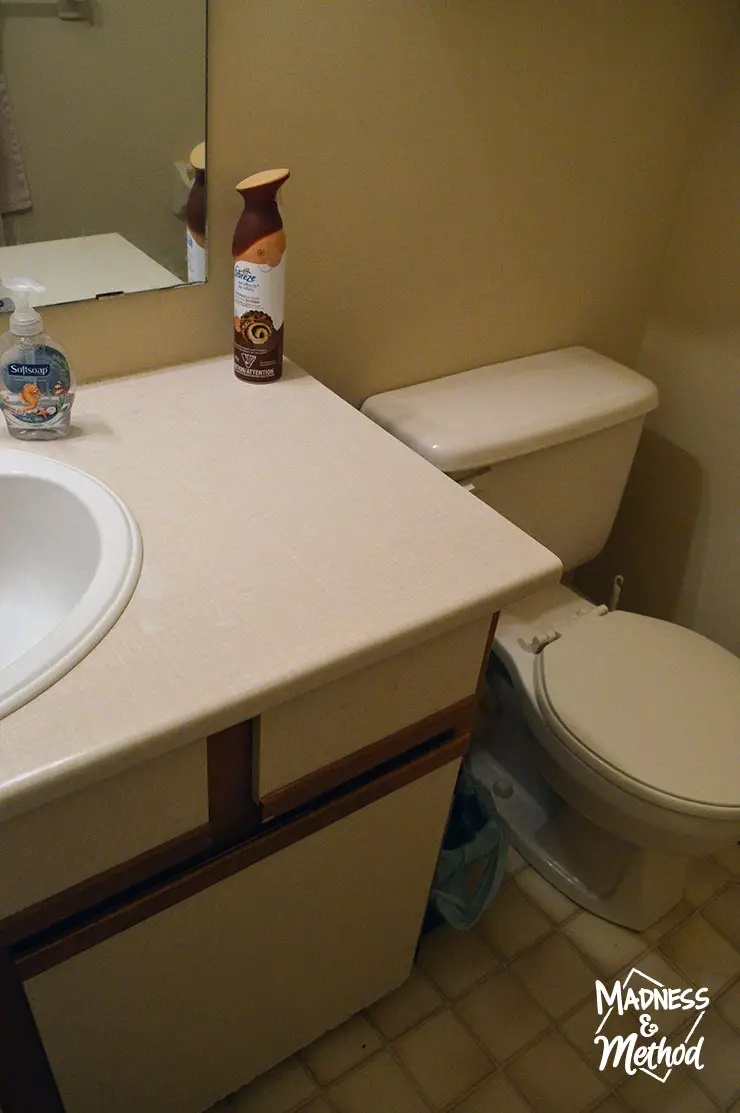 Ha, I'm even planning on painting the toilet white – put that under the "it's so crazy it just might work" category.  Oh and the 80s vanity cabinet?  Going to be keeping everything in place… but will be bringing into this century with the addition of some Metrie trim!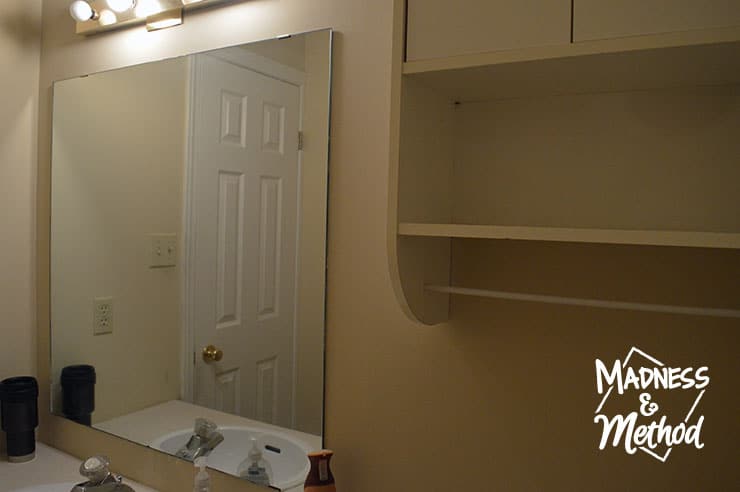 The mirror is a nice size, so I'll be adding a frame around it to make it look more finished too :)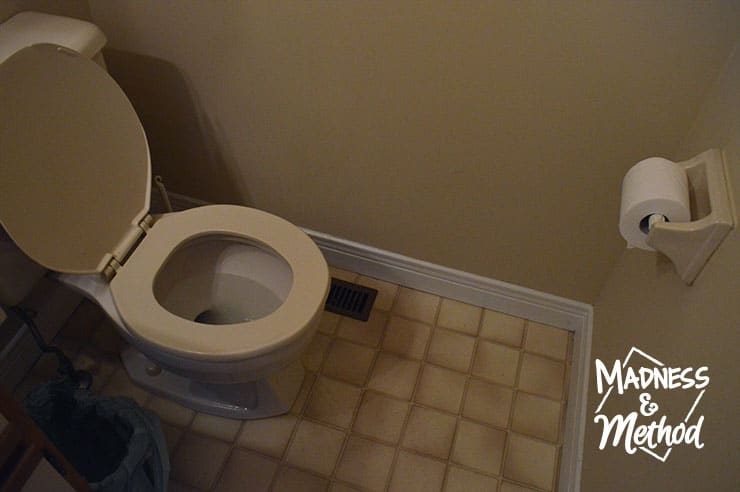 The floors will be getting painted, and I think I'll just clean up the register and paint that too.  Like I said, everything is getting some sort of update!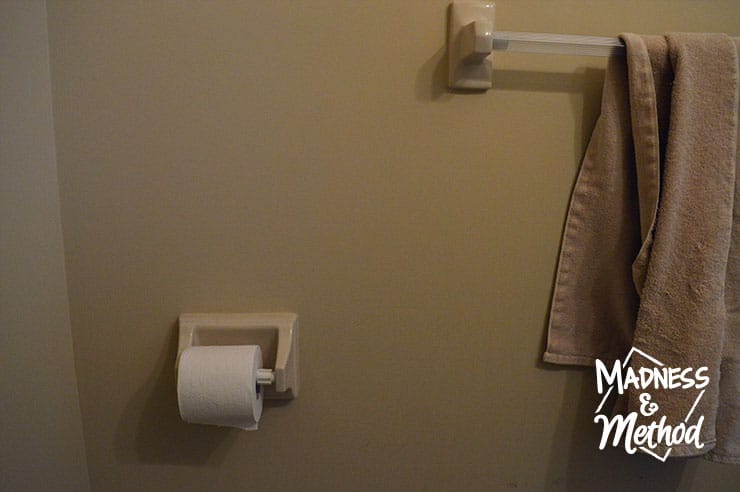 Even the old toilet paper holder and towel bar was beige (actually, I think they colour matched the paint to these fixtures and then loved it and painted the whole house!).  We'll be taking these out, and I'm planning on adding some cool custom prints on this wall.
Bro's Budget Bathroom Tasks
Remove toilet paper roll + towel rack
Remove cabinet above toilet
Patch, sand + prime holes
Remove mirror (save to put back up after)
Remove baseboards
Paint walls gray
Remove toilet
Paint toilet
Clean floors
Paint floors gray
Fancy floor paint
Cut + install baseboards
Tape wall pattern
Reinstall toilet
Paint wall pattern
Remove cabinet lips/wood pieces
Install cabinet framing pieces
Patch, sand and caulk pieces
Paint cabinet
Install cabinet hardware (need to buy still)
Remove old faucet
Reinstall mirror
Cut + install mirror frame
Paint countertop (+ clear coat seal)
Clean and paint register
Install new faucet
Install towel ring
New light fixture? (either DIY or buy)
Paint touch-ups
Put up prints (need to print + get frames)
When we started our bathroom last year, I literally had everything planned 100%.  For my brother's space, while I knew I would be tackling if for the One Room Challenge, not everything is finalized yet.  (Aka why I forgot that there was a light in there…)
My family is helping on this project (yay!) because there's a tiny little pickle with this renovation…
My brother just happens to live in a whole different city than me!
So, because I don't want to spend the next 2 months at my brother's house, I'll be splitting my time down there and up here… which means that I will have to try and get as much done when I am at his house as possible.  Oh, and we're also finishing his kitchen renovations too (I am used to the driving by now, which takes about 6-7 hours one way with baby!).
Bro's Budget Bathroom Design Plan
The starting point for the room (and the design I emailed him) was my cute custom prints and idea for a patterned wall:
He was not feeling my bright colour choices… and so I sent him a bunch of different combos using the Para 2017 Trend Colours, and this is the final scheme we came up with:
We'll be painting the floors and walls the same light gray colour, but the floors will be getting a cool darker finish to look like tiles.  The countertop will be going a light gray thanks to Krylon; and the faucet will be the Zura Single Handle Lavatory Faucet in Chrome/Matte Black from Delta.
This Project Has Been Sponsored By:
While I've pretty much written down everything we will be doing in that long list above, I'm hoping to still add a few surprises here and there.  (Again, that light fixture will be a surprise even to me!)  Next week I'll share some progress photos of the space, because we did manage to scratch a few things off the long list (and update some line items too).
So stay tuned :)
(And don't forget to check out all the other participants in the One Room Challenge).