Today I'm chatting in detail about our dining room!  I'll dive deep into all the updates we've done, what my dining room inspiration was, and a sort-of-plan of where we're heading.  If there's one thing I'm sure of, it's that this room will change a lot!
– Note: This post contains affiliate links. See more information about affiliates here. –
Our dining room has probably gone through the most mini-changes since we've moved in.  We've been living here for about 5 months, and have  had 3 different tables.  And like 20 million chairs too…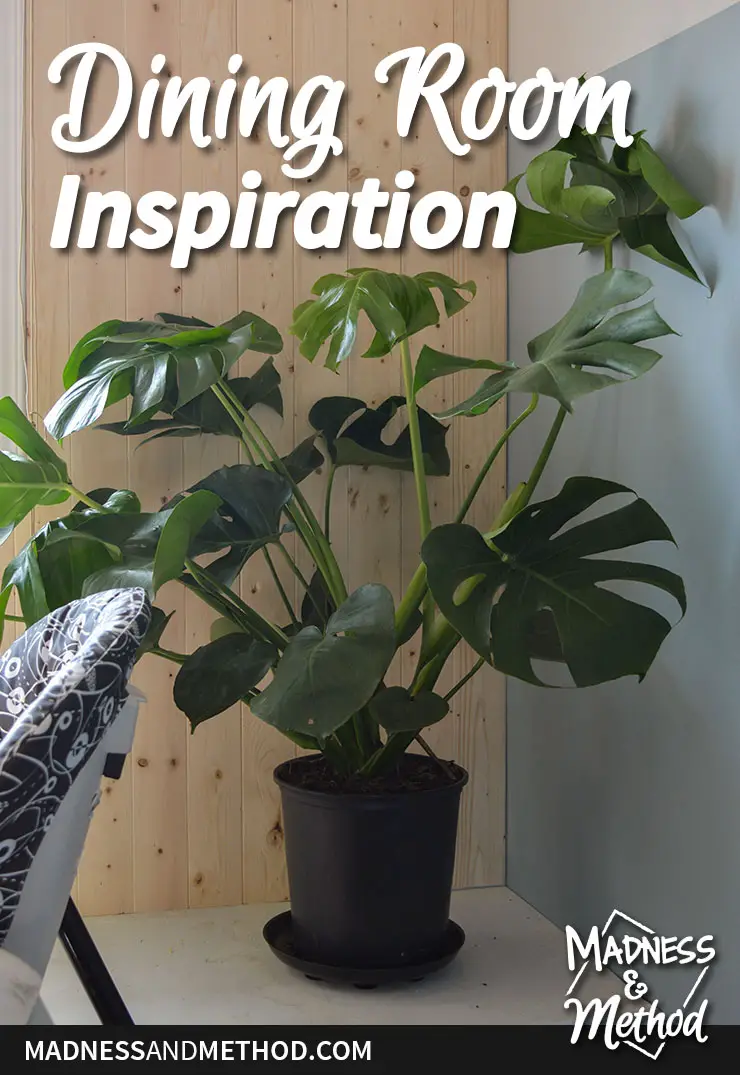 You can see the move-in post for all the pre-furniture photos, and this 3-month check-in to see how we were living here in June.
But let's bring it way back!
Dining Room Progress & Initial Ideas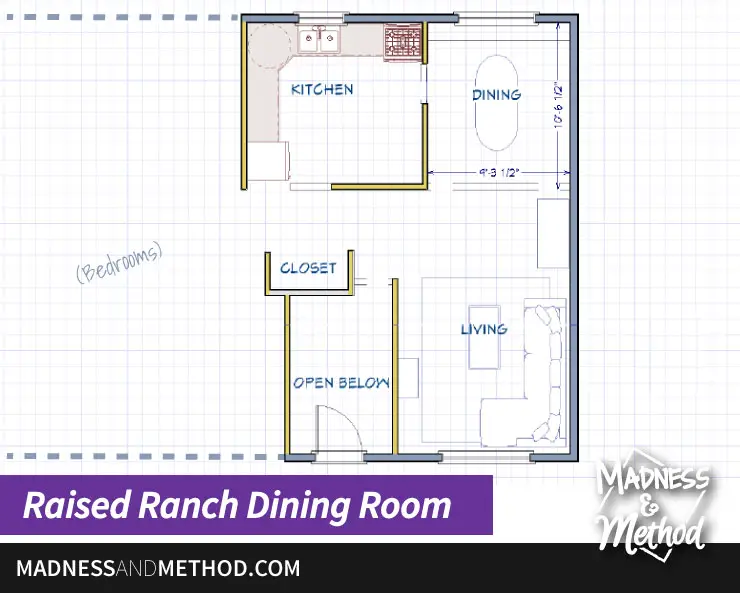 Our dining room is in the north-west corner of our raised ranch house.  It measures just over 9′ wide by 10.5′ (as measured at the kitchen wall).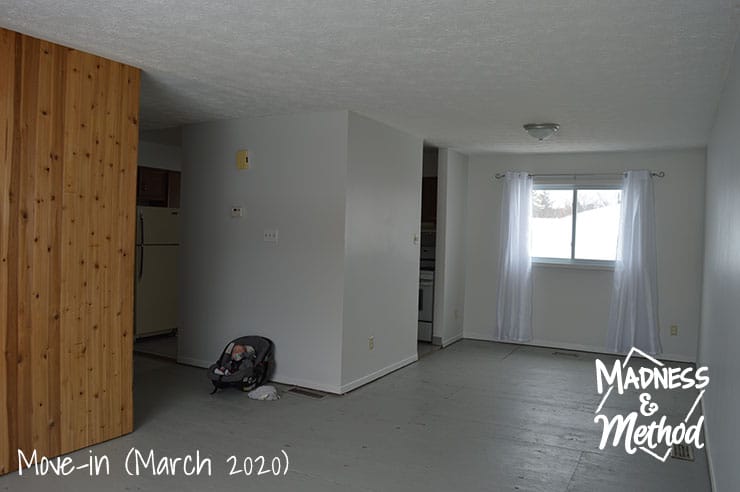 When we took possession in mid-March, most of the upstairs was missing finished flooring.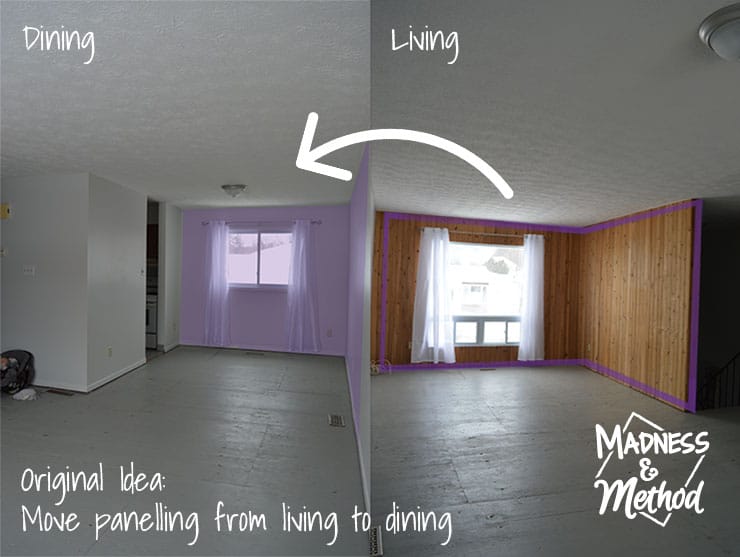 The living room had two panelled walls, and my initial thought was to remove the panelling and swap them into the dining room.  I wanted to create a cozy nook with banquette seating along the two walls.  We plan to remove the walls going into the kitchen, so I'm ignoring those for now.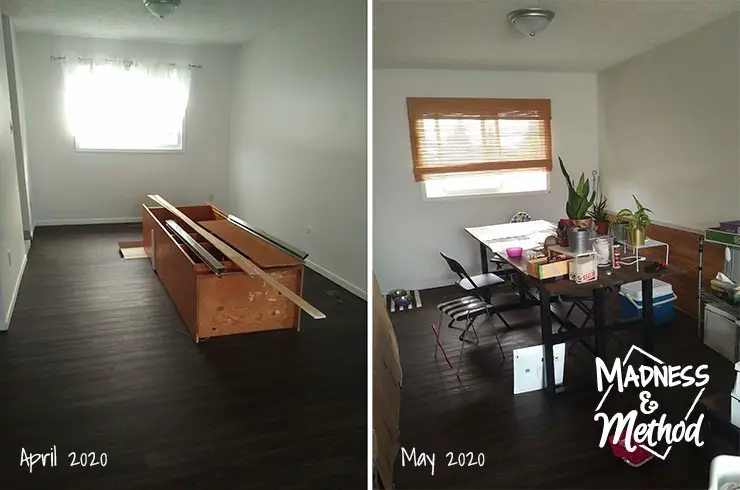 We had dark wood-look vinyl installed before we moved our furniture in, and we will add this flooring throughout the whole main level.  Once those were installed, we slowly started moving in our furniture.  (And yes, that's the last blind leftover from the old basement).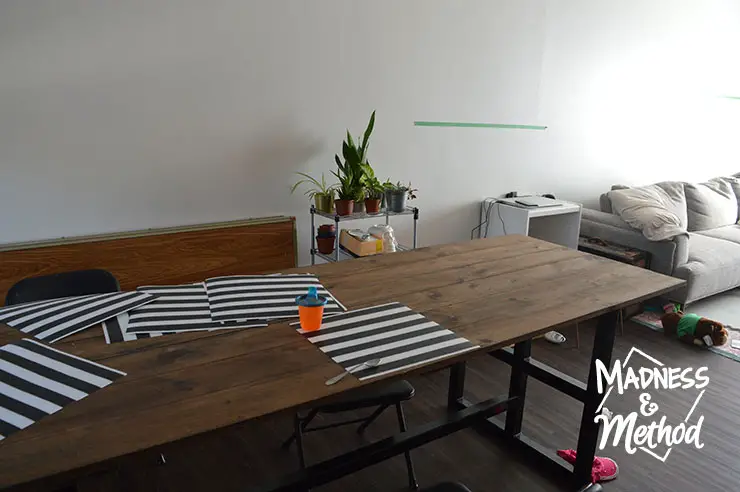 Our wood and metal dining table (we stored it in the old basement crawlspace) was too big for this space.  We had made it custom for a tradeshow, and are going to try and sell it now.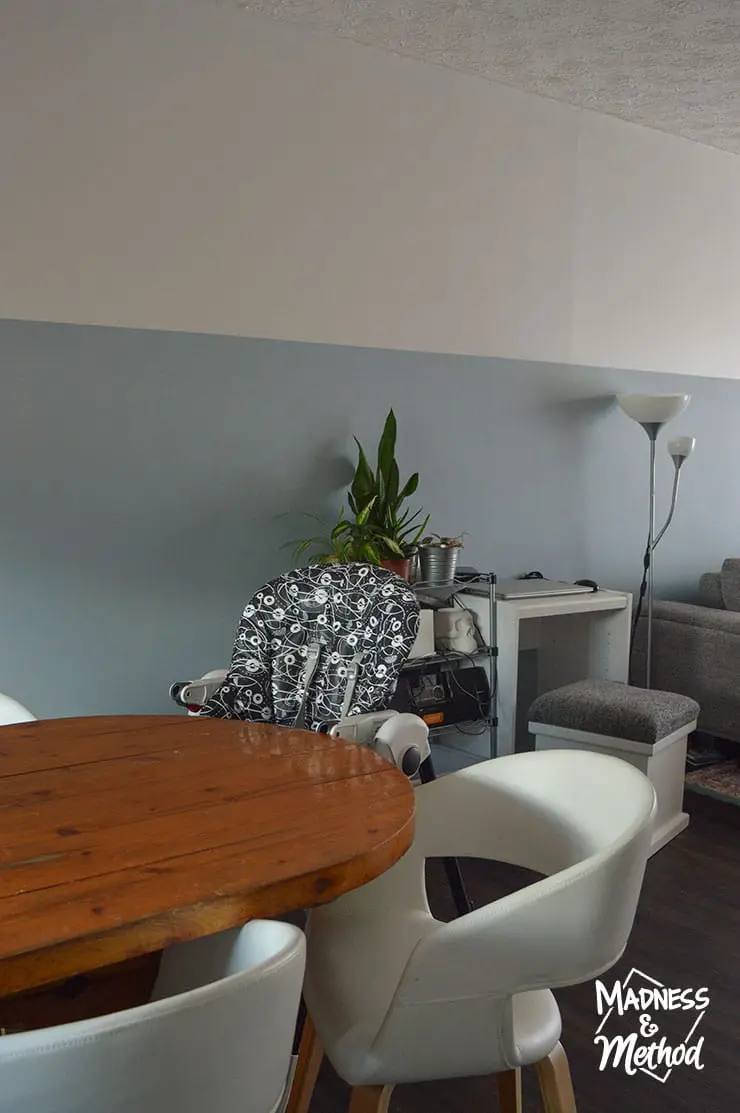 In early June, I picked up a secondhand table (and some new chairs) for the space.  Up until now, we were using folding chairs (and sometimes the card table).  I knew I wanted an oval table, and this one had the perfect dimensions.
(And you can see the old office set up before I got my desk and shelves up).
Looking for a wood oval table?  Here are some similar options:
If you live in Canada, you can buy the same dining chairs I have here.  If not, here are some similar options:
Anyways, let's get to the floating bench we added.
Building a Floating Bench
To move in this direction, I thought it would make sense to build a floating bench.  I didn't want to fully commit to the corner bench (in case we hated it) because I figured it might be hard to get in.

Using my Kreg pocket hole jig, I screwed holes into a bunch of 2×4 braces.  These were attached to long 2x4s that we had screwed into the studs.

Our floating bench is just over 9′ long, and I wouldn't necessarily say it's the sturdiest.  It's fine for the kids and one adult, but I think we need to add bottom braces to sit more adults.  I just added some MDF panels on top and primed them white.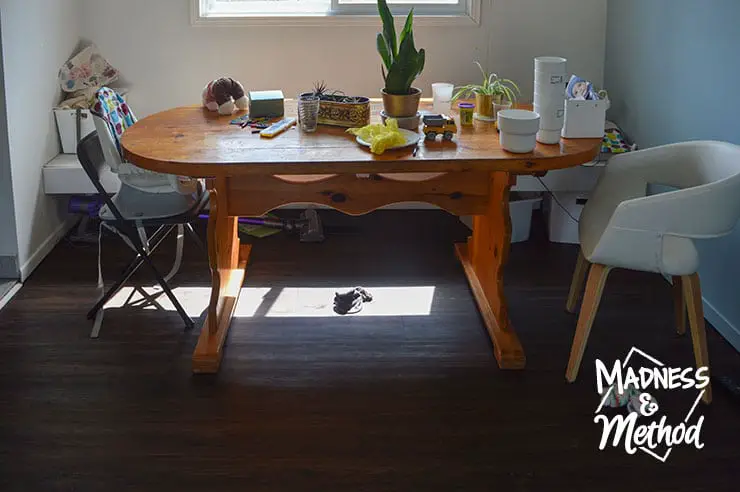 After living with the bench for a couple of months, I don't think I want to add the other side section.  I've since painted the long wall with a block of blue, and the "cozy corner nook" doesn't fit my vision anymore.
Oh, and here's a photo of the dining table turned in the other direction.
Adding Panelling and Chairs
This past weekend, I installed some simple tongue and groove panelling vertically.  I was still planning on taking down the panels in the living room (behind the curtains), but the Husband said it wouldn't fit AND be more work than it was worth.  (The wall behind the TV has grown on me – so it will be staying intact).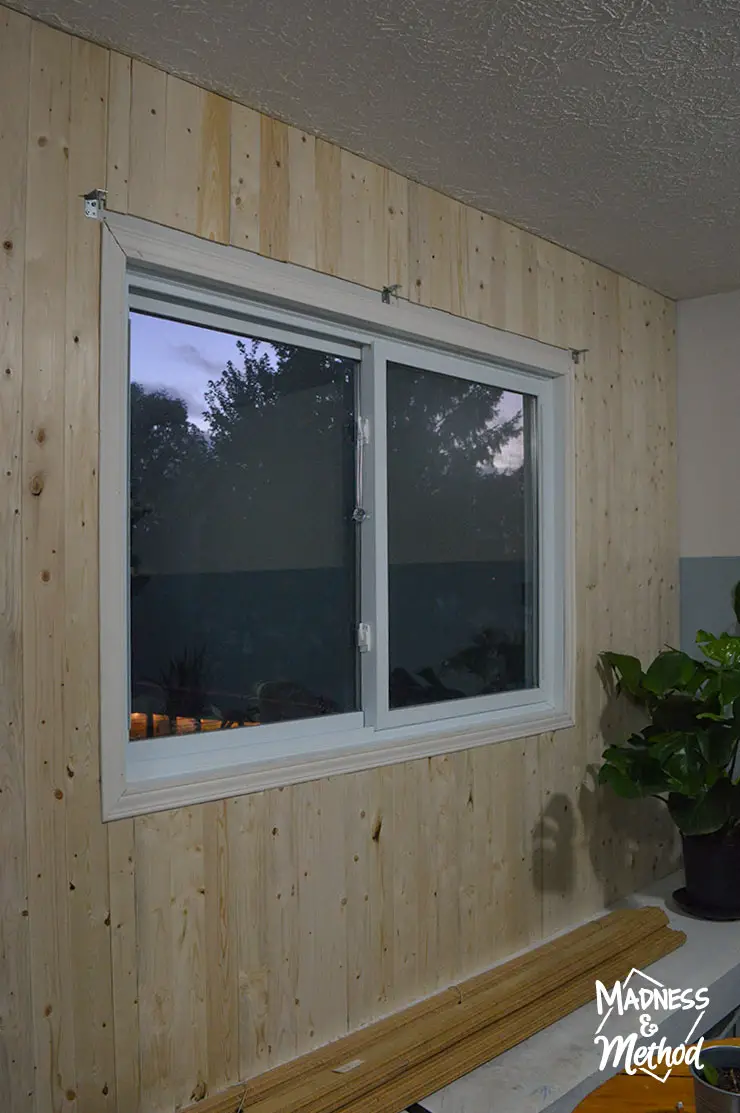 I only installed the panelling above the bench and didn't go all the way down to the window casings (the blinds block that part).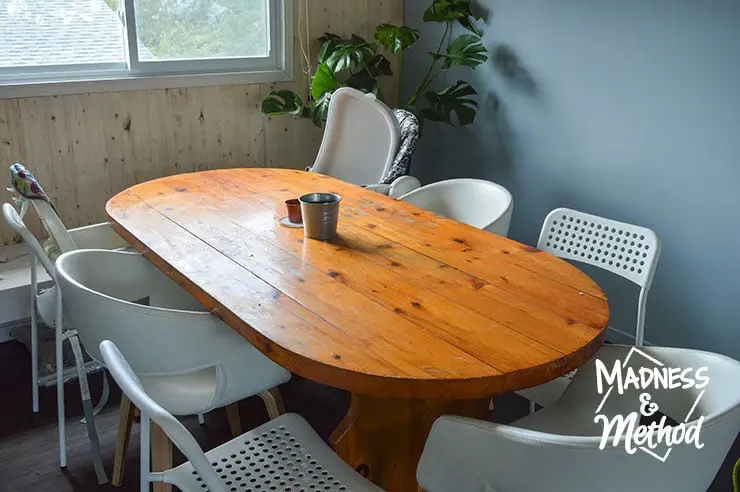 We also picked up some of these chairs at Ikea a couple of weeks ago.  I bought 4 but only built 3 because the highchair takes up a spot.  (We also have a booster-type highchair installed on one).

Do you know what I realized?  7 chairs is way too much for this table!  I mean, they all fit… but we're only really 5 people, so I find we do a lot of chair shuffling at mealtime.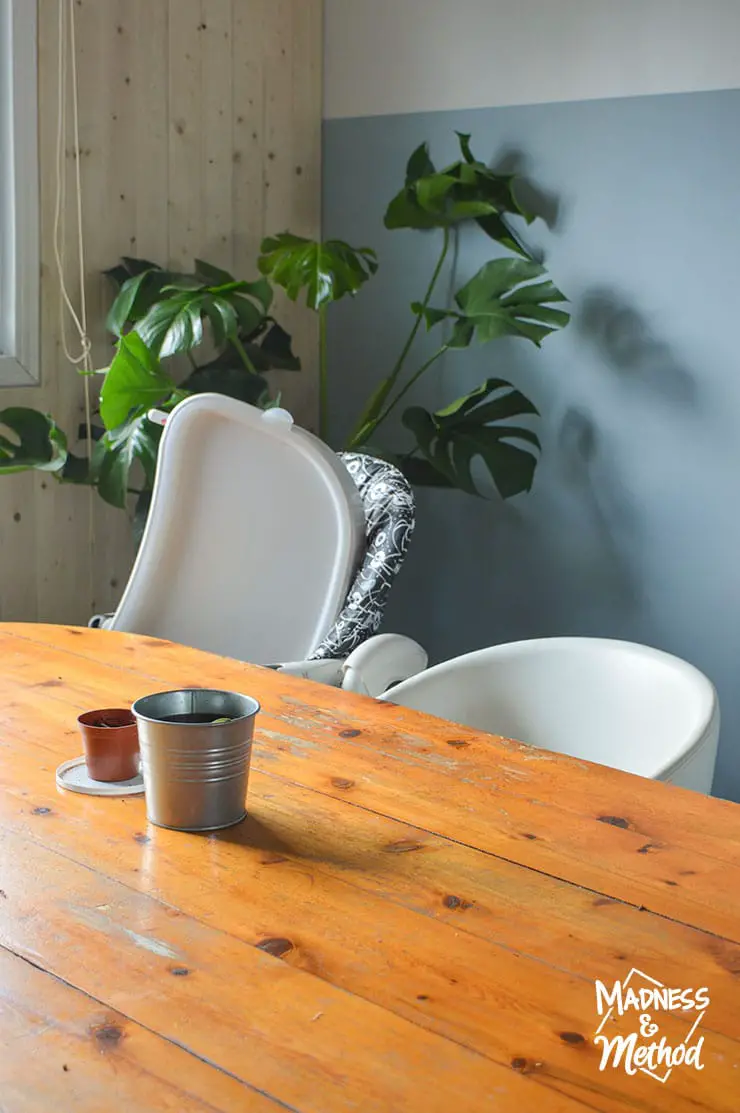 I think that I'm going to replace the four Ikea chairs with 2 more of the original white chairs…
OR should I get two different style chairs?  One for the head of the table, and one for my desk?  (Because that's where the other one is FYI).
PS: this is the original style chair that the Husband wanted.  I wasn't quite convinced that a non-wipeable fabric was good with kids after our last debacle.
(You can wipe off crayons from the chairs we have now.  Ask me how I know.)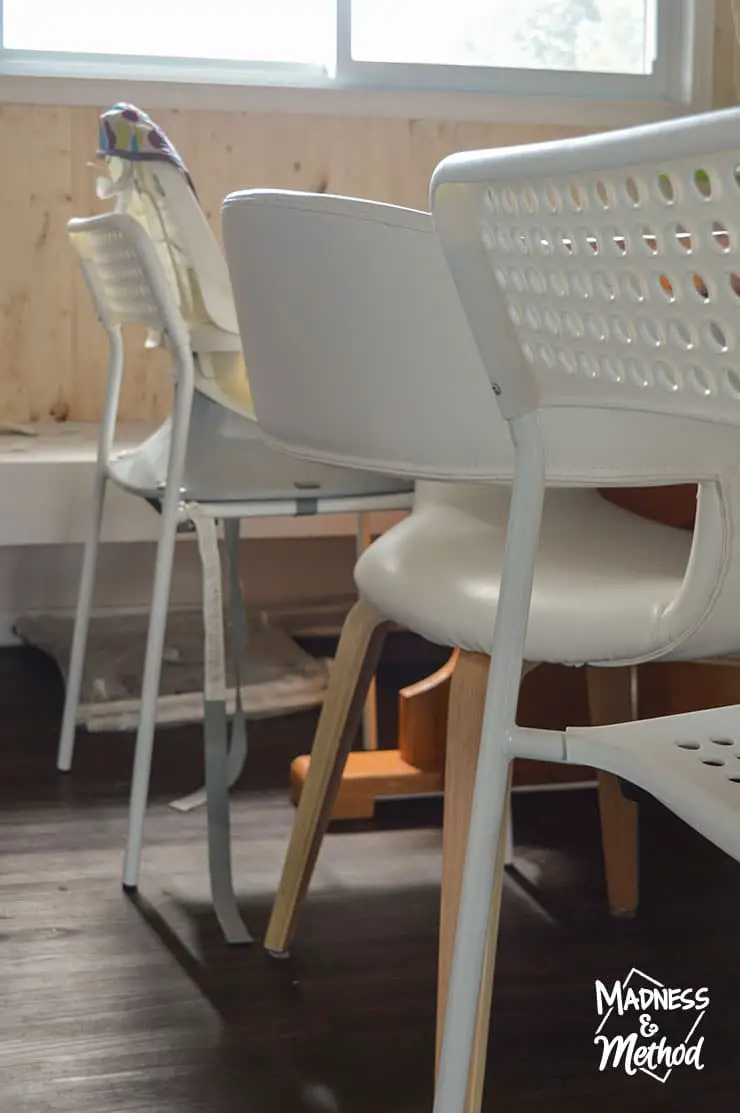 One thing that is holding me back from replacing the Ikea chairs (other than the fact that we just got them).  Is that we do still need to hold the booster seat.  It fits on the folding chairs, so I could always use that for the next few years…
Where We're Headed…?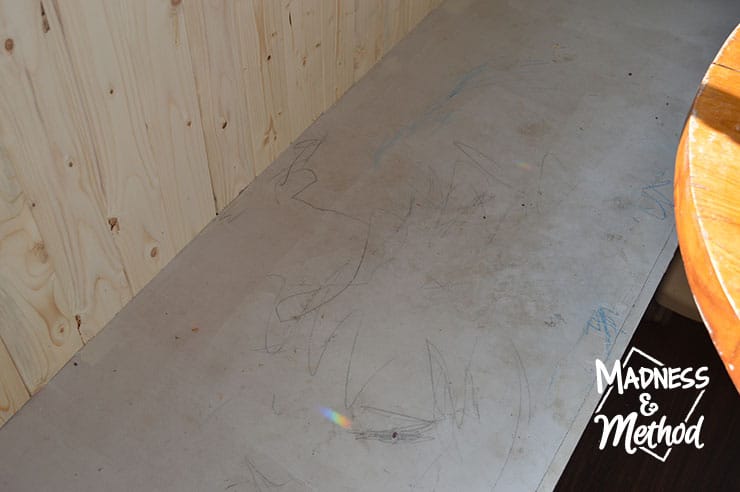 In equally important news, the white primed bench is not looking so lovely.  The kiddos coloured everywhere, so it will need to be addressed.  (I mean, it was only primer at this point, I still need to sand the patches and re-prime).
BUT it has me wondering if white is the best colour…  I was also going to get bench pads that are no longer available to sit on top.  So that might solve some issues.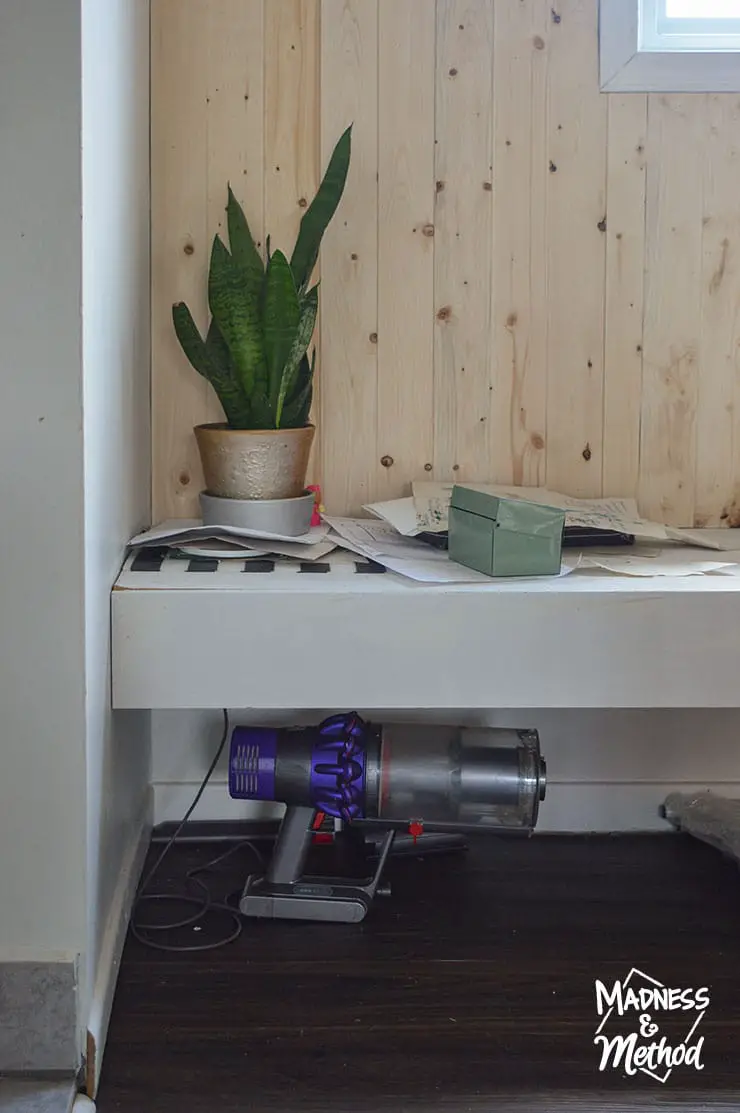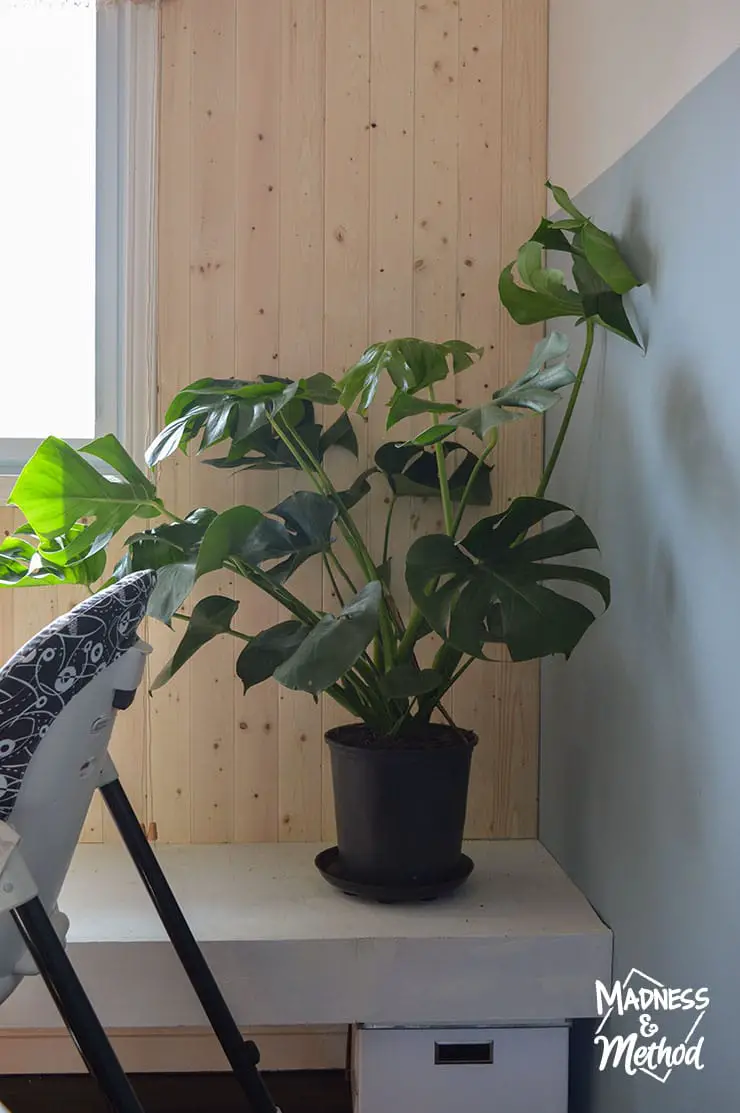 Otherwise, the bench is kind of a catch space for some of our junk.  I do keep my vacuum plugged in underneath, so that's been handy.  AND I do like another spot to put my growing plant collection.
But I'm up for suggestions, and have a ton of questions: 
Should we paint the bench black, or keep it white?  Something in between?
What about a pad?
Would you get 2 matching chairs, or switch up the style?
Some of the things I will decide in the future: 
The colour of the panelling.  I've kept it natural for now, but the idea is that it's going to either be stained or painted.  I'm waiting on finalizing the design decisions for the kitchen because it's going to depend on that.
Same goes for the table.  It's in rough shape for now, but I knew the kids would abuse it, so I'm not worried too much.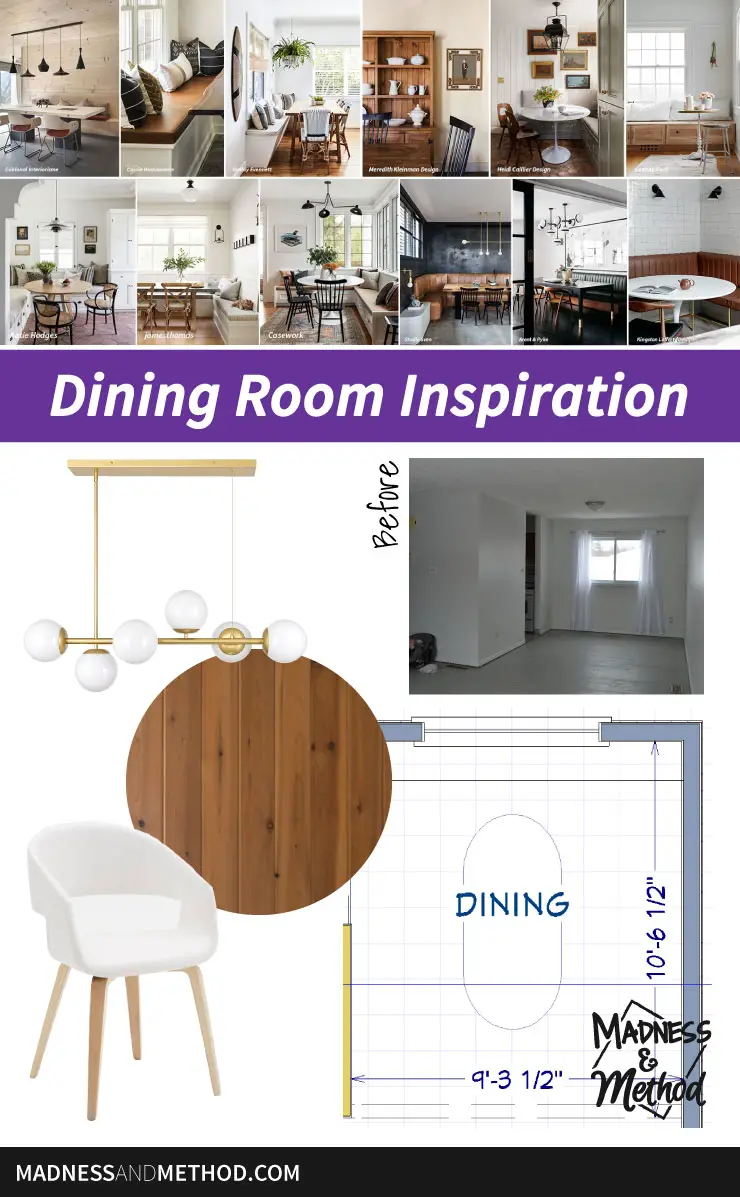 One thing I know for sure, we'll be using this light fixture!  I found it a couple of months ago after browsing for something similar.  I've been into globe fixtures lately (I think that's the correct term?) and this one has everything I'm looking for.
ie: linear/long to stretch over the table, not symmetrical/inline, AND the electrical cable isn't perfectly centered.
While we wait for that, let me know your thoughts/suggestions on everything else!