We went to Ireland!  The Husband had actually wanted to go to Ireland (or another English speaking country) since our honeymoon in Rome.  We found a Groupon deal, invited some friends along with us… and just happened to go during the craziest time of year: St. Patrick's Day!  (It totally wasn't planned that way, it just happened to fit in with March Break this year).  I'm sharing what we did for the week we were there – so hopefully there are some great tips if you're planning an Ireland vacation yourself :)
Planning a trip to Ireland?  Check out Ireland Family Vacations for lots of great info and tips.  Especially the part about the rental insurance :)
Getting to Ireland
With the Groupon we bought, there was the choice of a couple different departure cities.  We chose Chicago, because it was a sort-of close drive from my parent's house down in Southern Ontario.  They were taking care of the mister and Tootsie while we were away, so we had to drive by their house for those two!  We left their house on a Saturday morning, drove to Chicago then flew to Ireland via Philadelphia.  We got to Ireland on Sunday morning, picked up the rental car (the line was crazy long!) and headed to our first stop.  (I should mention that the Husband and I are super good at falling asleep on planes, and I did not have any jetlag because I pretty much slept the entire time).
Guinness Tour, Dublin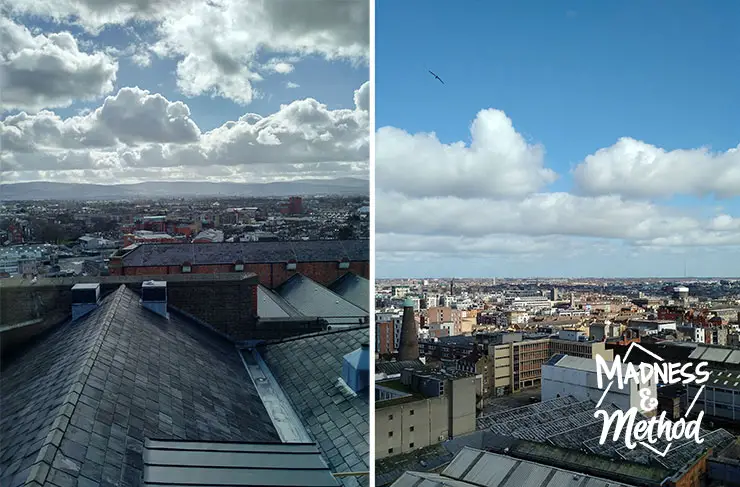 Our first stop was the Guinness Beer tour.  With the Groupon, we had a bunch of tour vouchers and this was one of them – we weren't staying in Dublin the first night, but figured it was easier to get this tour out of the way since the next time we would be in Dublin was on March 17th (aka St. Patrick's Day).
I was the driver for the entire week, and getting used to the right side was a bit odd at first!  Driving in a city (turning often) was definitely the hardest, and the only hiccup was not accelerating fast enough when the light turned green.  (Our vehicle had an eco-option that turns the car off when you are idling, so that was probably the slowdown haha!).
Kilkenny, Ireland
Supper: Matt the Millers
Sleep: Aspect Hotel Kilkenny
Pub: Kyteler's Inn
Lunch: Paris Texas
The main feature of the Groupon was that we could stay at any B+B we wanted, and we had a rental vehicle to drive around the country.  The first night we were in a hotel, and we walked around Kilkenny for a bit.  The next day we checked out the Kilkenny castle, then went to the Smithwicks Brewery Tour (did I mention that I don't drink beer?).
I think we spent the most leisurely time in Kilkenny, and I really liked walking around the different areas.  Check out those cool entrance doors!
Cork, Ireland
Supper: Quinlan's Seafood Bar
Sleep: La Cita B&B
Lunch: Murphy's Bar?
The second night we spent in Cork, at our first B+B.  We were originally planning on heading out to the Waterford Crystal factory, but we got delayed starting the Smithwicks Tour (Ireland Vacation Tip: The tours start every hour on the hour, we didn't know so had to wait for the next one).
The next day, we stopped at the Blarney Castle and each kissed the stone (Gross fact?: I heard people pee on the stone… we took the chance anyways).  The castle was definitely the oldest/in ruins of the ones we visited, and we could have spent all day in the gardens.
Seriously, the grounds/gardens were super nice – and there were some long trails that would have taken us at least an hour or two to go through.  We checked out some of the more popular spots (like the poison garden!), then left for our next destination.
Killarney Park, Ireland
Apparently, the "Ring of Kerry" is a very popular tour/road to see.  We didn't have time to do the entire thing, so we just checked out the Killarney National Park instead.  After driving uphill a tiny road (the norm in Ireland!) we got stopped at a road block and ended up turning back around.  (There was another road to continue, but we decided to head to our next destination instead).  At the road block, there was a super cute (well-styled) store with super fancy chocolate bars and the nicest tiled bathroom (obviously things I would notice haha!).
Limerick, Ireland
Supper: Clancy's Bar & Restaurant
Sleep: The Old Bank
Lunch: Bunratty Village
Technically, the next B+B we stayed in was in Bruff, a short drive to Limerick.  It was actually the most urban-y located place we stayed, and the guys liked that they could walk to different pubs while us ladies relaxed haha!
We were right near Ireland's oldest stone circle, so we stopped and took some pictures.  I should also mention that it was at this point of our trip that I got a huge cold, and I could no longer taste or smell anything :(
We had vouchers for Bunratty Castle and Folk Park, and it was interesting to see the different castle and village houses.  I'd say this castle was a "mid-range" style, not as fancy as Kilkenny Castle, but not as decrepit as Blarney.
Cliffs of Moher, Ireland
Up until this afternoon, we had surprisingly nice and sunny weather for our Ireland vacation.  By the time we got to the cliffs, it had cooled down, and it was considerably windy up there too!
Because of that, we only really walked along the one side – but you could easily spend a lot more time there. In fact, there are walking trails to the different cities along the coast!
Galway, Ireland
Supper: Keanes Bar & Restaurant
Sleep: Castle View House
Lunch: Italian…
By the time we reached our third B+B, we were pretty tired!  After a dinner out in the nearby area, we stayed in and played cards.  My cold wasn't any better and thank goodness no one else caught it while we were gone.
We spent a good part of the next day walking the streets and shops in Galway, and the cloudy skies and bouts of rain continued.
Kinnity, Ireland
Supper: Kinnity Castle
Sleep: Ardmore House B&B
We chose this location because it was midway between Galway and Dublin, our final destination.  We ended up eating supper in the castle because it just so happened that it was the only nearby place.  They were having a wedding at the time, and we couldn't find the entrance (and didn't want to disturb the ceremony) and somehow ended up coming in through the dungeon bar.  Dinner was served in the library (how fancy!) and we went back to the B+B to relax and prep for the next BIG day.
Dublin Ireland (St. Patrick's Day!)
Lunch: The Long Stone Pub
Supper: Can't remember the name…
Sleep: Airport…
Our flight was the next morning (March 18th) AND about a week or two before our trip I realized that we didn't have any B+B booked for the night before (aka St. Patrick's Day).  I remember there being only a few options when we originally booked everything, yet for some reason it said we double-booked for the 16th instead…  After frantically trying to get a hold of the B+B booking website, and the tour provider, I finally got a hold of the website people – and guess what: everything was booked (it being the most popular night of the year of course).
Since our flight was early the next morning (and we had to return the rental car anyways) we decided to stay at the airport.  Oh, I should mention there was a room available at a hotel airport – but it was over 300EU for a single bed… so we would have needed two.  Not happening!
I think the parade started at noon, so we tried to leave as early as possible to get there on time.  We decided to drop off the rental car at the airport (and leave our luggage there) so we wouldn't have to deal with driving and parking in Dublin on this busy day.  We took a bus over to the city and got in around 12:30pm.
Nevertheless, we managed to find an open street and watched a good portion of the parade (apparently it's hours long though – we maybe saw 20 minutes max?).  We were hungry by then and tried to find somewhere to eat.  Ireland Vacation Tip: almost none of the pubs serve food on St. Patrick's Day.  We found one that had a buffet, and thank goodness there was a free table available too.  A while after we got there it had started raining pretty hard outside so a lot more people came in and it was packed!
We ventured back out and checked out some local areas and attractions.  Some of the more central spots were crazy populated, so if you don't like crowds, it might be better to stick to the outskirts.  A large part of our day was spent trying to find where the heck the bus stop was to get back to the airport.  Because of the holiday, the routes were altered and the place where we got dropped off was not where the pickup was… After walking around the streets following the phone directions forever, we miraculously found a bus stop and headed back to the airport.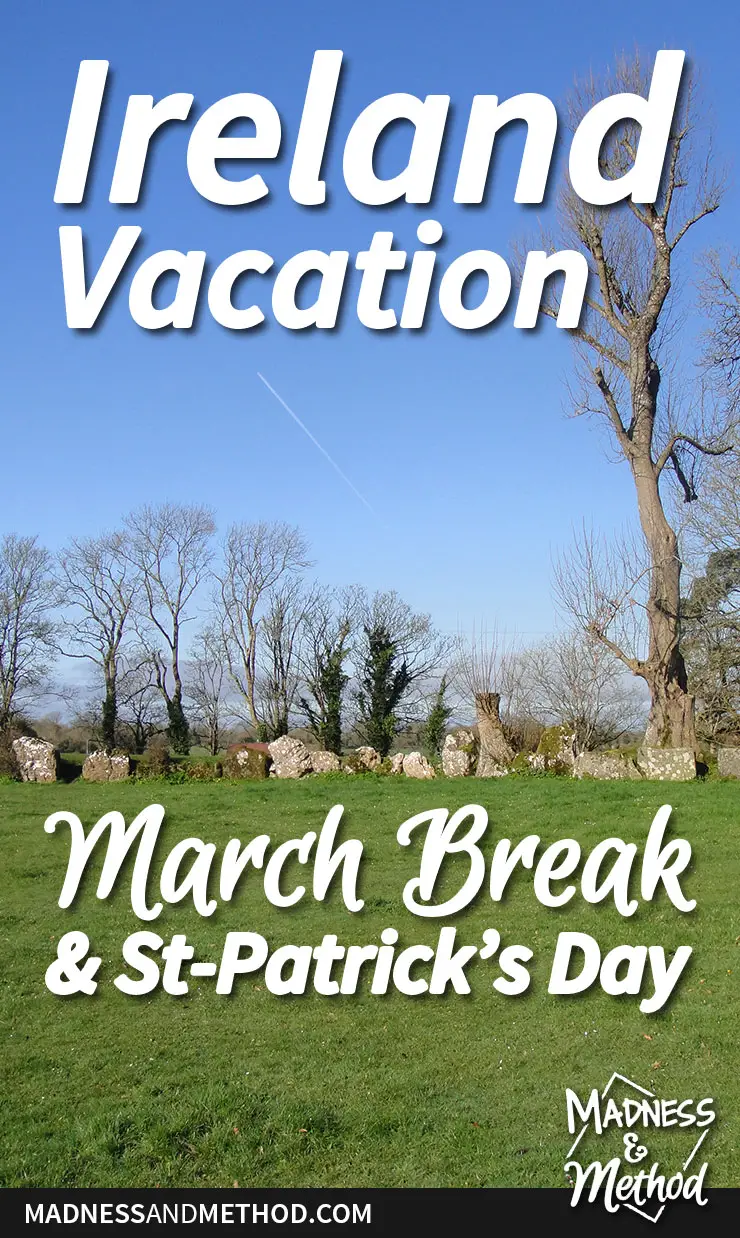 Going Back Home
I should mention that we had a wifi unit with our rental vehicle, but unfortunately it stopped working a day or two into the trip.  Thankfully all the B+Bs we stayed in had wifi, so we could access/download maps ahead of time to make it to the next destination (except one time, when we missed the exit on the motorway…).  For days when we were stuck, the Husband had to turn on his data (oh the charges!) and he directed us.  Oh, and a friend from his high school was in Ireland at the same time so we met up in Dublin!  How cool is that?!
Unfortunately I didn't get any sleep in the airport… but I blame that on the Husband, other tourists, and the fact that they served beer all. night. long.  Thank goodness I'm a good plane sleeper, because I was out for both flights back.  Oh, and my cold?  Still full-on at this point, and if you've ever had to ride a plane with allergies or a cold, then you know how bad the pressure change can get.  My ears didn't un-pop for another 3 days!
We arrived back in Chicago, then drove to my parents for a nice long sleep.  And, because we had the time change here while we were gone (Ireland's time change is another day) – we had less time difference to get used to!
And of course, we picked up the dog and the baby and drove back to our house :)
I definitely needed a vacation (from the Ireland vacation!), but I had to get right back into our basement renovations… so that's why it took a bit to get to this post haha :)
Long story short, would we go back to Ireland: of course!  And since our first time was pretty much like a tour of a bit of everything, we could always pick a spot or two to focus on next time.