Before I dive into today's post where I have counted (and will be sharing with you) the amount of clothing and accessories I have (if the title didn't give it away) I want to mention that I will be giving you this same challenge too.  So keep in mind that I want everyone who is reading this (yes, that means you!) to count their own piles of clothes/accessories too.  Okay!?  Let's talk about me for a bit…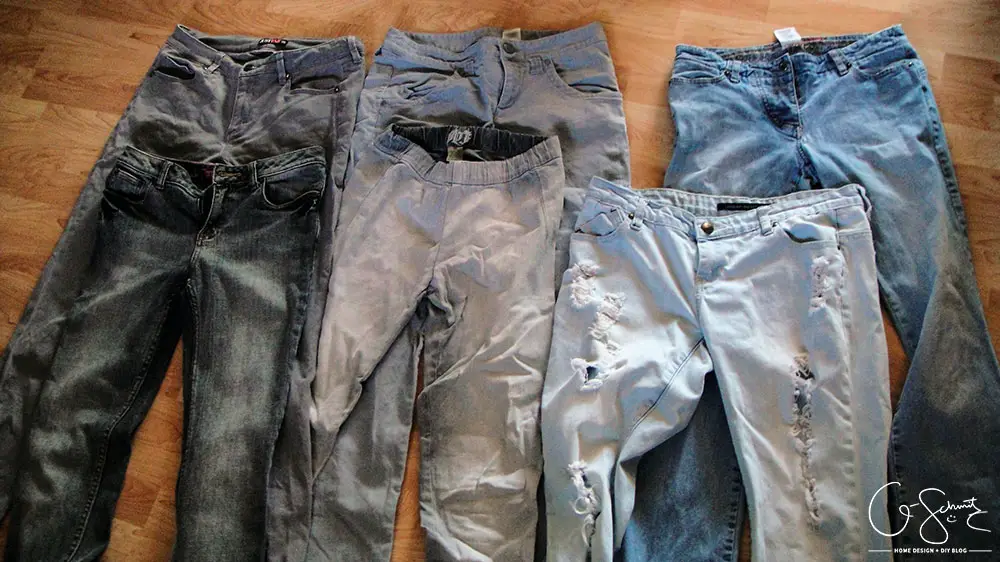 To start – let me mention that the photos used in this post are of items that I have already (or mostly) gotten rid of.
I can't believe I have this much clothes.  I mean… I got rid of so much stuff already – but I just counted everything the other day, and this number is huge!  Which is not a good thing; because I feel like I am sooo far from being a minimalist it isn't even funny.  Minimalists probably look at this list and think I am a hoarder.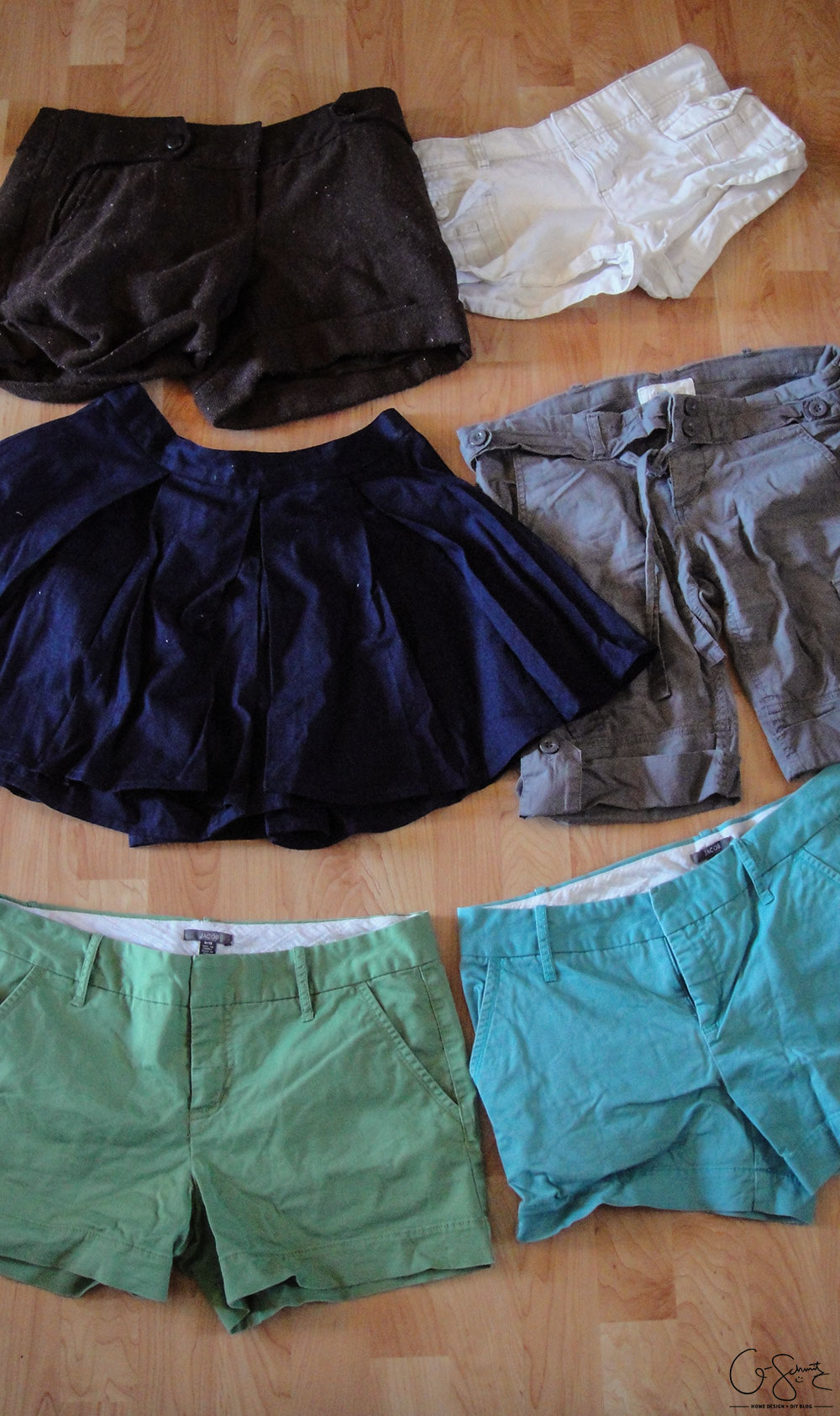 I originally counted the list of clothing items I had a few years ago for a post on my personal blog.  I was comparing my list of items to the "100 things challenge"; wherein you live with only 100 items.  My breakdown had different categories, and this time I included a few more types of clothing.  Back in 2011 I had 512 items of clothing – and I didn't consult my original list before I had started this recent clothing counting (so some of the categories don't match up).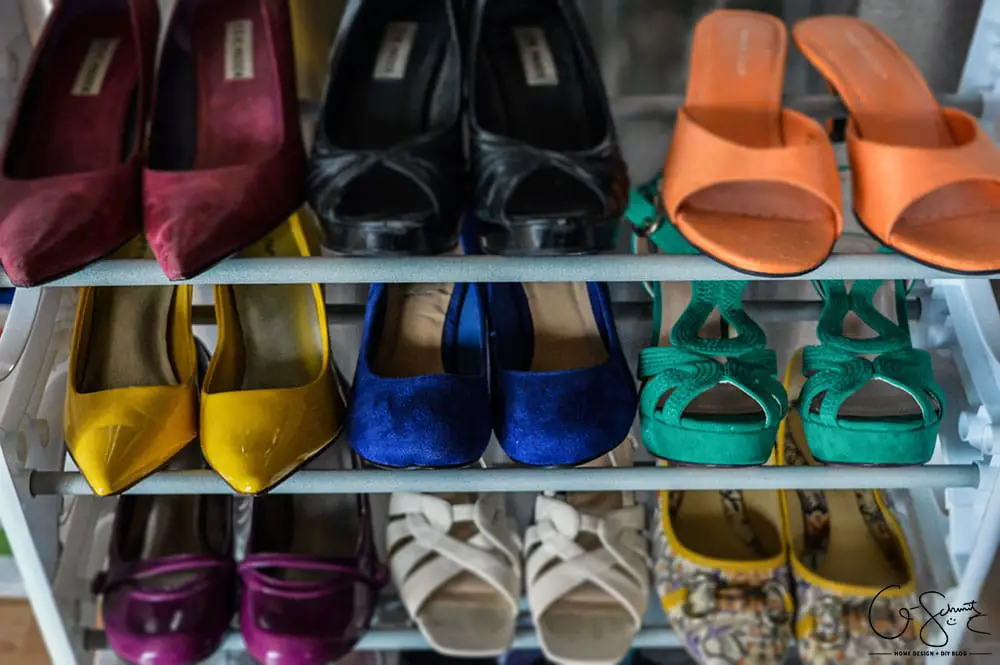 Without further ado, here is the breakdown:
Sweaters: 27
Tee Shirts: 30
Tank Tops: 38
Button-Up Shirts: 12
Long Sleeves: 16
Workout + PJ Shirts: 20
Workout Pants: 8
Workout Shorts: 11
Regular Shorts: 12
Skirts: 18
Dresses: 16
Pants: 10 (+3)
Leggings: 8
PJ Pants/Shorts: 11
PJ Sets: 6 (also includes longer nightgowns)
Undies: 66
Bras: 20
Pairs of Socks: 55
Belts: 14
Tights: 25 (ish)
Bathing Suits: 13
Pairs of Footwear: 21
Hats: 3
Purses: 10
Coats: 7
This equals a total of 480 items!  Give-or-take a few miscounts of course.
Assuming each item cost 5$, that would be a whopping total of 2400$ spent (some obviously cost less, and some cost more – but that's a good starting average).
This list does not include:
Halloween specific outfits/accessories… so maybe add another 5-10 items?
Winter accessories (toques/scarves/mittens)
A HUGE PILE of shirts I have stored away (that I will be using in a future project)
A few boxes + bags left of clothes I need to donate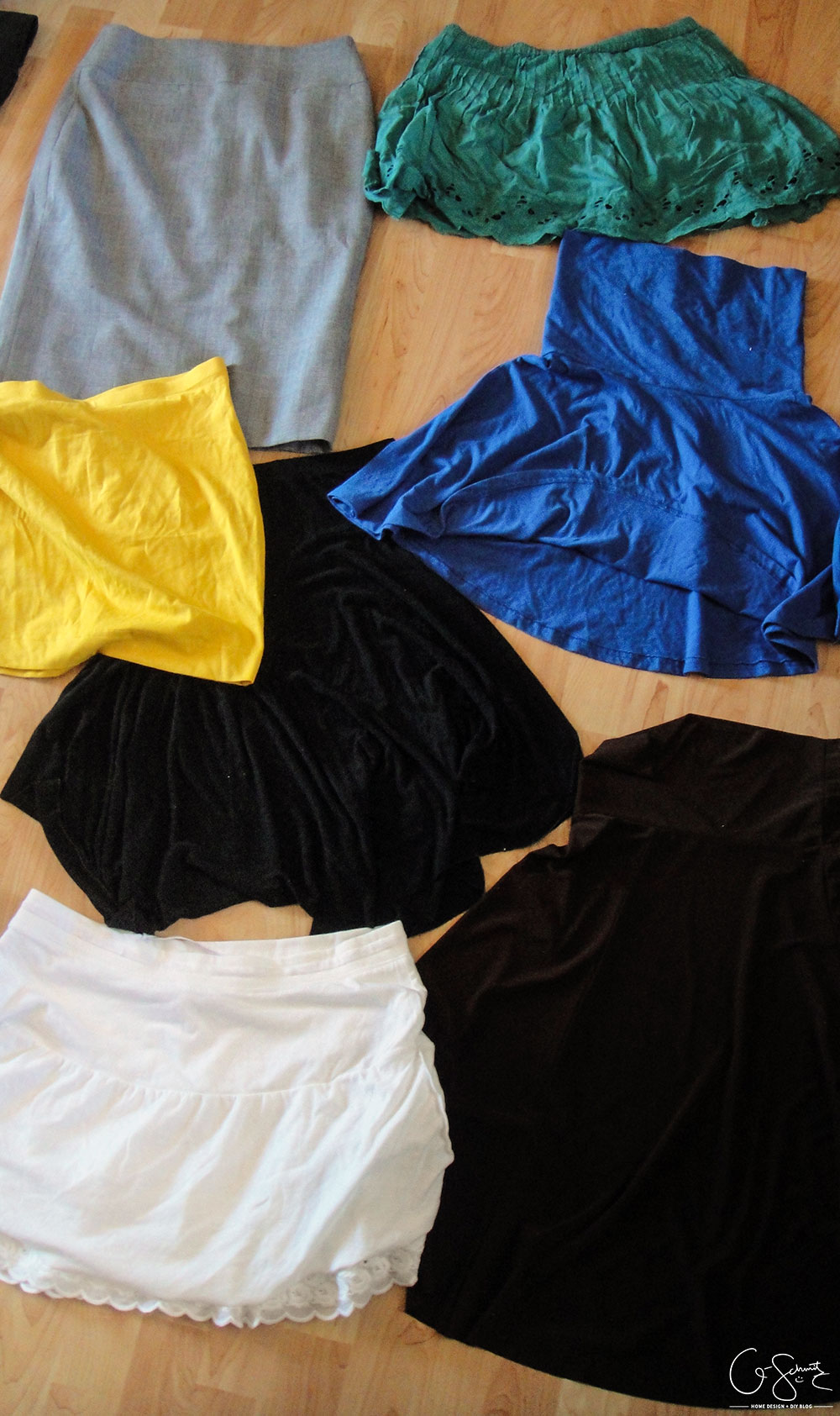 Think about that for list for a second… that's an insane amount of stuff – just sitting there taking up space in my house.  I mean, obviously I wouldn't have to do laundry for a few months – and pretty much the only reason I do laundry now is because my dirty basket(s) get full… not because I'm actually running out of clothes.
My plan is to cut this list in half, which I honestly thought I had done already!  Conversely, a lot of my items are things that are small (ie: socks and undies) and I didn't really eliminate any of these items in my big purge.  So while I have gotten rid of half my shoes, tees and dresses; those small items really add up.  I also haven't really touched my sweaters, and know there are a few I could probably get rid of.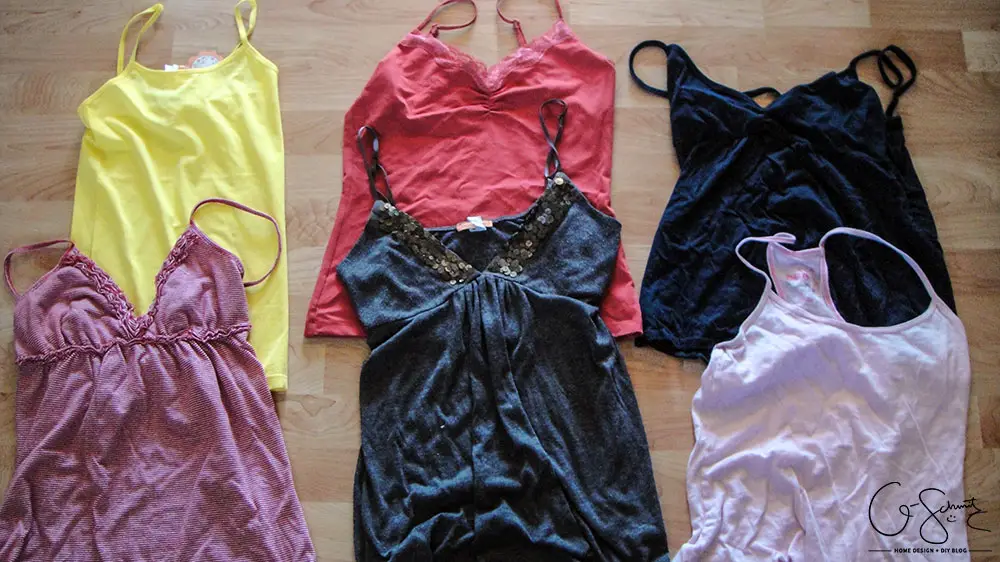 REMEMBER:  I'm not actually throwing this stuff away in the garbage (unless there are stains/holes of course) – I'm mostly donating things, and sometimes selling some items when I can (which is why I have all the pictures of course).
Counting Clothes Challenge
So, I know I said I was challenging you to count your clothes as well, and don't worry if you think it's a daunting task.  The hardest part is making sure you have everything all in one place so it's easiest to find each item.  So try and start when almost everything is washed and put away (and don't forget the clothes you're wearing!).
Once you get going, you'll see that counting clothes can be quite addicting!  You can even make fun games by looking in a drawer and trying to guess how many items you have before you start.  I actually thought my total list would be around the 200-300 item range… so disappointing!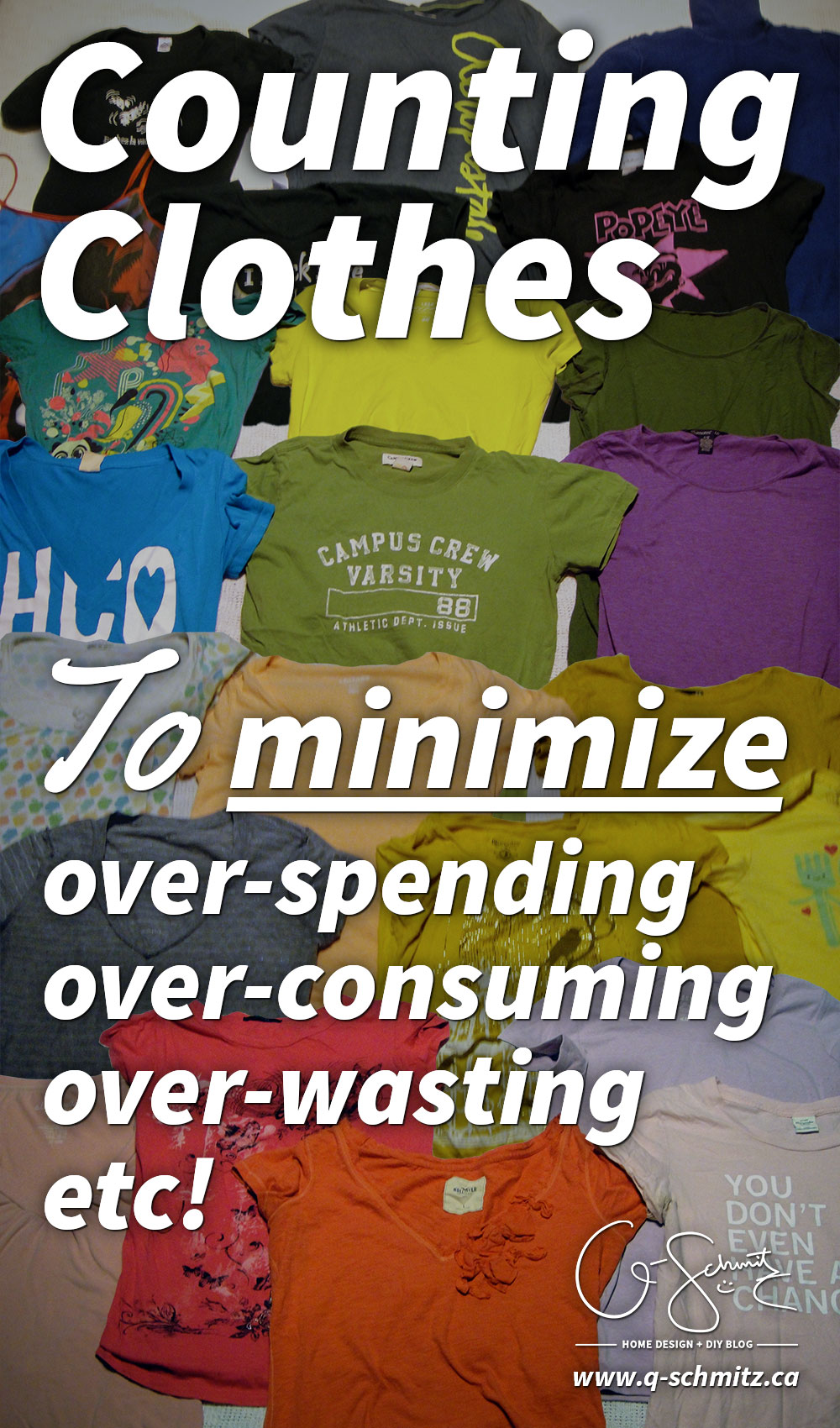 So, we've talked about me – now let's talk about you!
(I mean, I know we shouldn't compare ourselves to others – but it's human nature.  Can I mention that Bea from Zero Waste Home has less than 50 items of clothing!?)  I don't think I'll ever get my amount that low (living in Canada we tend to NEED more outerwear of course… and I have been known to wear two pairs of pants at once); but maybe somewhere in between 50 and 480 would be a good amount?
How many clothing items do you have?  And I don't mean just count them and keep that secret to yourself, I want you to share!  So, get out that pad of paper and a pencil and prepare yourself for a fun-filled 30-ish minutes.  And hey, why not go through and find things you can donate while you're at it?  (This will make counting easier of course).  Here is the important part: let me know in the comments (or social media) how many total items you have… that way we can all compare :)
Happy counting!