Do you have spots to clean on your rugs or upholstered furniture?  I've written about testing different DIY cleaners and shared my 3 favourite fabric cleaners  – but what about bigger stains?  Or larger areas to cover?  Sometimes you need to bust out a special machine… So, here's an honest review of my experience using a portable carpet cleaner to clean our sofa!
– Note: This post contains affiliate links. See more information about affiliates here. –
Let's preface this by saying that nothing here is sponsored at all.  This is a completely honest review of the Bissell Little Green Pro Heat.  I had been looking at getting a portable carpet cleaner for a while now and added it to my Christmas list.  And, a few weeks later – I got the chance to use it for the first time!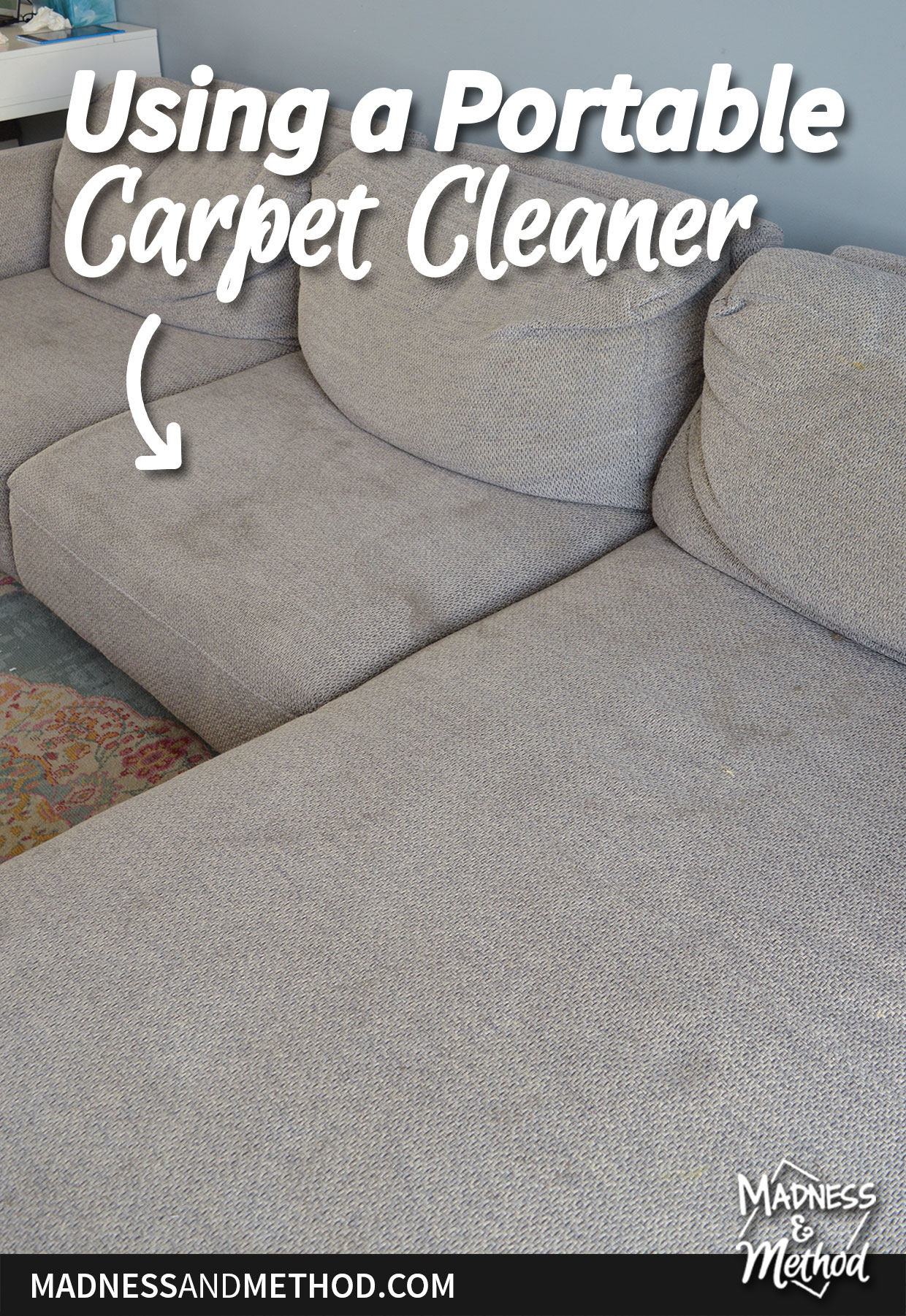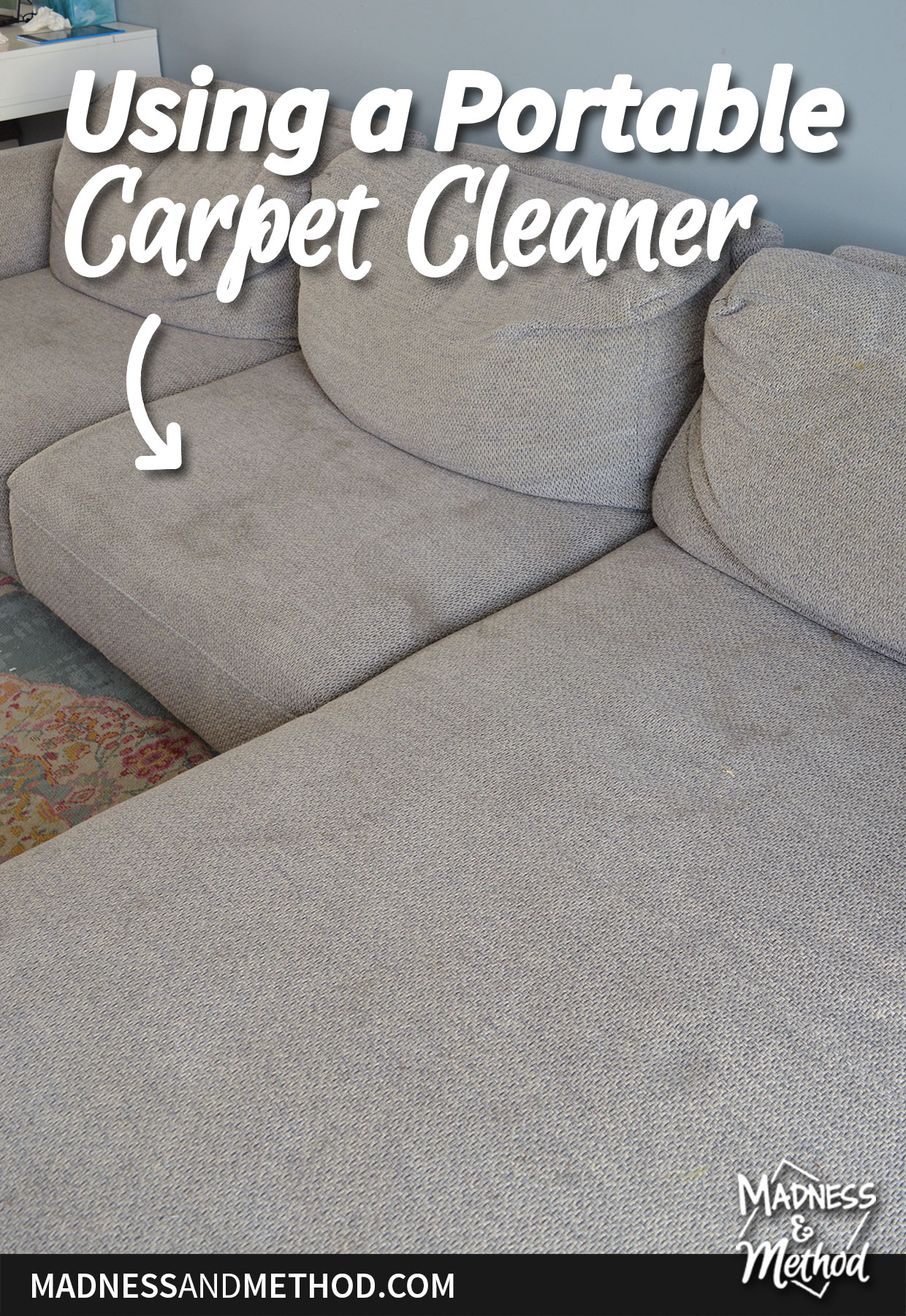 Here's an affiliate link to the exact model I used:
Messy Couch Before Cleaning


Let's start with our most used/loved/dirty piece of furniture – the living room sectional!  The photo on the left is probably more accurate to how it looks (we had just folded some laundry, ha).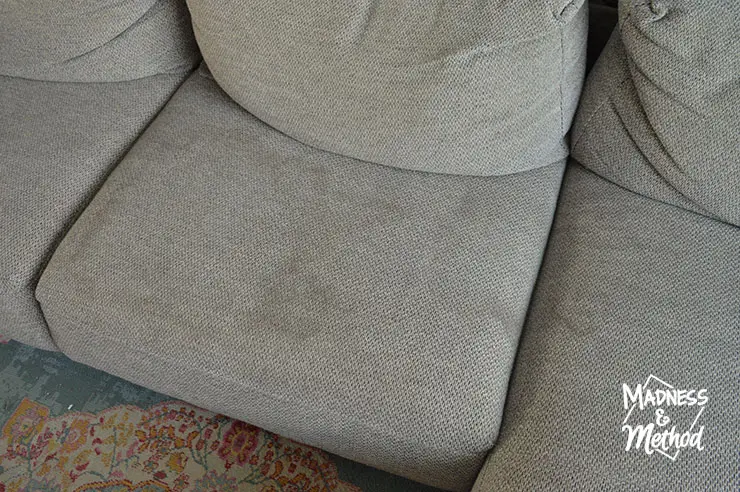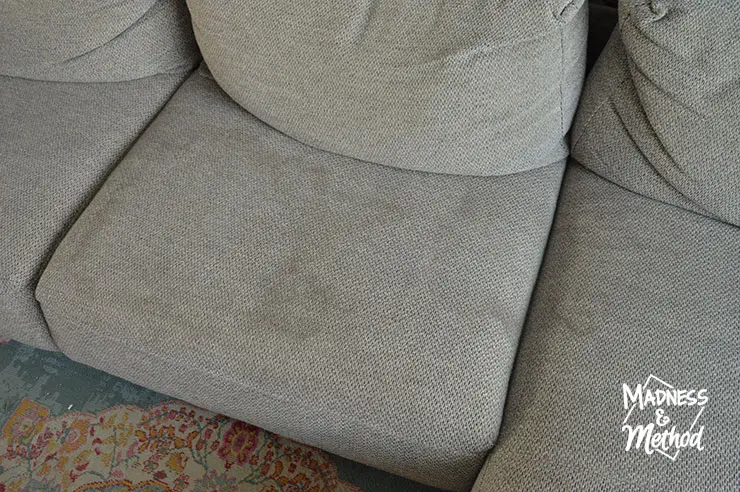 Our couch looks good from afar – and up close, plenty of stained sections!  For immediate spot cleaning, I reach for one of my favourite fabric cleaners.  But sometimes, you see a tell-tale ring a month or so later…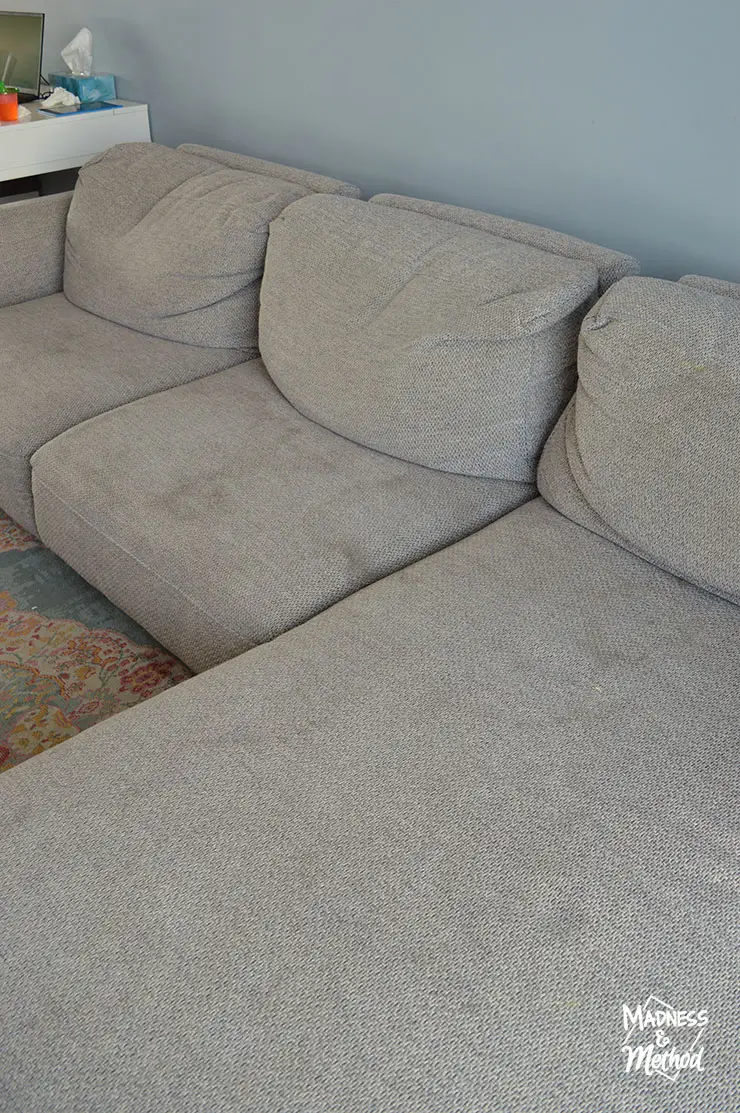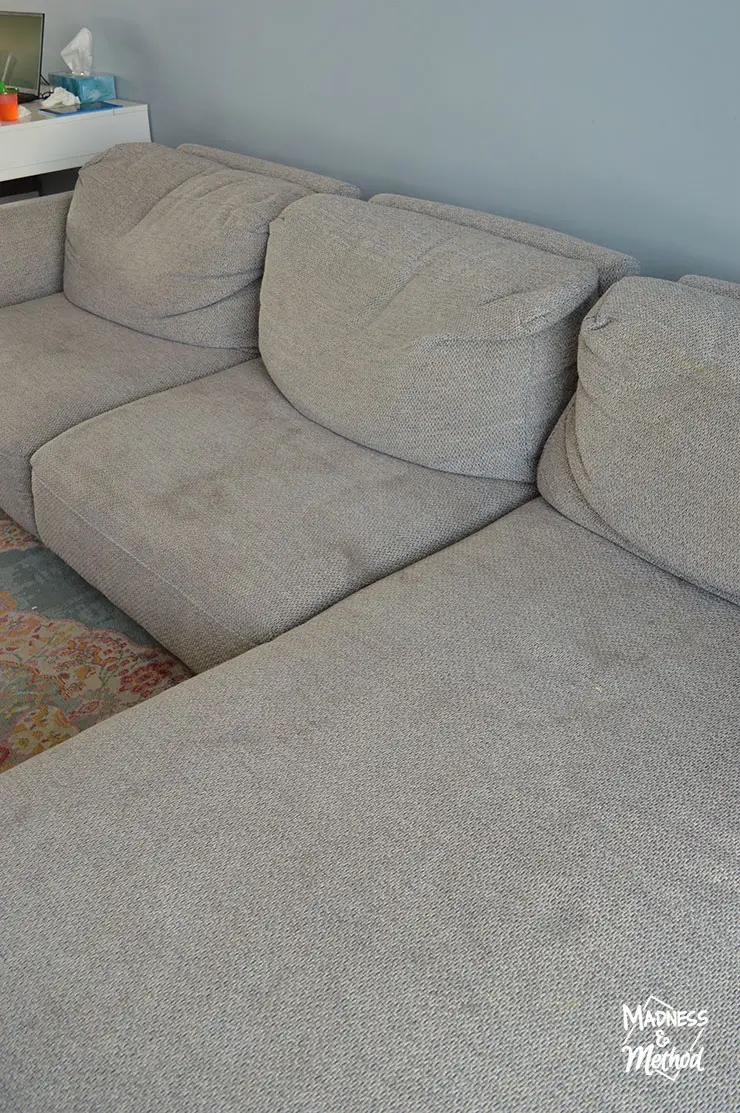 Or, maybe someone in the family spilt something – and they didn't clean it properly.  Basically, plenty of messes are on this thing!  (PS: We purchased this sofa new after we moved into our house, so it's just under 3 years old).
Another thing I noticed, especially in the main sitting areas – the sofa is sort of beige/dirty.  You only notice the original cracks when you open them, and it's a brighter/lighter grey.  Could it be the sun fading?  Maybe… but I think it's just a fine layer of dirt that accumulated.
Anyways, I wanted a way to clean the sofa to remove the stains.  Not just add more cleaners and try and dab them away.  I needed a special vacuum that would take away the dirt, and so many people are in love with these "Little Green" machines.
Using a Portable Carpet Cleaner
So, while my main stain focus would be the sofa, I knew that a portable "carpet" cleaner would work.  I chose the Bissell Little Green Pro Heat because it seemed like it would be a bit above the basic model.
After assembling everything together and reading the instruction manual, I got to work!  Filling it up to the big mess line with hot water and the solution, I pre-treated the entire sofa for a few minutes (as directed).
In hindsight, I should have worked in sections because it would have probably used less water…
From there, I used the vacuum and tried to suck up as much water as possible, while also re-spraying and scrubbing some tougher areas.
The family was gone for the afternoon, so I thought it was a perfect time…  I cleaned the sofa around 3 pm, and 6 hours later – it was still damp!  Thankfully, everything was all dry the next morning, but that's definitely something to consider.
One side of the carpet cleaner is for clean water – and the other side is for dirty.  See that mucky brown low section on the right!?  Ya, that's about how much water I soaked up, a lot less than what I started with.
A few years ago I bought a secondhand upright carpet cleaner.  It worked okay, but it was so hard to clean the different sections.  The best thing about this machine is that it's pretty easy to clean all the different parts.  There's a hose-cleaning attachment too – but all the pieces you use can be disassembled.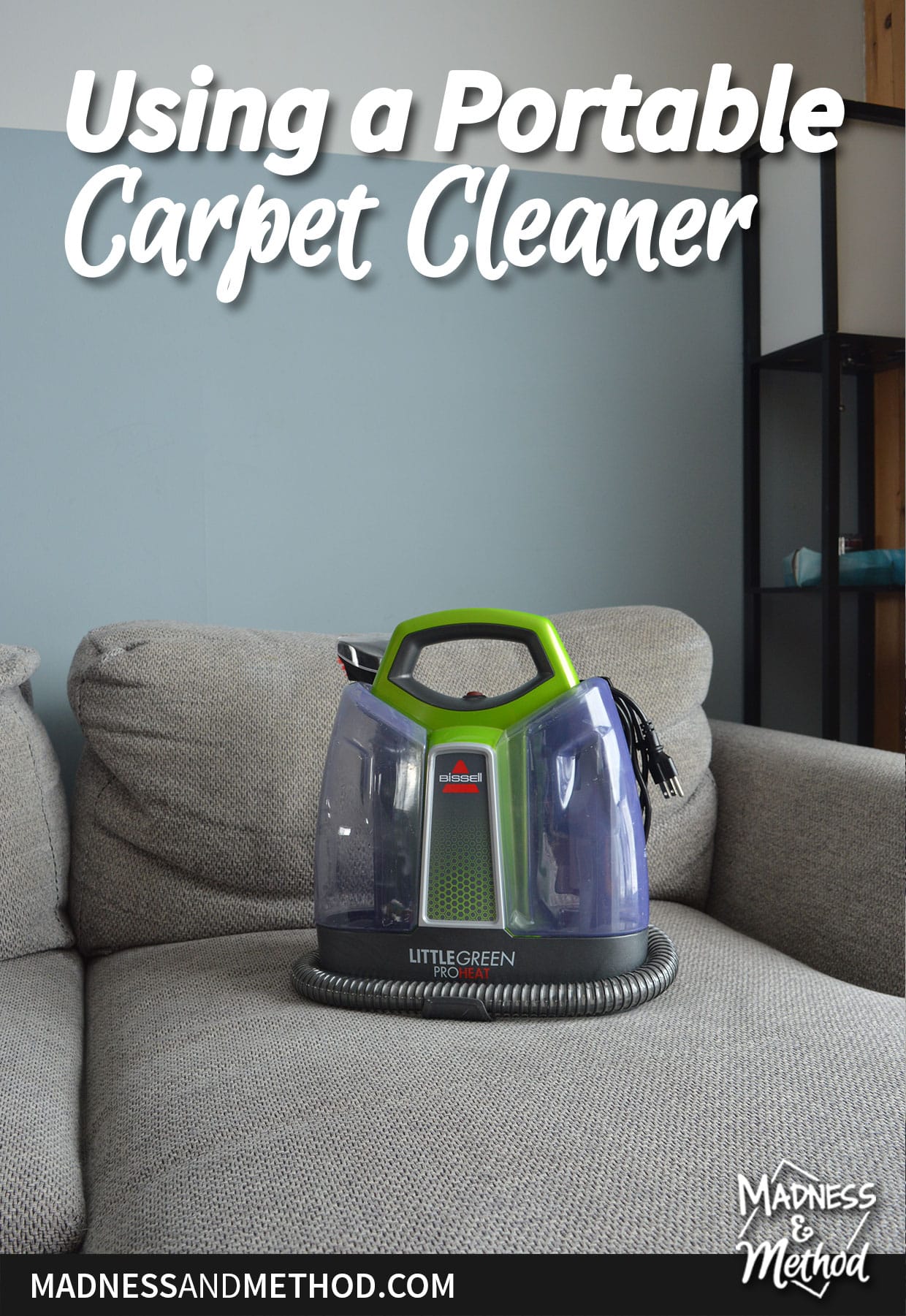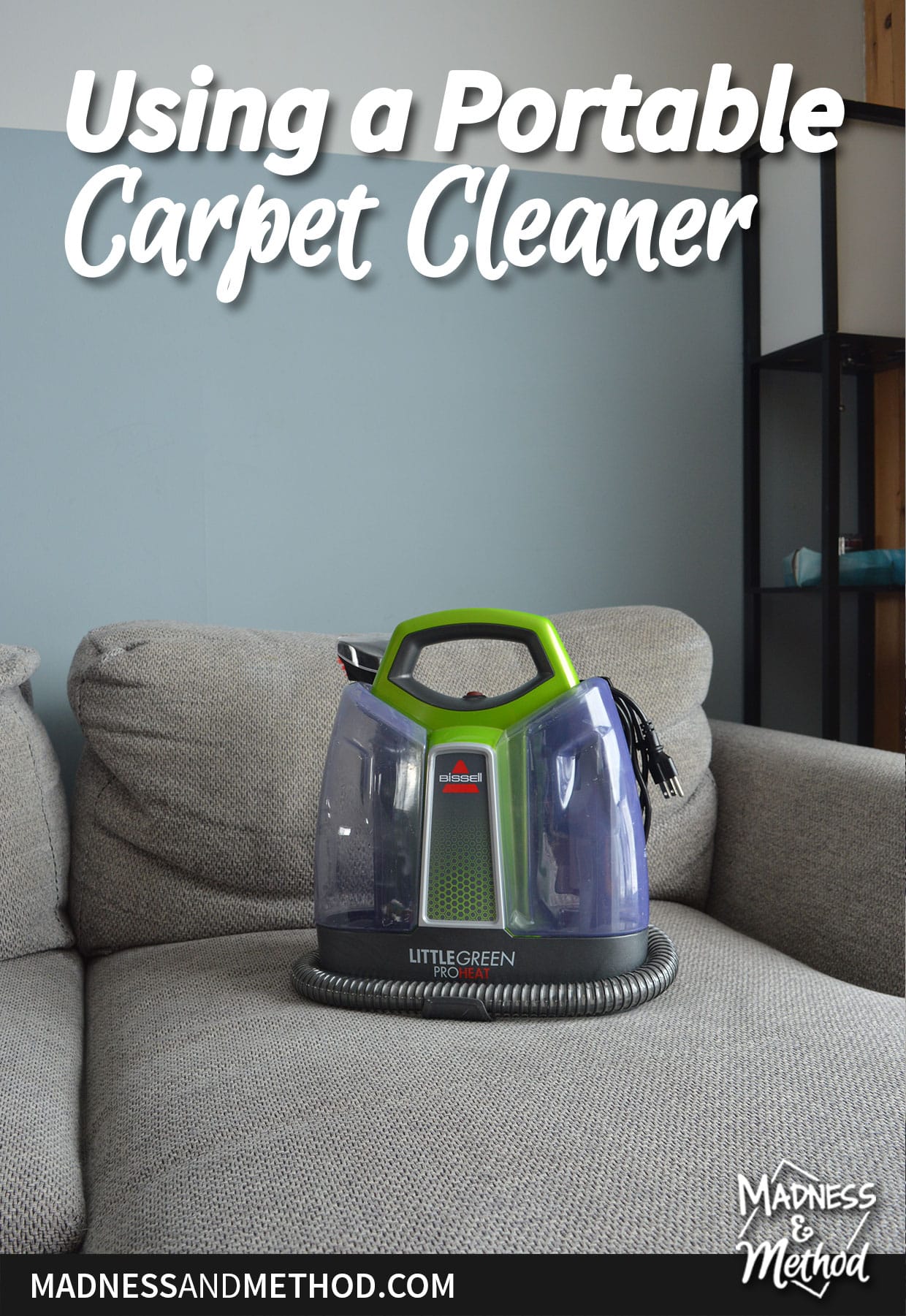 Cleaned Sofa (and Other Areas)
As mentioned, our sofa stayed wet for hours after I cleaned it.  So, it was hard to see how well it worked until it was fully dried.  Some sections dried quicker than others, and for a bit, it looked really patchy.
For the main "ring" stains, I'd say they were 90% gone.  There was one spot on the left cushion just outside of this photo that I went over the next day.
However, it didn't really do anything for the back cushion discolouration.  Although, I didn't spend too much time in those areas for this cleaning.
I also tried tackling a stain on our headboard.  The Husband sits in bed and you could clearly see what side was his.  I didn't tackle this area at all with other stain-fighting methods.  This material was easier to see where I had passed, and you can see the top portion that I vacuumed (in the bottom left photo).  In the end, the original stain remained and there was a bigger outer ring where it had been wet.
And unrelated to the carpet cleaner, I also took a baseball bat to the cushions to try and fluff them up.  Everything on this sofa is attached, so there had been some sagging over the years.  (The cushion on the left was beaten, the other two are the original/saggy versions).
My Honest Review of the Bissell Little Green Pro Heat
I did also use the Bissell Little Green Pro Heat to remove a stain on our carpet.  The photo on the left shows the original brownish spot, and the right is after the cleaning.  Multi-coloured/patterned areas do a better job hiding stains :)
Honestly, using the portable carpet cleaner did take the majority of the big stains out – but it didn't work as well as I would have hoped.  Especially on the back discoloured cushions.  We also had a random yellow stain that I tried to treat (pretty sure it's a paint/marker vs. mustard) and it only got rid of like half of the brightness.  (It was also louder than I expected – but I mean, it is a vacuum).
I will say again that my original technique of spraying/pre-treating the whole sofa wasn't the most ideal.  In the future, I think I will work on specific sections at a time.   That way, it would hopefully use less (and suck up more) water.
I'd also like to tackle a stain right as it happens.  These were all old/dried stains of unknown origin.  Don't forget that I have a huge guide on testing DIY stain cleaners on mysterious stains.  OH!  And check out the video I made that goes over everything quickly too.
Let me know if you have experience using a portable carpet cleaner and/or this model specifically.  Oooh, or if there is another solution I can try to use too.  The kids are very into cleaning things with this, ha.  I'll keep you posted!