The next step for our project walkway was prepping the dirt for gravel.  It's recommended that you have a concrete slab that is 4 inches deep, on top of a bed of packed gravel that is another 4 inches (that second one seems like overkill… but might as well do it right if you're going to do it at all, right?!).  As mentioned last week we did a bit of digging after we removed the sod but I didn't post the pictures just yet.  Good thing, because we didn't accomplish that much more this weekend so now I have some pictures to show you!
– Note: This post contains affiliate links. See more information about affiliates here –
At one point (aka last Wednesday or Thursday) I thought to myself – hey we can finish the entire walkway this weekend if we plan it out properly.  Problem was, I was busy half the time volunteering at Up Fest… and it was pretty hot so our productivity was way down.  And we still had a lot to do too!  This included:
Digging down a few more inches
Applying a layer of gravel and levelling everything
Building the frame
And actually pouring the concrete
Not sure what I was thinking!
Actually, I was trying to finish everything all at once so that this project wouldn't be sitting around waiting to be completed.  Because I'm going to Miami next weekend, and the Husband was planning on being gone the weekend after, I figured that if we didn't get everything done now, it wouldn't be finished until Labour Day weekend.
Yep, now we have to wait until SEPTEMBER to finish this – ugh!
In the meantime of course, I have been getting outside to dig as much as I can while enduring this random heat wave.  So without further ado, some photos!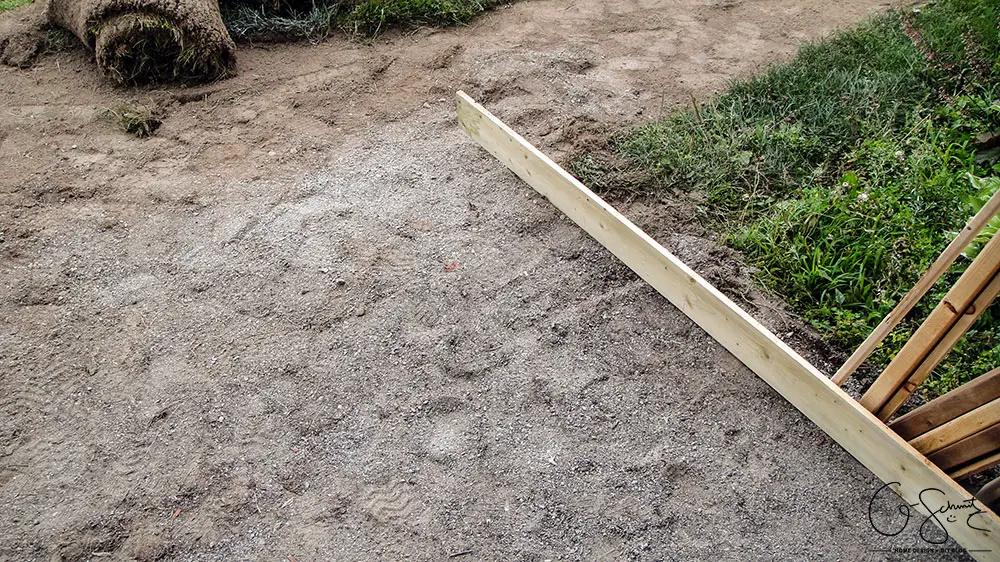 I placed a piece of wood out again to check and make sure I liked the placement of everything.  (This was from last weekend – notice the rolls of sod in the background in the photos above?)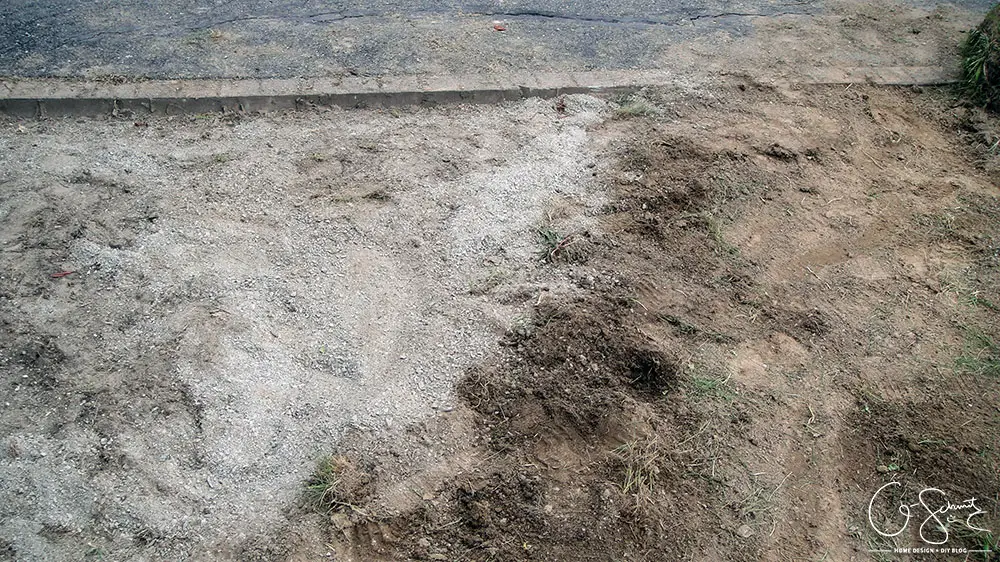 You know what would have been great?  If we were using the same walkway form as before, we could have easily just poured the concrete right on top since the ground below was already in good shape.  Haha, just kidding Husband – you know I like to make things difficult!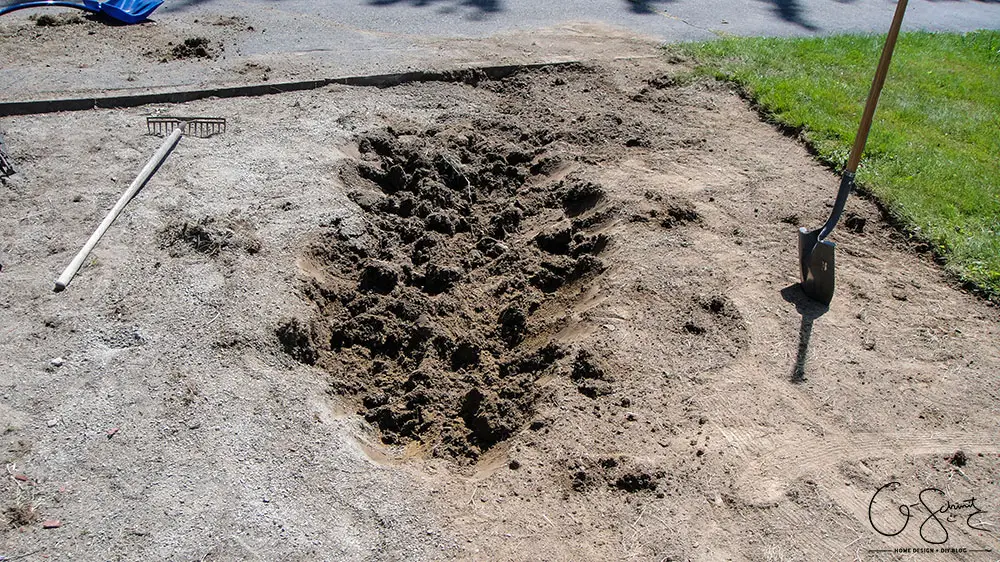 Unfortunately, we have a lot of un-levelness going on in this area; and so we need to dig far down so we can get gravel in this section as well.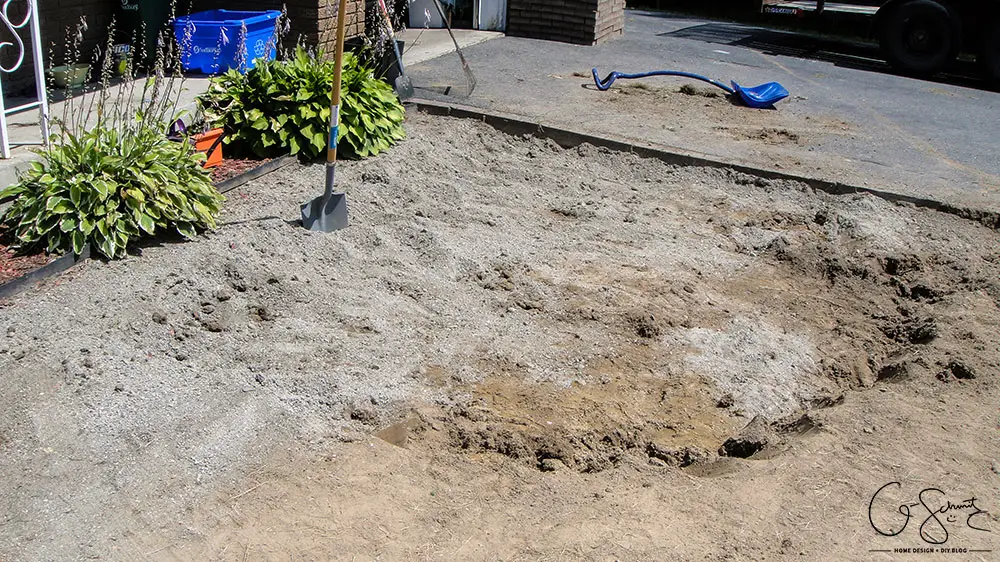 Obviously, the plan is to line up the new concrete walkway with the existing paved driveway.  But there is some MAJOR slope-age going on in this area.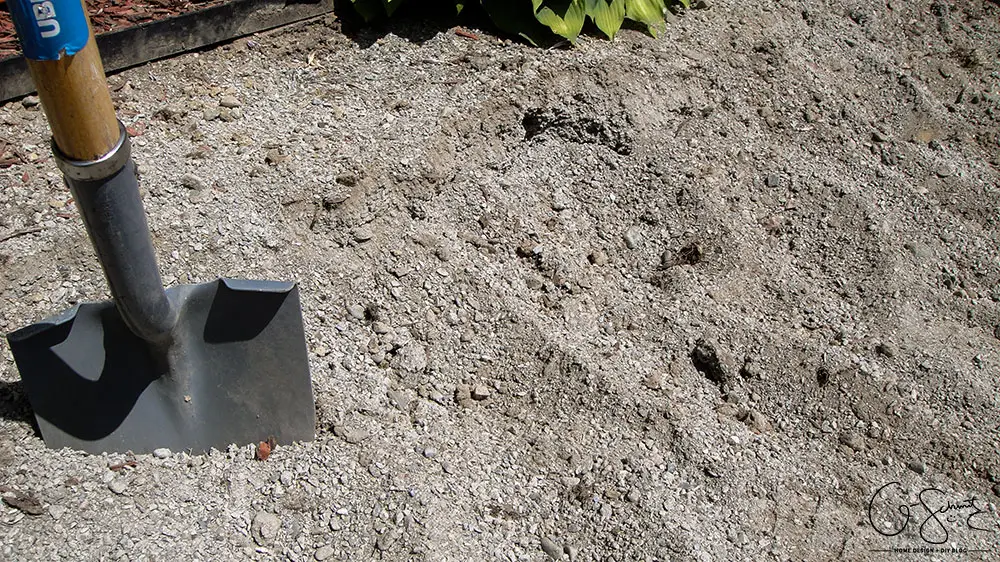 We are also moving the front flower bed out a foot more, so the Husband made a quick perimeter to edge out that area.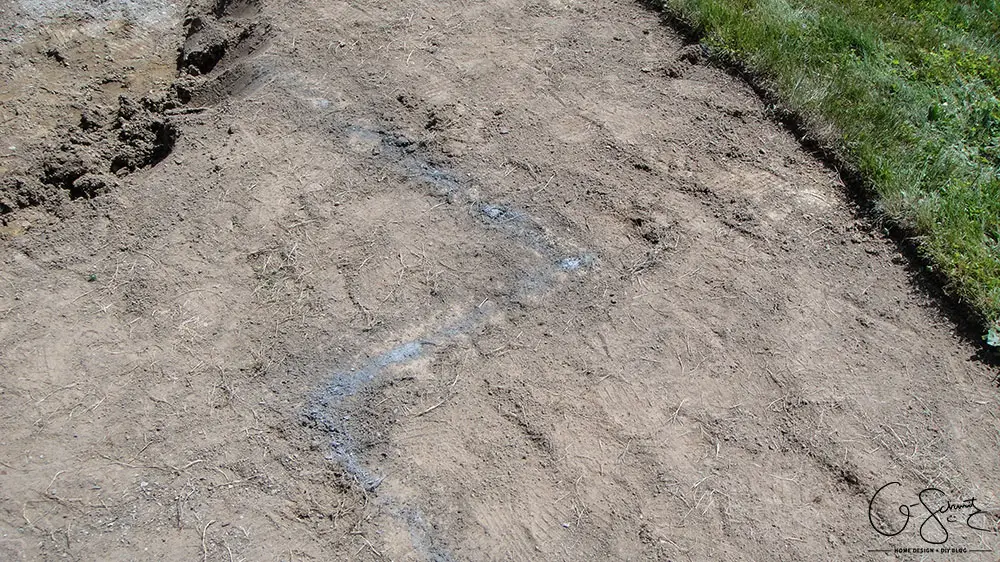 I then spray painted the dirt to show the future walkway shape.  Note: you can't really spray paint dirt since the "wind" from the aerosol spray moves everything around.  But hey, it works fine if you spray lots of coats!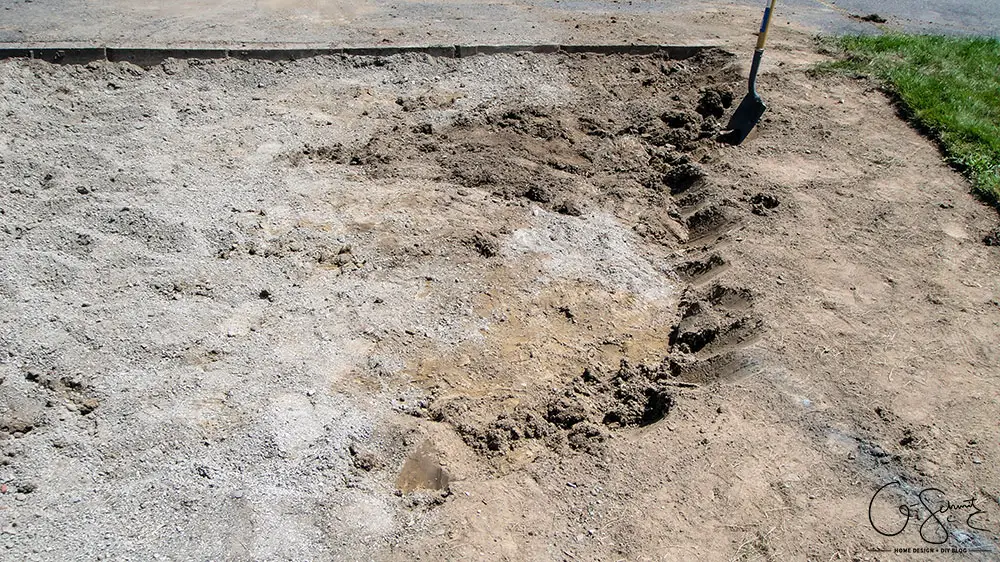 The Husband did a good job in clearing out most of the dirt from this area, while I was working on levelling the side yard (that's where we were putting everything).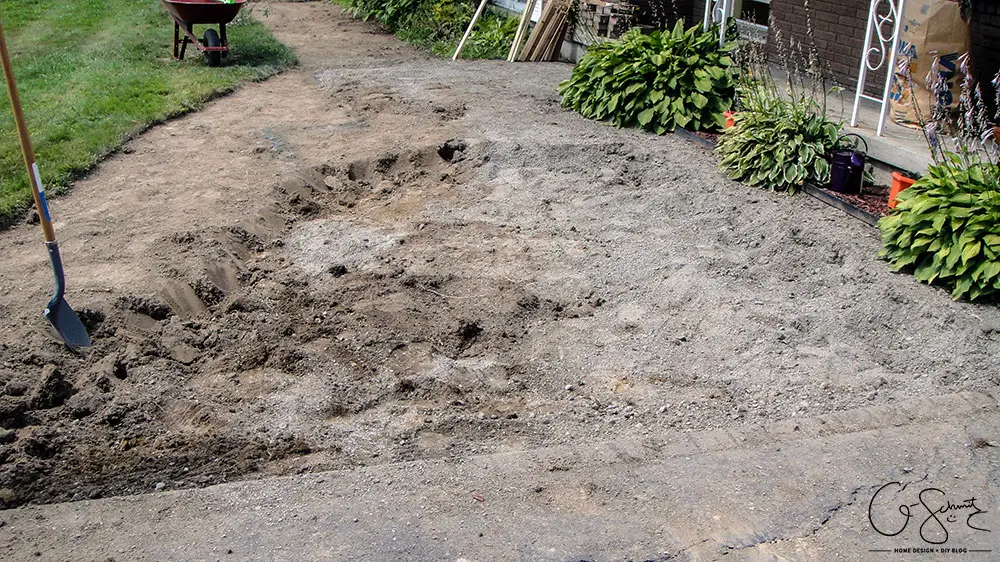 Although we removed several wheel barrow loads full, we still had a lot of dirt left!
And, this is how everything sat in our yard all last week – a big dirt mess (hopefully we didn't get any visitors!)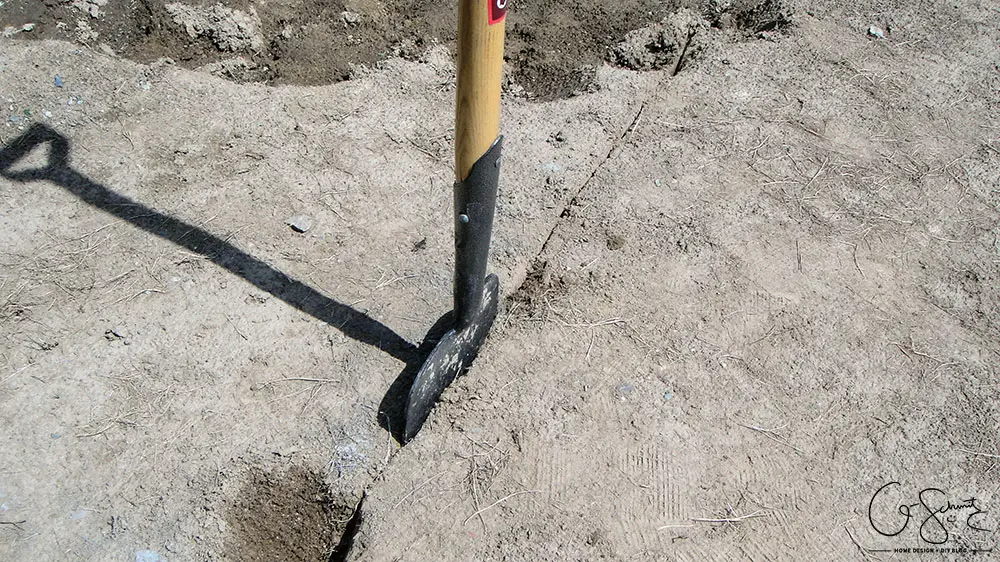 On Sunday afternoon, I got some motivation (and a block of time) to work on the walkway.  Using my handy dandy ice scraper, (which does double duty as a landscaping tool apparently), I carved out the edges of where the walkway will be going.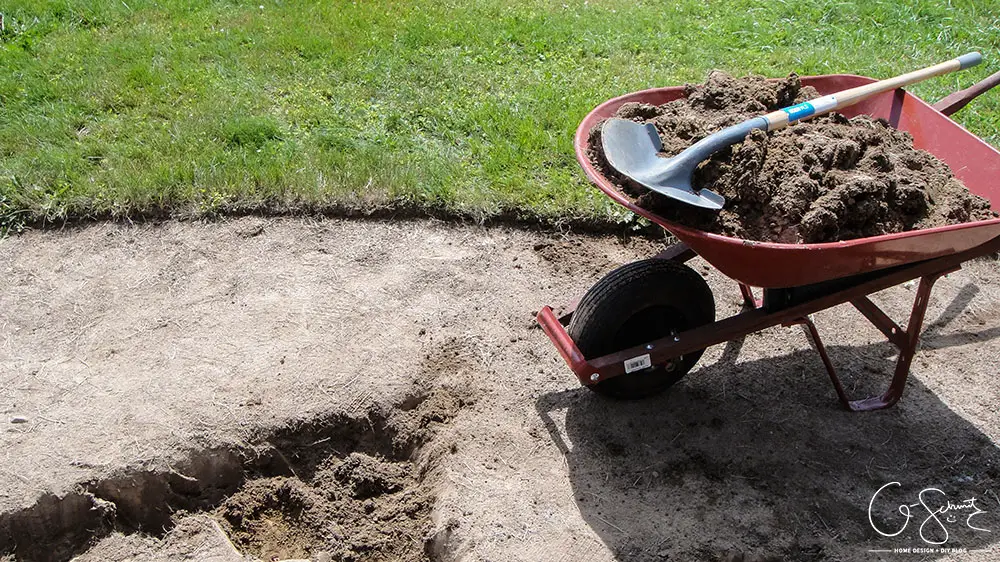 It was another afternoon full of digging…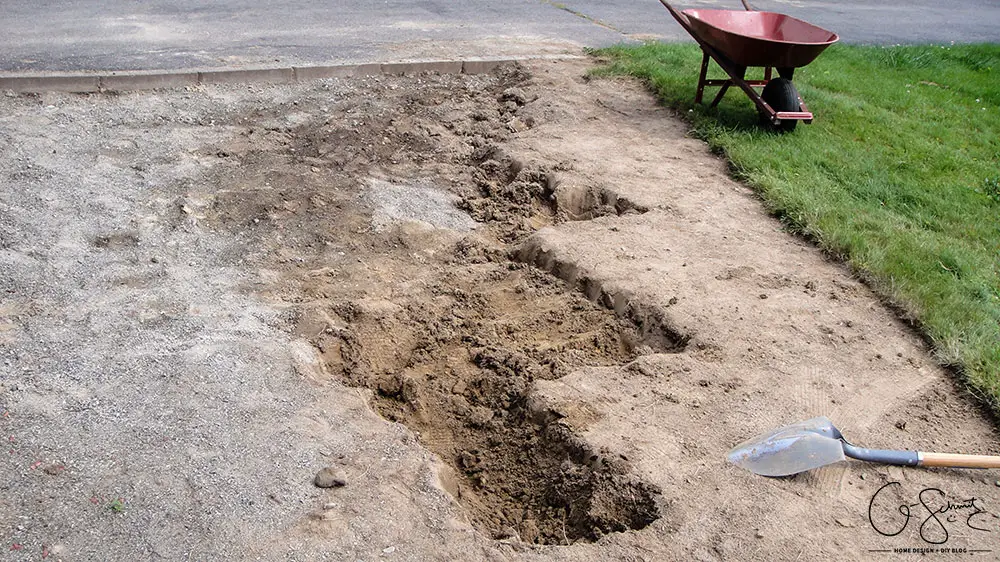 But now the walkway is starting to take shape, right!?  (Check the walkway plans if you forgot how it's supposed to look).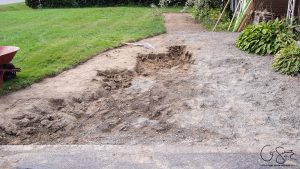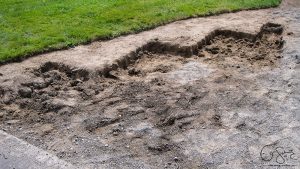 And here are some more views to see the different angles.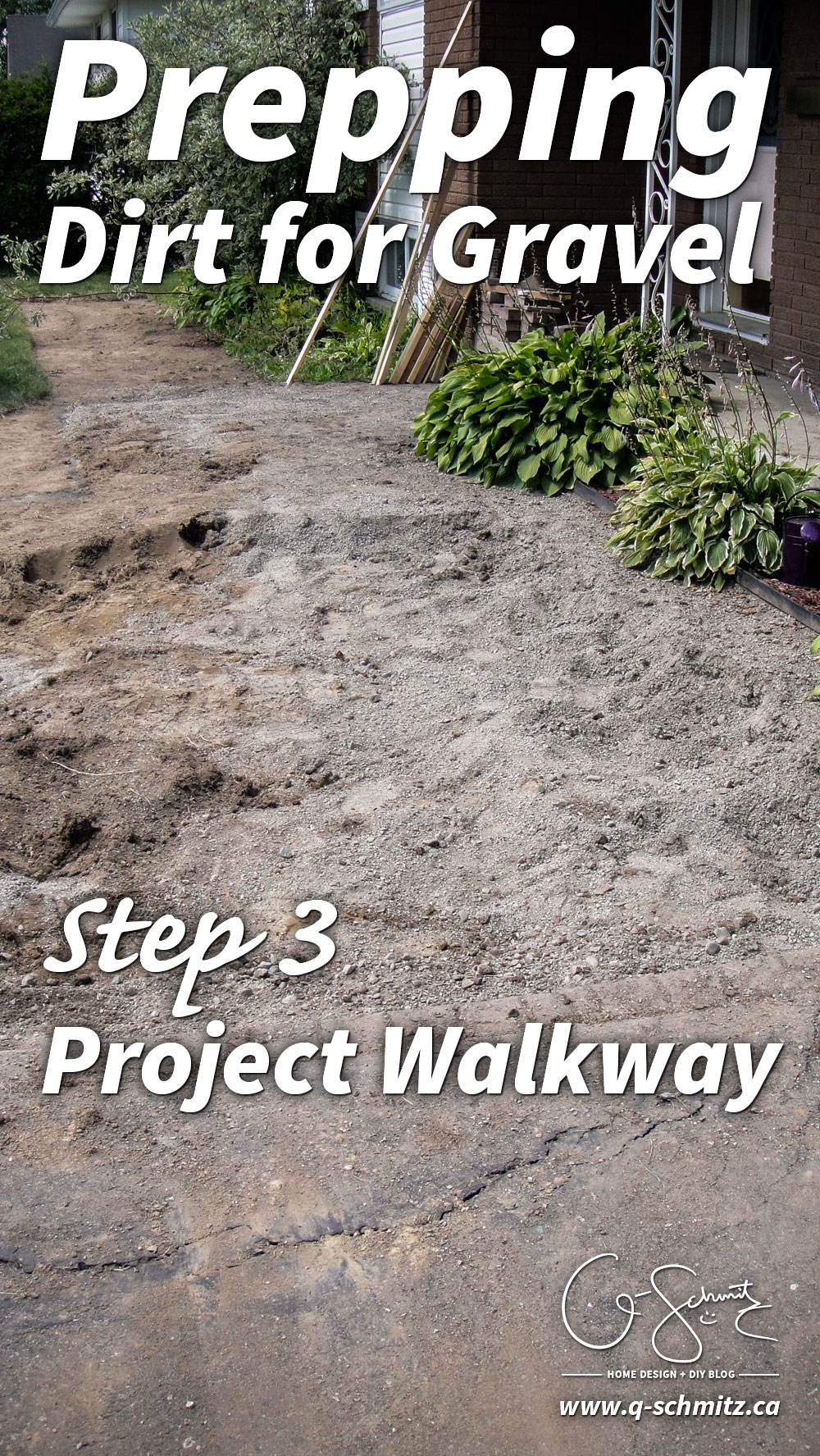 So, although it doesn't seem like we actually did a lot progress-wise, prepping the dirt for gravel is a step you can't really skip.  I think we're at 10 hours for the walkway so far (including taking out the stones, removing the sod, and now this dirt digging).  And I guess we'll have another 10-20 hours left.
It would be nice if the Husband could level the rest of the dirt, and maybe get some gravel in… but I'm not going to force him to work while I'm on vacation.  I really don't want him to build the forms on his own or pour the concrete without me there (I have a feeling if that happens, I will lose the shape I want, and the stamped pattern too!).  So for next week, I think I will have an update on our side yard instead.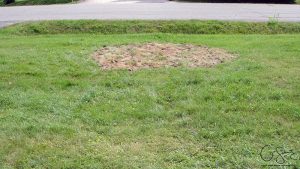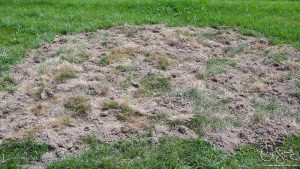 Oh, and in case you were wondering where all the extra sod was going (and some dirt).  Our yard has a lot of weird dips and holes, so I put some of the sod in the front to level everything out (and some in the back where it's lower as well).  You simply fill in any gaps and along the edges with dirt, sprinkle some grass seed and water it all.  It takes a while for it to blend in to the surrounding area, but it should be good next year!
Do you have any experience digging a bunch of dirt to level the ground for a walkway?  Don't you just wish there was an easier way?  I mean… of course we could have rented a big machine or hired a professional… but where's the DIY fun in that?!