This week I'll continue talking about our large walkway remodel project, if you don't mind!  And this past weekend we hot a heaps load of work done removing heaps and loads of grass (aka sod or turf) from the area where we will be paving and landscaping.  Check out the front walkway plans and the post on removing pavers to catch up on my Project Walkway!
– Note: This post contains affiliate links. See more information about affiliates here –
You guys, remember how I was super excited that I came up with the clever title "Project Walkway" for our front walkway redesign?  Well, apparently I was not the first one… my blogging friend (okay, we're not actually friends, as in – she doesn't know we're friends, but I pretend we're online BFFs) Jennifer from Rambling Renovators used the SAME name for her walkway redesign!  I mean common, I read all her posts diligently the last few weeks, you would think I remembered the name of her project?!  I feel so upset about this, because 1) I feel bad for copying, and 2) I honestly thought I was supppperrrr cool thinking I had the best name ever!  Me = not cool :(
But she said I could keep the name.  Jennifer = very cool! (I'm also hoping she said it because she meant it, and not because she is secretly planning my demise).
Okay, a second thing to mention before I get "down and dirty" with the details of this second step (literally, removing the grass and preparing the dirt) is that we are doing this project concurrently while I am blogging about it!  For our kitchen renovation, we did most of the work before I had this blog, so it was easier to then plan out what I was going to talk about in easy to follow steps.  And although we aren't actually doing the project in real time, the work you are seeing here is what had been completed during the weekend that just went by.  (The Husband already finds it ridiculous that I have to stop working every now and then to take pictures… not sure how he would feel if I ran in to the computer to write at the same time!)
So without further delay, let's look at what we managed to accomplish :)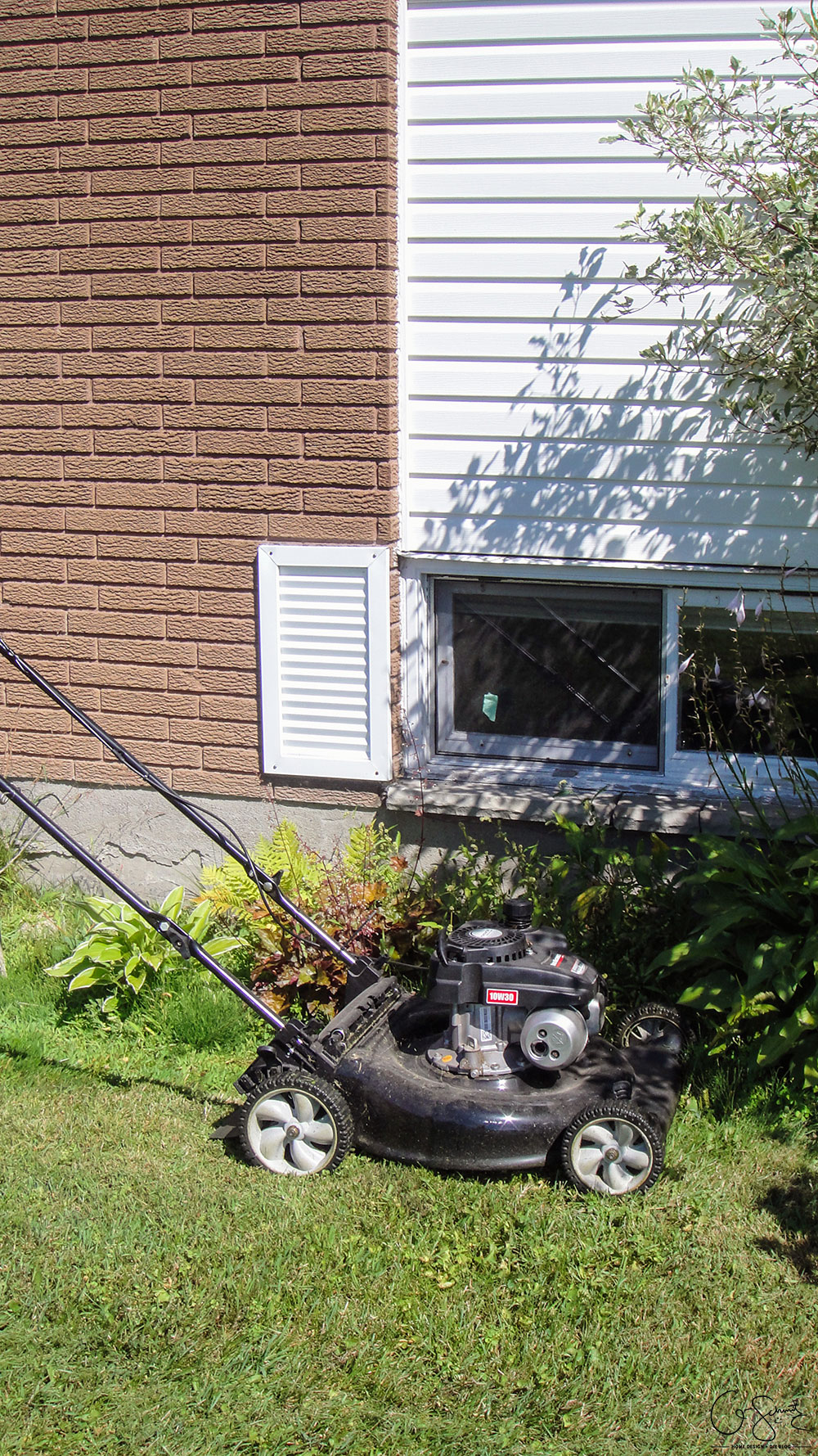 Last weekend the Husband prepped the area by making sure the grass was nice and cut (okay, he actually just cut the whole front lawn, but whatever!).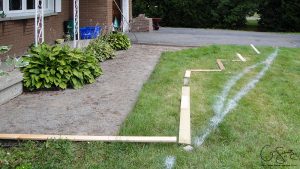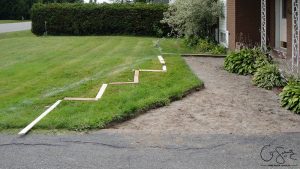 Using some spare pieces of wood I had, I marked the area where our concrete walkway would be going.  I then took some spray paint (again that I had on hand) and did a quick outline of the area where we would be removing the sod.  Remember, I'm going to have a little garden area here?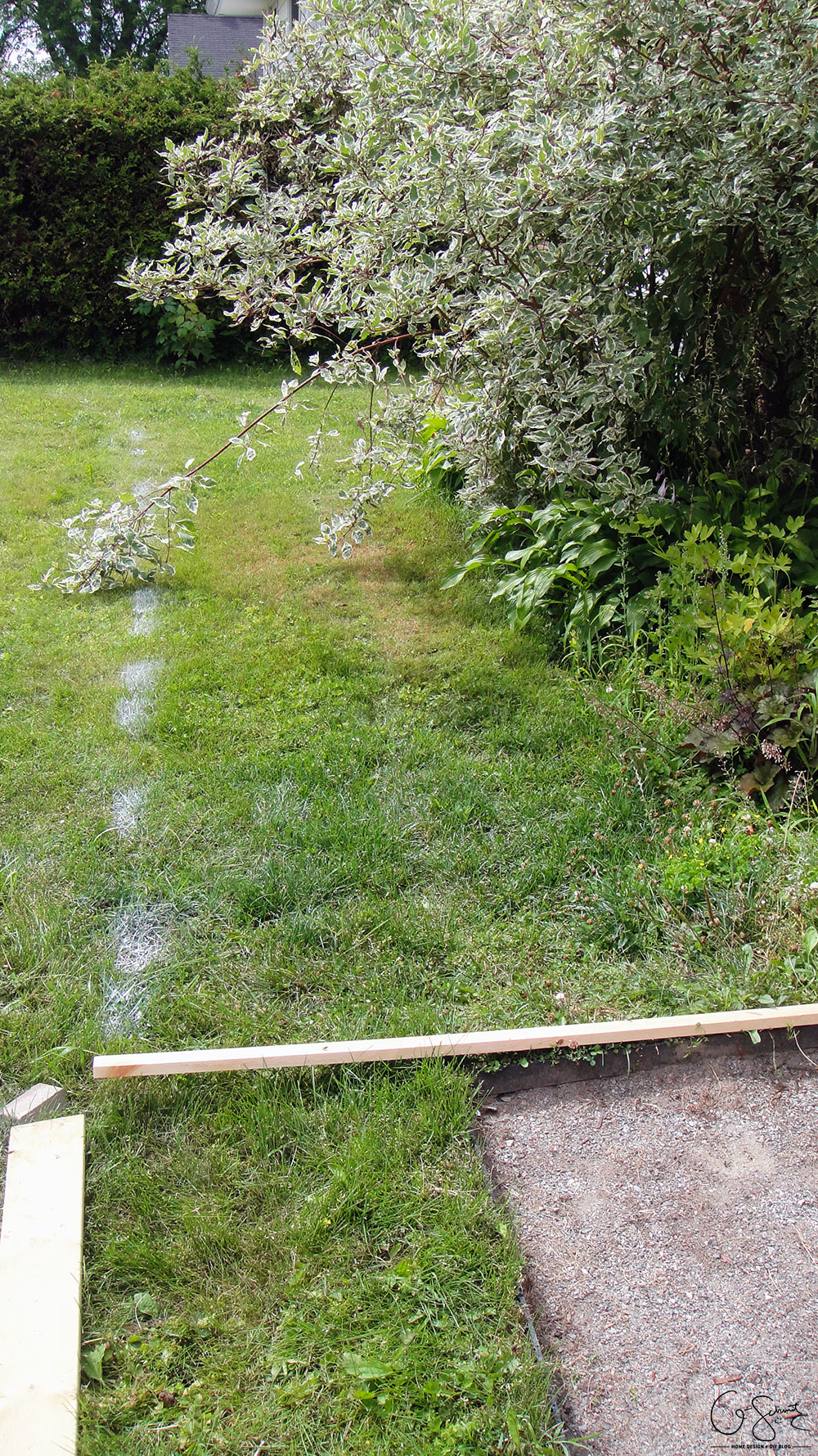 I marked the other side (left part) of the walkway as well, because we will be extending those flower beds as well.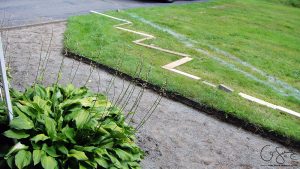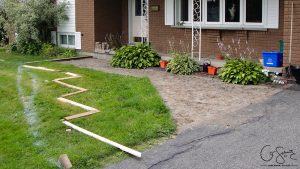 Everyone sees where the shape of the path will be?  Okay good.  Let's move on to the manual labour!  But first another story:
Let me tell you.  I suck at edging with a shovel… I can put the spade in the ground and jump on it a hundred times, and it doesn't cut through the grass at all.  The Husband hates edging as well (okay, I'm just guessing he does – maybe he only hates that I make him do these ridiculous outdoor projects?).  Anyways, there are apparently some special edging shovels that make it go much faster than using a regular garden spade.  Want to know something weird?  My Mom is oddly good at edging.  I don't know how she makes the spade go in the ground, and then she lifts it and this big chunk of grass comes out!?  She's had a lot of practice I guess.  (Some of it might have been when we did out back patio…)
But guess what?  She didn't want to travel to our house for one weekend to edge our front yard… weird right?
All my life (well for the last week or so) I kept thinking "isn't there an easier way!? They should just have an automatic edging machine that does all the work for you!".  Moral of the story – I rented a sod cutting machine (sometimes I also call them power edgers), because this magical machine already exists.  You can buy a sod cutter, but I can't really justify a cost like that since we were only doing a small portion of our yard.  (Unless you ask the Husband, who thinks we got rid of the entire front lawn…)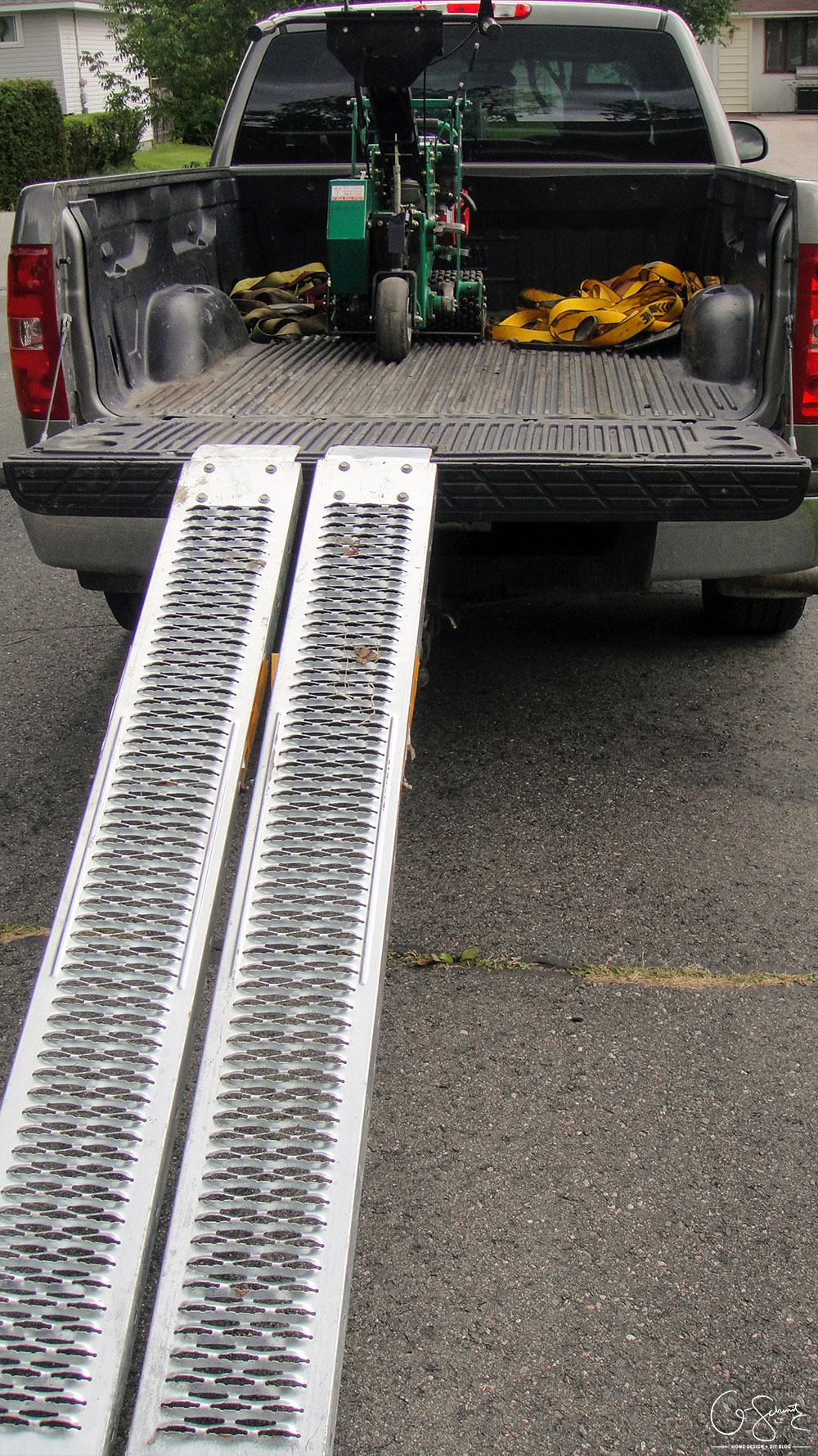 Miraculously I managed to get it out of the truck all by myself too.  I think I scared the rental guy when I asked if I could easily lift it out of the truck (after he had given me a "test drive" in their parking lot of course).  Ramps.  You need ramps.
Then it sat in our garage overnight because I couldn't figure out how to make it move (I know – after the test drive / tutorial and everything!).  The Husband came home the next day to try and figure it out, and the problem was that I didn't have it in gear… so it was essentially not moving forward on its own, and I was trying to push it while it had the brakes on.  Which had really hurt my arms/chest (like I had done 100+ pushups!).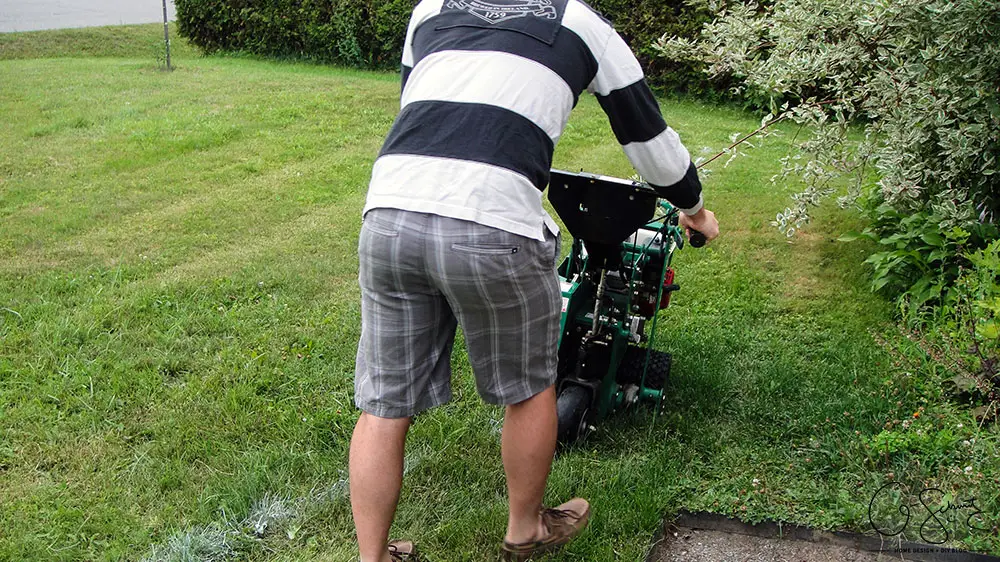 Yes… so the Husband really wanted this picture of his butt to be included in this blog post (when I asked him if it was okay)… something about his gift to the internet?  Ya :|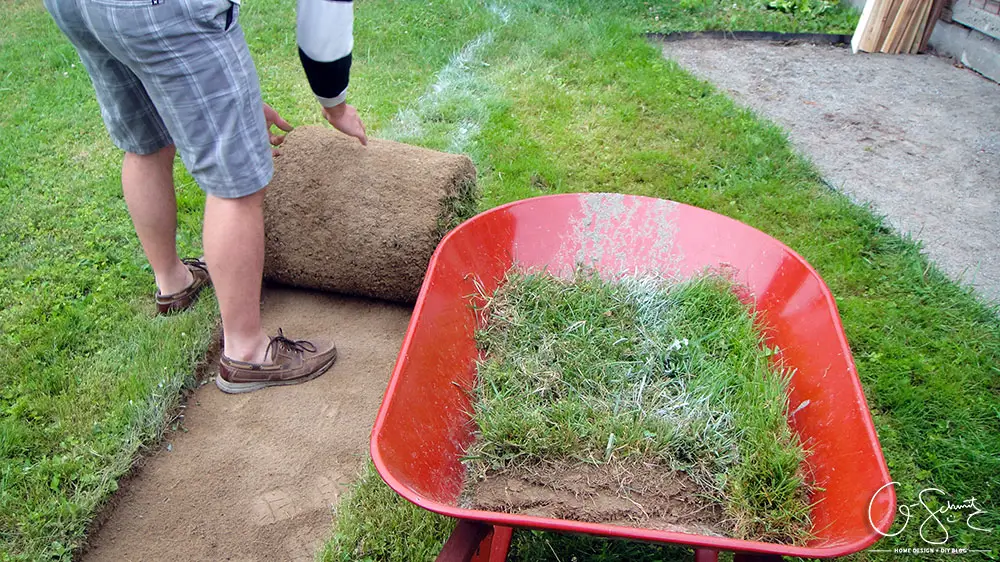 Anyways, once you get it going you simply push the blade through the grass and then roll everything up at the end.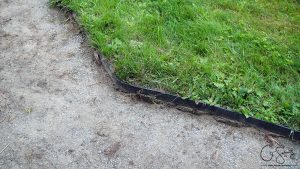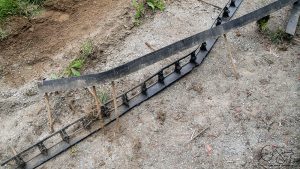 I also had to take the old path "guards" out, and for some reason the nails were super long.  I did this while he did the outer perimeter.
Then I helped roll everything up and move it out of the way.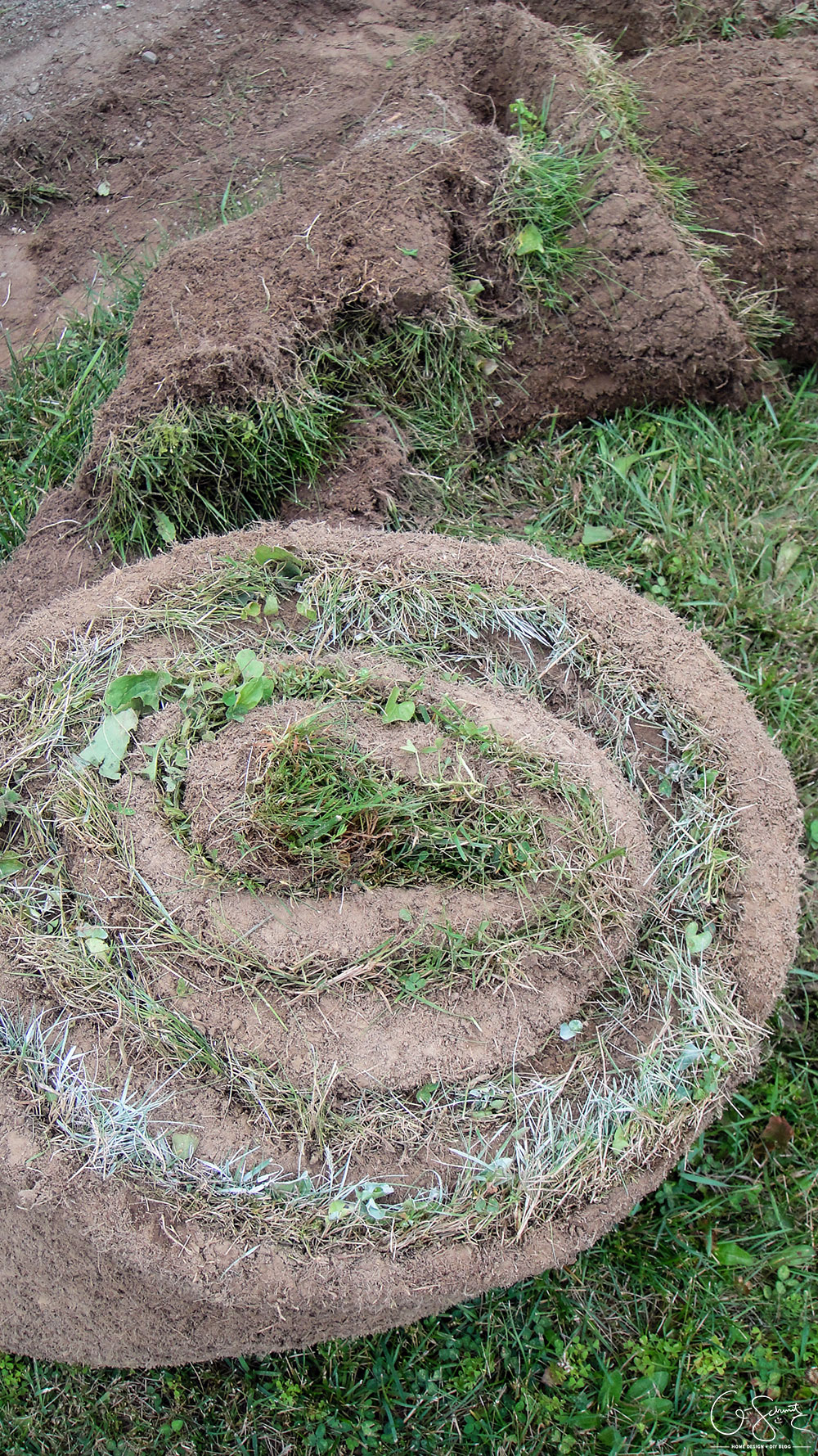 But of course these grass rolls were REALLY heavy.  So I couldn't actually lift them or move them anywhere.  If you've ever taken out carpet, it's sort of like the same thing, only 10x heavier and much more dirty too.  To try and lift one of these rolls you're essentially hugging a bit pile of dirt, just saying!
At least the Husband helped push the rental sod cutter back onto the truck, so everything was good!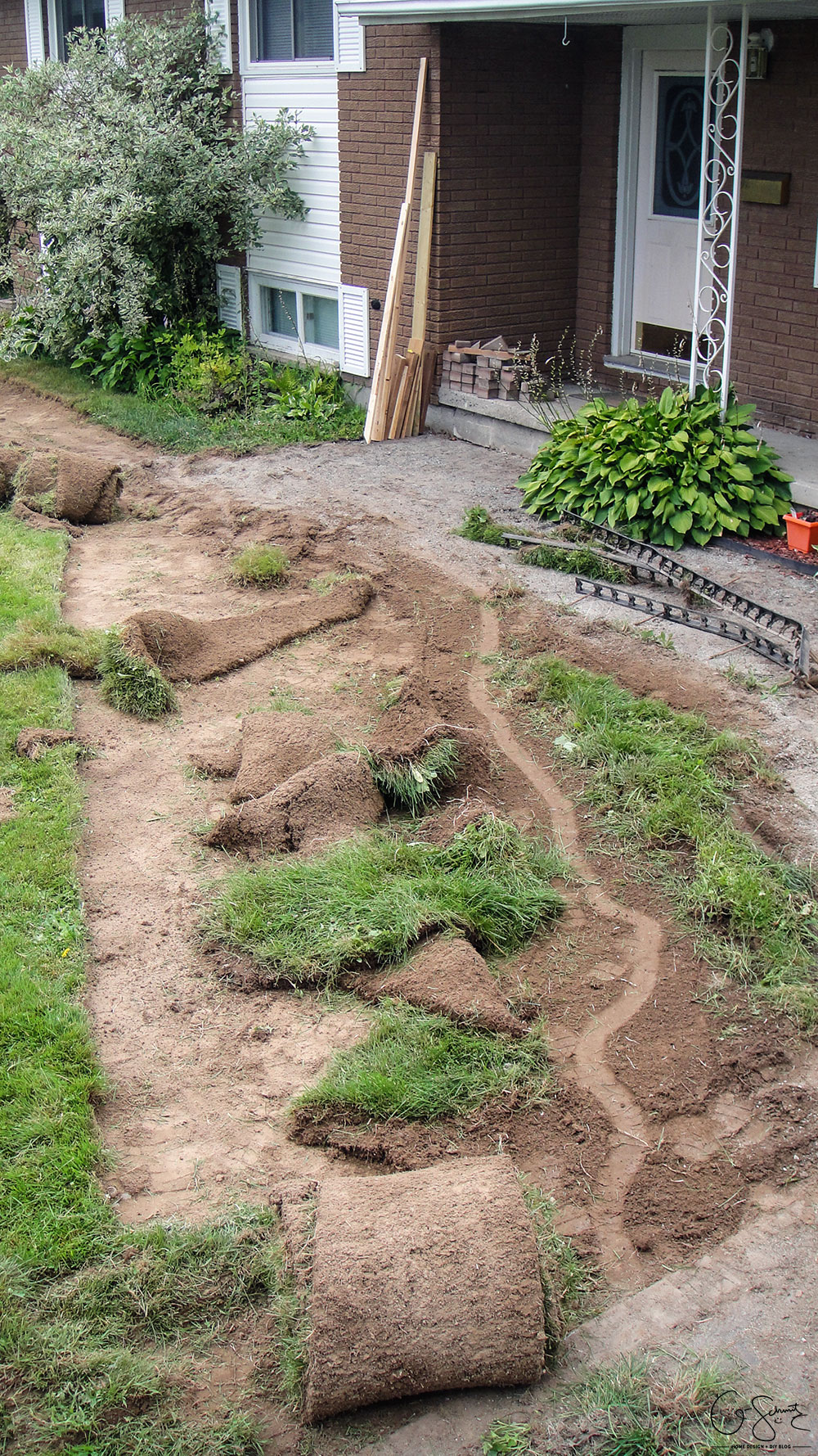 Just kidding.  Our front walkway area was covered in random piles of grass and someone decided to go camping… leaving the other someone to clean everything up.  Not going to say who was who… but if you follow me on Instagram you might have seen some sweaty and dirty pictures.  That didn't give anything away did it?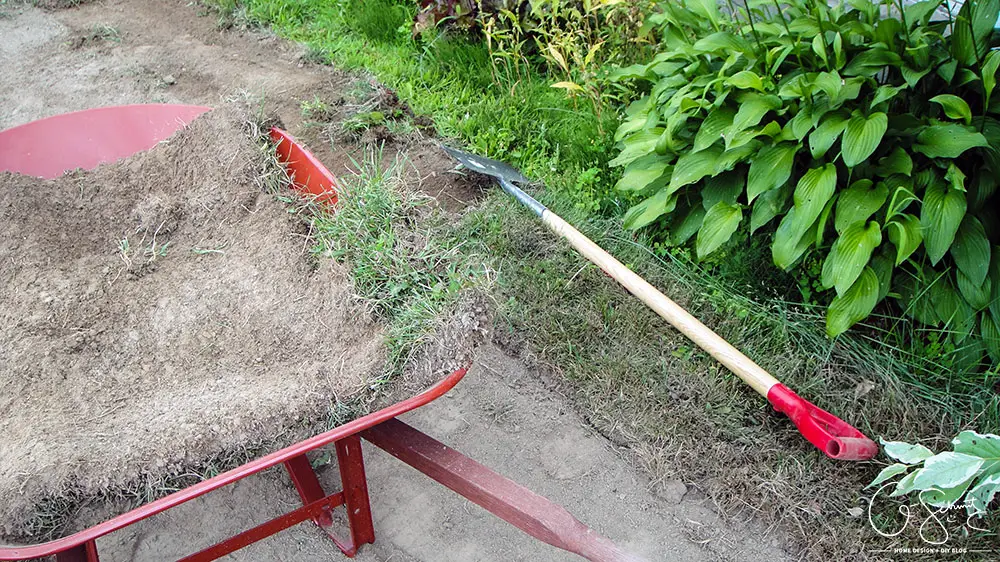 Because I couldn't lift the rolls of sod, I found it much easier to cut them (in about 3-4′ lengths) and load them up in my wheelbarrow.  I cut them using an ice cutter, so obviously living in the North has some advantages.  (If you actually consider owning an ice cutter some sort of advantage?)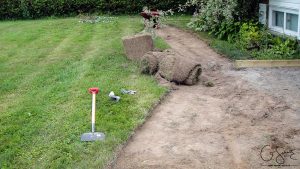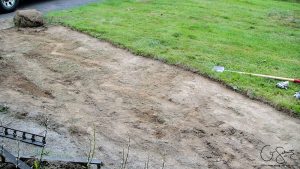 Pretty soon the mess that was once there was slowly starting to disappear.  And just remember how there used to be grass there just a few hours before, and pavers near there the weekend before?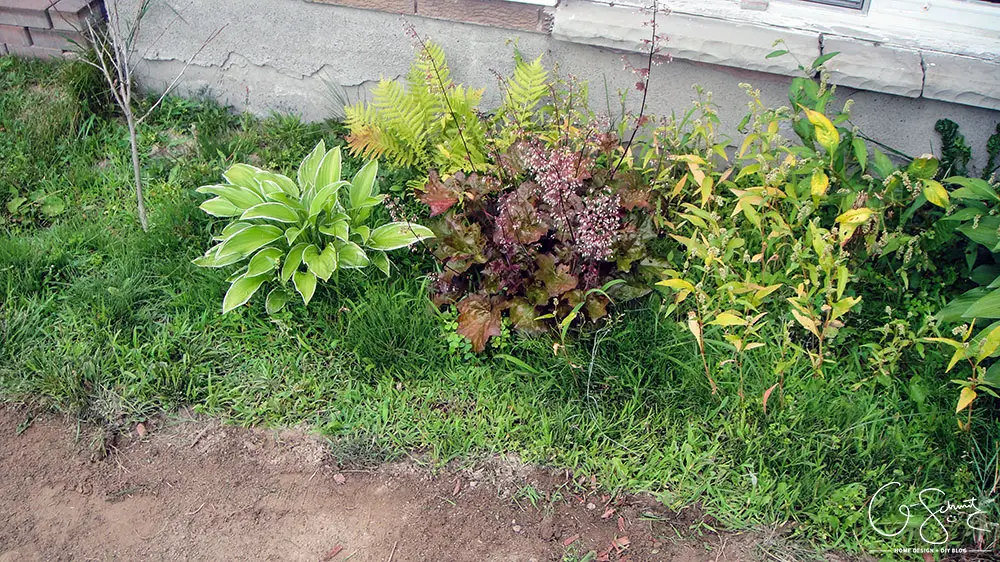 If only there was a weed removal machine to get rid of weeds in between our plants…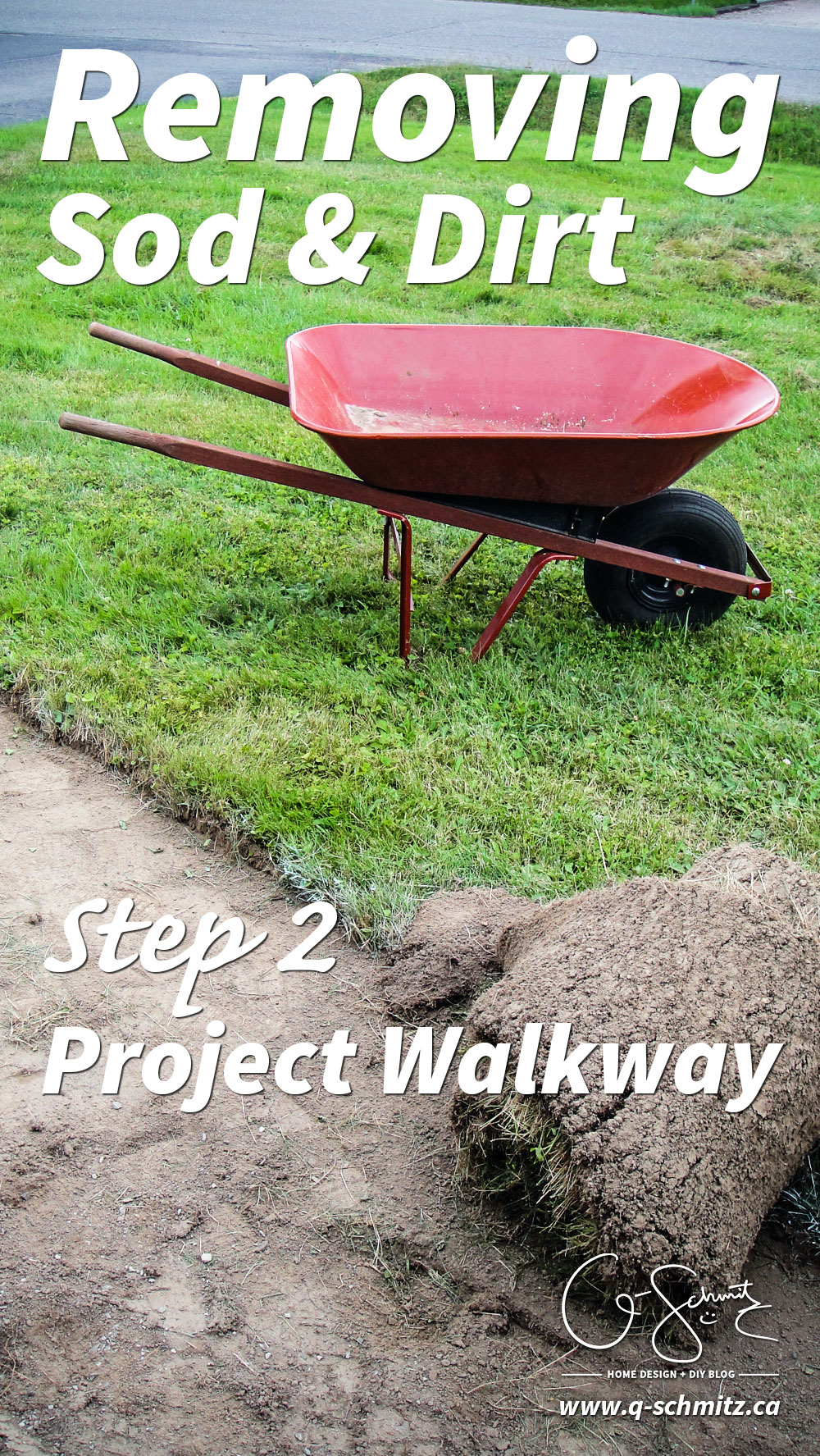 And so that's about where everything is at the moment!  We actually did do a bit of shoveling of the ground, but I figured there were enough pictures of dirt and sod removal that I would spare you… this week that is!  Have you used a power edger before?  If not, I'd highly recommend trying one out to remove your sod; just remember to put it in gear first!