I'm sharing a SUPER simple 3-ingredient recipe today.  It's honestly something I made up with random ingredients I had on hand, but it turned out really well!  Since then, I've made it a bunch more times over the years, and it always turns out great.  Seriously, if you're looking for something unique, easy to make, and tastes good – this fried cabbage spaghetti squash recipe is for you!
Did I mention this recipe only has three ingredients?  All you need is ground meat (think beef, pork, chicken, turkey, sausage, etc.), cabbage, and spaghetti squash.  There are some spices/seasonings, but only 3 main ingredients.  You can use regular (green) cabbage too, I just love the colour that purple cabbage adds.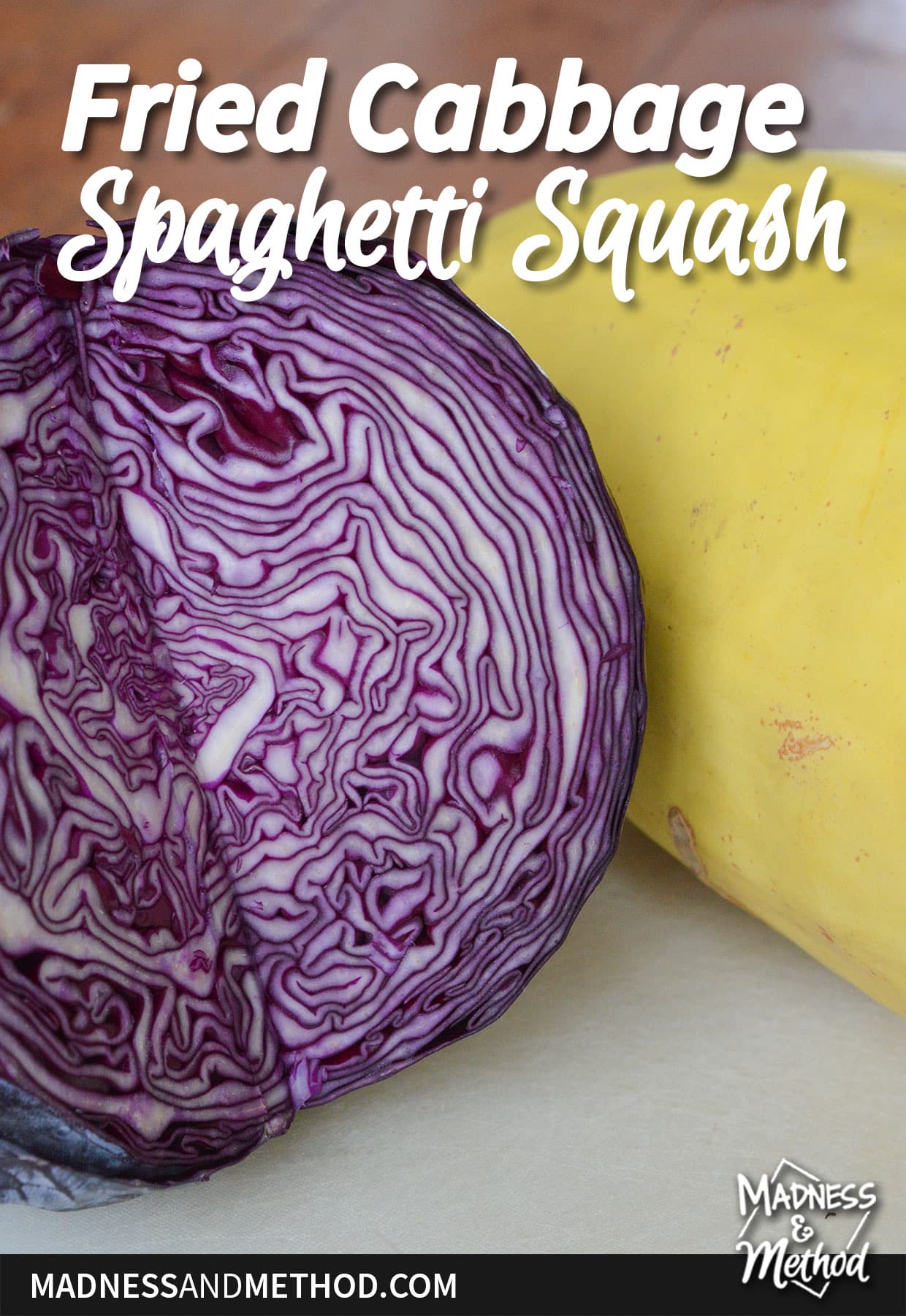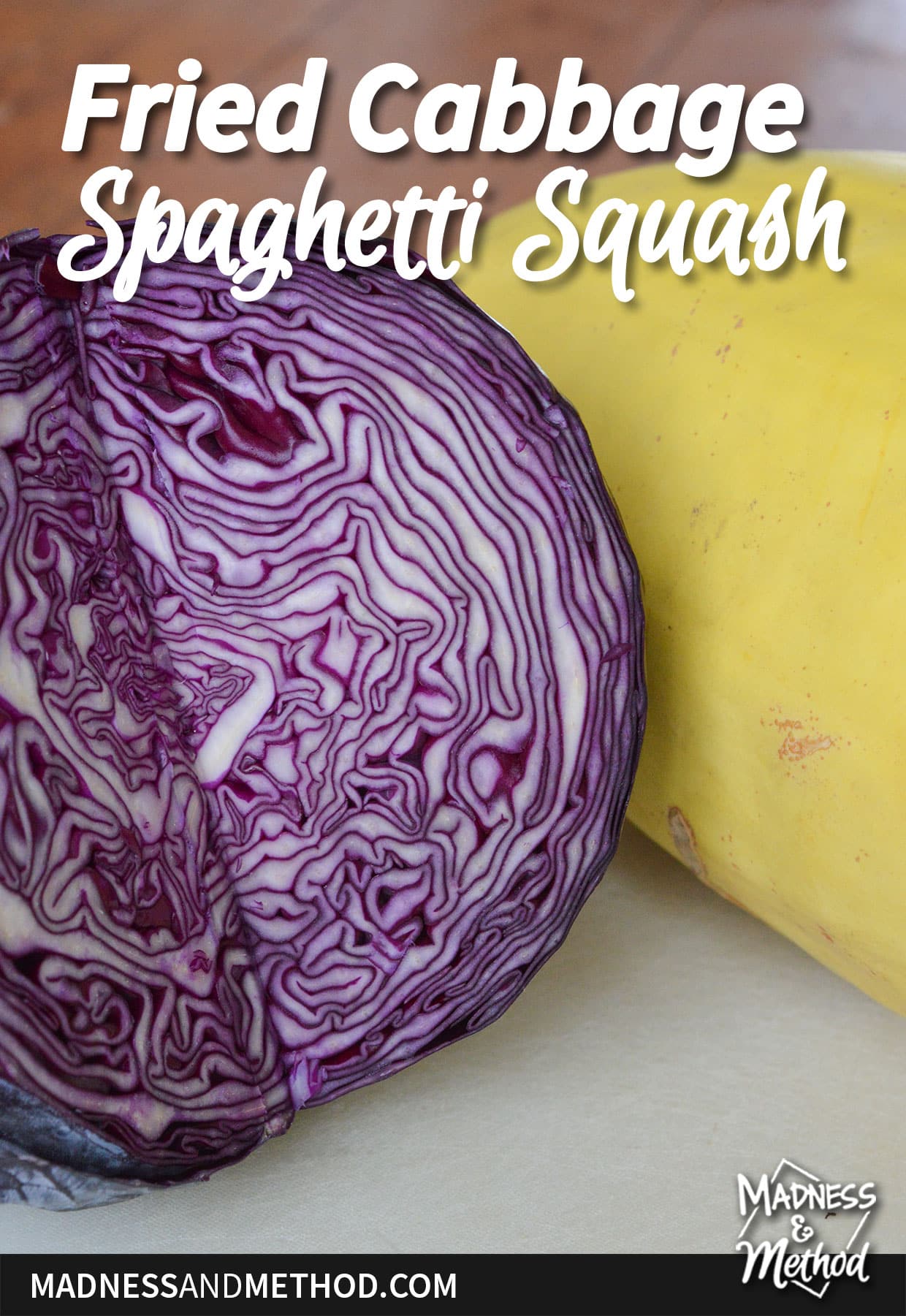 The "trickiest" thing about this recipe will be preparing your spaghetti squash.  It needs to be cooked ahead of time (ish), but I'll share the two ways I've done it before.  Once your spaghetti squash is ready (which you can do ahead of time) the rest of the recipe only takes a few minutes to come together.
How to Cook Spaghetti Squash
Here are two different ways I've cooked spaghetti squash in the past.
Cooking Spaghetti Squash in the Oven
If you have the capacity ahead of time, using the oven is a great way to cook spaghetti squash!  Cut the squash in half lengthwise, spray (or drizzle) with oil, and place face down in an oven-safe pan.  Poke some holes in the skin with a fork.  Cook at 400ºF for 30-40 minutes, remove from oven and let cool.  Scoop out the seeds with a spoon, then fork through the squash to make the spaghetti.
Cooking Spaghetti Squash in the Microwave
Most of the time I made this recipe, I was cooking in a pinch – so used the microwave to cook my spaghetti squash.  For this, I pole holes with a fork along the whole length of the spaghetti squash (like a straight/cut line, but with holes).  Then, place on a microwave-safe plate for around 7 minutes, pop out, turn over, and put back in for another 4-5 minutes.  Once a bit cool, cut the spaghetti squash lengthwise (using the hole line as a guide), scoop out the seeds and fork the spaghetti.  When I cook my squash in the microwave, I'm usually in a rush, so I try to do everything when it's hot.  But be careful, it's really easy to burn yourself on the steam!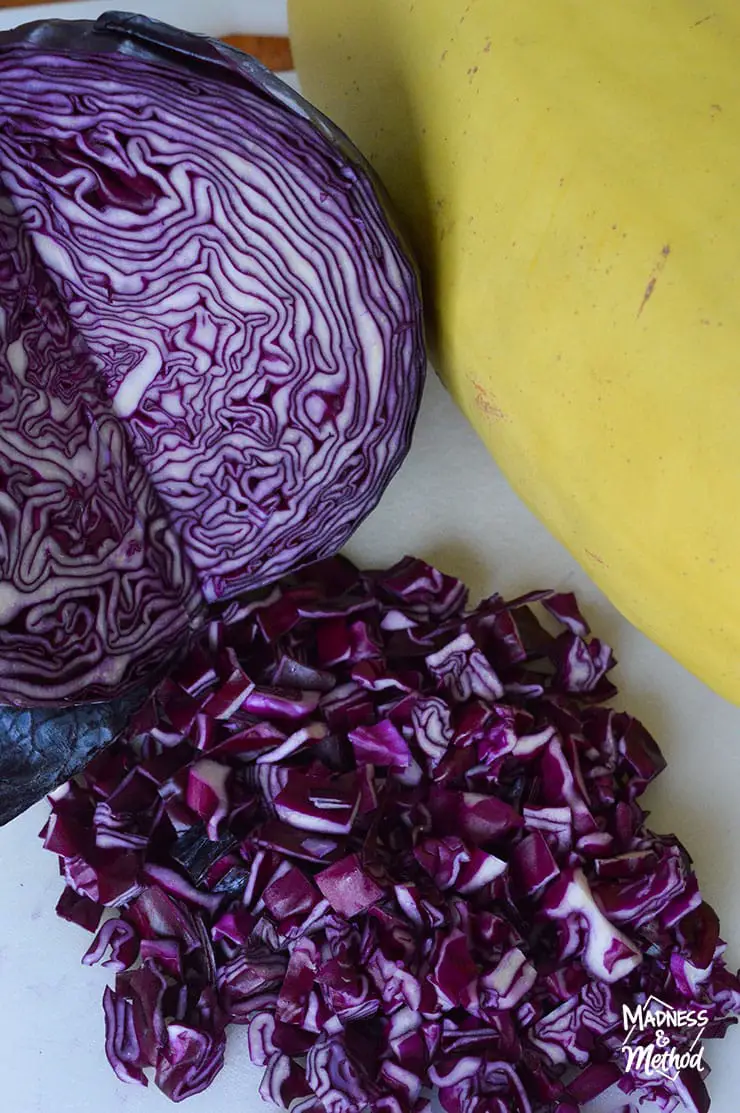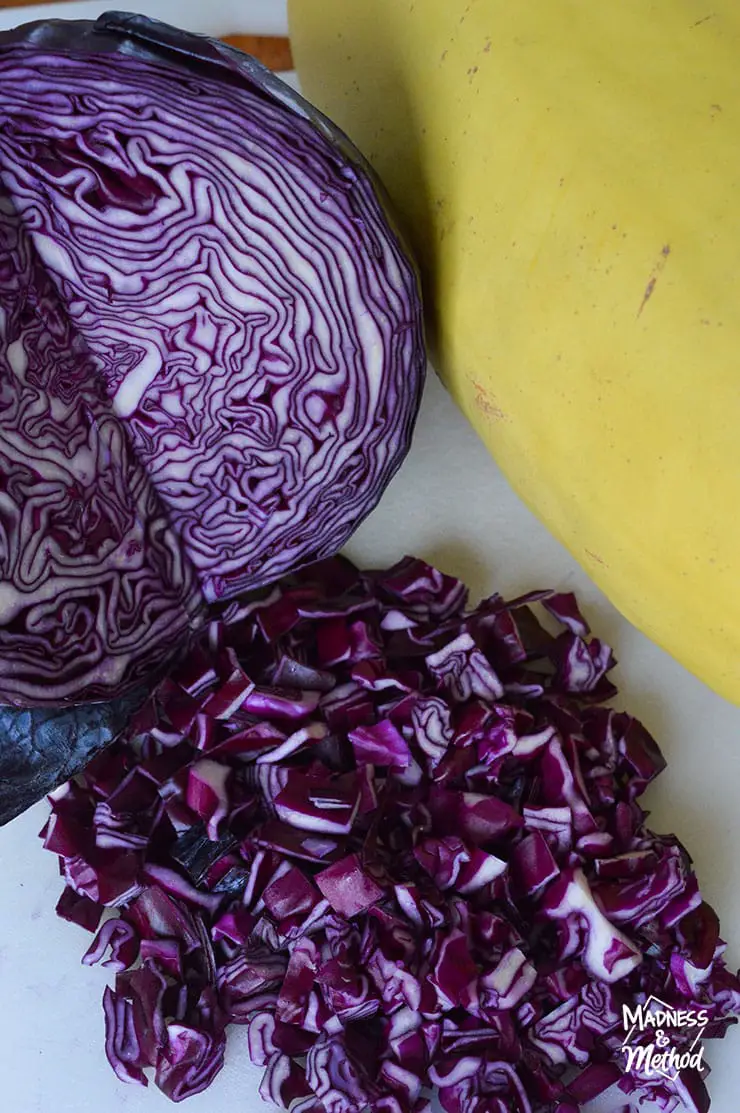 This one-pot meal comes together in less than 15 minutes (not counting the spaghetti squash cooking time).  But honestly, if you cook it in the microwave just before/while you're cooking the beef and cabbage – it is that quick.  The Husband loves this low-starch/carb meal, and I couldn't believe how quickly the leftovers disappeared.  (The kids are 50/50 on it – they're not big into cooked cabbage).
Fried Cabbage Spaghetti Squash Recipe
For this recipe, I like to chop my cabbage into small, bite-size pieces, rather than long strands.  It's easier to eat/cook that way as everything is more uniform.  I also try to have as much cabbage as ground meat and spaghetti squash, so essentially, there's about 1/3 of each main ingredient in the dish.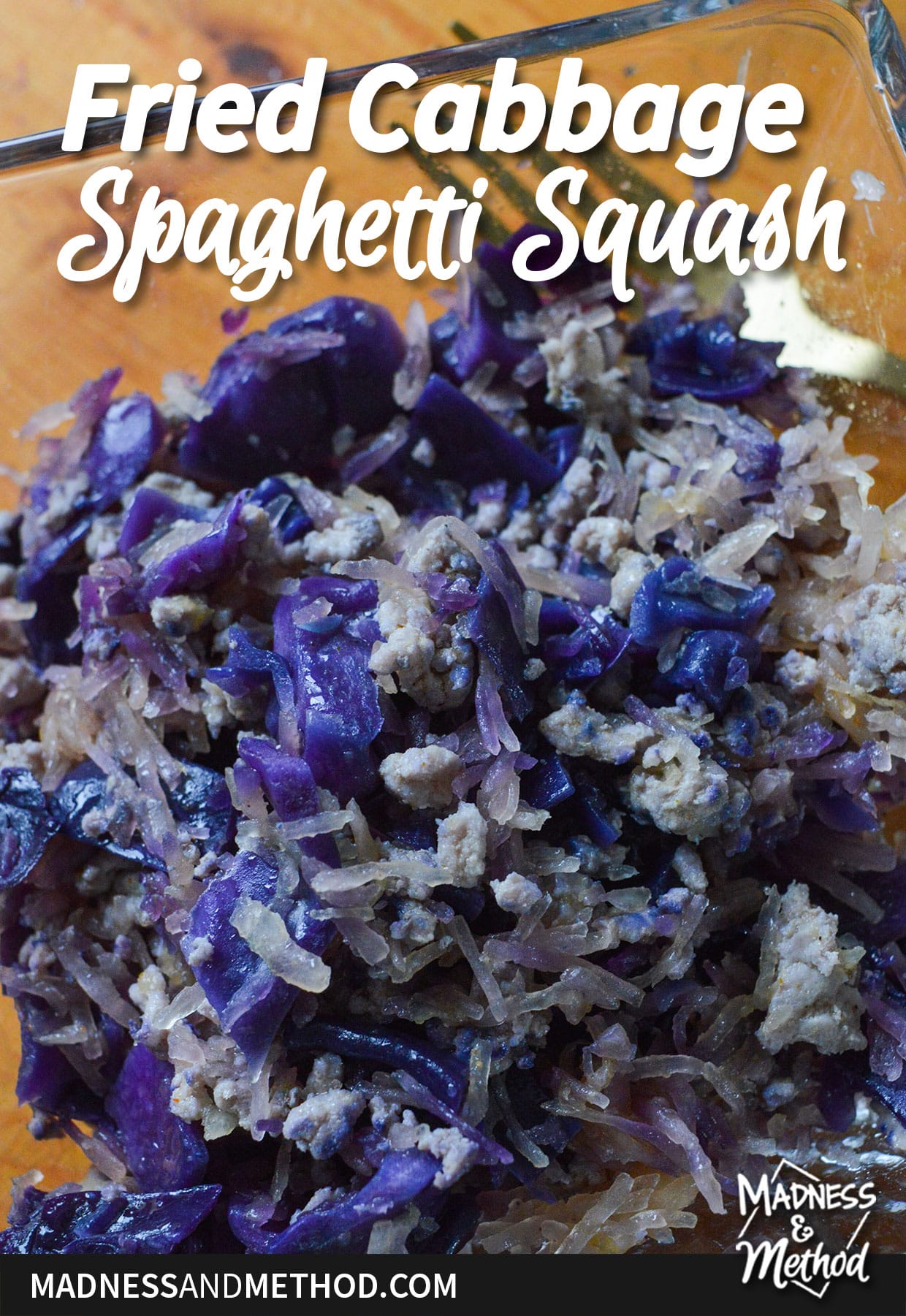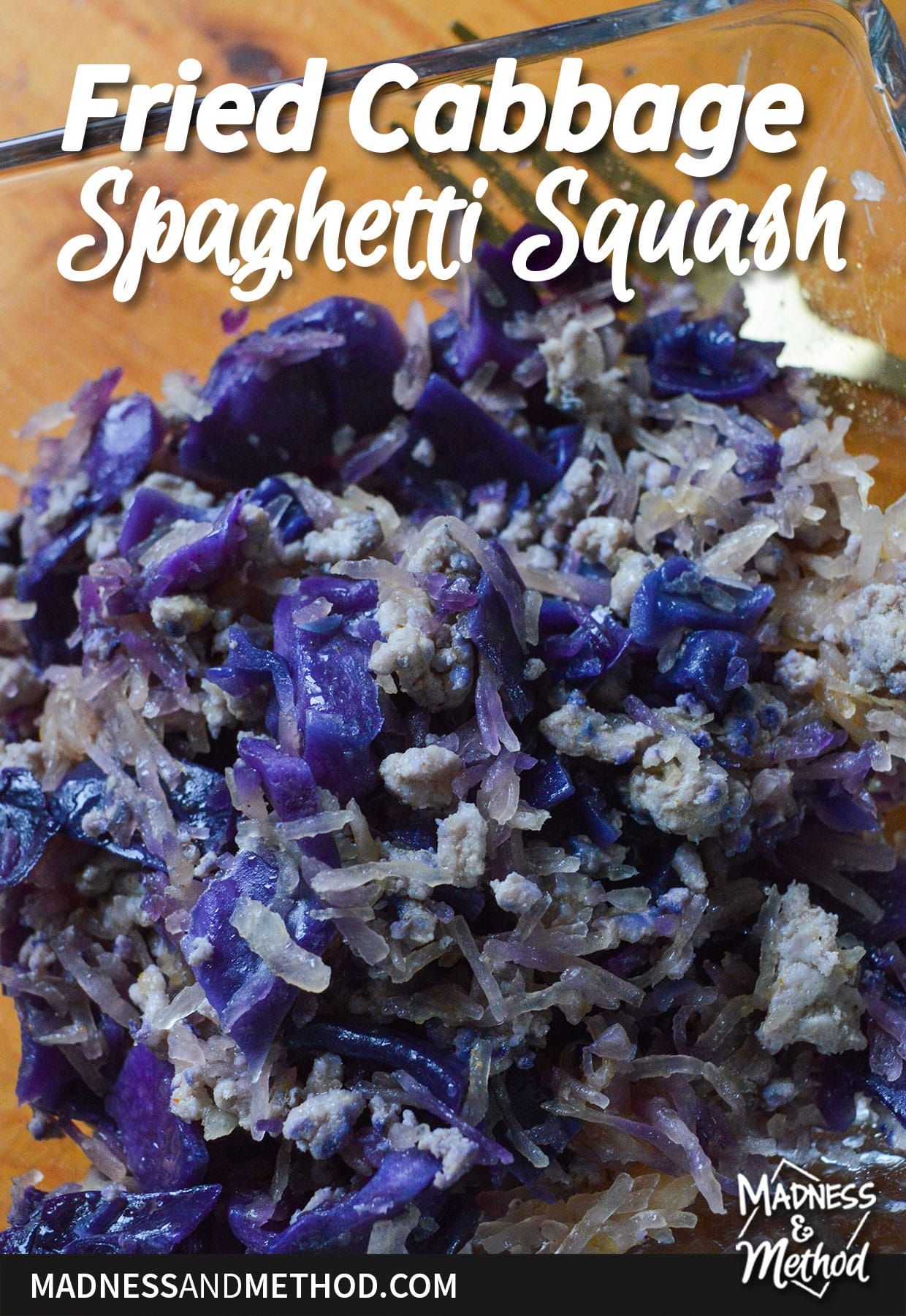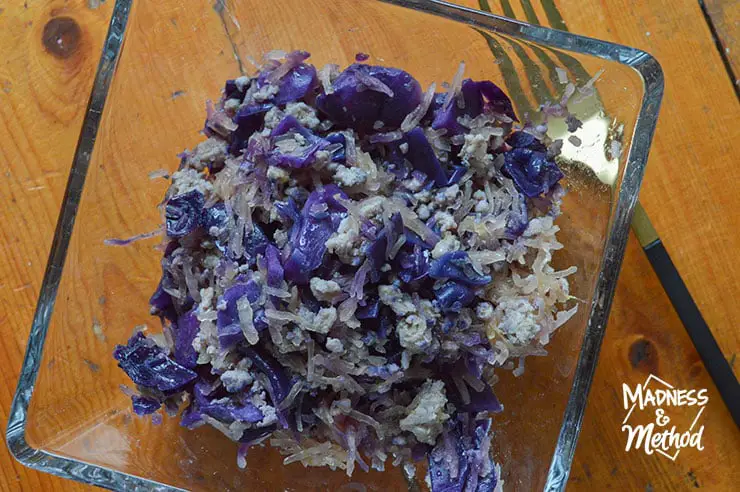 Print Recipe
Fried Cabbage Spaghetti Squash
Super easy 3-ingredient one-pot fried cabbage spaghetti squash recipe. Comes together in less than 15 minutes and tastes great!
Ingredients
1/4-1/2 Head of Cabbage

1 Spaghetti Squash (medium/regular size)

1lbs Ground Meat

Seasonings: salt, pepper, garlic powder, onion powder, paprika, etc.
Instructions
1
Cook and prep spaghetti squash ahead of time*
2
In a large frying pan, cook ground meat on medium-high
3
Chop cabbage into small bite-sized pieces
4
Season ground beef as desired (approx 1/2 tsp each of salt, pepper, garlic powder, paprika - or use seasoning salt)
5
Once ground beef is cooked through (around 6-7 minutes from start), add the cabbage and stir
6
Stir every now and then, until cabbage is cooked through (no longer hard, a bit translucent, approx 3-5 minutes)
7
Turn off the heat, add the spaghetti squash, and stir everything together
8
Season as desired and serve
Notes
*See post notes for how to cook spaghetti squash in the microwave or the oven.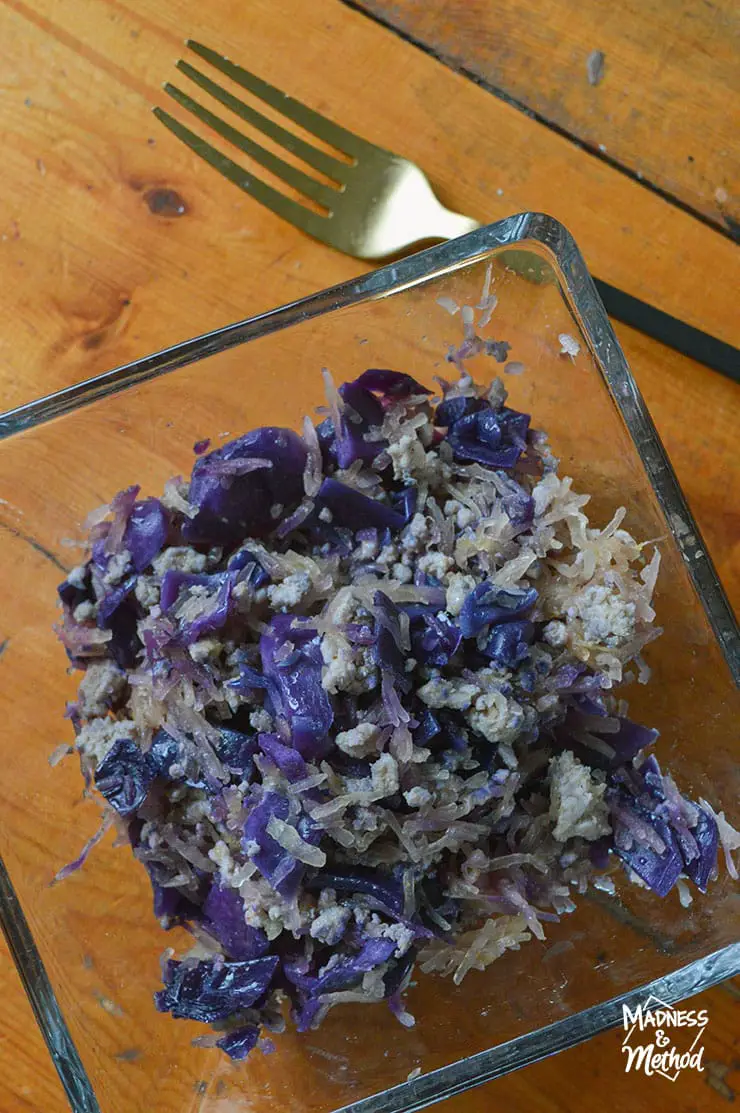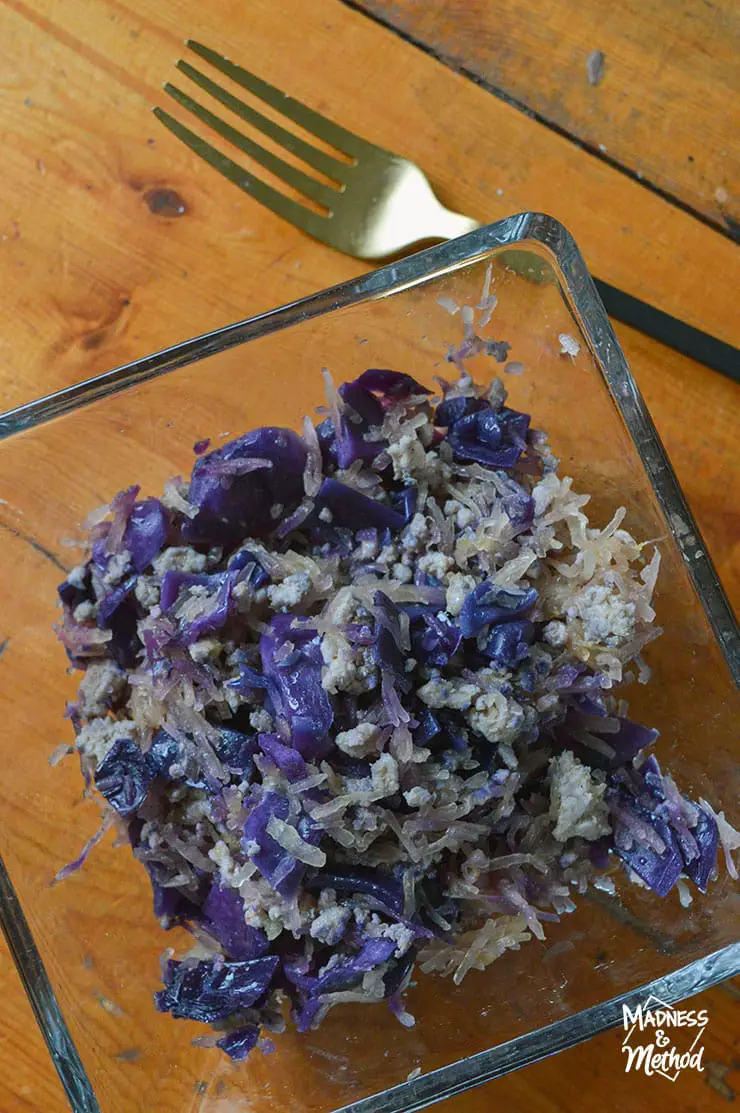 I wish I had a better grasp on the exact seasonings I use – but most of the time I use a seasoning salt mix.  You can certainly add real onions (or other ingredients) if you like, but this 3-ingredient base tastes good as-is.  Oh, and if you're wondering about the texture – the soft ground beef and spaghetti squash go really well with the slightly crunchy fried cabbage.  We usually serve/eat it in a bowl with a spoon or a fork.
As I mentioned, this is a random recipe that I came up with a few years ago.  I didn't even know what to call it for the blog (the Husband refers to it as "your spaghetti squash meal") but hopefully, "fried cabbage spaghetti squash" makes sense!  Actually, I just did a search to see if there was something similar already, and nothing exactly like this seems to come up.
Either way, I hope you give this recipe a try!  And/or, let me know if you have a good name for it, ha.  Oh, and I don't know anything about keto diets – but I think this may fit in those guidelines too.