If you're a Madness and Method super fan (or just happened to catch my latest Facebook Live video), you may have noticed that my hair looks a bit different.  I went from having crazy long hair (you can see it in our family Beauty and the Beast Halloween costumes) to chopping just about 16 inches off AND getting the bottom dyed purple!  Today I wanted to talk about how and where to donate hair, because spoiler – that's what I did with all the hair I was growing!
Oh, and in case you think it was a quarter-life crisis or something (me cutting all my hair and dying it purple), I had actually been planning on doing it for a few months!  Way back when, I shared how my hair used to have rainbow ends, and I really wanted something fun like that again.  (I just made sure to do it after Halloween, you know, so as not to limit my costume choices and what not!).
Why Donate Hair?
If you're like me, and the type of person who doesn't really have a hair "style" than you may be used to growing your hair and chopping a bunch off already.  By having a hairstyle, I'm totally talking about all the people who keep their hair the same ALL THE TIME.  I like to call it "Mom Hair" because it seems like whenever someone becomes a mom, or reaches a certain age, they just keep their hair the exact same for the rest of their life.  (Usually mid-length or short).  Also ,think about all the people you may know that have 80s hair – for some reason their hairstyle got stuck in that decade!
Call me young and crazy, but I cannot commit to the same hairstyle for the rest of my life because I'm sure my looks and hair will change.  So I'm usually either growing it out (also known as being lazy and not getting it cut often) OR just gotten it cut drastically (and maybe dyed) and living with it like that for awhile.
ANYWAYS! I think I've donated my hair at least 3 times, and to me, it's such an easy thing to do (literally, just let your hair grow!).  It's probably one of the easiest ways to make a difference, and will not even cost you that much money.
How to Donate Hair
Most articles you'll find will reference the Pantene Beautiful Lengths instructions which are very thorough.  Unfortunately, not all programs have the same requirements, so I've included a handy table below that compares them all.
Anyways, the simple steps are as follows:
Make sure your hair is clean and dry
If curly/wavy, you can always straighten it – but it's not necessary
Tie hair in an elastic band where you will cut it
Cut above band (so that hair is still bundled together)
Optional: Add second elastic band at the bottom or middle to keep it together
Seal in aplastic bag, then mail in a big envelope!
Where to Donate Hair
Using the power of the internet, I think I've come up with a list of all the places you can donate your hair in Canada. If you're in the States, I know that Pantene has its own program (it's the exact same, just a different mailing address).  I'm sure you could also mail your hair to any of these Canadian locations too if you wanted (it might just cost more to mail, and I really don't know how they are at the border with hair deliveries).
Comparing Hair Donation Programs
* Note: The Pantene Beautiful Lengths program is no longer accepting hair in Canada
Some of the programs also mentioned not being able to accept dreadlocks – I figured it was obvious, but I just wanted to state it anyways!  And most of them specifically say no perms (that would also include chemically straightened hair).
Basically, it takes a LOT of hair donations to make one wig, and the theory is that it's easier to dye all the wig hair to match if it hasn't already been chemically treated or bleached. 
In the past, I have donated coloured hair, I just made sure to include a little memo in the envelope stating that.
If you'd like to colour your hair but do want to donate it in the future, I would always suggest doing a semi-permanent dye that comes out in a month or so.  And remember, anytime you bleach your hair (aka make it lighter than it normally is), it probably won't be accepted for donation.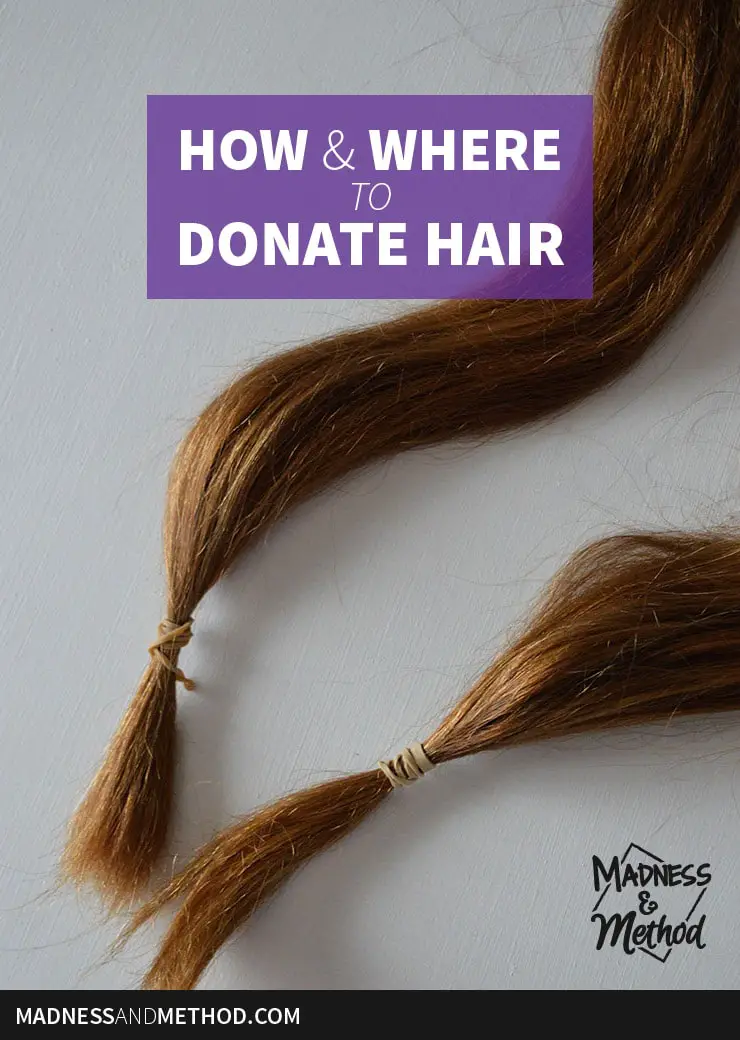 I hope my tips on how and where to donate hair will be useful if you're planning on growing your tresses! And don't just think it's something only girls can do – when I was in high school, there were a few guys who would grow their hair to donate too! (My high school used to do it as part of an annual event I think).
Don't think you can grow your hair, but still want to support wigs for cancer?  You can certainly send monetary donations (a lot of the programs encourage it!) because presumably, it takes a lot of money to make wigs too.
As I said, this wasn't the first time I've donated my hair, and it probably won't be the last.  I just have to wait for the purple to grow out, cut it off and grow it all again!