Have you been growing your hair for a while and want a change?  Donate your long hair to make a wig!  Not sure where to begin?  I'm breaking down the steps of why, how and where to donate hair in Canada.  But don't worry, a lot of the same steps apply to other countries too!  Trust me, growing your hair and cutting it is super easy :) 
I've probably cut and donated my hair 4-5 times.  The last time was around 2017 when I cut 16 inches, and this year, in 2023, I cut about 12″.  I probably could have cut it before now, but I had dyed the ends and cut that section off in between the last few years.  
This post was originally published November 25, 2017. It has been refreshed and republished January 11, 2023.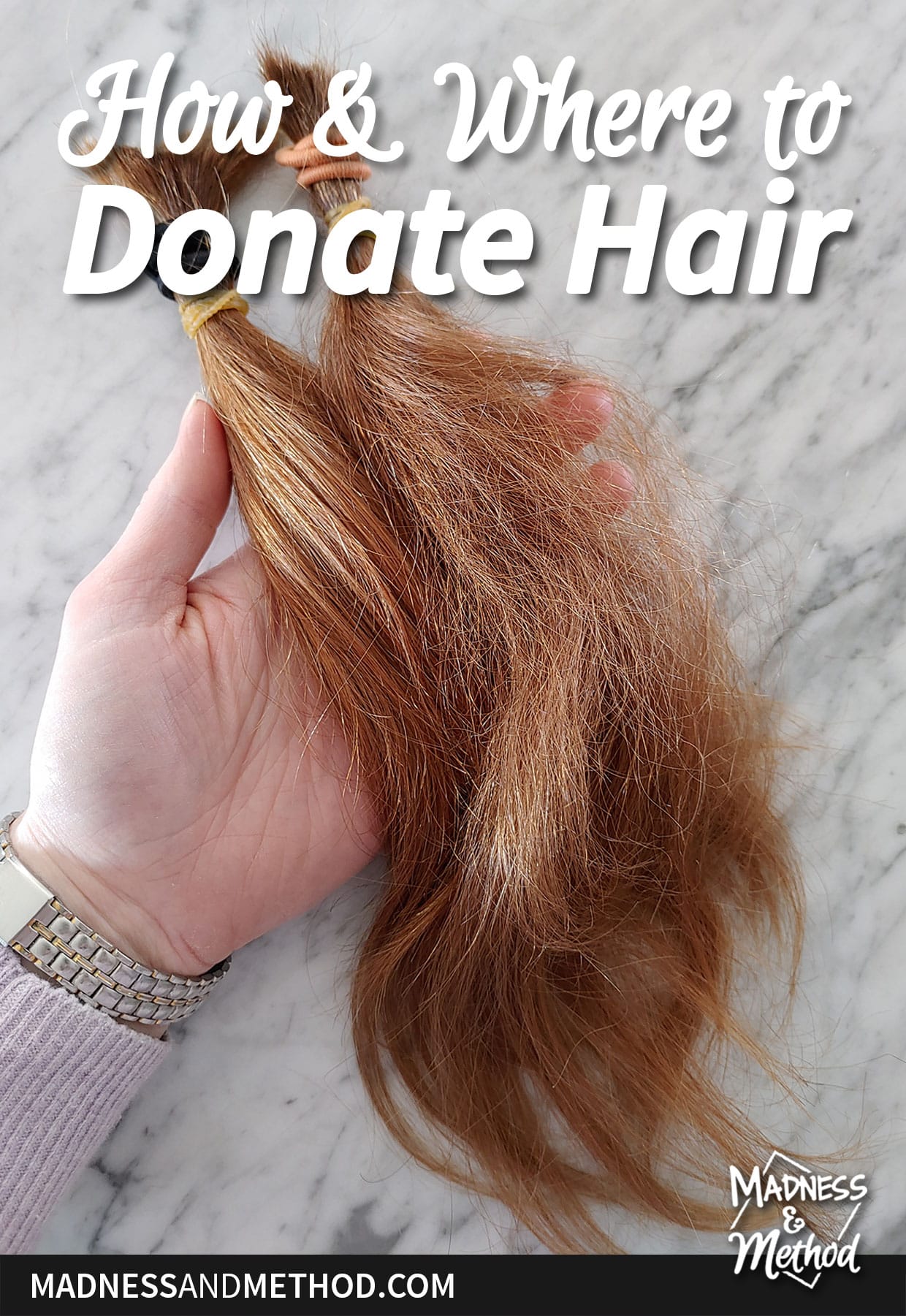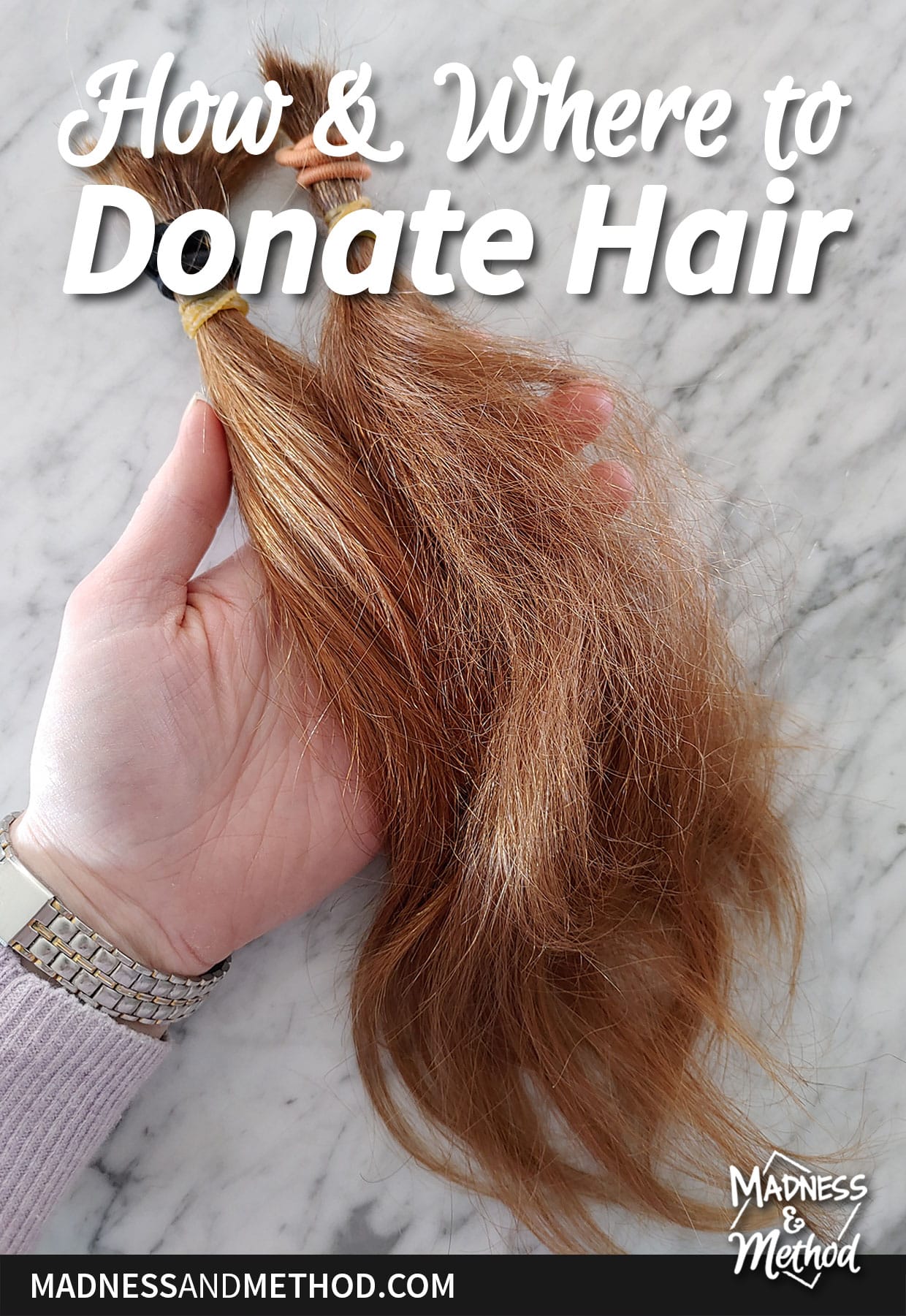 Why Donate Hair?
Donating your hair is such an easy thing to do (literally, just let your hair grow!).  It's probably one of the easiest ways to make a difference, and will not even cost you that much money (just the cost of postage).
Hair donations are used to make wigs for people with hair loss, whether through cancer, alopecia or other conditions.  It takes a lot of hair to make one wig, so the more people donate good hair, the better! 
If you're the type of person who doesn't really have a hair "style" then you may be used to growing your hair and chopping a bunch off already.  So why not grow it a bit longer and cut it off to donate it?   Personally, I like to let my hair grow out (also known as being lazy and not getting it cut often) then do a big chop every few years.  Then, I might get it dyed then, let it grow, chop the colour off, and grow it again! 
How to Donate Hair
Not all programs have the same requirements, but here are the basics that they all follow:
Make sure your hair is clean and dry
Virgin hair (no perms, colour) – check out the chart below for more details
If curly/wavy, you can always straighten it – but it's not necessary
Hair can be left alone or braided
Tie hair in an elastic band where you will cut it (at least 2 ponytails are better than one big one)
Cut above the band (so that hair is still bundled together)
Optional: Add additional elastic bands at the bottom or middle to keep it together
Mail it in an envelope (some programs want the hair in a bag, others not – so just double-check before you send it)
If you'd like to colour your hair but are growing it to donate in the future, I would suggest doing a semi-permanent dye that comes out in a month or so.  And remember, anytime you bleach your hair (aka make it lighter than it normally is), it probably won't be accepted for donation.
Where to Donate Hair in Canada
Using the power of the internet, I think I've come up with a list of all the places you can donate your hair in Canada.  Looking to donate hair in the United States?  This article has an updated list of who accepts hair donations. 
Note: The Pantene Beautiful Lengths program, written in 2017, is no longer accepting hair donations
Some of the programs also mentioned not being able to accept dreadlocks – I figured it was obvious, but I just wanted to state it anyways!  And most of them specifically say no perms (that would also include chemically straightened hair).
Basically, it takes a LOT of hair donations to make one wig, and the theory is that it's easier to dye all the wig hair to match if it hasn't already been chemically treated or bleached. 
In the past, I have donated coloured hair, I just made sure to include a little memo in the envelope stating that.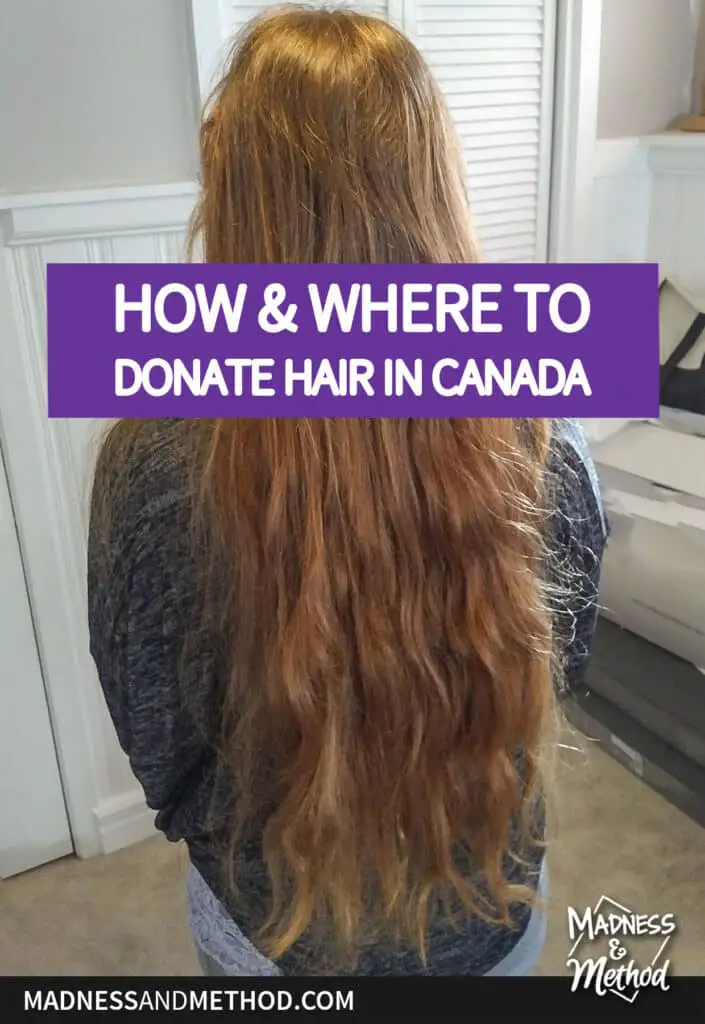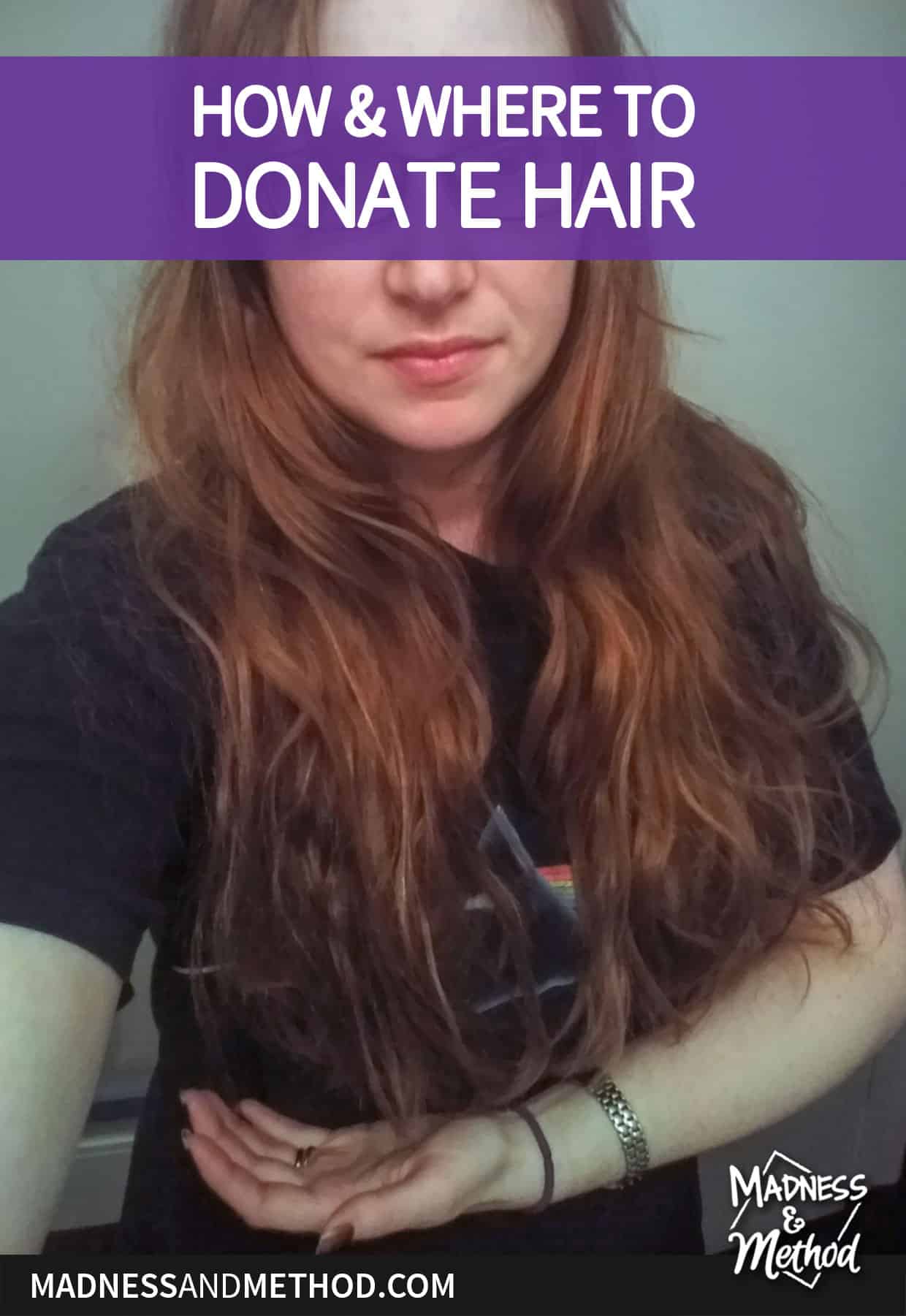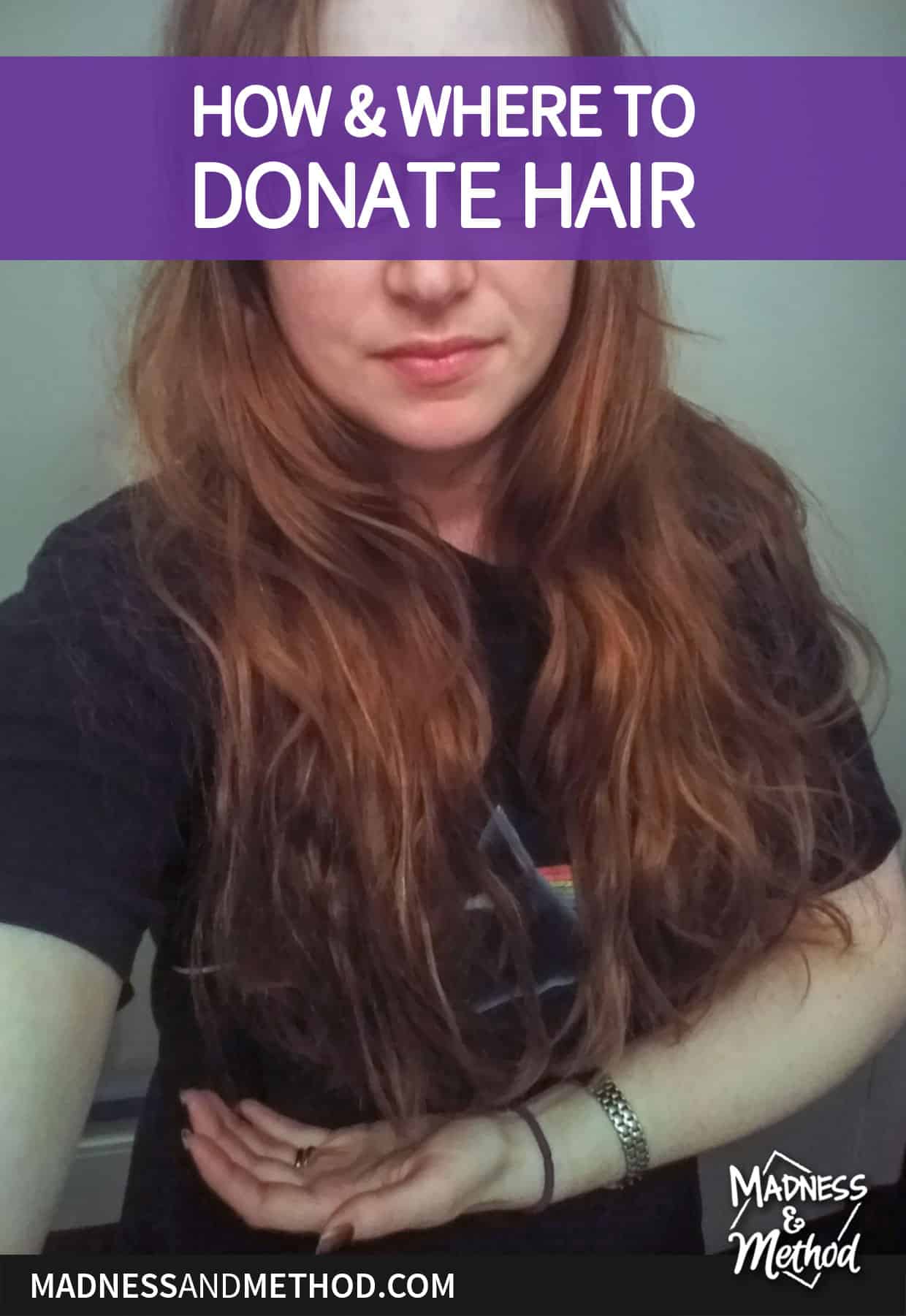 I hope my tips on how and where to donate hair will be useful if you're planning on growing your tresses! And don't just think it's something only girls can do – when I was in high school, there were a few guys who would grow their hair to donate too! (My high school used to do it as part of an annual event I think).
Can't grow your hair, but still want to support wig-making charities?  You can send monetary donations (a lot of the programs encourage it!) because presumably, it takes a lot of money to make wigs too.
Happy chopping!