In 2019, I participated in a local charity cake auction for the first time.  I had so much fun, I knew I had to do it again!  Unfortunately, as things were looking in 2020, I didn't think I'd have the chance.  The in-person event was cancelled early on, so I put the idea on hold.  Butttttt the story doesn't end – since they decided to hold an online auction instead :)  AND MY CAKE(S) WONNNN!  So today I'm sharing all the details on the seasonal cakes I made, aka a cake for each quarter of 2020.
– Note: This post contains affiliate links. See more information about affiliates here. –
The first year, my cake fetched the lowest price at the Sudbury Food Bank's Art of Desserts event.  Not sure if it was the number of cakes I made, the online-only portion, or what, but I was able to get the highest bid this time around.  I'll for sure have to go back next year (I have my concept already!), so hopefully, we'll be back in-person.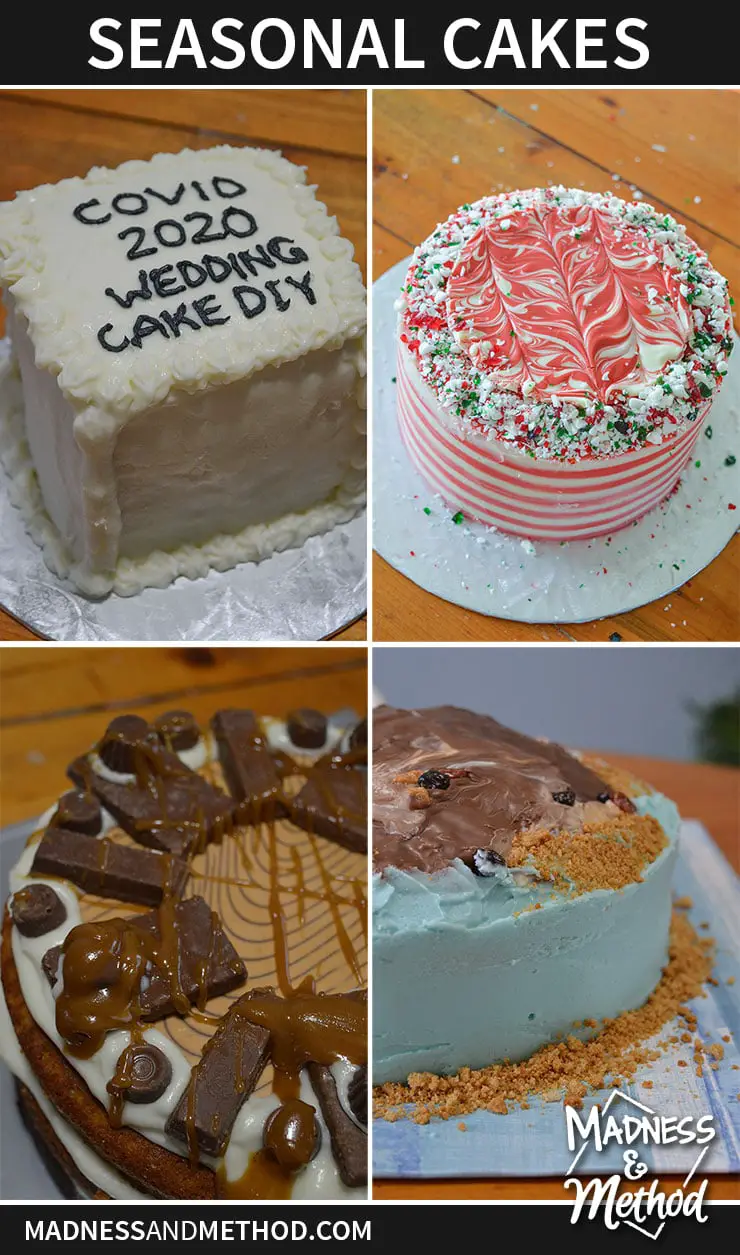 ANYWAYS!  Let's get to the details of the seasonal cakes!
Essentially, I wanted to do a separate, but cohesive tiered cake.  Most times, people will win their cake, then put it in the freezer for another time.  I didn't want the hassle of making a ginormous cake that wouldn't fit.  Enter the idea of making four cakes that could be stacked to create one big cake.
Spring "DIY Wedding" Cake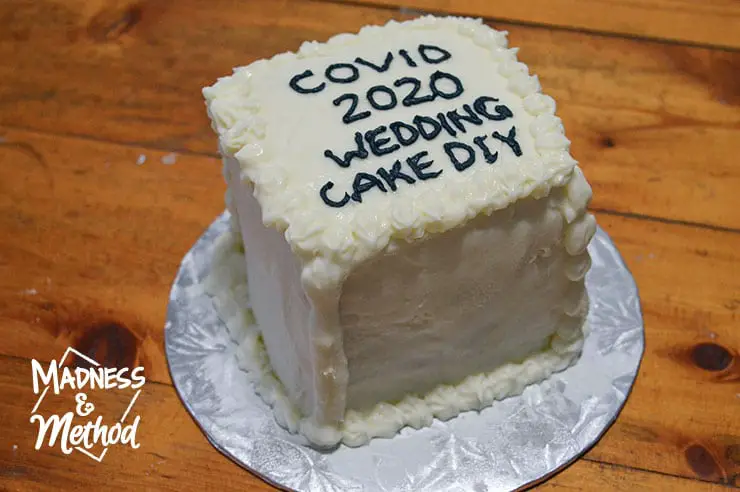 I originally thought that my spring cake would be the bottom layer since spring is pretty much the first month.  But then I realized that a 3 layer 14″ cake wasn't exactly "small" and easy to store!  (Not to mention that it would have been really heavy).  So, I made a little 4″ square cake instead.
Description: With spring 2020 unlike any other, it's no wonder this cake doesn't quite fit in with the rest!  A square almond cake with a white chocolate buttercream icing decorated in a traditional way.  For all the brides and grooms that had to cancel or postpone their weddings this year, this one's for you! 
I also wanted it to be a pretty cake… but decided to go with the DIY/messy route instead.  The icing started melting, the black letters bled into the white top, it fit perfectly with the theme!  (I don't think I have a picture of the final look though).
I made an almond cake and a white chocolate ganache frosting.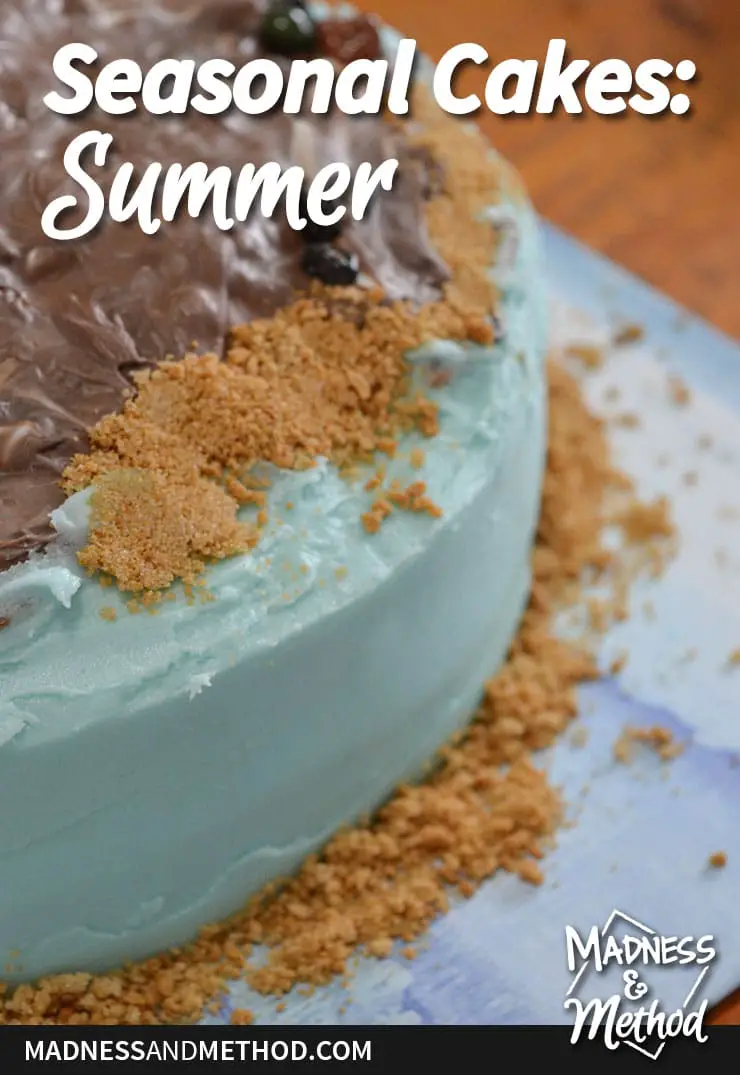 Summer "Beach" Cake
My summer cake was very much inspired by the beach cake I made Élise for her birthday.  Actually, my original concept for the event was going to be a representation of Ramsay Lake (the central lake in Sudbury).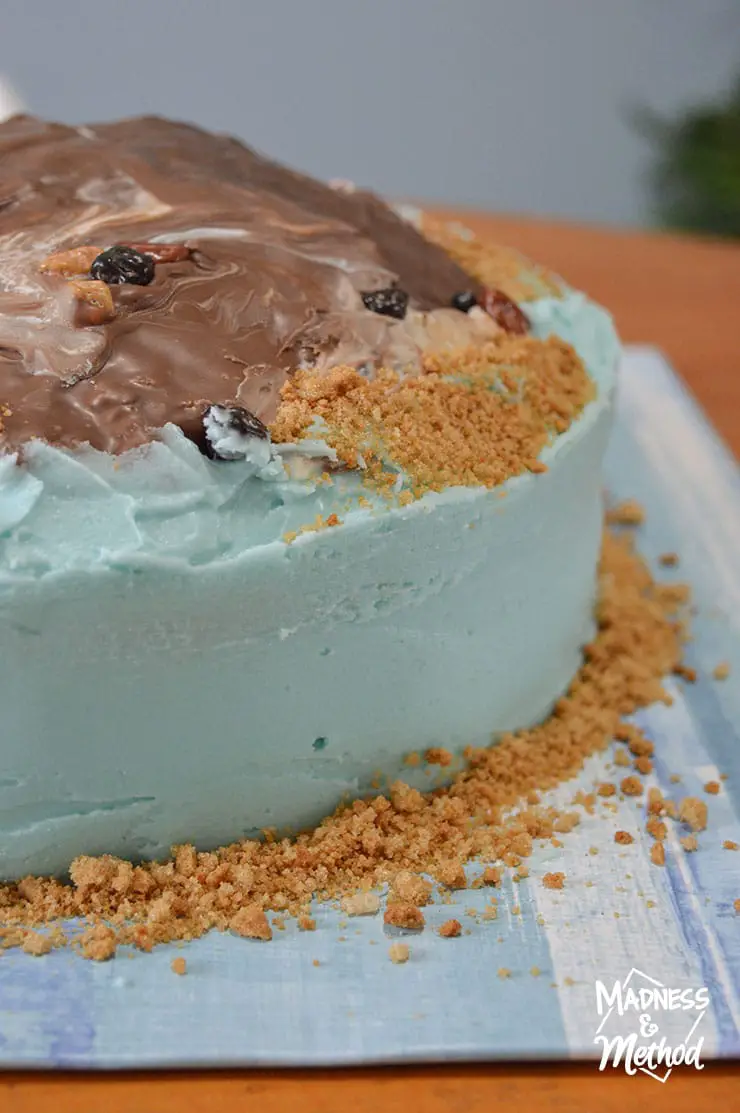 Description: This beachy cake not only looks like summer… but tastes like it too!  Layers of a citrus yellow cake make up the foundation and a bright blue raspberry icing represents the water.  The crispy chocolate mountain top represents the rocky Sudbury terrain.  Graham cracker sand, frosting water waves and fun!
I wanted a bold summer/fresh flavour for the cake, so made an orange cake (recipe coming soon!) and a variation of this kool-aid frosting.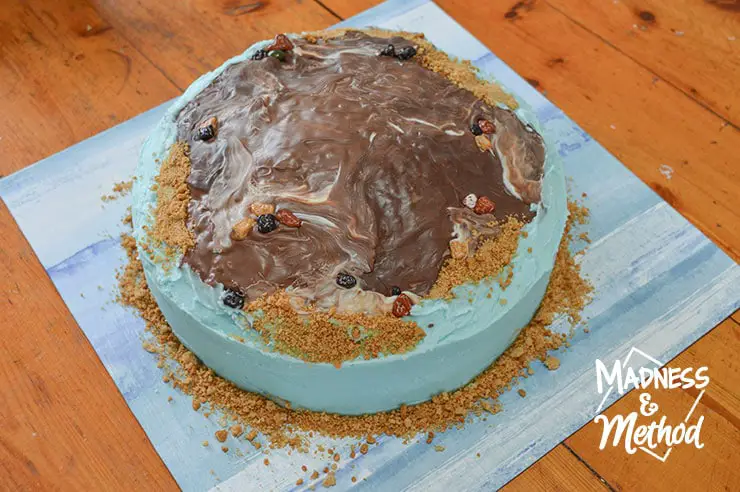 Each of the lower tiers of the cakes had a chocolate component that could be removed in order to stack it.  For the summer cake, I did a rocky terrain with different tempered chocolates.  It really resembles the Sudbury rocks!  But…. I think if I were to re-do it, I would have done a couple of mountains instead of one big one.  Something cuter/beachy-er.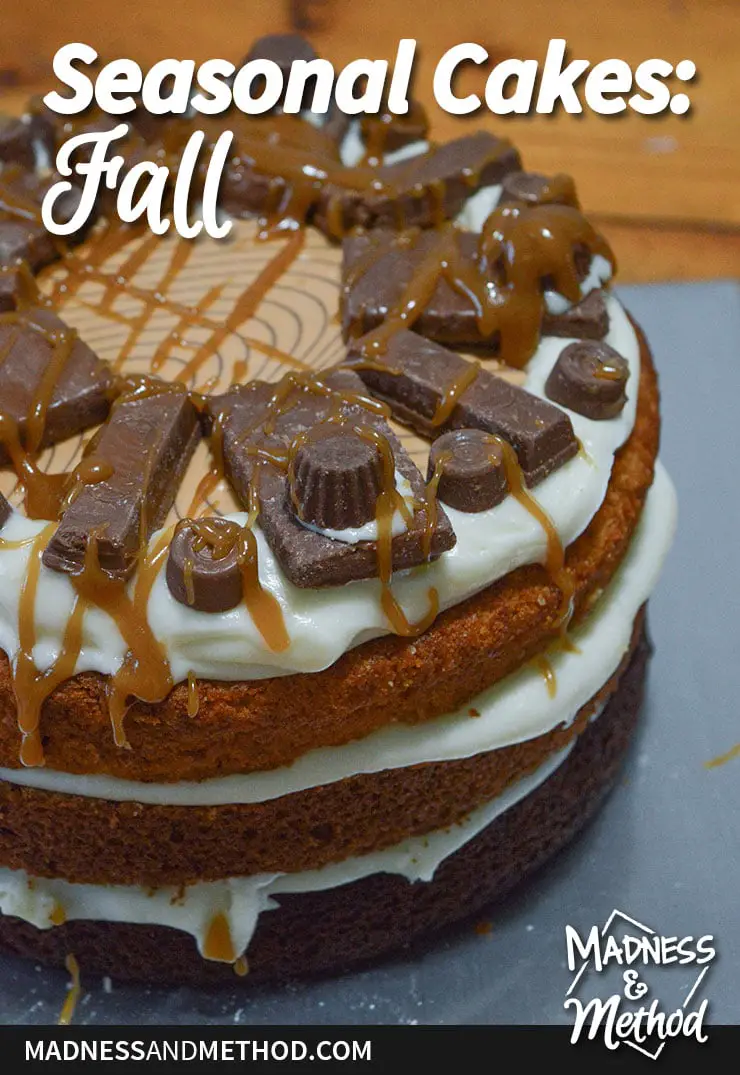 Fall "Halloween" Cake
Growing up, I had a fancy cake decor idea book that had a "crazy calorie cake".  One that was filled to the brim with different chocolates and candies.  That, along with the idea of doing a naked cake (like this, this one, and this one), was my inspiration.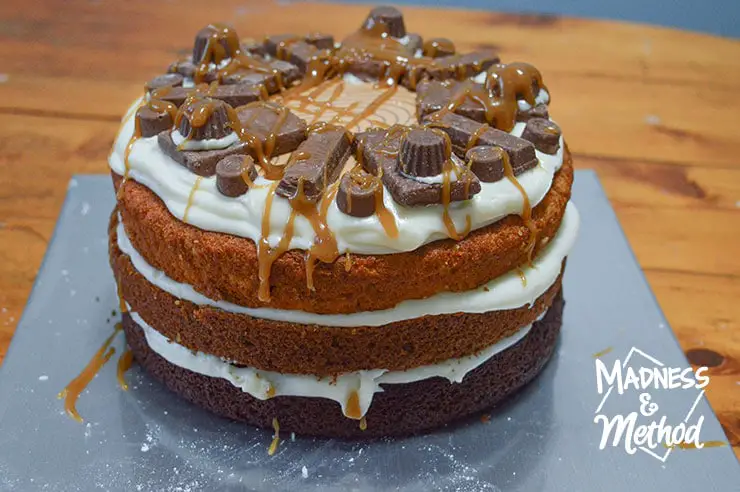 Description: With bikini season behind us, Fall is all about packing on that winter weight.  Plus, with an altered Halloween, you may have missed the trick or treating this year.  Fear not, because all those indulgent chocolate bars have inspired (and are found on) this cake.  Three layers of cake (chocolate, caramel and peanut butter) are sandwiched in a simple vanilla icing.  No need for frosting on the sides, because the top has enough sugar and sweetness already! 
My original butterscotch layer was soooo good, but it was a lot denser than the others.  I had to redo this layer at the last minute.  (I should mention, last time I made and decorated my cake all in one day.  This year, I made my cake layers ahead of time and froze them.  Everything was decorated the night before the event).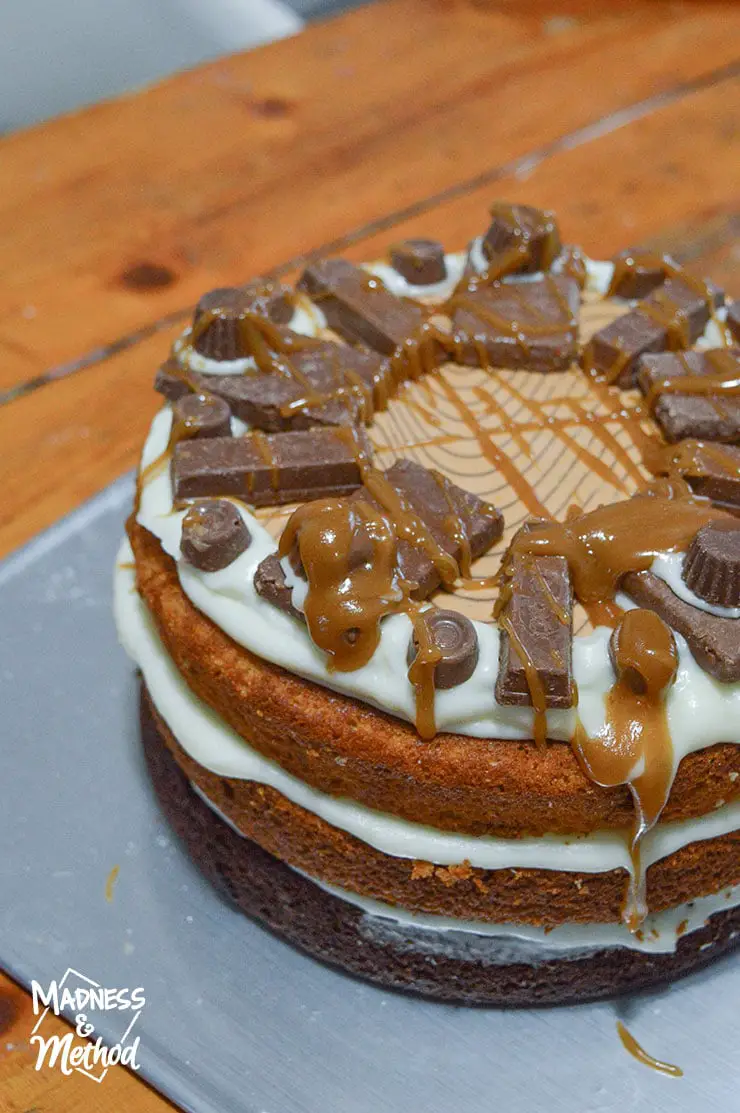 Oh, and the chocolate top layer on this cake was a butterscotch and milk chocolate swirl design.  I made my own caramel to spoon on the top, but I think a store-bought version (with a squeeze bottle) would have looked nicer, ha!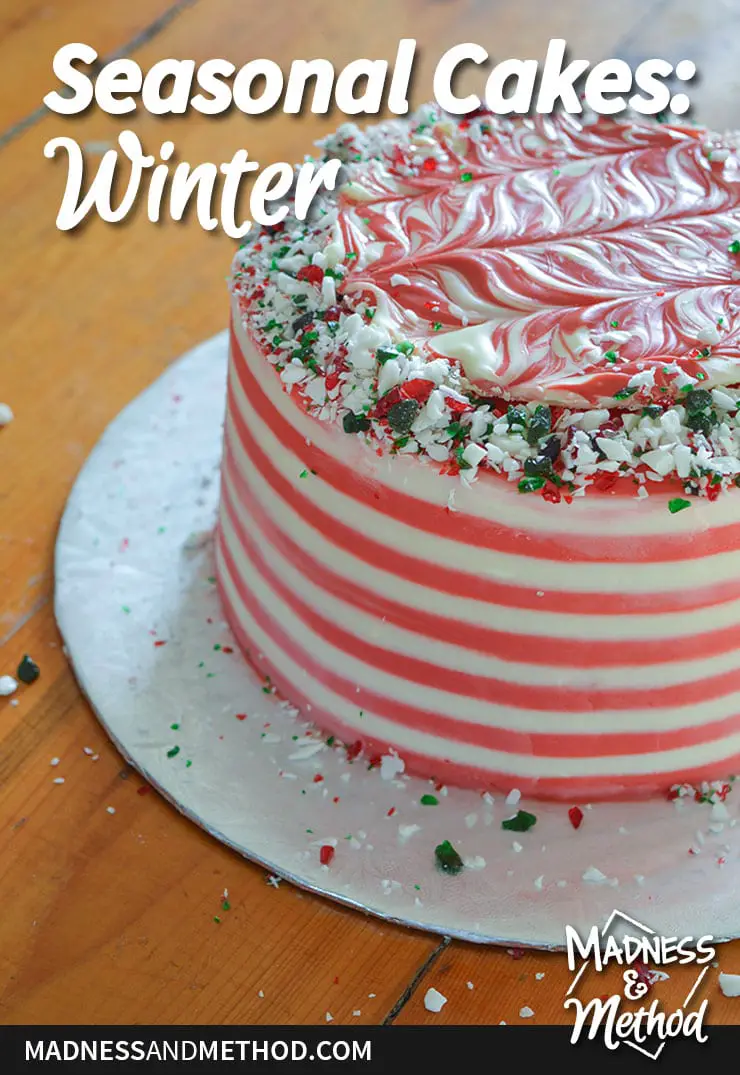 Winter "Candy Cane" Cake
This was undoubtedly the nicest looking (and time-consuming) cake. I had the idea to do a striped cake and practised the technique forever before it looked decent.  Heck, I didn't fully "get it" until a few days before!
Description: This quintessential winter cake is all about a candy cane Christmas! Chocolate cake layers are wrapped around a fresh candy cane vanilla icing.  Beautiful red stripes and candy cane chunks decorate this little cake.  Measuring only 6″ in diameter, it's the perfect size to freeze and store until Christmas dinner.  And, if you don't have the big traditional family gathering, no one will blame you for eating the whole thing by yourself!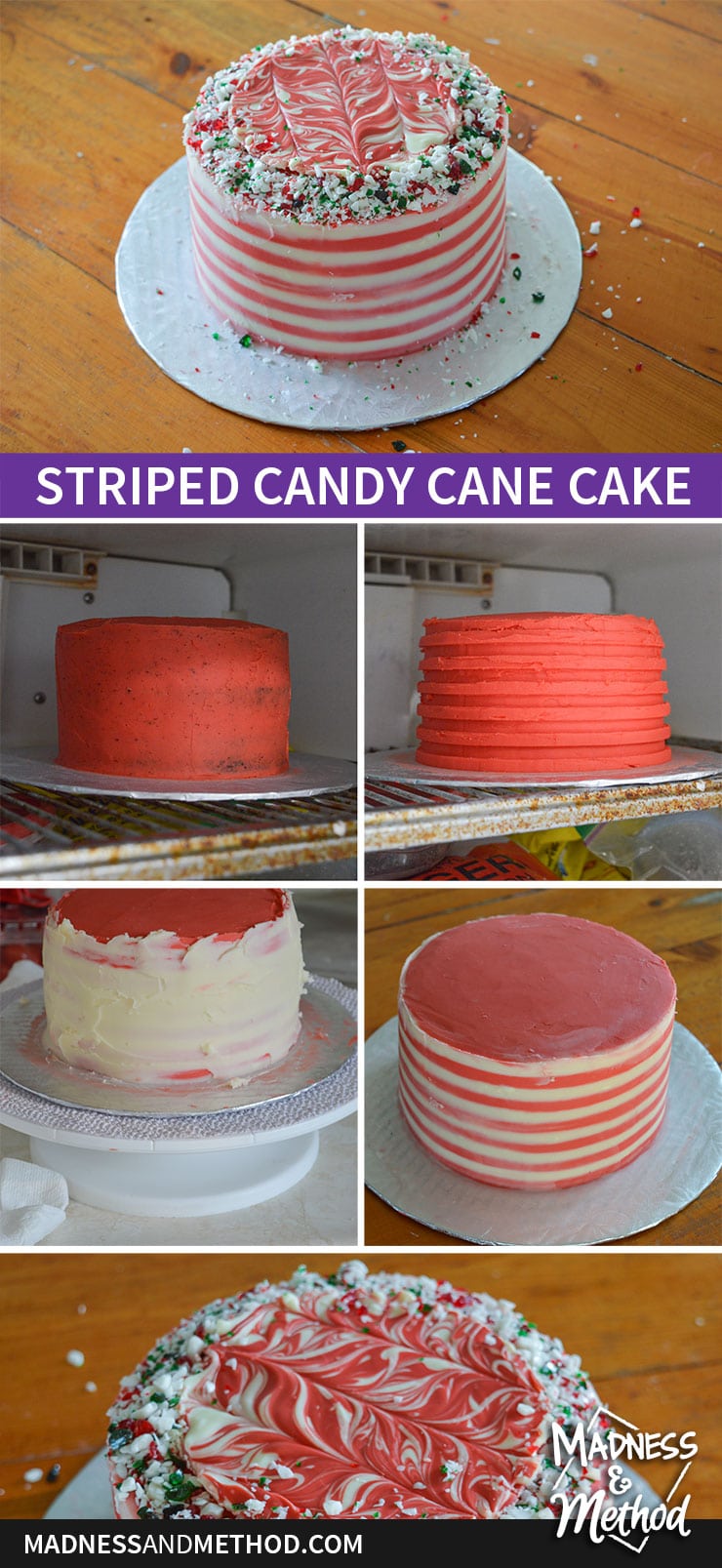 A few things I learned about stripes: I needed a large enough base, or my striping tool would slip off.  The darker layer should go on the bottom.  And a cake spinner is a necessity.
For the cake and icing, I used this recipe.  The top on this cake was a combination of red and white chocolate, swirled into a marble pattern.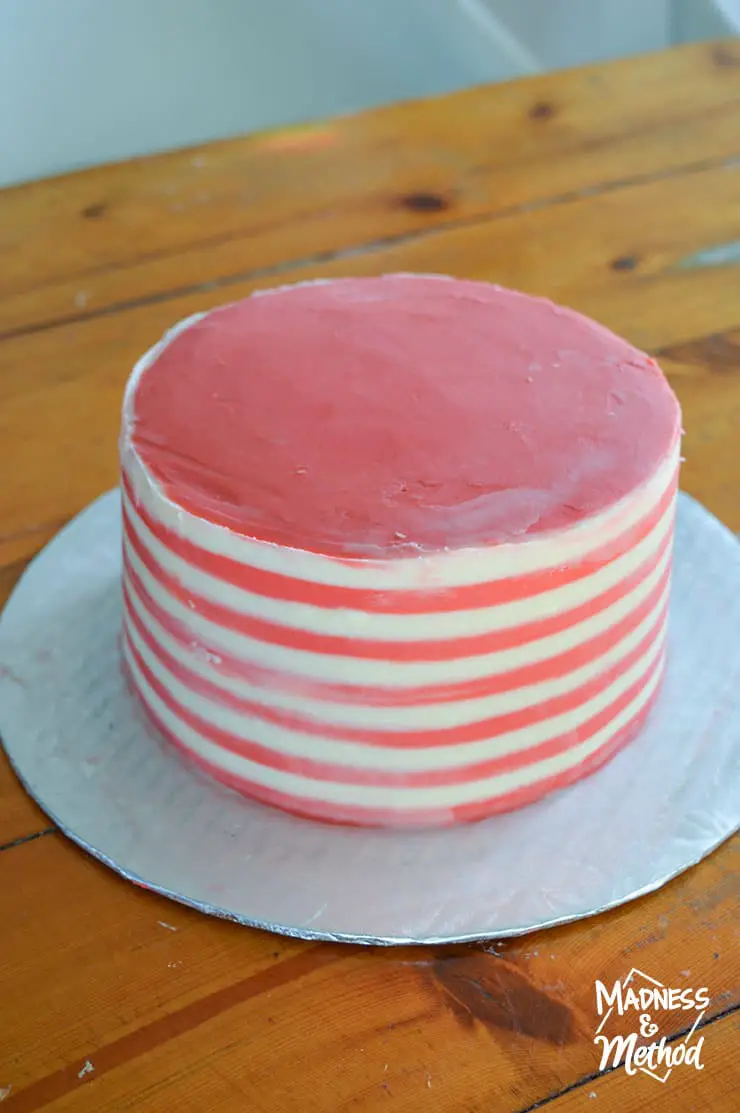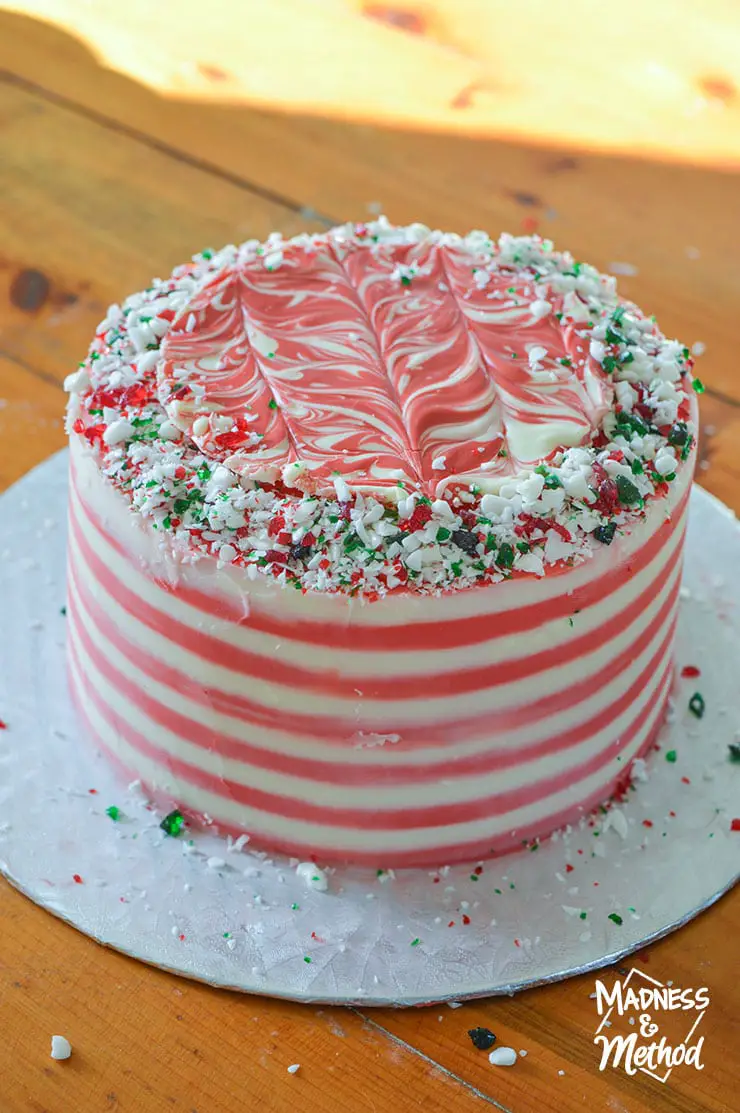 It looked good without the decor too – but the crushed candy canes added to the theme :)
After working on stripes so long… I feel like that's going to be my thing now!  Although I haven't done it since… but I know it will be coming.
Design Concept for Next Year
I believe that next year I'll be doing multiple cakes again, and this time in a …. rainbow theme!
(Were you surprised?)
I'm going to do a small "naked" ombre cake with flavourful rainbow layers and a white funfetti icing.  Then, another orange cake (with possibly a vanilla icing?) and a rainbow ombre design.  Finally, a chocolate and hazelnut cake with Nutella ganache layers and a rainbow ombre stripe hazelnut frosting.
So, get ready for a few more cake posts coming at you this year :)