Hello everyone!  For those who have been reading along with me, you may know that I am pregnant (just over six months and counting!).  Next month will be my baby shower, and although I have no idea what will be going on (my friends are planning it), I knew I wanted to incorporate one game into the festivities, called: Name the Baby Shower Game!
– Note: This post contains affiliate links. See more information about affiliates here –
The Husband and I have decided not to find out the gender of the baby (okay, I mostly decided – but he's kinda stuck with my decision).  So that's made choosing a baby name kind of harder.  We do have a shortlist, but it seems like a lot of couples around us have been having babies lately… and my short list keeps getting shorter!
Add to that the fact that I'm a bit picky (I want a baby name that sounds good in both French and English) AND we don't want a name that another family member or friend already have (and we have LOTS of family members!); finding a baby name is hard!
So that's where I came up with a cute little idea for a name the baby, shower game!
First things first, I knew I wanted to keep the mementos of said game in one of my scrapbooks, so I can keep the lists forever.  I also wanted a way for the baby shower guests to designate gender in a cute and visual way.
I designed these two printables that should fit in a normal letter-sized scrapbook (8.5 x 11 – which is what I have) and also a 12×12 scrapbook, which is the size of a normal scrapbook paper.  Obviously, not everyone has a printer that can print 12×12 – but a lot of store printing places (think Walmart, Costco, etc.) can print these sizes.
You can click on the images above and below to download the PDF for printing, or download the 8.5 x 11 here and the 12 x 12 here.
You can always have your baby shower guests colour in the circles next to the letters, but I wanted them to affix a circle sticker that was either blue or pink next to the letters.
Supplies You May Need: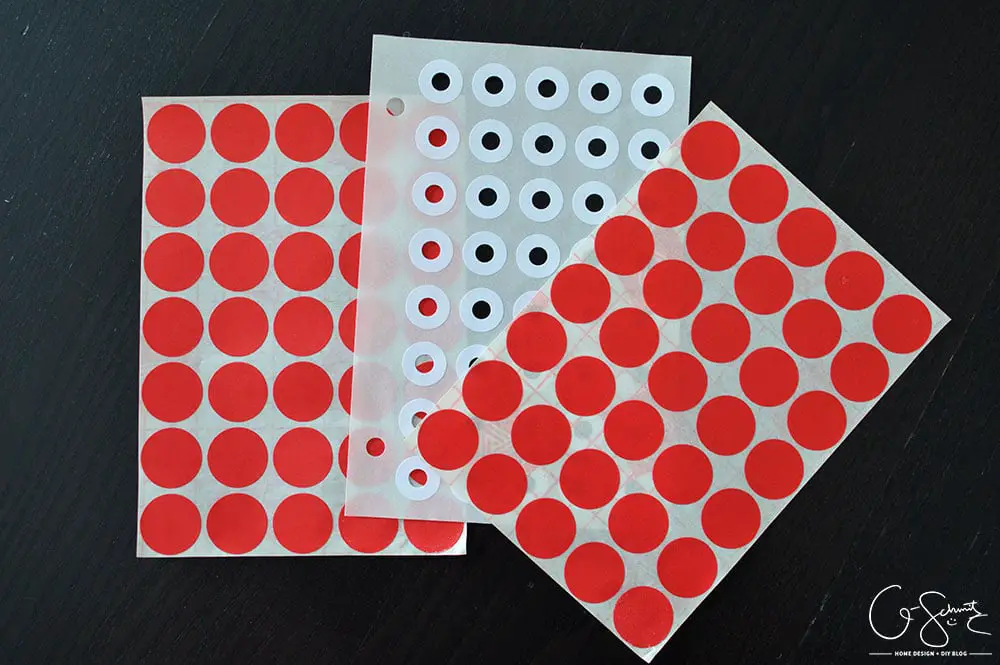 Now, I chose to do my labels with glittery sparkles (since I love sparkles, and had some leftover from other projects).  BUT you can always paint your stickers and eliminate the glitter if you want.  Again, you can even provide your baby shower guests with blue and pink crayons or pencils and they can colour in the circles instead.
Gluing Sparkles
If you go the label painting/sparkling method, here are my tips!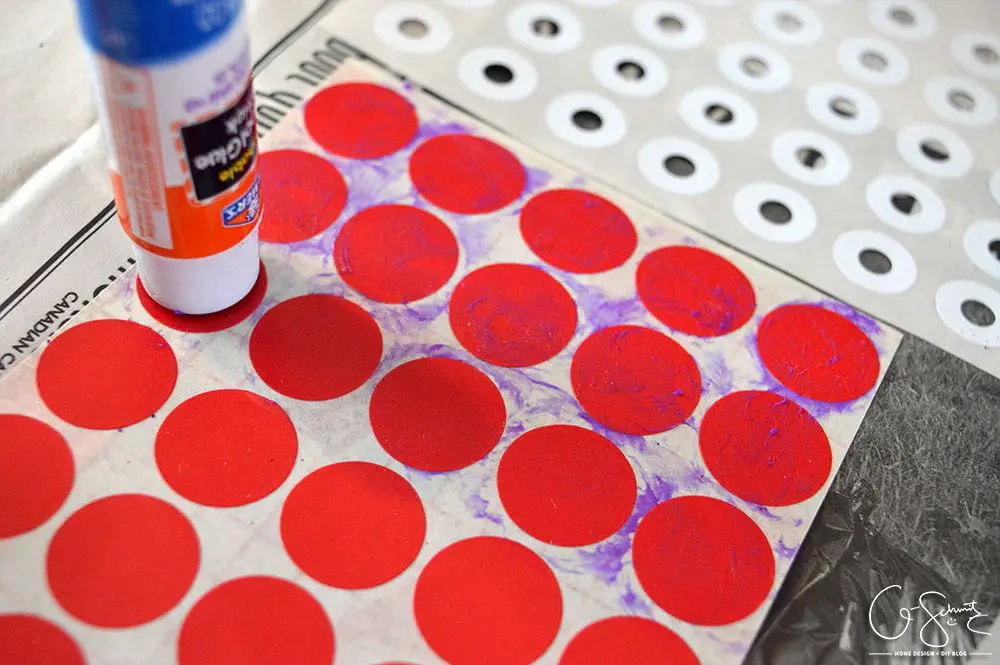 I tried a few techniques, and the glue stick to sparkle method was probably the best.  See how I willy-nilly rubbed my glue stick all over the labels?  Ya, try not to do that.  The sparkles will stick to all the glue, so it's easiest to just get the glue right on top of the circle labels.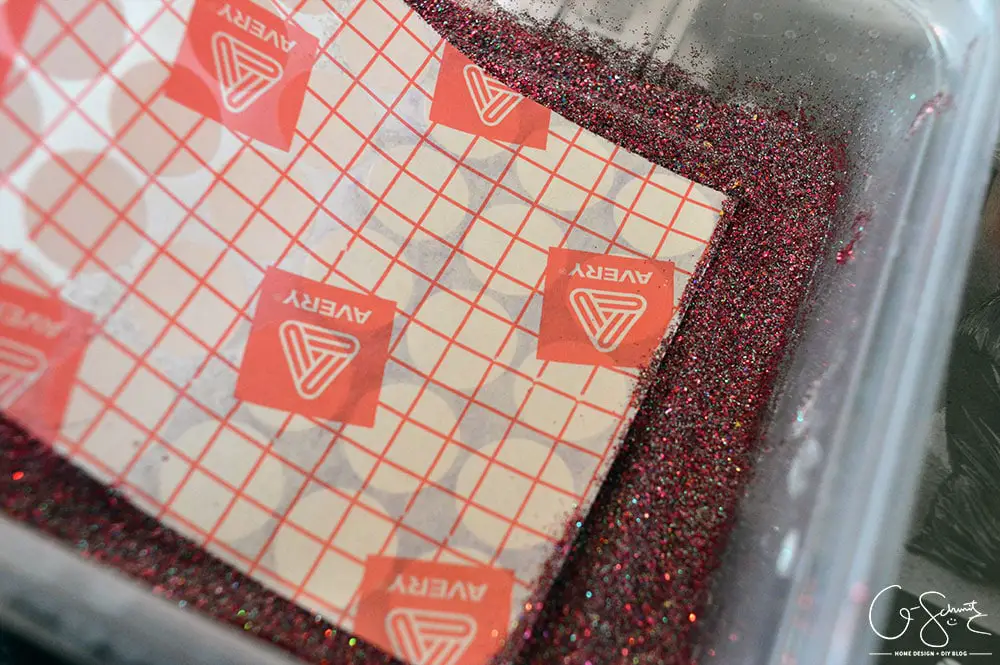 Then, you're going to dip your glued labels into a container filled with sparkles, and squish it around a bit to make sure they are all covered.  Sparkles are super messy, so I chose to work on a newspaper covered surface.
Hand-Painting, then Sparkles
The second method I attempted was painting the labels with some craft paint, and then dipping them into the glitter.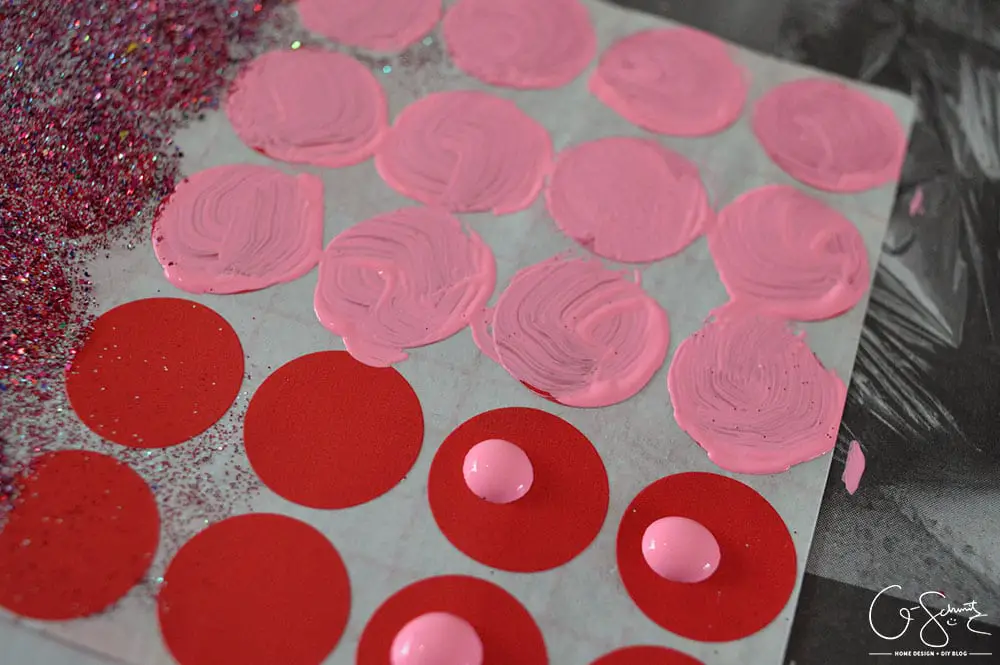 If you're going to skip the glitter/sparkle step – you can always just paint your labels like this, and let them dry.
Spray Painting, then Sparkles
The third method was definitely the quickest and got the best coverage, but there is a bit of a flaw (which I will share with you here).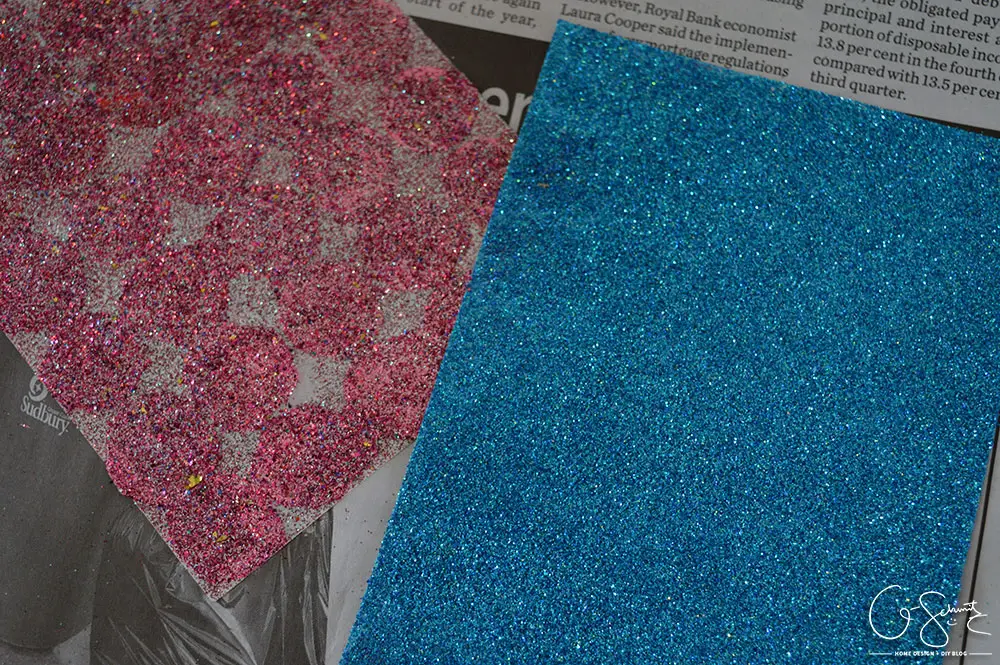 It involves spray painting the entire sheet of labels, then dipping them into the glitter right away before the spray paint has a chance to dry.  This is similar to how I made my vases in this post.
The problem with this method is that you can't really tell where the circles are anymore!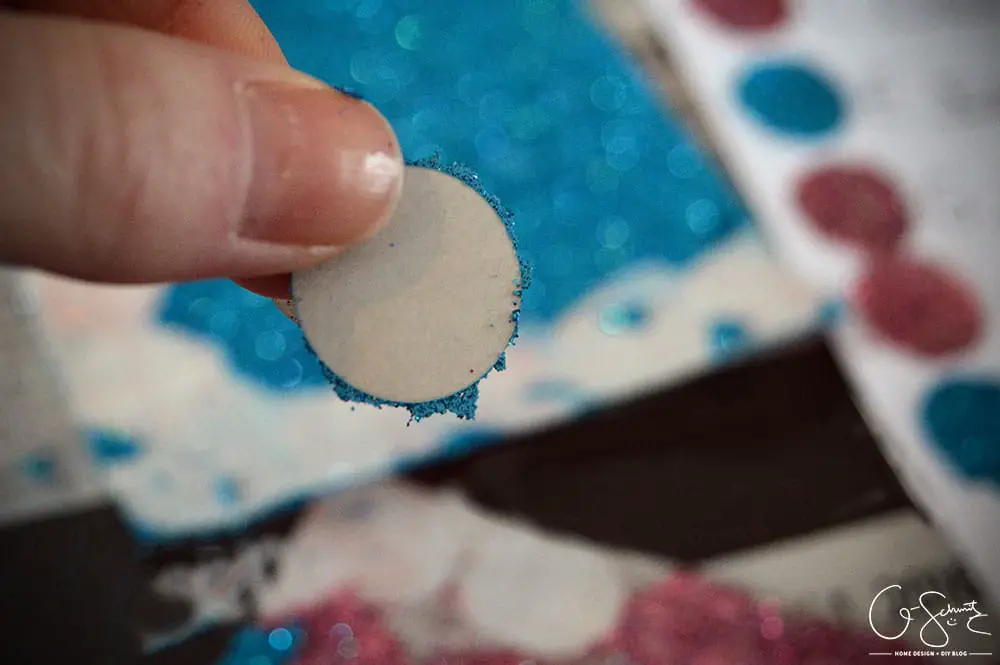 Also, when you peel them up, sometimes you get a bit more of the paint and glitter that you wanted, and you don't have nice crisp edges anymore.
Just wanted to give everyone the heads-up in case you go the quick and easy way!
Playing "Name the Baby"
Okay, so here is what will happen at the baby shower!  You will provide your baby shower guests with pens and a few printed Name the Baby sheets (I'm thinking of leaving one at each table) and a stack of the pink and blue circles (maybe 15-20 per colour, per sheet).  Then throughout the event, they should hopefully come up with names to fill all the sections on the sheets!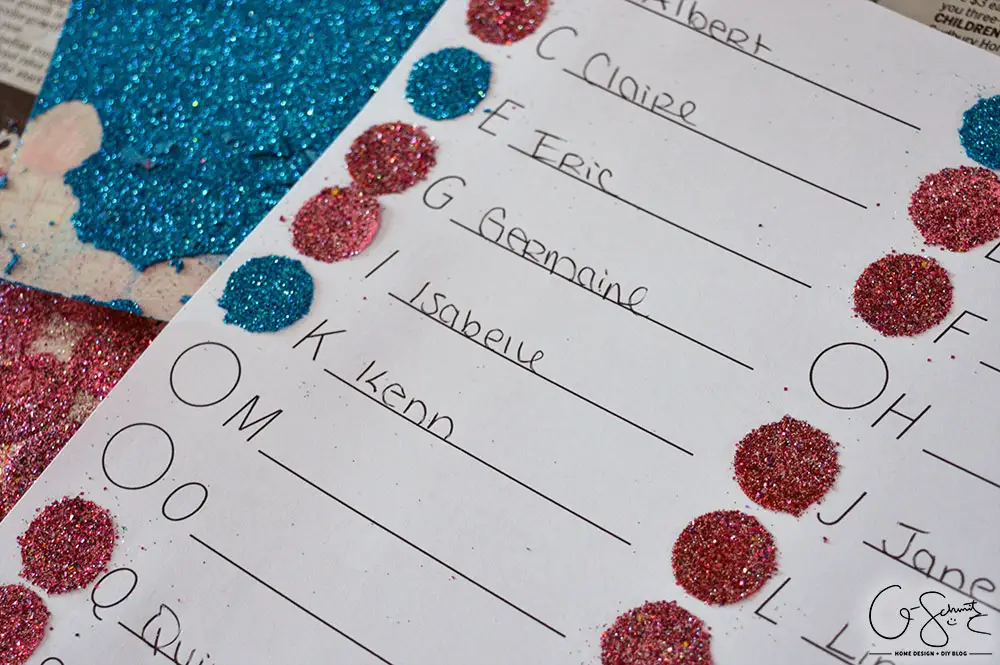 I did a test sheet here (again, since my baby shower hasn't happened yet), but it gives you an idea of how your page should look once it has been filled out.  (I tried to pick names that we weren't going to use… just in case you were wondering!).
I'm going to assume that some letters will be harder to fill than others (looking at you Q, X and Z!) but I've still included them on the sheet just in case.

Did you find it hard to come up with baby names, or did you have them locked and loaded by the time baby arrived?  Or, maybe you're planning a shower and would love to play this game with your guests!  (Don't forget that you can download the printables about 1/3 way down this post).
Even if you don't end up selecting one of the names your baby shower guests has suggested; it should still be a fun way for them to think of name ideas and spend some time while waiting for the other shower activities to go on.
I'll make sure to give everyone an update how the name the baby shower game went (in about a month from now after the shower has occurred)!
See you next time :)