It's time to finally discuss the infamous door I've been hinting about forever!  Today I'll go over my quick-ish painting process, but I'll also be talking about how I was able to do some DIY frosted glass windows to add privacy (after all, this will be the door to our soon-to-be started basement bathroom).  Have you ever added a frosted texture to a window before?
– Note: This post contains affiliate links. See more information about affiliates here –
Just to give a bit of background information first… I bought this used door through Kijiji a few months ago because it was the perfect height for our basement (it's hard to find a 6′ tall door!).  I knew I would be adding a door when we added the bathroom, and this old style French door was too cute to pass up.
Only issue was that it was bright green… and I had my mind set on something different.  I asked for design input via Instagram and Facebook, and went with the winning colour: black (okay, I was rooting for black too…).  I then did a little mockup here of how it would look.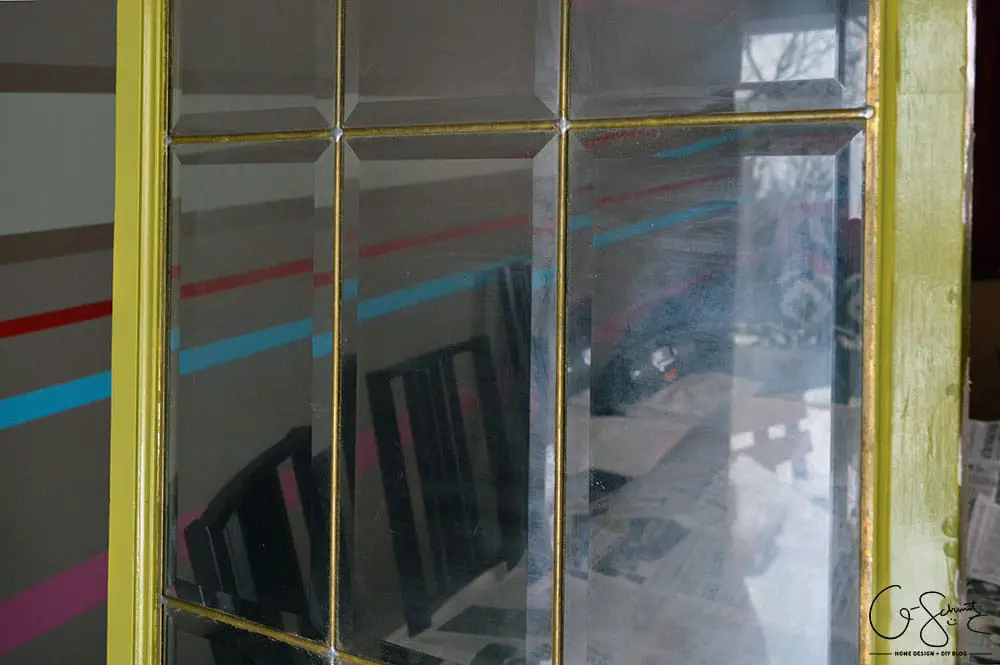 After sitting in the garage for a few months, I brought the door inside to acclimatize to the warmer temperatures and finally got around to working on it (you might see it in a few background images of the dining room the last couple of weeks).  It was pretty dusty, do I gave everything a good scrub with Simple Green (which is what Melanie from Lost and Found Decor recommends).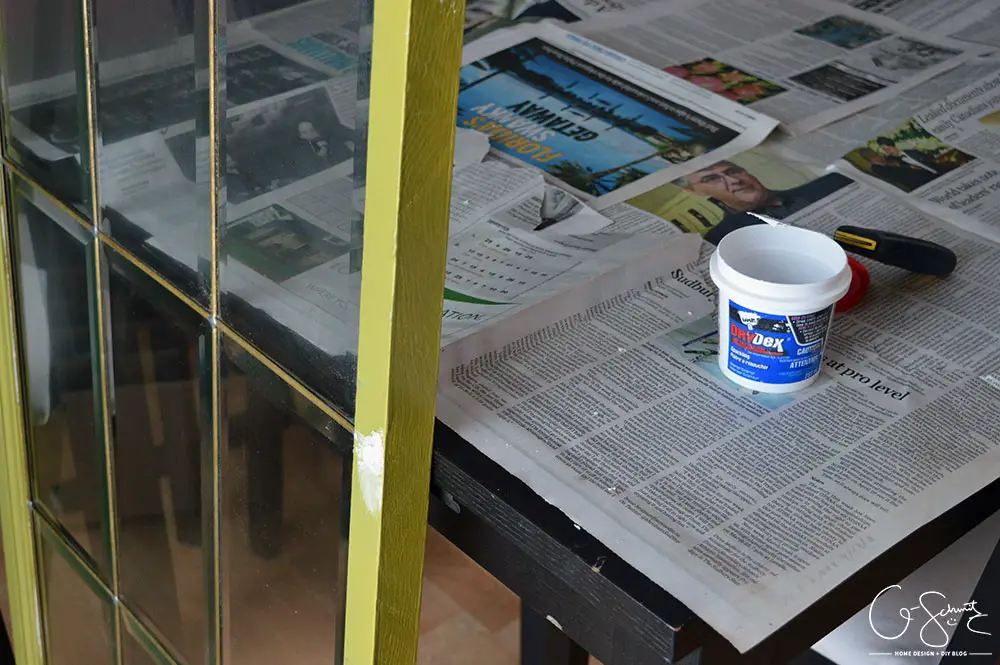 I then patched all the holes with some leftover Drydex spackle.  Not sure how I feel about this spackle… I think I prefer wood filler.  But I had just the right amount left in this container to finish the door, so I figured I might as well use it up before it dried out.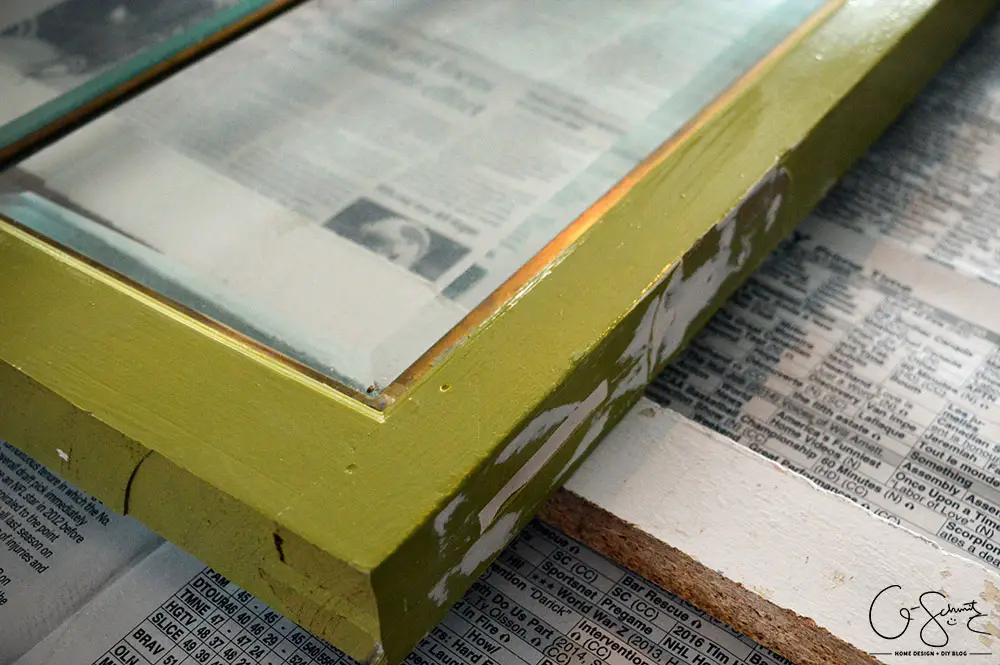 It was easiest to patch and then sand the door while it was standing up, but once that was all done – I moved it to the newspaper covered dining room table so I could paint it!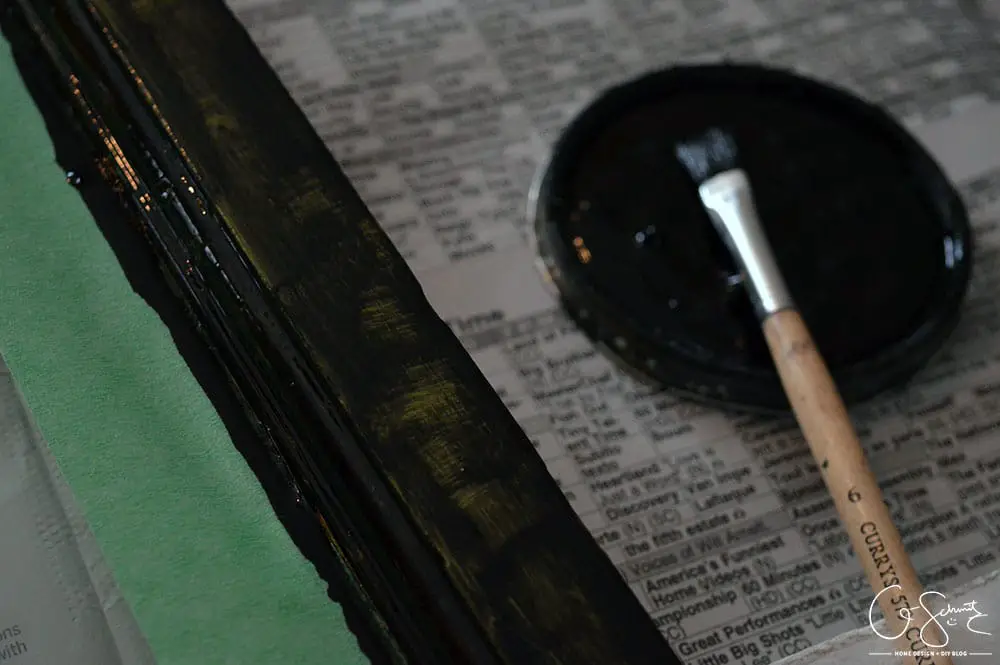 I started by using a foam brush, and was going to just freehand it without putting tape down.  Haha I thought I was wild, but decided it was a wayyyyy better idea to tape the glass first – I also had to use a small brush to get in the edges, because this paint was not cooperating with me.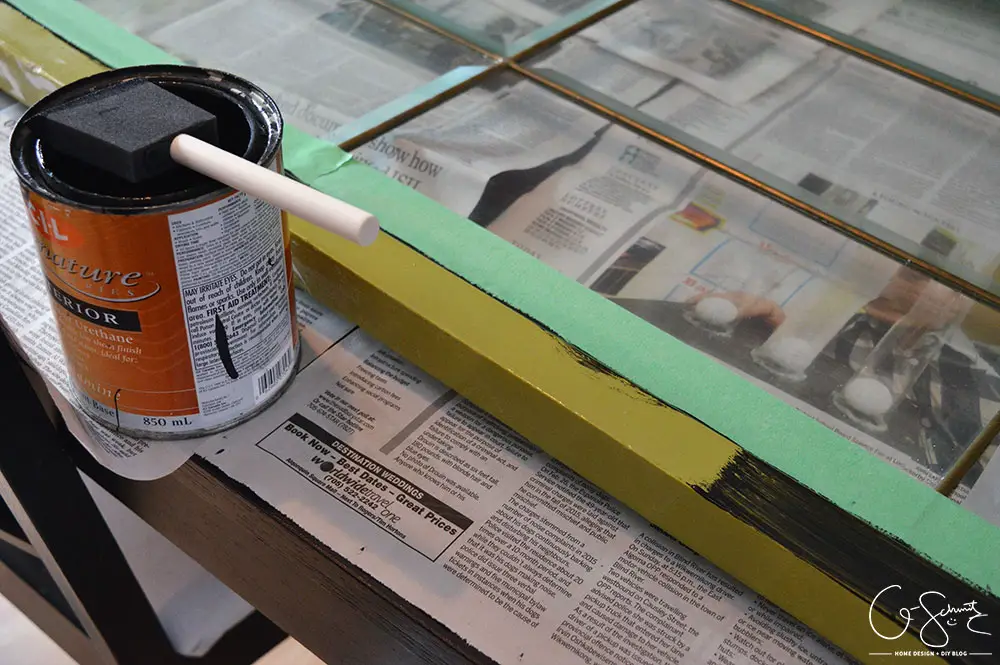 Once I did the inner edge, I then did the top/face edge, then the outer side.  For some reason this melamine would wipe off if I tried to go in the opposite direction, which made my job just a bit trickier.  For the next coat, I found it was easier to do the outer side BEFORE the top/face, because it would gloop up and it was easier to wipe the top/face after, than to try and go back and smooth it out (again, the paint kept coming off).
I had to wait about a day in between each coat (the can says 16 hours of dry time if it isn't a dark colour), but I wasn't in a super big rush at this point.
I did 3 coats total, and if it wasn't for the paint wiping off so easily, I could have probably gotten away with two (but the edges were still a bit green after 2 coats).
I wanted it to dry properly before I flipped the door to do the other side, so I waited a whole 48 hours+ before I went to check it.
You guys… it was still tacky!
I could put a fingerprint indent in the paint, and it had been days!  The fingerprint would eventually smooth out a few minutes later, but I didn't want to chance flipping the door and getting permanent marks everywhere.  I waited another full day to check it again.
But then I realized that the flat panes of glass were on the side I just painted, so if I wanted to paint the door and then flip it over to do my DIY frosted glass windows in time to get this blog post out (it was Saturday by now), I would NOT have enough time to wait for the paint to dry.
So I did the best thing I could think of – decided to keep the door in the same position, frost the windows, then I will flip it over and paint the other side (I mean, once you've seen one side painted… you've pretty much seen them both right?!).
DIY Frosted Glass Windows
I contemplated a few frosted options before I settled on this one; so if you are thinking about adding some frosting to your windows, know that there are some different techniques.
You can brush on frosted glass paint
You can use a frosted paper adhesive
I went with option #3.  I thought that the brush-on paint would be streaky (I've never tried it, I was just assuming this), but I did think that the spray paint might be a good option.  Problem with that would be that it would be nearly impossible to cover the metal in between the panes of glass, and I didn't want to get a frosted finish all over.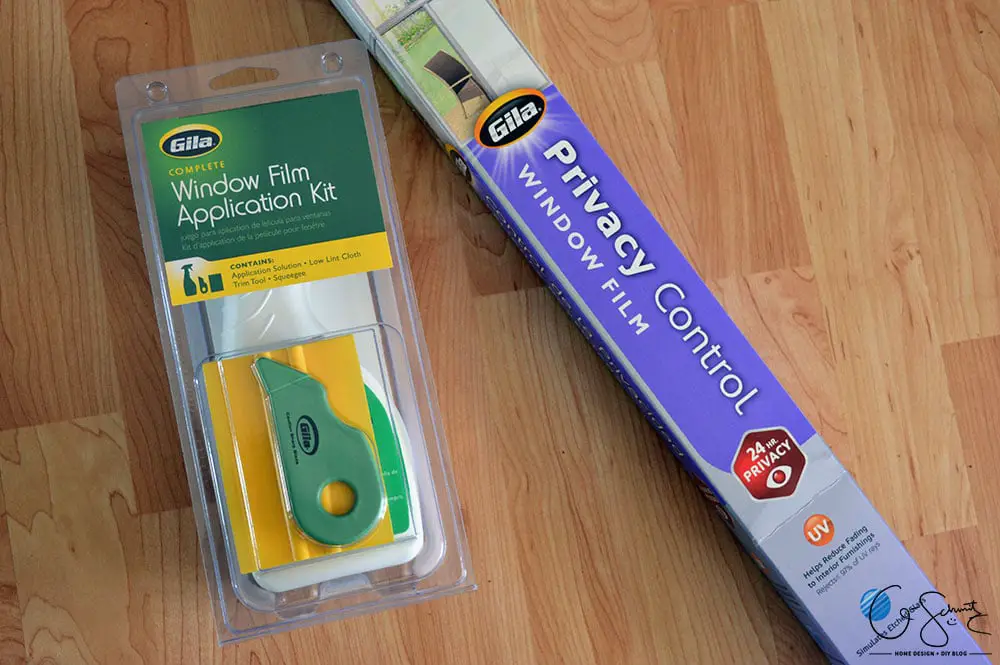 Once I decided to go the frosted paper route, I realized that there are A LOT of frosted window paper covering options too.  I spent a lot of time looking at all the options, trying to decide which one would be the most opaque (again, this was going on a bathroom door – I didn't want the frosting just to look good… it had to work!), and also which roll would have the best coverage (in case I had to do both sides, I didn't want to have to buy a second roll just to use a few inches).
My door is 2′ x 6, and the Gila frosted paper was 4′ x 6.5′ – seems good for two sides!
I bought my Gila frosted window film at Home Depot, but you can also order it via Amazon.ca too.  You'll also need the application kit, and I wasn't sure if other frosted papers had this option, or if they were simply a peel and stick variety.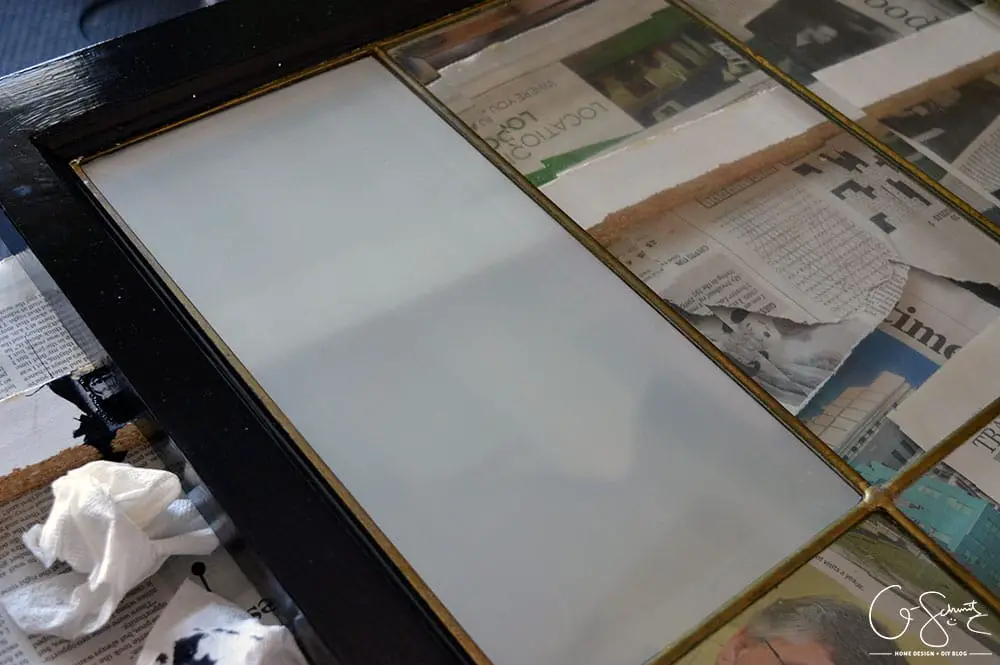 Because my French door is comprised of multiple small panes (15 actually) instead of one big window, I figured it was easiest to treat each pane as its own little compartment.
I followed the instructions and cut the frosted paper a bit bigger than each window; and eventually developed a technique where I would cut three pieces, use the spray from the application kit, squeegee a bit, cut the edges, then spray and squeegee some more.  I tried to maximize the amount of frosted film I could get without having to use up half the roll.
Here's a picture that shows the difference between the frosted sections and the plain sections.  I'm happy I was able to do this on a horizontal surface (as opposed to a vertical window… like would be the normal case when you're applying this film), but if you're going to do a bigger area, I'd suggest having a friend help you!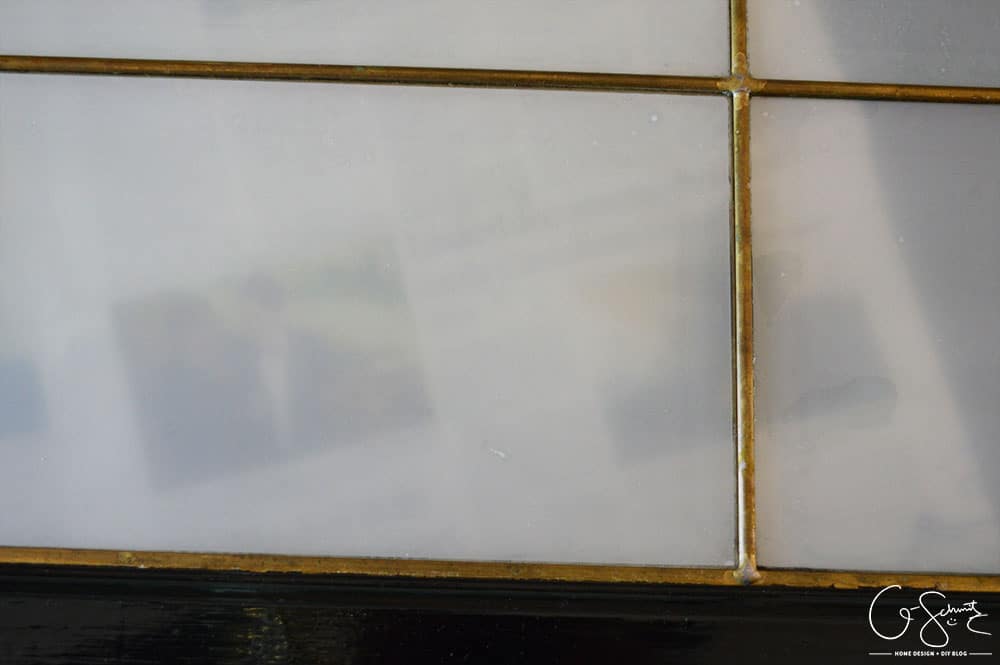 You can still see through the door, so the frosted part worked out how I imagined it would – and I'm thinking I may just leave the one side frosted for now.  Until we actually get this door installed, you can't really tell how good it will work unless it's in the right lighting, etc.
Now, the other side of the glass has a beveled edge – so I was thinking I could always just do the frosted section in the inner part (keep the bevel as plain glass) and that way I could get the extra privacy of a double-frosting, but emphasize the shape of the glass.
If I had to, I could even try doing a brush-on frost paint or spray paint frost on top of the paper… but I'm really thinking just this one layer should be good enough, right?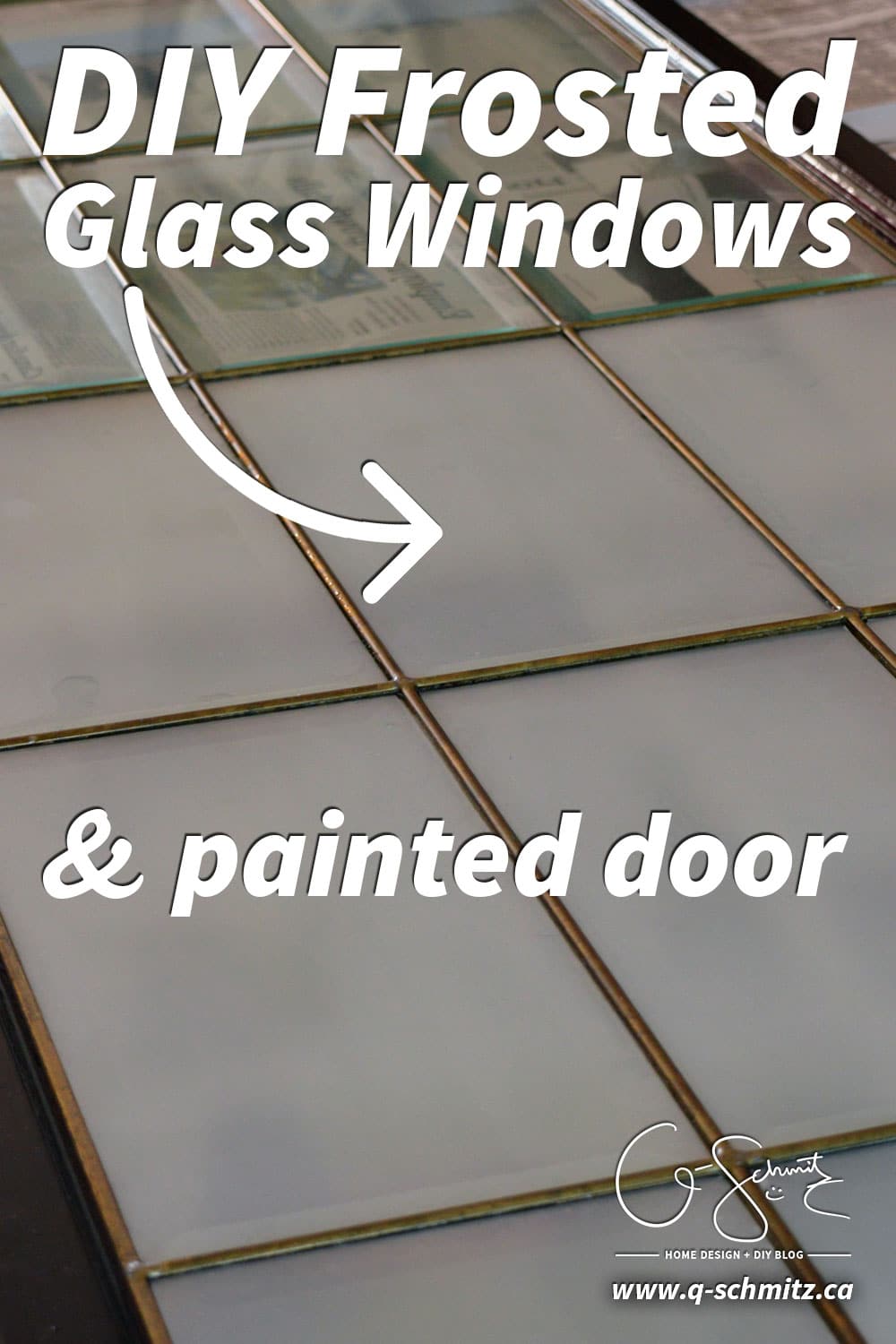 Have you ever done any kind of DIY frosted glass windows before?  I did notice a few air bubble areas along the edge of my little window panes, but I think I was able to smooth them all out before it settled.  (I don't think that would be an issue if you used the brush-on frost paint or spray paint frost).  I'm also thinking that a normal/large window wouldn't have as many edges as a French door – so you probably wouldn't have as many areas to look out for!
I just ordered the hardware for the door, and I'm anxiously waiting for it to arrive, and then we can get this bathroom renovation started!
See you next time :)