Can you believe Christmas is coming soon?  Just over a month now, and what better way to countdown to the big event than using an advent calendar!  While they come in all shapes, sizes and types, this year I am starting the tradition of filling out a Naughty or Nice Christmas advent calendar.  Not sure what that is?  Well, I made it up – so let me explain…
It all started when I saw and shared a post on Facebook, about donating an item a day until December 25th.  Wait, I just realized that I had this EXACT same idea last year (so apparently I was ahead of the game?).  Anyways, this year I finally decided to make a printable activity sheet so I can actually be accountable :)
And, I am of course making it available to download HERE for everyone!
What is a Naughty or Nice Christmas Advent Calendar?
There are two pages in the downloadable PDF; the first section has a count-up to December 25th, and the second has a place to fill in your "Christmas Confessions"
Basically, you fill out your name and the current year.  You can choose to do it as an individual, or as a whole family.  (Note mine is just an example haha!)
Each day, you fill out the number of items you have donated in the appropriate box.  You can make a big pile/bag of your donations and bring them all in at once if that's easier.
Here's where it gets fun/tricky. 
Let's say you didn't get the chance to go through your stuff and donate something that day.  There's no cheating or skipping ahead and splitting your donations over multiple days!  (For example, finding 5 things to donate and having it last 5 days!).
This is where you fill out the "Christmas Confessions".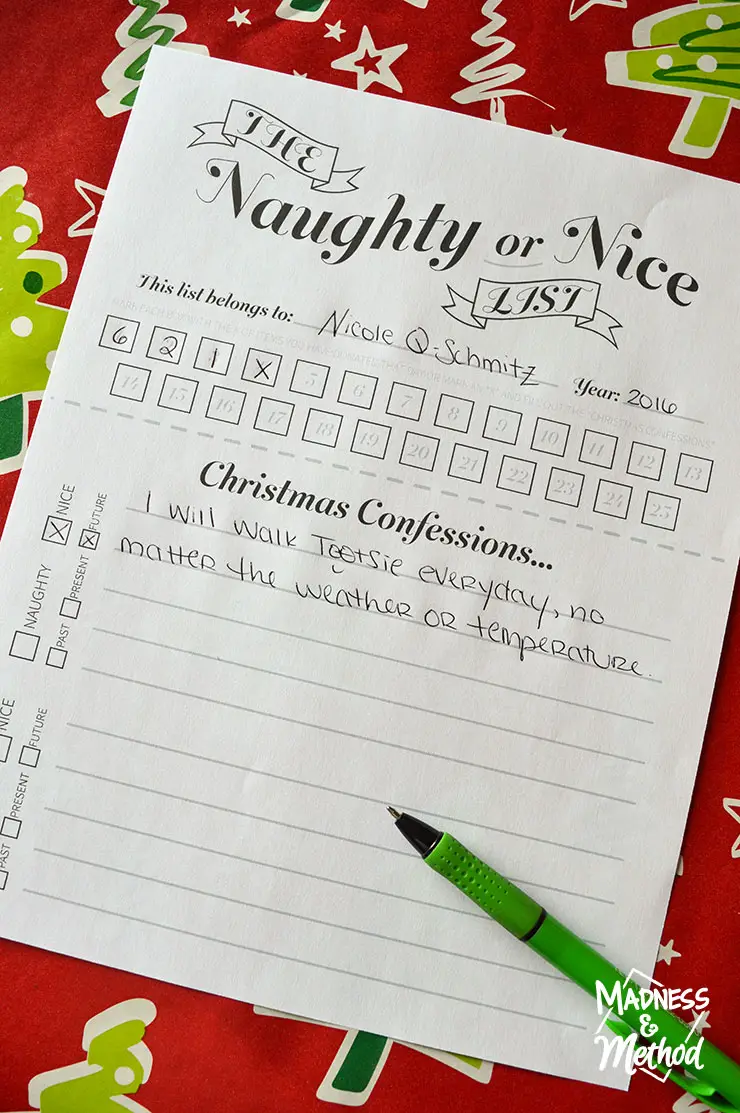 There is a box for both "Naughty" or "Nice" and you check the appropriate one.  Then, there are three boxes, one for "Past", "Present" and "Future".  On my example, I filled out a Nice-Future goal of walking Tootsie every day.
This is where you're supposed to encourage people to think about their actions the entire year, rather than just at Christmas time.  You know how kids are always SUPER good when they know Santa is watching and they think they can get lots of presents?  Well, what about all the other months, when they weren't little angels!?
That's where the "Naughty" section comes in.  You have to be honest and fill out a bad (or less than desirable) experience from the past (or even the present if you were naughty that day!).  Hopefully you don't have any Naughty-Future combos :)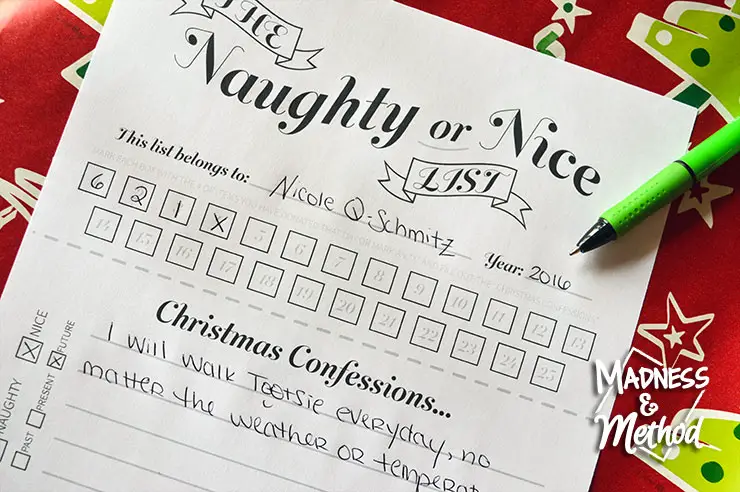 Does everything make sense?  I know I'll be using these sheets every year, and it would be great to have each child fill one out; although doing the activities as a family would work as well.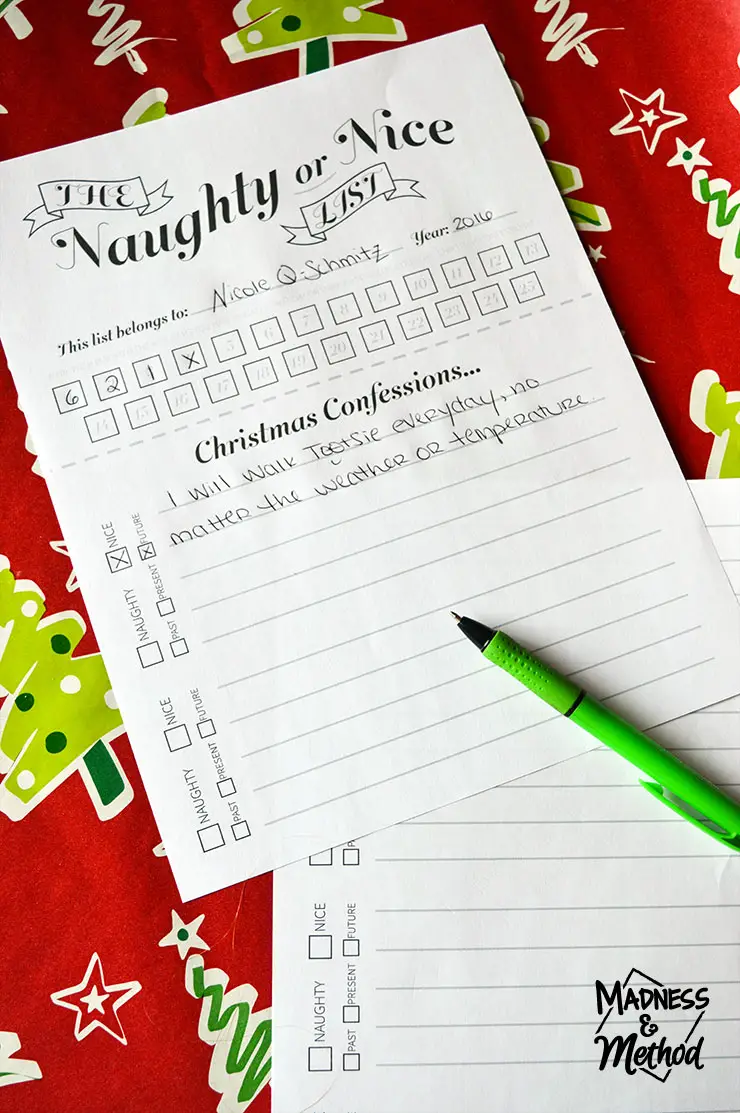 The first page has a few spaces for your Christmas Confessions, and the second sheet is just confessions – so you can always print more of those if you don't have as many items to donate.
Although the main goal is to actually go through all the things you have, and donate them to those in need.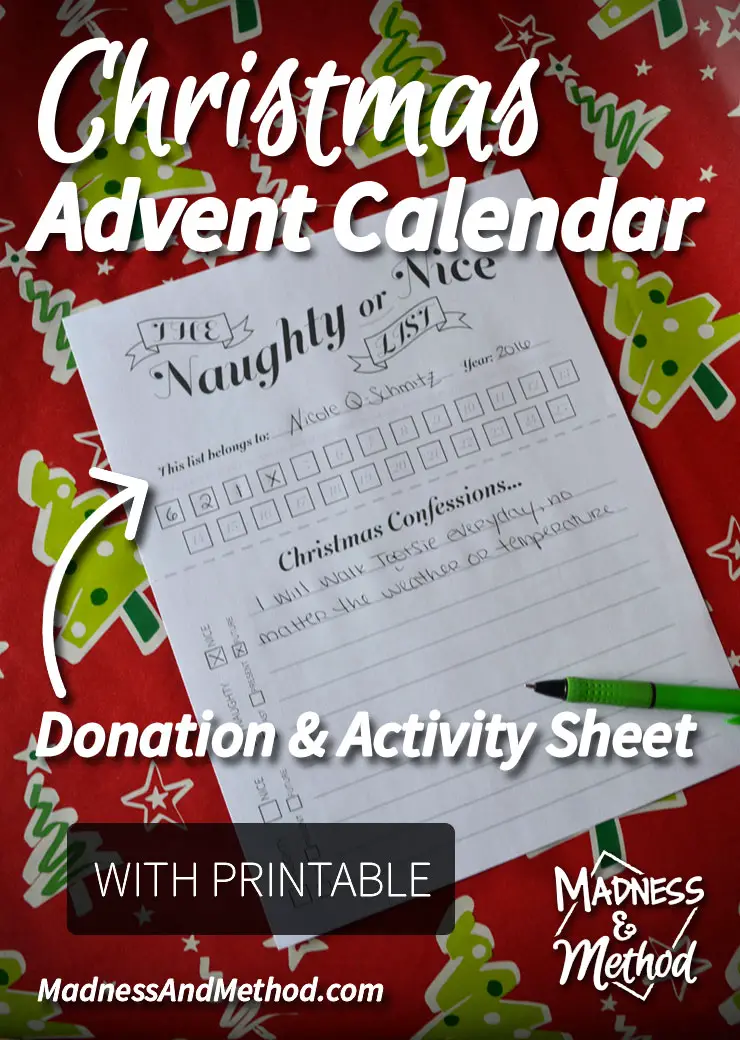 I was originally going to post about this Naughty or Nice Christmas Advent Calendar in December, but then everyone else wouldn't get a chance to fill it out as well.  Let me know if you download it, and if you plan on doing it individually, or as a family.  I'd love to hear how you make out :)