I knew I wanted to somehow incorporate the outdoor Christmas lights we had left up all year into our Halloween décor.  Then, I found a bunch of orange coloured ping pong balls for sale at the grocery store – and the idea to make pumpkin ping pong lights was born!
– Note: This post contains affiliate links. See more information about affiliates here –
Items Needed:
Electric Drill with 3/16″ bit
I bought a mixed pack of orange and white ping pong balls, and I decided I would use the orange ones along the roof (with our white lights) and I would use the white ones with the strands of orange lights I have (and used for Halloween last year).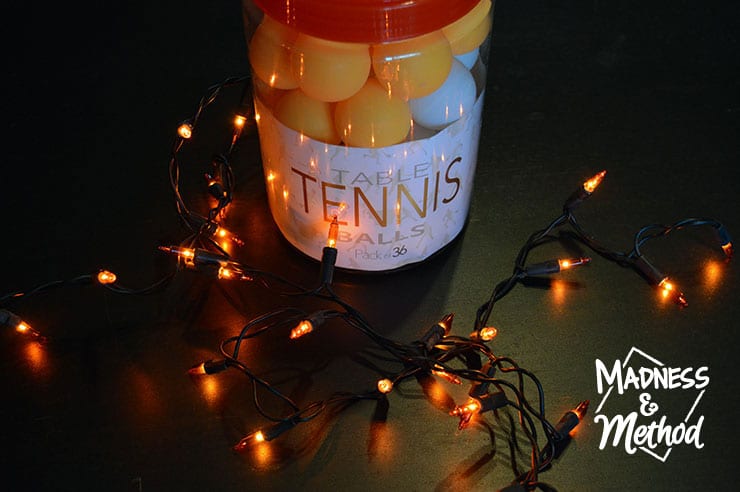 I read this article online that had instructions for this same type of project – and they recommended using a 3/16″ drill bit.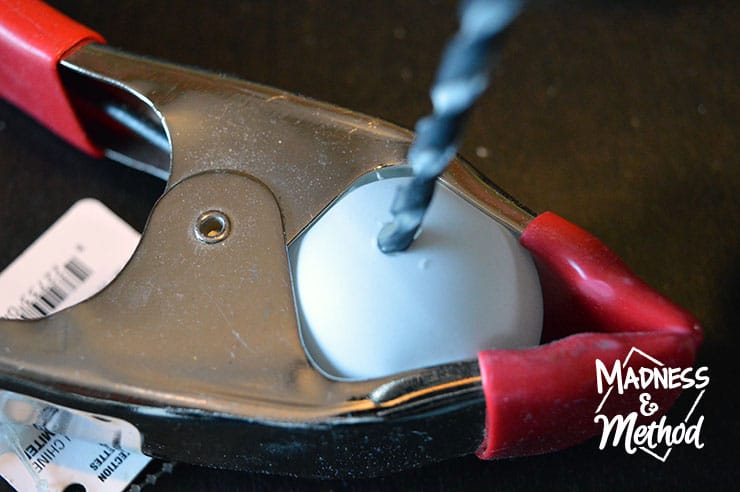 I used a 6″ clamp to hold a ball steady, then carefully drilled into it.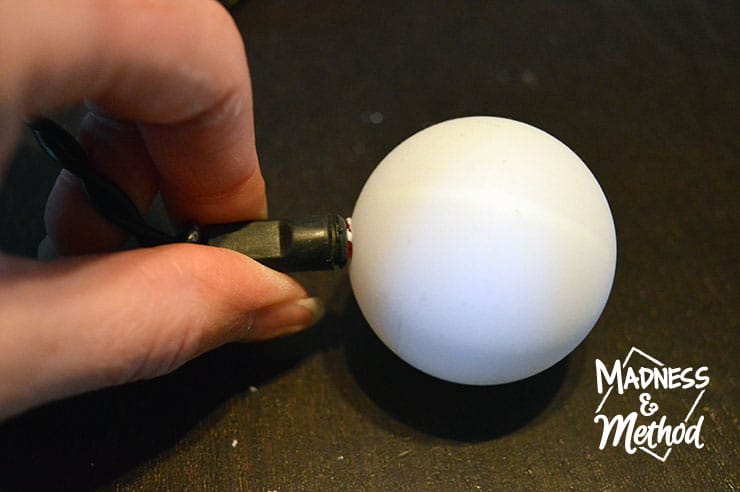 This created the perfect size hole (I made sure to test it after the first one just to be sure!).  Although, you will have to squeeze your light in tightly.  There were some balls that I tested with a slightly larger hole (so I wouldn't have to force them on as much) but I've had issues with them falling off the strand outside.

Then, I simply took a black sharpie and drew a little jack-o-lantern pumpkin face on the ping pong ball – and we were looking good!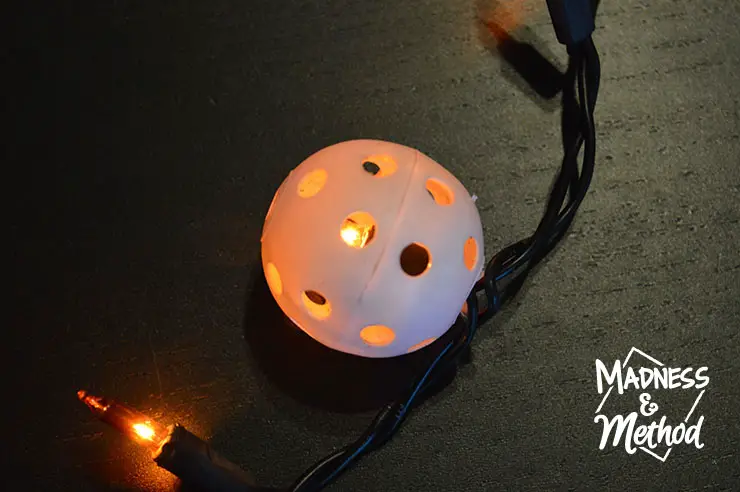 I also experimented with a little wiffle ball to see if I could get the same effect without having to drill.  Those holes were too large, butttt I did drill a bigger one into one of the openings (over 1/4″) and shoved the strand part in.  You know, in case you want a different lighting effect I guess.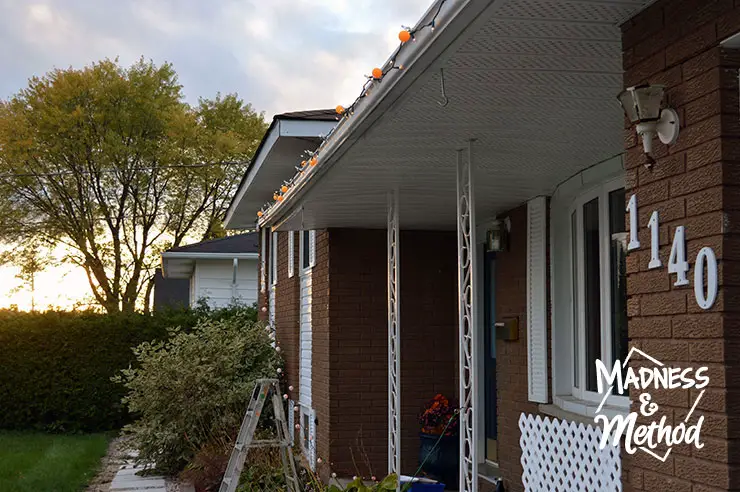 I simply attached my orange strand of lights to the end of the white lights we already had along our roof (and made sure they both worked).  Then, I put the orange balls along the top, and the white ones on the side.  And no, I didn't draw faces on the orange ones because I figured no one would be able to see them up there!
I didn't have enough ping pong balls for each light bulb, so placed them with a few open lights in between (the gaps are larger along the roof).  And my face drawings did get simpler haha!
Anyways, I really like that they look like little pumpkins, and look good in both the daytime and nighttime – which is always my goal for Halloween décor.
The orange strand of lights next to my door has all the faces, so I think people should be able to get the idea when they come trick or treating in a few weeks!
At night, both colours of pumpkin ping pong lights end up looking like the same orange, so I am happy they go together!
Maybe next year I'll get some more ping pong balls so that each light can be covered, but for this year I just want to see how they will be able to handle the elements.  I've had a couple fall from the roof already (I mentioned that some of the holes were a bit larger) but so far the majority of them are still intact!
I'm excited to keep adding to our outdoor Halloween décor as we approach October 31st, although I'm not sure I'll turn these lights on every night until then (would that be too much?).
All in all, this project took me less than an hour to complete, and that's with taking care of baby and diddly-daddling.  I'm sure if I had to install the lights onto the roof it would have taken longer, but I would have just enlisted the Husband to help!
These pumpkin ping pong lights were also relatively inexpensive, because all I had to buy was the ping pong balls themselves (which were on sale). However, if you wanted to do a strand and didn't have any materials, it would cost under 30$ (not including the drill). Not too bad for something I'm hoping I can re-use year after year!
Shop this Post