Even though we're in the middle of projects at the rental renovation, there are still things we need to do around our main house too!  I figured I had to take a break from the other stuff and share this outdoor project I did a bit ago (you know, before summer ends, ha!).  Find out how to repair damaged deck boards and scratch an outdoor project off your list before the weather gets cold again!
– Note: This post contains affiliate links. See more information about affiliates here. –
As part of our regular outdoor maintenance, it seems like I have to stain the deck every. single. year.  Even though I prep everything properly and make sure to follow all the instructions, we always end up with peeling stain.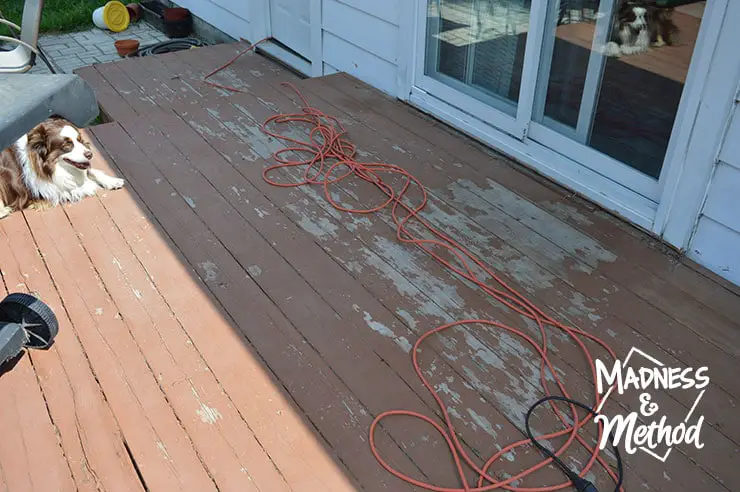 It's usually worse in the areas that get a lot of foot traffic, and no matter how I treat the deck in the winter (whether we shovel the whole thing, or just let the snow build up)… every summer it looks the same.

This year, I even researched different stains to see if there was a better product out there, and began the task of sanding and cleaning the deck again.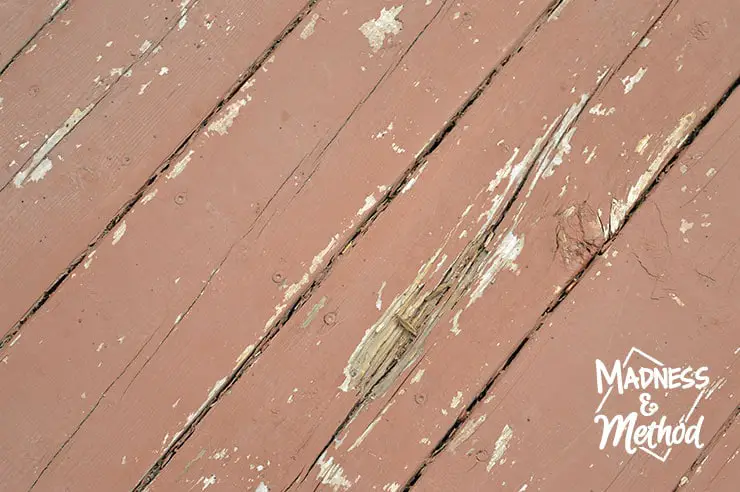 Unfortunately, I noticed that we had some pretty substantial cracks along a few of the deck boards, and even some rotted out areas too.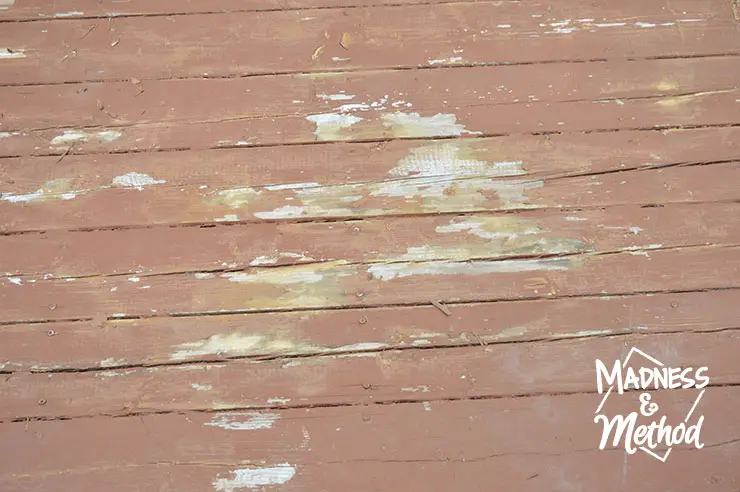 There were about 5 boards that had a big split in the middle (you can hardly tell what the normal gaps are compared to the splits in the photo above!) and I wanted to repair the broken deck boards this year so that there would be no further damage.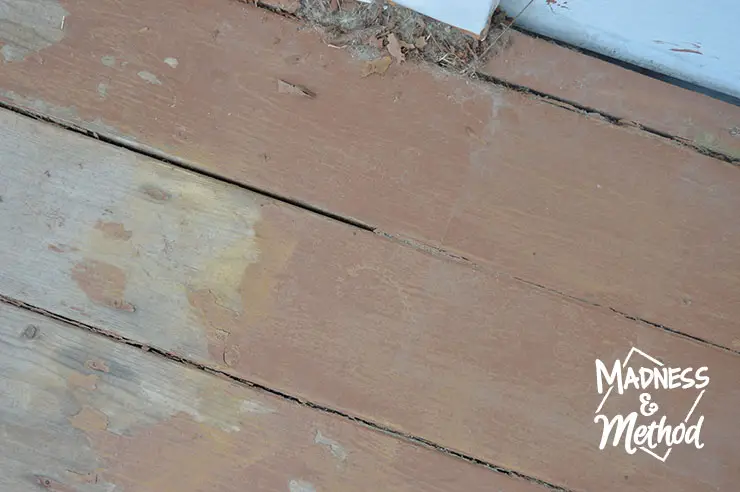 I think that our deck was probably not built correctly, because it seems like the boards are a bit too close together.  There isn't enough place for the water to escape, because the seems are getting filled up with gunk and the water is just sitting on top.  I've also seen the proper "deck boards" at the store that have curved edges, while ours are more squared off…
How To Repair Broken Deck Boards
My initial thought was to just unscrew the damaged boards, then re-install some new ones in their place.  Unfortunately, after years of wear and tear, the screws would not come out!  They would either be stuck too tight and the drill couldn't grab them, the hole would strip or they would snap halfway.  The Husband and I tried ten different screws, and only one came out all the way!
So much for that idea…
The Husband's next suggestion was to tear apart the entire top of the deck and replace all the boards.  Which would mean we would have to take apart the benches we built too.  And we'd probably have to rebuild the support underneath since it would most likely need to be replaced too…
Now, I don't know about you, but that seemed like a big time and money expense (and our time and money have been going to the rental renovation lately) just because a few boards were split.
So I thought about the next best thing… can't you just use a wood patch compound to fill in the gaps!?
Turns out you can!
(But not really the one I used, see below for more info)

Once I had cleared the loose wood debris from the holes/gaps, I took out my wood filler and filled everything in.
Side note: Apparently Wood Filler isn't meant to be used for "horizontal deck boards", but I didn't know that until after I had filled everything in…  More internet research found that you can use this product to fill in your wooden deck cracks, and even this one to stop rotting!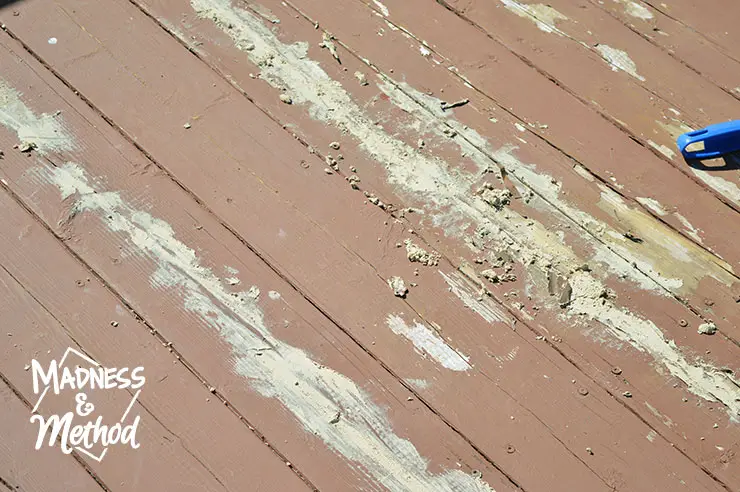 I scraped the wood filler into the gaps and tried to scrape away as much excess as possible.  I remember from past experience that wood filler dries pretty hard, so wanted to avoid as many unnecessary bumps and ridges as possible.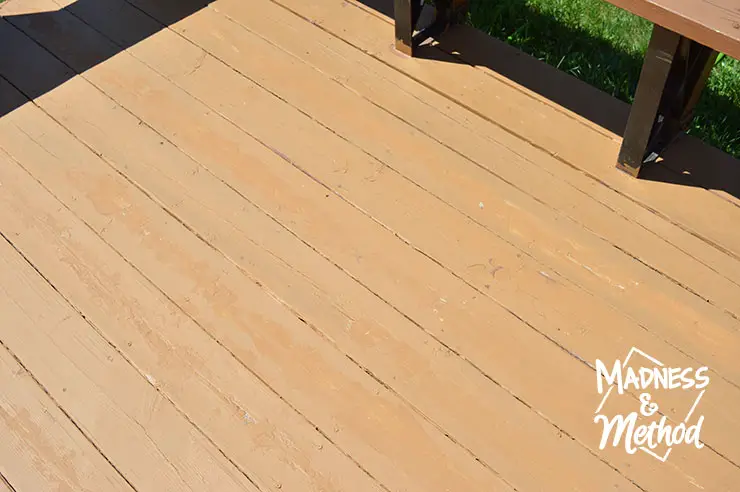 I still went back and sanded everything of course, then cleaned up properly and applied my first coat of stain.  In the past, I always stained with a brush, but this year I decided to get an applicator and it was super quick.  Cleanup was a bit more of a hassle though since it really seemed to absorb a lot of colour.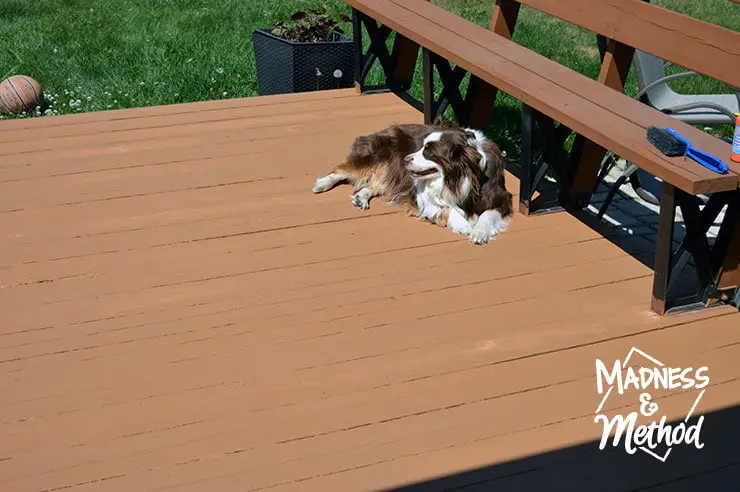 I also couldn't get into the nooks and crannies as well and will need to go back with a brush to do all the edges, but at least the wood filler has held up nicely so far!  (It's been almost 2 months since I did this…).  And yes, I do still have my second coat to do, but I'll get to that eventually, ha!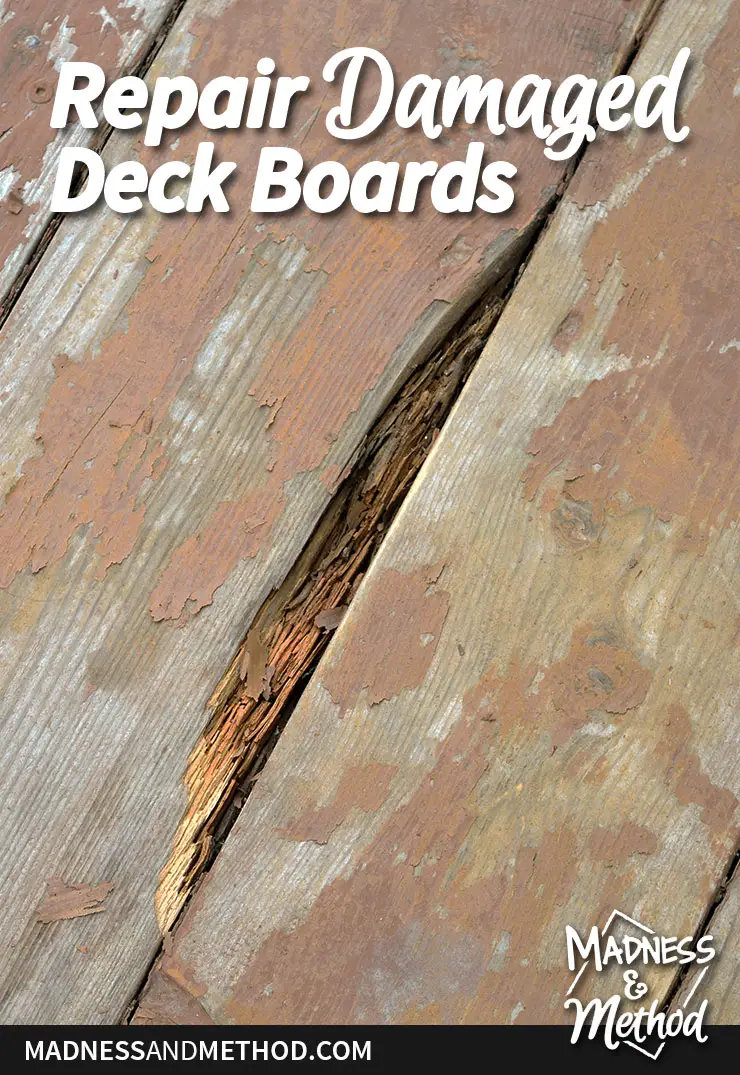 Oh, and remember how I wanted to avoid the peeling paint this time (I wish it would just fade away, rather than come off in chunks)?  When it gets wet, you can totally see the stain bubble underneath, so I know I'm in for some more peeling… (and this is the third stain I've tried!).
But at least my improperly wood-filled gaps seem to be doing okay!  I'll let you know how they handle the snow and cold temperatures we get :)
Just remember, when you need to repair damaged deck boards, first try and remove the damaged ones, and if you can't, then look into the products to fill them properly!
Year Update: The wrong wood-filler does seem to be holding up still.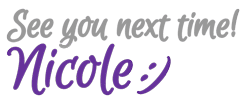 Products Mentioned: