We survived our first airplane trip with little children – there were laughs, there were tears, and yes, there were more tears!  I'll tell you all about our weekend in Winnipeg, including where we stayed, what we packed, and what we learned on our family trip.
– Note: This post contains affiliate links. See more information about affiliates here. –
First of all, we didn't just decide out of the blue that we were going to vacation in Winnipeg.  Our friends were getting married there, and the Husband was the best man and everything!
Getting To Winnipeg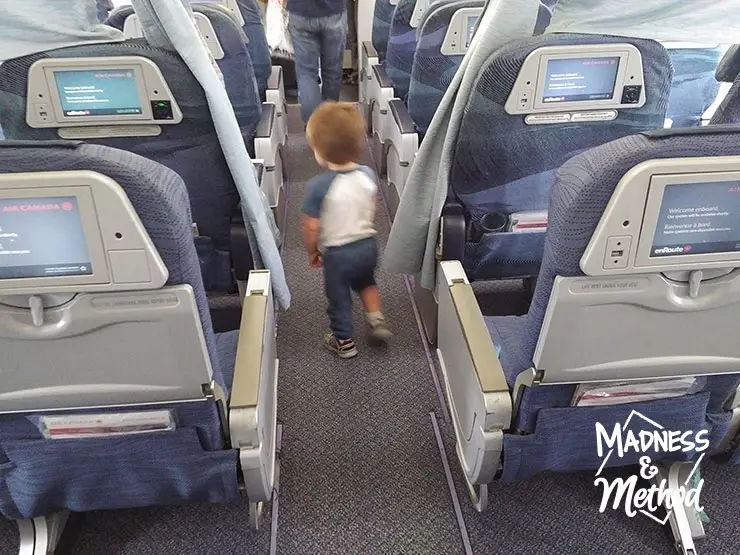 It's about an 18 hour drive from where we live (Sudbury, ON) but we decided to fly rather than take the two days to drive in (a lot of people drove there in one day, but with the littles we didn't want them to have to sit in the car that long).  Besides, it was just a short flight to Toronto, then a 2-3 hour flight to Winnipeg from there.
Because Zachary is just over 2, he had his own seat (whereas Élise sat on our laps).  She cried a bit before we took off the first flight, but it's mostly because she was hungry… and someone opened the tray table on her head too… She fell asleep and the rest of the flight was uneventful.  Same for the next (longer flight), although it was Zachary's naptime, he didn't nap at all and was pretty tired by the time we landed in Winnipeg.
Where we Slept
We stayed at the Super 8 Winnipeg East for the first two nights of our trip, as it was close to where our friends lived.
The littles are used to sleeping in their own rooms at home (us too!), so having everyone together was a bit different.  They were crazy tired the first night, and both slept easily in the hotel playpens.  I moved some stuff around and was able to put them next to each other, and Zachary's little bed even had walls that closed so he couldn't look around.
The last hotel we stayed in had an actual crib, so it was different having playpens at the hotel (they seemed a bit more used, and we had to add the regular bedsheets for them).  Everything else was contemporary and new, and there was even a great pool for kids!  It was Élise's first time in the pool (since she's under 6 months and shouldn't be in the sun) and although she cried at first, she got used to it and was happier.
The next two nights we stayed at the Fort Garry Hotel in downtown Winnipeg.  That's where the wedding was being held, so it would definitely be the most convenient for the event.
Thankfully the Husband's momma was staying there as well, so we borrowed her room for naptime that day because I arrived earlier than check-in (actually, my room ended up being ready early too).
It was a unique/old style hotel, and I really liked all the moulding details and the marble staircase.  We were warned that our room would be really small and wouldn't fit both playpens, but it was actually quite large and there was plenty of room to spare (maybe we were upgraded?)
Whenever Élise was hungry, I'd just go upstairs, feed and change her there (so we didn't have to bring all the diaper stuff with us everywhere).  This was our second hotel wedding this summer, so it seemed to work both times!
Both littles were dressed up, but I completely forgot to brush Zachary's hair before the ceremony!  Thankfully our room was an elevator ride away, so he was looking much more dapper later on in the evening.
Exploring Around
We booked/rented a car from the airport, and I made sure that it came with car seats.  You can certainly bring car seats with you as checked baggage on the plane, but we wanted to limit the amount of stuff we brought.
The day after the wedding, Zachary and I headed to Ikea while the other two slept.  We'll be doing another kitchen renovation soon, and I wanted to get some ideas while I was there.  I also picked up some kid tableware and a duvet cover.
We didn't explore the city too much (it's always tricky when you have littles to lug around) but did get the chance to visit with the married couple a few times (the Husband more than us of course).
Going Home
Our plane ride back was much worse than the way there, and I'd say it was because everyone was extra tired from the busy weekend.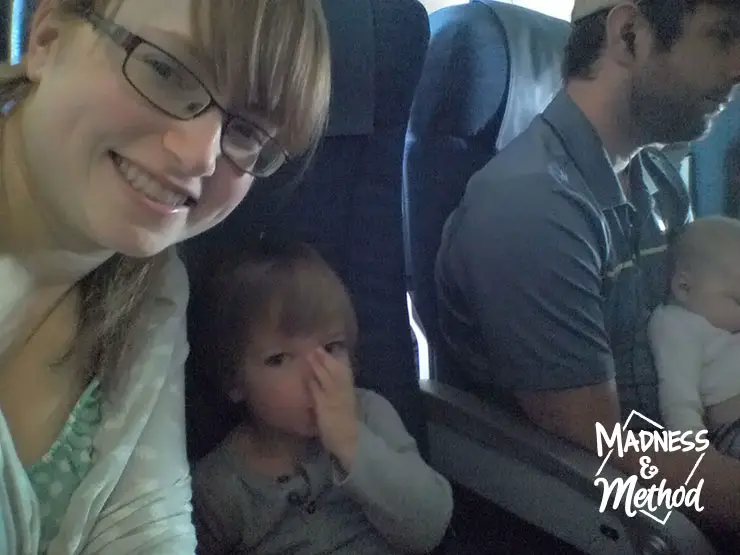 Zachary was in a big "momma mood", so every time I held Élise, he would get especially upset.  Thankfully the plane had individual screens, so we watched a movie and snuggled as much as we could (he did not like having to keep his seatbelt on the whole time, and could easily take it off…).
What we Packed
Even though you're allowed more luggage when you're travelling with children (I believe they can each take a carry-on, a car seat, a stroller, even breastmilk/formula if you need it), I wanted to limit what we had, since we would be the ones to carry everything!
In our checked suitcase (just a medium sized one), we packed all the diapers we would need, a gift for the wedding, our shoes, and all the Husband's clothes (the way back there was much more room!).
We had one carry-on backpack filled with my clothes and the children's clothes, and one carry-on with all the diaper/changing/kid stuff for the day (both a backpack and rolly-bag, similar to this bag but not as cute).  We also brought an umbrella stroller for each little one, and checked those right at the gate for all our flights.
We had one flex bag on the way there with the spill-over stuff, including a pillow for breastfeeding, our baby backpack (which I didn't really use), my purse, nursing cover and travel computer.  On the way back, we had almost all the clothes in the suitcase – but made sure to pack an extra outfit for each person in our carry-on in case there were any messes!
If you caught my Instagram stories, I wore this dress to the wedding, and this dress one of the days too – I'd recommend both!
What we didn't bring: Any toys or activities for kids.  When we've packed fun things in the past, we found that Zachary mostly ignored his stuff in favour of all the new things (usually not toys).  With that being said, he did get some crayons and a colouring book on a few of our flights; but mostly entertained himself by watching the TVs.  He's not really a sit-down-and-play-quietly type of kid, but maybe the next ones will be?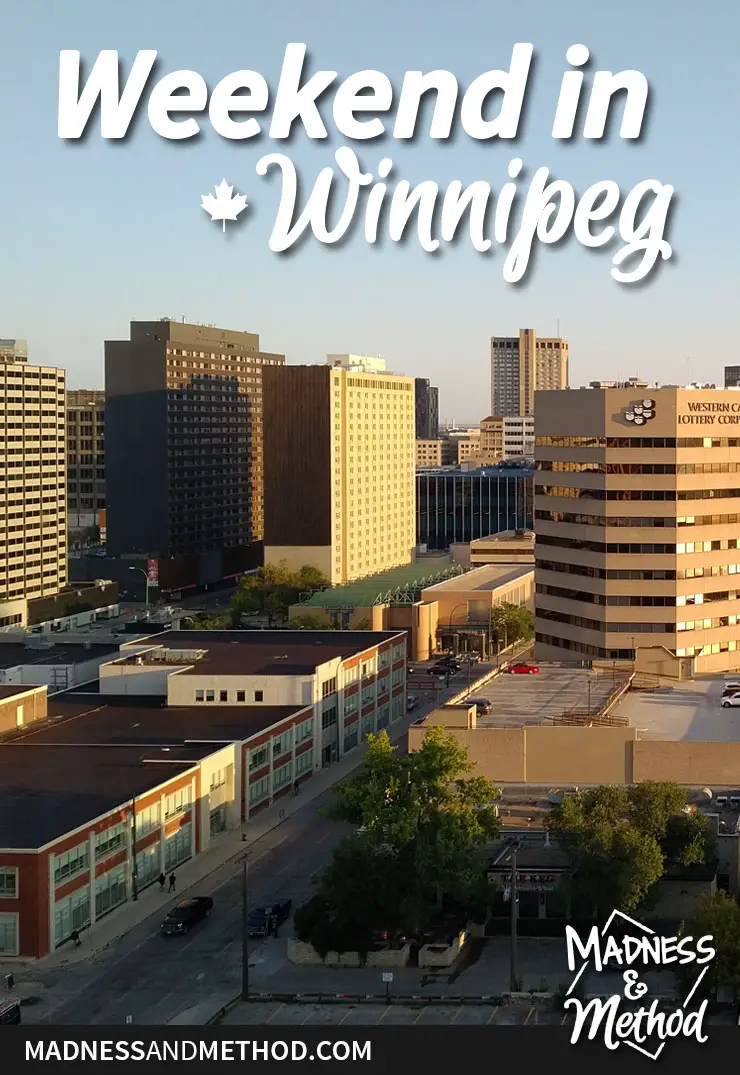 Travelling with young children on a plane was extra stressful, but it definitely gave us some practice in case we ever decide to bring them on another big trip (spoiler, we probably won't ha!).  Considering we were visiting for a wedding, I think the Husband would have preferred to hang out with his friends more…
Either way, I think our weekend in Winnipeg was a fun trip, and now I know that travelling on planes with littles is a bit trickier than travelling in cars (which I feel like an expert by now).  We'll be planning driving-only trips with the family from now on!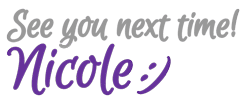 Shop This Post