Traditional wedding guest books are… traditional.  And by that I mean, they're what you find at weddings probably 75% of the time.  Okay, I made that statistic up; but like I said the "traditional" wedding guest books are definitely the go-to for your wedding guest signatures memento.  For our wedding, I decided to go with something a bit different, but not too wacky or out of the box; and it turned out great!
– Note: This post contains affiliate links. See more information about affiliates here. –
Whatever your feelings on wedding guest books, here are the "cons" that I came up with
People seem to just sign their name, and don't leave any notes

Usually the books just have straight lines, not really giving people too many options

Over half your pages could be left blank
Because there's only one small book for everyone to sign, people have to crowd in or wait in line for their turn
Do you ever really open the book again just to see everyone's names?
For me, I knew I wanted something unique that we would be able to regularly see and keep for many years to come.  I also didn't like the idea of having a book lying around, and knew that I wanted to incorporate some sort of wall art as our "guest book".  Naturally, combining wedding photos and the guest signatures as wall art seemed like the best idea – so I decided to make custom frame mats and have our guests sign those!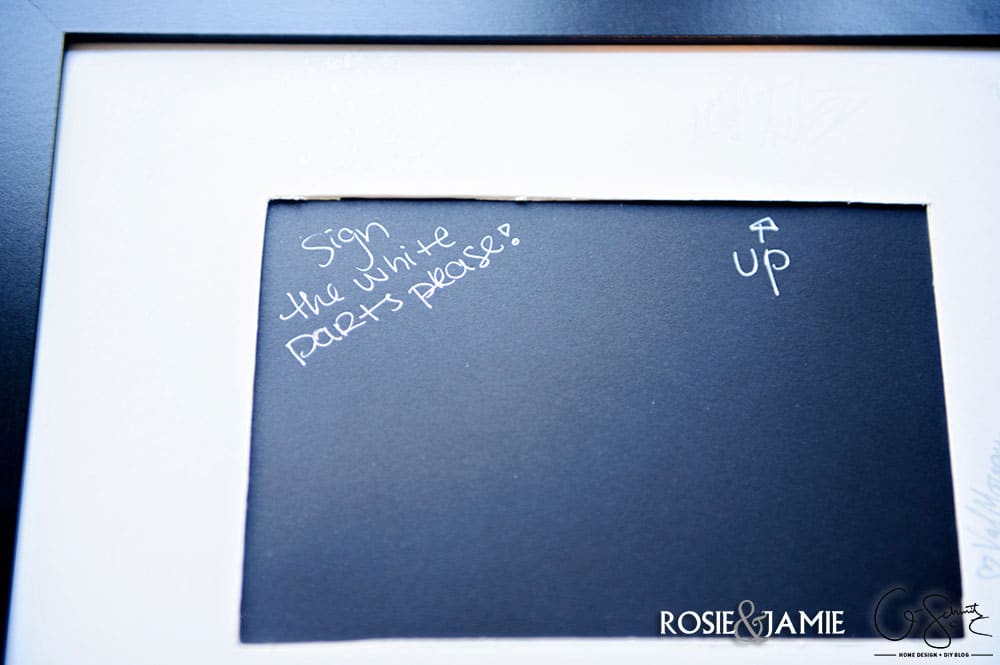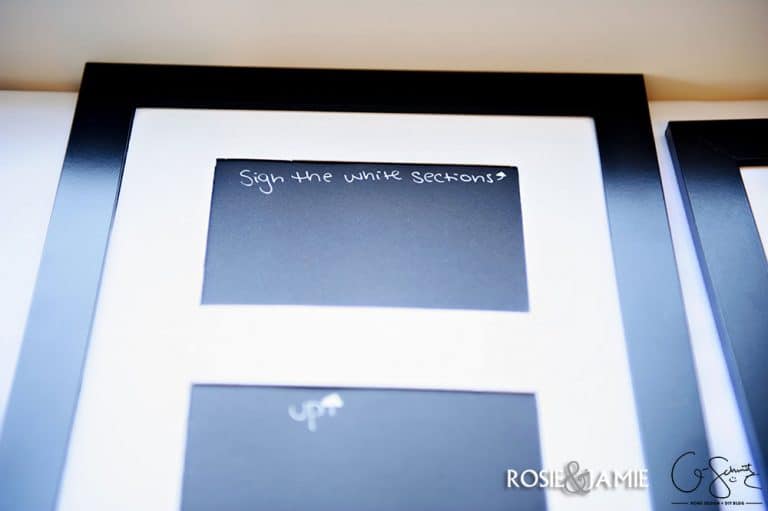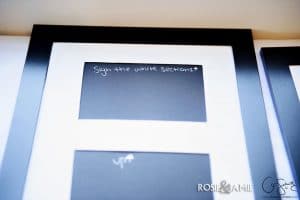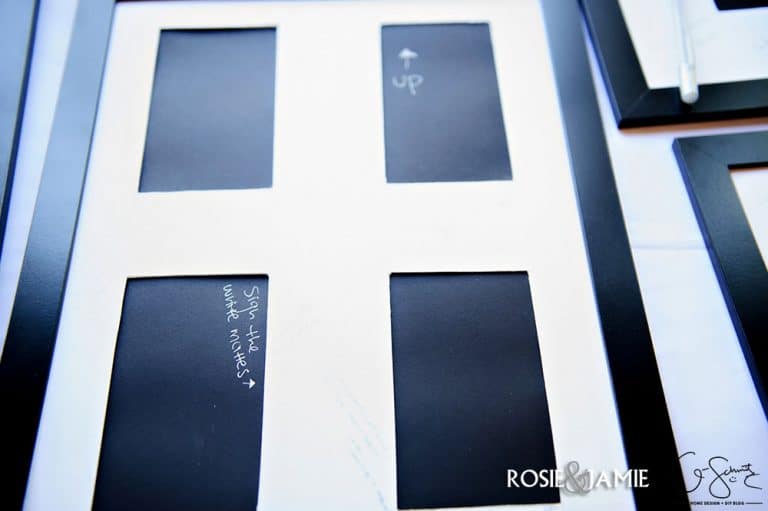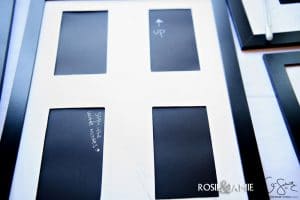 I had purchased some plain black frames from Ikea in varying sizes and got 2 large white frame mats from Michaels.  You can buy mats that are pre-made, but they were all the same size.  By buying large sheets (they were about poster board size) I could cut multiple shapes out of them.  I simply traced the sizes I needed and then made various little cut-outs where my pictures would be going.  I later found a great tutorial on how to properly cut mats from a fellow blogger (I just used an exacto knife, but later purchased the mat cutting tool she mentioned :).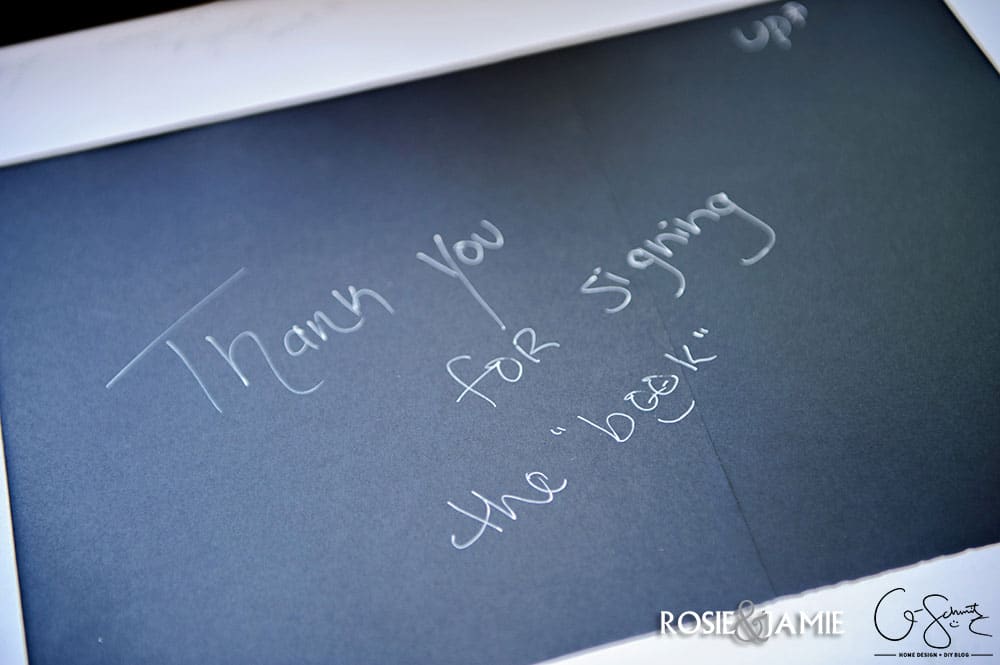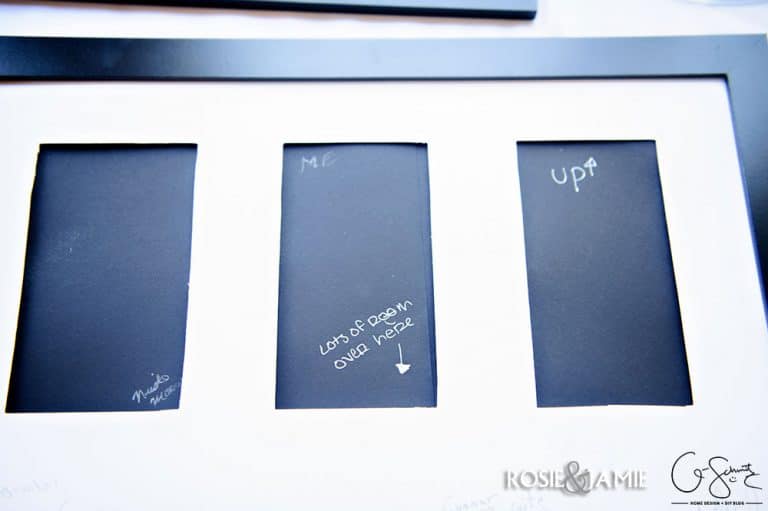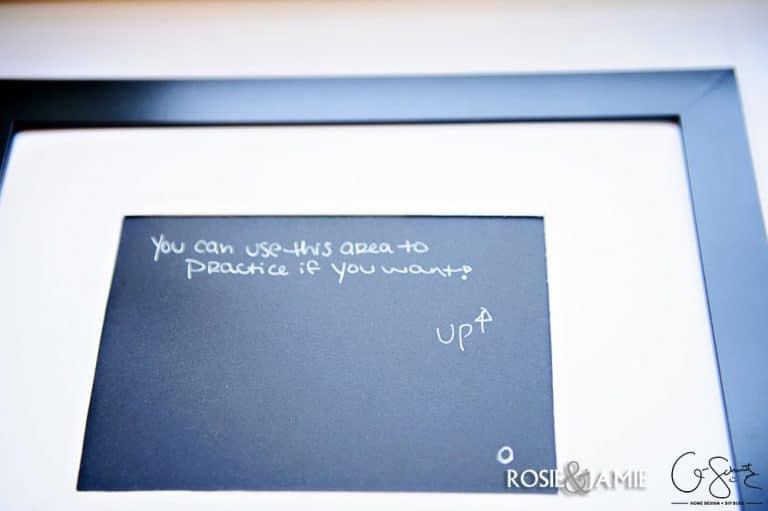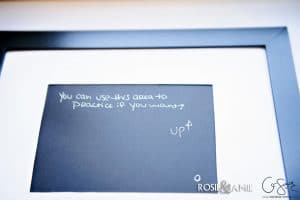 On our wedding day, I had them set up in the frames (with the glass/plastic cover removed) and wrote simple instructions on how to fill them out.  I also included arrows that pointed up, that way people wouldn't accidentally write the wrong way.  I provided a few silver gel pens as well, and thought that everyone's names and signatures would add a nice subtle decoration to our mats.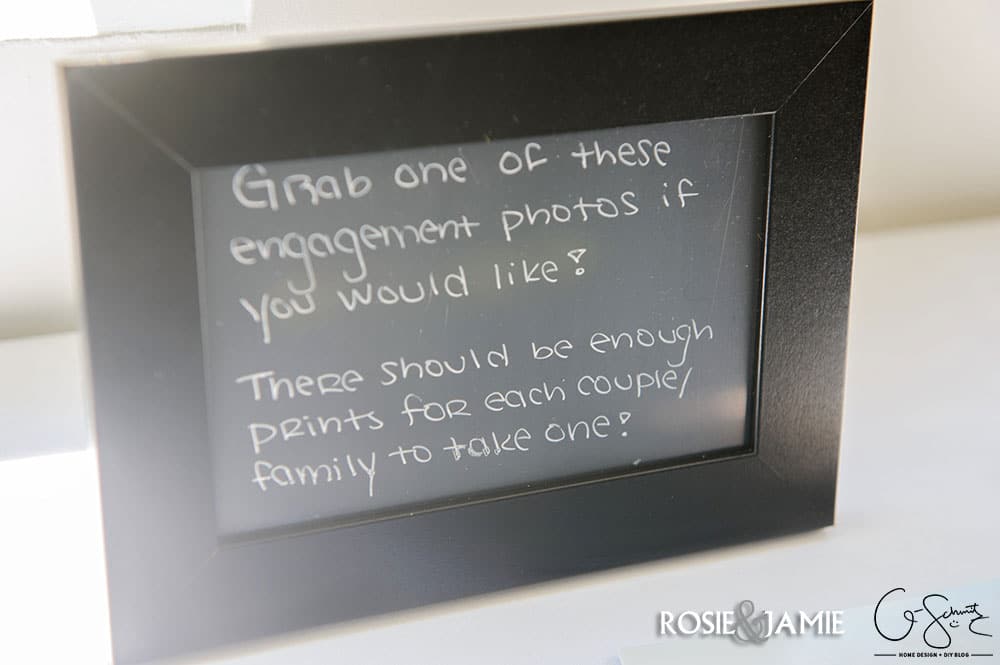 Nearby, we had also placed photos from our engagement session so that our guests could take.  Weird-ish sort of unrelated story, you know how there's McDonalds Monopoly?  Basically you buy food at McDonalds during a certain time each year and you get those little monopoly stickers to try and win prizes.  I literally only go to McDonalds during their monopoly promo (and probably go a little crazy), but either way – each little sticker has an online code you can type in to try and get other prizes.  I had actually typed all the codes for the stickers we had and ended up winning some free 4×6 prints.  So I was able to print all these photos for our guests… for free!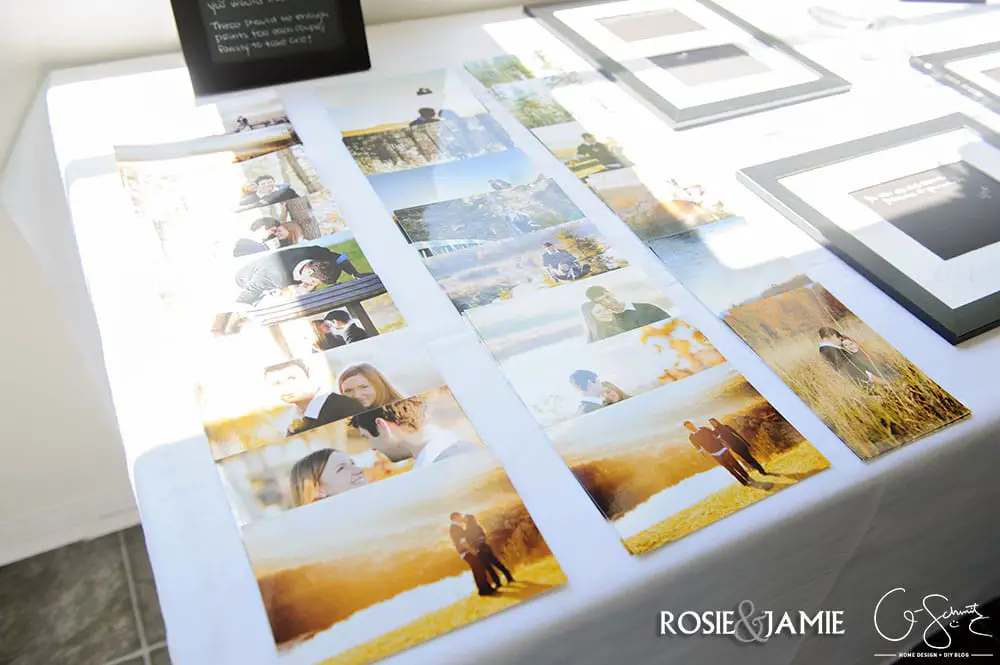 Okay, back to the main story!  So we had all our frames with mats set up and throughout the night, our friends and family signed their names and wrote us cute little messages.  Once we got our wedding pictures in, I was able to use a few to fill in our frames!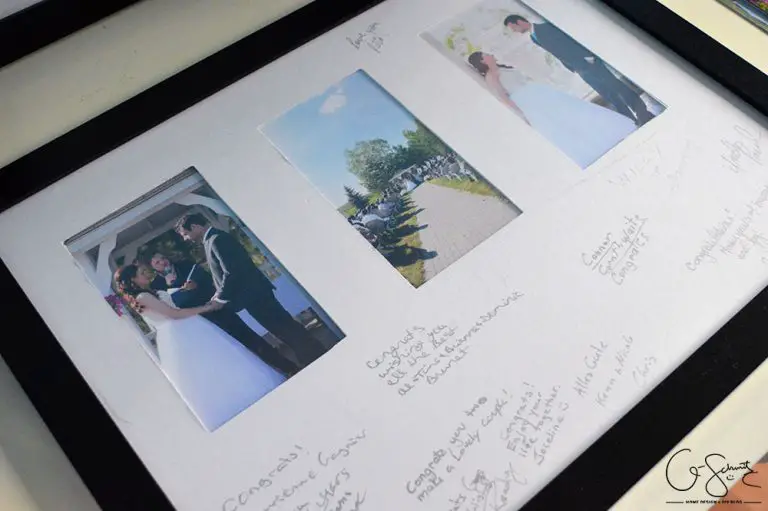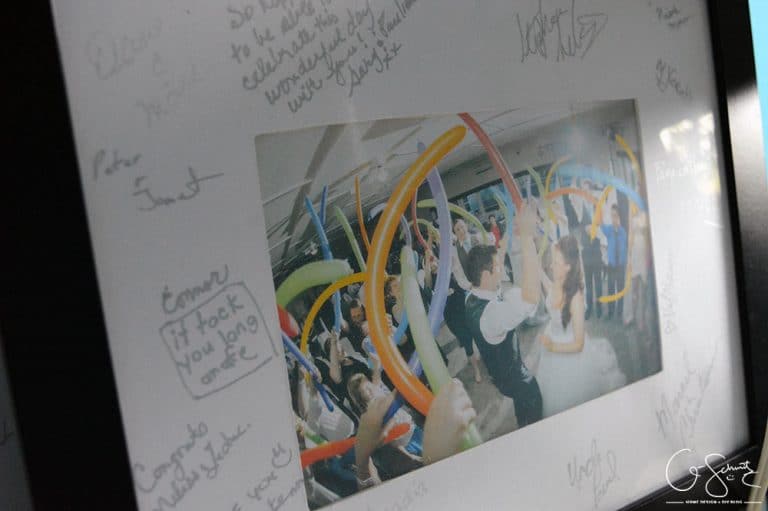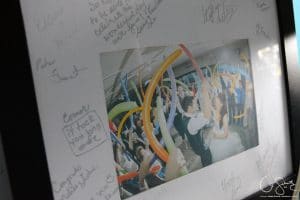 My ultimate plan is to actually set them up as a gallery wall, which I figured out way back after I had just bought the frames.  I placed them on the floor and took a picture of the setup, and included the diagram in our wedding programs.  I shared this information in the Wedding Shelf Post, but if you wanted a reminder, here is how they will be organized:
For now, they are just sitting willy-nilly in our guest bedroom (the blue room) on an empty dresser.  I'm kind of lazy and don't want to set these up until we build our future/forever house (okay, that will be in like 5+ years) so maybe I should put them on the walls in this house before that?  What do you think?
Update: We installed the gallery wall in our master bedroom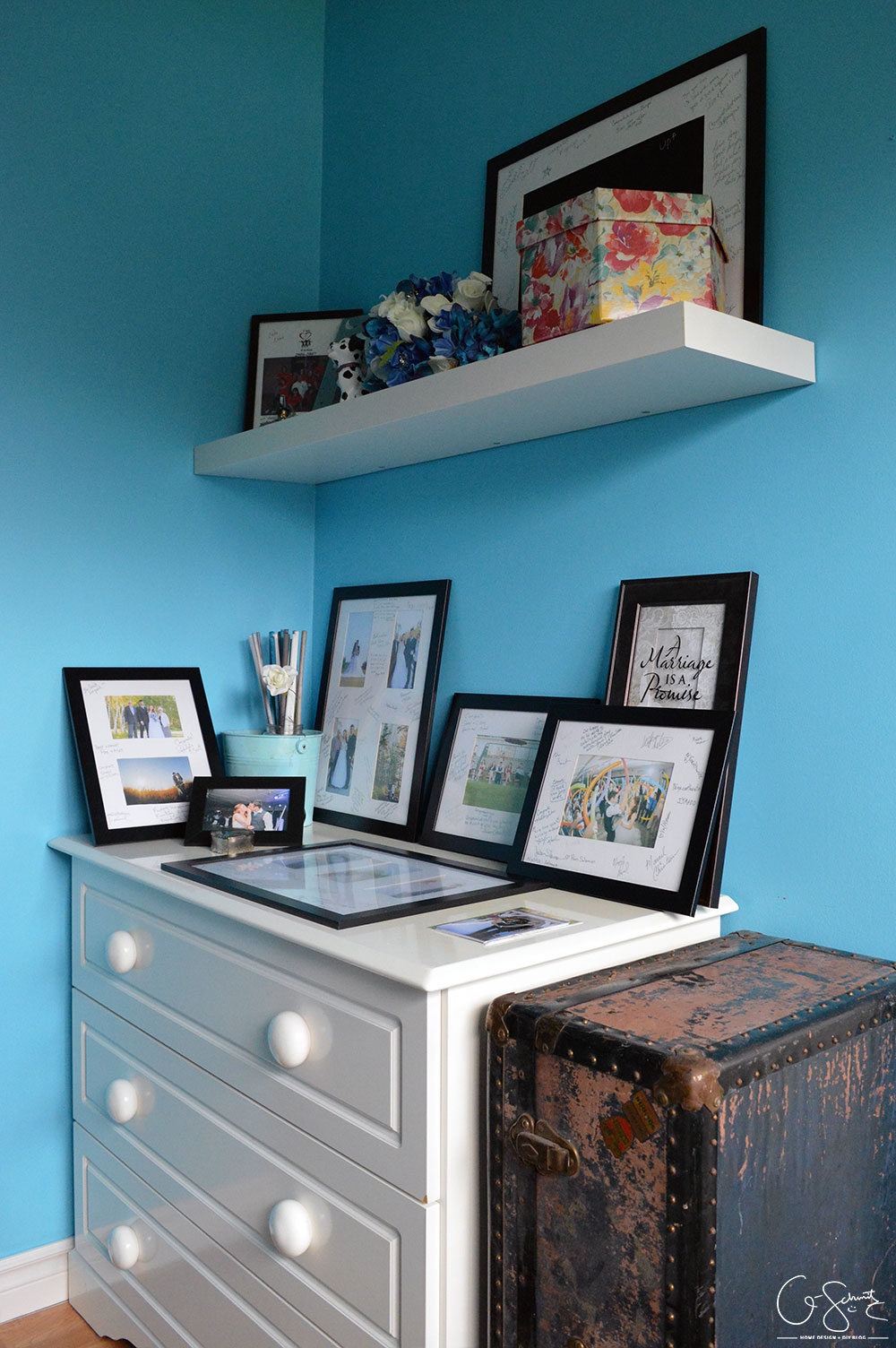 I think it's kind of cool that when guests come over, they can see the messages they wrote when they attended our wedding :)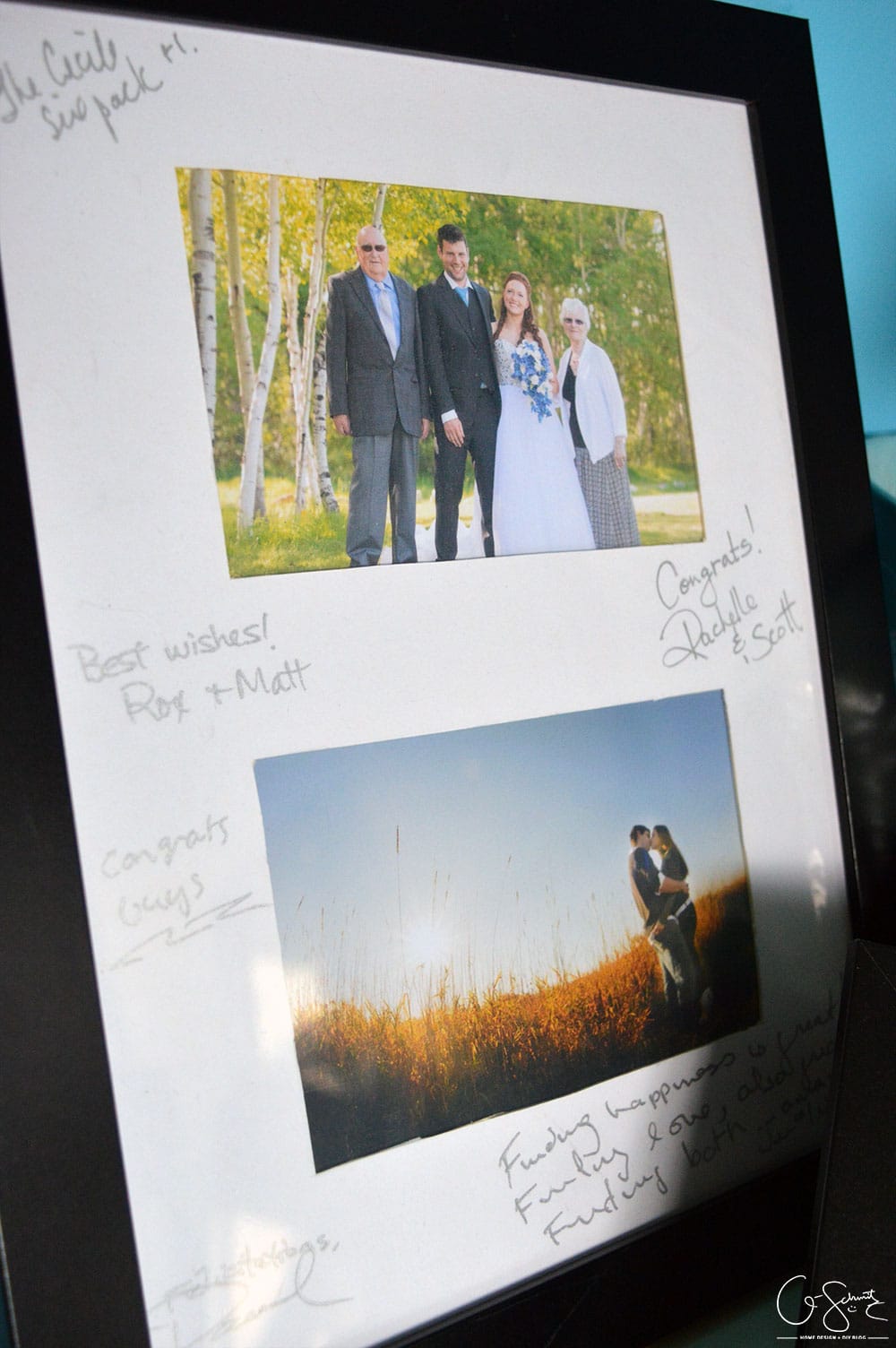 I thought about a few other similar alternative guest books that I wouldn't have minded:
Printing a large black and white image of us, and having people sign the open space with black marker or pen
Having each table decorate/sign a frame or canvas that we would then hang up
Oh wait! I just remembered that I actually wanted people to sign the frames with white gel pens!  YES – SORRY!  That was my original idea, with the photos printed large to fit the frames, BUT the gel pen was not sticking on the frames (as in, it would wipe off if you ran your hand across it, not good).  REMEMBER – it's always best to test out your ideas way ahead of time, that way you don't realize it too late.  In my case, I was able to get the mats, and it was basically the same effect.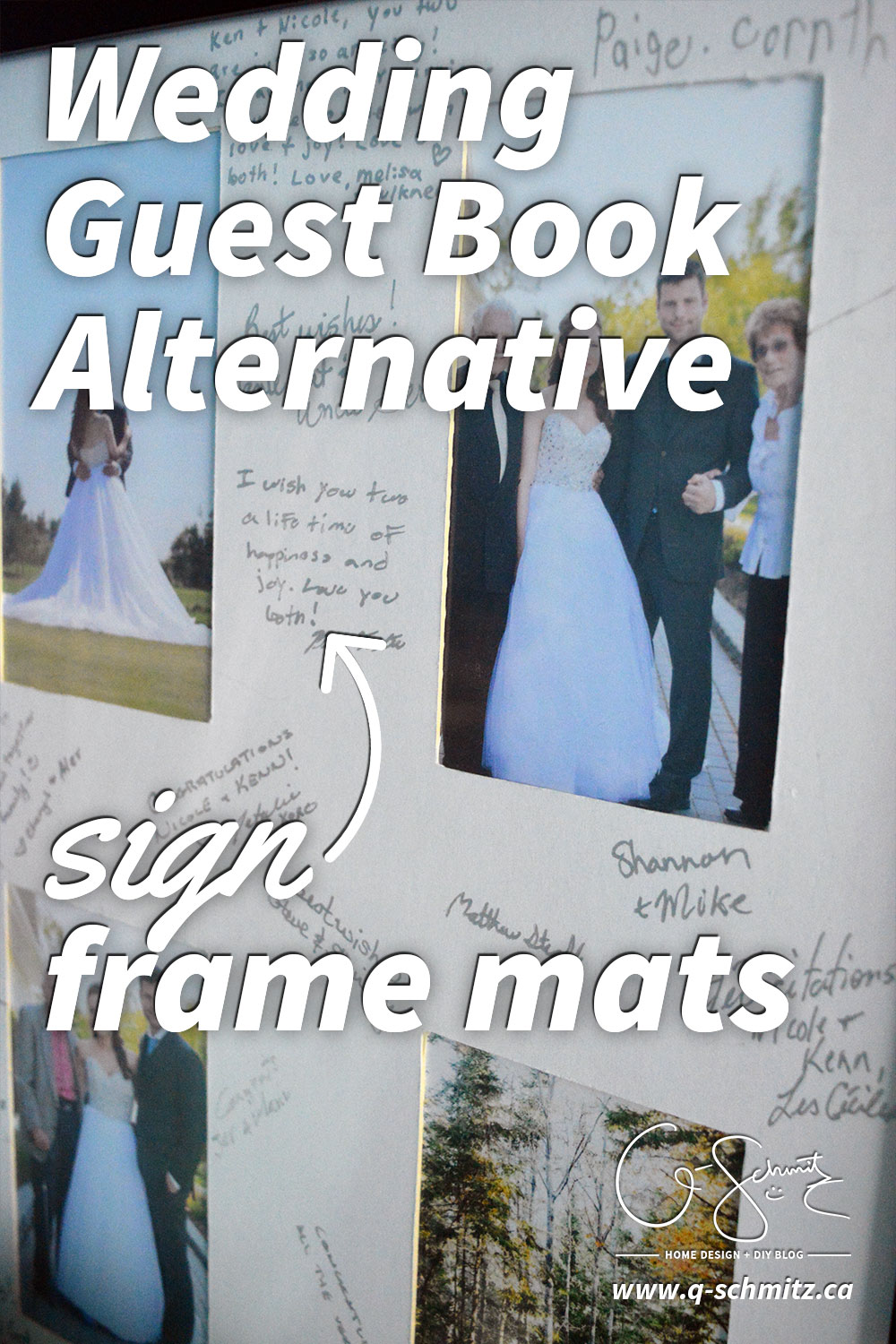 What do you think of this wedding guest "book" idea?  Are you planning a wedding and thinking of a wedding guest book alternative, or have you recently been married and want to share what you did?  Hey, maybe you're a diehard fan of traditional wedding guest books, and you want to argue the pros for them?  Either way, I'd love to hear your thoughts in the comments!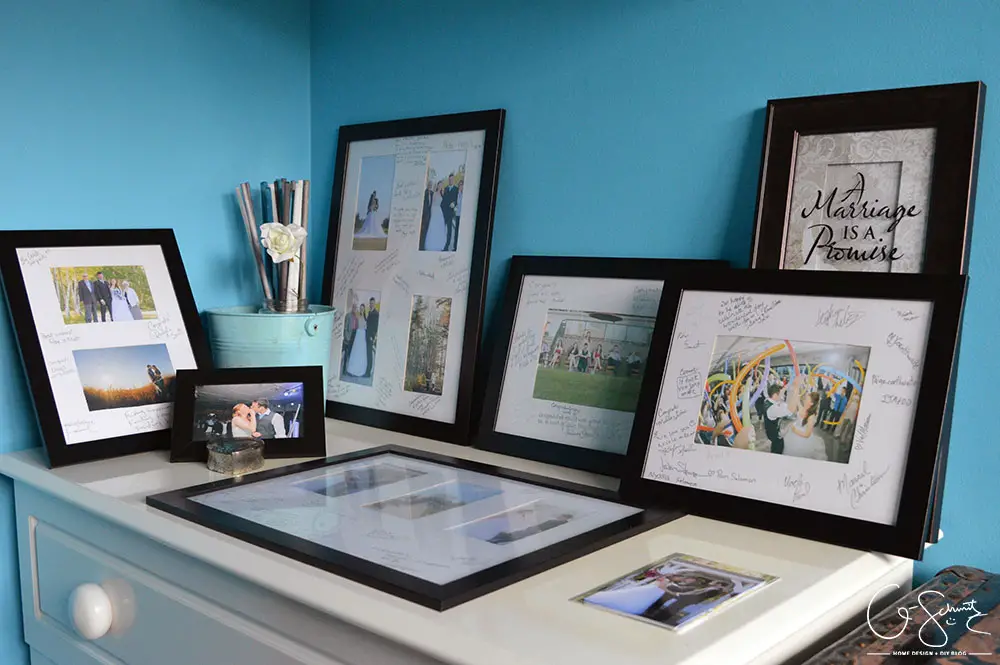 Also, don't forget to help me with the decision about whether or not I should actually mount them to the wall :)
UPDATE: The full gallery wall was finally hung in our bedroom here.
Disclaimer: All photos from our wedding day were taken from our great photographers Rosie and Jamie of Photo Captiva.