Alright, I promise this is one of my last faux marble posts (maybe?).  I might be a broken record, but faux marbling things is so addictive, and it's such a classic look!  This week, I tested four different techniques to create a faux marble vase, and I even have videos outlining the steps for each one.  Let's dive in!
– Note: This post contains affiliate links. See more information about affiliates here. –
In the last year, I've done a faux marble kitchen table with paint pouring, some faux marble paint poured nightstands, and I've even used wallpaper to add the marble look to some other furniture.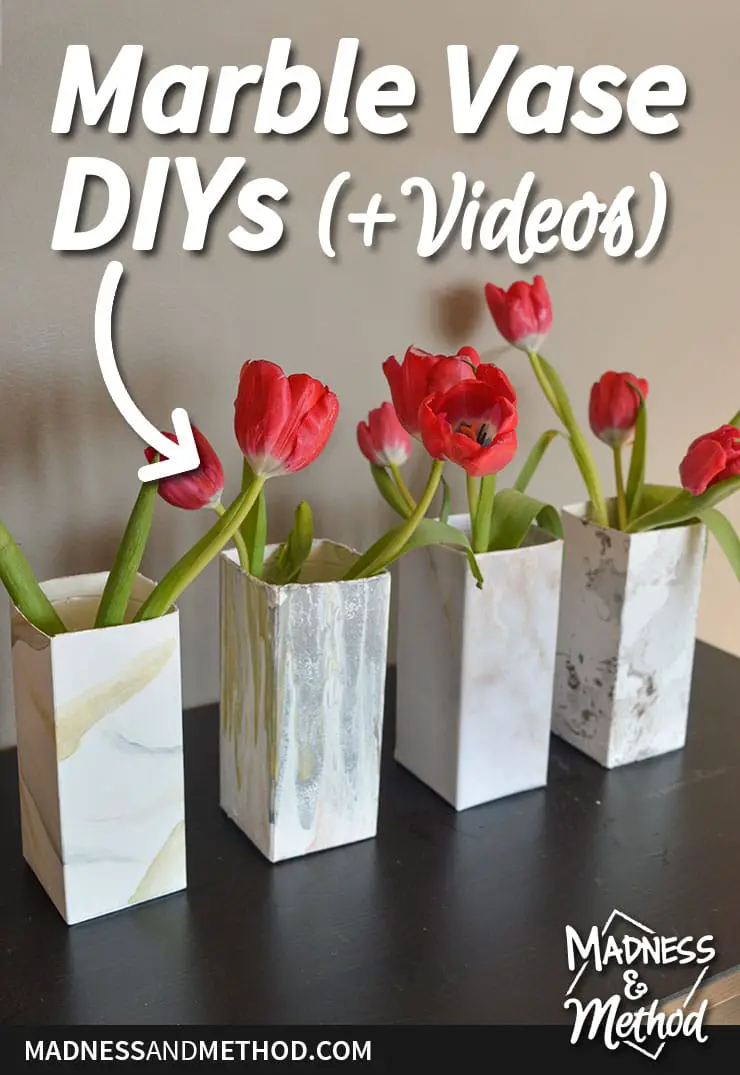 The four faux marble methods I'm going to be highlighting today are hand-painting, paint pouring, wallpapering and hydro-dipping.  If you want to attempt any of these, here are some items you may need:
Materials Used
Empty drink cartons (cleaned and cut to the height you want)
Latex gloves (I ran out, but they would have come in handy!)
Paint brushes, old tub/container, cups, water, scissors, etc.
Perhaps small rocks or something heavy to hold the vase
Here is what they all look like side-by-side: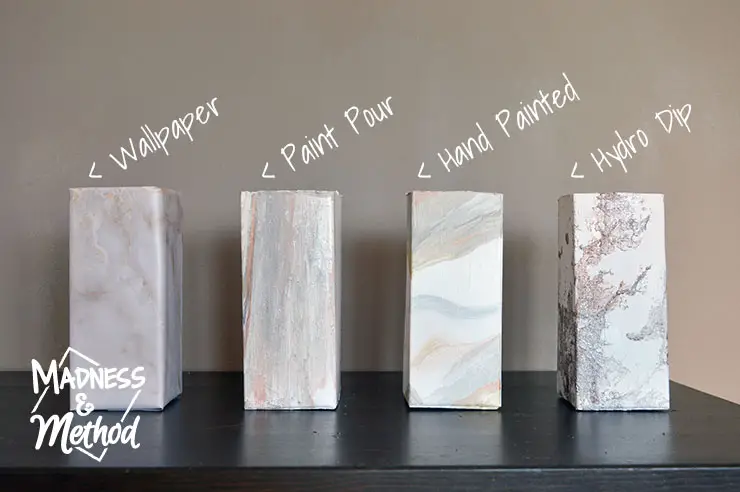 I'll go over a quick tutorial of how I achieved each look, but the videos go into more depth if you wanted to watch the whole process.
TIP: If you're making your vases out of tall cartons like me, you might want to get some small rocks or heavy items to weight the base.  Any flowers you might add could get top-heavy.  (I just placed a regular drinking glass in mine for these photos).
Faux Marble: Hand Painting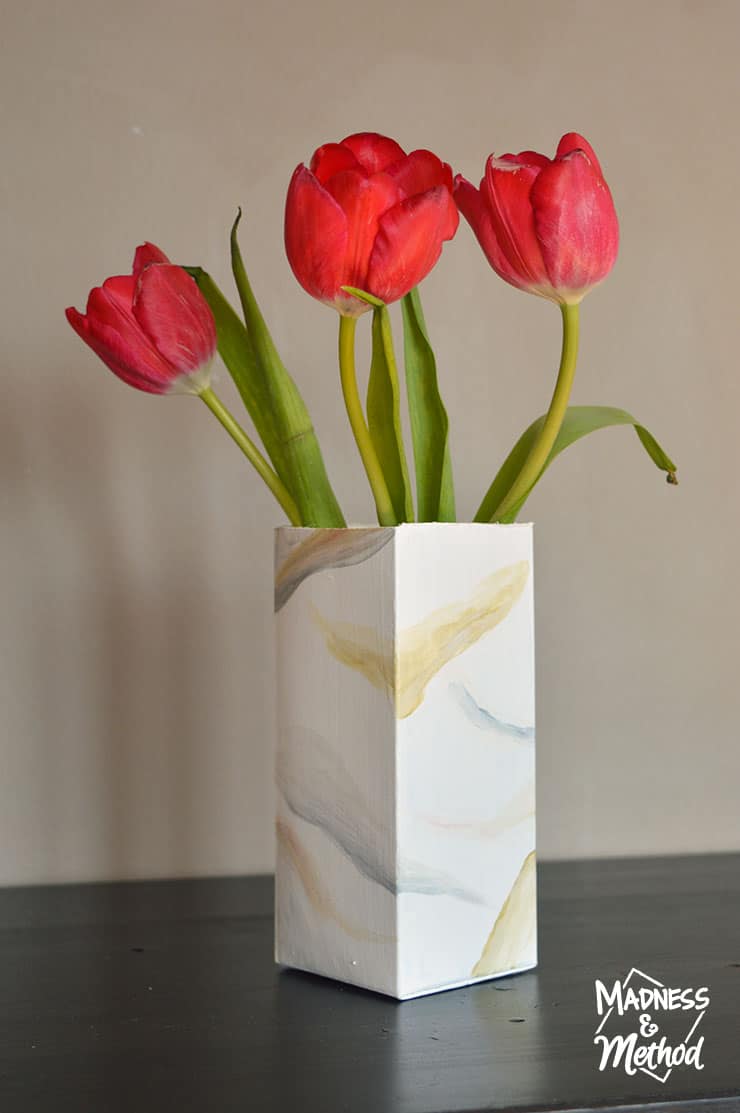 For each method, I started with a cleaned out drink carton (similar to how I made our wedding vases!).  The first vase, I went for a hand-painted marble and it turned out pretty good.  You can always use different colours/reference images, but I tried to stick to a cohesive colour scheme for each.
Faux Marble: Wallpaper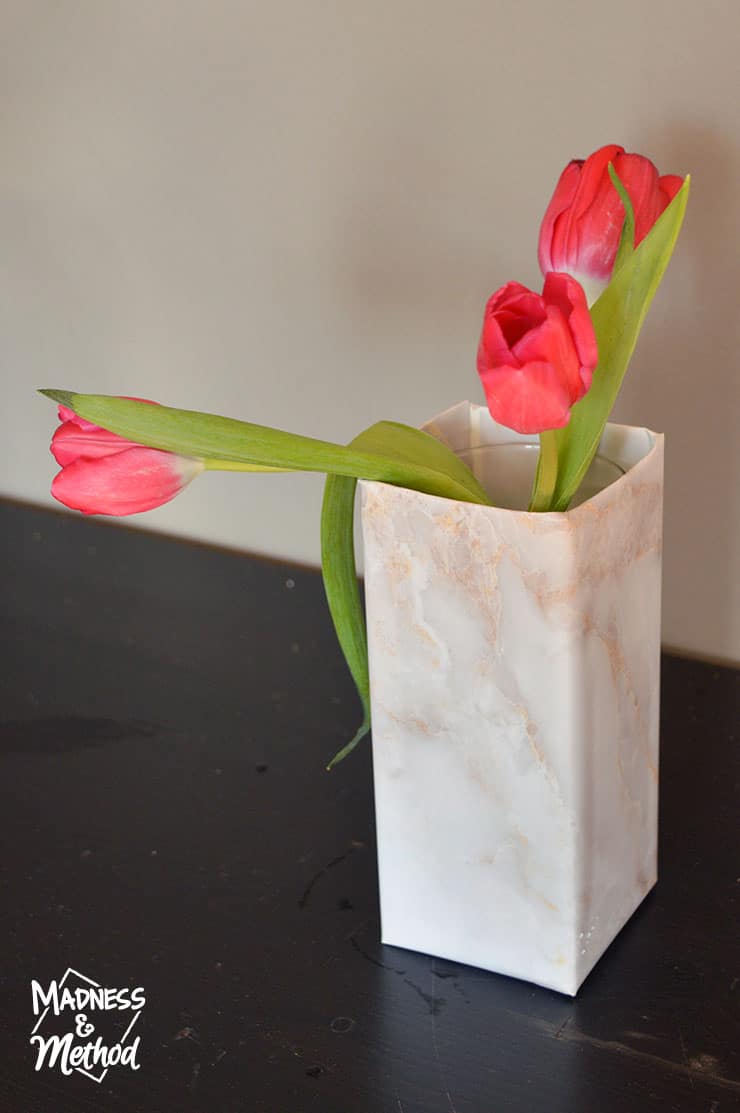 I used the exact same wallpaper that I had before (I'm pretty thrifty/cheap, ha!).  I still have some left… and I half-promise that I won't share any more marble wallpaper projects…
Faux Marble: Paint Pouring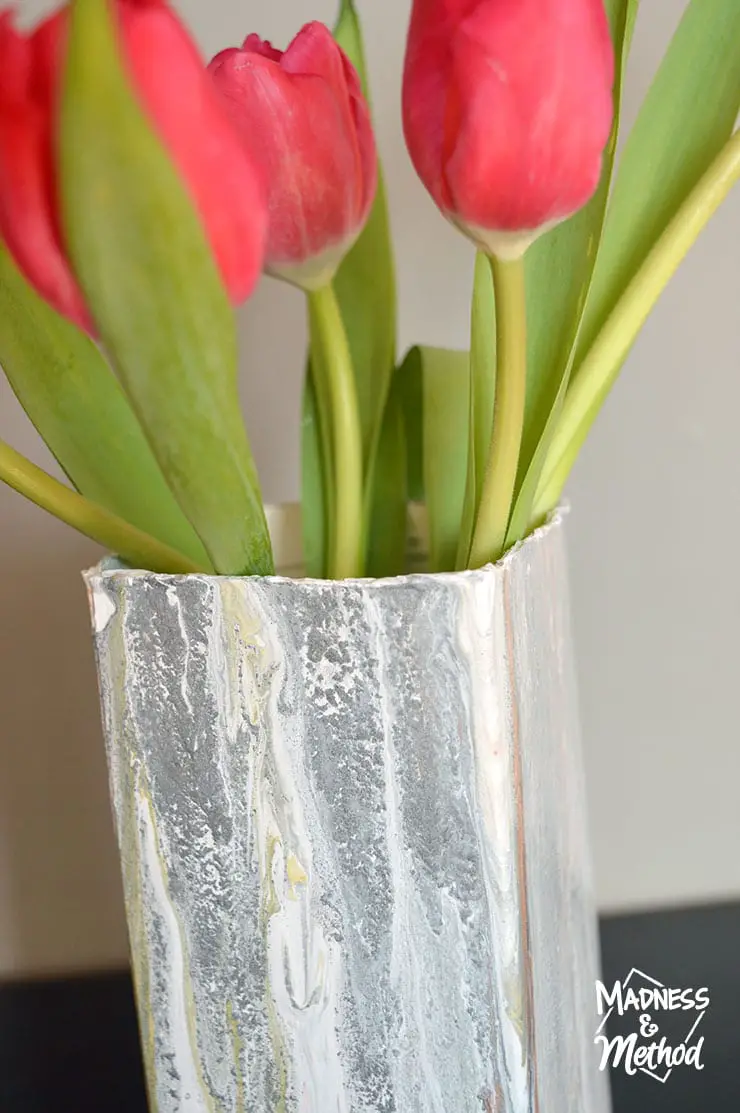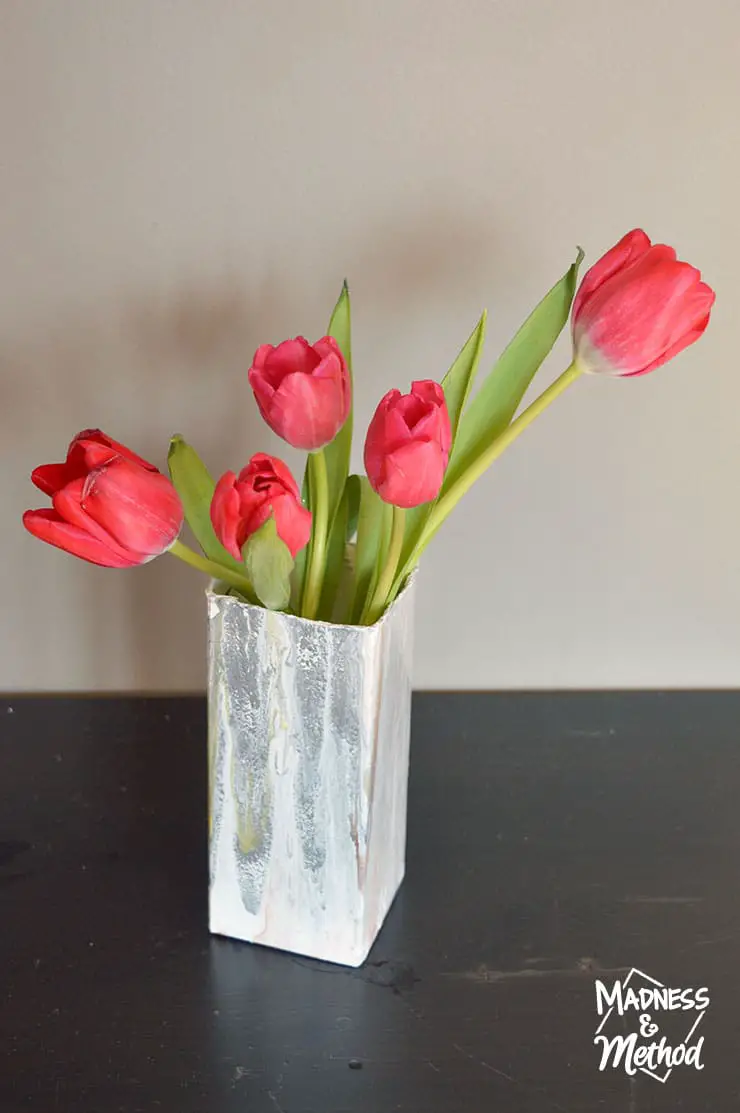 Yes, you can achieve a realistic marble-look by doing a paint pour (check out my table makeover to see how it should look).  Unfortunately, the way I poured then placed my vase to dry, all of the nice marble pattern left.  I didn't think about gravity and how it would affect the paint (um, duh!) – so if you attempt this method, make sure to keep your piece flat.
Faux Marble: Hydro Dipping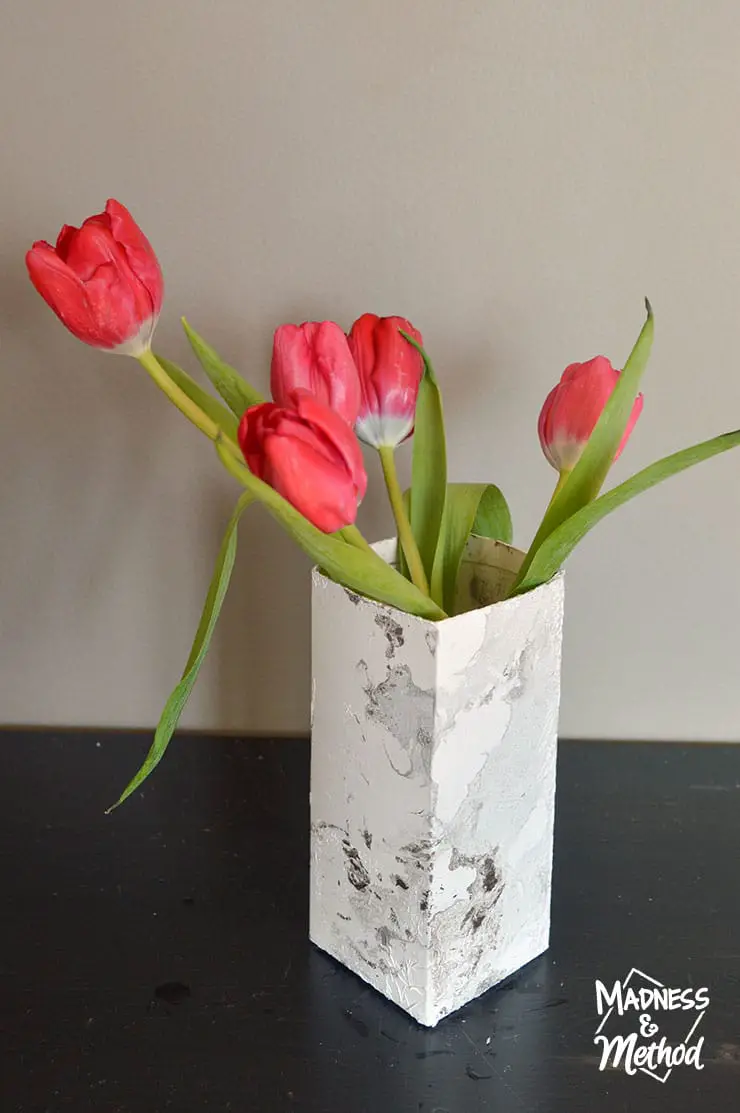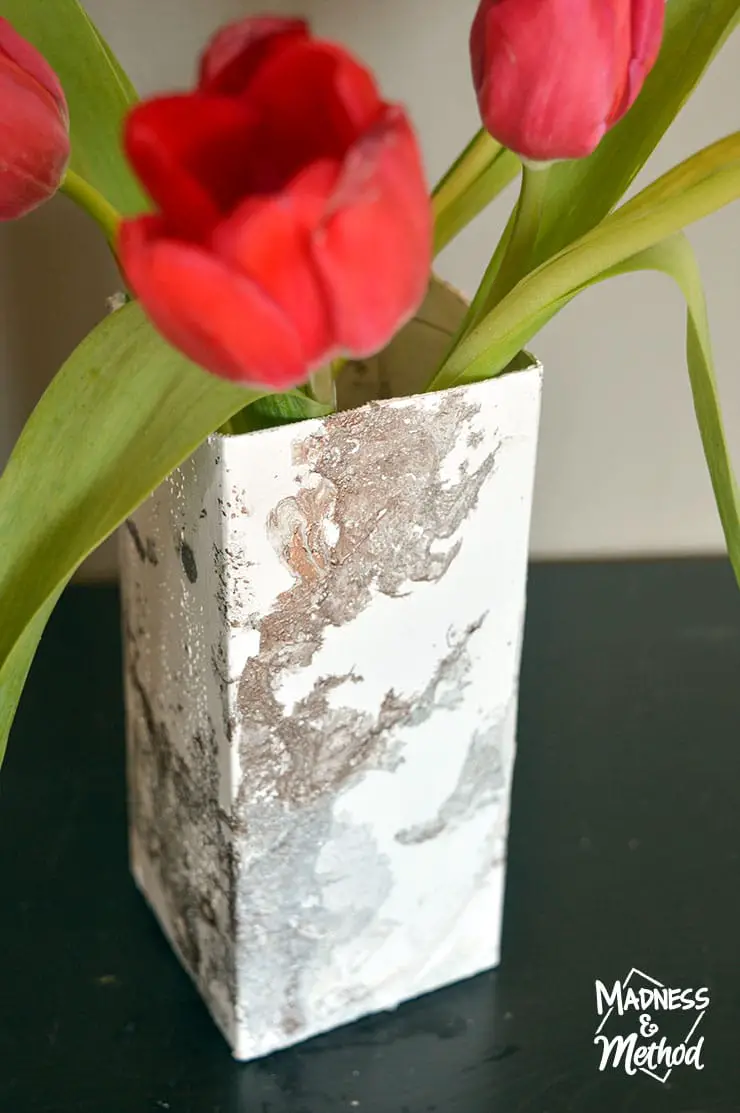 Hydro dipping (which I just found out is the term) is when you spray paint water (in a large tub) and then dip your item into it.  I did this technique a few years ago, and essentially the spray paint stays on the surface of the water until it is disturbed (by you dipping your vase into it).  It actually leaves a bumpy texture on the item, and I think it's probably the coolest looking of the bunch!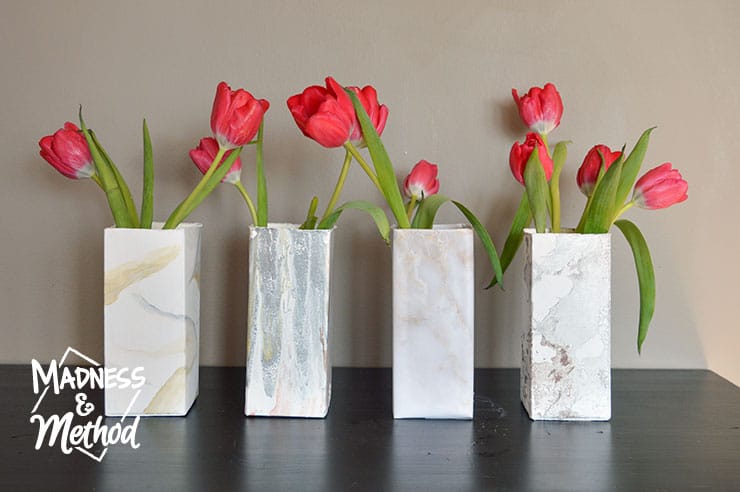 I picked up some pink tulips to show these vases in action, but you could fill them with whatever you like!  And, because the base is an inexpensive drink carton, it's guaranteed to be waterproof (and no worries if you mess something up!).  You could use different size cartons (I used the tall 1L ones) to make vases of different sizes (last time, I used the wider ones but cut them to be little cubes).
I hope you liked these tutorials for faux marble vases and had a chance to watch the videos outlining each method.  I'm hoping to do more regular videos on the blog this year, and figured I'd start with a bang and do four!
Plus, Valentine's Day is coming up, and wouldn't it be fun to make some custom vases for your bouquet of flowers!  You could always reuse the vases for other times, or even around the house as decor (think: toothbrush holder, or pencil holder).
And I mean, you don't necessarily have to do a faux marble pattern, so let me know if you come up with something else!