Hello new visitors that are stopping in from the Summer Home Tour hosted by Meg at Green with Décor!  Welcome to the Q-Schmitz Home Design + DIY blog where I share all my renovation projects, DIYs and all the other exciting things I may be doing.  Today I have photos of some different areas of my house, and most excitingly I'll be revealing our new Master Bedroom paint colour that I hinted about here before.  Let's start this tour shall we!?
Now, if you're here because you're wanting to see some pretty pictures of my house all decorated for the summer time – then you may be in for a surprise.  My regular readers may (or may not?) know that I'm not a seasonal decorator, and I tend to share more of a "real life" look when I show photos of my house.  My style tends to be more minimalist, so at least not having a lot of stuff helps it look cleaner around here haha!  Thankfully you have some other blogs to visit (all the links are at the end of this post) for some prettier inspiration, but let's look around a bit anyways!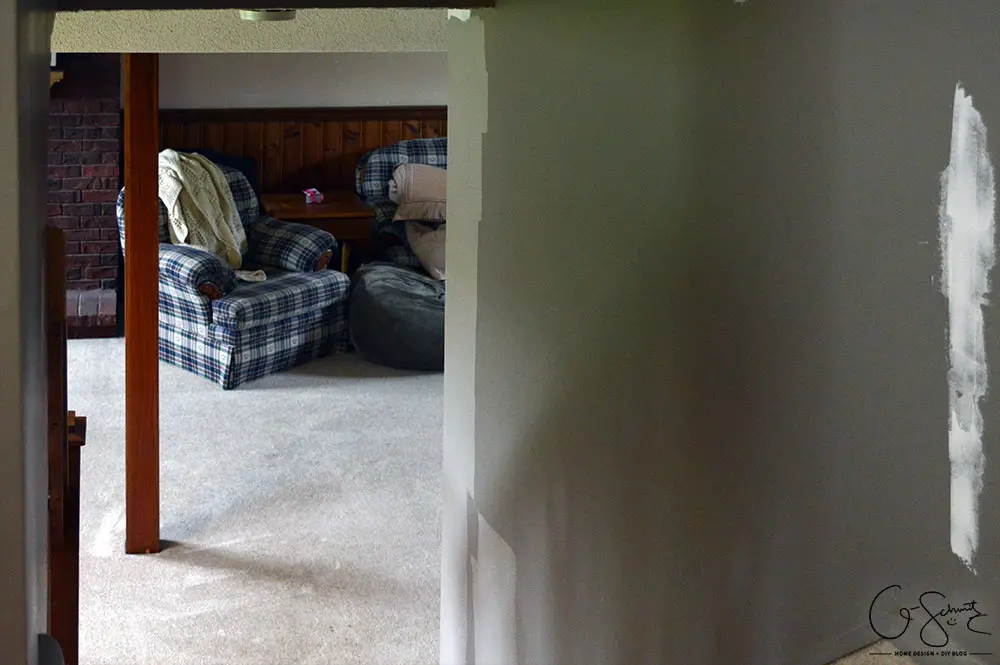 We live in a side-split house in Northern Ontario, Canada built in the 70s.  The living/dining room and kitchen are all on the main floor; then it splits down to the basement and up to the bedrooms and main bathroom.  (I have the layout here). I wanted to show a couple of pictures of the basement living room, because the space has changed a bit since I posted the original pictures a few months ago.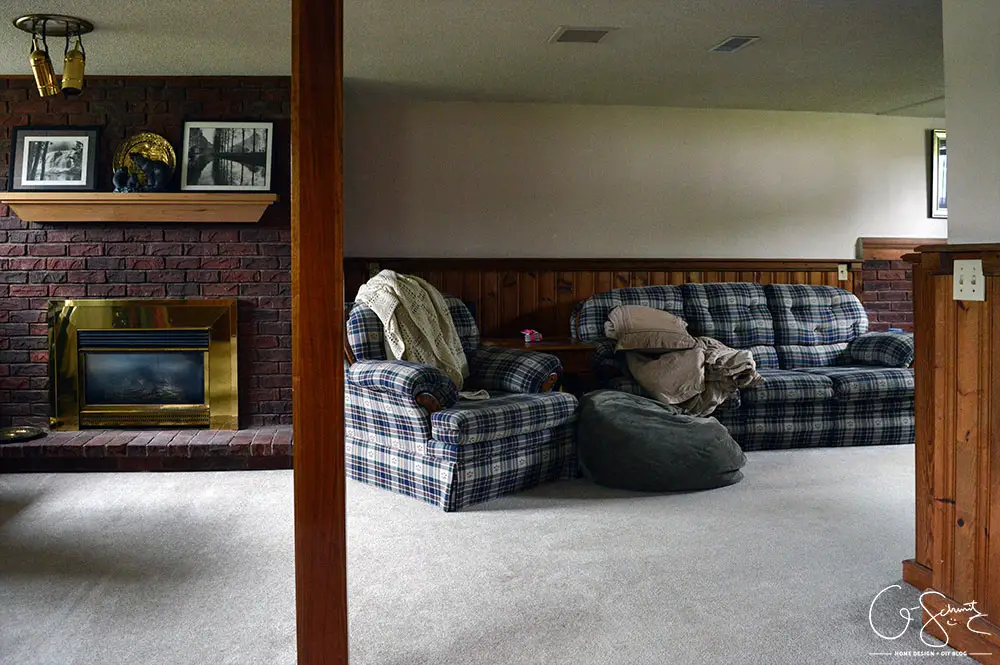 Not much has changed in the living area, but I did want to say that I finally cleaned up all our tools and construction supplies after we finished the half bathroom addition for the Spring One Room Challenge.  I took these photos just before we had the baby, after I nicely vacuumed the floors and everything!  If you came into the basement today, the carpets would be dirty (because I cannot vacuum for a while) and there is a playpen setup for our baby!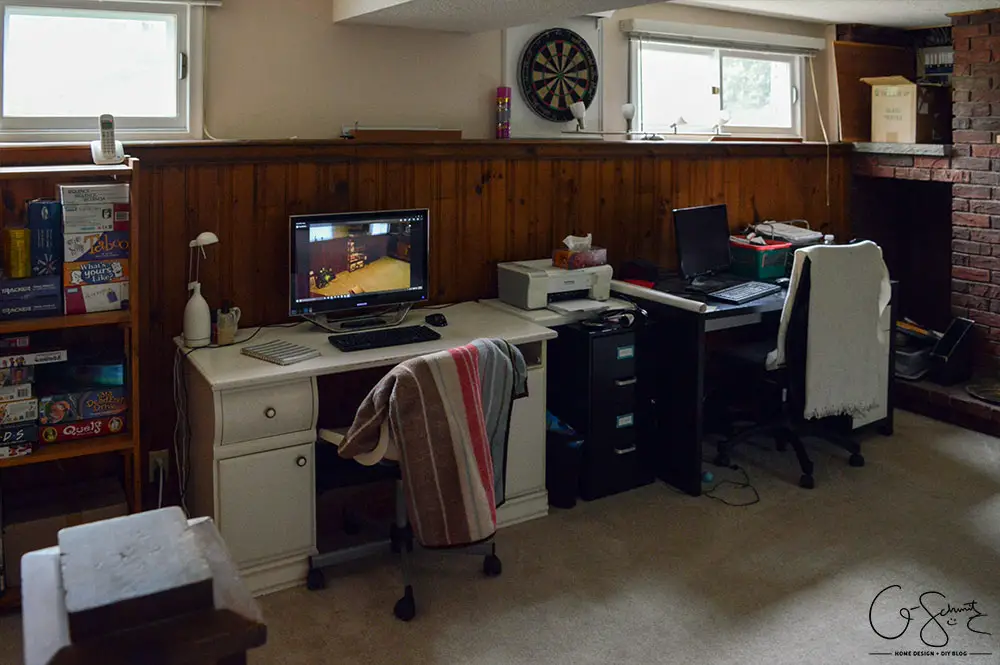 Looking to the left, we've moved our desks/office area to this wall in the basement since we changed our original office into a guest bedroom.  Haha, I put a picture on my computer screen (the one on the white desk) of what this wall looked like before.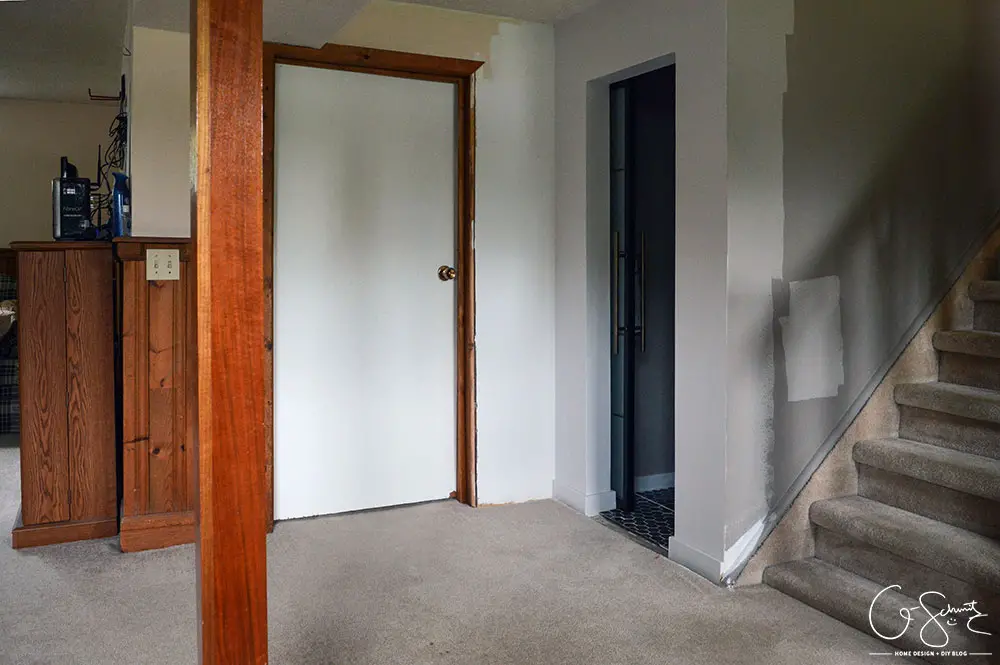 From our desks, if you look back towards the staircase you can see the door to the half-bathroom that we just added!  It's actually super convenient to have a bathroom down here, especially since moving our office.  The wall still needs to be painted, and I'd be lying if I said that the bathroom was 100% done (waiting on the Husband to finish up his tasks!).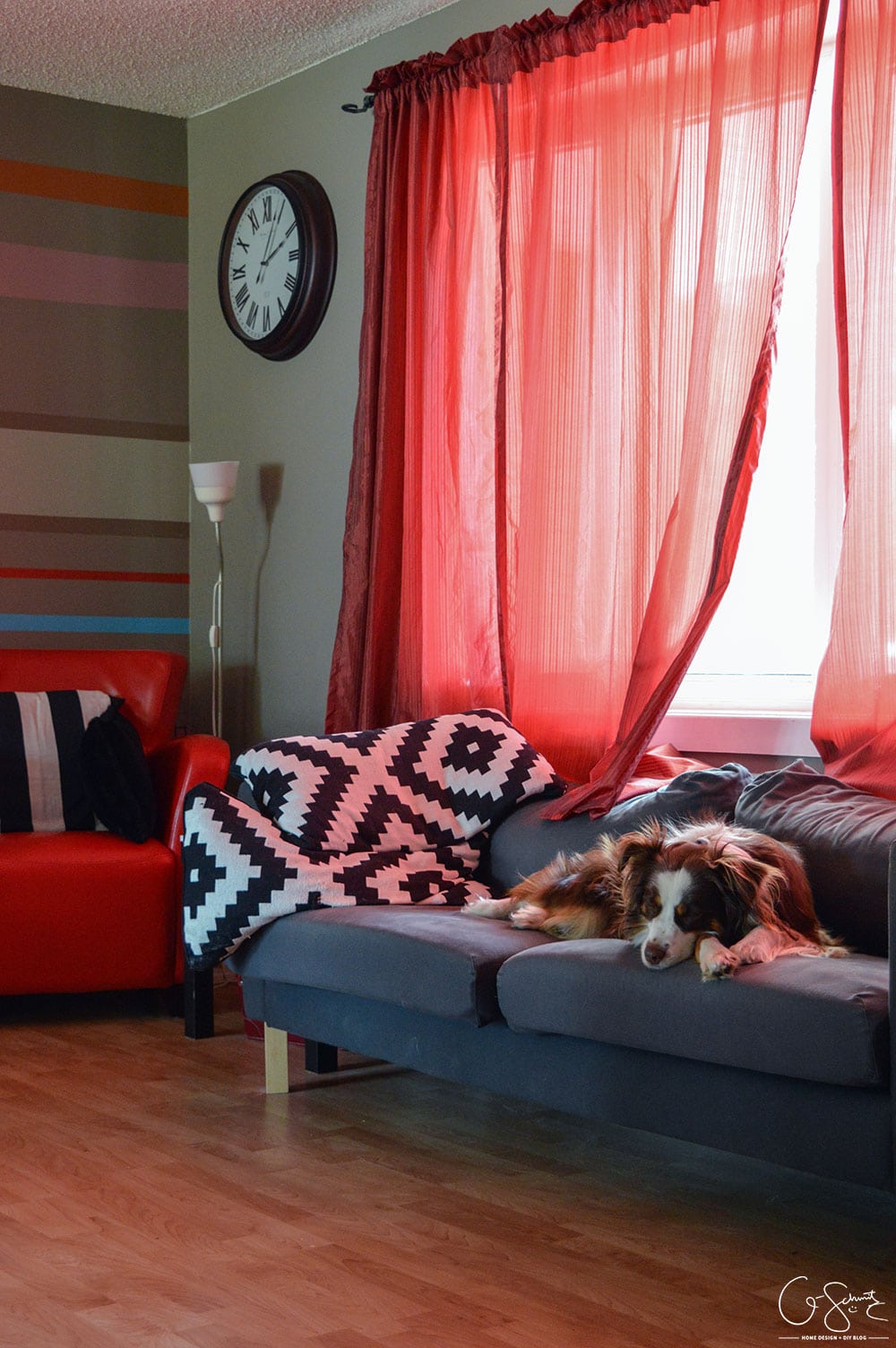 Going back upstairs into our main living/dining room, the only thing that changed since I last showed this space was that I got new pillow covers and blankets to replace the red ones (because that cute "innocent" looking puppy decided to eat the ones we had before).  Normally the curtains are open, but we've had some random heat waves here so I closed them to keep the light out.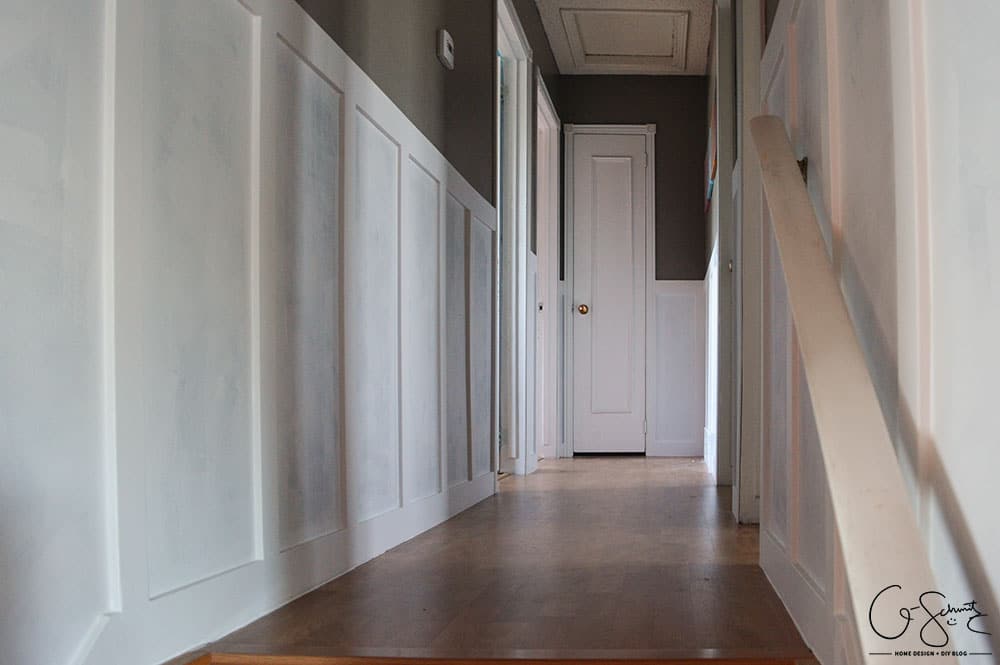 Last week I revealed our new board and batten hallway, and surprise surprise I still haven't added that last coat of paint!  The two doors on the left go to the Blue Room/nursery then the Pink Room/guest bedroom.  The first door on the right is the main bathroom, and the second one is our Master Bedroom.
I don't really have any updates to these spaces, but we did add a rolling A/C unit in our bathroom, so that's fitting for a summer tour right?  And I did have to include this photo of the guest bed since I changed the sheets and I wanted to prove that we did in fact have more than one set (although the Husband thought I was being crazy when I said I wanted to change the sheets between guests… what a weirdo he is!).
Updated Master Bedroom
I was really inspired to update our Master Bedroom colour after seeing this bedroom:
It's super moody and comfortable looking; besides, after updating our closet – we were left with some areas that needed to be painted anyways (we didn't have the original gray colour that it was).
I custom mixed a paint colour using leftover paint; and although the inspiration image is more marsala, I like that our room is more aubergine.  (Purple is my favourite colour!)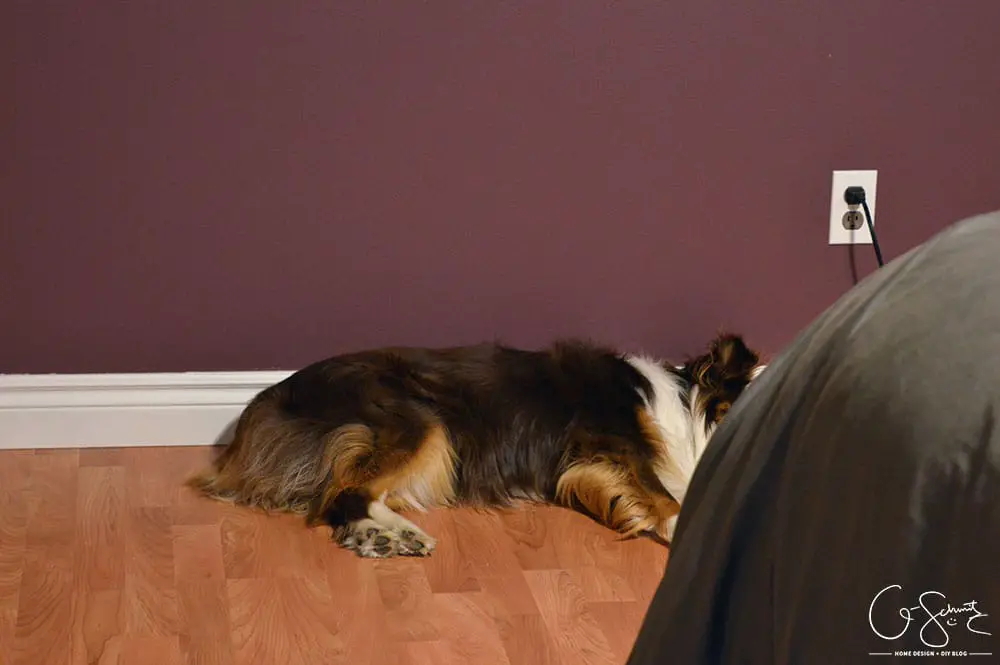 Tootsie loves sleeping on the floor in our bedroom near the closet.  I try to make sure she sleeps in the living room, but she always sneaks into our room in the middle of the night!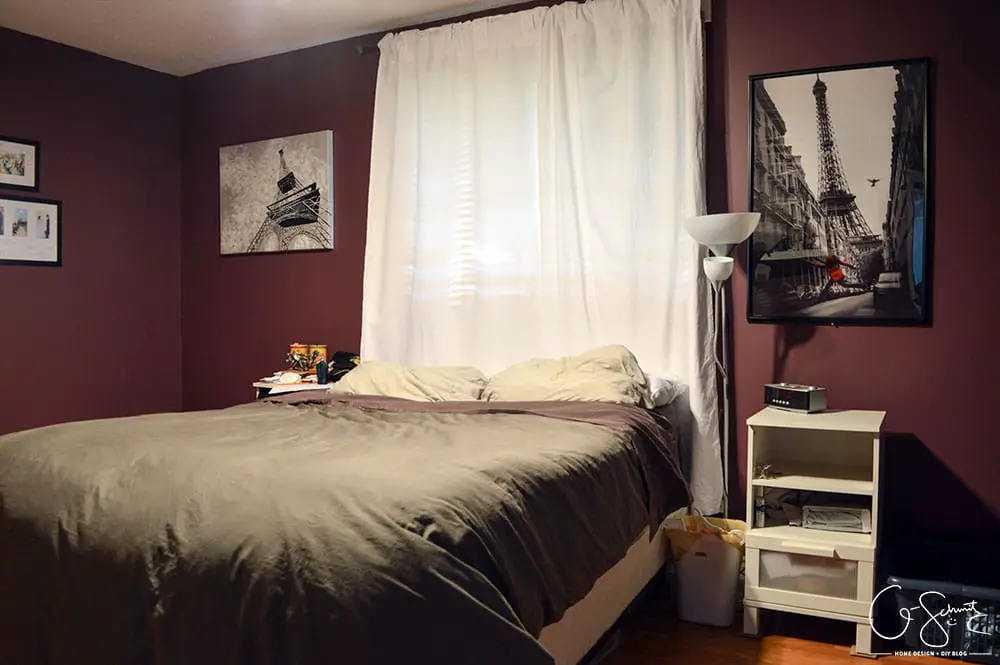 We kept the layout pretty much the same (see the original pictures here) and the Husband chose to keep his dark brown wardrobe (we stored the white dresser in the crawlspace).  Why yes, that is my dirty laundry basket – I told you that I like to keep my tours real around here :)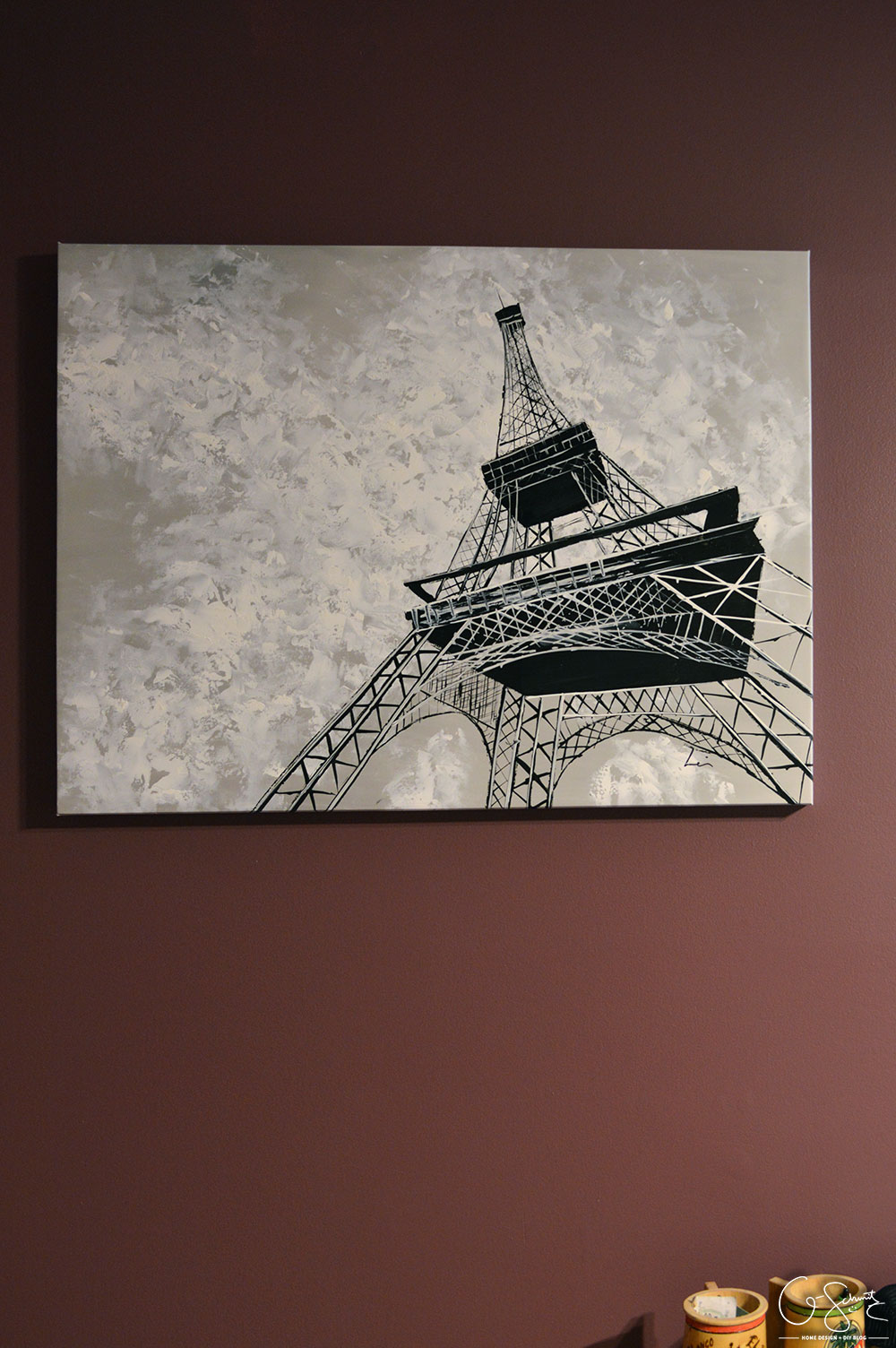 I finally got around to hanging our artwork; although that took a bit longer than I would have liked…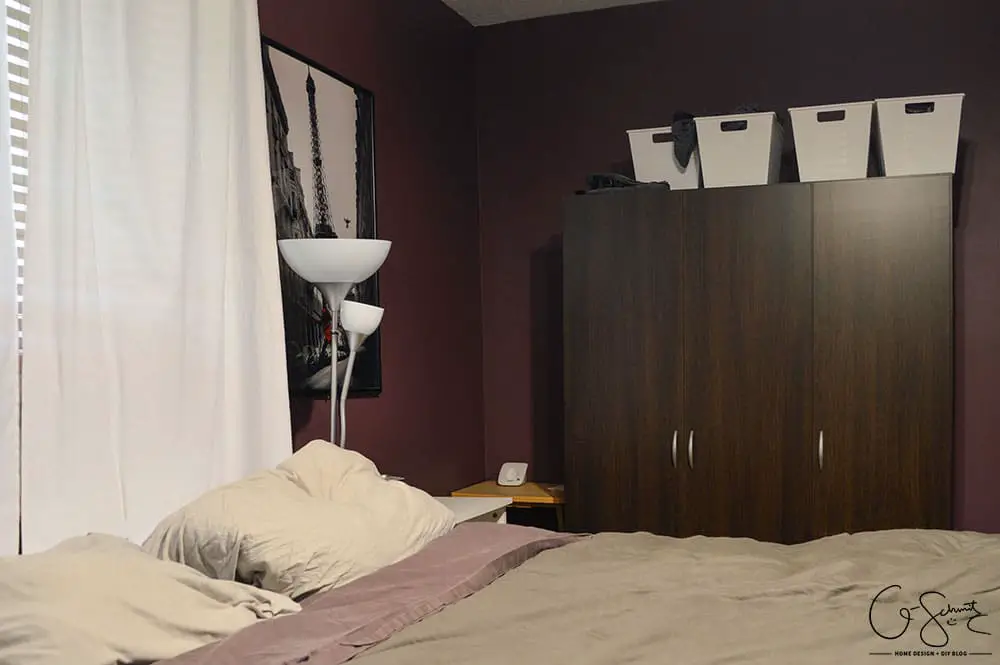 I added a folding TV table to the corner where we keep our house phone – and got the Husband some bins for his overflow clothes (since I got rid of his extra dresser).  He also has some bins under the bed and I'm happy we have more space.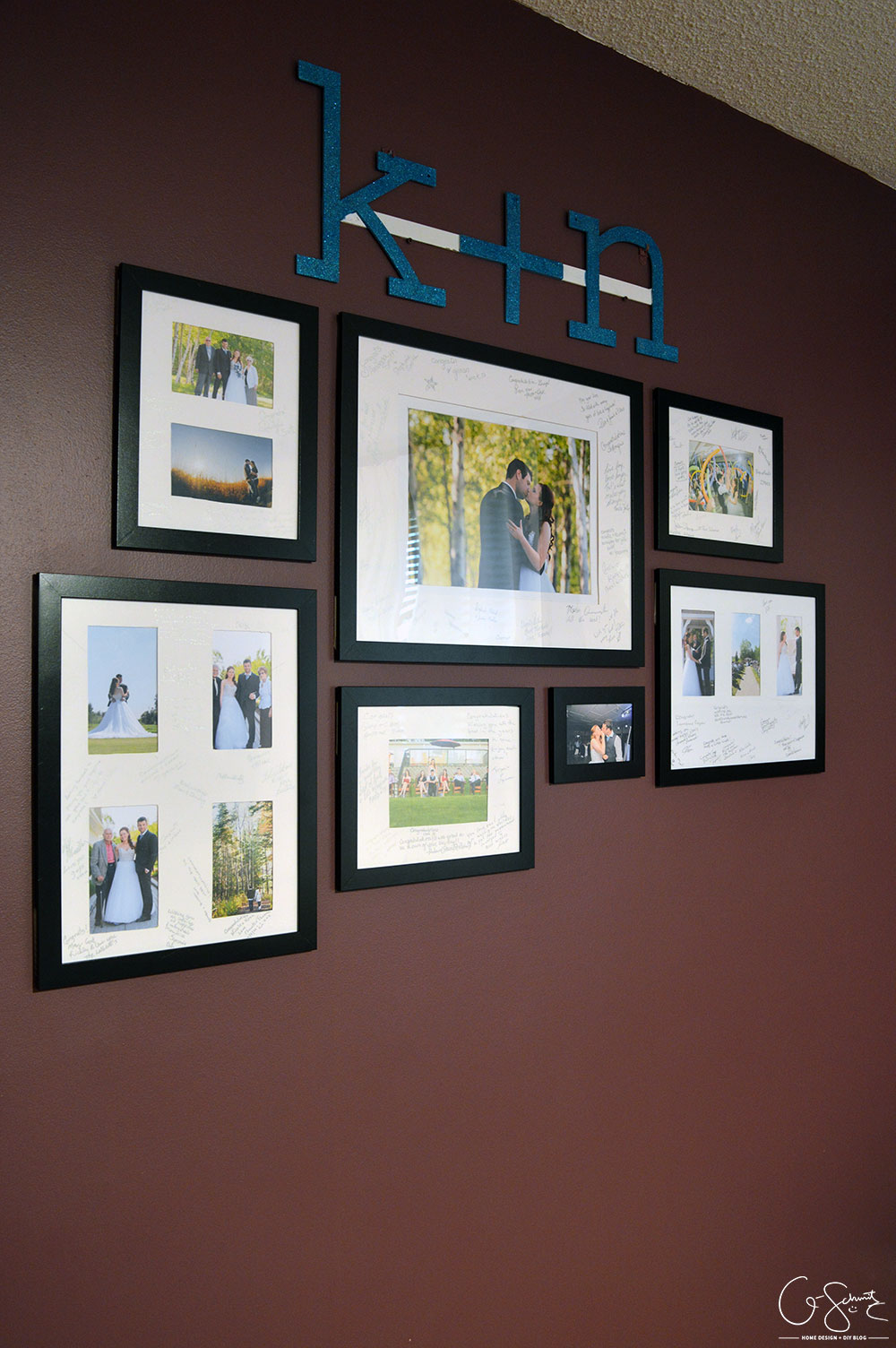 I also FINALLY hung our wedding guest book picture mural and it makes such a big impact in this space!  The Husband actually said it makes him really happy whenever he looks at it :)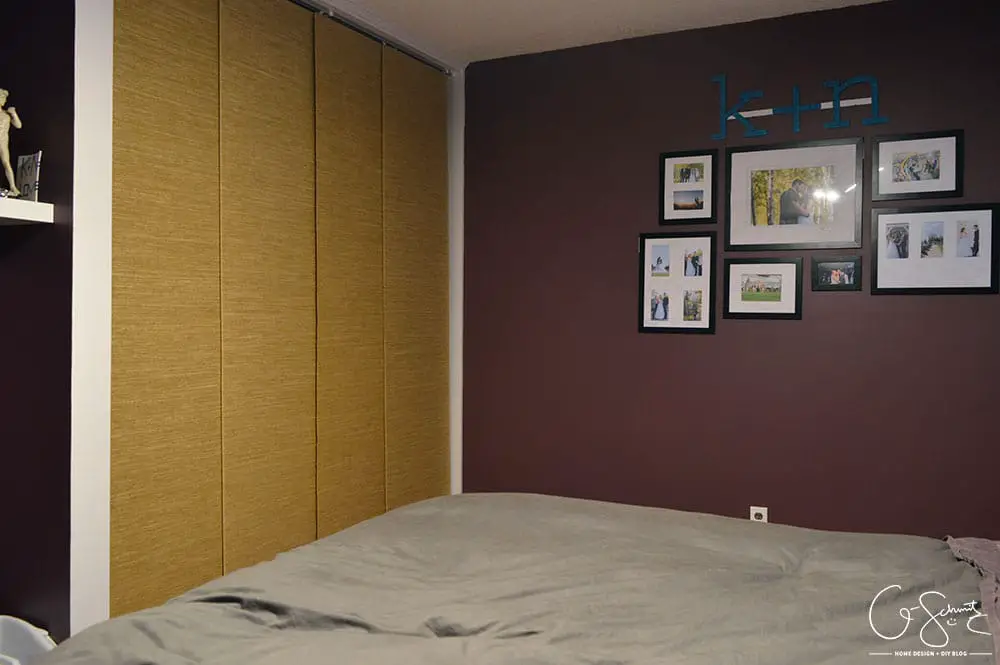 We were originally going to bring the sofa (from the Pink Room) on this wall, but we really didn't need it in here.  I like that the new colour works with both our cooler/gray bedding and the wood tones from the blinds and closet panels.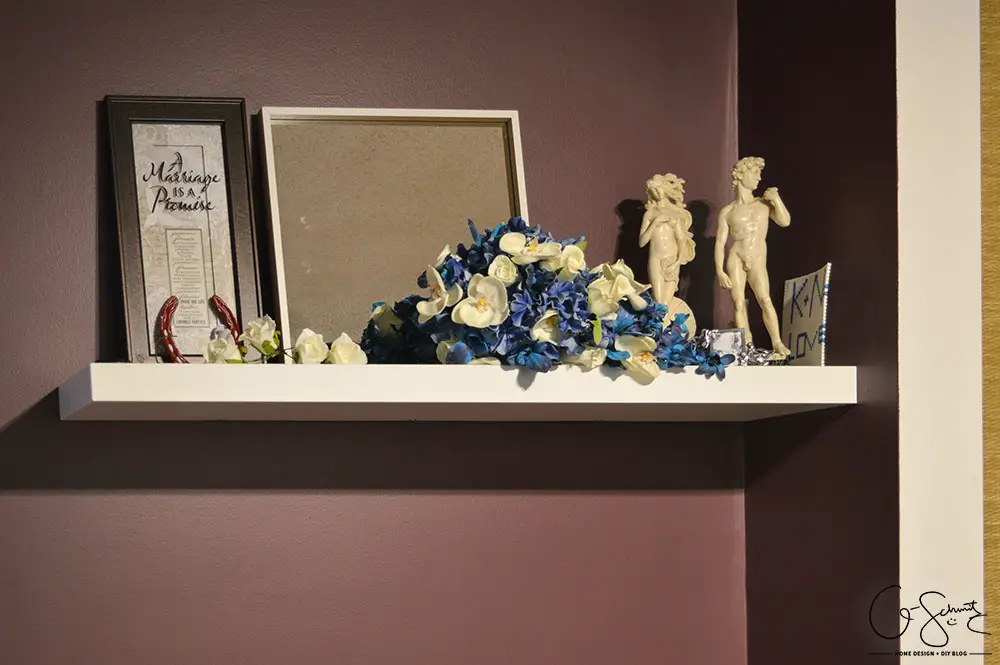 I also gave the wedding shelf a mini-update, but I think that mirror is too small and I may have finally made a decision for the basement bathroom (this was the diagonal mirror option – so looks like that one is the winner and I just need to install it!).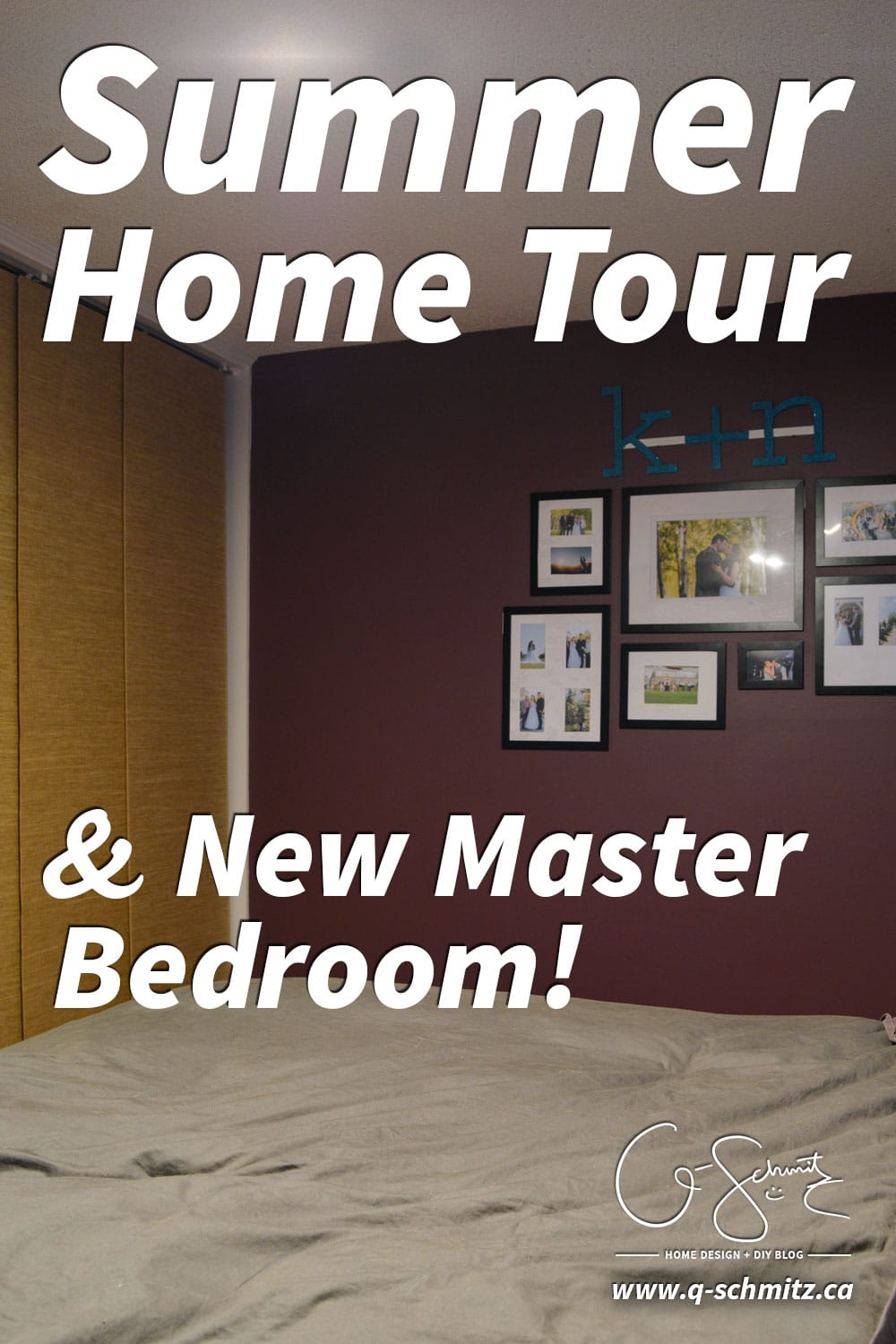 I hope you've enjoyed my "real" summer home tour and I'm super excited that our entire upstairs is now complete!  The only area we have left to tackle is the basement, but there's no rush for that space anytime soon.
Oh, and now that it's summer we can finally start on our outdoor projects – and as I've mentioned before, I was/am hoping to post all my outdoor updates the next two months.  However, because of my C-section, I have a lot of restrictions (basically no heavy lifting) so I have no idea how I will get all the things done :(
But enough about me, I'd love it if you could follow along and check out the other summer home tours that are linked below.  Keep in mind that some of the links may not work until the day of their tours, so you'll just have to check them out throughout the week :)  Thanks again to Meg for organizing everything!
Monday
Green With Decor | Iris Nacole | My Life From Home | Refashionably Late
Tuesday
Seeking Lavender Lane | The Weathered Fox | ME!!! | Our House Now a Home
Wednesday
Live the Fancy Life | Twelve on Main | Little Bits of Home | Beauteeful Living | My Creative Days
Thursday
Architecture of a Mom | Two Purple Couches | The Tale of an Ugly House | 2 Bees in a Pod (house 1)
Friday
Simple Nature Decor | 2 Bees in a Pod (house 2) | Lehman Lane | Farmhouse 40