For those who don't know, I got married in June 2014; almost a year ago.  The colour scheme was black, silver/grey, white and bright blue (Pure Cyan, actually) with lots of sparkles!  I planned the design myself and today I'll be talking about how we took one of the items from our wedding décor and used it to decorate our bedroom.
UPDATE: WE NOW OFFER CUSTOM STEEL SIGNS (AND WEDDING MONOGRAMS) THROUGH KENNVILLECUSTOM.CA
A bit of background information: the Husband owns a fabrication shop and has access to a CNC Plasma cutting machine/table; basically, it cuts shapes (that you design) into steel plate.  I had him take the monogram logo that I designed for our wedding day and cut out each letter, then weld a small metal band across the back to attach them together.  He then primed it and brought it home for me to decorate.
I spray painted the entire thing white, then waited for it to dry and taped off the back band, spray painting the rest blue.  Similar to the wedding vases I designed, I then put some spray adhesive on the blue part and dipped it into some blue sparkles, covering the letters and the plus sign.
We put some string through the holes that were drilled in and hung it as a backdrop to our cake table/speech area (sort of behind the head table).
It's about 1 foot high x 2 feet wide (approx.) and went great against the bright white walls at the reception hall.  I knew I wanted to eventually hang the piece on a photograph feature wall – and in the wedding programs I had a little diagram of how the layout was going to be.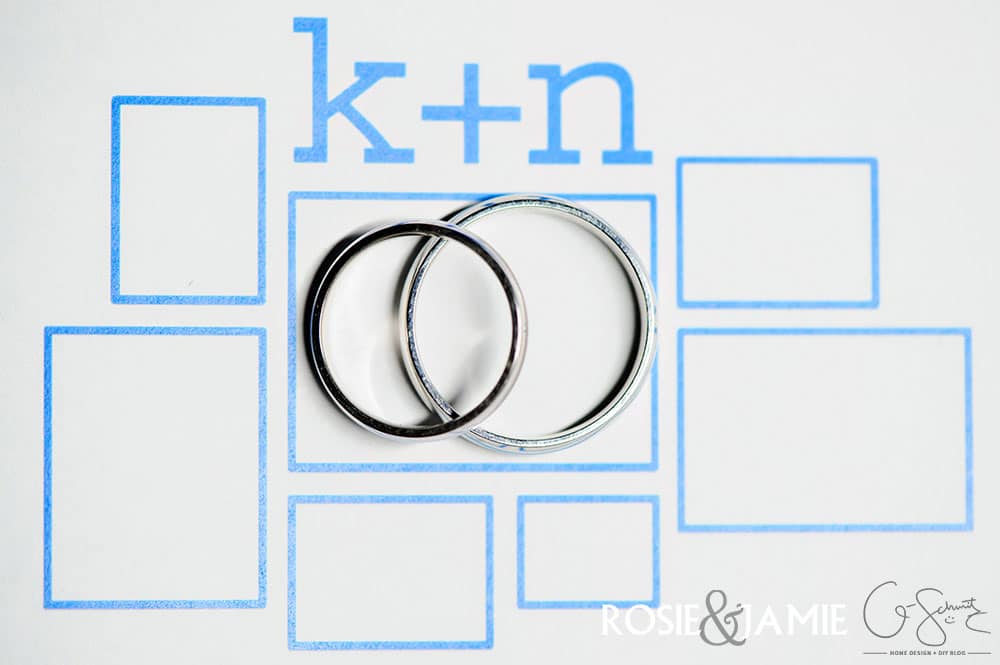 I actually already purchased the frames for the photos and cut out custom mattes for each frame.  We had our wedding guests sign their names on the white mattes with silver gel pens, which is a fun and non-traditional way to do a guest book, I say!  We will then fill the frames with the photos from our wedding day :)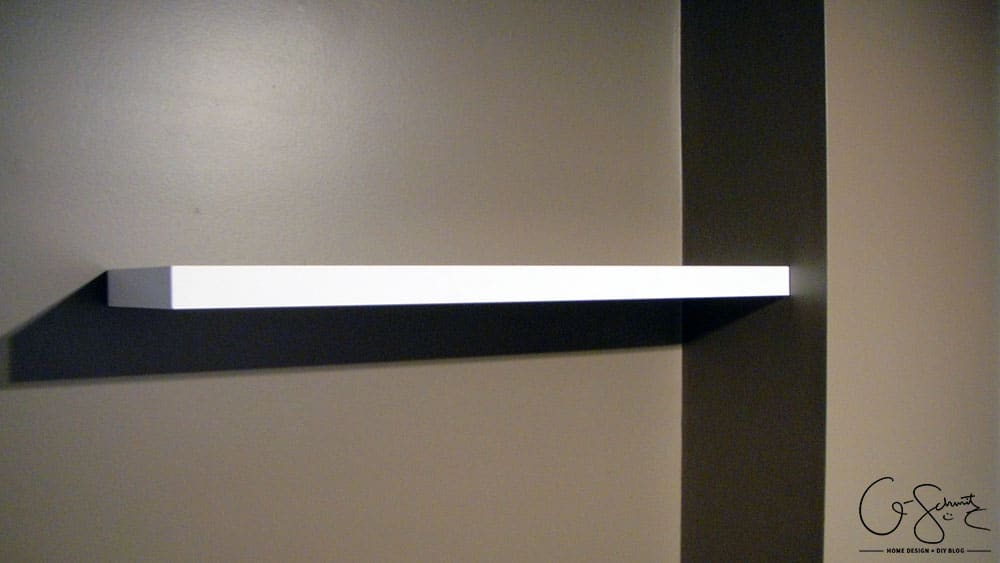 Anyways, fast forward a few months, and we still don't have the perfect spot to put our gallery wall in our current house.  In the meantime, I was noticing that our bedroom walls were looking kind of bland, so I decided that we would install a shelf to put some small décor pieces up.  We did something similar in our blue room (the guest bedroom in our house that is painted blue), and so I figured we would have this "shelf" theme throughout all the bedrooms.  I just happened to have a medium sized Ikea Lack shelf handy, and so the Husband and I installed it one day (ok, maybe he did most of the work on that one).
Update: We created our wedding gallery wall when we updated the master bedroom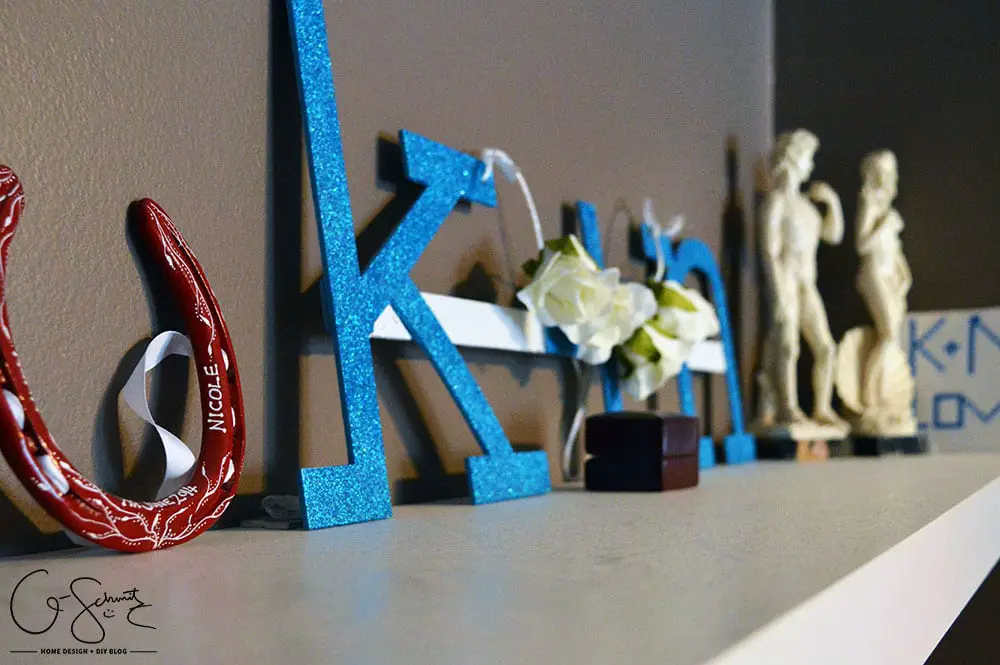 I then put up some of our wedding mementos, and other "love" themed items I had.  The red horseshoe was a wedding gift from the Husband's cousin (it's for luck in love!), the fake white roses came from a gift basket we received, the ring box is from my engagement ring.  The "K+N Love" seen in the background is actually made from melted beads, done by the Husband's little second-cousin; the two marble statues are from Rome and belonged to my grandparents, (that I admired since I was little).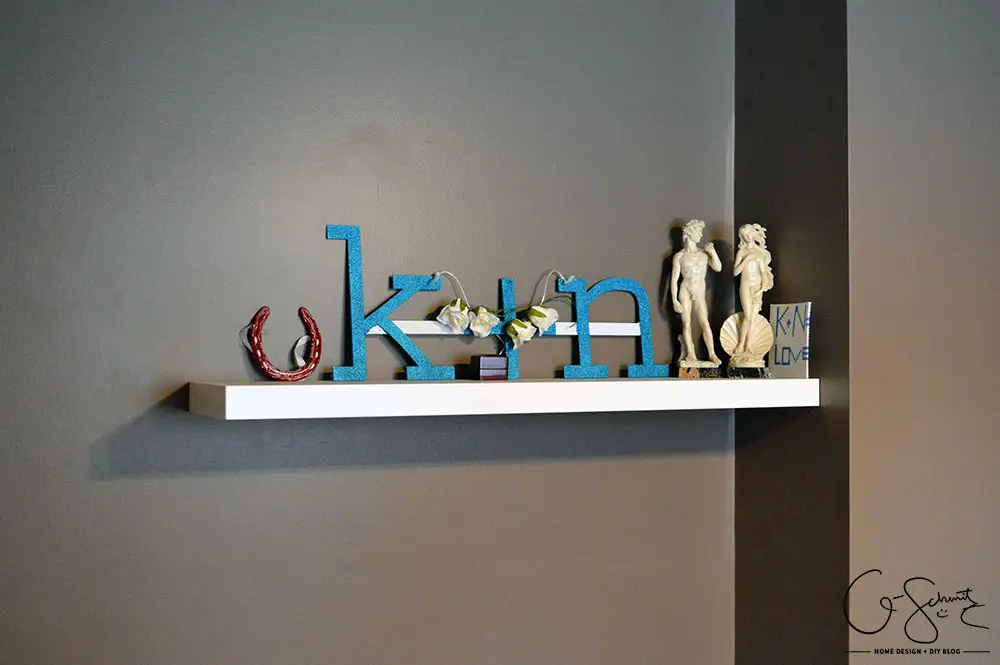 So there you have it!  A sneak peek into our bedroom (sort of) and the lovely little shelf we set up to remind us of our wedding day.  It's located at the foot of the bed and is placed about eye height, so you see it first thing at your left when you enter the room.  There are probably lots of other items around the house that are from our wedding day, but I like to keep the shelf clean (ie: with not too much stuff on it), but maybe I will move things around eventually.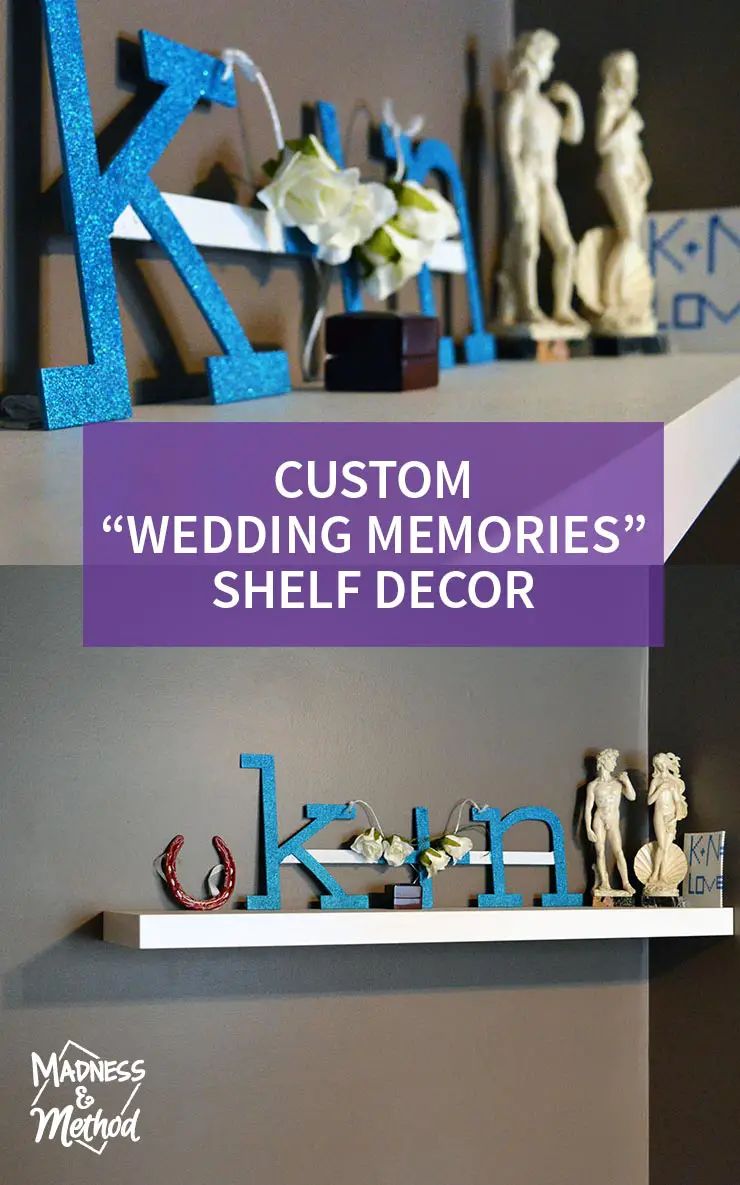 Do you have a special area in your house where you keep your wedding stuff?  Or is it throughout your décor?  I'd love to find out!
Disclaimer: All photos from our wedding day were taken from our great photographers Rosie and Jamie of Photo Captiva.