Continuing our colour inspiration series on the blog, this time, we're focusing on orange!  Orange can easily be described as a fun and vibrant colour, but I don't know if it's necessarily everyone's favourite. (Or even top 3!).  What about you?  Do you like orange, or are you more of a fan of a muted hue?  Maybe one of these spaces will convince you to change your tone (pun intended).  Let's dive into some colour inspiration with orange!
– Note: This post contains affiliate links. See more information about affiliates here. –
Before we begin, make sure to check out the first colour inspiration post on red here. I'm also doing a similar thing on my Facebook Page, but we're farther along there.
Orange Inspiration
Here are some orange interior (and exterior) pictures that caught my eye:
The kitchen on the left is a vibrant space by The Jungalow's Justina Blakeney.  The walls and tiles are the main accents, but smaller pops of orange are found in the rug and terra cotta pots.  The dining room on the right by Heather Moore is found in an apartment inspired by Andy Warhol.
Although predominantly blue, the orange ceiling, trim and door in the bathroom by Jewel Marlowe provides a great contrast.  Similarly, the orange powder room on the right is a fun surprise off of the more neutral kitchen; both designed by Erica Islas of EMI Interiors.
Would you, could you live in an orange house?  This bold bungalow by Jameson Interiors has some repeating colours inside.  Can't commit to that much orange?  This bright front door is the perfect pop of orange, and there are more door colour ideas here.
Let's move on to the bold bedrooms!  On the left, the walls were already painted that colour and Amanda Louise Interiors made it work wonderfully!  The guest cottage bedroom by Anna Spiro on the right looks like it would be a fun place to stay :)
These last two spaces couldn't be more different, even though they are both sporting orange walls. Oh Joy's orange living room is a modern colour blocked room.  Whereas the orange hallway on the right by Jarrett Vaughan Builders is very traditional.
Orange in my Space(s)
I'd always wanted a burnt orange bathroom, and I finally got the chance to paint one in our first house.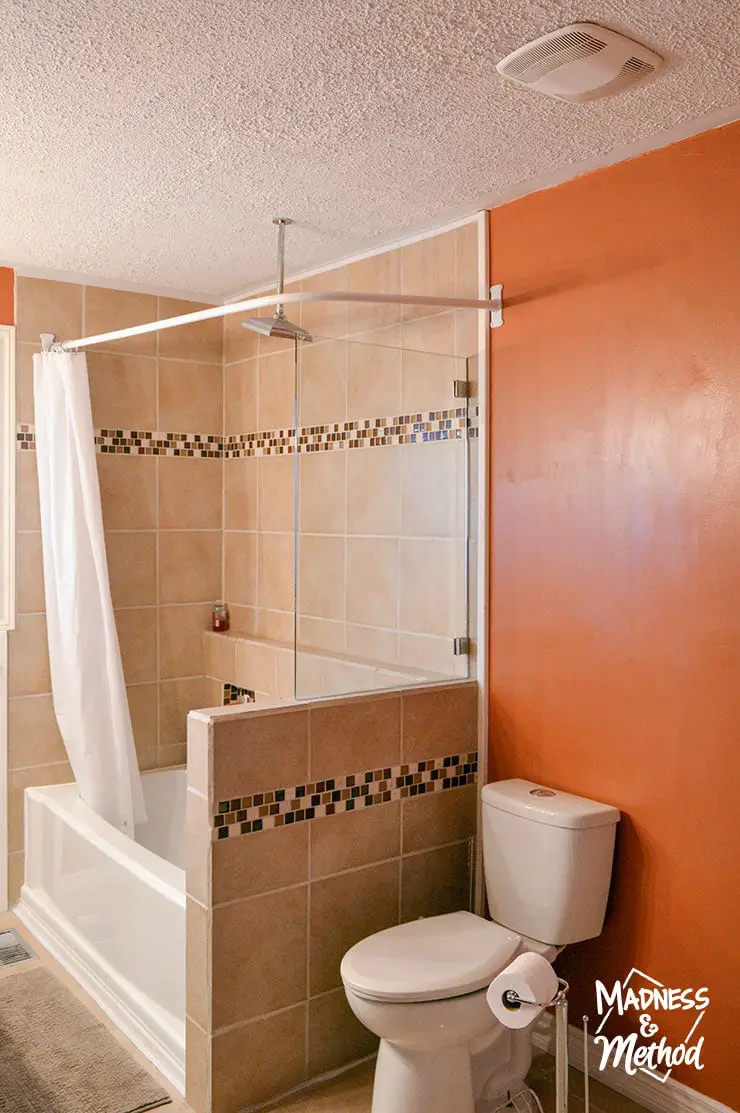 It was the first room we renovated and we paired the space with beige tiles and white accents.  You can see the before tour here, and the full after here.  There are a few things I would have done differently now (including painting the walls a more neutral colour before we sold).  But I didn't ever get tired of the bold colour :)
In fact, I used the same paint in a few spots at the rental renovation.  Most notably, the inside of the main door!  It's such a fun pop of colour, and is a great contrast against the blue-grey walls and white trim.  The upstairs is rented full-time, so hopefully the tenants like the colours I chose :)
Orange Home Products
Looking to add some orange to your space?  Here is a modified product round-up that was originally posted on my Facebook Page.  (Affiliate links used – thanks for shopping!)
So… do you like orange?  And, if you don't have any in your house… would you add some?  Paint is such an easy and low-cost way to bring in colour, but you could always start small with an accessory or two.  To me, I feel like orange has such a bright and positive vibe… you'd always be happy!
Of course, you always have the fall and/or Halloween to add some orange to your life.  I do have a few Halloween posts that incorporate orange, but that doesn't always work all year :)
Stay tuned for the next rainbow colour series post (yellow!).