A bit ago, I started a colour series on my Facebook Page.  Each month I share a group of products following a particular colour, and I figured that I should do something similar here too!  In addition to my roundup, I'll also highlight some colourful rooms fitting the theme.  Starting with the first hue of the rainbow, here is some colour inspiration with red!
– Note: This post contains affiliate links. See more information about affiliates here. –
I should mention a couple of things before I start. Number one, I am Canadian, so it's c-o-l-o-u-r.  Not color… I'm also approaching the halfway point of this colour series on my Facebook Page, and I've been posting the 1st of the month over there.  It's just the product inspiration (which you can see if you scroll to the bottom), and I'll probably finish up the year with some extra patterns/colours thrown in.  
I'm not sure if I'll be able to post this series monthly here, BUT I will do all the colours of the rainbow for sure :)  That's red, orange, yellow, green, blue, purple and pink. 
Please let me know if you have a suggestion beyond that – and let's get to it!
Red Inspiration
If the kitchen is the heart of the home, why not make it a red space!?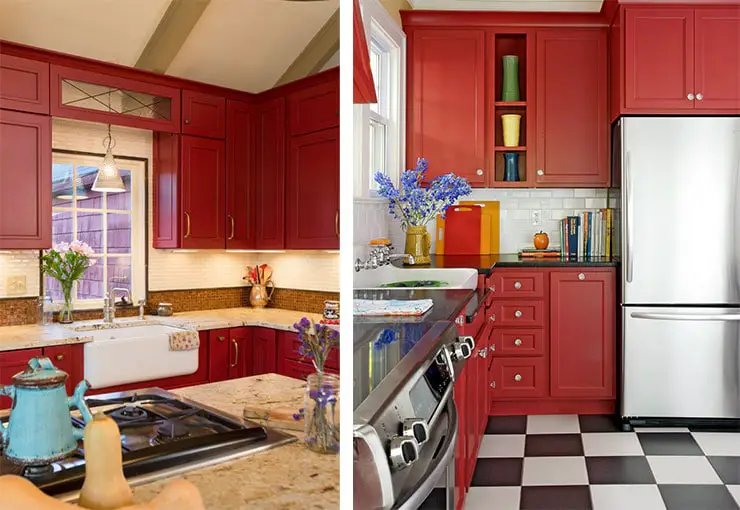 The kitchen on the left is by New England Design Elements, and it has more of a farmhouse feel.  Compare that to the red kitchen on the right with a modern retro vibe.
Moving to the bathroom, there are plenty of ways to incorporate red into your space.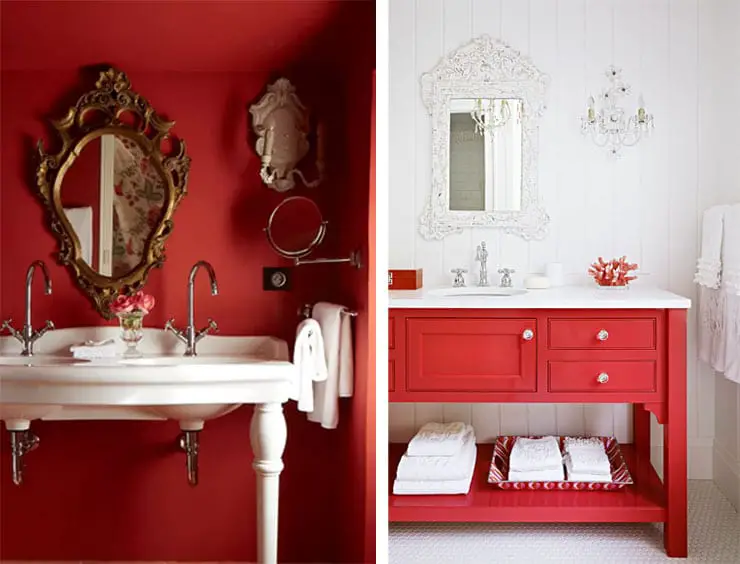 The hotel bathroom from Jocelyne Sibuet on the left is all drama with rich red walls (and ceiling!).  On the right, the bright red vanity pops against the all-white space by LuAnn Brandsen.
I had a hard time finding good red bedrooms (for adults).  A lot of the images just had red bedding, and it seemed two Christmas-y to me.  Leave it to the kids' to have the best spaces: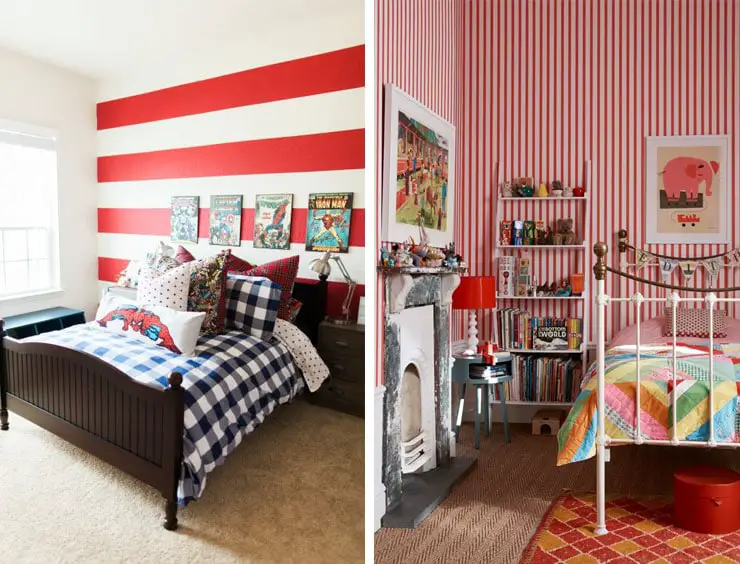 Okay, both of the images above feature red stripes, but they look completely different!  The one on the left is Fancy Ashley's Superhero Bedroom and the wallpapered one on the right was designed by Henri Fitzwilliam.
PS: We're going to be doing a red kids' bedroom at our house this year!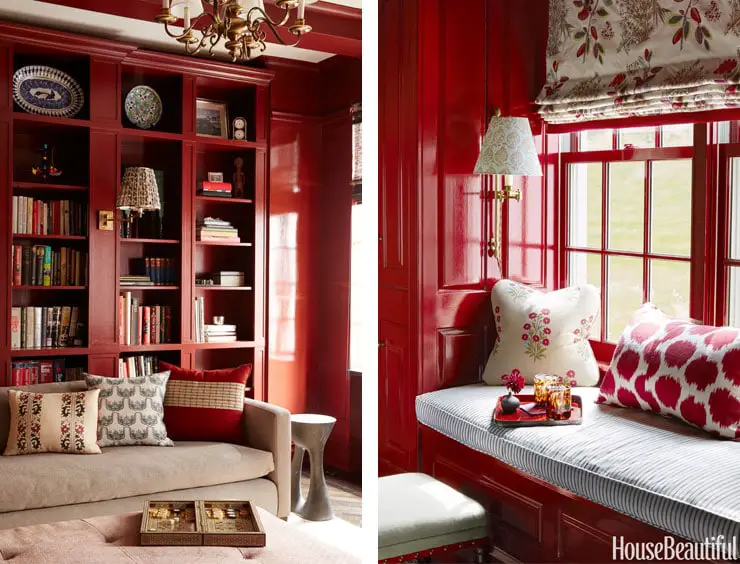 Finally, we have two all-red rooms representing living spaces.  The image on the left is from a library by Pappas + Miron, and the right is a sitting room designed by Ashley Whittaker.
Red in my Space(s)
I mentioned above that we'll be doing a red bedroom at our home soon (it will be the two bigger kid's room)… but I don't have much red in our house right now!  (Unless you count the rainbow bathroom?).
In my university house, we had a bright red accent wall in the living room.  That's when I got the red leather chair, and it was a feature in the living room of our last house: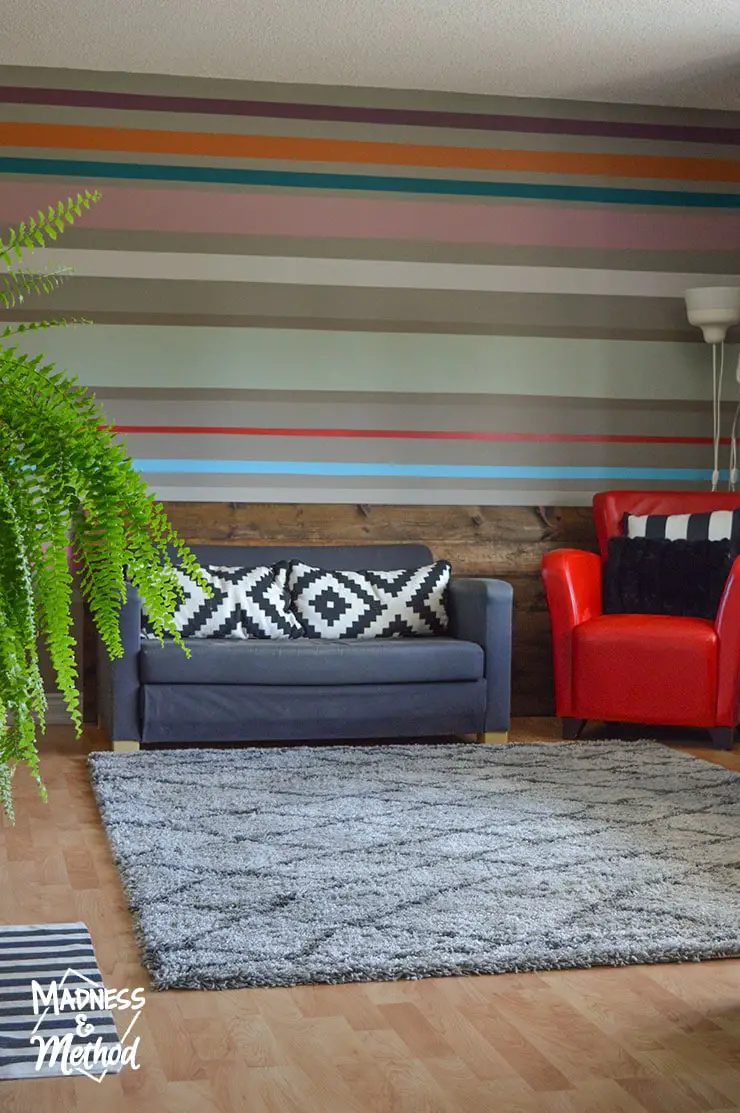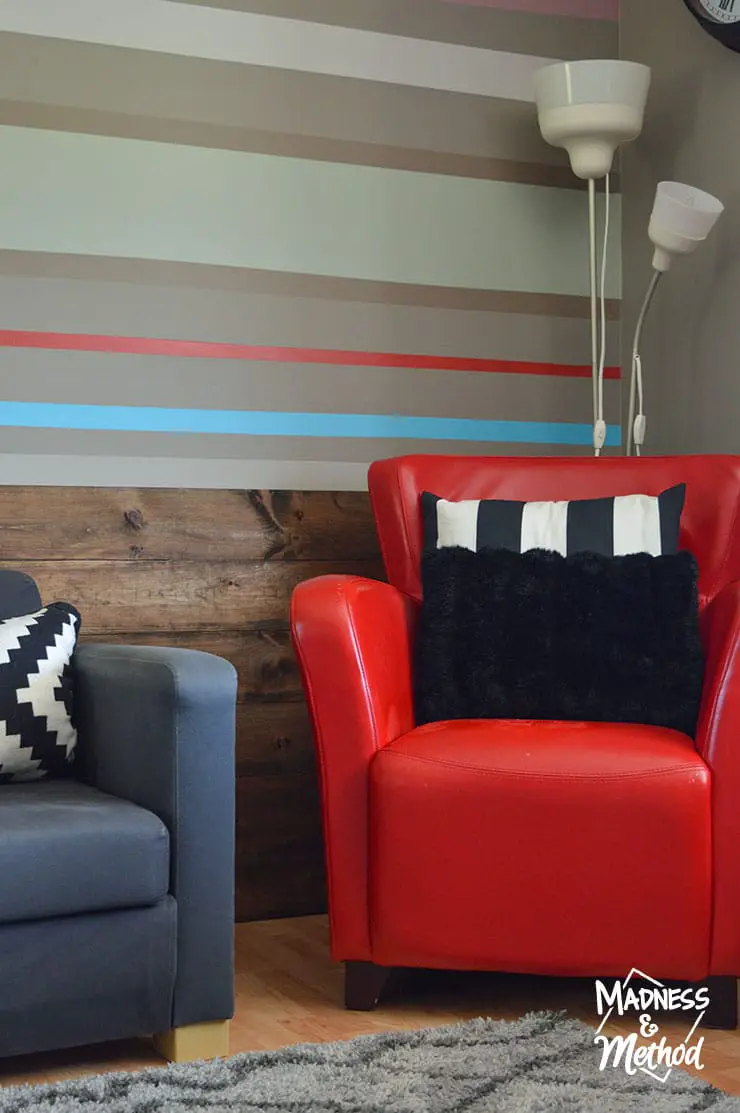 I even had a whole post about trying to fix the peeling leather on the chair.  Our striped accent wall, that featured all the colours of the rooms we painted, had a red stripe too.  Again, it was an accent wall that was originally in our master bedroom (that you can sort of see here). 
Other than that, I do have some red accents in our basement apartment!
Red Home Products
Looking to add some red to your space?  Check out this modified product round-up that was originally posted on my Facebook Page.  (Affiliate links used – thanks for shopping!)
Product Sources: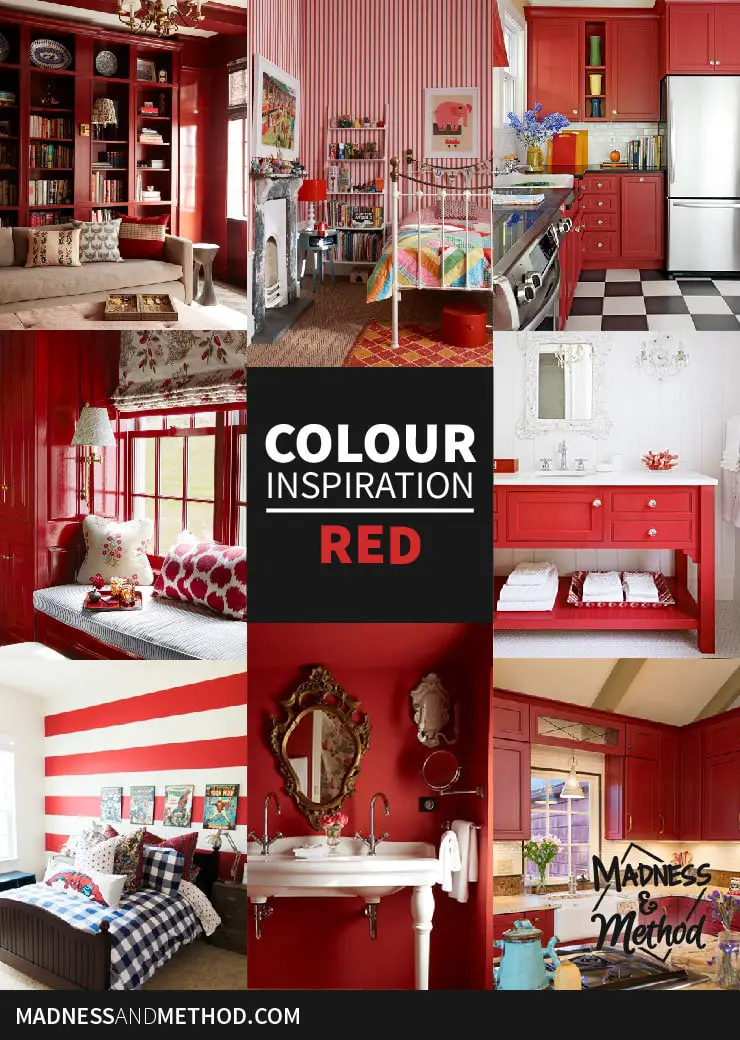 What about you?  Do you have any red furniture, walls or fun accessories in your house?  Red is Zachary's favourite colour, and I'm sure if it were up to him, the whole house would be red! 
Hopefully, he'll be happy with the new room (whenever we get to that!).  Timeline-wise, I don't think we're starting it until at least the spring.  BUT I have been looking at different wallpapers, and I know it's going to be super cute :) 
Stay tuned for the next rainbow colour series post (orange!).