Last year, I shared a colour inspiration series on my Facebook Page.  Each month, I shared a group of products following a particular colour, and I figured that I should do something similar here too!  In addition to my roundup, I'm also highlighting some beautiful, colourful rooms fitting the theme.  Starting with the first hue of the rainbow, check out this great colour inspiration with red!
– Note: This post contains affiliate links. See more information about affiliates here. –
Before I start, let me mention something – I am Canadian, so it's c-o-l-o-u-r.  Not color… sorry :)  I'll be sharing all the colours of the rainbow within the next few weeks (aka red, orange, yellow, green, blue, purple and pink).  Let's dive into our first colour, shall we!?
Red Interior Inspiration
If the kitchen is the heart of the home, why not make it a red space!?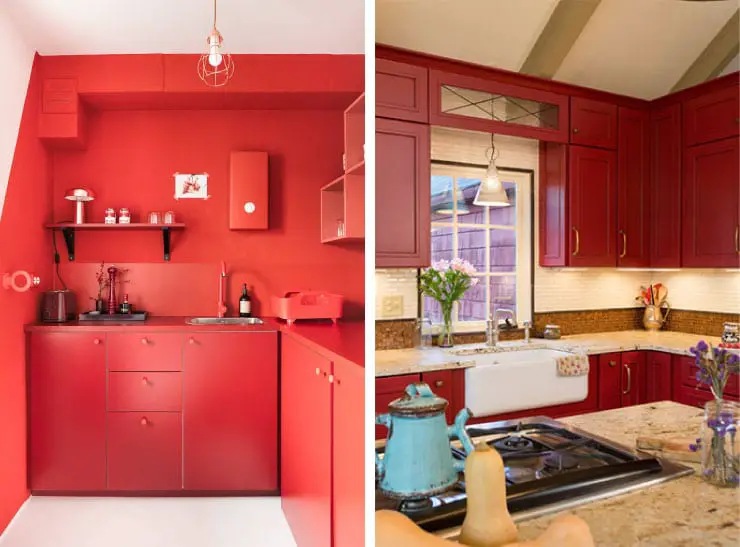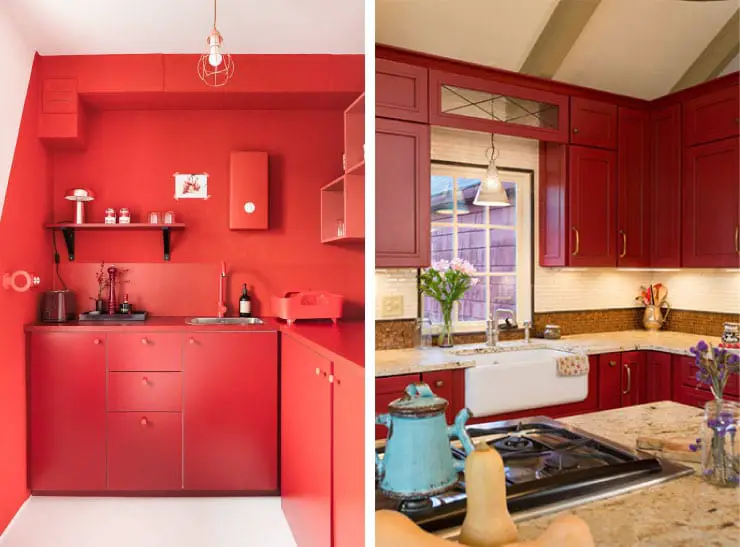 The modern all-red kitchen on the left was photographed by HEJM and is a supersaturated example using bold red.  By comparison, the more traditional red cabinets in the kitchen on the right by New England Design Elements are another great way to feature the colour red.
Want to incorporate some red on your walls?  Both of these spaces feature amazing red wallpaper!  On the left, the bedroom designed by Henri Fitzwilliam-Lay, photographed by Lucas Allen for House & Garden UK, features fun white and red stripe walls.  On the right, the red dining room by Kevin Isbell, photographed by Read McKendree, is wrapped with red grasscloth wallpaper, and perfectly matches the trim work and chairs. 
Not interested in red walls?  These next two spaces showcase a heavy dose of red, but the walls were all left white.  On the left, the bathroom vanity offers a bright pop of colour, and it's subtly echoed on the ceiling and accessories.  The room was designed by Luann Brandsen and this image is used with permission from Midwest Living®. ©2015 (Photography by: Werner Straube Photography LTD, Meredith Operations Corporation. All rights reserved).  On the right, wouldn't the combo laundry/mudroom by Emily Tucker Design be a lovely surprise to walk into!? 
Finally, the best of both worlds (aka red walls/cabinets) – I have these two spaces to share featuring red built-ins and trim work.  On the left, the burgundy/maroon shelves by Gwen (aka The Makerista) offer the perfect colourful backdrop for books/decor.  On the right, the combination built-ins, seating and window in a high-gloss finish looks like a great space to enjoy a rest!  This space was designed by Ashley Whittaker Design and photographed for House Beautiful by Thomas Loof, represented by Moon Management.
Red in my Space(s)
I used to decorate with red often.  In university, we had a bright red accent wall in the living room.  That's when I got the red leather chair, and it was a feature in the living room of our last house: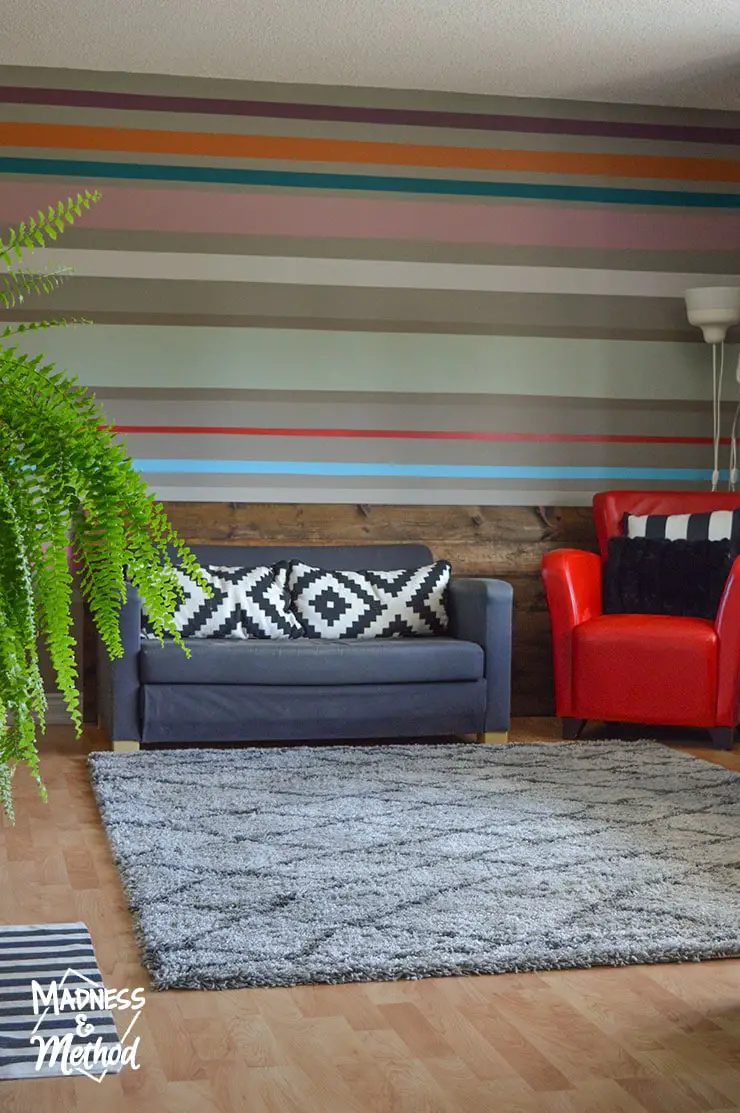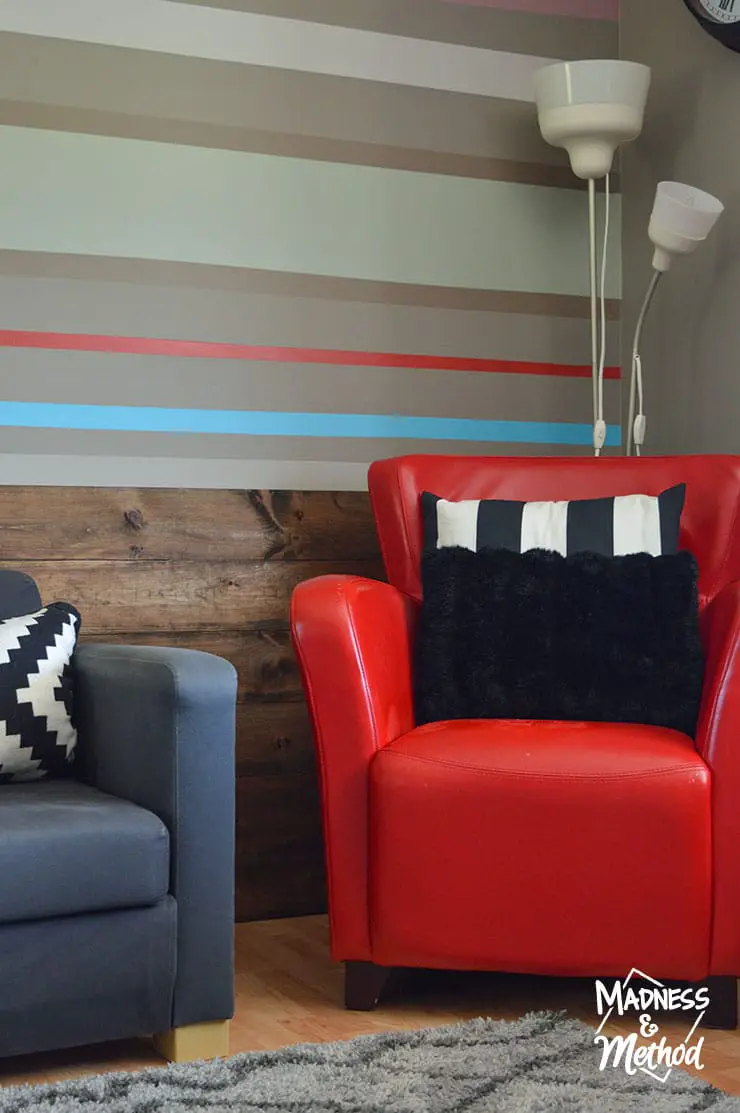 I even had a whole post about trying to fix the peeling leather on the chair.  Our striped accent wall, which featured all the colours of the rooms we painted, had a red stripe too.  Again, it was an accent wall that was originally in our master bedroom (that you can sort of see here).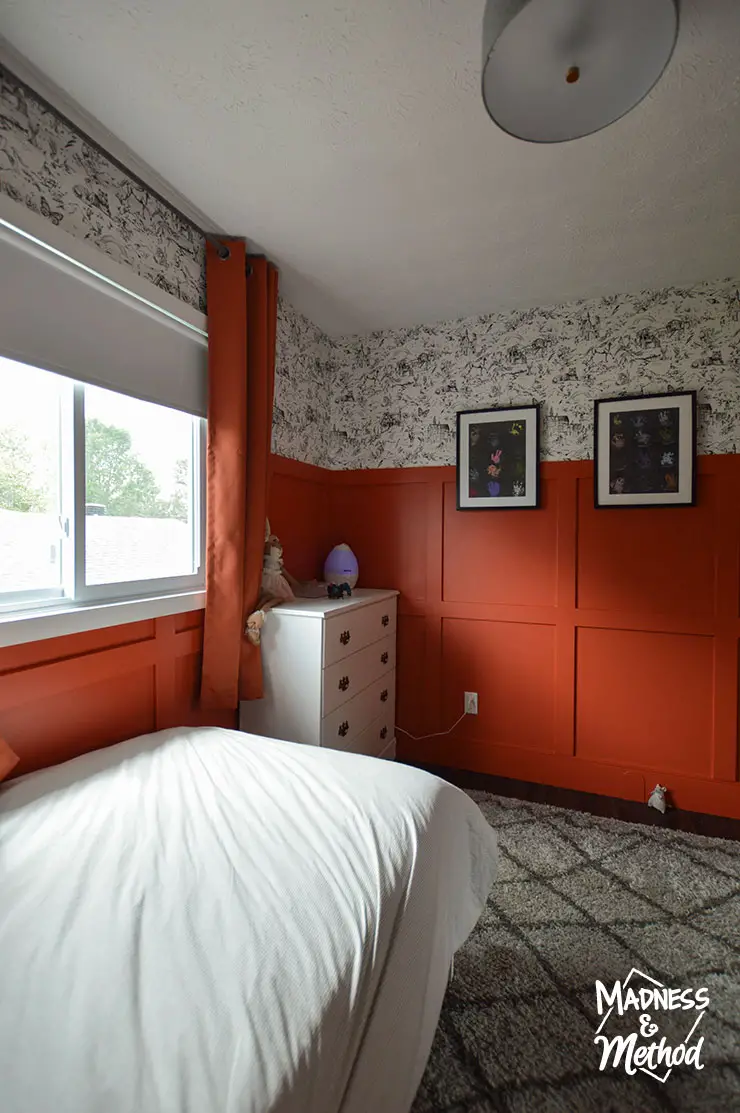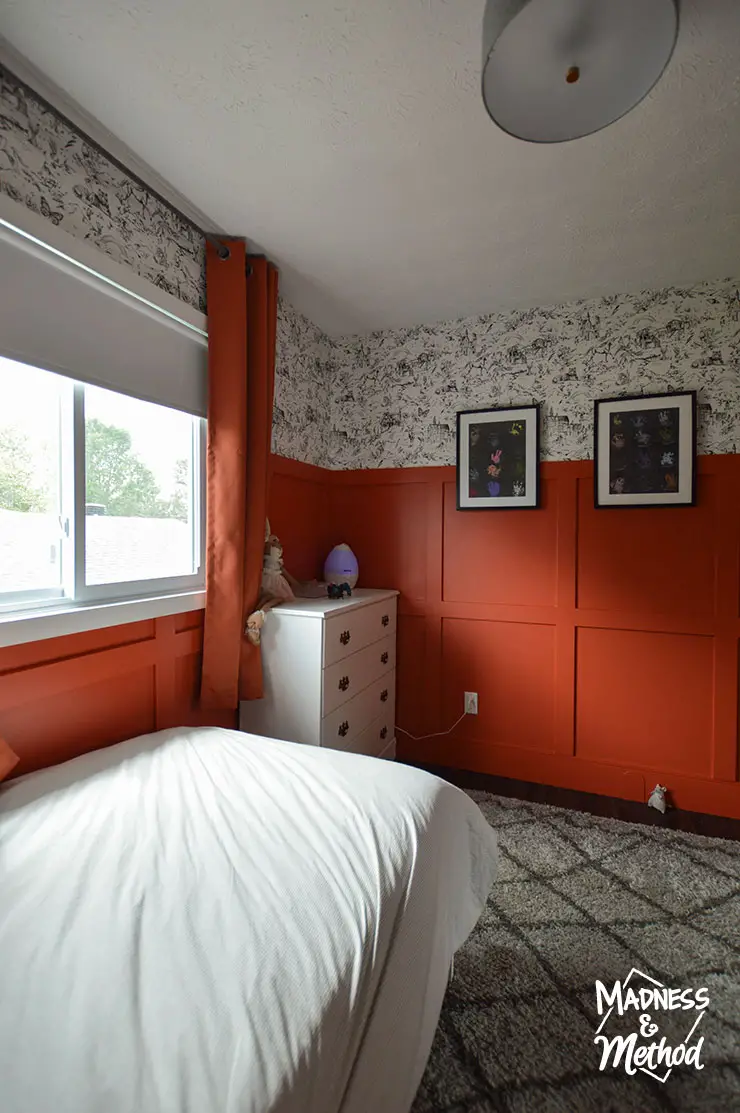 In our current house, I painted the shared kids' room a lovely shade of rust.  It borders on orange, but I definitely call it red :)  I wanted to match the curtains and had to mix the colour a few times before I got it right.  
Finally, in our basement apartment, I have accents of deep red/burgundy.  You can see some of the products linked below.
Red Home Products
Looking to add some red to your space?  Check out this modified product round-up that was originally posted on my Facebook Page.  (Affiliate links used – thanks for shopping!)
Product Sources:
Looking for more red colour inspiration?
What about you?  Do you have any red furniture, walls or fun accessories in your house?  Red was Zachary's favourite colour, and I'm sure if it were up to him, the whole house would be red!  (Now he says he prefers green… but I'm not painting their bedroom again, that's for sure!). 
Stay tuned for the next rainbow colour series post (orange!).