Are you looking to add colour and/or big texture to your rooms?  I'm here to share all my favourite shag rug options for a nursery or bedroom!  Shag rugs can be a great way to add softness, squish and fun to any space… and you just might find excuses to sit on the ground too :) 
– Note: This post contains affiliate links. See more information about affiliates here. –
Have I told you how much I love shag rugs!?  There's something about a nice plush rug that just makes you want to roll around and squish your fingers through!  Or, is that just me…?  Ha, I know that shag wall-to-wall carpets were all the rage in the 70s, but they made a comeback in the form of rugs – and I'd say that's a better option.  (You know, so you can clean and move them if you want).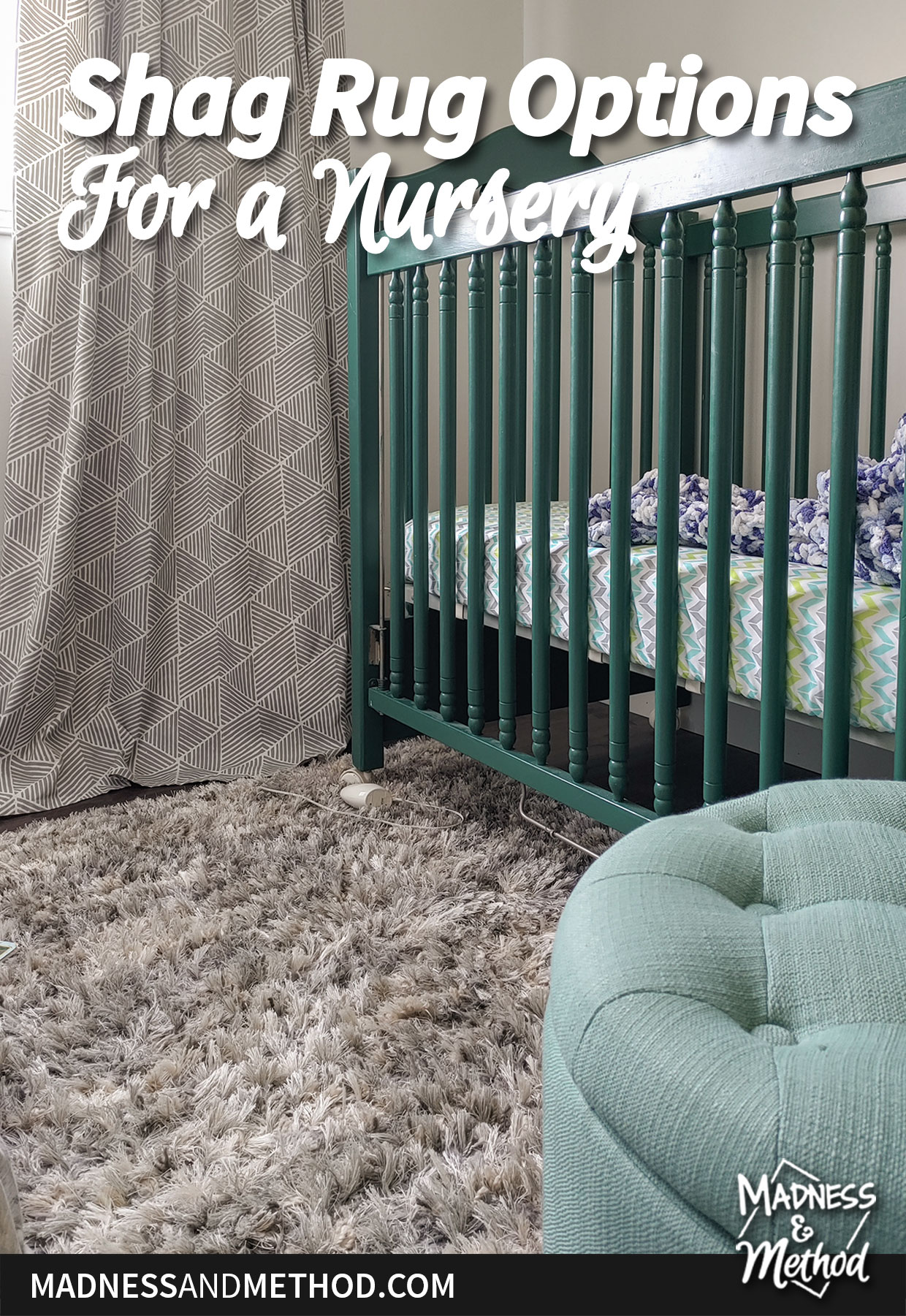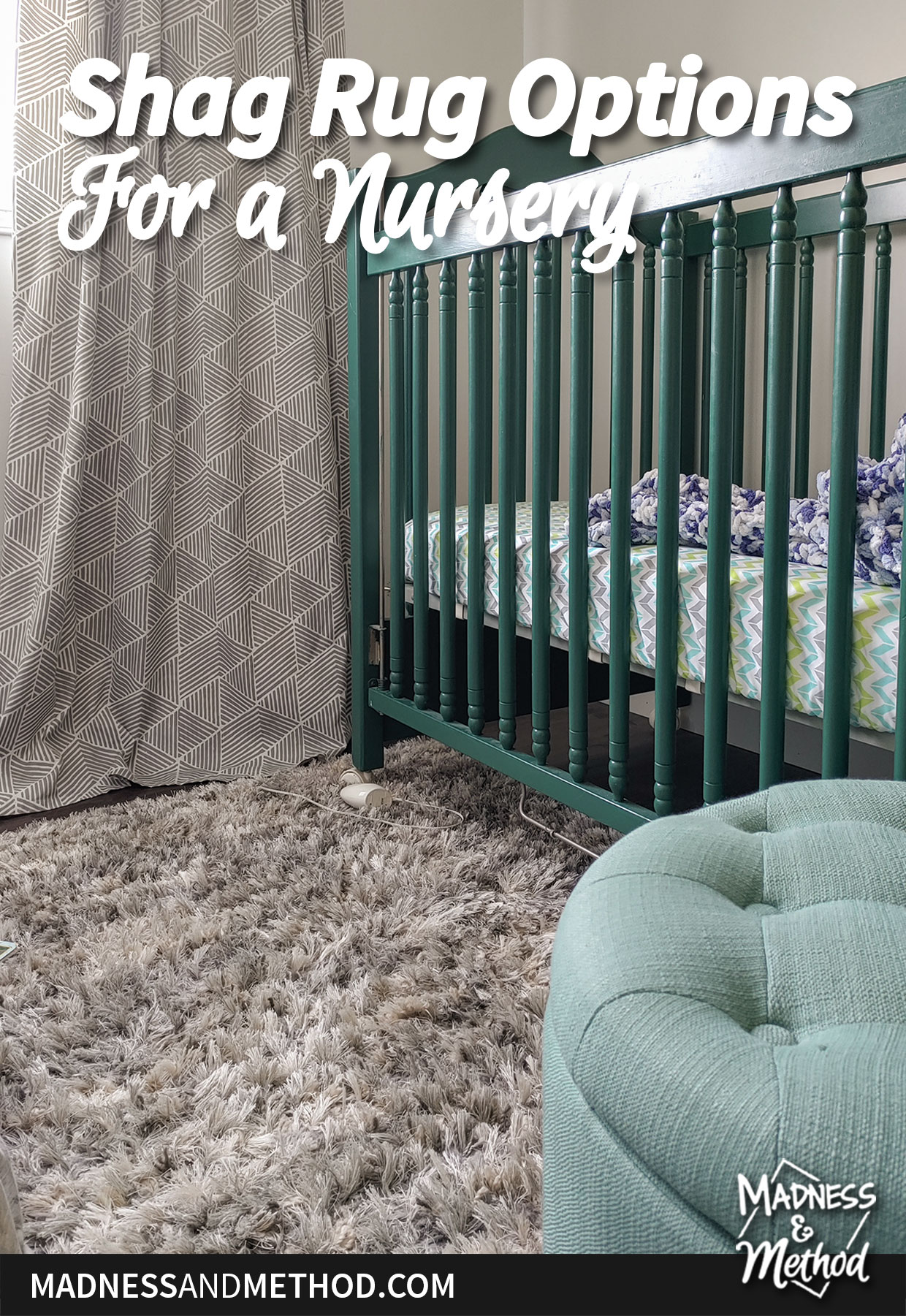 If you're still unsure about having shag rugs in your house, I suggest putting them in a less used room, like a nursery or bedroom!  They'd most likely get less wear and mess that way.  Plus, you'd have the added fun of squishing your toes in them as soon as you wake up. 
This post was originally written July 30, 2016. It has been refreshed and republished April 1, 2022.
In my original post, I shared all the rug options I considered for our first nursery.  I decided on the Yeti shag in a 5×7 size, a lovely medium grey with light and dark variations.  It's no longer available, but here is the 8×10 Yeti shag.  This light grey one with variations is similar, and maybe also this dark grey one.
Shag Rug History
At the time, I was looking for something in the grey range, but today I'm sharing rugs in other colours too.  Oddly enough, in this house, I decided to go with a grey theme for the rugs in the bedrooms.  The walls are really vibrant, and it's a lot easier to choose rugs that don't compete.
Anyways, back to the old tour for our original nursery, and the sizes I considered: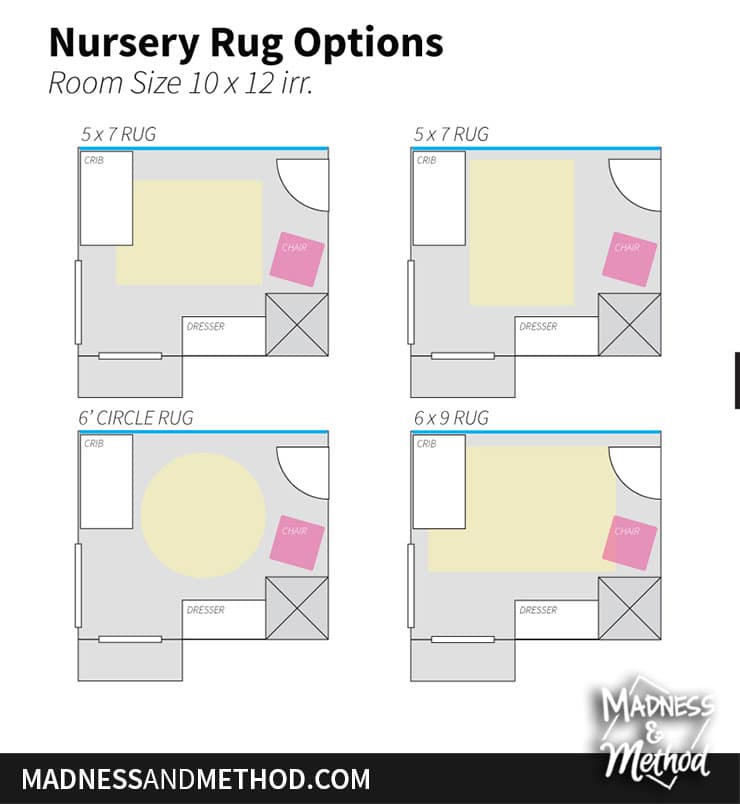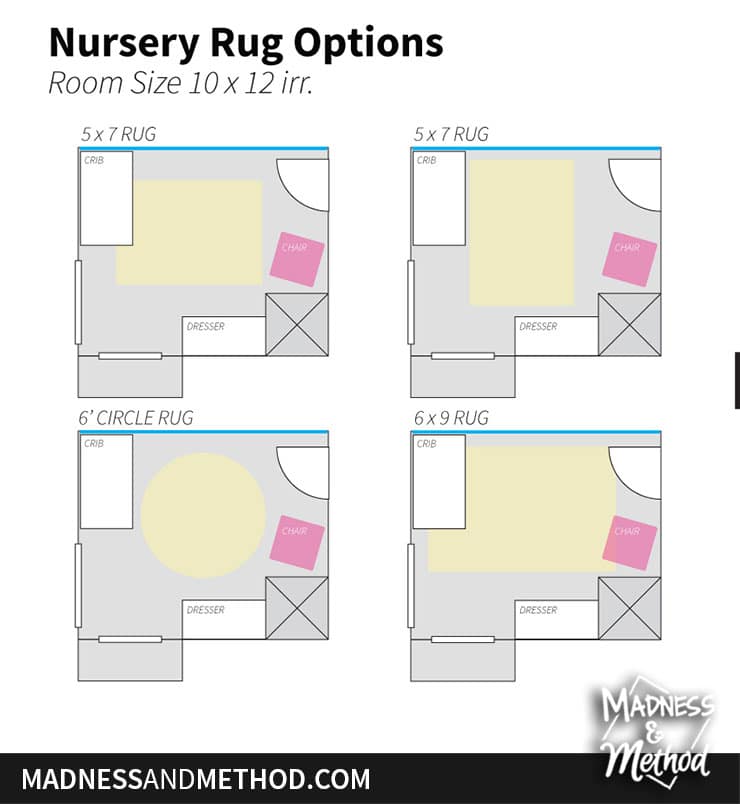 Our room had a bump-out in the corner (the grey X square) so it was a bit of an odd size.  I probably could have fit a 6×9 rug the other way (under the dresser), but I chose a 5×7.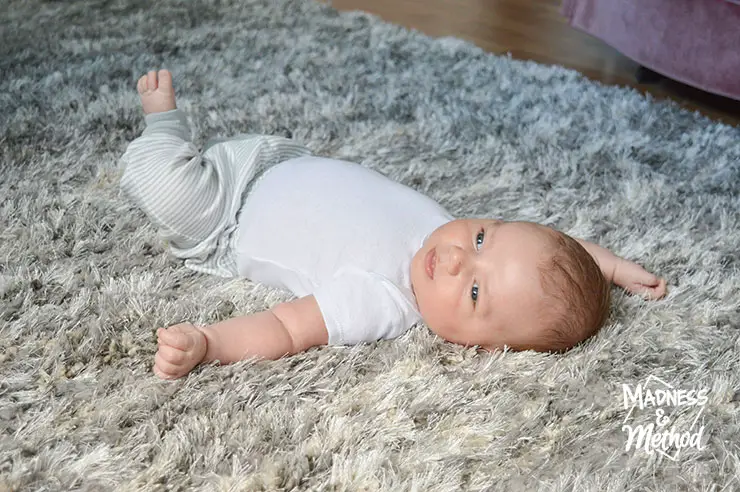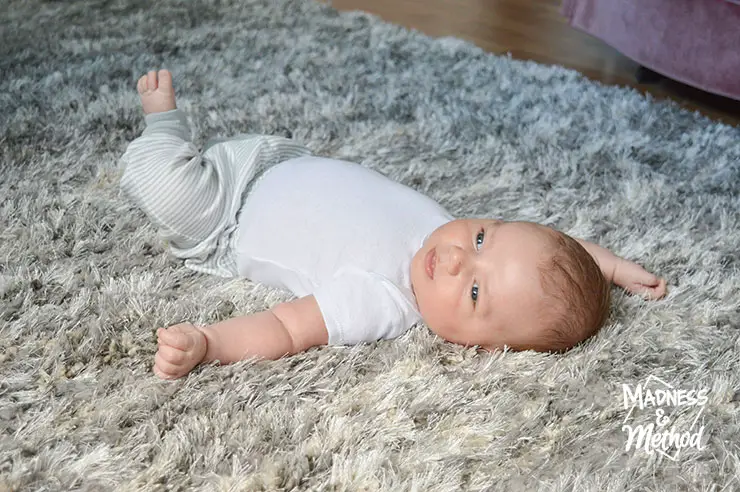 Look how cutie baby Zachary was!  (He's almost 6 now, so very different ha).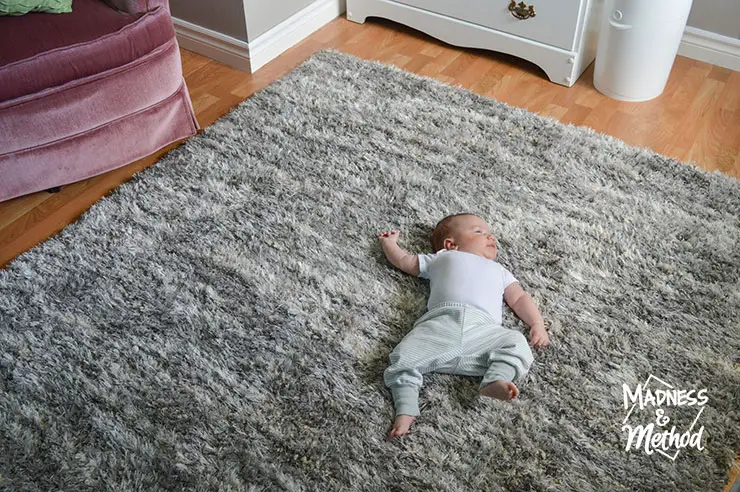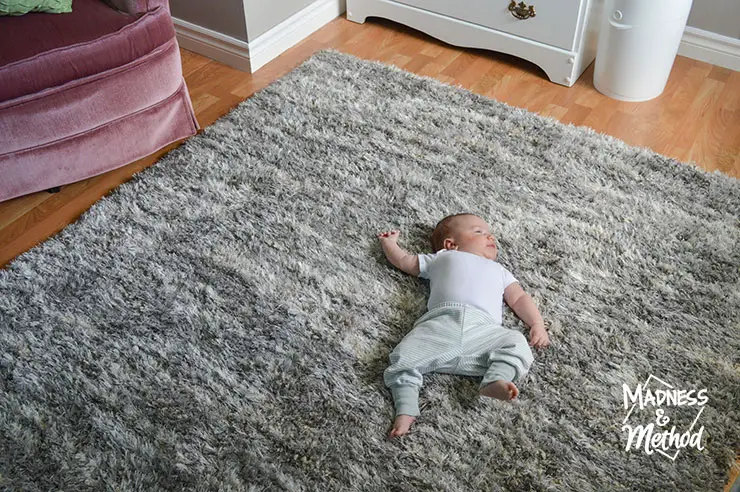 One big advantage of shag rugs in a nursery is that babies love them!  They like squishing their hands and toes all around.  Plus, as they get into the crawling stages, it really does give them something to grab on to, ha.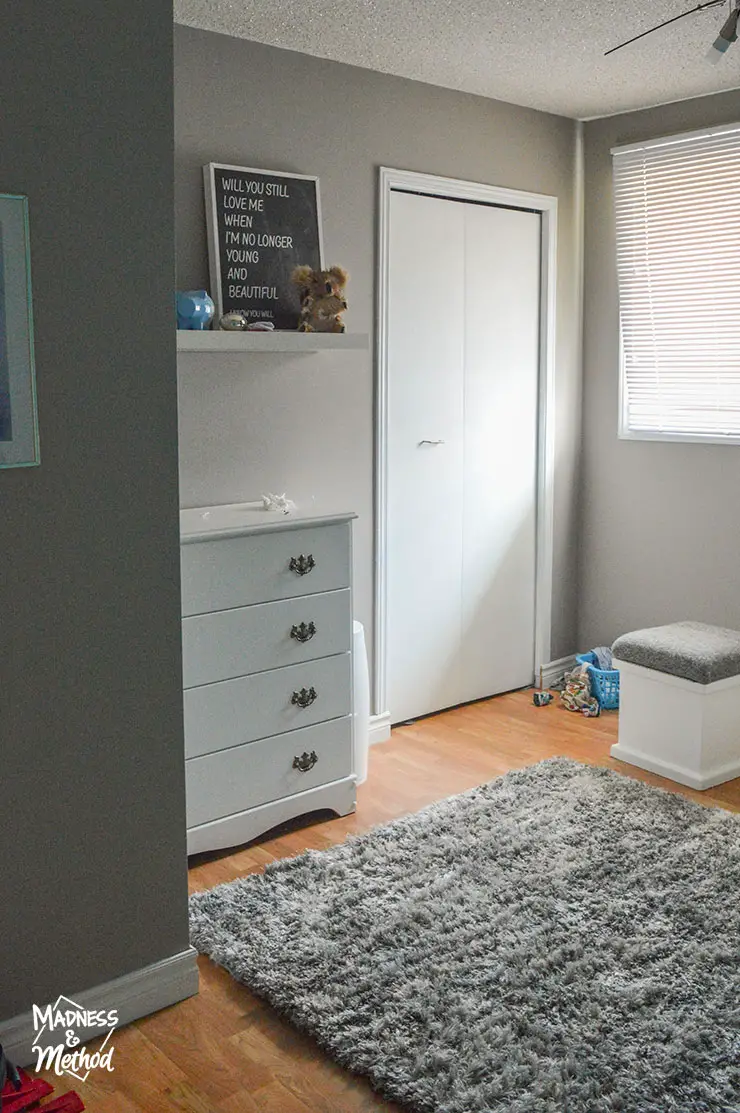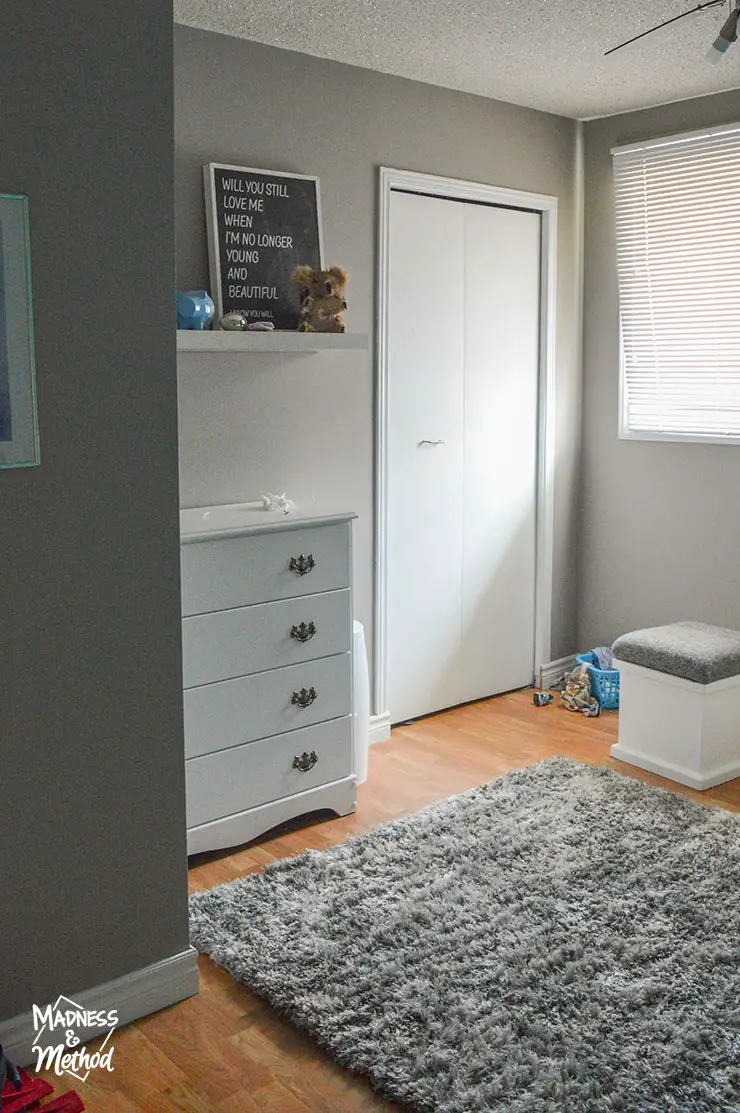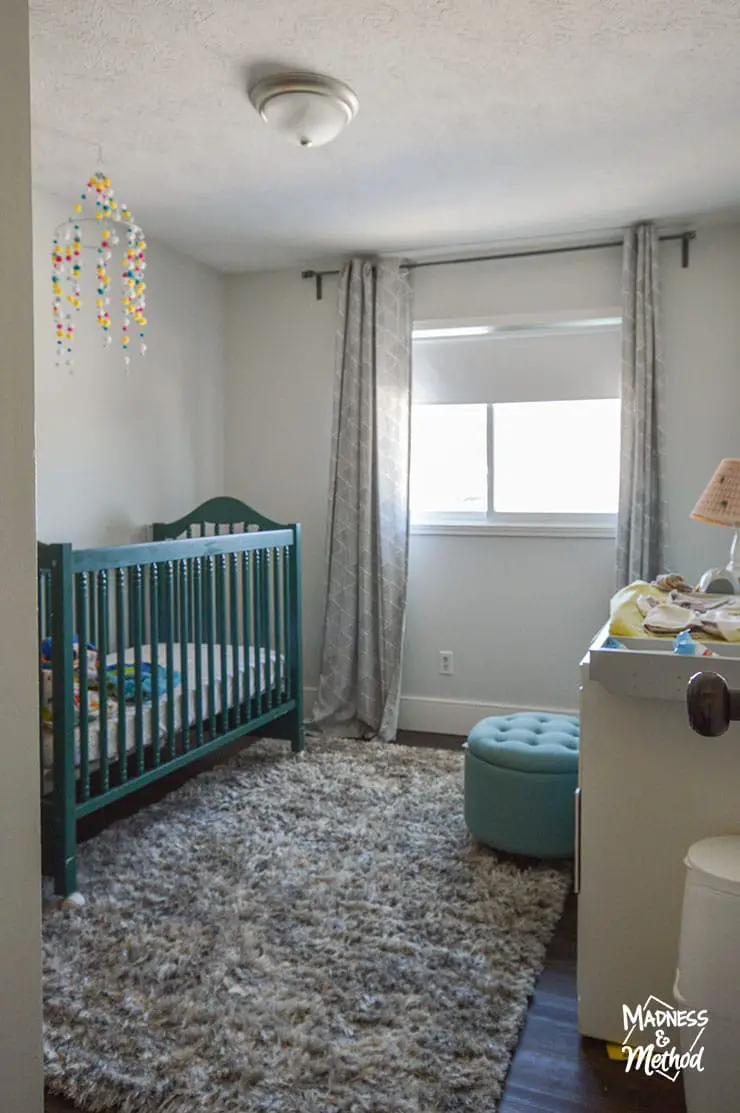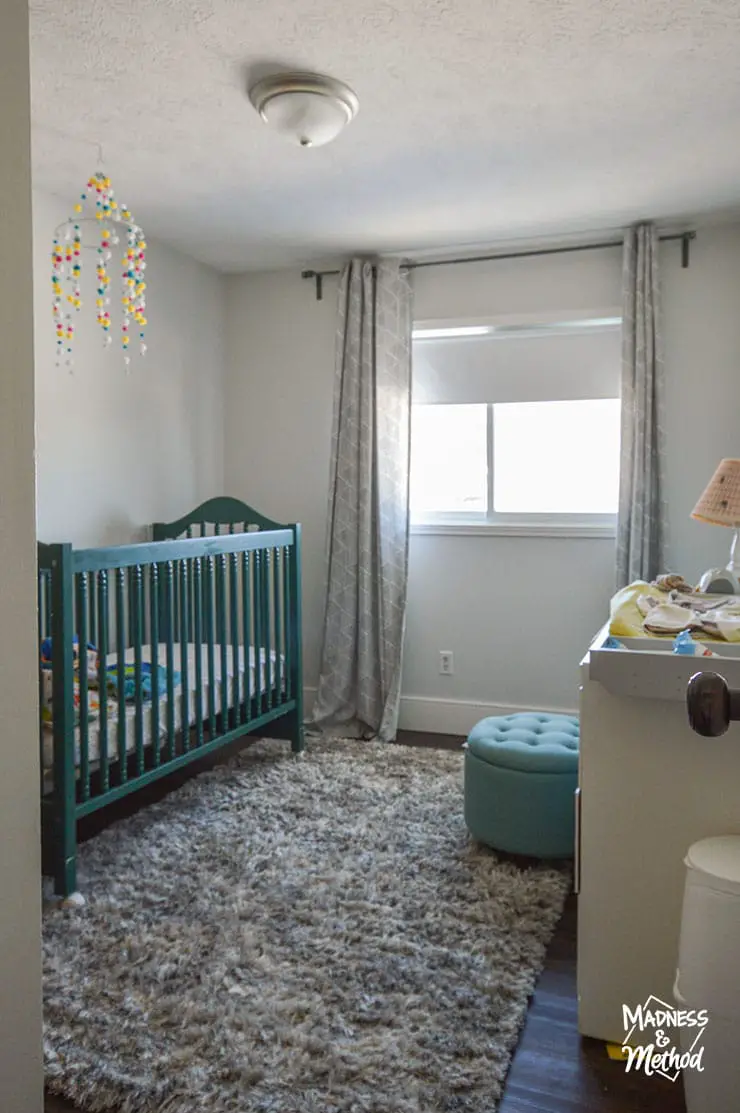 While the rug may have been slightly undersized (always go bigger if you can!), I ended up moving it after we remodelled that nursery for Félix.  At one point I considered selling it, but luckily I didn't because it fits perfectly in Félix's nursery at this house!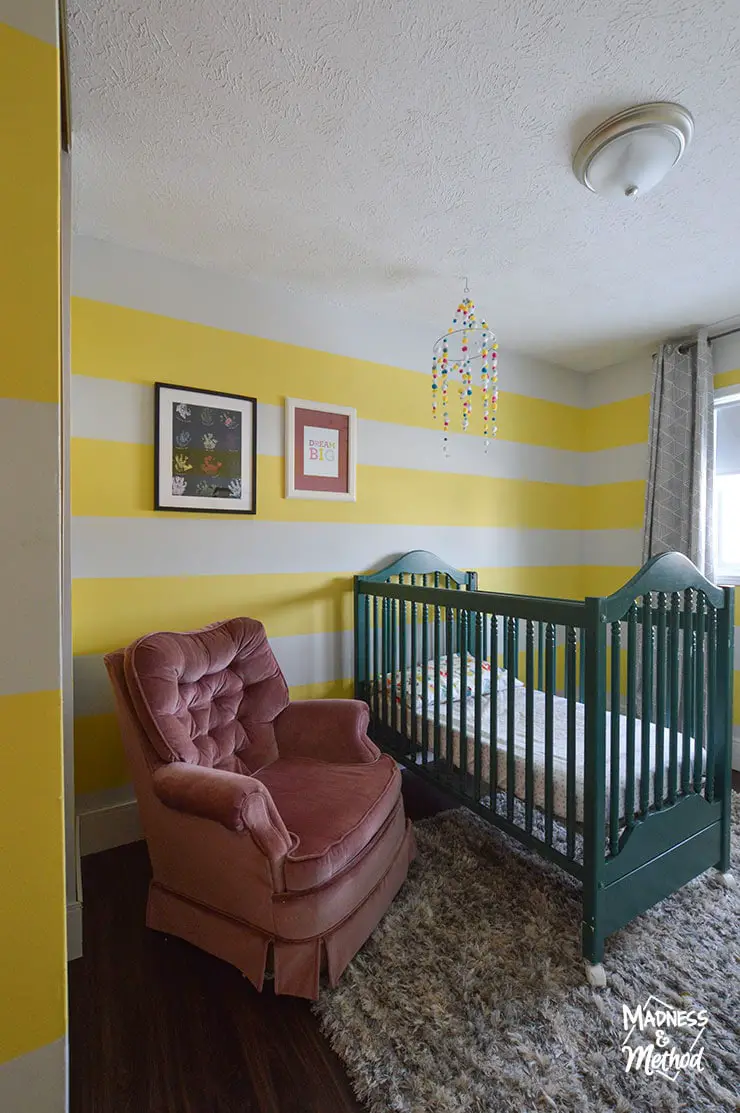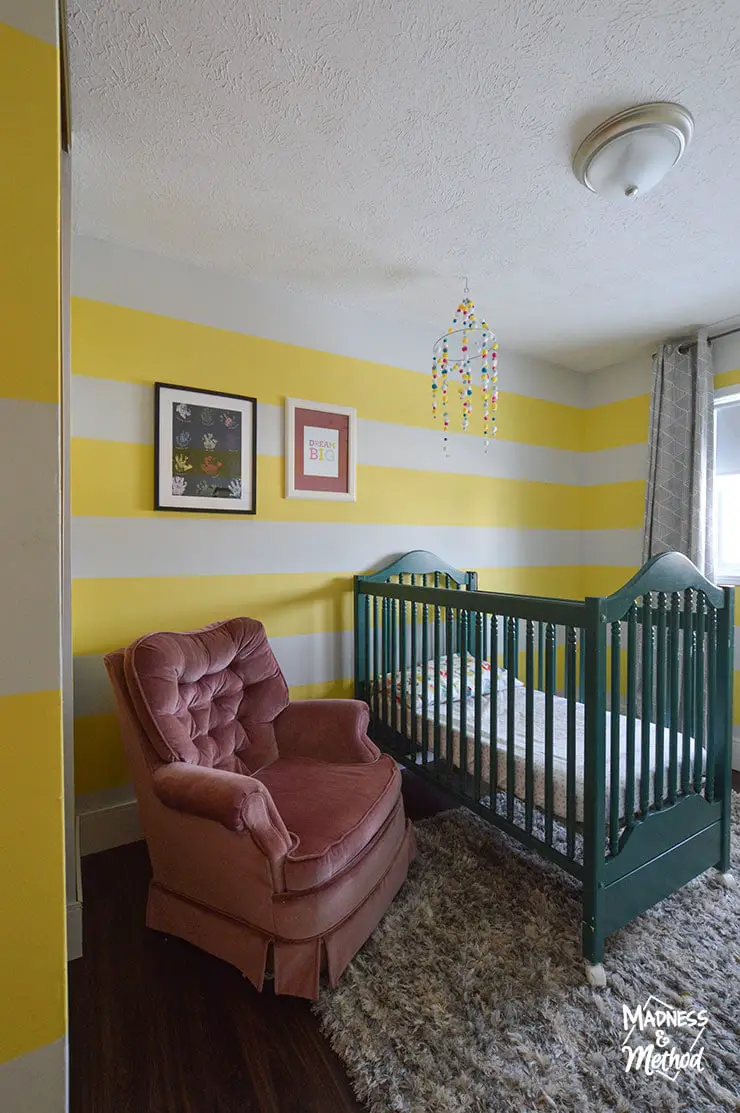 Which you may remember looks like this now!  It really is the softest colour, and it's held up great these past few years. 
Fun Shag Rug Options
I'll be honest, it's really easy to find solid colour shag rugs.  Pick a colour and you can probably find a shag rug to match!  For my roundup, I wanted to choose options that had some different patterns or colour variations.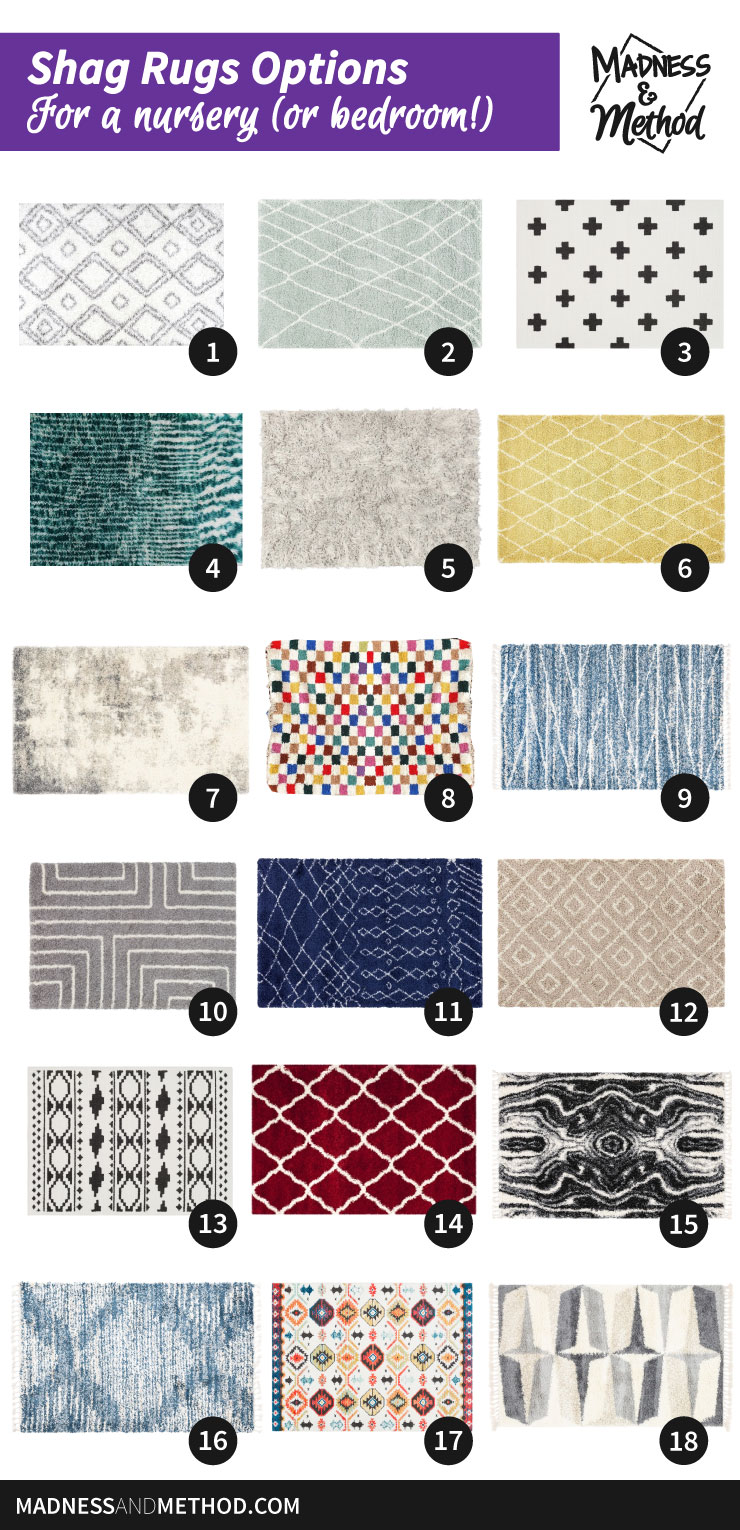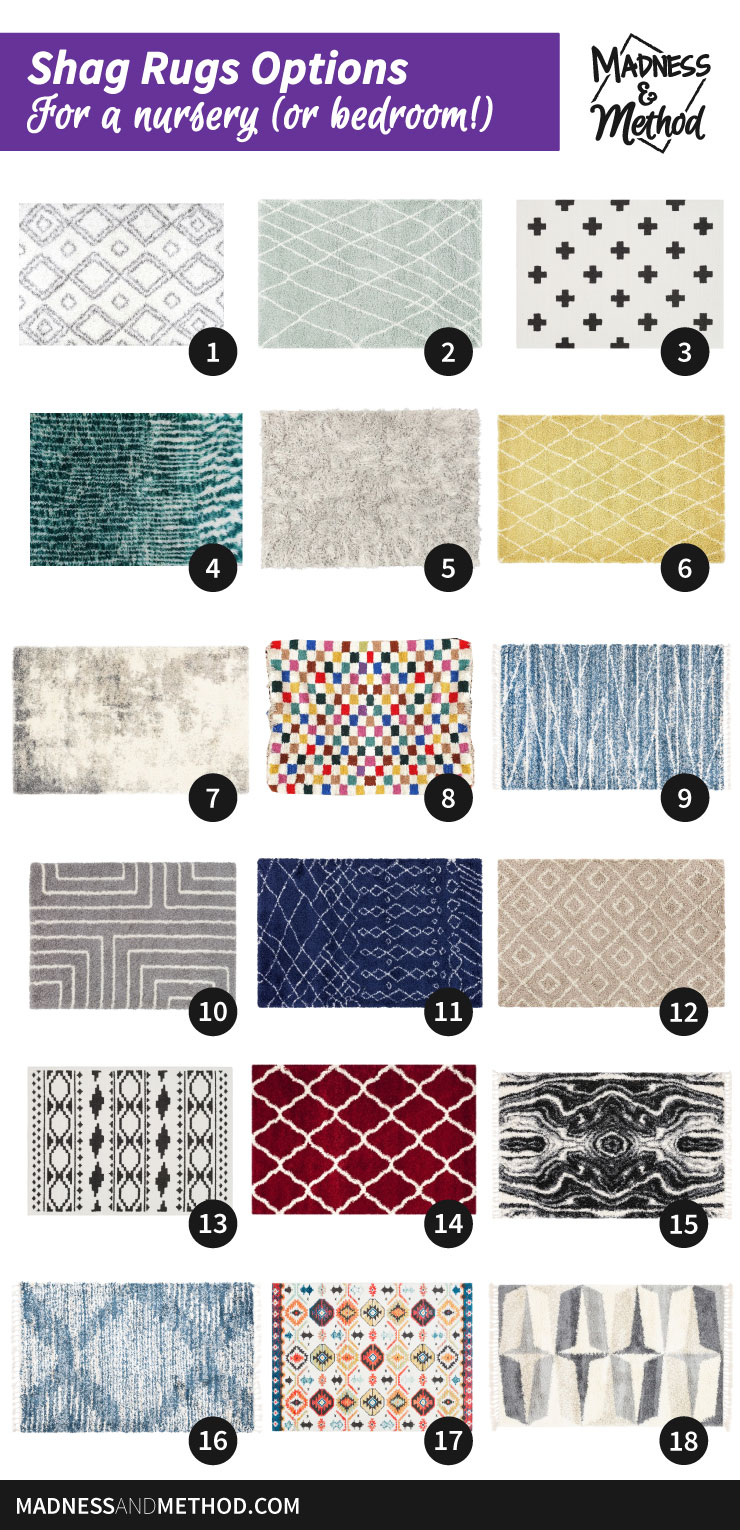 1. White 5×7.5 | 2. Sage Green 5×8 | 3. Plus Shapes 6.5×9.5
4.  Handmade Teal | 5. Washable 5×7 in Ivory | 6. Yellow 5×8  
7. Mixed Gray 5×8 | 8. Handmade Checkers | 9. Serenity Blue 5×8
10. Gray Lines 5×7 | 11. Navy Blue 5×8 | 12. Beige 5×8
13. Black and White 6.5×9.5 | 14. Red 5×7.5 | 15. Black Marble 5×8
16. Blue 5×8 | 17. Multi-Colour 8×10 | 18. Athena 5×8
Number 5 is similar to the rug I chose at the time (although this one is washable, so that's a bonus!).  As a reminder, we have the 5×8 Yeti (that is no longer available online – but here is a link for the 8×10). 
Other Shag Rugs (and some cons!)
Like I've said, shag rugs are perfect for bedrooms and nurseries… but that's not the only place I've had them!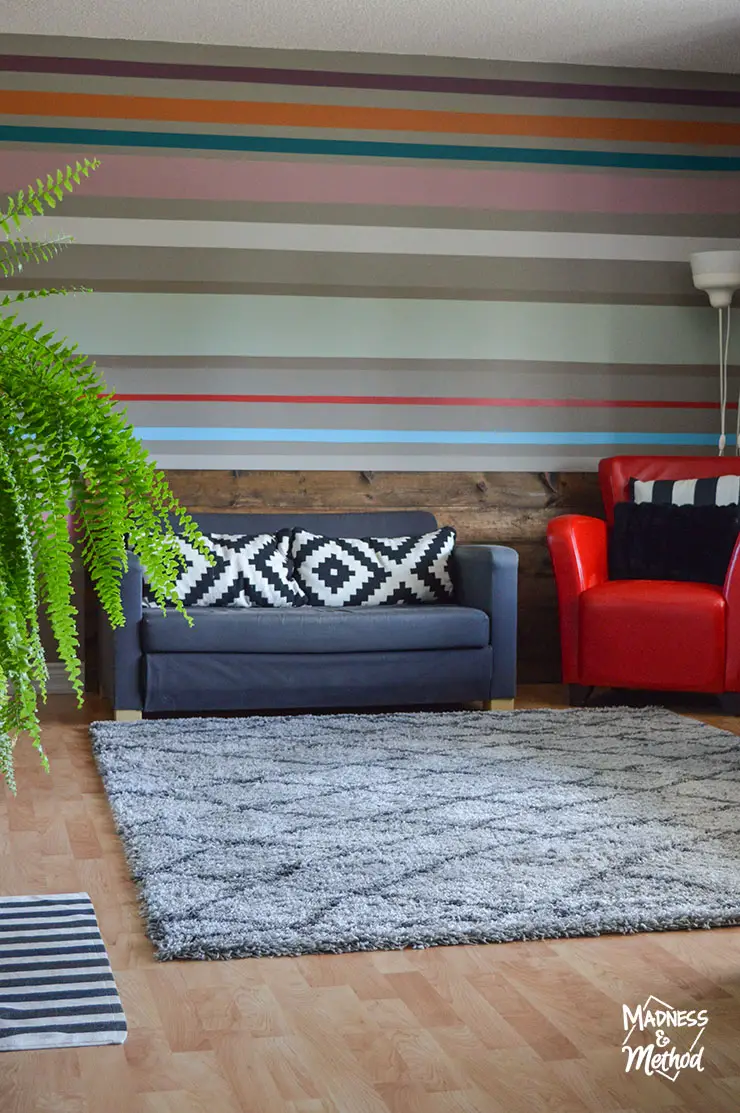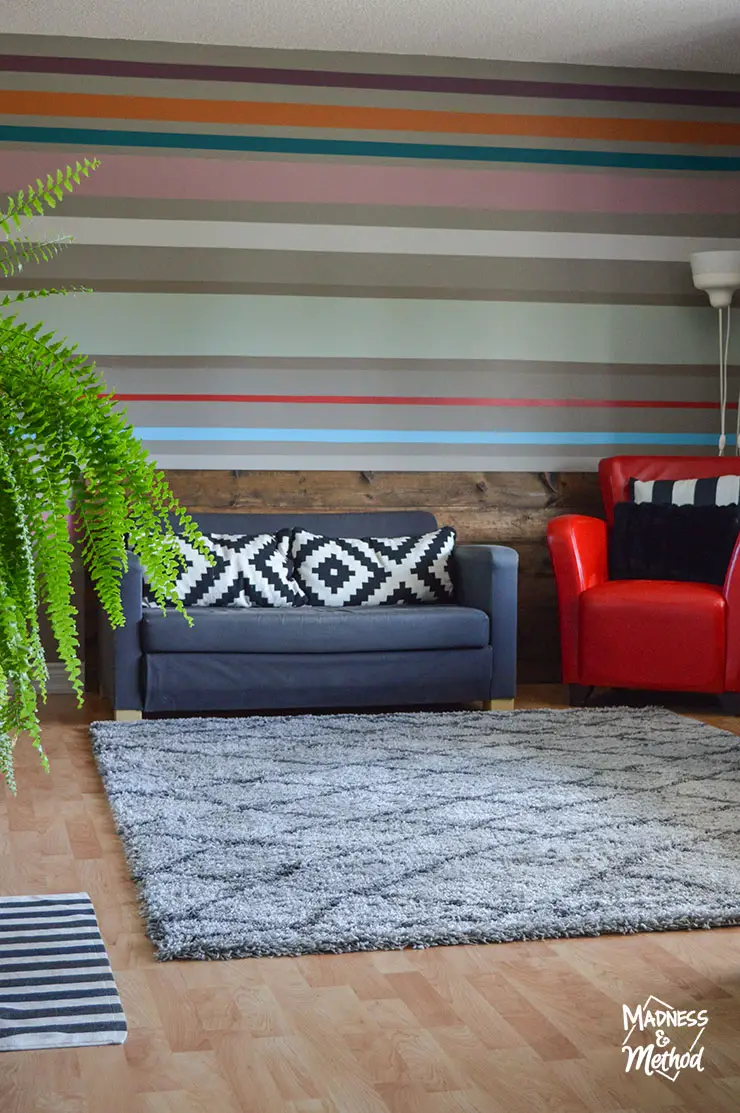 In our old house, I had another grey shag with a darker diamond pattern in the living room.  I purchased this rug secondhand (I think it was 20$?) and had my brother pick it up for me.  The fibres aren't as soft and full as the other one, but it works great!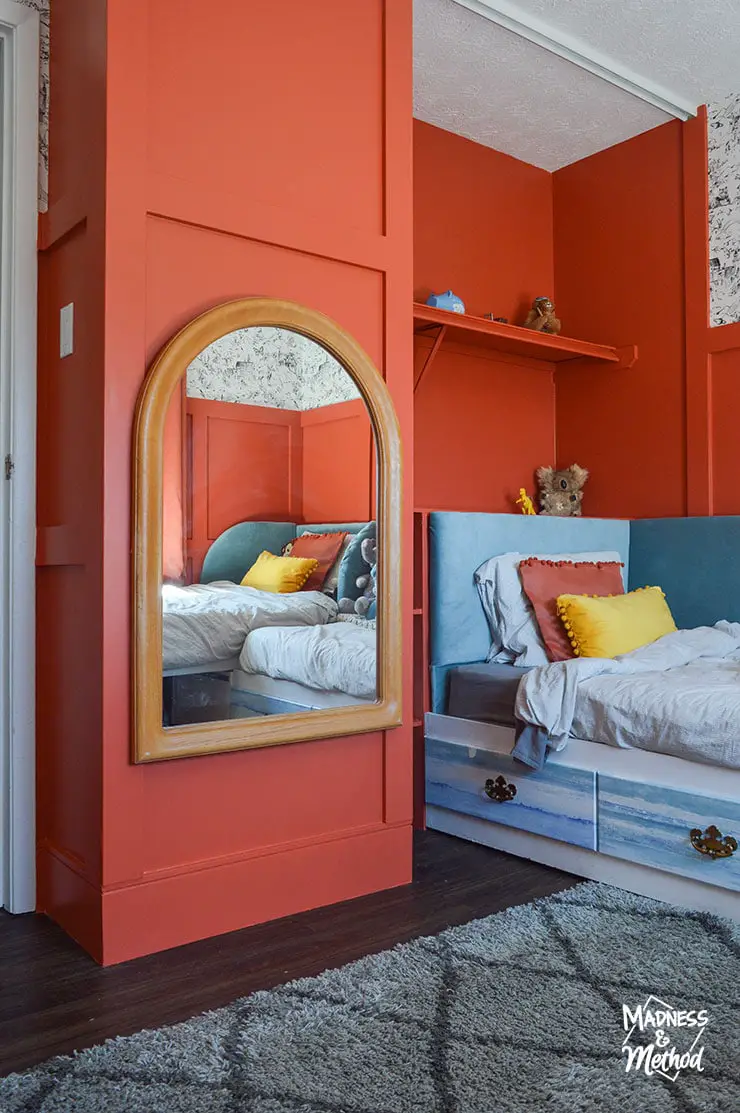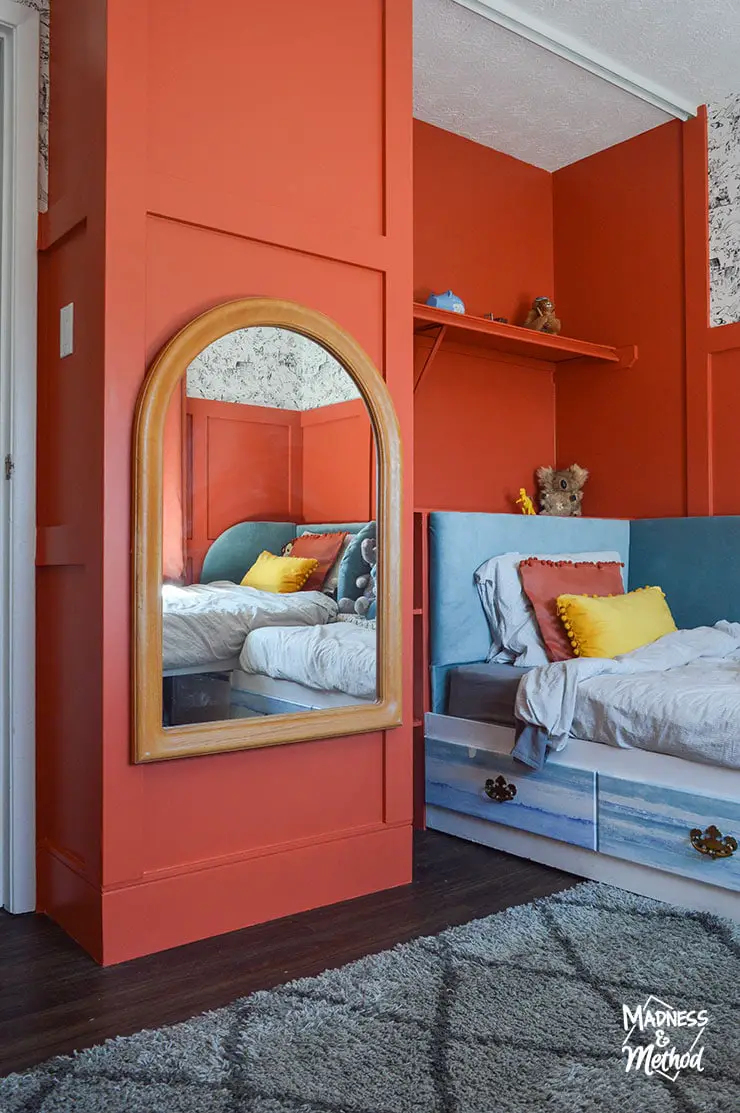 Nowadays, it's in the big kids' shared room.  Again, the grey option really allows the wall colour (and other colours) to be the star.  Although… now that I've browsed other shag rugs… I wouldn't be opposed to colours too ha :) 
I did want to touch base quickly on some cons for shag rugs.  (This is where all the people who lived through the 70s carpets might know what I mean).
They collect more dirt/dust/debris 
Things can get hidden (ie: little toys that drop) 
Harder to move things on them (like moving furniture, kids playing with cars, etc)
They are heavier than normal rugs 
Big messes might require more thorough cleaning (although, I've found that it's easier to disguise stains in a shag too, ha) 
Let me know if I forgot any!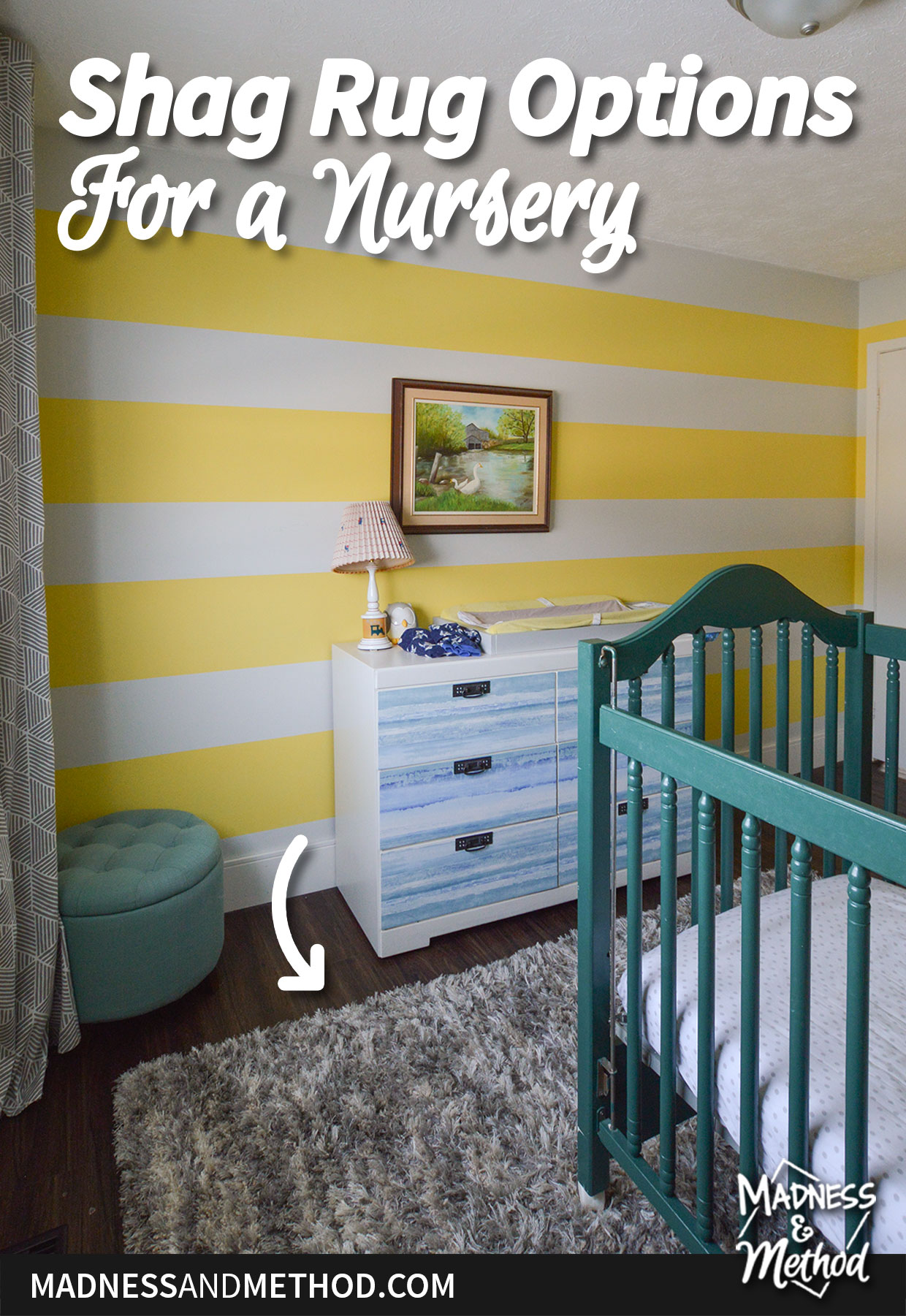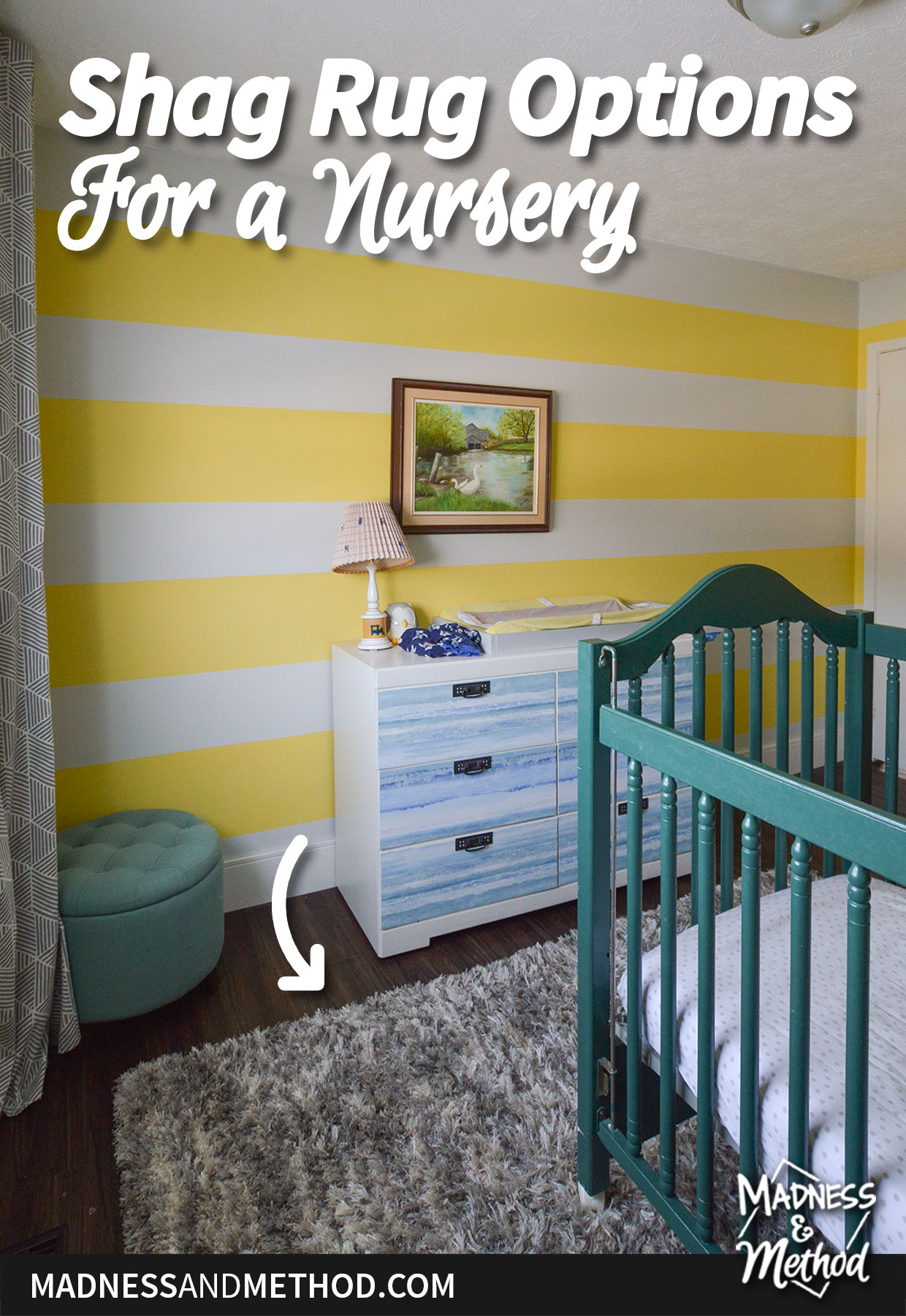 I hope that the rest of this post has given you a bunch of pros for having shags too :)  And remember, if you have a shag rug in a bedroom or nursery – some of the cons are lessened.