Have you ever moved something (or renovated) and damaged your textured ceilings or walls?  If so, you know that there can be a very obvious gap that doesn't match the surrounding area.  Today I'm sharing the textured ceiling repair from our hallway, and a quick video that shares the process! 
– Note: This post contains affiliate links. See more information about affiliates here. –
I'm giving our upstairs hallway a little facelift as part of the Spring 2022 One Room Challenge.  While the majority of the hallway is fine (it's a narrow walkway with a bunch of doors, ha), the ceiling was a different story.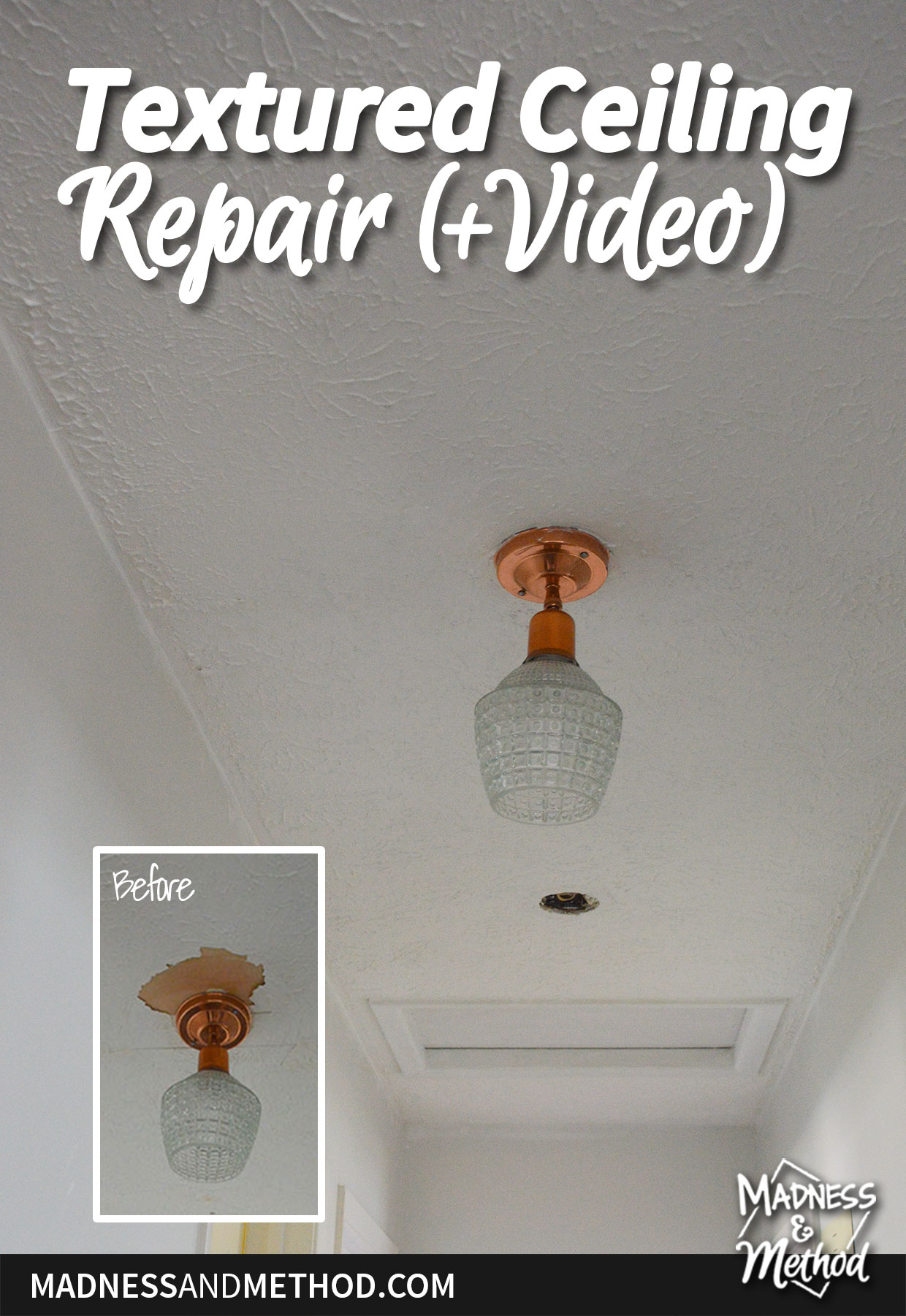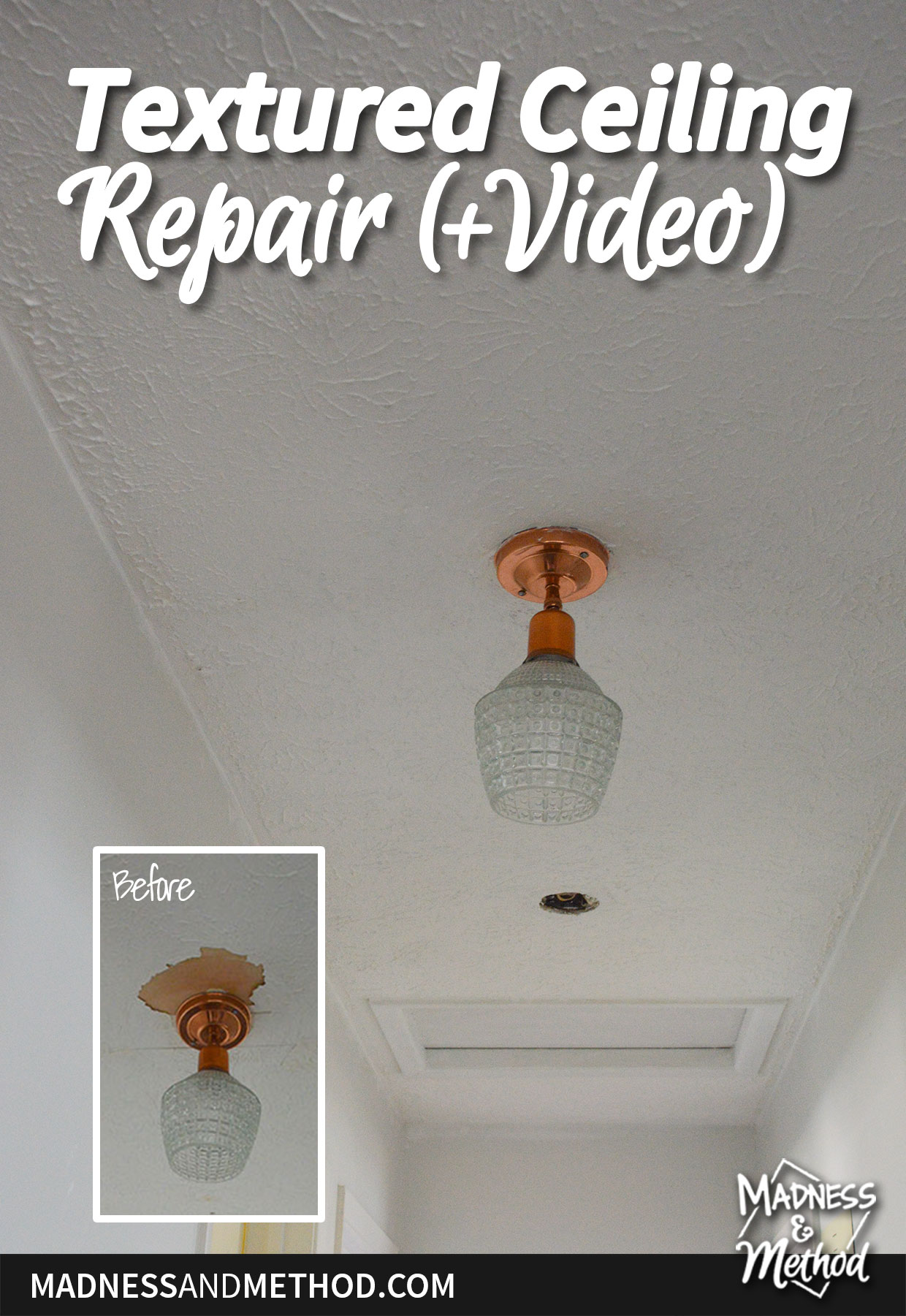 Ready to see a great before and after!?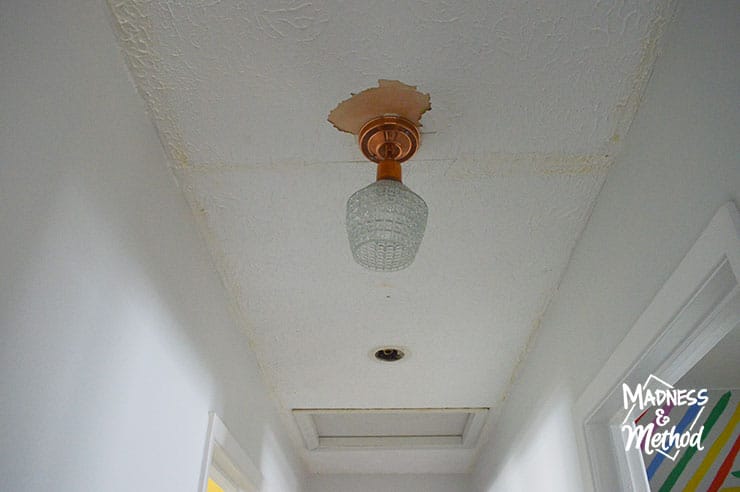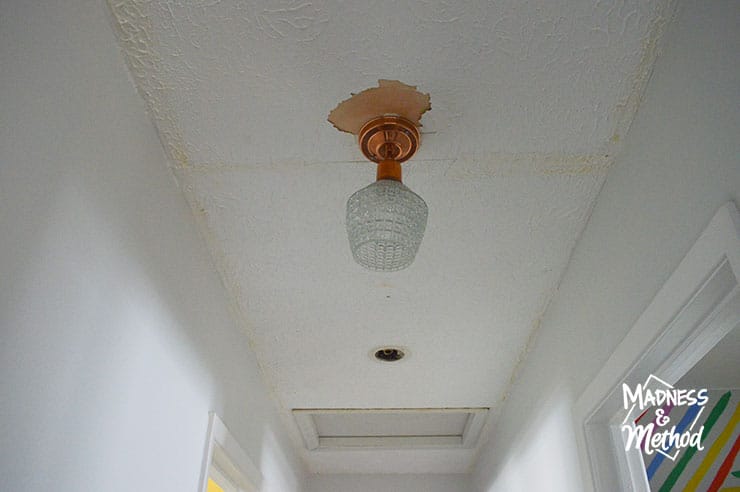 We replaced the flush mount light fixture a couple of months ago, but it left behind a damaged drywall paper section.  Plus, all the edges of our walls (and the drywall seams) were yellow.  The house had recently been painted before we purchased, so I think that they just didn't do the edges thoroughly.
(I hope so at least – it would be annoying if there are stains coming through!).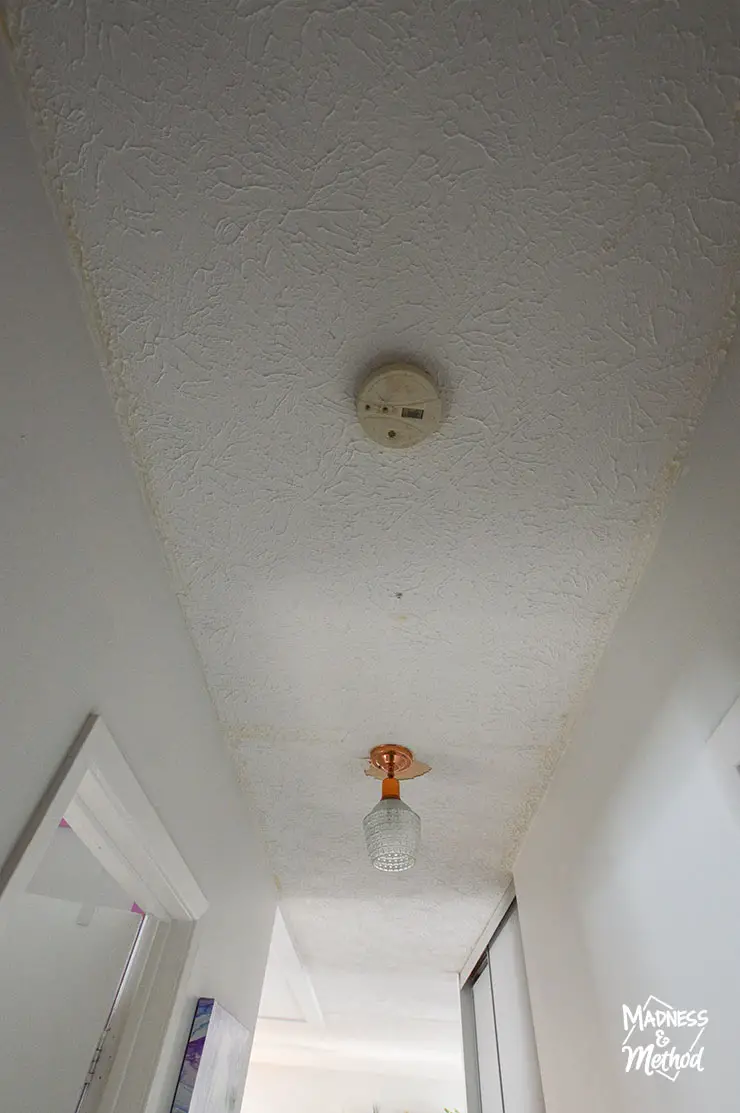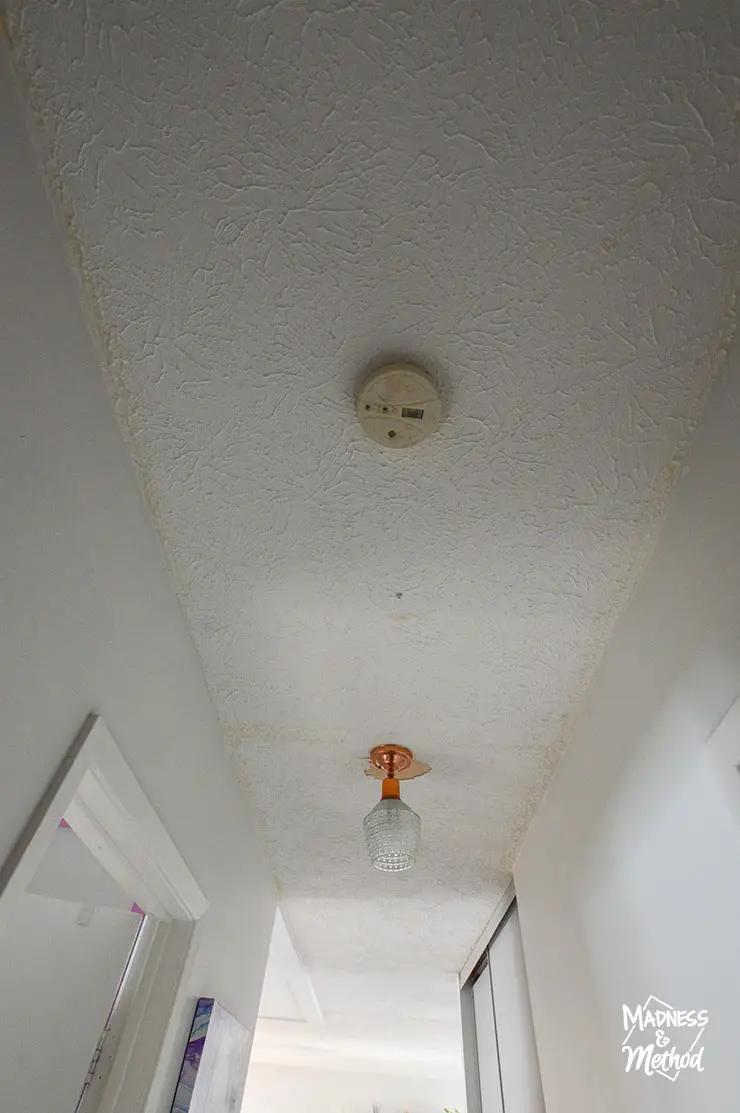 Our ceiling hallway is open to the rest of the textured ceilings in the living/dining room.  Watch the latest home tour to get a better idea of the flow of our raised ranch house.  The only rooms that don't have textured ceilings are the bathroom, and the kitchen (that you can peak in the photo above).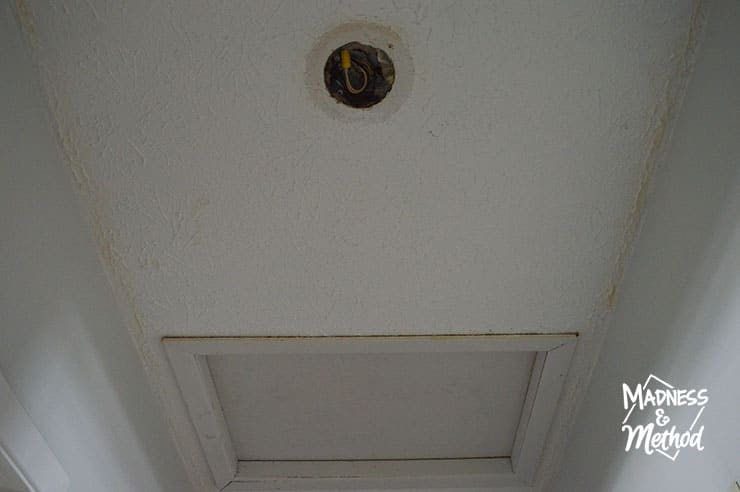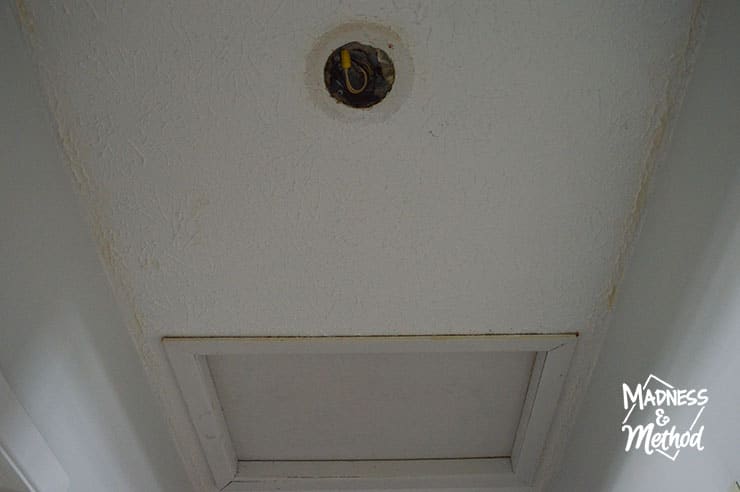 Another thing I wanted to address was the attic access door.  It was painted an off-white colour, and I knew that some caulk and fresh paint would help it blend in.  Oh, and surprise: our smoke detector was dated 2006.  Is that the manufacturing date or the expiry?  Either way, it's way past its 10-year lifespan! 
Apparently, it was hiding a junction box and may have been hardwired at one point.  I'm going to replace it with another battery-powered one. 


Check out the difference in adding caulking around the edges of the trim made! 
How to Repair a Textured Ceiling
I've written about how to patch a popcorn ceiling before, but this is essentially the same technique.  The only difference is that these ceilings have a different pattern (almost like a star/flower shape?).  However, because I was doing such a small area – I didn't need to worry too much about matching the pattern.
You can watch the video here to see the action.  I've also embedded it below – but the next few photos show the same steps.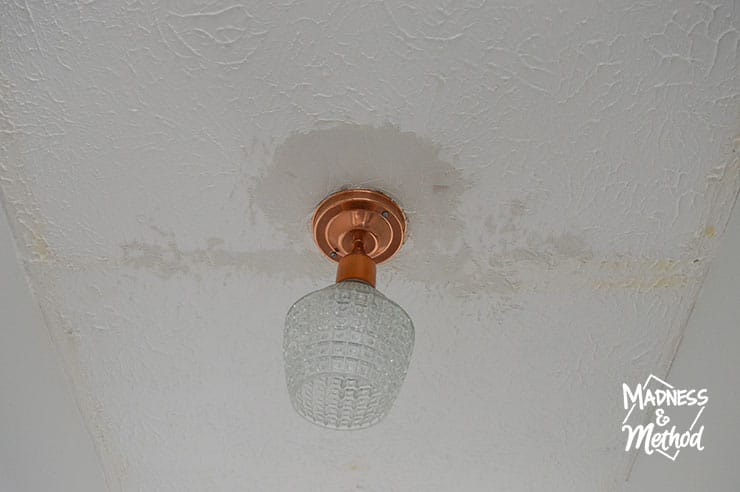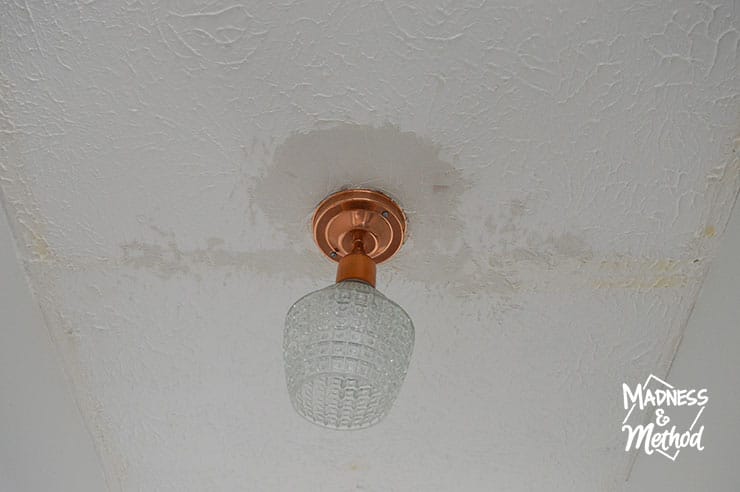 I first scraped up as much of the loose paper as possible.  You can see the seam between the two sheets, so I didn't want to go too crazy removing the paper and making a bigger mess.  
I troweled some drywall mud to raise the area up to the rest of the texture.  You do not have to worry about smoothing your drywall, in fact, it's better with a bit of a mess!  I also covered a few of the open seams, and lightly blended out.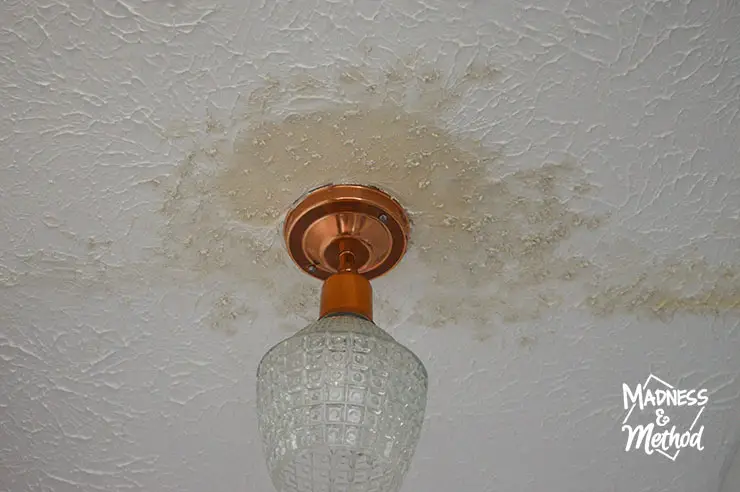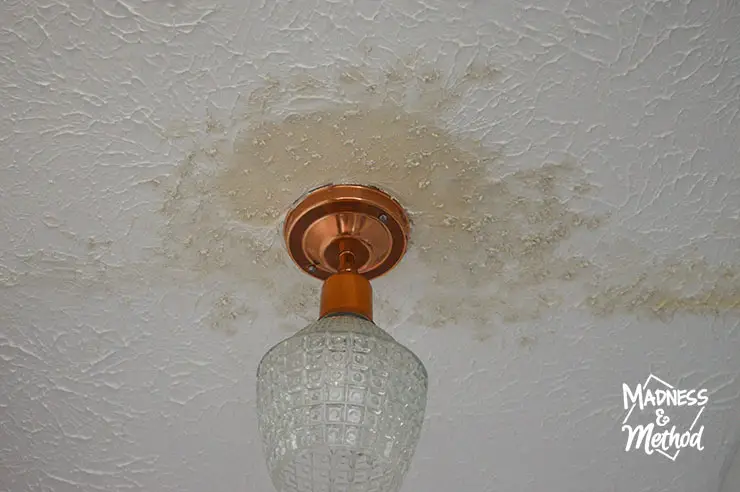 Then, I used a tube of popcorn patch that I had and dabbed the area adding texture.  Again, we had a completely different stucco pattern (it was more linear/stringy) but I added some popcorn a bit past my patched area to blend it in.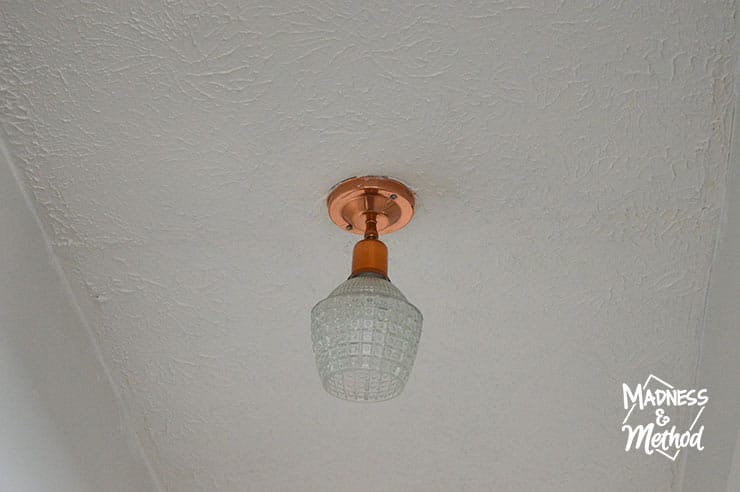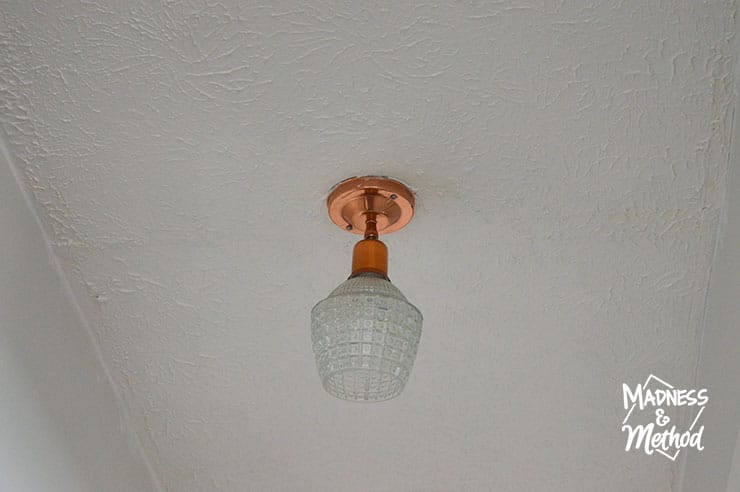 Once everything is primed/painted – it will practically disappear!  I used the primer/ceiling paint that they left with the house, and unfortunately, it was really liquidy and made a mess, ha.  But it was the same colour as the ceiling, so that worked out great!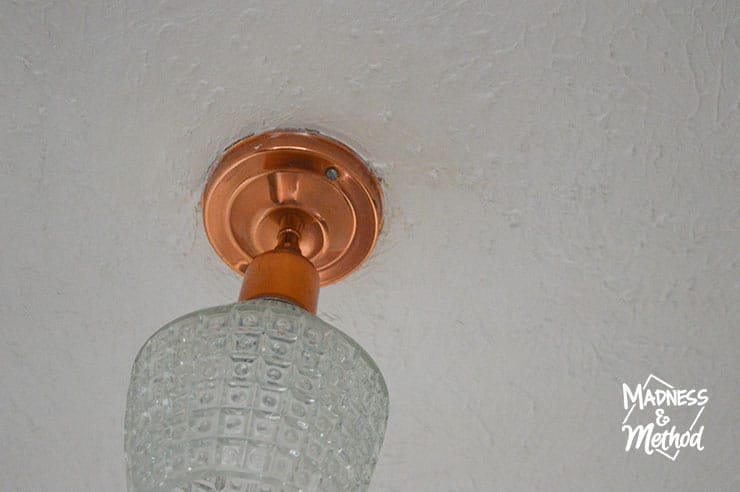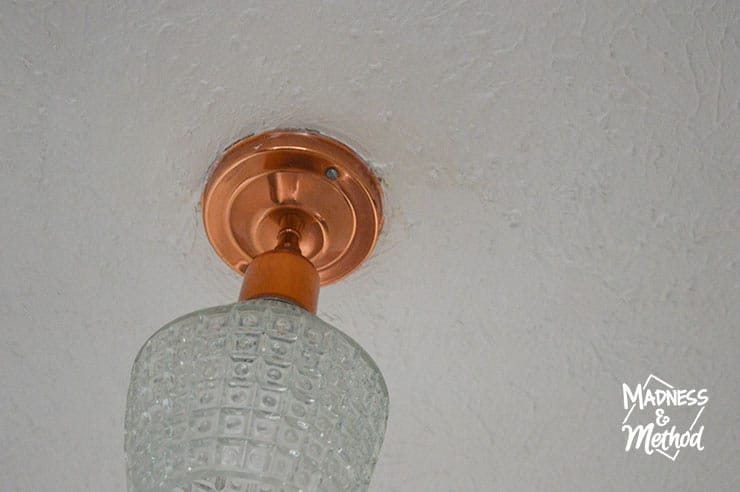 Trust me, no one will notice a small area like this – especially since it's near the light fixture.  Had the hole been in the middle of a room, I might have tried to blend the old pattern with the new a bit better.  But then again, our house has some weird stucco fixes, and this is one of the better-textured ceiling repairs! 
Textured Ceiling Repair Video
If you can't see the video player embedded above, you can watch it on YouTube here. 
Some other notes:  Yes, it would have been easier to turn off the power and take the light fixture down, rather than work around it.  However, I did this over a few days, and I don't think the Husband would have liked taking the light fixture on and off.  I mean, we could have just had a dark hallway at night for a bit… oh well :)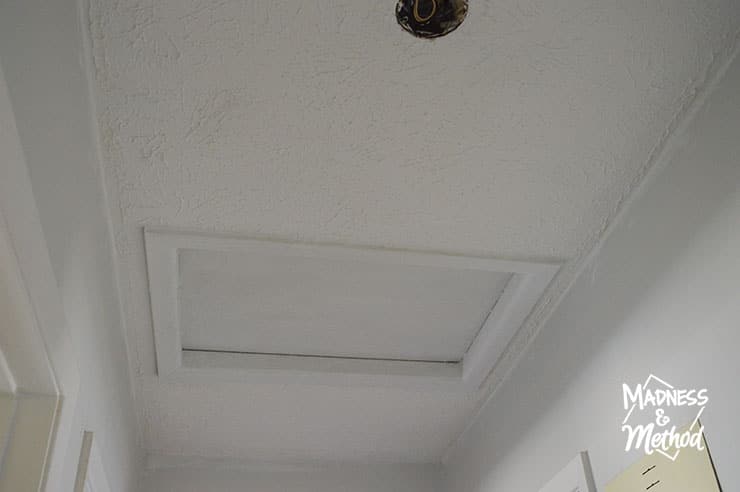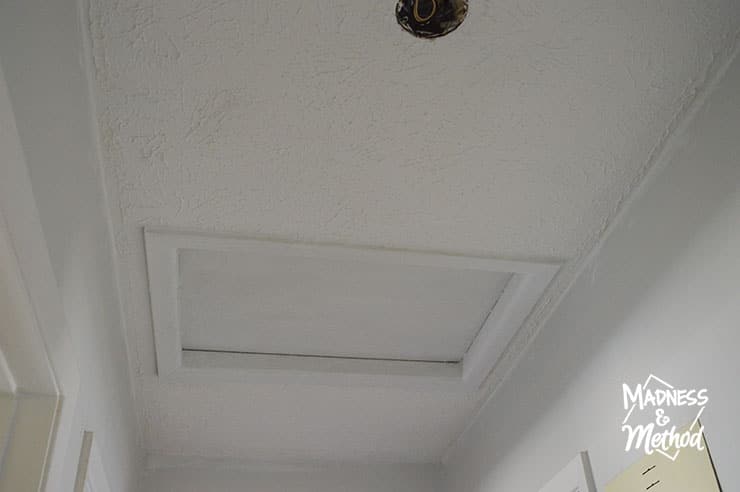 While I was painting the patched area, I also did the perimeter of the hallway and the attic access.  (Then went into the living room and did some other random yellow areas, ha). 
I think I'll do another coat of paint, especially on the attic door, but otherwise, the ceiling is looking nice bright and clean!
About the One Room Challenge
Now celebrating its 10th anniversary, the One Room Challenge is a twice-yearly design event where people makeover a room and share their progress together.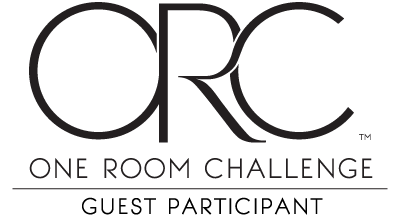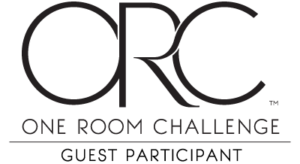 Follow my hallway makeover:
Hallway Makeover Plans (Week 1)
Textured Ceiling Repair (this post!)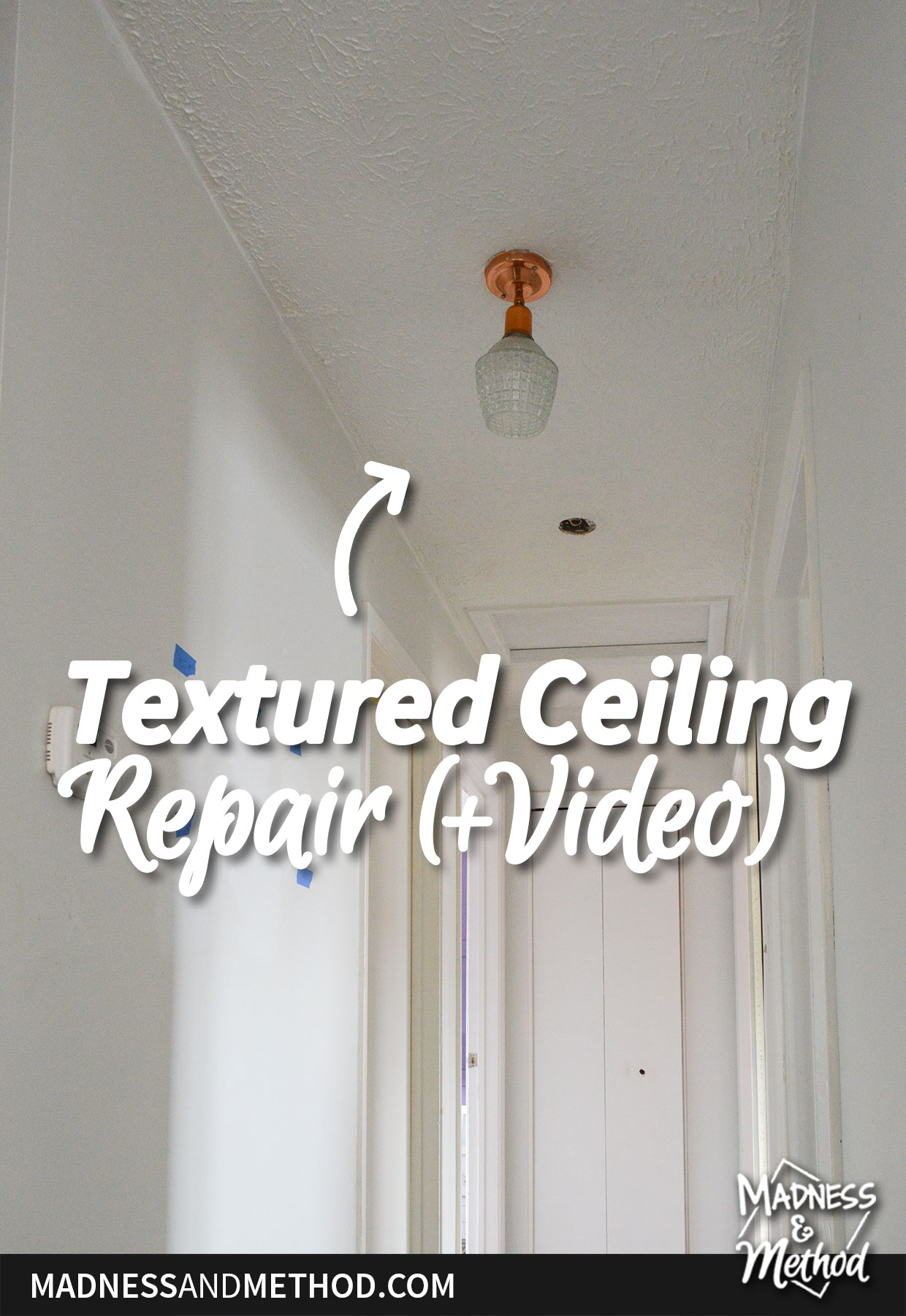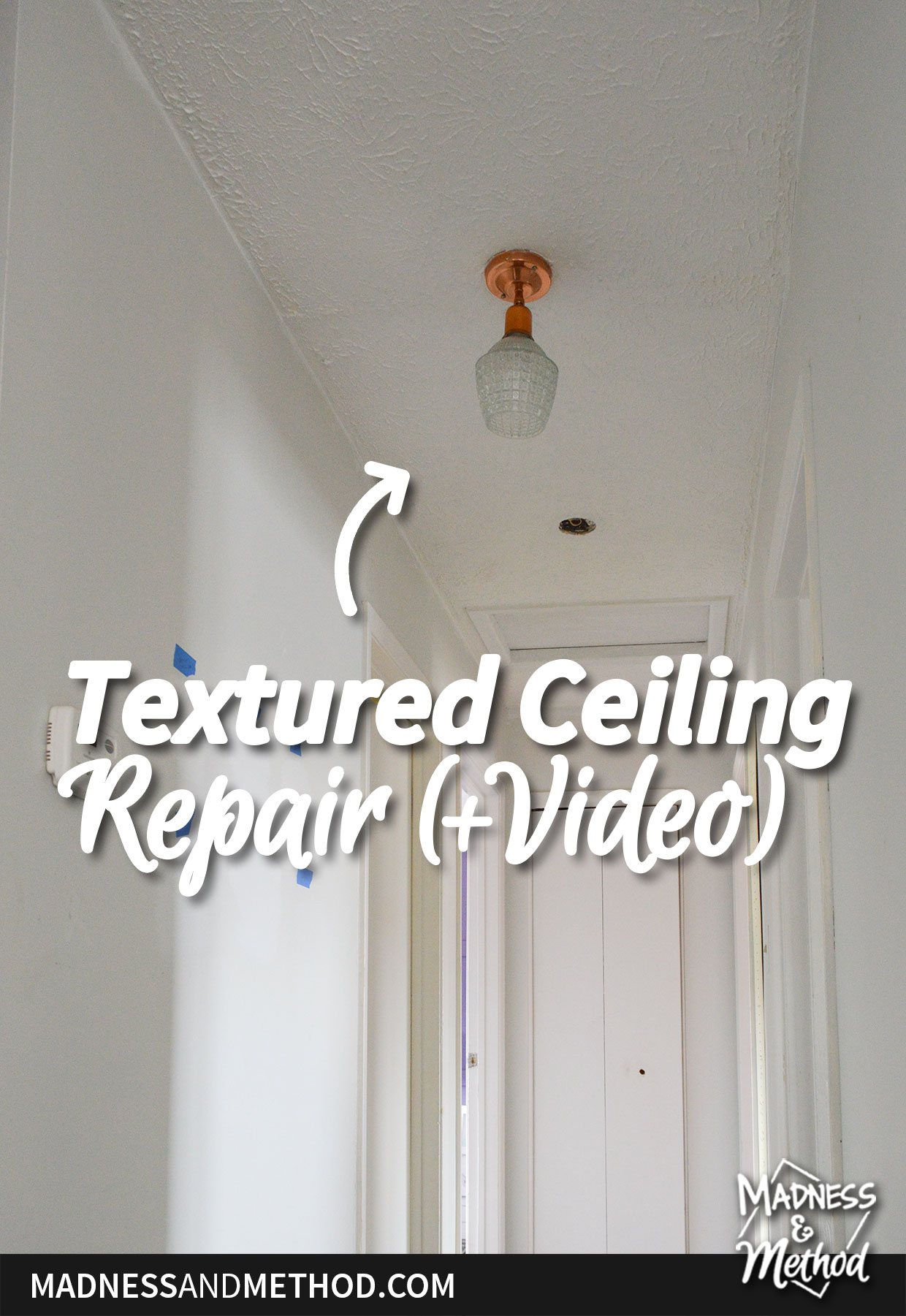 Next week, I'll either be chatting about our closet updates or the paint colours – and I should probably get a to-do list written because I am kinda just working willy-nilly so far.  Although, again, it's a small space with not many changes, so I do not necessarily need the full 8-week makeover timeline.  
Are you renovating a space for the One Room Challenge?  If so, let me know!
If you enjoy watching room makeovers unfold, you can see all my other ORC renovation posts here, or check out the other participants here.