Have you ever had an idea pop into your mind, and you just had to think about it forever?  The other day, I could not get the thought of gilded gold wall details out of my head, and I figured I would have to build an accent wall in my house so that I could execute my vision.  Thankfully, reality set in (I kind of like the master bedroom like it is, I don't really want to paint the pink room a different colour, everything else I like too…) and I remembered that I can Photoshop my ideas and share them as mockups instead :)  Anyways, that's the short version of why I think that modern gold molding should totally be a thing, and I'm going to show you how!
The idea popped into my head when I was watching the new Beauty and the Beast movie in theaters1.  The camera was panning through the castle (or wherever) and there was a lovely green wall (kinda greenery actually…) with some very intricate gold / gilded wall detailing.  Since my style tends towards the minimalist/modern scale and not the uber-traditional-gilded-gold thing, I thought that there must be a way to bring in some gold details into wall moldings, without having to go rococo.
1. Fun Fact: Beauty and the Beast (the cartoon) was the first movie I saw in theaters, so the Husband and I brought the mister to go watch this one as his first movie!  Fate I tell ya :)
2. Fun Fact: Rococo is an art style that probably best describes what I'm talking about here annnnnd I have a minor in Art History so I just had to bring some extra knowledge out!
But also, those intricate gold details must be crazy tricky to dust right? 
I mean, I don't really dust that often… so just imagine how much would collect :)
Traditional Gold Details
Maybe you didn't Google "rococo", so I'll just share a few images I took to show you some examples of gold molding.  (And no, these aren't really rococo… but you'll forgive me?).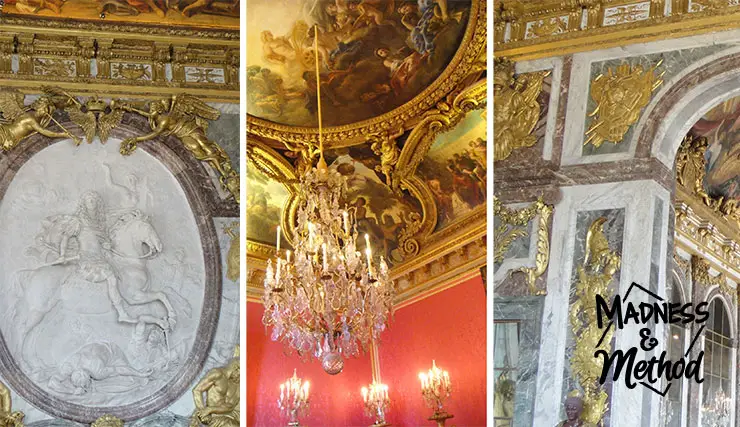 Back in the day, gold was used to frame art, form architectural details and sculptures, and pretty much show everyone how rich and fancy you were.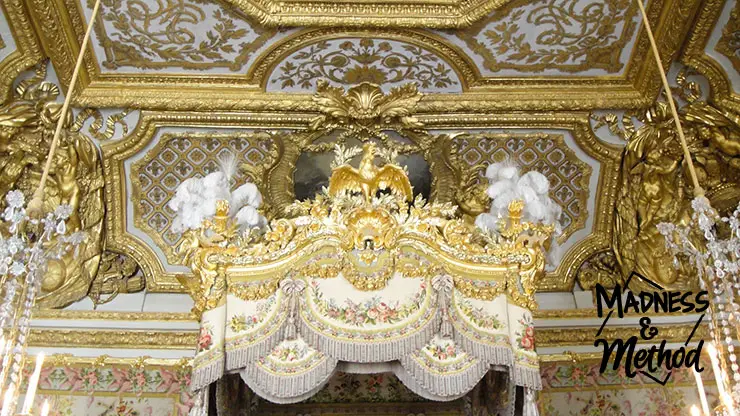 Because nothing says "I'm rich and fancy" like adding gold on gold on gold.  I'm not sure if these details were full gold, or just gold-gilded (layer of gold added on top), and they may have also been changed after any restorations.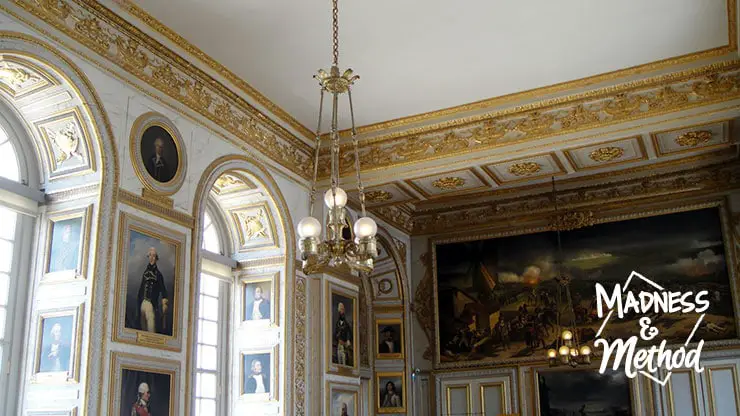 All the examples above were taken at the Chateau de Versailles in France3, which is technically the Baroque style.
As in, you are going to go "ba-roke" if you try to copy these gold molding details now…. ha ha ha…
3. Fun Fact: I went to Paris with my Mom a couple years ago.  Now I'm married and she doesn't take me on big fancy trips anymore :(
BUT you may be wondering, didn't you just go to Ireland?
Yes I did – so check out these gold molding details:

These two ceiling detail photos were taken at the Kilkenny Castle, and are definitely something you could try to recreate yourself.  Just substitute real gold for gold paint, and you're golden!
(I am full of jokes today!).
How can you work modern gold molding into your home?
Instead of painting your moldings to blend with your wall, you could paint them gold (remember it's easier to paint them before they are installed!) for instant glam.
Technically, Old Brand New's One Room Challenge panel moulds are just unfinished wood, but they totally look like they are gold!
Here are some other square board and batten examples that could easily be "gilded":
Pin: Square Board and Batten Wall Pin: Board and Batten Wainscoting
Let me show you what I was originally thinking (you know, when I was trying to watch Beauty and the Beast), and some other examples too…
Modern Gold Molding Mockups
My original thought was to have the gold accent be as an "X" in the center of some square board and batten.
This black base would be super sharp in a modern styled home, and there would be a lot of gold!
Then I channelled the straight lines of the Kilkenny Castle ceilings, and came up with this:
You would add a small detailed molding on top of your flat boards, and paint them gold to pop!
Finally, I wanted to do a mockup using the inside edges of the board and battens, as sometimes detailed corner pieces are added for a more traditional style.
Painting the detail moldings gold is such a fun way to add colour and shine :)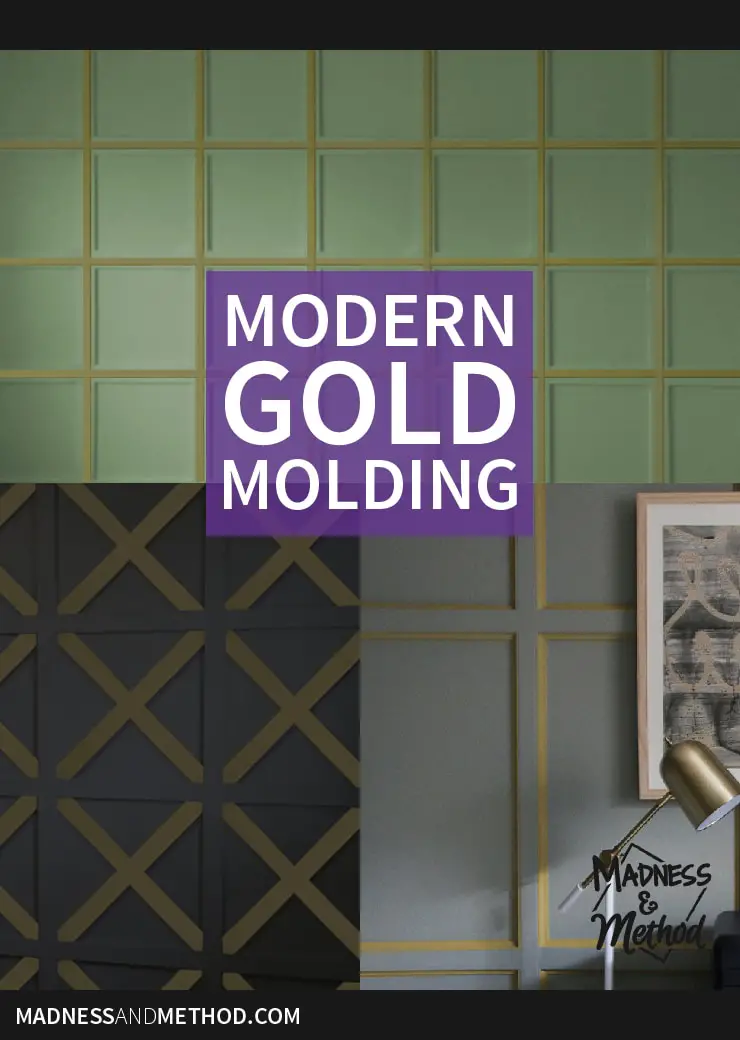 I'm hoping you have some insight into my thought process, and have a good idea on how to do a modern gold molding wall treatment.  I'm still convinced that I'll get to one eventually, but until that actually happens, I figured these mockups would tide me over until then :)
Do you have any other suggestions on how to add gold details to your walls?