lHalloween is awesome for 2 reasons.  The first one is perhaps obvious: candy!  And the second: getting to dress up in costumes!  This post is all about the DIY family costumes that I made this year, in the theme of Disney's The Little Mermaid.  It took me a few weeks (working at random times) and basically spending as little money as possible – but I think they turned out great!
This is actually my third year dressing up as Ariel (once when I was 4, and another time in high school).  But when you have naturally red hair, it just makes sense right?  Anyways, before baby was born I was originally thinking of doing Beauty and the Beast costumes; with the baby as one and Tootsie as the other.  The Husband and I would have been random other characters (Lumière?)  – but then baby was a boy, and I couldn't really see Tootsie being the "beauty" since she's definitely a beast!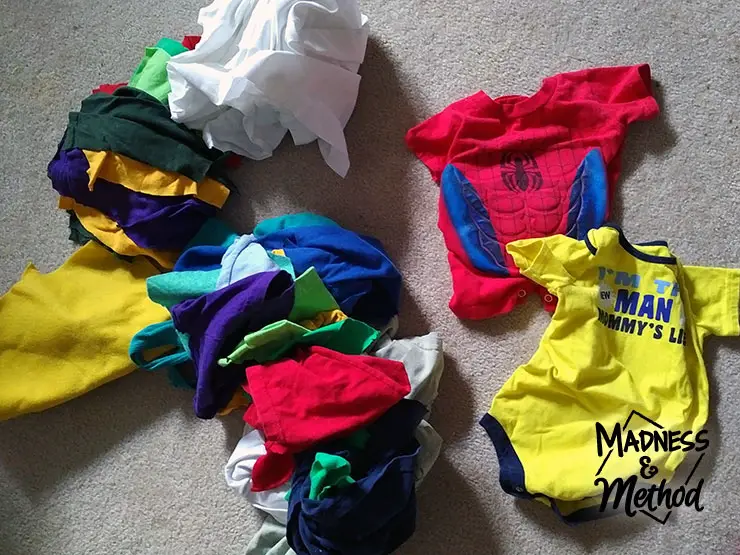 Anyways, I gathered the costume materials for Tootsie (going as Sebastian the lobster crab – apparently I forgot to double-check that before I made my lobster costumes…) and baby (going as Flounder); which included two sized 18-24 baby outfits (that I bought secondhand) and random pieces of fabric leftover from making the baby quilt.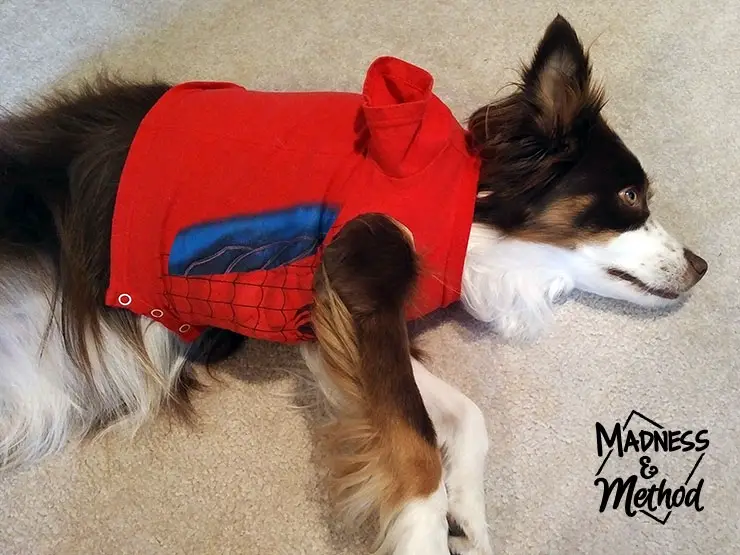 I had tested the fit on the outfit before getting one for Tootsie, and then simply cut-out arm holes for her instead of using the baby ones.  She was actually a very willing participant!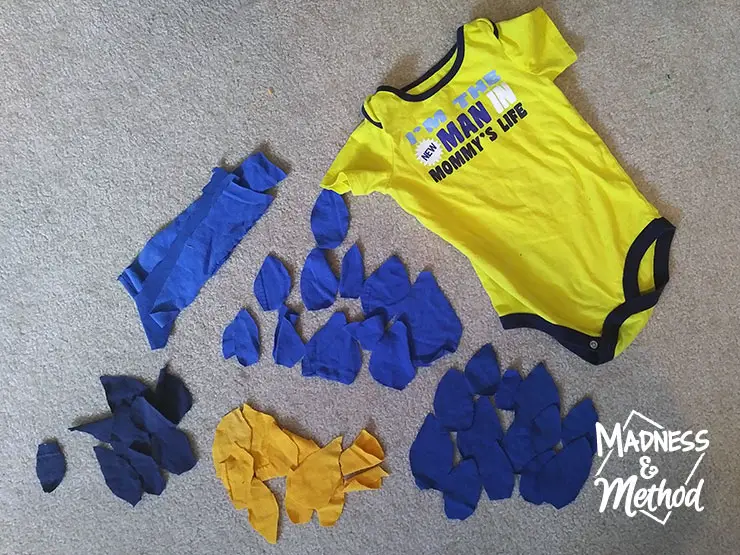 For Flounder, I simply cut some fish fins/scales using different coloured blue t-shirt scraps, and made a few stripes and some yellow ones too.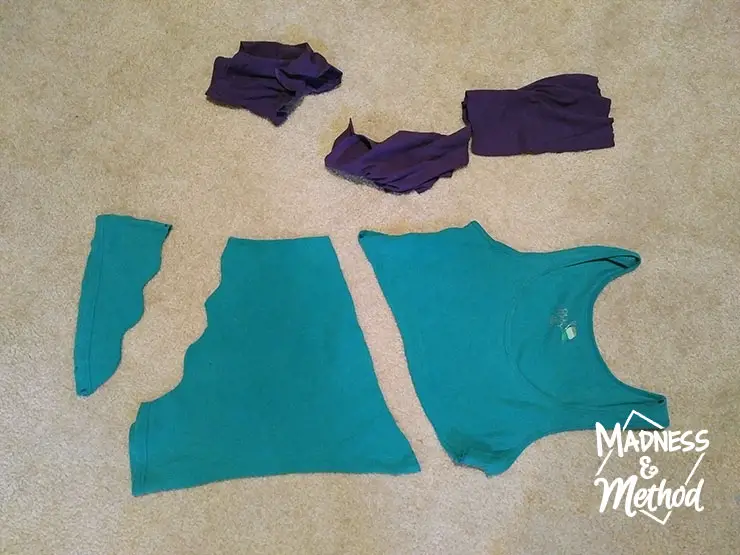 For my costume, I already had the bottom tail portion from my high school costume (essentially just a pair of spandex pants with the legs sewed together and a fin added at the bottom).  However, I did want to create some more scales around the waist (to hide my post-baby lumps of course!).  I also needed a new top.  As luck would have it, I was able to cut a tank top in a few pieces and use the bottom to go around my waist.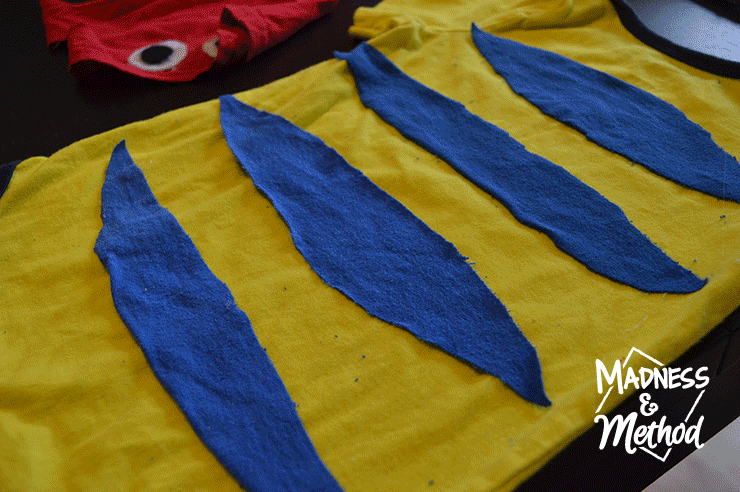 Here's a little animation showing the progress of making the Flounder costume.  Since I am not a sewer, I simply used my hot glue gun to assemble everything together (and I'm assuming it was much quicker too).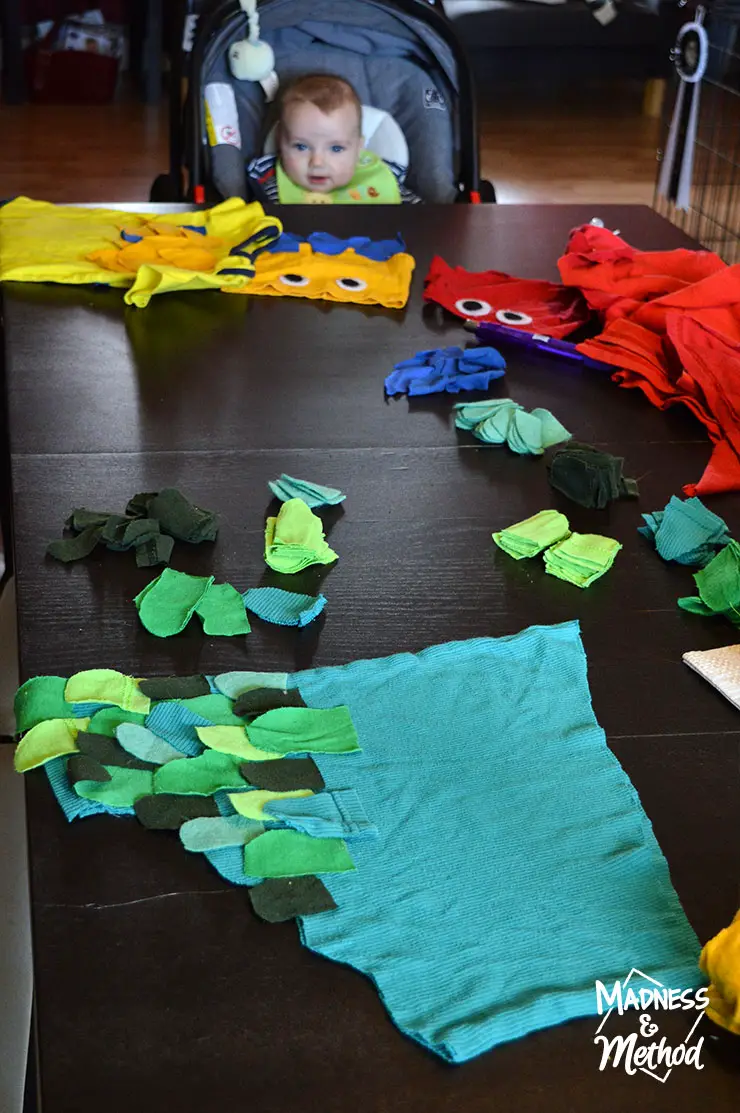 For my skirt, I glued on some "scales" using different coloured green fabric.  I had cut all the materials ahead of time throughout the month, and just glued everything all in one day.
For the seashell top, I used a purple Sharpie to draw some simple seashell shapes then cut through (I drew one shape, then cut through two layers at once – then drew the next one in the cut-out).  I glued them onto my top.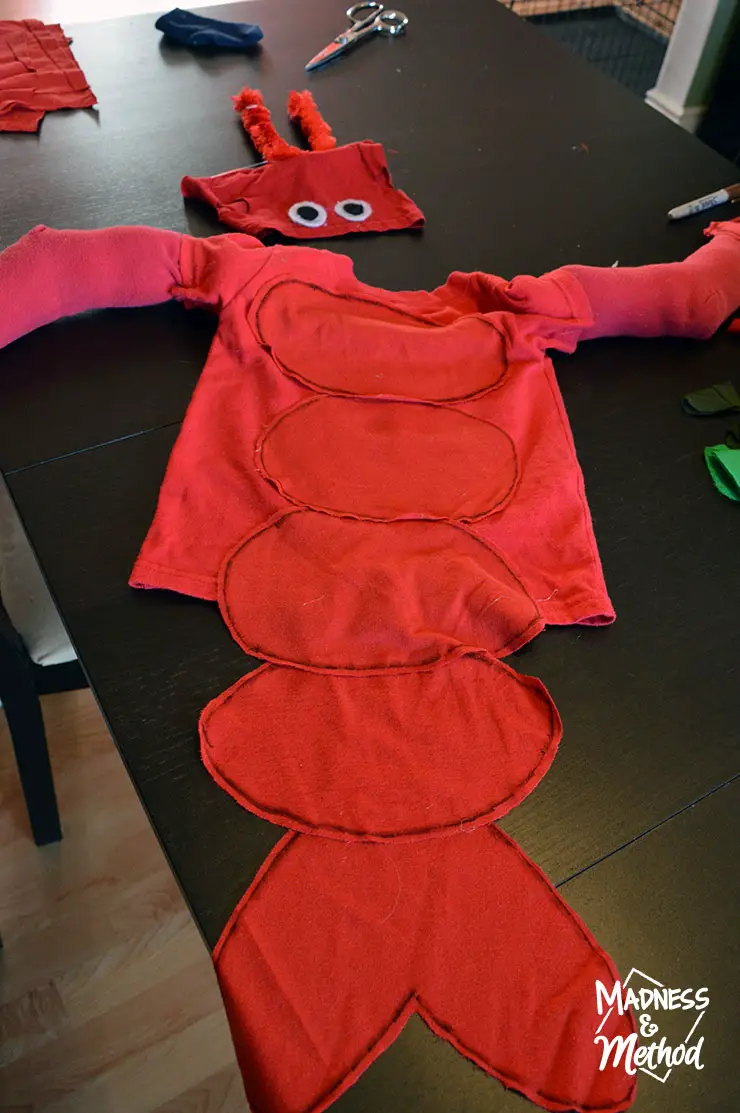 Now I almost bought a lobster costume for Tootsie, but wouldn't want to throw it out (and how often would she be a lobster anyways?).  I made my own using scrap pieces of red fabric, I made the arms out of red socks stuffed with cotton batting and it was perfect!
Oh, I should also mention that both Tootsie and the baby's hats were made out of a leftover t-shirt sleeve.  Apparently it's the perfect hat size!  The eyeballs were simply black and white pieces of felt I glued on.
The lobster tail ended up being the perfect length to fit Tootsie – and all I had to add was the stomach tentacles.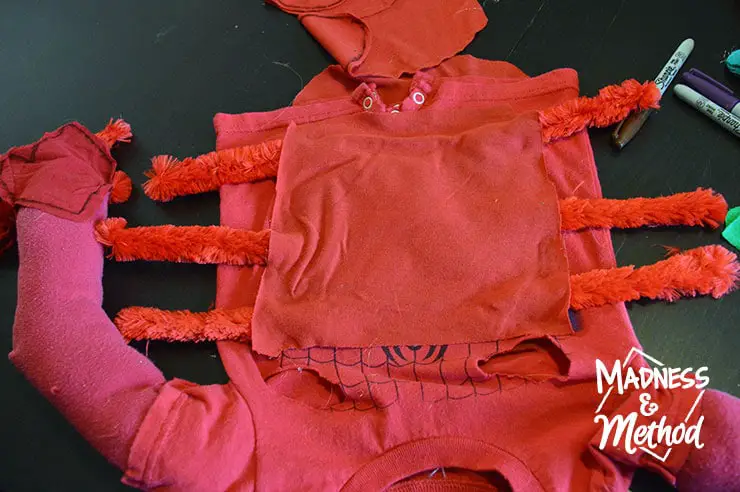 To make sure they stayed on better (they were super jumbo red pipe cleaners), and to hide the blue pattern on the front of the shirt, I simply covered it with a big fabric square.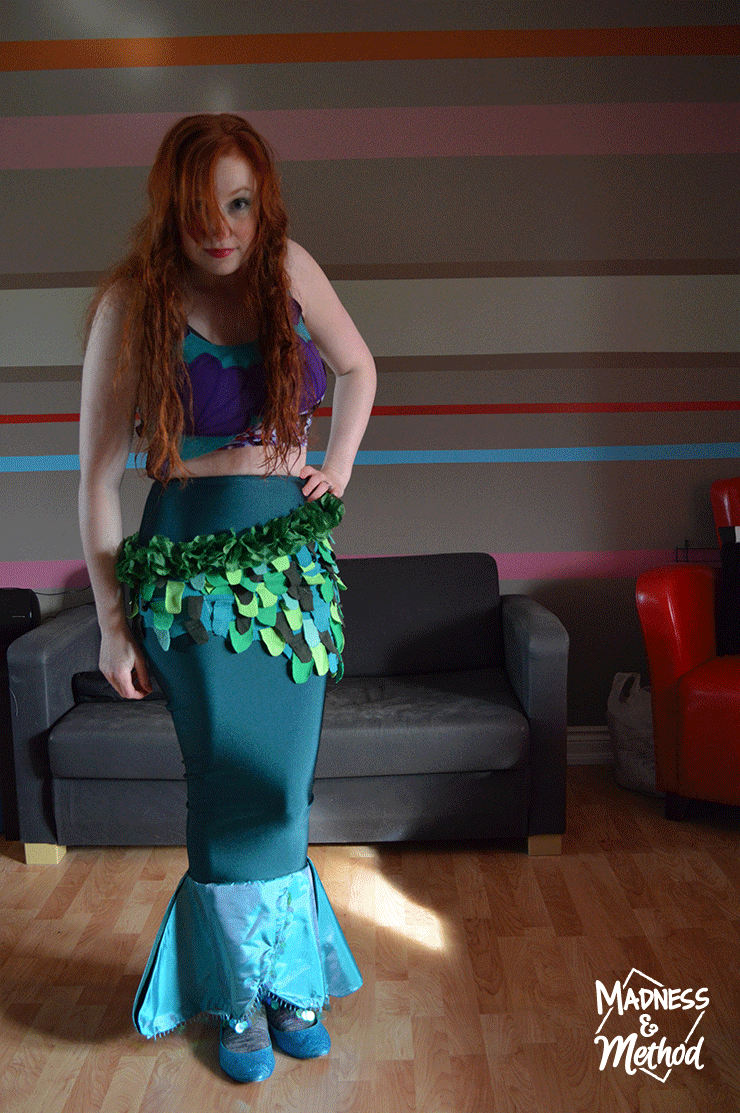 Okay, I had to share these shots (I like the one with the Little Man in the air the best!).  I actually dyed my hair even redder, but the Husband was too impatient to wait for it to dry (so that's why it's half wet and real messy).  I would have liked it to be a bit redder, but we're going to a wedding this weekend and I didn't want to stand out like crazy.
And there's the cute little lobster and fish hanging out together!
Here are the official family photos (taken in front of the garage… and the temperature was just above freezing).  The Husband's outfit (as Prince Eric) consisted of some blue pants, black rubber boots and a white tie-up shirt (actually from an Oktoberfest costume).
Tootsie was upset when the Husband and baby went inside and left her on the pedestal alone!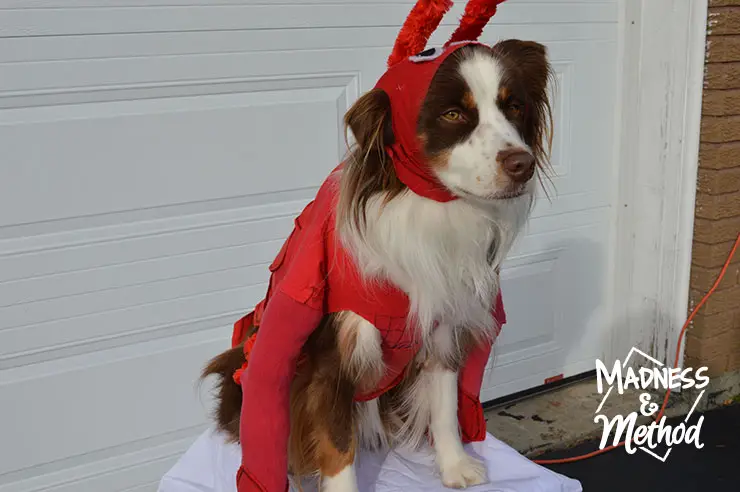 Not sure if she was afraid to get down on her own, or if being a lobster calms her down; but her favourite little neighbourhood friends walked by and she just sat calmly.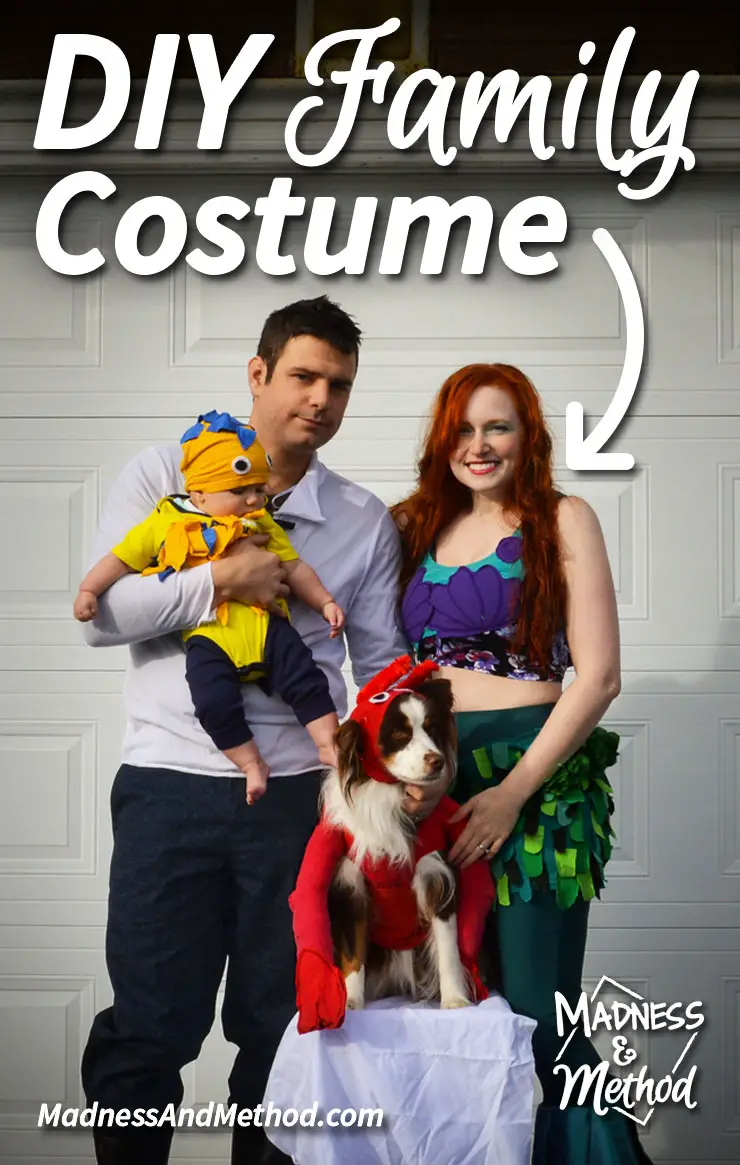 I'm so looking forward to handing out treats dressed up as a family this year!  Last year we had Tootsie just loose, but she kept trying to lick all the children that came to visit – so I think we might have her on a leash indoors.  I already have a DIY family costume idea for when I have 3 little babies, but who knows what we'll be when we have two.
The Husband actually hates to be roped into group costumes, but I figure that whenever the babies want to be something on their own (will be a sad day) then he'll be off the hook too.
And, here are some more photos:
I hope this was enough cute baby and doggie pictures?