We're a few days into October and I'm excited to be sharing my first Halloween project with you! It's technically a festive fall planter, meaning that it's more fall-themed than Halloween… but we'll just ignore those tiny details okay? Let me share the super easy DIY instructions to transform a regular Mum plant!
– This post contains affiliates. See more information about affiliates here –
If you follow me on Instagram, you may remember that I shared this image of a mum I had just picked up:
Because it was a little lopsided, I knew I would have to jazz it up a bit.
First thing I did was add a bucket to our large planter that I painted last year. (There are also some extra patio pavers underneath it too!). I figured it was way easier to keep the mum in its original pot and just decorate around it.
I picked up a few supplies at the dollar store and some (real) little pumpkins too. I wanted to bring some orange in, and thought the contrast against the purple (and navy blue) would be really sharp.
After covering both the bucket and the original pot with gold tissue paper, I wrapped the leaf garlands around the base.
Then, I simply stuffed the fake flower bunches where there were holes in the mums.
I placed a few of the pumpkins around the base (where the leaf garland is) and nailed a couple holes in some others. I had some small wooden dowels (but you can use shish-kebab skewers too) and poked them in the holes.
And, similar to the flower bunches, I just poked them into the dirt of the planter. (One stick wasn't enough to hold the weight of the little pumpkin).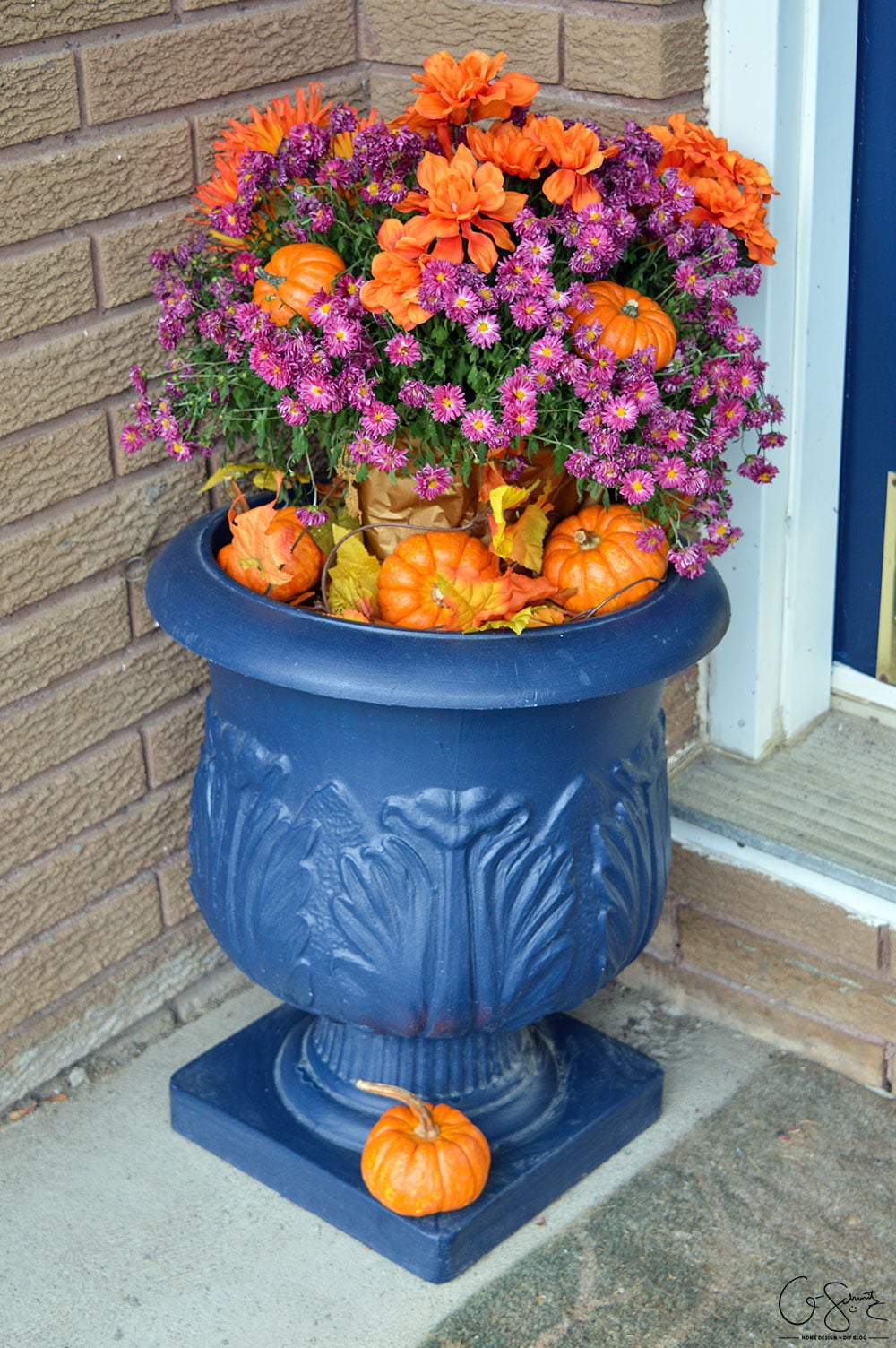 And there you have it – a festive fall planter! You can always check out this Halloween roundup post for more planter ideas.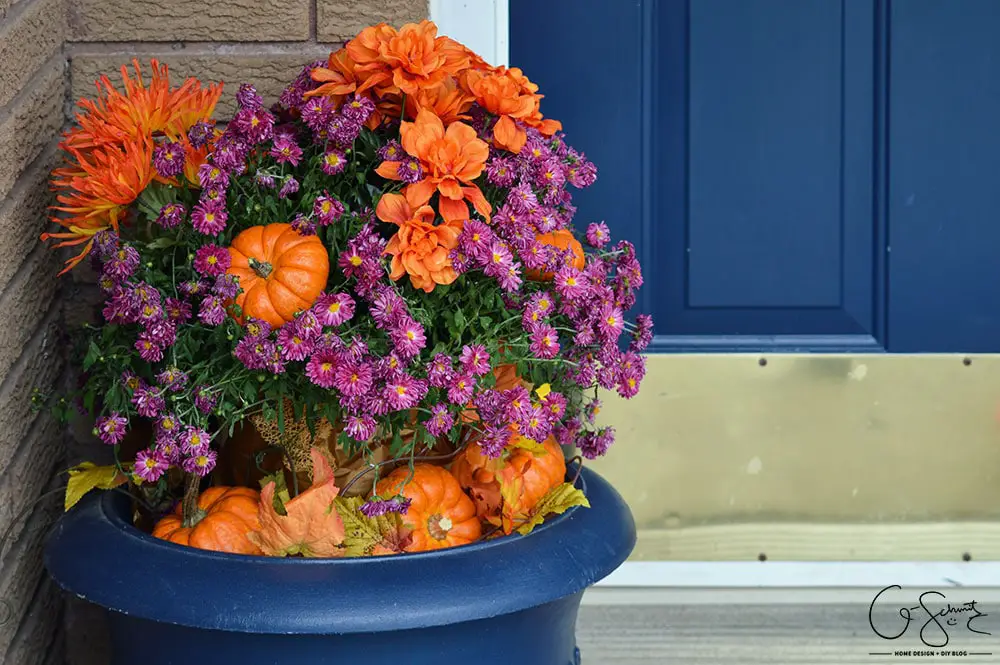 I like that there is a combination of both real and fake elements in this planter; that way if the mum wilts a bit more – it will still look okay! And, with everything I bought (minus the planter which I had already) it cost me less than 15$.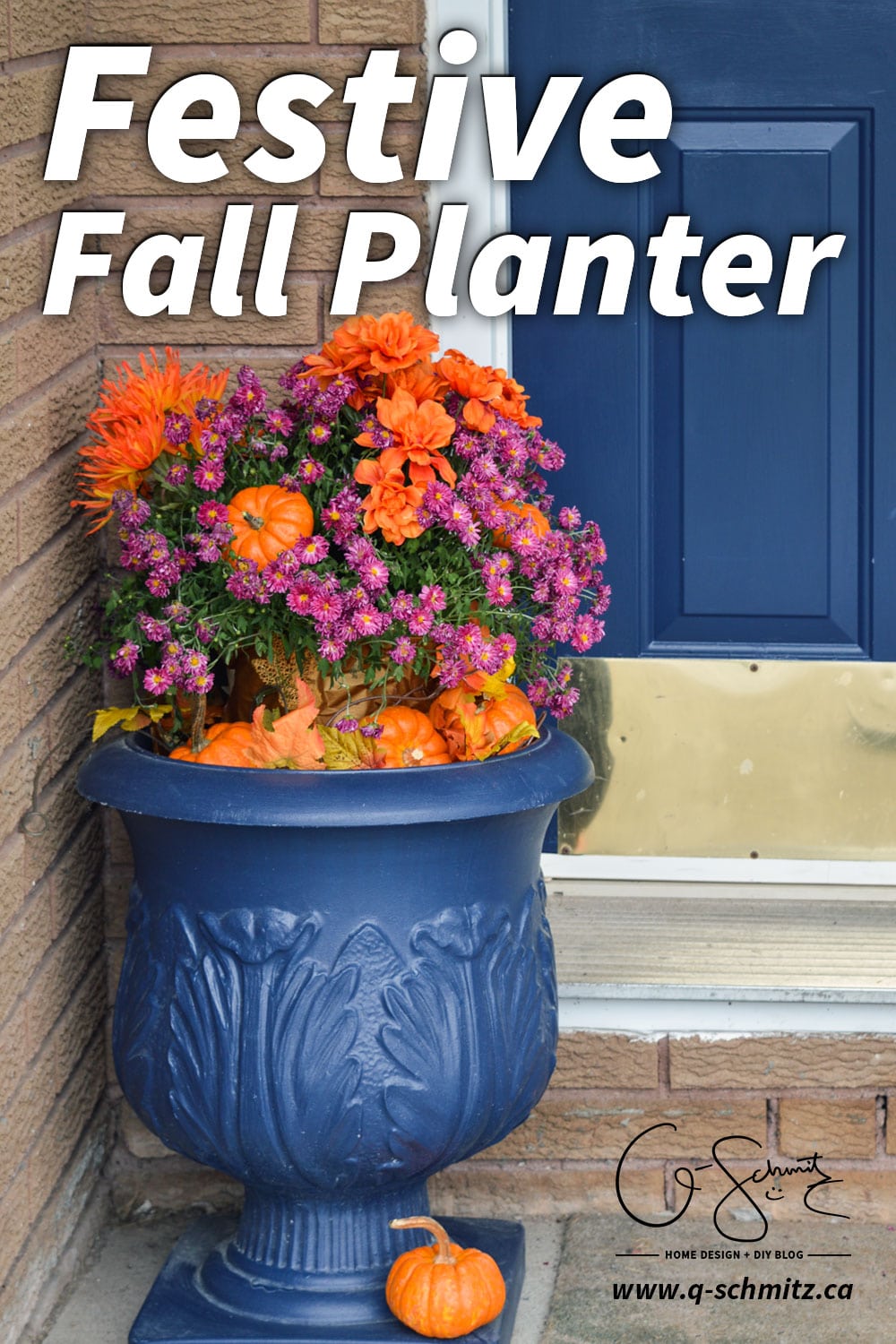 I'm also hoping my little pumpkins and the mum itself stay fresh for the rest of the month; but I am happy that this fall festive planter adds nice colour and décor to our porch!
(Oh and the Little Man liked watching Momma work too!).