I LOVE dressing up for Halloween, and there's nothing better than doing a group costume.  And what's the cutest group ever?  Obviously one that involves a little baby and a doggie, ha!  This year, we decided to dress up in family Beauty and the Beast costumes, and I'm sharing our pictures ahead of time :)
– Note: This post contains affiliate links. See more information about affiliates here. –
Last year, we went as another classic Disney film: The Little Mermaid.  It's funny, I had mentioned back then that I originally wanted Tootsie and Zachary to be Belle and the Beast, but I figured that Tootsie looked more like a beast than a beauty hahahahaha!
Anyways, this year I was going through some possible options with the Husband (including Peter Pan, Little Bo Peep + sheep, Mario Bros + company) and I reminded him of my original idea of Beauty and the Beast.  He LOVES Gaston, and as soon as he heard that he could dress up as his favourite character, there was no changing his mind!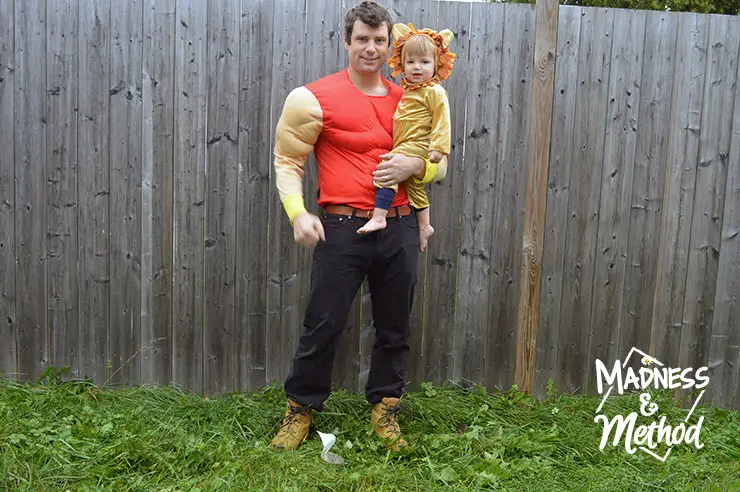 It's funny, he had this Hulk Hogan costume from a few years ago, and it ended up working perfectly for Gaston.  (I could only find the same Hulk Hogan costume in a child's size).  Actually, he's used if for a few different costumes – so it was definitely a good investment!  (Who would have thought!?)
For the mister, I bought this cute lion costume on Amazon, and figured it would be better than me trying to DIY something like last year.  (Plus, I have plans to reuse it again later).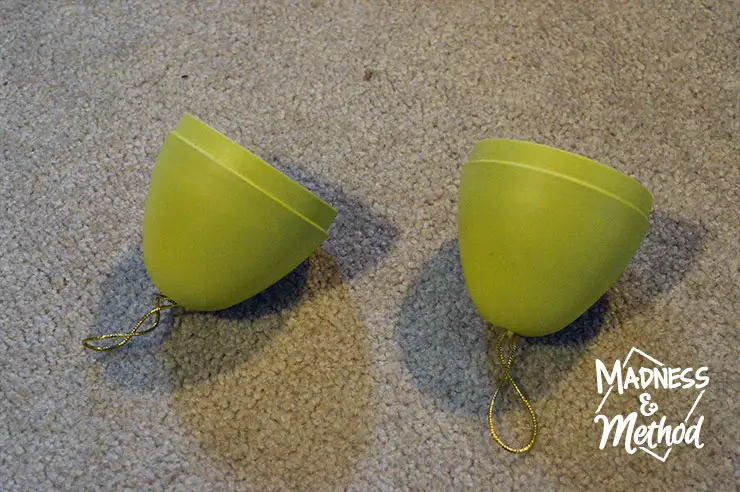 Tootsie was going to be Lumière, and let me tell you, that's not a common dog costume!  I ended up finding her an all yellow outfit at the thrift store, and lucked out that they had 3 gold and yellow Easter egg things, which would be perfect for her candle lights.  I drew some flame shapes on white paper, and taped those inside.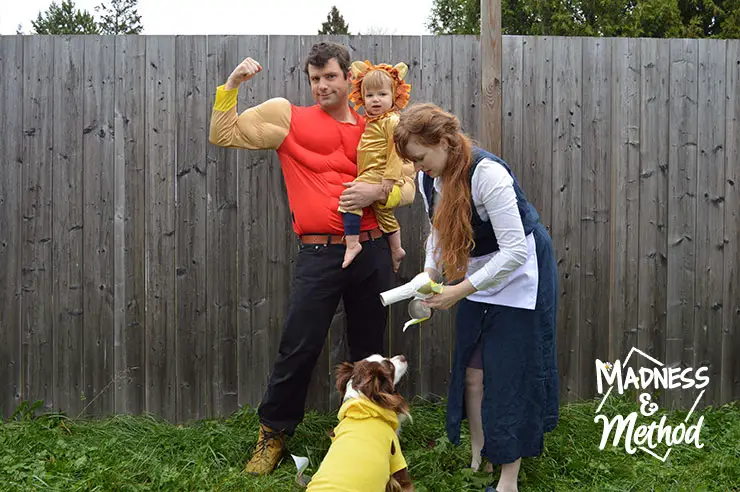 One of them I just sat on her head, and the other two I taped to some toilet paper tubes and stuck up from her arms.  It doesn't stay very well if she moves around, but for some reason, she's pretty docile when she's dressed up.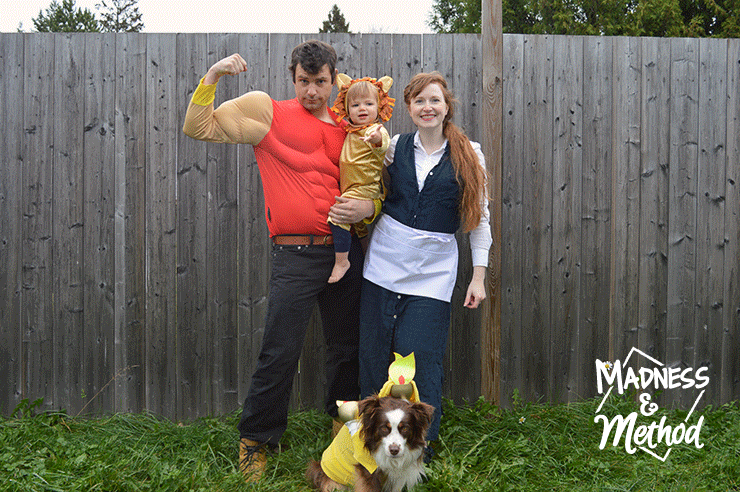 I found a long blue dress at the thrift store for me, and I bought this white apron online to go with it.  The dress originally had long sleeves and I was going to keep them (and it), but after putting it on I realized it was not very flattering, so I didn't mind chopping it.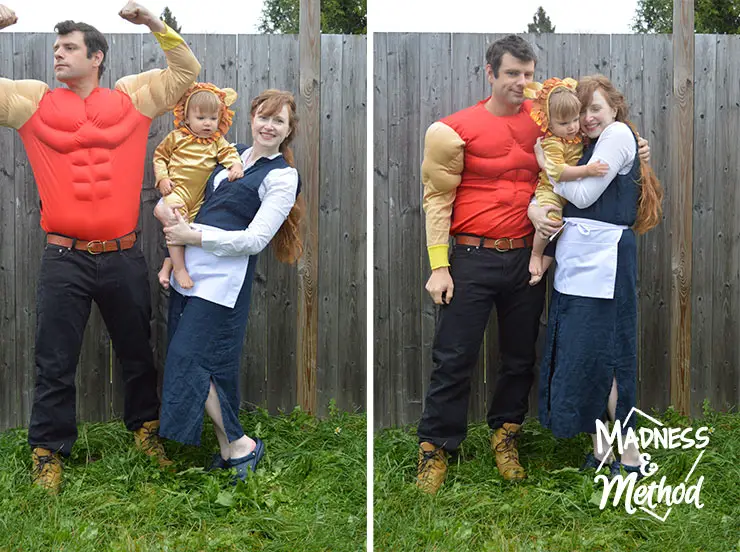 It was actually raining when we took our photos, so we tried to do them super quick!  I'm really happy I got this wireless remote in the summer, because the photos were pretty painless this year (oh the Husband complained so much last time!).
Although let's be honest, it's probably because he had a blast doing all the different poses as Gaston!
I think I've included EVERY single photo we took (there was one blurry one when the umbrella flew down onto the camera), so you get to see all our funny looks.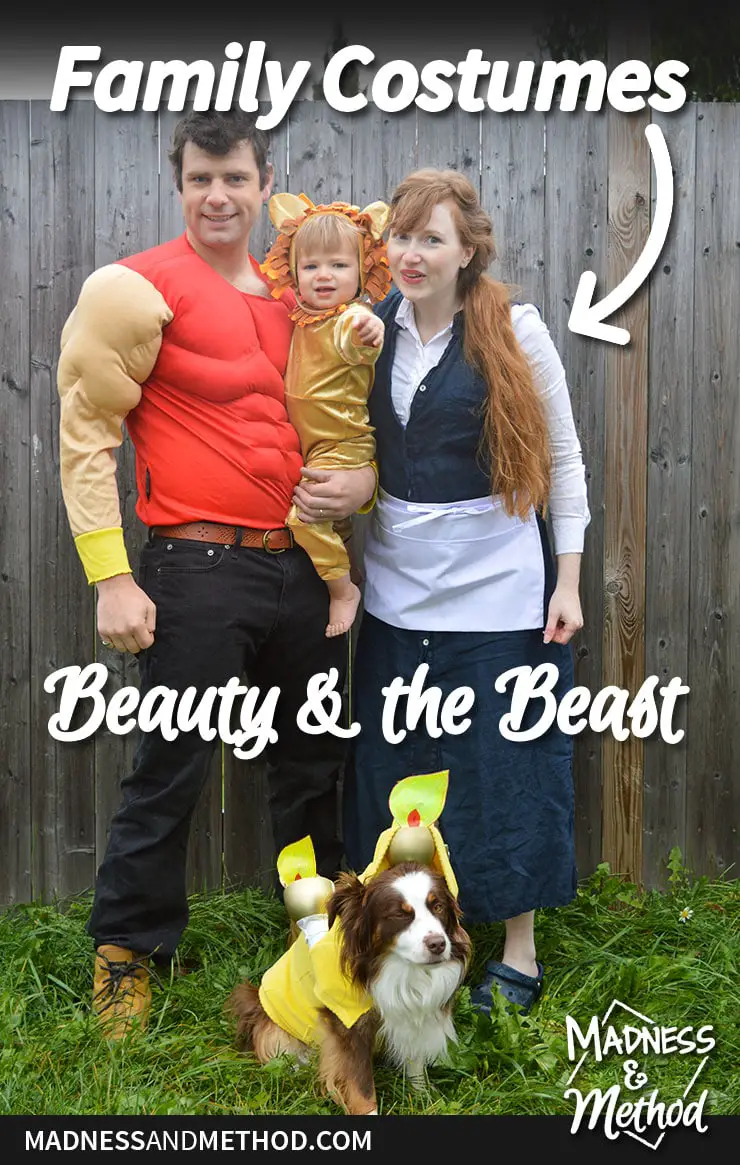 Do you like our family Beauty and the Beast costumes?  All in all, I think we spent less than 50$ on them this year (including shipping, but not including the Husband's, which we had already), so I'd say that's good compared to spending that much money on one costume alone!
Oh, and I have the BEST idea for our family costume next year, and I'll just let you know now that it won't be another Disney theme!  I've already written it down in my calendar, so that way I won't forget :)